« printing out the web | Main | the new harpers.org »
"spring_alpha" and networked games 04.10.2007, 2:13 AM
posted by ben vershbow
Jesse's post yesterday pondering the possibility of networked comics reminded me of an interesting little piece I came across last month on the Guardian Gamesblog by Aleks Krotoski on networked collaboration -- or rather, the conspicuous lack thereof -- in games. The post was a lament really, sparked by Krotoski's admiration of the Million Penguins project, which for her threw into stark relief the game industry's troubling retentiveness regarding the means of game production:
Meanwhile in gameland, where non-linearity is the ideal, we're at odds with the power of games as the world's most compelling medium and the industry's desperate attempts to integrate with the so-called worthy (yet linear) media. And ironically, we've been lapped by books. How embarrassing. If anyone should have pushed the user-generated boat out, it should have been the games industry.

...Sure, there are a few new outlets for budding designers to reap the kudos or the ridicule of their peers, but there's not a WikiGame in sight. Until platform owners have the courage to open their consoles to players, a million penguins will go elsewhere. And so will gamers.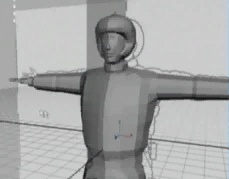 Well I just came across a very intriguing UK-based project that might qualify as a wiki-game, or more or less the equivalent. It's called "spring_alpha" and is by all indications a game world that is openly rewritable on both the narrative and code level. What's particularly interesting is that the participatory element is deeply entwined with the game's political impulses -- it's an experiment in rewriting the rules of a repressive society. As described by the organizers:
"spring_alpha" is a networked game system set in an industrialised council estate whose inhabitants are attempting to create their own autonomous society in contrast to that of the regime in which they live. The game serves as a "sketch pad" for testing out alternative forms of social practice at both the "narrative" level, in terms of the game story, and at a "code" level, as players are able to re-write the code that runs the simulated world.

...'spring_alpha' is a game in permanent alpha state, always open to revision and re-versioning. Re-writing spring_alpha is not only an option available to coders however. Much of the focus of the project lies in using game development itself as a vehicle for social enquiry and speculation; the issues involved in re-designing the game draw parallels with those involved in re-thinking social structures.
My first thought is that, unlike A Million Penguins, "spring_alpha" provides a robust armature for collaboration: a fully developed backstory/setting as well as an established visual aesthetic (both derived from artist Chad McCail's 1998 work "Spring"). That strikes me as a recipe for success. In the graphics, sound and controls department, "spring_alpha" doesn't appear particularly cutting edge (it looks a bit like Google SketchUp, though that may have just been in the development modules I saw), but its sense of distributed creativity and of the political possibilities of games seem quite advanced.
Can anyone point to other examples of collaboratively built games? Does Second Life count?
Posted by ben vershbow on April 10, 2007 2:13 AM
tags: Games, collaboration, opensource, wiki
comments (3):


Jesse Wilbur
on
April 10, 2007 12:17 PM
:
I just had a short discussion with my roommate (an avid First Person Shooter game player), who pointed out that mods have been a big part of gaming since a Half-Life mod blew up into Counterstrike, one of the most popular FPS's of all time. It was less of a democratic movement, and user's didn't really change the objectives of gameplay, so I think there is a big difference here.
I think Second Life is a perfect example of a user-generated game. The 'objectives' of the game aren't determined by some structured leveling system. The in-game modeling capabilities make it possible to literally create the environment. I think that by not exerting pressure on a player to achieve a goal that SL has achieved the sort of open game that allows for an equal amount of social experimentation. I'd be interested to see a greater in depth comparison between the two games and a discussion of why spring_alpha's approach is better suited to social experimentation than SL.


Peter Suber
on
April 11, 2007 9:21 AM
:
For another example of a user-generated or collaboratively-built game, see Nomic, which I invented in 1982 and first published in Douglas Hofstadter's column in Scientific American. Here's how I described it in a subsequent book: "Nomic is a game in which changing the rules is a move. In that respect it differs from almost every other game. The primary activity of Nomic is proposing changes in the rules, debating the wisdom of changing them in that way, voting on the changes, deciding what can and cannot be done afterwards, and doing it. Even this core of the game, of course, can be changed."


J Bushnell
on
April 12, 2007 12:42 PM
:
Seeing Peter Suber in this thread is like a brush with fame for me: I've played many, many, many games of Nomic over the past years and in fact opened up this thread to make mention of it.
(Because of spam troubles, first-time comments from unfamiliar addresses or containing multiple links might be held for moderation. If your comment isn't spam, we'll publish it very soon. Thanks in advance for your patience.)