« an encyclopedia of arguments | Main | mashups made easy »
monkeybook 02.21.2007, 6:54 PM
posted by ben vershbow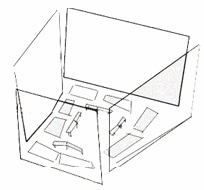 New York readers save the date!
Next Wednesday the 28th the Institute is hosting the first of what hopes to be a monthly series of new media evenings at Brooklyn's premier video salon and A/V sandbox, Monkeytown. We're kicking things off with a retrospective of work by our longtime artist in residence, Alex Itin. February 15th marked the second anniversary of Alex's site IT IN place, which we're preparing to relaunch with a spruced up design and a gorgeous new interface to the archives (design of this interface chronicled here and here). We'd love to see you there.
For those of you who don't know it, Monkeytown is unique among film venues in New York -- an intimate rear room with a gigantic screen on each of its four walls, low comfy sofas and fantastic food. A strange and special place. If you think you can come, be sure to make a reservation ASAP as seating will be tight.
More info about the event here.
Posted by ben vershbow on February 21, 2007 6:54 PM
tags: art, design, monkeybook, monkeytown, newyork, performance, video
comments (1):


K.G. Schneider
on
February 21, 2007 9:16 PM
:
You ARE trying to make a Floridian weepy for the city, aren't you? This is too cool. Please, if you can, post your schedule well enough in advance that those of us who try to make it to NYC once or twice a year can be there too.
(Because of spam troubles, first-time comments from unfamiliar addresses or containing multiple links might be held for moderation. If your comment isn't spam, we'll publish it very soon. Thanks in advance for your patience.)