« phony reader 2: the ipod fallacy | Main | literary zeitgest, google-style »
choose your own adventure dvd 10.05.2006, 8:36 AM
posted by jesse wilbur
I just read the NYTimes mention of The Onyx Project, a new film on DVD that will let you choose what you see, bringing interactivity and participation to film in an unprecedented way.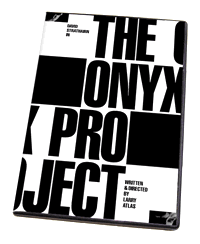 Mainstream film has, for most of its life, been a linear viewing experience. Deviations from that formula have caused a stir: the first one I can remember is the three different endings of "Clue" in 1985. More recently, DVD's have regularly included alternate endings as part of the bonus materials. These 'extras' are a part of nearly every new DVD, a crowd-pleasing trend that began with the Criterion Collection of laserdiscs. Moving films to digital media allowed for a transformative experience—frame by frame control, inclusion of alternate soundtracks, and clips from the cutting room floor (including alternate endings). These additions allowed viewers to radically alter the way they watch film.
But the Onyx Project takes the possibilities of digital media one step further. It transforms the movie experience by allowing the viewer to completely control the unfolding of the story. You control the trajectory and progress of the film by choosing the clip you want to see next, using the proprietary NAV system (Non-linear Arrayed Video—patent pending). There is a shuffle mechanism, if choosing seems too difficult (or if you're feeling serendipitous). The marketing materials promise that with over 500 segments to choose from, no two viewers will see the same thing. The DVD is a garden of forking paths.
I think this is pretty cool stuff: not only technologically, but because I happen to like David Straithairn. (Whistler is one of the all-time best geeks on film.) In the Onyx project, Straithairn plays "Robert A. Henderson, Colonel, U.S. Army." The Onyx Project is his story.
As Henderson unfolds the history of the mission he named Onyx, he speaks of Islam and Christianity, of Mideast history and culture, and of our own political scene. He talks in depth of the military, both of its past and traditoins as well as his own modern area of expertise in Special Operations. He explores his attitutes about President Bush, both before and since the Onyx mission, and of the impact his thoughts — and actions — may have had on his own life, both professional and personal.
The content seems perfectly reasonable (perhaps even a little mundane). Still, I have some doubts about the form: as with most things not web enabled, I instinctively feel claustrophobic. The edges are too close, 500 segments though there be. They say there is a web enabled version of NAV coming out—I'm curious to see what makes it different from traditional hypermedia. Another reservation: out of 500 clips, how is it possible to make a sensible narrative? There is a common scenario in video games: you are exploring the world, taking your time to discover the boundaries of the game, and all of a sudden you find yourself confronted with a character telling you some weighty news in hopes of moving the story along. This places one obvious path in front of you, where an infinite number of paths existed before. I hope the director (Larry Atlas) has managed to successfully construct a cohesive narrative without relying on that kind of contrivance (in the DVD form it would be only allowing a single choice following a particular clip). I think, however, that a feeling of restriction will settle on viewers no matter what, as they try to exert editorial control over the scene choices to construct their own narratives, only to, perforce, be herded back into Henderson's story.
In a fully networked experience, fans could expand on the story at will, bringing their own stories into play against the backdrop of Col. Henderson and the Onyx Project. The loose narrative structure provides an endless stage for people to create their own roles. It could quickly take on the dimensions of the best Alternate Reality Games, blurring the boundaries between reality and media fiction for contributors and viewers. Right now the Onyx Project let's you choose your own adventure; what happens when we write our own adventure?
Posted by jesse wilbur on October 5, 2006 8:36 AM
tags: DVD, criterion, david_straithairn, hypermedia, onyx_project
comments (1):


alex itin
on
October 13, 2006 12:48 PM
:
I've been wondering why there isn't more of this going on. It would seem to me that people watch movies in a radically different way on DVD (and DVRs to some extent). Often you go in a nonlinear direction (let's say watching the "making of" before the movie). A sort of "shuffle" feature could allow a film to unspool more like a painting...becoming somethig that one lives with over time in an ambient relationship... of course it would be a differnet experience and it would have to sound and look interesting, but I for one have been known to leave 2001 running on repeat all day.
I also read that there's a new version of the Clash "Rude Boy" movie that allows you to just see the concert footage...which at some level gives the dvd more mileage... You could do that with Purple Rain and 8 mile, etc. After you've seen the story once... you come back for the music. I wonder if in this disc, the story IS more like music?
(Because of spam troubles, first-time comments from unfamiliar addresses or containing multiple links might be held for moderation. If your comment isn't spam, we'll publish it very soon. Thanks in advance for your patience.)