« on business models in web publishing | Main | google launches archival news search »
google flirts with image tagging 09.06.2006, 6:17 AM
posted by ben vershbow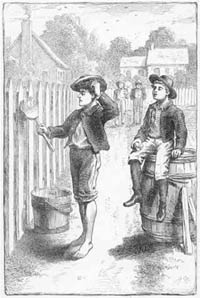 Ars Technica reports that Google has begun outsourcing, or "crowdsourcing," the task of tagging its image database by asking people to play a simple picture labeling game. The game pairs you with a randomly selected online partner, then, for 90 seconds, runs you through a sequence of thumbnail images, asking you to add as many labels as come to mind. Images advance whenever you and your partner hit upon a match (an agreed-upon tag), or when you agree to take a pass.
I played a few rounds but quickly grew tired of the bland consensus that the game encourages. Matches tend to be banal, basic descriptors, while anything tricky usually results in a pass. In other words, all the pleasure of folksonomies -- splicing one's own idiosyncratic sense of things with the usually staid task of classification -- is removed here. I don't see why they don't open the database up to much broader tagging. Integrate it with the image search and harvest a bigger crop of metadata.
Right now, it's more like Tom Sawyer tricking the other boys into whitewashing the fence. Only, I don't think many will fall for this one because there's no real incentive to participation beyond a halfhearted points system. For every matched tag, you and your partner score points, which accumulate in your Google account the more you play. As far as I can tell, though, points don't actually earn you anything apart from a shot at ranking in the top five labelers, which Google lists at the end of each game. Whitewash, anyone?
In some ways, this reminded me of Amazon's Mechanical Turk, an "artificial artificial intelligence" service where anyone can take a stab at various HIT's (human intelligence tasks) that other users have posted. Tasks include anything from checking business hours on restaurant web sites against info in an online directory, to transcribing podcasts (there are a lot of these). "Typically these tasks are extraordinarily difficult for computers, but simple for humans to answer," the site explains. In contrast to the Google image game, with the Mechanical Turk, you can actually get paid. Fees per HIT range from a single penny to several dollars.
I'm curious to see whether Google goes further with tagging. Flickr has fostered the creation of a sprawling user-generated taxonomy for its millions of images, but the incentives to tagging there are strong and inextricably tied to users' personal investment in the production and sharing of images, and the building of community. Amazon, for its part, throws money into the mix, which (however modest the sums at stake) makes Mechanical Turk an intriguing, and possibly entertaining, business experiment, not to mention a place to make a few extra bucks. Google's experiment offers neither, so it's not clear to me why people should invest.
Posted by ben vershbow on September 6, 2006 6:17 AM
tags: AI, crowdsourcing, database, folksonomy, google, library, mechanical_turk, metadata, photography, search, social_software, tagging
comments (3):


Irfan Akram
on
September 10, 2006 12:57 PM
:
Our company has an Auto website, none of its images are indexed by google. Strange enough! Maybe their game will help us too!!


bowerbird
on
September 16, 2006 2:15 AM
:
i'm not sure you got the main point here;
although the image-indexing is the _result_
-- in particular, it is a _useful_ result --
it's a mere byproduct of people playing games.
whether or not _you_ think the game is fun
is immaterial, as long as _someone_ enjoys it.
(at root, most games are silly. basketball,
for instance, is tossing a ball through a hoop.)
if you asked people to index images because
"it'll be great when the images are indexed",
you're not gonna be successful at recruitment.
but transform it into a game they like playing,
and people will come flocking to your door.
that's a very powerful
i recommend people watch this video:
> http://video.google.com/videoplay?docid=-8246463980976635143
it's the talk given to google by the researcher
-- and it apparently got google to spring cash.
it's 30 minutes long, but it's one of the most
interesting lectures i've heard in a long time.
-bowerbird


joand315
on
April 2, 2009 6:53 PM
:
I find this game incredibly entertaining and fun. We are sharing perceptions with an unknown subject, working to come to an answer. After the round, you can see how the other person answered so you can improve your game. The real point of the game is matching someone not doing a good job labeling the picture. The labeling is just a byproduct of the game.
(Because of spam troubles, first-time comments from unfamiliar addresses or containing multiple links might be held for moderation. If your comment isn't spam, we'll publish it very soon. Thanks in advance for your patience.)