« August 2006 | Main | October 2006 »
Those of us who are lucky enough to be wired have sadly come to appreciate the impossibility of reading, seeing, hearing, experiencing even a small fraction of just the new entries to the web each day. (yikes, some days it's even hard just to keep up with a favorite blog). god knows we don't need more pundits, but we are desperate for reliable filters which can recommend the direction of our attention. Denis Dutton, a philosophy prof in New Zealand started Arts & Letters Daily in 1998. every day since, he (and presumably by now a small staff) have recommended several essays and articles that they think are worth looking at. Unlike a blog however which favors the last entry, Denis' original design favored short blurbs so that the reader can scan a large number of entries (from several days) fairly quickly. if you don't know Arts & Letters Daily, it's worth a look. If you do know it, send Denis and present owner (Chronicle of Higher Education) some fan mail.
Posted by bob stein at 2:02 AM | Comments (0) | TrackBack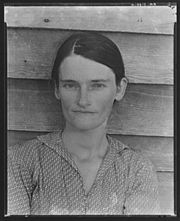 Carbon and Silver is a small show of Walker Evans' 1935-36 photographs at the UBS gallery in New York. The purpose of this exhibit is to compare printing technologies. It focuses primarily on ink-jet prints in relation to gelatin silver prints, with a small sample of books side by side with their digitally printed counterparts, revealing how lithography literally pales next to the crispness of the digital.
The show invites meditations on the "authenticity" of reproductions, especially in a medium such as photography, in itself based upon printing technology. In this show it is quite difficult to discern the original from the copy, and one questions, as Baudrillard would have it, to which point the copy has come to replace the original.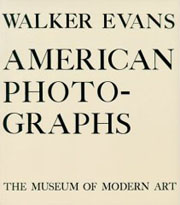 Most of the prints exhibited at the UBS belong to Evans' body of work documenting the effect of the Great Depression on rural families for the Farm Security Administration in 1935-36. As a photographer, he was not particularly interested in producing his own prints as his main interest was to record information. These photographs were originally printed by the FSA as visual evidence reinforcing the New Deal.
Evans' own interpretation of them appeared in American Photographs, the book that accompanied his exhibition at the Museum of Modern art (the first one-man photography show ever mounted by a major museum.) John T. Hill says in this exhibition's catalogue that Evans "scrupulously controlled corrections of the printing plates, and using this process as an extension of his darkroom became a habit." The interesting thing is that he understood that the book has a permanence that the exhibition does not.
Evans' photographs have such crispness that they lend themselves to reproduction, even when the print is less than perfect. As a master of his medium he was absolutely aware of the difficulties of rendering full tonal scale in a black and white print. The ink-jet prints in this show are so remarkably close to their gelatin silver sisters that the viewer has to go back and forth from print to print in order to discern any possible difference. Evans loved the detail that an enlarged print brings out and the enlarged digital prints in this exhibition certainly do that.
Hill sums up the advantages of technology without denigrating the magnificence of the original process:
All new media affect voice and timbre. A greater tonal scale and more precise control of values are the two most significant tools offered by digital technology. The information so difficult to maintain in the dark and light ends of the scale using gelatin silver materials is now printable. Gelatin silver has been replaced by carbon black pigments laid onto archival paper. The music is the same; certain subtle notes are now heard more clearly.
Posted by sol gaitan at 12:35 AM | Comments (0) | TrackBack
This interview with McKenzie Wark was conducted inside an online version of the Halo 2 video game as part of the upcoming fourth episode of This Spartan Life, "a talk show in gamespace." Many thanks to Chris Burke and the TSL team for doing such a fantastic job. Click the image to play (it's a little under 14 minutes):
From the interview, here's McKenzie on collaborating with readers inside his book:
"It sort of brings out what writing always is anyway, which is that, in a sense, you're always the DJ of other people's thoughts and ideas, and this just makes that manifest."
Also see this interesting thread in the GAM3R 7H30RY forum from a while back -- a discussion between McKenzie and Chris about "glitching" and other forms of trifling or hacking within the game (the bread and butter of machinima filmmakers), and whether this can lead to real freedom. There's a moment later on in the video where the debate gets wonderfully concretized in the physical landscape of the game world.
We "shot" the footage back in August at Chris's studio in Brooklyn. I managed to snap a couple of hazy pictures with my camera phone: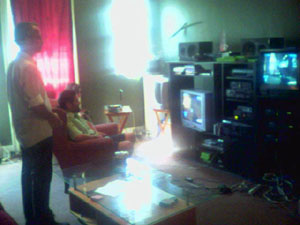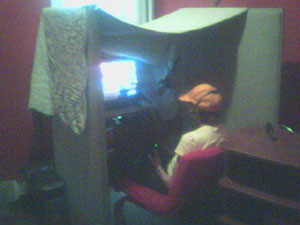 On the left you see the room where Chris and the two camera operators have their consoles. On the right is McKenzie in his own little cave. Everything is recorded through video feeds running out of the Xboxes. Ken and Chris talk over headsets and move around the game environment while the two "cameras" follow behind (the cameras are just the perspectives of the other two gamers). The chaos during Ken's reading at the end is the work of other online gamers from around the country -- TSL groupies who like helping out with shoots and generally raising hell. Seeing Chris try to coordinate this rambunctious crew long distance was highly entertaining.
(If you haven't seen it, also check out This Spartan Life's interview with Bob from their first episode. A real treat.)
Posted by ben vershbow at 3:16 AM | Comments (9) | TrackBack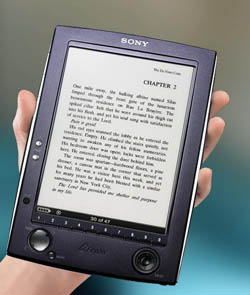 What to say about this thing? After multiple delays, it's finally out, and in time for the holidays. David Rothman, as usual, has provided exhaustive and entertaining coverage over at Teleread (here, here and here), and points to noteworthy reviews elsewhere.
It's no secret that our focus here at the Institute isn't on the kind of ebooks that simply transfer printed texts to the screen. We're much more interested in the new kinds of reading and writing that become possible in a digital, network environment. But even measuring Sony's new device against its own rather pedestrian goals -- replicating the print reading experience for the screen with digital enhancements -- I still have to say that the Reader fails. Here are the main reasons why:
1) Replicating the print reading experience?
E-ink is definitely different than reading off of an LCD screen. The page looks much more organic and is very gentle on the eyes, though the resolution is still nowhere near that of ink on paper. Still, e-ink is undeniably an advance and it's exciting to imagine where it might lead.
Other elements of print reading are conjured less successfully, most significantly, the book as a "random access" medium. Random access means that the reader has control over their place in the book, and over the rate and direction at which they move through it. The Sony Reader greatly diminishes this control. Though it does allow you to leave bookmarks, it's very difficult to jump from place to place unless those places have been intentionally marked. The numbered buttons (1 through 10) directly below the screen offer offer only the crudest browsing capability, allowing you to jump 10, 20, 30 percent etc. through the text.
Another thing affecting readability is that action of flipping pages is slowed down significantly by the rearrangement of the e-ink particles, producing a brief but disorienting flash every time you change your place. Another important element of print reading is the ability to make annotations, and on the Sony Reader this is disabled entirely. In fact, there are no inputs on the device at all -- no keyboard, no stylus -- apart from the basic navigation buttons. So, to sum up, the Sony Reader is really only intended for straight-ahead reading. Browsing, flipping and note-taking, which, if you ask me, are pretty important parts of reading a book, are disadvantaged.
2) Digital enhancements?
Ok, so the Sony Reader doesn't do such a great job at replicating print reading, but the benefits of having your books in digital form more than make up for that, right? Sadly, wrong. The most obvious advantage of going digital is storage capacity, the ability to store an entire library on a single device. But the Sony Reader comes with a piddling 64 megabytes of memory. 64! It seems a manufacturer would have to go out of its way these days to make a card that small. The new iPod Shuffle is barely bigger than a quarter and they start at one gigabyte. Sony says that 64 MB will store approximately 80 books, but throw a few images and audio files in there, and this will dramatically decrease.
So, storage stinks, but electronic text has other advantages. Searchability, for example. True! But the Sony Reader software doesn't allow you to search texts (!!!). I'd guess that this is due to the afore-mentioned time lags of turning pages in e-ink, and how that would slow down browsing through search results. And again, there's the matter of no inputs -- keyboard or stylus -- to enter the search queries in the first place.
Fine. Then how about internet connectivity? Sorry. There's none. Well then what about pulling syndicated content from the web for offline reading, i.e. RSS? You can do this, but only barely. Right now on the Sony Connect store, there are feeds available from about ten popular blogs and news sources. Why so few? Well, they plan to expand that soon, but apparently there are tricky issues with reformatting the feeds for the Reader, so they're building up this service piecemeal, without letting web publishers post their feeds directly. Last night, I attended a press event that Sony held at the W Hotel at Union Square, NYC, where I got to play around with one of the devices hooked up to the online store. I loaded a couple of news feeds onto my Reader and took a look. Pretty ghastly. Everything is dumped into one big, barely formatted file, where it's not terribly clear where one entry ends and another begins. Unrendered characters float here and there. They've got a long way to go on this one.
Which leads us to the fundamental problem with the Sony Reader, or with any roughly equivalent specialized e-reading device: the system is proprietary. Read David Rothman's post for the technical nuances of this, but the basic fact is that the Sony Reader will only allow you to read ebooks that have been formatted and DRMed specifically for the Sony Reader. To be fair, it will let you upload Microsoft Word documents and unencrypted PDFs, but for any more complex, consciously designed electronic book, you've got to go through Sony via the Sony Connect store. Sony not only thinks that it can get away with this lock-in strategy but that, taking its cue from the iPod/iTunes dynamo, this is precisely the formula for success. But the iPod analogy is wrong for a number of reasons, biggest among them that books and music are very different things. I'll address this in another post shortly.
I've said it before and I'll say it again: ebooks are a dead end. Will it be convenient some day to be able to read print books digitally? Certainly. Will the Sony Reader find a niche? Maybe (but Sony Ericsson's phones look far more dynamic than this feeble device). Is this the future of reading and writing? I don't think so. Ebooks and their specialized hardware are a red herring in a much bigger and more mysterious plot that is still unfolding.
See also:
- phony reader 2: the ipod fallacy
- phony bookstore
- an open letter to claire israel

Posted by ben vershbow at 3:53 PM | Comments (5) | TrackBack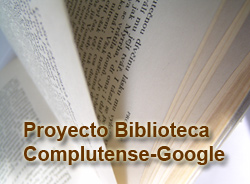 The Complutense University of Madrid is the latest library to join Google's digitization project, offering public domain works from its collection of more than 3 million volumes. Most of the books to be scanned will be in Spanish, as well as other European languages (read more in Reuters , or at the Biblioteca Complutense (en espagnol)). I also recently came across news that Google is seeking commercial partnerships with english-language publishers in India.
While celebrating the fact that these books will be online (and presumably downloadable in Google's shoddy, unsearchable PDF editions), we should consider some of the dynamics underlying the migration of the world's libraries and publishing houses to the supposedly placeless place we inhabit, the web.
No doubt, Google's scanners are aquiring an increasingly global reach, but digitization is a double-edged process. Think about the scanner. A photographic technology, it captures images and freezes states. What Google is doing is essentially photographing the world's libraries and preparing the ultimate slideshow of human knowledge, the sequence and combination of the slides to be determined each time by the queries of each reader.
But perhaps Google's scanners, in their dutifully accurate way, are in effect cloning existing arrangements of knowledge, preserving cultural trade deficits, and reinforcing the flow of knowledge power -- all things we should be questioning at a time when new technologies have the potential to jigger old equations.
With Complutense on board, we see a familiar pyramid taking shape. Spanish takes its place below English in the global language hierarchy. Others will soon follow, completing this facsimile of the existing order.
Posted by ben vershbow at 6:39 PM | Comments (1) | TrackBack
The Van Alen Institute has organized an exhibition that explores new design and use of public space for recreation. The exhibition displays innovative designs for reimagined and reclaimed public spaces from various architects and urban planners. The projects are organized into five categories: The Connected City, the Cultural City, the 24-Hour City, the Fun City, and the Healthy City. As part of the exhibition, the Van Alen Institute has been holding weekly panel discussions about designing public space from international and local (NYC) perspectives. The participants have been high level partners in some of the most widely regarded architecture firms in NYC and the world. The questions and discussions afterwards, however, have proved to be the most interesting part; there have been questions about autonomy and conformity in public space, and how much of the new public space has been designed for safety, but little else. They have become 'non-spaces', and fail to support public needs for engagement, relaxation, and health.
This week their discussion will move away from the architectural and planning and into new technology. It will be interesting to see how technology supports and influences ideas of connectedness in a public place; while the value of connecting to others from a private, isolated space seems obvious, doing so from a public place seems less common and less intuitive than face-to-face interaction. The panel, including Christina Ray (responsible for the Conflux Festival ) and Nick Fortugno (Come Out & Play Festival), will present and discuss "The Wired City" at 6:30 pm on Wednesday, Sep. 27.
Posted by jesse wilbur at 12:41 PM | Comments (0) | TrackBack
"...the copyright system may in important respects be impeding, rather than stimulating, the production of new ideas and new scholarship in the humanities and social sciences."
"Existing legislation urgently needs to be updated, though the manner in which this is achieved has the potential to nurture or curtail the development of new kinds of creativity and new models of public and private sector value."

Posted by ben vershbow at 1:44 AM | Comments (0) | TrackBack
Reading Christine Boese's anticipatory critique of the new NY Times Reader, I was reminded of something I saw last winter in Seoul at Chosun Ilbo, which is pretty much the Korean equivalent of The New York Times. Off the main lobby, the newspaper has set up an exhibition space called the "Media Lab," where the latest prototypes from the paper's digital technology wing are on public display. A sneak peak at the future of news.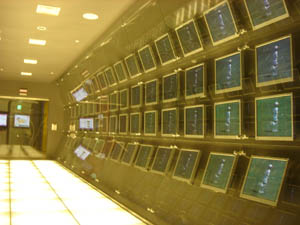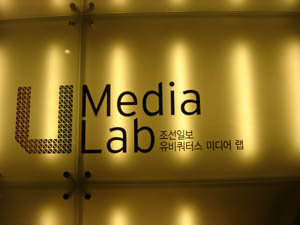 While there, I taped a demo that shows a new reading interface they've developed called "T-Paper," which was supposedly slated for release this year (though I haven't heard anything about it since). Strolling through the gallery, I found it running across a range of devices, from large flat-screen televisions to laptops, to Sony PSPs, to tiny pocket assistants. Here's the wall display:
My first reaction was much like Chris's: "a 'horseless carriage' retrenchment" -- porting the artifact of the broadsheet newspaper into a digital environment. I have to admit, though, that I was slightly seduced by the zoom interface, which reminded me of this proof of a similar concept by the late interface pioneer Jef Raskin. It's especially impressive to see it done with video. Though the Times Reader doesn't sport anything as fancy as this, a commenter named Kevin (who I can only assume works for the Times -- or Microsoft) insists that it will have much of the reader-driven functionality we would hope for (including the ability to share comments and annotations with other readers), in spite of the fact that it will be, as Chris puts it, "a walled garden."
Kevin also refers to usability studies that suggest the Times Reader helps users "retain more information and read for longer periods." I'll buy longer periods -- I always read more of the paper when I have it in print, and this new device certainly replicates much of the experience of print reading, while incorporating some nice new features. But still, are these proprietary, bound devices really going to replace newspapers? It seems doubtful when news consumption is such a multi-sourced affair these days (though to some extent that's an illusion). A device that allows readers to design their news menu seems more the ticket. Maybe the Times should be thinking more in terms of branded software than proprietary hardware. Make the best news reader on the web, prominently featuring Times content, but allowing users to customize their reading experience. Keep it open and plugged in. Let the Times be your gateway to more than just the Times.
Chosun Ilbo's vision seemed similarly constrained. As much as they tried to create a futuristic atmosphere with their Media Lab, much of the technology on display seemed, like the Times Reader, to be stuck in old mindsets -- fixated more on the digital apotheosis of their product than on really grappling with the realities of the new media environment.
T-Paper also reminded of another museum piece, the British Museum's "Turning the Pages," which remounts famous old manuscripts like DaVinci's journals in a fancy page-turning interface. A while back, Sally Northmore wrote a nice piece for if:book pondering this strange print-digital artifact, and what it means to electronically replicate the turning of a page. All of this recalls Marshall McLuhan's famous observation in The Medium is the Massage:
"When faced with a totally new situation, we tend always to attach ourselves to the objects, to the flavor of the most recent past. We look at the present through a rear-view mirror. We march backwards into the future..."
Much of the disoreintation I felt while in Korea came from this feeling of time pulling in different directions. A society saturated in technology, far more wired than ours, Korea rushes headlong into the future, yet at the same time digs its heels obstinately into the past. At the end of the Korean War, Seoul was a bombed-out pit of some half million people. Now it's a sprawling megalopolis of over 20 million, and though many centuries-old, it feels streamlined and new. There's no "old city" in any real sense. Shiny glass towers and enormous shopping centers loom over the streets, pedestrian shopping lanes explode into jungles of neon, tiny alleys teem with life like fissures in a coral reef, and a vast network of subways rumbles beneath. And yet this dynamic scene -- the swirl of steaming tripe vendors and blinking electronics -- is periodically interrupted by a medieval gate or pagoda, a historic remainder sitting tranquilly amid the churn of modern life.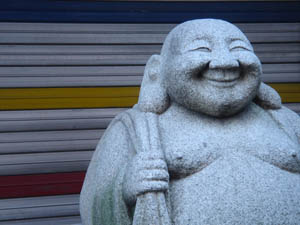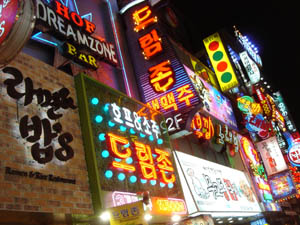 Spend an afternoon walking through Seoul and you'll see the full pageant of the local techno-culture. Cell phones are clearly several generations further evolved than anything we have here in the States. People seem to be doing just about everything with their mobile devices: playing games, watching TV, surfing the web. I even saw one woman on a train using her phone's video camera as a pocket mirror to fix her make-up. Young men spend hours tucked away in smoky, windowless internet cafes known as "PC Bangs," playing multi-player online games that involve a quarter of the citizenry. At the same time, you are frequently reminded of Korea's abiding infatuation with printing, paper crafts and calligraphy: stores sumptuously arrayed with handmade paper hung on racks, prodigiously plumed ink brushes hanging like icicles from the ceiling, and delicate little rice paper journals piled neatly on the shelves.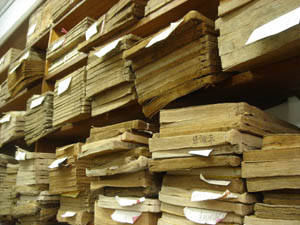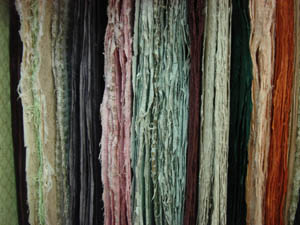 Mountains also serve to anchor swift-moving Seoul in time. 70 percent of the Korean peninsula is mountainous and the Seoul region is no exception. Sitting in the heart of downtown is the petite Namsan peak, surrounded by one of the city's best-loved parks and sporting at its summit Seoul's most recognizable landmark, Seoul Tower, a rocket ship awaiting blastoff. Facing Namsan, the snow-streaked Bugaksan peak rises over one of Seoul's central boulevards, an avenue running through what feels like the Korean equivalent of Rockefeller Plaza, past City Hall, the big newspaper offices, the Ubiquitous Dream Hall and the Ministry of Reunification, leading to the Gyeongbok Palace, and beyond that the Presidential "Blue House," nestled in Bugaksan's shade.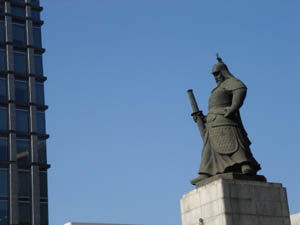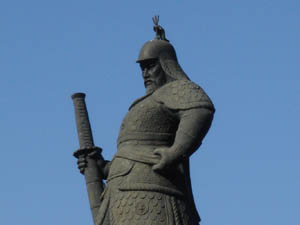 Framed by the mountain, presiding over the unending traffic of Hyundais, Kias, Daewoos, and Samsungs, is an imposing statue of Admiral Yi, the famous military leader who in the late 16th century dealt a humiliating blow to the Japanese navy with the most advanced technology of his time: a fleet of armor-plated, smoke-breathing "turtle boats."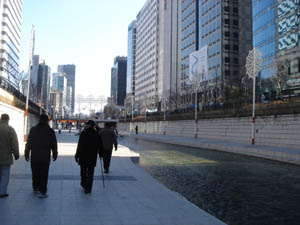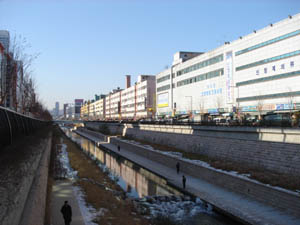 Much of Seoul's past lies beneath the modern streets, and occasionally something is unearthed and restored (or reinvented). Announced by a waterfall perpendicular to the grand boulevard is the Cheonggyecheon, an ancient stream running through the heart of the city into the countryside beyond, and which until very recently was covered over by an elevated highway. Last year, the city demolished the roadway, uncovered the stream and built a lovely sunken path alongside it cutting quietly through six miles of the city's bustle. If you've ever been to Paris and walked directly along the Seine on the lower walkways, you can sort of picture this, though the Cheonggyecheon is no Seine -- a small stream and a fairly narrow trench. But walking there, with the tops of buildings peeking over, an improbable calm steals over you in the heart of town.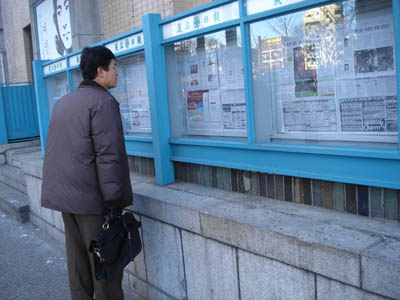 And because this reminiscence began with newspapers, take a look at these pictures. A few blocks from the waterfalls that reintroduce the Cheonggyecheon to the city after all these years, the very same newspapers that pride themselves on publishing at the cutting edge of technology still mount their daily editions, page by page, in glass cases on the street for all to read.
Posted by ben vershbow at 12:02 AM | Comments (1) | TrackBack
Urban gaming is growing in popularity in correlation with the ascendance of mobile devices. Many current games depend on an email or text messaging enabled phone; some of the latest are digital scavenger hunts where the camera phone is the weapon of choice. This weekend at the Come Out & Play Festival, hosted by EyeBeam, you'll have a chance to play some of the newest games in your own back alley. While not all urban games require tech—some are just about taking advantage of the unique density of the urban environment—the games at CO&P are almost uniformly tech enabled, using mobile phones or projectors or even visits to Second Life as aspects of gameplay.
The Come Out & Play Festival is a street games fesitval dedicated to exploring new styles of games and play.The festival will feature games from the creators of I love bees, PacManhattan, Conqwest, Big Urban Game and more.From massive multi-player walk-in events to scavenger hunts to public play performances, the festival will give players and the public the chance to take part in a variety of different games. Come rediscover the city around you through play.Why street games? Why a street games festival, you ask? Fair questions. Well, we like innovative use of public space. We like games which make people interact in new ways. We like games that alter your perception of your surroundings. But most importantly, we think games are great way to have fun.
Like the Conflux Festival, Come Out & Play encourages us to use our shared urban spaces differently, unlimited by the conventions of that space. But rather than approach it from the perspective of an individual remaking the rules of public engagement, CO&P encourages a game mentality, where the individual (or team) works within a different set of highly prescriptive rules. These rules aren't the usual rules of public space, which is what makes it fun. But they are the rules of the game, and they cannot be broken if you want to continue to participate. Urban gaming has some root in the thinking of the Situationists—particularly the notion of public, anarchic play—so it seems especially ironic that the play is so structured. Still, I anticipate all the regulations in the world won't kill the fun this weekend, and the faint whiff of activism will add a pleasant flavor to the proceedings. I'm especially looking forward to Cruel 2 B Kind (if I can just figure out how to get my phone to use email), and the enormous Space Invaders projection (it uses the side of a building as the screen and your body as the defender ship).
Posted by jesse wilbur at 3:41 PM | Comments (0) | TrackBack
[editor's note: The New York Times released a new software reader. It is Windows only. No Mac compatibility at this time. We asked Christine Boese, of serendipit-e.com, to post her thoughts on the matter.]


I got this off another news clip service I'm on...
NYT Finally Creates a Readable Online Newspaper (Slate)

Jack Shafer: About six months ago, I canceled my New York Times subscription because I had found the newspaper's redesigned Web site to be superior to the print Times. I've now abandoned the Web version for the New York Times Reader, a new computer edition that has entered general beta release.
I went around to try to sign up for it and get a look. I couldn't, because the Times IT dept overlooked making its beta available for Macs. I scanned through the screenshots, tho, and the comments on the blog preview of features, sneek peek #1 and #2.
Jack Shafer isn't exactly an expert in interactive design, so I don't know if his endorsement means anything other than, "Gee whiz, here's a neato new thing!".
My initial impressions are that it looks like the International Herald Tribune
with a horizontal orientation I just can't stand (the Herald Tribune often requires horizontal scrolling, and it's far easier to read the printable version of stories). Yes, I see there is a narrow screen screenshot, but I'm thinking more about the text flow nightmares this design must cause.
But I think I have bigger reservations about the entire concept behind the Times Reader beta.
Here's just a summary of questions I'd want answered, if I were actually able to test the beta:
How is re-creating a facsimile of a print newspaper online a step forward for interactive media? Is it really, or is it just a kind of "horseless carriage" retrenchment? Shafer talks about some non-print-like pages that tell you what you've read or haven't read, to assist browsing and search, but notes that the archives are thin. I wonder if the Times "Most Popular" feature makes the cut.
Code. The big deal here is that it uses Microsoft .NET and advancers on Vista technology. I smell a walled garden. Is this XML-compatible? RSS-enabled? Is it even in HTML code that can be easily copied and pasted? (Shafer's piece says it can be, but I want to see for myself) W3 validated? Does its content management system have permalinks? How do bookmarks work?
Hyperlinks. Will the text accomodate them? Will the Times use them? Or by anchoring themselves firmly in a "reader" technology, perhaps a completely web-independent application, is the Times trying to go beyond simply a code-walled garden and also create a strong CONTENT walled garden as well? Is this a variant of TimesSelect on speed?
Audience. Presumably the Times has some research that shows a need to court its paper-bound print-loving audience to its online products by making the online products more like the print products.

But my question about audience is this: is there a REASON to make heroic efforts to lure print readers online? Isn't the bigger issue trying to keep print readers attached to print, so that the ad-driven print editions don't have to go the way of the dinosaur? The online news audience is already massive, and (Pew, Poynter) studies show that during the recent wars, large numbers of people were turning away from traditional news providers and outlets to seek out other sources of information, particularly international information, on the Internet and with news feed readers (RSS/Atom).

So in a competitive online news landscape, the Times makes a strategic turn to become more like its print product? And this will lure large numbers of online news readers back exclusively to the Times exactly HOW? Especially if it is a walled garden that doesn't integrate well into the Blogosphere or in RSS news feed readers?

People like Terry Heaton and other media consultants (Heaton has a terrific blog, if you haven't found it yet) are going out and telling traditional news media outlets that they have to move more strongly into an environment of UNBOUND media, to make their products more maleable for an unbound Internet environment. It appears the Times is not a company that has purchased Heaton's services lately.

Usability and Design. I've already mentioned the Mac incompatiblity. What other usability and design issues are present in this Times Reader technology? I'll leave that to people who actually get use it.


From the screenshots I've seen, there seems to be very little functionality or interactive user-customizable features at all. I don't know. Color me stupid, but my gut reaction is that this is nothing more than another variant of the exact PDF version of the paper that the Times put out, only perhaps with better text searching features and dynamic text flow (meaning I'd bet it is XML-based instead of PDF-based, only with some custom-built or Microsoft-blessed walled garden DTD).
You know, for the money the Times spent on this (and the experienced journalists the Times Group laid off this past year), I'd have thought the best use of resources for a big media company would be to develop a really KILLER RSS feed reader, one that finally gets over the usability threshold that keeps feed readers in "Blinking 12-land" for most casual Internet users.
I mean, I know there are a lot of good feed readers out there (I favor Bloglines myself), but have any of you tried to convert non-techie co-workers into using a feed reader lately? I can't for the LIFE of me figure out why there's so much resistance to something so purely wonderful and empowering, something I believe is clearly the killer app on par with the first Mosaic browser in 1993. But because feed readers caught on bottom up instead of top down, there's not only usability problems for the broadest audiences, there's also a void at the top of the technology industry, by companies that fail to catch on to the RSS vision, mainly because they didn't think it up themselves.
Posted by jesse wilbur at 10:42 PM | Comments (6) | TrackBack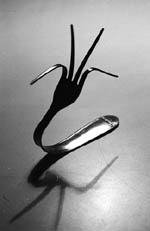 Another funny thing about Larry Sanger's idea of a progressive fork off of Wikipedia is that he can do nothing, under the terms of the Free Documentation License, to prevent his expert-improved content from being reabsorbed by Wikipedia. In other words, the better the Citizendium becomes, the better Wikipedia becomes -- but not vice versa. In the Citizendium (the name still refuses to roll off the tongue), forks are definitive. The moment a new edit is made, an article's course is forever re-charted away from Wikipedia. So, assuming anything substantial comes of the Citizendium, feeding well-checked, better written content to Wikipedia could end up being its real value. But would it be able to sustain itself under such uninspiring circumstances? The result might be that the experts themselves fork back as well.
Posted by ben vershbow at 2:21 PM | Comments (3) | TrackBack
Adobe just announced the release of Acrobat 8, their PDF production software. To promote it, they hosted three "webinars" on Tuesday to demonstrate some of the new features to the interested public. Your correspondent was there (well, here) to see what glimmers might be discerned about the future of electronic reading.
Who cares about Acrobat?
What does Acrobat have to do with electronic books? You're probably familiar with Acrobat Reader: it's the program that opens up PDFs. Acrobat is the "author" program: it lets people make PDFs. This is very important in the world of print design and publishing: probably 90% of the new printed material you see every day goes through Acrobat in some form or another. Acrobat's not quite as ubiquitous as it once was – newer programs like Adobe InDesign, for example, let designers create PDFs that can be sent to the printer's without bothering with Acrobat, and it's easy to make PDFs out of anything in Mac OS X. But Acrobat remains an enormous force in the world of print design.
PDF, of course, has been presented as being a suitable format for electronic books; see here for an example. Acrobat provided the ability for publishers to lock down the PDFs that Amazon (for example) sold with DRM; publishers jumped on board. The system wasn't successful, not least because opening the locked PDFs proved chancey: I have a couple of PDFs I bought during Amazon's experiment selling them which, on opening, download a lot of "verification information" and then give inscrutable errors. In part because of these troubles, Amazon's largely abandoned the format – notice their sad-looking ebook store.
Why keep an eye on Acrobat? One reason is because Acrobat 8 is Adobe's first major release since merging with Macromedia, a union that sent shockwaves across the world of print and web design. Adobe now releases almost most significant programs used in print design. (A single exception is Quark XPress, which has been quietly rolling away towards oblivion of its own accord since around the millennium.) With the acquisition of Macromedia's web technologies – including Flash and Dreamweaver – Adobe is inching towards a Microsoft-style monopoly of Web design. In short: where Acrobat goes is where Adobe goes; and where Adobe goes is where design goes. And where design goes is where books go, maybe.
So what does Acrobat 8 do?
Acrobat 8 provides a number of updated features that will be useful to people who do pre-press and probably uninteresting to anyone else. They've made a number of minor improvements – the U. S. government will be happy to know that they can now use Acrobat to redact information without having to worry about the press looking under their black boxes. You can now use Acrobat to take a bunch of documents (PDF or otherwise) and lump them together into a "bundle". All nice things, but nothing to get excited about. More DRM than you could shake a stick at, but that's to be expected.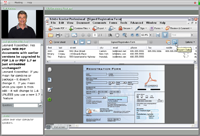 The most interesting thing that Acrobat 8 does – and the reason I'm bringing this up here – is called Acrobat Connect. Acrobat Connect allows users to host web conferences around a document – it was what Adobe was using to hold their "webinars". (There's a screenshot to the right; click on the thumbnail for the full-sized image.) These conferences can be joined by anyone with an Internet connection and the Flash plugin. Pages can be turned and annotations can be made by those with sufficient privileges. Audio chatting is available, as is text-based chatting. The whole "conversation" can be recorded for future reference as a Flash-based movie file.
There are a lot of possibilities that this technology suggests: take an electronic book as your source text and you could have an electronic book club. Teachers could work their way through a text with students. You could use it to copy-edit a book that's being published. A group of people could get together to argue about a particularly interesting blog post. Reading could become a social experience.
But what's the catch?
There's one catch, and it's a big one: the infrastructure that Acrobat 8 uses: you have to use Adobe's server, and there's a price for that. It was suggested that chat-hosting access would be provided for $39 a month or $395 a year. This isn't entirely a surprise: more and more software companies are trying to rope consumers into subscription-based models. This might well work for Adobe: I'm sure there are plenty of corporations that won't balk at shelling out $395 a year for what Acrobat Connect offers (plus $449 for the software). Maybe some private schools will see the benefit of doing that. But I can't imagine, however, that there are going to be many private individuals who will. Much as I'd like to, I won't.
I'm not faulting Adobe for this stance: they know who butters their bread. But I think it's worth noting what's happening here: a divide between the technology available to the corporate world and the general public, and, more specifically, a divide that doesn't need to exist. Though they don't have the motive to do so, Adobe could presumably make a version of Acrobat Connect that would work on anyone's server. This would open up a new realm of possibility in the world of online reading. Instead, what's going to happen is that the worker bees of the corporate world will find themselves forced to sit through more PowerPoint presentations at their desks.
While a bunch of people reading PowerPoint could be seen as a social reading experience, so much more is possible. We, the public, should be demanding more out of our software.
Posted by dan visel at 12:30 PM | Comments (3) | TrackBack
Clay Shirky has some interesting thoughts on why Larry Sanger's expert-driven Wikipedia spinoff Citizendium is bound to fail. At the heart of it is Sanger's notion of expertise, which is based largely on institutional warrants like academic credentials, yet lacks in Citizendium the institutional framework to effectively impose itself. In other words, experts are "social facts" that rely on culturally manufactured perceptions and deferences, which may not be transferrable to an online project like the Citizendium. Sanger envisions a kind of romance between benevolent academics and an adoring public that feels privileged to take part in a distributed apprenticeship. In reality, Shirky says, this hybrid of Wikipedia-style community and top-down editorial enforcement is likely to collapse under its own contradictions. Shirky:
Citizendium is based less on a system of supportable governance than on the belief that such governance will not be necessary, except in rare cases. Real experts will self-certify; rank-and-file participants will be delighted to work alongside them; when disputes arise, the expert view will prevail; and all of this will proceed under a process that is lightweight and harmonious. All of this will come to naught when the citizens rankle at the reflexive deference to editors; in reaction, they will debauch self-certification...contest expert preogatives, rasing the cost of review to unsupportable levels...take to distributed protest...or simply opt-out.
Shirky makes a point at the end of his essay that I found especially insightful. He compares the "mechanisms of deference" at work in Wikipedia and in the proposed Citizendium. In other words, how in these two systems does consensus crystallize around an editorial action? What makes people say, ok, I defer to that?
The philosophical issue here is one of deference. Citizendium is intended to improve on Wikipedia by adding a mechanism for deference, but Wikipedia already has a mechanism for deference -- survival of edits. I recently re-wrote the conceptual recipe for a Menger Sponge, and my edits have survived, so far. The community has deferred not to me, but to my contribution, and that deference is both negative (not edited so far) and provisional (can always be edited.)

Deference, on Citizendium will be for people, not contributions, and will rely on external credentials, a priori certification, and institutional enforcement. Deference, on Wikipedia, is for contributions, not people, and relies on behavior on Wikipedia itself, post hoc examination, and peer-review. Sanger believes that Wikipedia goes too far in its disrespect of experts; what killed Nupedia and will kill Citizendium is that they won't go far enough.
My only big problem with this piece is that it's too easy on Wikipedia. Shirky's primary interest is social software, so the big question for him is whether a system will foster group interaction -- Wikipedia's has proven to do so, and there's reason to believe that Citizendium's will not, fair enough. But Shirky doesn't acknowledge the fact that Wikipedia suffers from some of the same problems that he claims will inevitably plague Citizendium, the most obvious being insularity. Like it or not, there is in Wikipedia de facto top-down control by self-appointed experts: the cliquish inner core of editors that over time has becomes increasingly hard to penetrate. It's not part of Wikipedia's policy, it certainly goes against the spirit of the enterprise, but it exists nonetheless. These may not be experts as defined by Sanger, but they certainly are "social facts" within the Wikipedia culture, and they've even devised semi-formal credential systems like barnstars to adorn their user profiles and perhaps cow more novice users. I still agree with Shirky's overall prognosis, but it's worth thinking about some of the problems that Sanger is trying to address, albeit in a misconceived way.
Posted by ben vershbow at 10:31 AM | Comments (1) | TrackBack
Estranged Wikipedia cofounder Larry Sanger has long argued for a more privileged place for experts in the Wikipedia community. Now his dream may finally be realized. A few days ago, he announced a new encyclopedia project that will begin as a "progressive fork" off of the current Wikipedia. Under the terms of the GNU Free Documentation License, anyone is free to reproduce and alter content from Wikipedia on an independent site as long as the new version is made available under those same terms. Like its antecedent, the new Citizendium, or "Citizens' Compendium", will rely on volunteers to write and develop articles, but under the direction of self-nominated expert subject editors. Sanger, who currently is in the process of recruiting startup editors and assembling an advisory board, says a beta of the site should be up by the end of the month.
We want the wiki project to be as self-managing as possible. We do not want editors to be selected by a committee, which process is too open to abuse and politics in a radically open and global project like this one is. Instead, we will be posting a list of credentials suitable for editorship. (We have not constructed this list yet, but we will post a draft in the next few weeks. A Ph.D. will be neither necessary nor sufficient for editorship.) Contributors may then look at the list and make the judgment themselves whether, essentially, their CVs qualify them as editors. They may then go to the wiki, place a link to their CV on their user page, and declare themselves to be editors. Since this declaration must be made publicly on the wiki, and credentials must be verifiable online via links on user pages, it will be very easy for the community to spot false claims to editorship.

We will also no doubt need a process where people who do not have the credentials are allowed to become editors, and where (in unusual cases) people who have the credentials are removed as editors. (link)
Initially, this process will be coordinated by "an ad hoc committee of interim chief subject editors." Eventually, more permanent subject editors will be selected through some as yet to be determined process.
Another big departure from Wikipedia: all authors and editors must be registered under their real name.
More soon...
Reports in Ars Technica and The Register.
Posted by ben vershbow at 1:50 PM | Comments (2) | TrackBack
Here's a wonderful thing I stumbled across the other day: GAM3R 7H30RY has its very own listing in North Carolina State University's online library catalog.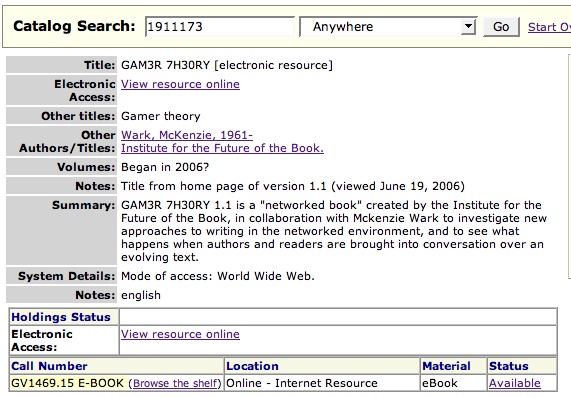 The catalog is worth browsing in general. Since January, it's been powered by Endeca, a fantastic library search tool that, among many other things, preserves some of the serendipity of physical browsing by letting you search the shelves around your title.
(Thanks, Monica McCormick!)
Posted by ben vershbow at 3:48 AM | Comments (2) | TrackBack
Last week got off to an exciting start when the Wall Street Journal ran a story about "networked books," the Institute's central meme and very own coinage. It turns out we were quoted in another WSJ item later that week, this time looking at the science journal Nature, which over the summer has been experimenting with opening up its peer review process to the scientific community (unfortunately, this article, like the networked books piece, is subscriber only).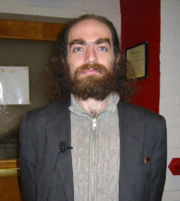 I like this article because it smartly weaves in the story of Grigory (Grisha) Perelman, which I had meant to write about earlier. Perelman is a Russian topologist who last month shocked the world by turning down the Fields medal, the highest honor in mathematics. He was awarded the prize for unraveling a famous geometry problem that had baffled mathematicians for a century.
There's an interesting publishing angle to this, which is that Perelman never submitted his groundbreaking papers to any mathematics journals, but posted them directly to ArXiv.org, an open "pre-print" server hosted by Cornell. This, combined with a few emails notifying key people in the field, guaranteed serious consideration for his proof, and led to its eventual warranting by the mathematics community. The WSJ:
...the experiment highlights the pressure on elite science journals to broaden their discourse. So far, they have stood on the sidelines of certain fields as a growing number of academic databases and organizations have gained popularity.

One Web site, ArXiv.org, maintained by Cornell University in Ithaca, N.Y., has become a repository of papers in fields such as physics, mathematics and computer science. In 2002 and 2003, the reclusive Russian mathematician Grigory Perelman circumvented the academic-publishing industry when he chose ArXiv.org to post his groundbreaking work on the Poincaré conjecture, a mathematical problem that has stubbornly remained unsolved for nearly a century. Dr. Perelman won the Fields Medal, for mathematics, last month.
(Warning: obligatory horn toot.)
"Obviously, Nature's editors have read the writing on the wall [and] grasped that the locus of scientific discourse is shifting from the pages of journals to a broader online conversation," wrote Ben Vershbow, a blogger and researcher at the Institute for the Future of the Book, a small, Brooklyn, N.Y., , nonprofit, in an online commentary. The institute is part of the University of Southern California's Annenberg Center for Communication.
Also worth reading is this article by Sylvia Nasar and David Gruber in The New Yorker, which reveals Perelman as a true believer in the gift economy of ideas:
Perelman, by casually posting a proof on the Internet of one of the most famous problems in mathematics, was not just flouting academic convention but taking a considerable risk. If the proof was flawed, he would be publicly humiliated, and there would be no way to prevent another mathematician from fixing any errors and claiming victory. But Perelman said he was not particularly concerned. "My reasoning was: if I made an error and someone used my work to construct a correct proof I would be pleased," he said. "I never set out to be the sole solver of the Poincaré."
Perelman's rejection of all conventional forms of recognition is difficult to fathom at a time when every particle of information is packaged and owned. He seems almost like a kind of mystic, a monk who abjures worldly attachment and dives headlong into numbers. But according to Nasar and Gruber, both Perelman's flouting of academic publishing protocols and his refusal of the Fields medal were conscious protests against what he saw as the petty ego politics of his peers. He claims now to have "retired" from mathematics, though presumably he'll continue to work on his own terms, in between long rambles through the streets of St. Petersburg.
Regardless, Perelman's case is noteworthy as an example of the kind of critical discussions that scholars can now orchestrate outside the gate. This sort of thing is generally more in evidence in the physical and social sciences, but ought too to be of great interest to scholars in the humanities, who have only just begun to explore the possibilities. Indeed, these are among our chief inspirations for MediaCommons.
Academic presses and journals have long functioned as the gatekeepers of authoritative knowledge, determining which works see the light of day and which ones don't. But open repositories like ArXiv have utterly changed the calculus, and Perelman's insurrection only serves to underscore this fact. Given the abundance of material being published directly from author to public, the critical task for the editor now becomes that of determining how works already in the daylight ought to be received. Publishing isn't an endpoint, it's the beginning of a process. The networked press is a guide, a filter, and a discussion moderator.
Nature seems to grasp this and is trying with its experiment to reclaim some of the space that has opened up in front of its gates. Though I don't think they go far enough to effect serious change, their efforts certainly point in the right direction.
Posted by ben vershbow at 11:05 AM | Comments (1) | TrackBack
On Wednesday, we had the pleasure of spending an afternoon with a group of 22 students from Carleton College who are spending a trimester studying and making digital media under the guidance of John Schott, a professor in the Dept. of Cinema & Media Studies specializing in "personal media" production and network culture. This year, his class is embarking on an off-campus study, a ten-week odyssey beginning in Northfield, Minnesota and taking them to New York, London, Amsterdam and Berlin. At each stop, they'll be visiting with new media producers, attending festivals and exhibitions, and documenting their travels in a variety of forms. Needless to say, we're deeply envious.
The Institute was the first stop on their trip, so we tried to start things off with a flourish. After a brief peak at the office, we brought the class over to Monkeytown, a local cafe and video club with a fantastic cube-shaped salon in the back where gigantic projection screens hang on each of the four walls.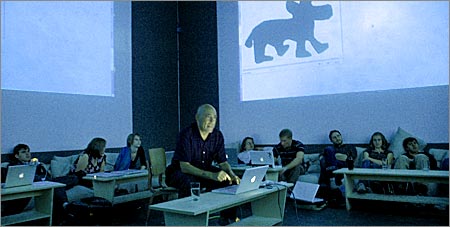 Hooking our computers up to the projectors, we took the students on a tour of what we do: showed them our projects, talked about networked books (it was surreal to see GAM3R 7H30RY blown up 20 feet wide, wavering slightly in the central AC), and finished with a demo of Sophie. John Schott wrote a nice report about our meeting on the class's blog. Also, for a good introduction to John's views on personal media production and media literacy, take a look at this interview he gave on a Minnesota video blog back in March.
This is a great group of students he's assembled, with interests ranging from film production to philosophy to sociology. They also seem to like Macs. This could be an ad for the new MacBook:
We've invited them back toward the end of their three weeks in New York to load Sophie onto their laptops before they head off to Europe.
(photos by John Schott)
Posted by ben vershbow at 3:19 PM | Comments (0) | TrackBack
Mapping is a useful abstraction for exploring ideas, and not just for navigation through the physical world. A recent exhibit, Places & Spaces: Mapping Science, (at the New York Public Library of Science, Industry, and Business), presented maps that render the invisible path of scientific progress using metaphors of cartography. The maps ranged in innovation: there were several that imitated traditional geographical and topographical maps, while others created maps based on nodal presenation—tree maps and hyperbolic radial maps. Nearly all relied on citation analysis for the data points. Two interesting projects: Brad Paley's TextArc Visualization of "The History of Science", which maps scientific progress as described in the book "The History of Science"; and Ingo Gunther's Worldprocessor Globes, which are perfectly idiosyncratic in their focus.
But, to me, the exhibit highlighted a fundamental drawback of maps. Every map is an incomplete view of an place or a space. The cartographer makes choices about what information to include, but more significantly, what information to leave out. Each map is a reflection of the cartographer's point of view on the world in question.
Maps serve to guide—whether from home to a vacation house in the next state, or from the origin of genetic manipulation through to the current replication practices stem-cell research. In physical space, physical objects circumscribe your movement through that space. In mental space, those constraints are missing. How much more important is it, then, to trust your guide, and understand the motivations behind your map? I found myself thinking that mapping as a discipline has the same lack of transparency as traditional publishing.
How do we, in the spirit of exploration, maintain the useful art of mapping, yet expand and extend mapping for the networked age? The network is good at bringing information to people, and collecting feedback. A networked map would have elements of both information sharing, and information collection, in a live, updateable interface. Jeff Jarvis has discussed this idea already in his post on networked mapping. Jarvis proposes mashing up Google maps (or open street map) with other software to create local maps, by and for the community.
This is an excellent start (and I hope we'll see integration of mapping tools in the near future), but does this address the limitations of cartographic editing? What I'm thinking about is something less like a Google map, and more like an emergent terrain assembled from ground-level and satellite photos, walks, contributed histories, and personal memories. Like the Gates Memory Project we did last year, this space would be derived from the aggregate, built entirely without the structural impositions of a predetermined map. It would have a Borgesian flavor; this derived place does not have to be entirely based on reality. It could include fantasies or false memories of a place, descriptions that only exists in dreams. True, creating a single view of such a map would come up against the same problems as other cartographic projects. But a digital map has the ability to reveal itself in layers (like old acetate overlays did for elevation, roads, and buildings). Wouldn't it be interesting to see what a collective dreamscape of New York looked like? And then to peel back the layers down to the individual contributions? Instead of finding meaning through abstraction, we find meaningful patterns by sifting through the pile of activity.
We may never be able to collect maps of this scale and depth, but we will be able to see what a weekend of collective psychogeography can produce at the Conflux Festival, which opened yesterday in locations around NYC. The Conflux Festival (formerly the Psychogeography Festival) is "the annual New York festival for contemporary psychogeography, the investigation of everyday urban life through emerging artistic, technological and social practice." It challenges notions of public and private space, and seeks out areas of exploration within and at the edges of our built environment. It also challenges us, as citizens, to be creative and engaged with the space we inhabit. With events going on in the city simultaneously at various locations, and a team of students from Carleton college recording them, I hope we'll end up with a map composed of narrative as much as place. Presented as audio- and video-rich interactions within specific contexts and locations in the city, I think it will give us another way to think about mapping.
Posted by jesse wilbur at 9:12 AM | Comments (1) | TrackBack
Sept. 13, 1956
IBM's 5MegaByte hard drive, is the size of two refrigerators and costs $50,000.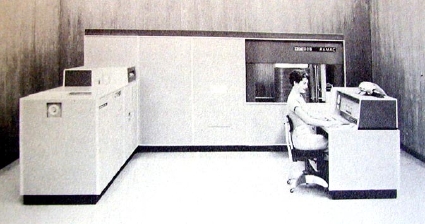 Feb. 13, 2006
Seagate's 12GigaByte hard drive, will fit in your cell phone.
Sept. 13, 2006
50 years later: 200 times more storage than the IBM drive on something smaller than a postage stamp. (Size: 11mm widex 15mm long x 1mm tall).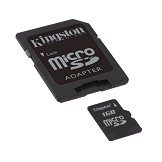 (thanks to endgadget)
Posted by jesse wilbur at 12:57 PM | Comments (0) | TrackBack
The Wall Street Journal the other day hosted an email debate between Wikipedia founder Jimmy Wales and Encyclopedia Britannica editor-in-chief Dale Hoiberg. Irreconcilible differences, not surprisingly, were in evidence.


But one thing that was mentioned, which I had somehow missed recently, was a new governance experiment just embarked upon by the German Wikipedia that could dramatically reduce vandalism, though some say at serious cost to Wikipedia's openness. In the new system, live pages will no longer be instantaneously editable except by users who have been registered on the site for a certain (as yet unspecified) length of time, "and who, therefore, [have] passed a threshold of trustworthiness" (CNET). All edits will still be logged, but they won't be reflected on the live page until that version has been approved as "non-vandalized" by more senior administrators. One upshot of the new German policy is that Wikipedia's front page, which has long been completely closed to instantaneous editing, has effectively been reopened, at least for these "trusted" users.
In general, I believe that these sorts of governance measures are a sign not of a creeping conservatism, but of the growing maturity of Wikipedia. But it's a slippery slope. In the WSJ debate, Wales repeatedly assails the elitism of Britannica's closed editorial model. But over time, Wikipedia could easily find itself drifting in that direction, with a steadily hardening core of overseers exerting ever tighter control. Of course, even if every single edit were moderated, it would still be quite a different animal from Britannica, but Wales and his council of Wikimedians shouldn't stray too far from what made Wikipedia work in the first place, and from what makes it so interesting.
In a way, the exchange of barbs in the Wales-Hoiberg debate conceals a strange magnetic pull between their respective endeavors. Though increasingly seen as the dinosaur, Britannica has made small but not insignificant moves toward openess and currency on its website (Hoiberg describes some of these changes in the exchange), while Wikipedia is to a certain extent trying to domesticate itself in order to attain the holy grail of respectability that Britannica has long held. Think what you will about Britannica's long-term prospects, but it's a mistake to see this as a clear-cut story of violent succession, of Wikipedia steamrolling Britannica into obsolescence. It's more interesting to observe the subtle ways in which the two encyclopedias cause each other to evolve.
Wales certainly has a vision of openness, but he also wants to publish the world's best encyclopedia, and this includes releasing something that more closely resembles a Britannica. Back in 2003, Wales proposed the idea of culling Wikipedia's best articles to produce a sort of canonical version, a Wikipedia 1.0, that could be distributed on discs and printed out across the world. Versions 1.1, 1.2, 2.0 etc. would eventually follow. This is a perfectly good idea, but it shouldn't be confused with the goals of the live site. I'm not saying that the "non-vandalized" measure was constructed specifically to prepare Wikipedia for a more "authoritative" print edition, but the trains of thought seem to have crossed. Marking versions of articles as non-vandalized, or distinguishing them in other ways, is a good thing to explore, but not at the expense of openness at the top layer. It's that openness, crazy as it may still seem, that has lured millions into this weird and wonderful collective labor.
Posted by ben vershbow at 3:39 AM | Comments (1) | TrackBack
Pedro Meyer, founder of ZoneZero, the pioneering photography site, just wrote to say that he's working on an Ipod version of I Photograph to Remember, the cdrom he made in the early 90s. It's a deeply moving portrait documenting the last years of his parents' life. Pedro invites readers of if:book to download a beta version HERE. He's hoping for feedback so please send comments.
I thought it might be interesting to describe the debut of IPTR at the Digital World Conference in Beverly Hills in 1991. To appreciate this you have to understand that at that time no one had ever really seen anything on a computer screen with emotional content. The audience consisted of hyperactive, mostly male, senior executives who normally couldn't sit still or be quiet for five minutes. But for thirty-two minutes, from the moment the lights went down till the closing credits, there wasn't even the sound of breathing. People were literally stunned as they suddenly realized that the number-crunching, text processing machine on their desk could convey complex, profound feelings.
Posted by bob stein at 12:38 PM | Comments (7) | TrackBack
Rick Prelinger and Megan Shaw visited for lunch earlier in the week and gave us a preview of the very interesting presentation they made later that day about the SF-based Prelinger Library . Beginning in the 70s Rick started collecting film and video that no one else seemed to want -- industrials (e.g. GM's worldfair and auto show films), educational films (think "how to be popular", "how to be a good citizen" and how to make the perfect jelly), and filmed advertisements to be shown in movie theaters and early TV. Rick's contention, as the first serious media archaeologist, was that these films that no one intended to be saved or seen again -- ephemeral films -- often provided much more insight about howsociety has evolved in the twentieth century than the big budget hollywood films which tend to be more self-conscious and indirect.
Below are a few clips from some of my favorites. the clip from "A Date With Your Family" contains one of the scariest moments i've ever encountered in film, when at the end of the clip, the narrator remarks as "father" returns from his day at the office . . . . that "these boys greet their dad AS THOUGH they are genuinely glad to see him, AS THOUGH they had really missed being away from him during the day . . . " In the second clip, "A Young Man's Fancy," the daughter in a pensive mood says "I was just thinking" and the mother says incredulously, "thinking?" as if that's the most outlandish thing she can imagine her daughter doing.

A few years ago, the Library of Congress, recognizing the inestimable value of Rick's collection, bought the whole kit and caboodle. Since then, Rick and his partner, Megan Shaw have turned their attention to print, building a library of unusual books, periodicals and print ephemera; e.g. an invaluable collection of ESSO's state maps from the fities that favors serendipitous browsing and remix. (the cover of the ESSO map below depicts a young boy being introduced by his dad to the wonders of nuclear fusion).
The following is from the description on the library's website:
Though libraries live on (and are among the least-corrupted democratic institutions), the freedom to browse serendipitously is becoming rarer. Now that many research libraries are economizing on space and converting print collections to microfilm and digital formats, it's becoming harder to wander and let the shelves themselves suggest new directions and ideas. Key academic and research libraries are often closed to unaffiliated users, and many keep the bulk of their collections in closed stacks, inhibiting the rewarding pleasures of browsing. Despite its virtues, query-based online cataloging often prevents unanticipated yet productive results from turning up on the user's screen. And finally, much of the material in our collection is difficult to find in most libraries readily accessible to the general public.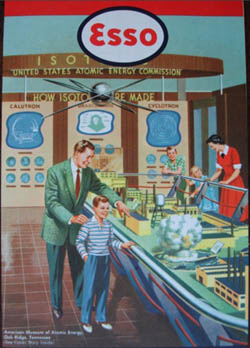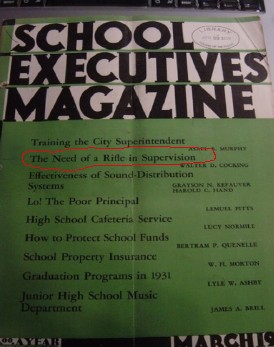 While listening to Rick and Megan's talk i had a minor AHA moment. a lot of our skepticism and concern about Google centers on the inherent dangers of a private company being entrusted with the care and feeding of our increasingly digitize culture. When Rick and Megan showed the cover of School Executives, a journal from the 40s, which featured an article on the value of teachers toting guns to enforce classroom discipline, i realized that Google's digitization efforts focus entirely on codex books (maybe to be extended to periodicals that libraries have bothered to store). but the invaluable materials that might be called "print-based" ephemera -- pamphlets, marketing materials, off-beat journals, zines etc. -- will be absent in the future. The sad thing about this, as we know from Rick's ephemeral film collection, is that often these pieces that were never meant to survive tell us more about how our culture evolved and how we've ended up where we are, than many self-conscious efforts conceived with permanence in mind.
Posted by bob stein at 2:23 PM | Comments (1) | TrackBack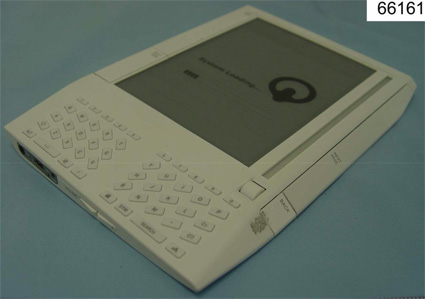 Engadget has uncovered details about a soon-to-be-released upcoming/old/bogus(?) Amazon ebook reading device called the "Kindle," which appears to have an e-ink display, and will presumably compete with the Sony Reader. From the basic specs they've posted, it looks like Kindle wins: it's got more memory, it's got a keyboard, and it can connect to the network (update: though only through the EV-DO wireless standard, which connects Blackberries and some cellphones; in other words, no basic wifi). This is all assuming that the thing actually exists, which we can't verify.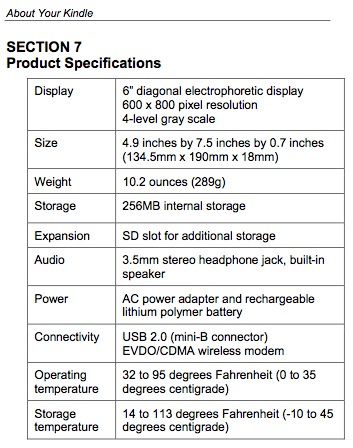 Regardless, it seems the history of specialized ebook devices is doomed to repeat itself. Better displays (and e-ink is still a few years away from being really good) and more sophisticated content delivery won't, in my opinion, make these machines much more successful than their discontinued forebears like the Gemstar or the eBookMan.
Ebooks, at least the kind Sony and Amazon will be selling, dwell in a no man's land of misbegotten media forms: pale simulations of print that harness few of the possibilities of the digital (apparently, the Sony Reader won't even have searchable text!). Add highly restrictive DRM and vendor lock-in through the proprietary formats and vendor sites made for these devices and you've got something truly depressing.
Publishers need to get out of this rut. The future is in networked text, multimedia and print on demand. Ebooks and their specialized hardware are a red herring.
Teleread also comments.
Posted by ben vershbow at 1:49 AM | Comments (4) | TrackBack
The Wall Street Journal has a big story today on networked books (unfortunately, behind a paywall). The article covers three online book experiments, Pulse, The Wealth of Networks, and GAM3R 7H30RY. The coverage is not particularly revelatory. What's notable is that the press, which over the past decade-plus has devoted so much ink and so many pixels to ebooks, is now beginning to take a look at a more interesting idea. ("The meme is launched!" writes McKenzie.) Here's the opening section:
Boundless Possibilities
As 'networked' books start to appear, consumers, publishers and authors get a glimpse of publishing to come

"Networked" books -- those written, edited, published and read online -- have been the coming thing since the early days of the Internet. Now a few such books have arrived that, while still taking shape, suggest a clearer view of the possibilities that lie ahead.

In a fairly radical turn, one major publisher has made a networked book available free online at the same time the book is being sold in stores. Other publishers have posted networked titles that invite visitors to read the book and post comments. One author has posted a draft of his book; the final version, he says, will reflect suggestions from his Web readers.

At their core, networked books invite readers online to comment on a written text, and more readers to comment on those comments. Wikipedia, the open-source encyclopedia, is the ultimate networked book. Along the way, some who participate may decide to offer up chapters translated into other languages, while still others launch Web sites where they foster discussion groups centered on essays inspired by the original text.

In that sense, networked books are part of the community-building phenomenon occurring all over the Web. And they reflect a critical issue being debated among publishers and authors alike: Does the widespread distribution of essentially free content help or hinder sales?
If the Journal would make this article available, we might be able to debate the question more freely.
Posted by ben vershbow at 10:55 AM | Comments (5) | TrackBack
Every day we hear more reports about how media / hardware/ distribution companies are ever more frequently expanding horizontally (going into new categories) as well as vertically (going into more parts of their production/distribution chain).
In that, Amazon launched a download video service. MySpace opens a music store to compete with Apple's iTunes and is also considering the creation of a print magazine. HarperCollins is selling downloadable media on their website. These are just a few examples.
What will the future of media publishing look like? How close are we from having only a few multi-national companies that produce the hardware, media and distribution? What are the other options?
Could the pendulum ever swing the other way? Could the future branded media company outsource all the creative, technology, publishing and distribution in a similar way that a laptop manufacturer has its mother board, processor, batteries, memory, drive, screen and advertising come from somewhere outside the company?
Posted by ray cha at 12:27 AM | Comments (5) | TrackBack
Newswatch reports a powerful new study by the University of Ulster Centre for Media Research that confirms what many of us have long suspected about online news sources:
Through an examination of the content of major web news providers, our study confirms what many web surfers will already know - that when looking for reporting of international affairs online, we see the same few stories over and over again. We are being offered an illusion of information diversity and an apparently endless range of perspectives which in fact what is actually being offered is very limited information.
The appearance of diversity can be a powerful thing. Back in March, 2004, the McClatchy Washington Bureau (then Knight Ridder) put out a devastating piece revealing how the Iraqi National Congress (Ahmad Chalabi's group) had fed dubious intelligence on Iraq's WMDs not only to the Bush administration (as we all know), but to dozens of news agencies. The effect was a swarm of seemingly independent yet mutually corroborating reportage, edging American public opinion toward war.
A June 26, 2002, letter from the Iraqi National Congress to the Senate Appropriations Committee listed 108 articles based on information provided by the INC's Information Collection Program, a U.S.-funded effort to collect intelligence in Iraq.

The assertions in the articles reinforced President Bush's claims that Saddam Hussein should be ousted because he was in league with Osama bin Laden, was developing nuclear weapons and was hiding biological and chemical weapons.

Feeding the information to the news media, as well as to selected administration officials and members of Congress, helped foster an impression that there were multiple sources of intelligence on Iraq's illicit weapons programs and links to bin Laden.

In fact, many of the allegations came from the same half-dozen defectors, weren't confirmed by other intelligence and were hotly disputed by intelligence professionals at the CIA, the Defense Department and the State Department.

Nevertheless, U.S. officials and others who supported a pre-emptive invasion quoted the allegations in statements and interviews without running afoul of restrictions on classified information or doubts about the defectors' reliability.

Other Iraqi groups made similar allegations about Iraq's links to terrorism and hidden weapons that also found their way into official administration statements and into news reports, including several by Knight Ridder.
The repackaging of information goes into overdrive with the internet, and everyone, from the lone blogger to the mega news conglomerate, plays a part. Moreover, it's in the interest of the aggregators and portals like Google and MSN to emphasize cosmetic or brand differences, so as to bolster their claims as indispensible filters for a tidal wave of news. So whether it's Bush-Cheney-Chalabi's WMDs or Google News's "4,500 news sources updated continuously," we need to maintain a skeptical eye.
***Related: myths of diversity in book publishing and large-scale digitization efforts.
Posted by ben vershbow at 6:02 AM | Comments (0) | TrackBack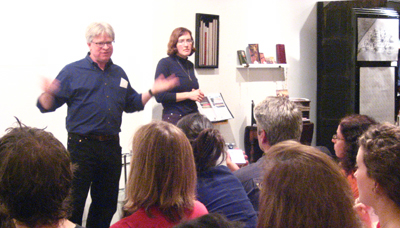 The year-long Interdisciplinary Library Exhibit started last night at Proteus Gowanus, an arts organization located in Brooklyn, New York. The opening event was a standing room only presentation by Rick Prelinger and Megan Shaw Prelinger who run the Prelinger Library. Their presentation focused on their work leading up to the creation of the library, a highly curated collection of printed matter they have accumulated over two decades. The collection has a strong focus on books, print ephemera and periodicals. The 40,000 plus items are now on display and open to the public in downtown San Francisco. Visitors are allowed to stop in and browse items from the collection. The library's collection is an amazing experiment in curation, taxonomy (they created their own,) and commentary on how libraries are shifting forms. We were fortunate to have lunch with Rick and Megan before their event. Everyone at the institute found their work very inspiring and they will be discussed in more detail in upcoming posts.
The spirit of the Prelinger's work is great introduction to Proteus Gowanus' exploration on this theme. Libraries are in flux, as they have historically played many roles, including distributors of knowledge, places that support research, archives and now quite often, community centers. For the next year, Proteus Gowans is displaying in their gallery, artwork related to libraries as well as hosting presentations and films. Photos by Nina Katchadourian depict the spines of various books which compose textual messages. Artist Jeffrey Schiff's contribution plays with the Dewey Decimal System and themes of categorizations by applying call numbers to everyday objects and spaces. Also, included in the exhibit is the Reanimation Library, curated and owned by Andrew Beccone. This collection preserves books that are not typically saved in public and academic libraries, including titles such as "Simplified Taxidermy," "A Guide to Gymnastics" and "Judo: Thirty Lessons in the Modern Science of Jiu-Jitsu." The next event is Deirdre Lawrence, the Principal Librarian and Coordinator of Research Services Museum Libraries and Archives at the Brooklyn Museum, on October 27th.
Issues of funding, the rise of the digital, and intellectual property are all changing the role of libraries and how people interact with them. Many large questions are being asked about the future of the library. The most basic one being, what will it look like? Will it start to shift towards smaller nodes of semi-private collections connected to each other via the network? Are collections of books going to be increasingly less tied to physical spaces? Will the public library continue to shift towards acting more like a community center? Are publishers and libraries going fuse and produce a new hybrid institution?
Realizing that libraries are going through a cultural as well as technological transformation, Proteus Gowanus is embarking on an year long examination in a variety of media which track these changes. They may not be able to answer any of these questions directly, but they are certainly providing new directions and understandings. Most importantly, the Interdisciplinary Library Exhibit is opening up the conversation to a diversity of voices, including the public at large.
Posted by ray cha at 6:59 AM | Comments (0) | TrackBack
Today Google unveiled a major extension of its news search service, expanding into periodical archives that stretch back to the mid-18th century. Most of the articles are pay downloads, or pay-per-view, and are offered by Google through licensing agreements with newspapers and existing document retrieval services including The New York Times Co., The Washington Post Co., The Wall Street Journal, Reed Elsevier, LexisNexis and Factiva. Google won't actually host content or handle payments, it simply presents items with titles, brief excerpts and ordering information. Google also crawls free archives already on the web and mixes these in, and (a nice touch) links all search results to "related web pages," plugging keywords into a general web search. Google won't run adds in this service, at least for now. More coverage here and here.
This is a fine service, but it only underscores the need for a non-commercial alternative. Much of the material here is public domain, but is provided through commercial services. Google simply adds a new web-integrated layer. Anyone who believes that the public domain ought to be fully accessible to all should be thinking bigger than Google.
Posted by ben vershbow at 11:54 AM | Comments (3) | TrackBack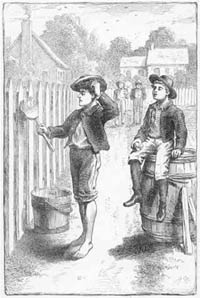 Ars Technica reports that Google has begun outsourcing, or "crowdsourcing," the task of tagging its image database by asking people to play a simple picture labeling game. The game pairs you with a randomly selected online partner, then, for 90 seconds, runs you through a sequence of thumbnail images, asking you to add as many labels as come to mind. Images advance whenever you and your partner hit upon a match (an agreed-upon tag), or when you agree to take a pass.
I played a few rounds but quickly grew tired of the bland consensus that the game encourages. Matches tend to be banal, basic descriptors, while anything tricky usually results in a pass. In other words, all the pleasure of folksonomies -- splicing one's own idiosyncratic sense of things with the usually staid task of classification -- is removed here. I don't see why they don't open the database up to much broader tagging. Integrate it with the image search and harvest a bigger crop of metadata.
Right now, it's more like Tom Sawyer tricking the other boys into whitewashing the fence. Only, I don't think many will fall for this one because there's no real incentive to participation beyond a halfhearted points system. For every matched tag, you and your partner score points, which accumulate in your Google account the more you play. As far as I can tell, though, points don't actually earn you anything apart from a shot at ranking in the top five labelers, which Google lists at the end of each game. Whitewash, anyone?
In some ways, this reminded me of Amazon's Mechanical Turk, an "artificial artificial intelligence" service where anyone can take a stab at various HIT's (human intelligence tasks) that other users have posted. Tasks include anything from checking business hours on restaurant web sites against info in an online directory, to transcribing podcasts (there are a lot of these). "Typically these tasks are extraordinarily difficult for computers, but simple for humans to answer," the site explains. In contrast to the Google image game, with the Mechanical Turk, you can actually get paid. Fees per HIT range from a single penny to several dollars.
I'm curious to see whether Google goes further with tagging. Flickr has fostered the creation of a sprawling user-generated taxonomy for its millions of images, but the incentives to tagging there are strong and inextricably tied to users' personal investment in the production and sharing of images, and the building of community. Amazon, for its part, throws money into the mix, which (however modest the sums at stake) makes Mechanical Turk an intriguing, and possibly entertaining, business experiment, not to mention a place to make a few extra bucks. Google's experiment offers neither, so it's not clear to me why people should invest.
Posted by ben vershbow at 6:17 AM | Comments (3) | TrackBack
Here at the Institute, we're generally more interested in thinking up new forms of publishing than in figuring out how to monetize them. But one naturally perks up at news of big money being made from stuff given away for free. Doc Searls points to a few items of such news.
First, that latest iteration of the American dream: blogging for big bucks, or, the self-made media mogul. Yes, a few have managed to do it, though I don't think they should be taken as anything more than the exceptions that prove the rule that most blogs are smaller scale efforts in an ecology of niches, where success is non-monetary and more of the "nanofame" variety that iMomus, David Weinberger and others have talked about (where everyone is famous to fifteen people). But there is that dazzling handful of popular bloggers that rival the mass media outlets, and they're raking in tens, if not hundreds, of thousands of dollars in ad revenues.
Some sites mentioned in the article:
-- TechCrunch: "$60,000 in ad revenue every month" (not surprising -- its right column devoted to sponsors is one of the widest I've seen)
-- Boing Boing: "on track to gross an estimated $1 million in ad revenue this year"
-- paidContent.org: over a million a year
-- Fark.com: "on pace to become a multimillion-dollar property.
Then, somewhat surprisingly, is The New York Times. Handily avoiding the debacle predicted a year ago by snarky bloggers like myself when the paper decided to relocate its op-ed columnists and other distinctive content behind a pay wall, the Times has pulled in $9 million from nearly 200,000 web-exclusive Times Select subscribers, while revenues from the Times-owned About.com continue to skyrocket. There's a feeling at the company that they've struck a winning formula (for now) and will see how long they can ride it:
When I ask if TimesSelect has been successful enough to suggest that more material be placed behind the wall, Nisenholtz [senior vice president for digital operations] replies, "The strategy isn't to move more content from the free site to the pay site; we need inventory to sell to advertisers. The strategy is to create a more robust TimesSelect" by using revenue from the service to pay for more unique content. "We think we have the right formula going," he says. "We don't want to screw it up."
***Subsequent thought: I'm not so sure. Initial indicators may be good, but I still think that the pay wall is a ticket to irrelevance for the Times' columnists. Their readership is large and (for now) devoted enough to maintain the modestly profitable fortress model, but I think we'll see it wither over time.***
Also, in the Times, there's this piece about ad-supported wiki hosting sites like Wikia, Wetpaint, PBwiki or the swiftly expanding WikiHow, a Wikipedia-inspired how-to manual written and edited by volunteers. Whether or not the for-profit model is ultimately compatible with the wiki work ethic remains to be seen. If it's just discrete ads in the margins that support the enterprise, then contributors can still feel to a significant extent that these are communal projects. But encroach further and people might begin to think twice about devoting their time and energy.
***Subsequent thought 2: Jesse made an observation that makes me wonder again whether the Times Company's present success (in its present framework) may turn out to be short-lived. These wiki hosting networks are essentially outsourcing, or "crowdsourcing" as the latest jargon goes, the work of the hired About.com guides. Time will tell which is ultimately the more sustainable model, and which one will produce the better resource. Given what I've seen on About.com, I'd place my bets on the wikis. The problem? You, or your community, never completely own your site, so you're locked into amateur status. With Wikipedia, that's the point. But can a legacy media company co-opt so many freelancers without pay? These are drastically different models. We're probably not dealing with an either/or here.***
We've frequently been asked about the commercial potential of our projects -- how, for instance, something like GAM3R 7H30RY might be made to make money. The answer is we don't quite know, though it should be said that all of our publishing experiments have led to unexpected, if modest, benefits -- bordering on the financial -- for their authors. These range from Alex selling some of his paintings to interested commenters at IT IN place, to Mitch gradually building up a devoted readership for his next book at Without Gods while still toiling away at the first chapter, to McKenzie securing a publishing deal with Harvard within days of the Chronicle of Higher Ed. piece profiling GAM3R 7H30RY (GAM3R 7H30RY version 1.2 will be out this spring, in print).
Build up the networks, keep them open and toll-free, and unforseen opportunities may arise. It's long worked this way in print culture too. Most authors aren't making a living off the sale of their books. Writing the book is more often an entree into a larger conversation -- from the ivory tower to the talk show circuit, and all points in between. With the web, however, we're beginning to see the funnel reversed: having the conversation leads to writing the book. At least in some cases. At this point it's hard to trace what feeds into what. So many overlapping conversations. So many overlapping economies.
Posted by ben vershbow at 6:31 AM | Comments (0) | TrackBack
This apparently made the blog rounds recently, but I just saw it for the first time tonight in a movie theater and was mighty impressed:
And a twist on this: check out this Washington Post article on live ads in video games.
Posted by ben vershbow at 12:35 AM | Comments (0) | TrackBack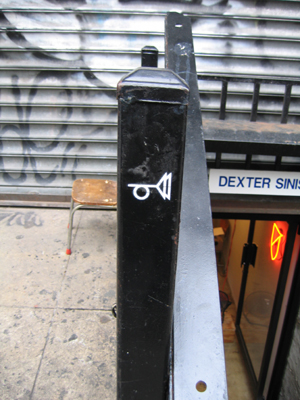 Deep in Manhattan where the lines between Chinatown and the Lower East Side blur, the basement of a non-descript building houses a graphic design firm / publishing house / bookstore. The entrance is easy to miss, with a small spray-painted trumpet, taken from Thomas Pynchon's The Crying Lot of 49, marking a handrail. However on Saturdays, hinged metal basement doors are left open, signaling that "Dexter Sinister: Just-In-Time Workshop & Occasional Bookstore" is open.
Dexter Sinister is the moniker that designers David Reinfurt and Stuart Bailey adopted last spring to describe the various forms their work takes. I've known David for a number of years, but haven't talked to him in a while. A few Saturdays ago I stopped by Dexter Sinister catch up with him to see "Just in Time Workshop" in action.
Before stopping by, I checked out their website, and saw that they are playing with and pushing against traditions of publishing in some interesting ways.
From their site:
"In the basement at 38 Ludlow Street we will set up a fully-functioning Just-In-Time workshop, against waste and challenging the current state of over-production driven by the conflicting combination of print economies-of-scale (it only makes financial sense to produce large quantities) and the contained audiences of art world marketing (no profit is really expected, and not many copies really need to be made.) These divergent criteria are too often manifested in endless boxes of unsaleable stock taking up space which needs to be further financed by galleries, distributors, bookstores, etc. This over-production then triggers a need to overcompensate with the next, and so on and so on. Instead, all our various production and distribution activities will be collapsed into the basement, which will double as a bookstore, as well as a venue for intermittent film screenings, performance and other events."

The Occasional bookstore sells copies of works of their own, their colleagues, and work put out from other small presses. The inventory consists of a handful of these titles at a time, which can fit on one shelf in the corner, in my estimation without irony. In fact, the bookstore's size precisely fits the overall Dexter Sinister ethos.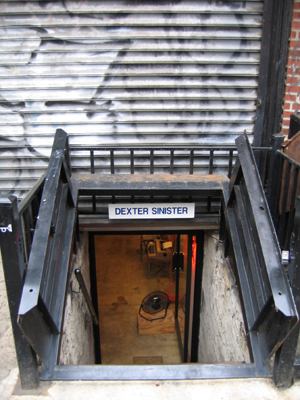 Further back, I saw a mimeograph, an Apple Image Write printer and an IBM electric typewriter that were all lined up in a row. David noted that he does not overly romanticize the mechanical age of print technology with these similarly monochromatic tan-brown machines. This is, his interest is not in retro for retro's own sake. Rather, when printer technology was mostly mechanical (rather than computerized,) designers and publishers could tinker, fix and modify their equipment. Car enthusiasts have noted a similar loss, as automobiles have become increasingly computerized as well.
Dexter Sinister produce their books in small runs that are meant to sell out. Further, their publications tend to be highly selective, limited, and personal. However, they aren't gatekeepers. Instead, the overall impression is that they are interested in supportive projects that matter to them. For instance, Dexter Sinister now produces "dot dot dot," the design periodical that Stuart co-edited and designed while living in the Netherlands. When the print runs do sell out, they can issue re-prints in any number of printing options depending upon the circumstance, if they want to, or not.
Some of their publications are printed on their mimeograph. While being well designed, the printing is fast and inexpensive, but avoids feeling overly cheap. Although, the final result reminds me of the pirated textbooks I encountered in China in the mid 90s. Inexpensive doesn't necessarily mean boring and poor quality. Rather, it provides another design constraint under which to find new solutions. They're also experimenting with lulul.com and have done born-digital projects as well.
What's really interesting to me is that DS and the institute share many ideas in common. However the execution of these ideas and solutions are entirely different. Although, the institute's foci are often pointed at the digital, we certainly support the future of print (despite the fact that we get asked to comment or qualify the position of "death of print" quite often.) Distribution of digital media via the network is one vector. Small run, niche, highly curated, print publishing is another. In both cases, we have run into the failures of the current economic models of many traditional kinds of publishing. I'm reminded of the analogy of water, flowing down a mountain, seeking a path of minimal resistance. Similarly, information "wants" to intrinsically find its expression by the easiest pathways.
Later in a follow-up email exchange, we were talking about these various new modes of publishing. David noted that, "it feels like some particular in-between moment, just in general, with an overall apocalyptic vibe. It's definitely the end of something and I suppose the beginning of something else." Exactly.
Posted by ray cha at 8:41 AM | Comments (4) | TrackBack