« initial responses to MediaCommons | Main | what would susan sontag make of flickr? »
physical books and networks 2 07.20.2006, 2:30 AM
posted by ben vershbow
Much of our time here is devoted to the extreme electronic edge of change in the arena of publishing, authorship and reading. For some, it's a more distant future than they are interested in, or comfortable, discussing. But the economics and means/modes of production of print are being no less profoundly affected -- today -- by digital technologies and networks.
The Times has an article today surveying the landscape of print-on-demand publishing, which is currently experiencing a boom unleashed by advances in digital technologies and online commerce. To me, Lulu is by far the most interesting case: a site that blends Amazon's socially networked retail formula with a do-it-yourself media production service (it also sponsors an annual "Blooker" prize for blog-derived books). Send Lulu your book as a PDF and they'll produce a bound print version, in black-and-white or color. The quality isn't superb, but it's cheap, and light years ahead of where print-on-demand was just a few years back. The Times piece mentions Lulu, but focuses primarily on a company called Blurb, which lets you design books with customized software called BookSmart, which you can download free from their website. BookSmart is an easy-to-learn, template-based assembly tool that allows authors to assemble graphics and text without the skills it takes to master professional-grade programs like InDesign or Quark. Blurb books appear to be of higher quality than Lulu's, and correspondingly, more expensive.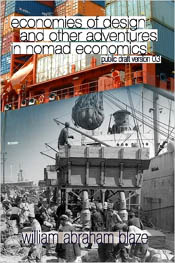 Reading this reminded me of an email I received about a month back in response to my "Physical Books and Networks" post, which looked at authors who straddle the print and digital worlds. It came from Abe Burmeister, a New York-based designer, writer and artist, who maintains an interesting blog at Abstract Dynamics, and has also written a book called Economies of Design and Other Adventures in Nomad Economics. Actually, Burmeister is still in the midst of writing the book -- but that hasn't stopped him from publishing it. He's interested in process-oriented approaches to writing, and in situating acts of authorship within the feedback loops of a networked readership. At the same time, he's not ready to let go of the "objectness" of paper books, which he still feels is vital. So he's adopted a dynamic publishing strategy that gives him both, producing what he calls a "public draft," and using Lulu to continually post new printable versions of his book as they are completed.
His letter was quite interesting so I'm reproducing most of it:
Using print on demand technology like lulu.com allows for producing printed books that are continuously being updated and transformed. I've been using this fact to develop a writing process loosely based upon the linux "release early and release often" model. Books that essentially give the readers a chance to become editors and authors a chance to escape the frozen product nature of traditional publishing. It's not quite as radical an innovation as some of your digital and networked book efforts, but as someone who believes there always be a particular place for paper I believe it points towards a subtly important shift in how the books of the future will be generated.

...one of the things that excites me about print on demand technology is the possibilities it opens up for continuously evolving books. Since most print on demand systems are pdf powered, and pdfs have a degree of programability it's at least theoretically possible to create a generative book; a book coded in such a way that each time it is printed an new result comes out. On a more direct level though it's also very practically possible for an author to just update their pdf's every day, allowing for say a photo book to contain images that cycle daily, or the author's photo to be a web cam shot of them that morning.

When I started thinking about the public drafting process one of the issues was how to deal with the fact that someone might by the book and then miss out on the content included in the edition that came out the next day. Before I received my first hard copies I contemplated various ways of issuing updated chapters and ways to decide what might be free and what should cost money. But as soon as I got that hard copy the solution became quite clear, and I was instantly converted into the Cory Doctrow/Yochai Benkler model of selling the book and giving away the pdf. A book quite simply has a power as an object or artifact that goes completely beyond it's content. Giving away the content for free might reduce books sales a bit (I for instance have never bought any of Doctrow's books, but did read them digitally), but the value and demand for the physical object will still remain (and I did buy a copy of Benkler's tome.) By giving away the pdf, it's always possible to be on top of the content, yet still appreciate the physical editions, and that's the model I have adopted.
And an interesting model it is too: a networked book in print. Since he wrote this, however, Burmeister has closed the draft cycle and is embarking on a total rewrite, which presumably will become a public draft at some later date.
Posted by ben vershbow on July 20, 2006 2:30 AM
tags: books, design, ebooks, economics, lulu, print_on_demand, publishing, reading, the_networked_book
comments (8):


Gary Frost
on
July 20, 2006 9:09 AM
:
This bridge can be crossed two ways. What does an innovative digital approach to the paper monograph have to teach experiment in scholarly digital communication? The first thing that comes to mind as an agenda for Media Commons is the development of a truly archival printer.
Notice how the dynamic between composition and publication is embedded in paper. The fixed paper issue itself induces reflexive actions such as further reading and writing. These reflexive actions churn in the early stages of born digital transactions, but these very generative activities are propagated by response to a universally fixed paper publication.
In my view the development and discussion of Media Commons should listen a bit more to the visionary views and deep negotiations of Kate Hayles. She is a magnificent guide to the symbotic interplay of electronic text and print books.
Unilateral experiment with digital communication is skewed and potentially destructive. For a perspective on this read Thomas Mann's recent report,
"What is Going on at the Library of Congress".



ben vershbow
on
July 20, 2006 11:07 AM
:
These are great points, Gary. Media Commons, though clearly intended as an online discourse space, will certainly have print outlets where appropriate, and by appropriate I mean simply that many texts produced at MediaCommons will involve an array of electronic media that aren't transferable to print. But the reflective dance you describe between archival fixity and network transactions is profound, and by no means something we wish to reject. Our much-touted GAM3R 7H30RY experiment, after all, is ultimately bound for print, but it will be a different kind of book because of the route it took to get there.


K.G. Schneider
on
July 20, 2006 12:47 PM
:
Hmmm, I don't find Thomas Mann a compelling example in response to Ben's interesting post. I know Mann best as the author of a vituperative attack on Karen Calhoun's template for reform within the profession--an attack written for a union hell-bent on keeping things As They Were In The Beginning, which turns out to be ca. 1950. In fact, I'd say "Unilateral experiment with digital communication is skewed and potentially destructive" is a statement that feels a bit panicked and even silly. We have been unilaterally experimenting with analog communication for centuries, and it's all good. Why is digital communication necessarily bad? And let's not forget that books are already issued in multiple formats: sound as well as print. Digital... eh, it's one more apple on the tree. Ess ess mein Kind, said the little snake, sehr gut fur dir.
In any event, POD can fill a niche, and for all we know may be the paper book of the future. The book is, after all, a mirage, an intentional metaphor for what now begins as a digital document for all but a few haiku authors and legal-pad holdouts. I happen to be fond of these mirages, but I still know what they are.



bowerbird
on
July 20, 2006 3:32 PM
:
gary said:
> Notice how the dynamic between composition
> and publication is embedded in paper.
for some reason, this sentence sticks with me.
and not really in a good way.
on the one hand, it seems to be quite obvious.
and not in a way that gives me any insight.
"authors print out stuff so they can edit it,
and give it to other people to get feedback,
and publish it on paper when it's finished."
well, um, yeah, they do.
and on the other hand, the sentence seems to be
misleading in a very basic and fundamental way.
for instance, i've never printed a single post
from this blog, but i've certainly absorbed a lot of
content from it. indeed, having lived for _years_
without _any_ printer connected to my computer,
and having read a great deal of content from the
tubes of the internets during that time, as well as
having written some chunks too, i can confidently
tell you that a person can "compose and publish"
a whole lotta stuff with zero paper. as i see it,
millions of bloggers are doing it all the time.
perhaps in this same vein, what mr. burmeister
is doing seems both future-savvy and ordinary.
it's "ordinary" in the sense that he is simply
sharing his preliminary drafts with people and
having their feedback mold the following drafts.
nothing too special about that, is there?
it's future-savvy in that the "people" with whom
he is "sharing" his drafts is the public at large
(not just friends, acquaintances, and colleagues),
and the method of delivery is _not_ paper at all,
but instead the internet. but at the same time
it's "future-savvy" -- in the sense that this is
the way most authors will operate in the future --
it certainly isn't "revolutionary", it's ordinary.
-bowerbird


Gary Frost
on
July 20, 2006 10:09 PM
:
It is not relevant to contend any difference between analog or digital technologies applied to network communication, book composition or publishing. One has completely superceded the other. It is not relevant to contend competition between formats of the book. These accumulate and persist as the scroll, codex, audio recording and computer screen demonstrate. They will live on happily together embedded in conventions of transmission and a spectrum of haptic attributes.
What is left to consider are the behaviors of reading. Do we notice any advances or changes? As regards books it is inappropriate to extrapolate from the habits of youthful readers. They gravitate to audio and video reading. This is a timeless circumstance. But even with the mature reader the recent pervasion of digital technologies and network communication has been dramatic. So you can ask; "How have digital technologies and network communication changed behaviors and efficiencies of reading?"
As regards books, digital technologies and network communication have advanced print reading much more than screen based reading. This is because print reading began with a more refined installed base and was quicker to take advantage of the production and delivery attributes of digital technologies. In addition the print book was already optimized for linear assimilation of conceptual works. Assimilation in screen reading, however, was forestalled by a need for rapid and extensive deletion of presented material. In fact, the advent of the "delete" key itself marked the transition from analog to digital technologies. A simple demonstration of the current inefficiency of screen reading is the Google search. The reading process requires a skill set for rapid deletion of results with very little opportunity left for efficient assimilation of concepts. This is a crippling circumstance for screen based reading and it may be endemic.
As regards the future of the book it is reasonable to assume that print reading will maintain higher reading efficiencies, more directed distribution and more academic regard than screen based reading. Screen base reading will provide a more and more integrated supplement of print reading, but the book, especially the scholarly monograph, will remain print preferable.
The acceptance of the print book is even more assured in the deeper future. In this context digital technologies and network communication will flow invisibly through all communication, but only the paper book will persist long enough for extensive scholarly evaluation across time and cultures. The print book will provide the only refuge from fatigue with deletion pre-cursive to assimilation.



bowerbird
on
July 21, 2006 2:10 AM
:
so then gary, it is ironic you are here, eh? :+)
-bowerbird



Gary Frost
on
July 21, 2006 9:17 AM
:
About a half year ago I took this blog off my tool bar because it was not addressing my favorite issue in the future of the book. This issue is the interplay of paper and screen as reading places and the promise of a composite reading mode or reading habitat if they could integrate.
But I did look and try to follow the wonderful conversations here. Meanwhile I kept to my work as a book conservator. It is rewarding work, but for the last decade or so I have been interrupted by a need to advocate for the continuing role of print in the context of digital delivery. Lately the situation has become even more threatening with a need to advocate for the continuing role of library classification in a context of screen searching.
In my view, the need for such contention is artificial. We need print and digital delivery. We need library classification and screen searching.
So I am always ready to move on to substantive issues in the future of the book. One of these is the out-of-body persistence of conceptual works. Another is the seeming paradox of conveying conceptual works via physical objects. Yet another is embedded behaviors of the biological readers as contrasted with embedded behaviors of programmed reading. Another is the efficacy of both historical and future projection in context with the future of the book. Another is the emergence and inducement of a new habitat of reading pioneered by the book at its best.
I suggest that these are useful directions. Better than considering "hide bound" academics or "hell bent" librarians or preemptive "transitions" from print to screen. In that dynamic of absolutes it can be daunting "to get a word in edgewise". (Does that expression derive from marginal annotation in early books?)



bowerbird
on
July 31, 2006 1:20 AM
:
gary said:
> About a half year ago I took this blog
> off my tool bar because it was
> not addressing my favorite issue
> in the future of the book. This issue is
> the interplay of paper and screen
> as reading places and the promise of
> a composite reading mode or reading habitat
> if they could integrate.
i agree that that issue is a fascinating one.
but i think i would disagree with you (that is,
if i understand your position correctly), that
there is a significant gap in this "interplay".
over half my reading these days is on-screen.
i'm not aware there is much difference at all
between my on-screen vs. paper-based reading.
indeed, in terms of newspaper articles, which is
where my on-screen and paper-based reading is
most mixed, i often find it difficult to recall
if i read something on-screen or from paper...
i am also an electronic-book programmer, and
i have sought to incorporate the lessons of print
into the user-interface for my programs, and have
experienced what i feel are successes doing that,
which might be why i sense a smaller gap than you.
the page-spread that my program presents to a user
looks exactly like the page-spread of a paper-book
-- when the person opts to go the hard-copy route,
the screenshot simply gets printed out directly,
with good versimultude to regular paper-books --
so unless you're talking about some physics-based
difference in the perceptual systems of humans,
i'm unsure what things you _are_ talking about.
and in 5 years from now, with hardware advances
bringing "web-pads" with a form-factor exactly
like a paperback, the gap will shrink even more.
i'd like to understand your concerns, believe me,
and read what you write carefully to discern them,
but i walk away (figuratively) with puzzled looks.
and when you talk about "a need to advocate for
the continuing role of print in the context of
digital delivery", i'm at a loss too. there will
always be a need for hard-copy. i don't think
anyone is denying that; it would be kinda silly.
but cases where hard-copy is handy are clear-cut,
and i don't see very much use in discussing them.
just give people a way to go from e-book to paper.
(and a good way to go the other direction as well.)
it _is_ important to give people a solid means of
easily comparing an e-version with its hard-copy;
but as i said above, the one-to-one correspondence
given by my e-book program delivers that benefit.
similarly, your assessment that the situation is
"threatening" vis a vis "a need to advocate for
"the continuing role of library classification in
a context of screen searching" has me scratching
my head. to the extent that we are discarding
"library classification", that is because it is
_broken_, at least in a digital environment.
either broken or irrelevant or largely inferior.
now of course elements of it are still useful,
and will continue to be useful, and it would be
unwise to throw them out, but i don't see anyone
doing that. so i don't see this as "threatening".
again, do what we can to make searching better,
so it will deliver all of the old benefits it can,
and then move on to the next problem...
finally, when you conclude that "the need for such
contention is artificial", i get _really_ confused,
because you were the one who brought up the issue.
and now you're dismissing it? what's the purpose?
i sense your passion. i respect your expertise.
so i keep reading your posts trying to understand
just exactly what you're trying to communicate,
because i recognize that the topics you discuss
are potenially important ones. it's just that
i'm never very confident what your point was.
i am _quite_ willing to admit that the failure
could be on my side. and i certainly don't mean
to sound antagonistic at all. nor do i want you
to get frustrated and walk away... because i'm
trying to grok what you wanna say. i just don't.
-bowerbird

(Because of spam troubles, first-time comments from unfamiliar addresses or containing multiple links might be held for moderation. If your comment isn't spam, we'll publish it very soon. Thanks in advance for your patience.)