« wikipedia not safe for work | Main | MediaCommons 2: renewed publics, revised pedagogies »
ebook ipod rumored 07.26.2006, 12:02 AM
posted by ben vershbow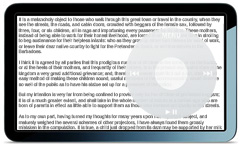 Engadget has it from inside sources at Apple that a next-generation iPod is in the works with a larger screen and a full-fledged text reader:
...two bits from separate, trustworthy insiders that Apple's not satisfied merely vending Audible's books-on-digital-audio solution. With the iRex iLiad and Sony PRS-500 Portable Reader both right around the corner, is it possible the next iPod might catch the eBook bug? We'd say the possibility is very real, since according to a source at a major publishing house, they were just ordered to archive all their manuscripts -- every single one -- and send them over to Apple's Cupertino HQ.
So Audible, huh? Interesting. They got a toehold in the market with audiobooks, and may now be making the transition to ebooks.
A separate trusted source let us know that the next iPod will have a substantial amount of screen real estate (as we'd all suspected), as well as a book reading mode that pumps up the contrast and drops into monochrome for easy reading. It's no e-ink, sure, but a widescreen iPod would be well suited for the purpose, and according to our source, the books you'd buy (presumably through iTunes) won't have an expiration...
I'd hope that such a device would have wifi, a web browser and an RSS reader that could be taken offline. I think that books will only be a part of the equation.
Teleread has the ebook standards angle.
Posted by ben vershbow on July 26, 2006 12:02 AM
tags: RSS, apple, ebooks, ipod, the_ideal_device
comments (4):


Lisa Spangenberg
on
July 26, 2006 10:40 AM
:
I'd hope that such a device would have wifi, a web browser and an RSS reader that could be taken offline. I think that books will only be a part of the equation.
You mean like the Palm TX?


ben vershbow
on
July 26, 2006 11:56 AM
:
Sure. Or any number of equivalent devices. The difference with Apple is a) superior design and b) (more important) the user culture that has sprung up around the ipod. Also, the ipod is a device for leisure activity, whereas all the other handheld PDA readers are geared toward business professionals (though people do find all sorts of creative uses for them). I'd bet that reading on a nice, user-friendly specimen of industrial design like an ipod will be more desirable than reading on a souped-up filofax. Just the fact that books would be stored alongside music, movies and photos is different than having them crammed between spreadsheets, contact lists and email memos. Microsoft has a particularly dispiriting ad campaign for its new business-oriented handheld assistant (which presumably has an ebook reader). One poster sports the slogan: "Work a little. Live a little. Work a little. Live a little." Ugh.


Lisa Spangenberg
on
July 26, 2006 10:48 PM
:
I just this Saturday got the Palm TX; my main use for this Palm, much like the five year old Palm it replaces, is to read books on planes.
It's got a gorgeous, sharp, back lit color screen and long battery life; longer than a cross country flight and a couple of hours at the hotel. The book engine, the Peanut Press/Palm eReader, is pretty much a knock off of the Expanded Books UI, with poorer font choices, but it's exceedingly useable. It has a reasonable Find, I can dog ear pages, and make notes--even copy bits of text. I've now written a couple of book reviews on the Palm that way.
It doesn't hurt that my dissertation is on the Palm and my bibliographic data base as well, and that I can edit both of them and synch with the copies on my home computer.
The funny thing is, I just wanted a book reader, one with a better screen, and some storage capacity than my ancient Palm; my husband decided I'd use the Wi-Fi, and he's right.
Personally, I'd really like somthing that's about the same thickness, but the height and width of a Reader's Digest, or half a sheet of 8 1/2 by 11 paper. I'd like a better set of fonts. There are additional fonts from ITC and other type designers but they'rr really rather crudely converted. There's no Unicode support in any real sense (don't try Ancient Greek, Hebrew is OK though; but there's no Yogh though, so Middle English is sort of . . . odd). The handwriting recognition is much better with this Palm; more accurate and faster.
The music play back is not bad at all, though I'd be happier if AAC were supported. Haven't tried video yet, or Ogg Vorbis . . .


Shawn Adler
on
December 14, 2009 1:26 AM
:
I am a new Kindle 2 user and I love everything about it! The books download quickly, the battery lasts a long time, it is simple to use, the bookmark feature is nice, and I love the cool pics on the screen when you turn the gadget off. The ability to download book samples is wonderful. I can now take a quick look-see before I buy. Oh, and the dictionary feature is also terrific!
I can take an entire bookcase of choices with me where ever I go and I believe this is the future of book publishing. What is not to like!?
There is one gripe: it ships without a carry-case and you really do need something to protect it. Other than that one mini-complaint, everything else is superb!
(Because of spam troubles, first-time comments from unfamiliar addresses or containing multiple links might be held for moderation. If your comment isn't spam, we'll publish it very soon. Thanks in advance for your patience.)