« June 2006 | Main | August 2006 »
All of us working on MediaCommons are extremely gratified by the reception that our introduction of the project has had, ranging from the supportive emails we've received, the posts on numerous other blogs, the articles in other publications, and, most importantly, in the lively conversation and substantive feedback we've gotten here. We've already started following up on these ideas and we'll be posting more in the days to come, raising more particular issues for our collective consideration. We will also be taking the insightful suggestions and constructive criticisms we've received into our next face-to-face meeting in a few weeks' time, after which we'll respond more fully to your concerns and seek your feedback and input once again. For the moment, however, thanks to all of you -- and please stay actively involved in these conversations.
We would also like to take the opportunity to announce that we'll be representing at the upcoming Flow Conference, October 26-28, 2006, at the University of Texas at Austin. We will be participating on an open-forum roundtable discussing the future of digital publishing, which should prove fruitful for both generating ideas and continuing to build the strong community network for this project. If you can attend, we'll hope to see you there.
-- Kathleen Fitzpatrick, Avi Santo, Bob Stein, Ben Vershbow
Posted by kathleen fitzpatrick and avi santo at 7:02 AM | Comments (0) | TrackBack
During Bob's synchronous chat with the Chronicle of Higher Education on Wednesday, I was reminded of the distinction he's drawn between digital books that incorporate multimedia--text, audio, still and moving images--and those that are networked (and, as such, seem more dynamic and/or alive). Of course these two attributes are not mutually exclusive--and Bob never states/implies/screams that they are--but these two features, media-rich and networked, do seem to comprise the salient features of digital texts and the ways in which they part company with their paper counterparts. Moreover, the networked aspect of digital texts and all that it implies has NEVER escaped me--I wrote an hypertextual Master's thesis complicating this very notion--still, I have bristled each time I've heard Bob's proclamation that "it's all about the network," though I couldn't seem to account for this reaction. Until, that is, I noticed other academics reacting similarly...
It hit me when the other day when Bob was asked a question by Michael Roy (one which reiterates a query from H. Stephen Straight) which said:
I was curious about your quote in the Chronicle article that suggests your change in focus away from multimedia texts towards networked texts. Can you elaborate on why you feel that the priority in development of new genres of electronic texts should be on their 'networkedness' rather than in the use of media?
Bob's answer?:
it's not really a move away from multimedia, just a re-orientation of its [sic] centrality in the born-digital movement. when i started working in this area full-time -- twenty-six years ago -- the public network that we know as the internet didn't exist. our model at the time was the videodisc, an analog medium that suggested the book of the future would be just like the book of the past, i.e. a standalone, frozen, authoritative object. it took me a long time to realize that locating "books" inside the network would over time cause more profound shifts in our idea of what a book is than the simple addition of audio and video.
As I read this exchange it occurred to me why I/we have been harping on this issue and it has to do with our training. Poststructuralist theory taught us that there is no single book frozen in time; we have long since abandoned the notion of the authoritative tome. Foucault, for instance, posited the 'author function,' a position in a discourse community, one that contributed to the social construction of knowledge. Books, by extension, are always-already (given Jacque D's recent passing, a little nod and an enactment of my point here), networked; they are part of a larger oeuvre and refer to each other extensively--thus they contain copious links, even if said links are a good deal more metaphoric in nature than the hyperlink of the networked text.
Moreover, reader response theorists such as Wolfgang Iser and Louise Rosenblatt taught us that the reader never approaches a text without bringing her own perspective to bear on it--a notion that renders each reading act as discrete--and each act of reading by the same reader is unique from the read that preceded it. In this world, then, the notion of a dynamic book versus one that is "frozen in time" becomes a non-issue. Indeed, in some respects, the networked book is in fact More traditional if it depends on textual language to conduct the interaction. Look at GAM3R 7H30RY--the method is unique but in terms of the knowledge made/gained etc, it is perhaps business as usual except for an accelerated and maybe more inclusive pace. By contrast, were you to put out a multimedia networked 'book,' and have it reviewed IN MEDIA-RICH language, that would be revolutionary.
Posted by virginia kuhn at 6:12 AM | Comments (9) | TrackBack
Ed note: John McClymer of Assumption College, MA is a teacher and scholar of American History, who attended our next\text history meeting last spring.
The string of adjectives in my title comes from Kathleen Fitzpatrick's fascinating "Introducing MediaCommons" of July 17, 2006. Fitzpatrick uses them to describe the "new scholarship" MediaCommons can help promote. They apply with equal force to the teaching this new environment can foster, as Avi Santo's post on revised pedagogies demonstrates. He sets forth the goals we need to pursue. My task is to explore a specific set of pedagogies suited to teaching history.
Ever since I attended my first workshop on the internet, I have been groping towards such a pedagogy. I think that I am now coming within hailing distance. So I extend an invitation to peers to take a look at what I will be seeking to do in an upper-level course on the history of the Gilded Age and Progressive Era this fall.
First I need to say a few words about history as a field of study. It is what some cognitive psychologists call "ill-structured." Chemistry, for example, is well-structured. There is nothing equivalent to the Periodic Table in history. There are no formulae, no model problems. Nothing is reproducible. The historian never can isolate a particular phenomenon. We can never measure anything precisely. The evidence we need to make sense of comes in a wide array of forms, ranging from sermons to furniture, from battle plans to cartoons. No matter what the topic, furthermore, we know there are crucial missing pieces. Some we can someday discover. The rest is simply lost forever. As a result, say the cognitive specialists, history as a discipline requires a very high degree of intellectual flexibility.
Because it does, it is especially ill-served by what we can call pedagogies of scarcity. Consider the standard U.S. survey textbook. Despite its bulk, its authors have had to make innumerable painful choices about what to leave out. There is exciting new scholarship about, let us say, women in the antebellum South. If that is going to be included in a new edition, something of equal length must come out because the overall size of the text is fixed. So is the number of illustrations. Authors and editors must choose one painting to represent the Ash Can School. They must select one way of explaining the abolition movement. They must pretend, in short, that history is a well-structured field.
This necessarily carries over to the tasks we assign students to undertake. "Discuss the rise of imperialism in late nineteenth-century America" we ask. What is wrong with such a question? It is bogus. Students CAN solve for x; they CAN prove that two geometrical figures are congruent. They CANNOT "discuss" the rise of imperialism. They can only demonstrate that they know the version of the story found in their textbook or that they transcribed in their notes. Scarcity routinely leads historians to ask inauthentic questions. One proof is that we ask students to write an in-class essay on the rise of imperialism but caution the same student that the topic, as phrased, is too broad for a term paper.
History as a discipline does not admit of closure. We can prove theorems. We cannot state definitively the significance of race in American history. Yet we routinely pretend that we "cover" topics in our lectures. And we make students pretend that they understand topics whose mysteries continue to perplex us. All the adjectives in my title are antonyms for such inauthentic learning.
The course site contains a discussion of what authentic means in history, so I will not rehearse that here. Instead I will discuss why I approach the course in the ways I do. I will also highlight questions that continue to bedevil me as I continue to work on this course.
Creating a Community of Learners In and Outside the Classroom
My course builds upon work done over a number of semesters in an American Studies course at the University of Virginia that uses an online version of Alan Trachtenberg's classic The Incorporation of America: Culture and Society in the Gilded Age. Over several semesters students in that course have created web sites that explore Trachtenberg's ideas. My students and I, therefore, will be joining an existing scholarly community, albeit unbeknownst to the large majority of its members whose work of semesters past we will use. Their work provides us with models as well as information and ideas. Our work, we hope, will do as much for other classes on other campuses.
We will work as a community in class as well. All of us will read Trachtenberg's chapters and hold a preliminary discussion for each. Then participants will pick among an array of resources relevant to a particular chapter. They will report their findings, first to me an hour before class via email. Then they will report them to each other. I insert myself here in the process for several reasons. One is quality control. I have no desire to encourage class discussion for its own sake. The format I've adopted guarantees that students will do the great majority of the talking. What I need to insure is that the most interesting ideas get a full and fair hearing. As a result, I need to know in advance who has what to say.
I take the best posts and create a web page. I do not hesitate to edit student notes, usually by deleting extraneous material. It is not uncommon for a student post running a page or more in length to show up on the course page as a paragraph or sometimes a sentence. All of this provides immediate feedback to the students. Some of it is negative, at least by implication. But the overall message is positive. Whenever I ask a student to contribute it is because I know that she has something worthwhile to add to the discussion. This means that students can relax.
Providing Multiple Points of Entry
Because they choose the materials they will work on, students can play to their strengths and their interests. This is, in fact, how practicing historians choose their own projects. Sometimes students rue specific choices, but most of the time they are enthusiastic about what they selected to work on. Further, they learn from each other in a non-competitive setting. The student reporting on the trial of "Big Bill" Haywood is not in competition with the one reporting on the "Uprising of the 20,000." Instead both are puzzling over the labor movement in the early twentieth century. Each gains from the quality of the other's work.
Structuring Access to Abundance
On line resources grow richer every day. We live in a world of intellectual abundance. Unfortunately this is daunting as well as liberating. Perhaps the key challenge in developing appropriate pedagogies for this new era is to figure out how to provide structured access to this abundance. Here the fact that University of Virginia students have already worked over some of the resources is an enormous plus. Even so, I have to group resources in clusters that are intellectually coherent, that offer diverse approaches to some central topic, and do not overwhelm the students seeking to use them. In its current form, I am reasonably satisfied that I have met the first two challenges for the course. I have not begun to meet the last. I will have to break out subsets of materials in each of the clusters I have set up. And I welcome all the help I can get in doing so.
Producing as well as Consuming Educational Resources
The goal of any pedagogy of abundance is to empower students to produce as well as consume knowledge. Currently the student-as-consumer model rules American education. My college, for example, has just hired a new vice president in charge of student recruitment and retention. The position was created on the advice of the marketing firm that carried out an extensive survey of how we should best position ourselves. I file no brief against any of this. I merely observe that the same set of notions shapes the academic as well as the other aspects of student life. And students act like consumers. Tuition is expensive and becoming more so every year. They want their money's worth.
In some areas they are informed consumers. They know what the recreation centers and dorms are like at other schools, for example. In the classroom, on the other hand, they do not know nearly so much. Course evaluation forms often ask if the professor made reference to the most recent research in the relevant field. Few are the students capable of answering that question. And they understand even less of pedagogy. They know that they have been in classes where they learned a lot. They know they have been bored to tears on occasion. They have not had the opportunity to think about how specific disciplines impose specific constraints and provide specific intellectual challenges.
If they were more informed, history students would demand to be more active. Most students in most history courses spend their time listening to lectures, taking notes, and highlighting things in the textbook they suspect may show up on a quiz or exam. Most do not appreciate what a travesty of historical learning this is. Historians puzzle over evidence that is partial, contradictory, various, and fascinating. That is what they should be doing as well. Historians realize that, however exhaustive their research, they will never have the last word on anything. They also realize that their research can nonetheless contribute something lasting. Students need to be able to make the same claims about their work.
This raises a critically important question for which I have only very tentative answers: What are the appropriate student projects in an interactive, mediated world of abundance?
The student web sites at the University of Virginia provide one model. 1896, created by Rebecca Edwards and several of her students at Vassar, provides another. 1896 is a collaborative project of the students in History 276, "A House Divided: The United States, 1830-1890" taught by Professor Edwards. It contains a wealth of resources about the 1896 election along with suggestions by her on how to use the site in the classroom.
Both are final projects. Are there meaningful intermediate products students can produce and share? What might those look like? One idea I am currently playing with derives from the Women and Social Movements on line journal, http://www.alexanderstreet6.com/wasm/. The journal publishes documentary projects. All collect relevant primary sources around a question such as "From Wollstonecraft to Mill: What British and European Ideas and Social Movements Influenced the Emergence of Feminism in the Atlantic World, 1792-1869?" Some of the authors are recognized experts. Nancy Hewitt, for example, did "From Wollstonecraft to Mill." Others are Ph.D. candidates drawing upon dissertation research. So my undergraduates will not be able to produce projects of the same scope or professionalism. But they can collect half a dozen primary sources bearing upon a topic, write a 750-1000 word overview, and provide a head note for each source. I can then post their work on the college's server or, perhaps, in an appropriate MediaCommons node. I would be most interested in getting reactions to this idea, and I would love to hear of other ideas for authentic student projects.

Posted by john mcclymer at 8:55 AM | Comments (1) | TrackBack
The Onion takes a shot at Wikipedia this week:
Wikipedia, the online, reader-edited encyclopedia, honored the 750th anniversary of American independence on July 25 with a special featured section on its main page Tuesday.
Not bad, though it kinda beats the Wikipedia-is-error-prone point into the ground. But the fact that it's being satirized says something.
Naturally, the piece has already been noted on Wikipedia's article on The Onion. The talk page points to another, funnier, wiki-themed "news brief" from last September: "Congress Abandons WikiConstitution."
Posted by ben vershbow at 12:21 AM | Comments (0) | TrackBack
Bob will be appearing online at the Chronicle of Higher Education site for a live chat with readers about our recent cover story. The topic: "conversational scholarship." 12 noon E.S.T.
UPDATE: you can now read a transcript of the chat here (same as the live link).
Posted by ben vershbow at 11:56 AM | Comments (0) | TrackBack
What a week it has been since Kathleen first posted about the MediaCommons project we are developing at the Institute for the Future of the Book. The responses we've received so far have mostly been both exciting and constructive and they clearly point to a community out there hungry for a digital scholarly network providing new opportunities for interaction and new modes of scholarship, pedagogy and community building.
As a co-creator with Christopher Lucas of Flow: A critical forum on television and media culture, an online journal intended to foster accessible and relevant conversations amongst media scholars and non-academic communities, I have seen first-hand the positive impact that more fluid exchanges of ideas can have on media studies scholarship. Flow's mission is to provide a space where researchers, teachers, students, and the public can read about and discuss the changing landscape of contemporary media at the speed that media moves. Flow is organized around short, topical columns written by respected media scholars on a bi-weekly schedule. These columns invite response from the critical community by asking provocative questions that are significant to the study and experience of media.
The journal has been put to use in various classroom environments as well, with students either responding to pieces online or the inclusion of various columns in course packets, though this aspect of Flow's mission has never achieved it's fullest potential. Moreover, while the journal has been a phenomenal success amongst media studies scholars, it has largely failed to attract other constituencies on a consistent basis or engage them in critical conversations about media. My involvement with MediaCommons emerges out of a desire to make these scholarly conversations relevant to other constituencies -- whether they be media producers, legislators, lobbyists, activists, students, or informed consumers -- re-establishing the role of the academic as public intellectual and steward or critical conversations.
Today, I am going to write a little bit more about the pedagogical and community outreach goals of the site. These ideas are still being developed and we are hopeful that readers will chime in with other possibilities and suggestions as well. While I will discuss each of these subjects separately, one of the exciting opportunities with MediaCommons would be the integration of scholarly discourse, pedagogy, and community outreach in symbiotic ways.
As high school and college students, as well as many other communities' increasingly look to the internet and other digital media for news, information, and other forms of knowledge, the role of the media studies scholar has become vital in teaching the critical media literacy skills that will help these communities to analyze, decipher, and navigate between the various sources they engage and to better recognize the roles that power, profit, and policy - whether institutional or corporate -play in the construction of so-called credible knowledge. Yet, within this expanding digital environment, media studies scholars face their own credibility crisis. At a moment where academic forms of knowledge compete and co-exist with - as well as are blurred by - other types of expertise and information, how can media studies scholars establish credibility with non-academics? How do media scholars identify themselves as experts within a digital media environment?
We argue that media scholars must re-evaluate their modes of scholarly engagement and processes for credentialing expertise in a digital environment if they hope to be able to gain credibility amongst students and engage them in critical conversations about media literacy. MediaCommons offers many possibilities for pedagogical and community activist intervention.
Firstly, a digital scholarly network would foreground the process and progression of critical thought over its finished product. It would do so by allowing scholarly work to be written in "real time," meaning that the development, drafting and revision of critical writing would happen in public. This would illuminate what is often a shrouded process for students, who are usually only presented with finished works to digest, but not the mechanisms for their creation to both learn from and evaluate. By continuing to value the current closed "peer-review" process and the romantic idealization of a secluded writing practice, media scholars fail to engage with communities that align credibility with the foregrounding of on-going and cumulative process rather than finished product.
The end result is a growing disconnect between scholars and the public they serve, precisely because the process of critical analysis is made to seem proprietary and removed from everyday experiences. By foregrounding the critical process and inviting feedback from myriad communities at an earlier stage before scholarly work is put through the traditional blind "peer-review" process, a digital scholarly network will make transparent the development of critical writing, encourage increased community sharing and critical discussion, and expose students to both the pains and rewards of critical analysis. As Olivier Tchouaffe deftly commented about last week's posting:
It is interesting to point to the irony that new technologies, such as the Internet, are finally allowing us to go back to the basics of what Socrates intended to be the role of the intellectual which is to bring the fire of knowledge closer to the people and therefore enriching their lives instead of having it locked up in the Ivory Tower in an autistic discourse among academics.
We wholeheartedly embrace these ideals.
While MediaCommons will thematically cohere around topics relevant to the study of media, concerns over teaching students critical thinking and writing as well as digital literacy skills cross-disciplinary boundaries. My own students, even when they "get" an argument put forward by an article of book chapter (and often they do "get it"), seem baffled about how they might come up with similar critical perspectives of their own or to go about articulating or proving their theses. Every semester, I work to demonstrate that the positions scholars put forward were not reached over the course of a day, but were the results of difficult but rewarding critical engagement, discussions, drafting, re-writing, review, and revision. If we want to teach our students to be critical thinkers and writers, we must be willing to show them our own missteps and struggles through these processes, not just the finished results.
Additionally, more and more students are either being asked to provide critical responses in digital environments through message boards, chat rooms, listservs, and blogs. Many others rely quite heavily (and with mixed amounts encouragement and dismay from their professors) on the internet for research materials. Yet, there is still a fairly wide gap between student engagement with online materials and their possession of critical digital literacy skills that would allow them to effectively research and write in these environments. The media studies scholar does not simply teach about media; he/she teaches people how to be critical media participants, whether as creators, critics, analysts, activists, or consumers. The contemporary media studies scholar teaches critical thinking and literacy skills for a generation raised within (or increasingly aware of their lack of access to) a networked digital environment. Through MediaCommons, we envision opportunities for pedagogical interaction that would be valuable to many humanities and social science-based classrooms that exceed merely studying media, but extend to important questions of how to conduct research, write, and critically engage in a multi-mediated world.
In classroom settings, the best way to help students apply the experiences and knowledge they already possess into critical forms of engagement and inquiry is to promote conversation. The best educators are often conversational stewards, introducing a topic and a set of open-ended questions and then helping students to see the connections between individual experiences and larger social, cultural, political, economic, and/or technological processes. A digital scholarly network offers opportunities to take the critical conversational seminar experience into a virtual environment, multiplying the number of participants while using the networking capabilities of the site to help students make larger connections.
Moreover, there is no better way for students of media to learn to engage critically with these forms than by providing a challenging and interactive platform for them to explore and play with. In other words, a digital scholarly network offers approaches for scholars to reach students through the existing tools, strategies, and technologies at our disposal, without replicating the models we seek to analyze and teach about, all the while tapping into skills students have already developed and helping them put these skills to more critical use. Amongst the pedagogical possibilities enabled by a digital scholarly network (though by no means the only ones) are:
-- Teaching students how to write interactive essays

-- Creating integrated production and critical analysis lesson plans that teach about topics ranging from film language to representational politics, media economics and regulation and their relation to media ownership and authorship, the cultivation of fan communities, and trans-media branding practices. Such lesson plans might use interactive tools, game theory inspired simulations, and Do-It-Yourself virtual production experiences to teach about both the production of culture and production cultures themselves.

-- Setting up online classroom discussion forums and critical response blogs that teach about communication in a networked environment while also taking advantage of opportunities for distance interaction between students studying like materials in different locations.

-- Establishing cross-cultural interactions between students separated by geography, class, race, gender, sexual, religious, and even linguistic boundaries (for example multi-mediated lessons that incorporate visual imagery or teach about visual forms of expression might provide interesting opportunities for exploring cultural differences in interpretation)

-- Supervision of networked research that teaches students how to judge online resources critically and incorporate these materials into their research in ways that go beyond merely cutting and pasting text

-- Team creation and evaluation of multimedia lectures, lesson plans, and even entire courses

-- Multi-authoring of digital, interactive textbooks

-- Sharing resources ranging from audio-visual materials and "found" materials to publicly stored syllabi, lectures, assignments, etc.

-- Customizing platforms for particular course uses, including setting up separate and discrete course-related message boards, e-packets, print-on-demand articles, etc.
Moreover, much as the scholarly writing on MediaCommons would be open to multiple types of review, ranging from informal commentary during the development phase to peer-to-peer review at the "publication" stage, pedagogical materials developed in the MediaCommons site would also undergo review by peers, whether teachers thinking of using these lessons in classrooms, or by students engaging with them. Pedagogical materials under review might range from individual lesson plans or activities, to entire courses, syllabi, textbooks, and assignments. MediaCommons might also allow scholars from different disciplines or separated by great distances to develop new courses, approaches, lessons and assignments collaboratively. We believe that these features are particularly valuable for scholars teaching in increasingly cross-disciplinary environments, emerging professors teaching classes for the first time, and innovative teachers who regularly use online materials in their teachings.
Though too often relegated to the ivory towers, we also believe that academics can, and indeed, must serve vital communal roles that extend beyond classroom seminars and published articles. As public intellectuals, scholars, particularly in the humanities and social sciences, are potentially powerful stewards of critical conversations. Further, given the public's increased reliance on digital media in almost every aspect of everyday life, for news, information, communication, entertainment, work and leisure, the media studies scholar should be serving an important function in helping communities to access and critically assess the digital technologies that surround them. Yet, in order for academics to assume leadership roles within larger communities of activists, citizens, consumers, and producers, we must first be willing to be members of such communities, and recognize how non-academic forms of knowledge are often articulated quite differently than the modes employed within University settings. MediaCommons will offer scholars new ways of communicating with non-academics that will hopefully re-engage us with those communities.
Academic credibility continues to be informed by legacies of expertise that emphasize virtuoso performances of individual intellectual achievement (in the classroom, conference panel, or journal article) over communally built knowledge. This has not only handcuffed innovative scholarship and the development of peer networks, but has also alienated many non-academics when we have made efforts to reach out to these communities, who view these displays as undemocratic and condescending. By foregrounding the critical process over its finished product and by engaging in open discussion while works are still in progress, new forms of networked, cross-disciplinary, and collaborative scholarship are enabled and new ways of teaching critical thinking and digital literacy skills are engaged.
Presenting "work in progress" is critical to participant cultures and emergent knowledge communities, and allowing work to become "lost" or embedded in the fabric of an ongoing conversation, in which lateral, "linked" connections between new ideas and fresh contributions are the norm is essential for academic scholarship to once again serve its role as provoking critical discourse and diverse perspectives.
We argue for the need to change this hierarchical display of expertise to meet the criteria for credibility in a digital environment. Scholars should seek to be stewards of intellectual communities. "Intellectual," in the sense we use it, is not confined to credentialed scholars, and "community" is broadly conceived and not confined to the academy or its R&D counterpart in the industrial formation. This model makes a virtue of building knowledge networks out into "alternative" communities (from an academic point of view), which would be a revitalizing addition to the current dissemination of academic knowledge.
Of course, we recognize that there is more to the process of engaging non-academics than simply building the MediaCommons network and waiting for them to discover it. MediaCommons must be proactive in seeking out non-academic voices and placing them in dialogue with both scholarly writings and with one another. Non-academics must be involved in all aspects of the site, from writing and reviewing materials, to decision-making positions as editors and advisors. Kathleen described one possible mode of scholarly engagement within MediaCommons as the establishment of network hubs focused on particular television programs or media issues. There is nothing preventing us from engaging multiple constituencies as writers in this process. Imagine a series of networked reviews about say, the ABC medical drama Grey's Anatomy written by a combination of media scholars, medical professionals, lobbyists concerned with improving minority representation in entertainment, and even one of the writers or producers of the series itself. Such conversations would not only provide multiple perspectives, but in a controlled, networked environment such as MediaCommons would allow for a cross-pollination of ideas and a delineation of where different communities diverge and overlap in their approaches. In fact, as lines between media activists, scholars, consumers and producers continue to blur, it is important that we not artificially re-inscribe differences, but rather, that we seek to actively cultivate conversations amongst these constituencies.

We believe that MediaCommons might also provide opportunities for historically marginalized communities to respond to and engage with the media that (mis)represent them, opening up new forms of self-representation while also teaching crucial digital media skills such as web design, multimedia creation, blogging, etc. MediaCommons would also serve as a center for community activism, building virtual town halls that afford community members opportunities to publicly air grievances, discuss local consequences of larger media ownership, legislative, or representational politics and permit communities' facing like problems to interact with one another and form coalitions. The network might even provide Q&A opportunities for visitors to ask media experts about the implications of particular media policies and practices.
Finally, we conceptualize MediaCommons as a community in its own right, where participants share resources and engage in critical conversations about media. We believe that the materials created on MediaCommons should be community-owned and freely accessible to all MediaCommons members, but we also recognize the importance for scholars to continue to own the intellectual rights to their ideas and have a certain say over how those ideas may be incorporated/combined/referenced by other community members. Thus, we endorse the creation of a community of shared resources where individual authors still have a say over how they engage with one another. Much like the Creative Commons initiative, we believe that authors should have the rights to determine whether their works can be used by others for commercial or non-commercial purposes, what aspects of a given author's work can be networked with that of another's - the whole or parts - and what forms of attribution are required before resources can be shared by others. We believe that these rights should be equally available to commentors and peer-reviewers as they are to authors and other creators.
We also believe that membership in the MediaCommons community should be free, though we distinguish between members and peers on the basis once again of author choice. Quite simply, we believe that rather than the editors of the site imposing an arbitrary categorization of who is constituted a peer and who is not, these decisions should be placed either in the hands of individual writers or the larger community and should be determined according to goals set forth by individual writers for their work. Thus, for example, if an author is so inclined, community activist work might be credentialed by the communities of peers that work is trying to serve as much as work by other academics. By expanding our definition of what constitutes a 'peer' and by allowing authors to select peer communities, we believe there will be greater potential for the inclusion of non-academics as more than just visitors, but as equal and valuable members of the MediaCommons community as a whole.
All of these ideas are still at an early stage of development. We welcome alternative suggestions, constructive criticisms and diverse perspectives on how MediaCommons might best engage in community service and pedagogical interventions. Ideally, these should extend from and co-exist with the site's emphasis on foregrounding the critical and creative process and encouraging transparent review and discussion of scholarly work.
The ideas I have put forward in this post owe a great deal to conversations I have had over the past year with Kathleen Fitzpatrick, Christopher Lucas, Bob Stein, Ben Vershbow, and many other colleagues. Thank you.
Posted by Avi Santo at 7:03 AM | Comments (1) | TrackBack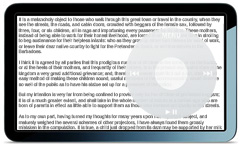 Engadget has it from inside sources at Apple that a next-generation iPod is in the works with a larger screen and a full-fledged text reader:
...two bits from separate, trustworthy insiders that Apple's not satisfied merely vending Audible's books-on-digital-audio solution. With the iRex iLiad and Sony PRS-500 Portable Reader both right around the corner, is it possible the next iPod might catch the eBook bug? We'd say the possibility is very real, since according to a source at a major publishing house, they were just ordered to archive all their manuscripts -- every single one -- and send them over to Apple's Cupertino HQ.
So Audible, huh? Interesting. They got a toehold in the market with audiobooks, and may now be making the transition to ebooks.
A separate trusted source let us know that the next iPod will have a substantial amount of screen real estate (as we'd all suspected), as well as a book reading mode that pumps up the contrast and drops into monochrome for easy reading. It's no e-ink, sure, but a widescreen iPod would be well suited for the purpose, and according to our source, the books you'd buy (presumably through iTunes) won't have an expiration...
I'd hope that such a device would have wifi, a web browser and an RSS reader that could be taken offline. I think that books will only be a part of the equation.
Teleread has the ebook standards angle.
Posted by ben vershbow at 12:02 AM | Comments (4) | TrackBack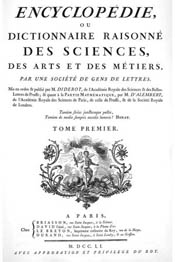 Stacy Schiff takes a long, hard look at Wikipedia in a thoughtful essay in the latest New Yorker. She begins with a little historical perspective on encyclopedias, fitting Wikipedia into a distinguished, centuries-long lineage of subversion that includes, most famously, the Encyclopédie of 1780, composed by leading French philosophes of the day such as Diderot, Rousseau and Voltaire. Far from being the crusty, conservative genre we generally take it to be, the encyclopedia has long served as an arena for the redeployment of knowledge power:
In its seminal Western incarnation, the encyclopedia had been a dangerous book. The Encyclopédie muscled aside religious institutions and orthodoxies to install human reason at the center of the universe--and, for that muscling, briefly earned the book's publisher a place in the Bastille. As the historian Robert Darnton pointed out, the entry in the Encyclopédie on cannibalism ends with the cross-reference "See Eucharist."
But the dust kicked up by revolution eventually settles. Heir to the radical Encyclopédie are the stolid, dependable reference works we have today, like Britannica, geared not at provoking questions, but at providing trustworthy answers.
Wikipedia's radicalism is its wresting of authority away from the established venues -- away from the very secular humanist elite that produced works like the Encyclopédie and sparked the Enlightenment. Away from these and toward a new networked class of amateur knowledge workers. The question, then, and this is the question we should all be asking, especially Wikipedia's advocates, is where does this latest revolution point? Will this relocation of knowledge production away from accredited experts to volunteer collectives -- collectives that aspire no less toward expertise, but in the aggregate performance rather than as individuals -- lead to a new enlightening, or to a dark, muddled decline?
Or both? All great ideas contain their opposites. Reason, the flame at the heart of the Enlightenment, contained, as Max Horkheimer famously explained, the seeds of its own descent into modern, mechanistic barbarism. The open source movement, applied first to software, and now, through Wikipedia, to public knowledge, could just as easily descend into a morass of ignorance and distortion, especially as new economies rise up around collaborative peer production and begin to alter the incentives for participation. But it also could be leading us somewhere more vital than our received cultural forms -- more vital and better suited to help us confront the ills of our time, many of them the result of the unbridled advance of that glorious 18th century culture of reason, science and progress that shot the Encyclopédie like a cork out of a bottle of radical spirits.
Which is all the more reason that we should learn how to read Wikipedia in the fullest way: by exploring the discussion pages and revision histories that contextualize each article, and to get involved ourselves as writers and editors. Take a look at the page on global warming, and then pop over to its editorial discussion, with over a dozen archived pages going back to December, 2001. Dense as hell, full of struggle. Observe how this new technology, the Internet, through the dynamics of social networks and easy publishing tools, enables a truer instance of that most Enlightenment of ideas: a reading public.
All of which led me to ponder an obvious but crucial notion: that a book's power is derived not solely from its ideas and language, but also from the nature of its production -- how and by whom it is produced, our awareness of that process, and our understanding of where the work as a whole stands within the contemporary arena of ideology and politics. It's true, Britannica and its ilk are descendants of a powerful reordering of human knowledge, but they have become an established order of their own. What Wikipedia does is tap a long-mounting impulse toward a new reordering. Schiff quotes Charles Van Doren, who served as an editor at Britannica:
Because the world is radically new, the ideal encyclopedia should be radical, too.... It should stop being safe--in politics, in philosophy, in science.
The accuracy of this or that article is not what is at issue here, but rather the method by which the articles are written, and what that tells us. Wikipedia is a personal reeducation, a medium that is its own message. To roam its pages is to be in contact, whether directly or subliminally, with a powerful new idea of how information gets made. And it's far from safe.
Where this takes us is unclear. In the end, after having explored many of the possible dangers, Schiff acknowledges, in a lovely closing paragraph, that the change is occurring whether we like it or not. Moreover, she implies -- and this is really important -- that the technology itself is not the cause, but simply an agent interacting with preexisting social forces. What exactly those forces are -- that's something to discuss.
As was the Encyclopédie, Wikipedia is a combination of manifesto and reference work. Peer review, the mainstream media, and government agencies have landed us in a ditch. Not only are we impatient with the authorities but we are in a mood to talk back. Wikipedia offers endless opportunities for self-expression. It is the love child of reading groups and chat rooms, a second home for anyone who has written an Amazon review. This is not the first time that encyclopedia-makers have snatched control from an élite, or cast a harsh light on certitude. Jimmy Wales may or may not be the new Henry Ford, yet he has sent us tooling down the interstate, with but a squint back at the railroad. We're on the open road now, without conductors and timetables. We're free to chart our own course, also free to get gloriously, recklessly lost.
Posted by ben vershbow at 3:37 AM | Comments (1) | TrackBack
Which focuses primarily on GAM3R 7H30RY and MediaCommons, and implications for the future of scholarly discourse. There are substantial interview sections with McKenzie Wark and Kathleen Fitzpatrick. We're excited.
Check it out:
- Open URL
Posted by ben vershbow at 10:38 AM | Comments (3) | TrackBack
Last week, the Pew Internet & American Life Project released a study on blogging. The findings describe the characteristics of the blogging community. The ways blogging as a communication tool supports public speech are gaining clarity and support through this study. It estimates that 12 million people in the US are blogging. Bloggers, as compared to internet users, are more ethnically diverse, younger and highly wired. Further, an important aspect is that the majority of bloggers (54%) has never published media before they started blogging. 37% of bloggers report that they post about personal experiences, the largest response for that question. Not surprisingly, bloggers read blogs, and there is a direct correlation between the frequency of a blogger's posting and how often she read blogs. The growth of blogging will become more important as it is encouraging the roles of reader and writer to merge. We've discussed this merger before, but it is great to have numbers to support the discussion.
As internet users are becoming authors and publishers, I am curious to watch the future development of bloggers as a community and the possible impact they can have on policy issues. Is there the opportunity for bloggers to become a vehicle for social change, especially on Internet issues? 12 million bloggers could demand the attention of legislators and courts on the issues of net neutrality, copyright, privacy and open access. Although, as we have discussed in the past, the blogosphere is often a partisan space. The Pew study also confirms its diversity. Therefore, mobilizing this community is a challenging task. However, the sheer number of bloggers foretells that some of them are bound to find themselves dealing with these issues, especially with copyright and intellectual property. My hope then would be that these inevitable frictions would bring further into the mainstream these issues and broaden the discussion by the often one-sided debates of the telecommunications industry and media conglomerates.

Posted by ray cha at 1:07 AM | Comments (2) | TrackBack
This post takes a bit of a set-up. Six times over the past twelve years (including the last four) I've had the lucky opportunity to spend a bit of the summer on the northeast coast of Sardinia. The place is filled with contradictions. The landscape is arid, almost desert-like, yet it merges effortlessly with the sea. The gentle wind, lapping waters and sublime beauty disguise a harsh reality--the rocks on land and sea are sharp and unforgiving of error. The stone on the land is red granite but THE rock, the 2 mile long, nearly one-mile high island that dominates the seascape is uncharacteristically made of limestone. There is no electricity except in the kitchen and workshop. We live in concrete-floor huts down by the water. We are always aware of nature here -- both its beauty and its danger. For reasons too complicated to go into now, I am also acutely aware of differences of class and race here. The overall effect of these contradictions is that I am extremely conscious of where I am and how lucky I am to be here.
The other day I read John Berger's 1978 essay, "The Uses of Photography," in which he reflects upon the ideas in Susan Sontag's seminal book, On Photography.
Berger quotes Sontag:
A capitalist society requires a culture based on images. It needs to furnish vast amounts of entertainment in order to stimulate buying and anaesthetize the injuries of class, race and sex. And it needs to gather unlimited amounts of information, the better to exploit the natural resource, increase productivity, keep order, make war, give jobs to bureaucrats. The camera's twin capacities, to subjectivise reality and to objectify it, ideally serve these needs and strengthen them. Cameras define reality in the two ways essential to the workings of an advanced industrial society: as a spectacle (for masses) and as an object of surveillance (for rulers). The production of images also furnishes a ruling ideology. Social change is replaced by a change in images.
Then he raises the question of whether there is a new way to conceive of the social purpose and practice of photography:
Her theory of the current use of photographs leads one to ask whether photography might serve a different function. Is there an alternative photographic practice? The question should not be answered naively. Today no alternative professional practice (if one thinks of the profession of photographer) is possible. The system can accommodate any photograph. Yet it may be possible to begin to use photographs according to a practice addressed to an alternative future.

. . . . For the photographer this means thinking of her or himself not so much as a reporter to the rest of the world but, rather, as a recorder for those involved in the events photographed [emphasis added]. The distinction is crucial.
The passage in bold above hit me like a ton of bricks. The midday meal here is the important one. The guests and staff eat together on a shaded platform looking out at the island described above (think Ayres Rock rising out of the water rather than planted in the desert). The recipes are local; the ingredients almost all grown on the property or caught in the sea at our doorstep. The result is about as perfect as a meal can be -- completely in synch with time and place. I've made it a habit each day to photograph the food as it is laid out buffet style. I do this for myself but also for "foodie" friends back home. After reading Berger's note above I realized how wrong-headed this "reportage" has been. My photographs of beautifully prepared food do not include any hint of the effort required to grow and prepare it, the sublime surroundings in which both staff and guests eat together, or the feelings of well-being that the experience engenders in us all. [I know that last sounds self-justifying or at the least absurdly naíve, but for now you'll have to accept my sense that even the most well worked out social hierarchies, can under certain conditions and at certain moments turn into their opposite.]
Berger goes on to suggest that key to a new photographic practice is the construction of context:
The alternative use of photographs which already exist leads us back once more to the phenomenon and faculty of memory. The aim must be to construct a context for a photograph, to construct it with words, to construct it with other photographs, to construct it by its place in an ongoing text of photographs and images.
Photographs, at least those which intend to "report" preserve an instant in an ocean of time and therefore Berger contend they require context to give them meaning.
Which in turn brings me to the question of this post which I very much hope some of you will chime in on -- what would Susan Sontag have made of Flickr? Originally, it seems, Flickr was conceived simply as a personal repository of images. In that sense it provides no antidote to the current practice of photography. However, as it begins to grow into a social network, where individuals begin to provide context and meaning to images, is it possible that Flickr could be a step to a new practice of photography. If so, what sorts of functionality need to be developed for Flickr and other related tools?
Posted by bob stein at 1:50 AM | Comments (2) | TrackBack
Much of our time here is devoted to the extreme electronic edge of change in the arena of publishing, authorship and reading. For some, it's a more distant future than they are interested in, or comfortable, discussing. But the economics and means/modes of production of print are being no less profoundly affected -- today -- by digital technologies and networks.
The Times has an article today surveying the landscape of print-on-demand publishing, which is currently experiencing a boom unleashed by advances in digital technologies and online commerce. To me, Lulu is by far the most interesting case: a site that blends Amazon's socially networked retail formula with a do-it-yourself media production service (it also sponsors an annual "Blooker" prize for blog-derived books). Send Lulu your book as a PDF and they'll produce a bound print version, in black-and-white or color. The quality isn't superb, but it's cheap, and light years ahead of where print-on-demand was just a few years back. The Times piece mentions Lulu, but focuses primarily on a company called Blurb, which lets you design books with customized software called BookSmart, which you can download free from their website. BookSmart is an easy-to-learn, template-based assembly tool that allows authors to assemble graphics and text without the skills it takes to master professional-grade programs like InDesign or Quark. Blurb books appear to be of higher quality than Lulu's, and correspondingly, more expensive.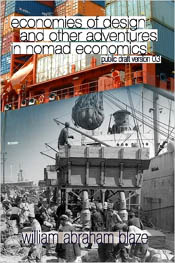 Reading this reminded me of an email I received about a month back in response to my "Physical Books and Networks" post, which looked at authors who straddle the print and digital worlds. It came from Abe Burmeister, a New York-based designer, writer and artist, who maintains an interesting blog at Abstract Dynamics, and has also written a book called Economies of Design and Other Adventures in Nomad Economics. Actually, Burmeister is still in the midst of writing the book -- but that hasn't stopped him from publishing it. He's interested in process-oriented approaches to writing, and in situating acts of authorship within the feedback loops of a networked readership. At the same time, he's not ready to let go of the "objectness" of paper books, which he still feels is vital. So he's adopted a dynamic publishing strategy that gives him both, producing what he calls a "public draft," and using Lulu to continually post new printable versions of his book as they are completed.
His letter was quite interesting so I'm reproducing most of it:
Using print on demand technology like lulu.com allows for producing printed books that are continuously being updated and transformed. I've been using this fact to develop a writing process loosely based upon the linux "release early and release often" model. Books that essentially give the readers a chance to become editors and authors a chance to escape the frozen product nature of traditional publishing. It's not quite as radical an innovation as some of your digital and networked book efforts, but as someone who believes there always be a particular place for paper I believe it points towards a subtly important shift in how the books of the future will be generated.

...one of the things that excites me about print on demand technology is the possibilities it opens up for continuously evolving books. Since most print on demand systems are pdf powered, and pdfs have a degree of programability it's at least theoretically possible to create a generative book; a book coded in such a way that each time it is printed an new result comes out. On a more direct level though it's also very practically possible for an author to just update their pdf's every day, allowing for say a photo book to contain images that cycle daily, or the author's photo to be a web cam shot of them that morning.

When I started thinking about the public drafting process one of the issues was how to deal with the fact that someone might by the book and then miss out on the content included in the edition that came out the next day. Before I received my first hard copies I contemplated various ways of issuing updated chapters and ways to decide what might be free and what should cost money. But as soon as I got that hard copy the solution became quite clear, and I was instantly converted into the Cory Doctrow/Yochai Benkler model of selling the book and giving away the pdf. A book quite simply has a power as an object or artifact that goes completely beyond it's content. Giving away the content for free might reduce books sales a bit (I for instance have never bought any of Doctrow's books, but did read them digitally), but the value and demand for the physical object will still remain (and I did buy a copy of Benkler's tome.) By giving away the pdf, it's always possible to be on top of the content, yet still appreciate the physical editions, and that's the model I have adopted.
And an interesting model it is too: a networked book in print. Since he wrote this, however, Burmeister has closed the draft cycle and is embarking on a total rewrite, which presumably will become a public draft at some later date.
Posted by ben vershbow at 2:30 AM | Comments (8) | TrackBack
...have been quite encouraging. In addition to a very active and thought-provoking thread here on if:book, much has been blogged around the web over the past 48 hours. I'm glad to see that most of the responses around the web have zeroed in on the most crucial elements of our proposal, namely the reconfiguration of scholarly publishing into an open, process-oriented model, a fundamental re-thinking of peer review, and the goal of forging stronger communication between the academy and the publics it claims to serve. To a great extent, this can be credited to Kathleen's elegant and lucid presentation the various pieces of this complex network we hope to create (several of which will be fleshed out in a post by Avi Santo this coming Monday). Following are selections from some of the particularly thoughtful and/or challenging posts.
Many are excited/intrigued by how MediaCommons will challenge what is traditionally accepted as scholarship:
In Ars Technica, "Breaking paper's stranglehold on the academy":
...what's interesting about MediaCommons is the creators' plan to make the site "count" among other academics. Peer review will be incorporated into most of the projects with the goal of giving the site the same cachet that print journals currently enjoy. [...] While many MediaCommons projects replicate existing academic models, others break new ground. Will contributing to a wiki someday secure a lifetime Harvard professorship? Stranger things have happened. The humanities has been wedded to an individualist research model for centuries; even working on collaborative projects often means going off and working alone on particular sections. Giving credit for collaboratively-constructed wikis, no matter how good they are, might be tricky when there are hundreds of authors. How would a tenure committee judge a person's contributions?
And here's librarian blogger Kris Grice, "Blogging for tenure?":
...the more interesting thrust of the article, in my opinion, is the quite excellent point that open access systems won't work unless the people who might be contributing have some sort of motivation to spend vast amounts of time and energy on publishing to the Web. To this end, the author suggests pushing to have participation in wikis, blogs, and forums count for tenure. [...] If you're out there writing a blog or adding to a library wiki or doing volunteer reference through IRC or chat or IM, I'd strongly suggest you note URLs and take screenshots of your work. I am of the firm opinion that these activities count as "service to the profession" as much as attending conferences do-- especially if you blog the conferences!

A bunch of articles characterize MediaCommons as a scholarly take on Wikipedia, which is interesting/cool/a little scary:
The Chronicle of Higher Education's Wired Campus Blog, "Academics Start Their Own Wikipedia For Media Studies":
MediaCommons will try a variety of new ideas to shake up scholarly publishing. One of them is essentially a mini-Wikipedia about aspects of the discipline.
And in ZD Net Education:
The model is somewhat like a Wikipedia for scholars. The hope is that contributions would be made by members which would eventually lead to tenure and promotion lending the project solid academic scholarship.

Now here's Chuck Tryon, at The Chutry Experiment, on connecting scholars to a broader public:
I think I'm most enthusiastic about this project...because it focuses on the possibilities of allowing academics to write for audiences of non-academics and strives to use the network model to connect scholars who might otherwise read each other in isolation. [...] My initial enthusiasm for blogging grew out of a desire to write for audiences wider than my academic colleagues, and I think this is one of many arenas where MediaCommons can provide a valuable service. In addition to writing for this wider audience, I have met a number of media studies scholars, filmmakers, and other friends, and my thinking about film and media has been shaped by our conversations.
(As I've mentioned before, MediaCommons grew out of an initial inquiry into academic blogging as an emergent form of public intellectualism.)
A little more jaded, but still enthusiastic, is Anne Galloway at purse lip square jaw:
I think this is a great idea, although I confess to wishing we were finally beyond the point where we feel compelled to place the burden on academics to prove our worthiness. Don't get me wrong - I believe that academic elitism is problematic and I think that traditional academic publishing is crippled by all sorts of internal and external constraints. I also think that something like MediaCommons offers a brilliant complement and challenge to both these practices. But if we are truly committed to greater reciprocity, then we also need to pay close attention to what is being given and taken. I started blogging in 2001 so that I could participate in exactly these kinds of scholarly/non-scholarly networks, and one of the things I've learned is that the give-and-take has never been equal, and only sometimes has it been equitable. I doubt that this or any other technologically-mediated network will put an end to anti-intellectualism from the right or the left, but I'm all for seeing what kinds of new connections we can forge together.

A few warn of the difficulties of building intellectual communities on the web:
Noah Wardrip-Fruin at Grand Text Auto (and also in a comment here on if:book):
I think the real trick here is going to be how they build the network. I suspect a dedicated community needs to be built before the first ambitious new project starts, and that this community is probably best constructed out of people who already have online scholarly lives to which they're dedicated. Such people are less likely to flake, it seems to me, if they commit. But will they want to experiment with MediaCommons, given they're already happy with their current activity? Or, can their current activity, aggregated, become the foundation of MediaCommons in a way that's both relatively painless and clearly shows benefit? It's an exciting and daunting road the Institute folks have mapped out for themselves, and I'm rooting for their success.
And Charlie Lowe at Kairosnews:
From a theoretical standpoint, this is an exciting collection of ideas for a new scholarly community, and I wish if:book the best in building and promoting MediaCommons.

From a pragmatic standpoint, however, I would offer the following advice.... The "If We Build It, They Will Come" strategy of web community development is laudable, but often doomed to failure. There are many projects around the web which are inspired by great ideas, yet they fail. Installing and configuring a content management system website is the easy part. Creating content for the site and building a community of people who use it is much harder. I feel it is typically better to limit the scope of a project early on and create a smaller community space in which the project can grow, then add more to serve the community's needs over time.

My personal favorite. Jeff Rice (of Wayne State) just posted a lovely little meditation on reading Richard Lanham's The Economics of Attention, which weaves in MediaCommons toward the end. This makes me ask myself: are we trying to bring about a revolution in publishing, or are we trying to catalyze what Lanham calls "a revolution in expressive logic"?
My reading attention, indeed, has been drifting: through blogs and websites, through current events, through ideas for dinner, through reading: through Lanham, Sugrue's The Origins of the Urban Crisis, through Wood's The Power of Maps, through Clark's Natural Born Cyborgs, and now even through a novel, Perdido Street Station. I move in and out of these places with ease (hmmmm....interesting) and with difficulty (am I obligated to finish this book??). I move through the texts.

Which is how I am imagining my new project on Detroit - a movement through spaces. Which also could stand for a type of writing model akin to the MediaCommons idea (or within such an idea); a need for something other (not in place of) stand alone writings among academics (i.e. uploaded papers). I'm not attracted to the idea of another clearing house of papers put online - or put online faster than a print publication would allow for. I'd like a space to drift within, adding, reading, thinking about, commenting on as I move through the writings, as I read some and not others, as I sample and frament my way along. "We have been thinking about human communication in an incomplete and inadequate way," Lanham writes. The question is not that we should replicate already existing apparatuses, but invent (or try to invent) new structures based on new logics.

There are also some indications that the MediaCommons concept could prove contagious in other humanities disciplines, specifically history:
Manan Ahmed in Cliopatria:
I cannot, of course, hide my enthusiasm for such a project but I would really urge those who care about academic futures to stop by if:book, read the post, the comments and share your thoughts. Don't be alarmed by the media studies label - it will work just as well for historians.
And this brilliant comment to the above-linked Chronicle blog from Adrian Lopez Denis, a PhD candidate in Latin American history at UCLA, who outlines a highly innovative strategy for student essay-writing assignments, serving up much food for thought w/r/t the pedagogical elements of MediaCommons:
Small teams of students should be the main producers of course material and every class should operate as a workshop for the collective assemblage of copyright-free instructional tools. [...] Each assignment would generate a handful of multimedia modular units that could be used as building blocks to assemble larger teaching resources. Under this principle, each cohort of students would inherit some course material from their predecessors and contribute to it by adding new units or perfecting what is already there. Courses could evolve, expand, or even branch out. Although centered on the modular production of textbooks and anthologies, this concept could be extended to the creation of syllabi, handouts, slideshows, quizzes, webcasts, and much more. Educators would be involved in helping students to improve their writing rather than simply using the essays to gauge their individual performance. Students would be encouraged to collaborate rather than to compete, and could learn valuable lessons regarding the real nature and ultimate purpose of academic writing and scholarly research.
(Networked pedagogies are only briefly alluded to in Kathleen's introductory essay. This, and community outreach, will be the focus of Avi's post on Monday. Stay tuned.)
Other nice mentions from Teleread, Galleycat and I Am Dan.
Posted by ben vershbow at 4:11 AM | Comments (0) | TrackBack
dot matrix 07.19.2006, 12:57 AM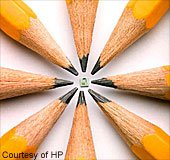 From Forbes: "Hewlett-Packard has invented a wireless data chip that can store 100 pages of text or 15 seconds of video on a dot about half the size of a rice grain." Memory Spots, as these things are called, are supposedly two years away from widespread commercial release, and should end up costing about a dollar a piece. Forbes again:
The chip, which requires no power, works like this: Up to four megabits of data are put into the chip by touching the dot with an encased coil about the width of a pencil eraser. The data is read, and possibly updated, by anyone with another coil, at a rate of 10 megabits per second. It is possible to encrypt and authorize access to the data.
What will this mean? Singing cereal boxes, self-documenting appliances, hospital bracelets with updating patient histories, brochures or magazine inserts that beam slide shows to your phone: these are just a few of the things they can imagine (predictably, many have to do with advertising). This is one of those things that makes me wonder how we'll look back on present conversations about the future of networked media, caught up as we still are in a computer-based mode of interaction. As the functions of the computer gradually melt back into the physical environment, we may find ourselves, even five years from now, somewhere quite different from what we currently imagine: in a landscape literally dotted with texts, images and sound. A data minefield.
Which, of course, we're in already. Memory spots would likely just super-concentrate, in little data-packed specks, every square millimeter of the already info-glutted environment. If that's so, they may find themselves an irresistible target for my spent wads of chewing gum.
Posted by ben vershbow at 12:57 AM | Comments (0) | TrackBack
Yesterday's post about MediaCommons has generated a number of questions about the whereabouts of "Sophie," the new environment for digital writing and reading that the institute is working on. I'm delighted to report we are holding an introductory session in LA on august 14/15 for a group of professors that will be using Sophie on several campuses this fall. we'll be putting up a website, specifically for Sophie in time for a soft public launch in September for anyone who wants to download and use it.
Posted by bob stein at 1:52 AM | Comments (0) | TrackBack
UPDATE: Avi Santo's follow-up post, "Renewed Publics, Revised Pedagogies", is now up.
I've got the somewhat daunting pleasure of introducing the readers of if:book to one of the Institute's projects-in-progress, MediaCommons.
As has been mentioned several times here, the Institute for the Future of the Book has spent much of 2006 exploring the future of electronic scholarly publishing and its many implications, including the development of alternate modes of peer-review and the possibilities for networked interaction amongst authors and texts. Over the course of the spring, we brainstormed, wrote a bunch of manifestos, and planned a meeting at which a group of primarily humanities-based scholars discussed the possibilities for a new model of academic publishing. Since that meeting, we've been working on a draft proposal for what we're now thinking of as a wide-ranging scholarly network -- an ecosystem, if you can bear that metaphor -- in which folks working in media studies can write, publish, review, and discuss, in forms ranging from the blog to the monograph, from the purely textual to the multi-mediated, with all manner of degrees inbetween.
We decided to focus our efforts on the field of media studies for a number of reasons, some intellectual and some structural. On the intellectual side, scholars in media studies explore the very tools that a network such as the one we're proposing will use, thus allowing for a productive self-reflexivity, leaving the network itself open to continual analysis and critique. Moreover, publishing within such a network seems increasingly crucial to media scholars, who need the ability to quote from the multi-mediated materials they write about, and for whom form needs to be able to follow content, allowing not just for writing about mediation but writing in a mediated environment. This connects to one of the key structural reasons for our choice: we're convinced that media studies scholars will need to lead the way in convincing tenure and promotion committees that new modes of publishing like this network are not simply valid but important. As media scholars can make the "form must follow content" argument convincingly, and as tenure qualifications in media studies often include work done in media other than print already, we hope that media studies will provide a key point of entry for a broader reshaping of publishing in the humanities.
Our shift from thinking about an "electronic press" to thinking about a "scholarly network" came about gradually; the more we thought about the purposes behind electronic scholarly publishing, the more we became focused on the need not simply to provide better access to discrete scholarly texts but rather to reinvigorate intellectual discourse, and thus connections, amongst peers (and, not incidentally, discourse between the academy and the wider intellectual public). This need has grown for any number of systemic reasons, including the substantive and often debilitating time-lags between the completion of a piece of scholarly writing and its publication, as well as the subsequent delays between publication of the primary text and publication of any reviews or responses to that text. These time-lags have been worsened by the increasing economic difficulties threatening many university presses and libraries, which each year face new administrative and financial obstacles to producing, distributing, and making available the full range of publishable texts and ideas in development in any given field. The combination of such structural problems in academic publishing has resulted in an increasing disconnection among scholars, whose work requires a give-and-take with peers, and yet is produced in greater and greater isolation.
Such isolation is highlighted, of course, in thinking about the relationship between the academy and the rest of contemporary society. The financial crisis in scholarly publishing is of course not unrelated to the failure of most academic writing to find any audience outside the academy. While we wouldn't want to suggest that all scholarly production ought to be accessible to non-specialists -- there's certainly a need for the kinds of communication amongst peers that wouldn't be of interest to most mainstream readers -- we do nonetheless believe that the lack of communication between the academy and the wider reading public points to a need to rethink the role of the academic in public intellectual life.
Most universities provide fairly structured definitions of the academic's role, both as part of the institution's mission and as informing the criteria under which faculty are hired and reviewed: the academic's function is to conduct and communicate the products of research through publication, to disseminate knowledge through teaching, and to perform various kinds of service to communities ranging from the institution to the professional society to the wider public. Traditional modes of scholarly life tend to make these goals appear discrete, and they often take place in three very different discursive registers. Despite often being defined as a public good, in fact, much academic discourse remains inaccessible and impenetrable to the publics it seeks to serve.
We believe, however, that the goals of scholarship, teaching, and service are deeply intertwined, and that a reimagining of the scholarly press through the affordances of contemporary network technologies will enable us not simply to build a better publishing process but also to forge better relationships among colleagues, and between the academy and the public. The move from the discrete, proprietary, market-driven press to an open access scholarly network became in our conversations both a logical way of meeting the multiple mandates that academics operate within and a necessary intervention for the academy, allowing it to forge a more inclusive community of scholars who challenge opaque forms of traditional scholarship by foregrounding process and emphasizing critical dialogue. Such dialogue will foster new scholarship that operates in modes that are collaborative, interactive, multimediated, networked, nonlinear, and multi-accented. In the process, an open access scholarly network will also build bridges with diverse non-academic communities, allowing the academy to regain its credibility with these constituencies who have come to equate scholarly critical discourse with ivory tower elitism.
With that as preamble, let me attempt to describe what we're currently imagining. Much of what follows is speculative; no doubt we'll get into the development process and discover that some of our desires can't immediately be met. We'll also no doubt be inspired to add new resources that we can't currently imagine. This indeterminacy is not a drawback, however, but instead one of the most tangible benefits of working within a digitally networked environment, which allows for a malleability and growth that makes such evolution not just possible but desirable.
At the moment, we imagine MediaCommons as a wide-ranging network with a relatively static point of entry that brings the participant into the MediaCommons community and makes apparent the wealth of different resources at his or her disposal. On this front page will be different modules highlighting what's happening in various nodes ("today in the blogs"; active forum topics; "just posted" texts from journals; featured projects). One module on this front page might be made customizable ("My MediaCommons"), such that participants can in some fashion design their own interfaces with the network, tracking the conversations and texts in which they are most interested.
The various nodes in this network will support the publication and discussion of a wide variety of forms of scholarly writing. Those nodes may include:
-- electronic "monographs" (Mackenzie Wark's GAM3R 7H30RY is a key model here), which will allow editors and authors to work together in the development of ideas that surface in blogs and other discussions, as well as in the design, production, publicizing, and review of individual and collaborative projects;
-- electronic "casebooks," which will bring together writing by many authors on a single subject -- a single television program, for instance -- along with pedagogical and other materials, allowing the casebooks to serve as continually evolving textbooks;
-- electronic "journals," in which editors bring together article-length texts on a range of subjects that are somehow interrelated;
-- electronic reference works, in which a community collectively produces, in a mode analogous to current wiki projects, authoritative resources for research in the field;
-- electronic forums, including both threaded discussions and a wealth of blogs, through which a wide range of media scholars, practitioners, policy makers, and users are able to discuss media events and texts can be discussed in real time. These nodes will promote ongoing discourse and interconnection among readers and writers, and will allow for the germination and exploration of the ideas and arguments of more sustained pieces of scholarly writing.
Many other such possibilities are imaginable. The key elements that they share, made possible by digital technologies, are their interconnections and their openness for discussion and revision. These potentials will help scholars energize their lives as writers, as teachers, and as public intellectuals.
Such openness and interconnection will also allow us to make the process of scholarly work just as visible and valuable as its product; readers will be able to follow the development of an idea from its germination in a blog, though its drafting as an article, to its revisions, and authors will be able to work in dialogue with those readers, generating discussion and obtaining feedback on work-in-progress at many different stages. Because such discussions will take place in the open, and because the enormous time lags of the current modes of academic publishing will be greatly lessened, this ongoing discourse among authors and readers will no doubt result in the generation of many new ideas, leading to more exciting new work.
Moreover, because participants in the network will come from many different perspectives -- not just faculty, but also students, independent scholars, media makers, journalists, critics, activists, and interested members of the broader public -- MediaCommons will promote the integration of research, teaching, and service. The network will contain nodes that are specifically designed for the development of pedagogical materials, and for the interactions of faculty and students; the network will also promote community engagement by inviting the participation of grass-roots media activists and by fostering dialogue among authors and readers from many different constituencies. We'll be posting in more depth about these pedagogical and community-outreach functions very soon.
We're of course still in the process of designing how MediaCommons will function on a day-to-day basis. MediaCommons will be a membership-driven network; membership will be open to anyone interested, including writers and readers both within and outside the academy, and that membership have a great deal of influence over the directions in which the network develops. At the moment, we imagine that the network's operations will be led by an editorial board composed of two senior/coordinating editors, who will have oversight over the network as a whole, and a number of area editors, who will have oversight over different nodes on the network (such as long-form projects, community-building, design, etc), helping to shepherd discussion and develop projects. The editorial board will have the responsibility for setting and implementing network policy, but will do so in dialogue with the general membership.
In addition to the editorial board, MediaCommons will also recruit a range of on-the-ground editors, who will for relatively brief periods of time take charge of various aspects of or projects on the network, doing work such as copyediting and design, fostering conversation, and participating actively in the network's many discussion spaces.
MediaCommons will also, crucially, serve as a profound intervention into the processes of scholarly peer review, processes which (as I've gone on at length about on other occasions) are of enormous importance to the warranting and credentialing needs of the contemporary academy but which are, we feel, of only marginal value to scholars themselves. Our plan is to develop and employ a process of "peer-to-peer review," in which texts are discussed and, in some sense, "ranked" by a committed community of readers. This new process will shift the purpose of such review from a gatekeeping function, determining whether or not a manuscript should be published, to one that instead determines how a text should be received. Peer-to-peer review will also focus on the development of authors and the deepening of ideas, rather than simply an up-or-down vote on any particular text.
How exactly this peer-to-peer review process will work is open to some discussion, as yet. The editorial board will develop a set of guidelines for determining which readers will be designated "peers," and within which nodes of MediaCommons; these "peers" will then have the ability to review the texts posted in their nodes. The authors of those texts undergoing review will be encouraged to respond to the comments and criticisms of their peers, transforming a one-way process of critique into a multi-dimensional conversation.
Because this process will take place in public, we feel that certain rules of engagement will be important, including that authors must take the first step in requesting review of their work, such that the fear of a potentially damaging critique being levied at a text-in-process can be ameliorated; that peers must comment publicly, and must take responsibility for their critiques by attaching their names to them, creating an atmosphere of honest, thoughtful debate; that authors should have the ability to request review from particular member constituencies whose readings may be of most help to them; that authors must have the ability to withdraw texts that have received negative reviews from the network, in order that they might revise and resubmit; and that authors and peers alike must commit themselves to regular participation in the processes of peer-to-peer review. Peers need not necessarily be authors, but authors should always be peers, invested in the discussion of the work of others on the network.
There's obviously much more to be written about this project; we'll no doubt be elaborating on many of the points briefly sketched out here in the days to come. We'd love some feedback on our thoughts thus far; in order for this network to take off, we'll need broad buy-in right from the outset. Please let us know what you like here, what you don't, what other features you'd like us to consider, and any other thoughts you might have about how we might really forge the scholarly discourse network of the future.
UPDATE: Avi Santo's follow-up post, "Renewed Publics, Revised Pedagogies", is now up.
Posted by kathleen fitzpatrick at 7:01 AM | Comments (35) | TrackBack
As noted in The Long Tail, RSS feeds have been added to Wikipedia articles. The feeds can be accessed by going to an article's history page – links for RSS & Atom feeds are on the left side, under the "toolbox" heading.
They've done a good job with these: instead of sending you a new copy of the article every time changes are made, as is the case with most blogging software, the feed explains exactly what's changed. Here's a sample of what they look like. It's not the most intuitive presentation if you've never edited Wikipedia, but it is useful once you learn to decode it: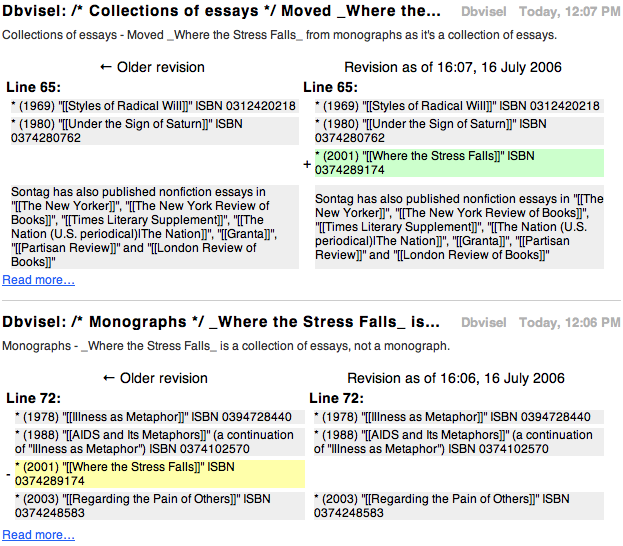 This is from the Wikipedia article on Susan Sontag; the feed is here, though the speed at which the Wikipedia changes suggests that you may no longer see these edits. This is actually two entries (the newest first) documenting a change that I made: I noticed that one of her books had been categorized incorrectly so I moved it to the correct category. In the bottom entry, I deleted Where the Stress Falls from the Monographs section: on the left side is the Monographs section before my deletion, on the right side in Monographs after my deletion. In the top entry, I added Where the Stress Falls to the Essays section. On the left is the section before my addition; on the right is the section after. The brackets, asterisks, and single quotes are the markup style used by Wikipedia. The yellow background is added to a new paragraph; green denotes a deleted paragraph. If you change existing text, changes are in red, much like MS Word's track changes feature.
How useful is this? It might be too early to say: RSS is a useful building block, and once it exists, interesting uses tend to present themselves. I suspect it will prove most useful to casual Wikipedians, who update a small number of articles on a regular basis but don't spend most of their time in the Wikipedia.
Posted by dan visel at 12:19 PM | Comments (0) | TrackBack
Scott McLemee has made an interesting proposal for a scholarly aggregator site that would weave together material from academic blogs and university presses. Initially, this would resemble an enhanced academic blogroll, building on existing efforts such as those at Crooked Timber and Cliopatria, but McLemee envisions it eventually growing into a full-fledged discourse network, with book reviews, symposia, a specialized search engine, and a peer voting system á la Digg.
This all bears significant resemblance to some of the ideas that emerged from a small academic blogging symposium that the Institute held last November to brainstorm ways to leverage scholarly blogging, and to encourage more professors to step out of the confines of the academy into the role of public intellectual. Some of those ideas are set down here, on a blog we used for planning the meeting. Also take a look at John Holbo's proposal for an academic blog collective, or co-op. Also note the various blog carnivals around the web, which practice a simple but effective form of community aggregation and review. One commenter on McLemee's article points to a science blog aggregator site called Postgenomic, which offers a similar range of services, as well as providing useful meta-analysis of trends across the science blogosphere -- i.e. what are the most discussed journal papers, news stories, and topics.
For any enterprise of this kind, where the goal is to pull together an enormous number of strands into a coherent whole, the role of the editor is crucial. Yet, at a time when self-publishing is the becoming the modus operandi for anyone who would seek to maintain a piece of intellectual turf in the network culture, the editor's task is less to solicit or vet new work, and more to moderate the vast conversation that is already occurring -- to listen to what the collective is saying, and also to draw connections that the collective, in their bloggers' trenches, may have missed.
Since that November meeting, our thinking has broadened to include not just blogging, but all forms of academic publishing. On Monday, we'll post an introduction to a project we're cooking up for an online scholarly network in the field of media studies. Stay tuned.
Posted by ben vershbow at 1:44 AM | Comments (0) | TrackBack
After lying dormant for ten years, Rice University Press has relaunched, reconstituting itself as a fully digital operation centered around Connexions, an open-access repository of learning modules, course guides and authoring tools.

Connexions was started at Rice in 1999 by Richard Baraniuk, a professor of electrical and computer engineering, and has since grown into one of the leading sources of open educational content -- also an early mover into the Creative Commons movement, building flexible licensing into its publishing platform and allowing teachers and students to produce derivative materials and customized textbooks from the array of resources available on the site.
The new ingredient in this mix is a print-on-demand option through a company called QOOP. Students can order paper or hard-bound copies of learning modules for a fraction of the cost of commercial textbooks, even used ones. There are also some inexpensive download options. Web access, however, is free to all. Moreover, Connexions authors can update and amend their modules at all times. The project is billed as "open source" but individual authorship is still the main paradigm. The print-on-demand and for-pay download schemes may even generate small royalties for some authors.
The Wall Street Journal reports. You can also read these two press releases from Rice:
"Rice University Press reborn as nation's first fully digital academic press"
"Print deal makes Connexions leading open-source publisher"
UPDATE:
Kathleen Fitzpatrick makes the point I didn't have time to make when I posted this:
Rice plans, however, to "solicit and edit manuscripts the old-fashioned way," which strikes me as a very cautious maneuver, one that suggests that the change of venue involved in moving the press online may not be enough to really revolutionize academic publishing. After all, if Rice UP was crushed by its financial losses last time around, can the same basic structure--except with far shorter print runs--save it this time out?

I'm excited to see what Rice produces, and quite hopeful that other university presses will follow in their footsteps. I still believe, however, that it's going to take a much riskier, much more radical revisioning of what scholarly publishing is all about in order to keep such presses alive in the years to come.
Posted by ben vershbow at 2:03 PM | Comments (0) | TrackBack
Steven Shaviro (of Wayne State University) has written a terrific review of GAM3R 7H30RY on his blog, The Pinnochio Theory, enacting what can only be described as spontaneous, open peer review. This is the first major article to seriously engage with the ideas and arguments of the book itself, rather than the more general story of Wark's experiment with open, collaborative publishing (for example, see here and here). Anyone looking for a good encapsulation of McKenzie's ideas would do well to read this. Here, as a taste, is Shaviro's explanation of "a world...made over as an imperfect copy of the game":
Computer games clarify the inner logic of social control at work in the world. Games give an outline of what actually happens in much messier and less totalized ways. Thereby, however, games point up the ways in which social control is precisely directed towards creating game-like clarities and firm outlines, at the expense of our freedoms.
Now, I think it's worth pointing out the one gap in this otherwise exceptional piece. That is that, while exhibiting acute insight into the book's theoretical dimensions, Shaviro does not discuss the form in which these theories are delivered, apart from brief mention of the numbered paragraph scheme and the alphabetically ordered chapter titles. Though he does link to the website, at no point does he mention the open web format and the reader discussion areas, nor the fact that he read the book online, with the comments of readers sitting plainly in the margins. If you were to read only this review, you would assume Shaviro was referring to a vetted, published book from a university press, when actually he is discussing a networked book that is 1.1 -- a.k.a. still in development. Shaviro treats the text as though it is fully cooked (naturally, this is how we are used to dealing with scholarly works). But what happens when there's a GAM3R 7H30RY 1.2, or a 2.0? Will Shaviro's review correspondingly update? Does an open-ended book require a more open-ended critique? This is not so much a criticism of Shaviro as an observation of a tricky problem yet to be solved.
Regardless, this a valuable contribution to the surrounding literature. It's very exciting to see leading scholars building a discourse outside the conventional publishing channels: Wark, through his pre-publication with the Institute, and Shaviro with his unsolicited blog review. This is an excellent sign.
Posted by ben vershbow at 7:26 AM | Comments (0) | TrackBack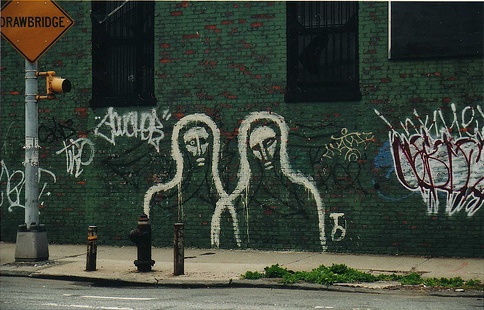 A local story. The Brooklyn Museum has been availing itself of various services at Flickr in conjunction with its new "Grafitti" exhibit, assembling photo sets and creating a group photo pool. In addition, the museum welcomes anyone to contribute photographs of grafitti from around Brooklyn to be incorporated into the main photo stream, along with images of a growing public grafitti mural on-site at the museum where visitors can pick up a colored pencil and start scribbling away. Here's a picture from the first week of the mural: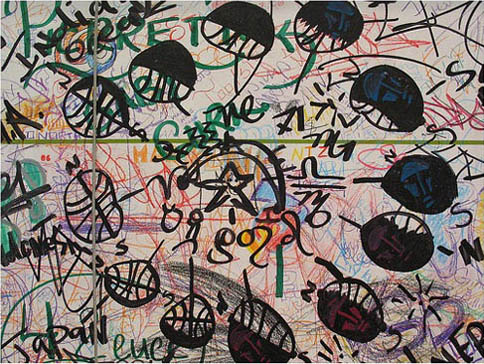 This is an interesting case of a major cultural institution nurturing an outer curatorial ring to complement, and even inform, a central exhibit (the Institute conducted a similar experiment around Christo's Gates installation in Central Park, 2005). It's especially well suited to a show about grafitti, which is already a popular subject of amateur street photography. The museum has cleverly enlisted the collective eyes of the community to cover a terrain (a good chunk of the total surface area of Brooklyn) far too vast for any single organization to fully survey. (The quip has no doubt already been made that users be sure not forget to tag their photos.)
Thanks, Alex, for pointing this out.
Posted by ben vershbow at 4:38 PM | Comments (0) | TrackBack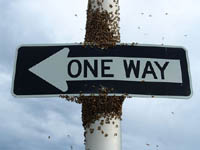 My post a couple of weeks ago about Jean-Noël Jeanneney's soon-to-be-released anti-Google polemic sparked a discussion here about the cultural trade deficit and the linguistic diversity (or lack thereof) of digital collections. Around that time, Rüdiger Wischenbart, a German journalist/consultant, made some insightful observations on precisely this issue in an inaugural address to the 2006 International Conference on the Digitisation of Cultural Heritage in Salzburg. His discussion is framed provocatively in terms of information flow, painting a picture of a kind of fluid dynamics of global culture, in which volume and directionality are the key indicators of power.
First, he takes us on a quick tour of the print book trade, pointing out the various roadblocks and one-way streets that skew the global mind map. A cursory analysis reveals, not surprisingly, that the international publishing industry is locked in a one-way flow maximally favoring the West, and, moreover, that present digitization efforts, far from ushering in a utopia of cultural equality, are on track to replicate this.
...the market for knowledge is substantially controlled by the G7 nations, that is to say, the large economic powers (the USA, Canada, the larger European nations and Japan), while the rest of the world plays a subordinate role as purchaser.
Foreign language translation is the most obvious arena in which to observe the imbalance. We find that the translation of literature flows disproportionately downhill from Anglophone heights -- the further from the peak, the harder it is for knowledge to climb out of its local niche. Wischenbart:
An already somewhat obsolete UNESCO statistic, one drawn from its World Culture Report of 2002, reckons that around one half of all translated books worldwide are based on English-language originals. And a recent assessment for France, which covers the year 2005, shows that 58 percent of all translations are from English originals. Traditionally, German and French originals account for an additional one quarter of the total. Yet only 3 percent of all translations, conversely, are from other languages into English.

...When it comes to book publishing, in short, the transfer of cultural knowledge consists of a network of one-way streets, detours, and barred routes.

...The central problem in this context is not the purported Americanization of knowledge or culture, but instead the vertical cascade of knowledge flows and cultural exports, characterized by a clear power hierarchy dominated by larger units in relation to smaller subordinated ones, as well as a scarcity of lateral connections.
Turning his attention to the digital landscape, Wischenbart sees the potential for "new forms of knowledge power," but quickly sobers us up with a look at the way decentralized networks often still tend toward consolidation:
Previously, of course, large numbers of books have been accessible in large libraries, with older books imposing their contexts on each new release. The network of contents encompassing book knowledge is as old as the book itself. But direct access to the enormous and constantly growing abundance of information and contents via the new information and communication technologies shapes new knowledge landscapes and even allows new forms of knowledge power to emerge.

Theorists of networks like Albert-Laszlo Barabasi have demonstrated impressively how nodes of information do not form a balanced, level field. The more strongly they are linked, the more they tend to constitute just a few outstandingly prominent nodes where a substantial portion of the total information flow is bundled together. The result is the radical antithesis of visions of an egalitarian cyberspace.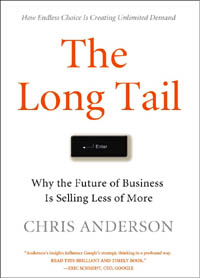 He then trains his sights on the "long tail," that egalitarian business meme propogated by Chris Anderson's new book, which posits that the new information economy will be as kind, if not kinder, to small niche markets as to big blockbusters. Wischenbart is not so sure:
...there exists a massive problem in both the structure and economics of cultural linkage and transfer, in the cultural networks existing beyond the powerful nodes, beyond the high peaks of the bestseller lists. To be sure, the diversity found below the elongated, flattened curve does constitute, in the aggregate, approximately one half of the total market. But despite this, individual authors, niche publishing houses, translators and intermediaries are barely compensated for their services. Of course, these multifarious works are produced, and they are sought out and consumed by their respective publics. But the "long tail" fails to gain a foothold in the economy of cultural markets, only to become - as in the 18th century - the province of the amateur. Such is the danger when our attention is drawn exclusively to dominant productions, and away from the less surveyable domains of cultural and knowledge associations.
John Cassidy states it more tidily in the latest New Yorker:
There's another blind spot in Anderson's analysis. The long tail has meant that online commerce is being dominated by just a few businesses -- mega-sites that can house those long tails. Even as Anderson speaks of plentitude and proliferation, you'll notice that he keeps returning for his examples to a handful of sites -- iTunes, eBay, Amazon, Netflix, MySpace. The successful long-tail aggregators can pretty much be counted on the fingers of one hand.
Many have lamented the shift in publishing toward mega-conglomerates, homogenization and an unfortunate infatuation with blockbusters. Many among the lamenters look to the Internet, and hopeful paradigms like the long tail, to shake things back into diversity. But are the publishing conglomerates of the 20th century simply being replaced by the new Internet hyper-nodes of the 21st? Does Google open up more "lateral connections" than Bertelsmann, or does it simply re-aggregate and propogate the existing inequities? Wischenbart suspects the latter, and cautions those like Jeanneney who would seek to compete in the same mode:
If, when breaking into the digital knowledge society, European initiatives (for instance regarding the digitalization of books) develop positions designed to counteract the hegemonic status of a small number of monopolistic protagonists, then it cannot possibly suffice to set a corresponding European pendant alongside existing "hyper nodes" such as Amazon and Google. We have seen this already quite clearly with reference to the publishing market: the fact that so many globally leading houses are solidly based in Europe does nothing to correct the prevailing disequilibrium between cultures.
Posted by ben vershbow at 2:31 AM | Comments (0) | TrackBack
Last spring, I was completely obsessed with the Brokeback Mountain trailer remixes. I found them to be part parody and part distillation of commentary on the hero archetype. The remixes produced an emergent discourse, without the intention of the creators.
Virginia Kuhn posed a very interesting thought in her comment to the post:
I wonder however, if the aggregate discourse created will be able to shed reliance on archetypes that don't seem entirely natural but more cultural in nature. In other words, I wonder if the hero can be submerged in favor of something else... It seems to me that would be quite radical.
A great place to mine for these new types of emergent discourse is ytmnd.com, where a incredibly rich discourse is going on purely through multimedia texts. As with most viral media, I was first shown the site a few years ago at work, in this case, by a former colleague Brian.
ytmnd.com refers to a website sampling Sean Connery's line "You're the man now, dog!" from the film "Finding Forester." The site contained with a tiled of image of Mr. Connery, a bit of text, and a sound loop. What was intended on being a one-off post lead to the creation of an entire site devoted to similar sampled remixes inspired by the original, which anyone can upload. What a "post" is difficult to describe and is almost a genre to itself. However, there are common features, including animated gifs, tiled images in a webpage background, limited text, techno-pop samples, Nintendo imagery and science fiction references. The lack of text, micro-length, and heavy use of pop culture is a reflection upon the evolving norms of our cultural language in the digital networked society.
The low production values has interesting effects on the site. Because the barrier of entry is lowered, the speed of production allows for responding to events or other posts in real time. The vibrant spontaneous "conversation" is seen with the immediate reactions to the ejection of French soccer player, Zinedine Zidane, in the 2006 World Cup championship match for head-butting a player on the Italian national team. By the end of the next day a series of posts had been watched tens of thousands of times, with the most popular entry currently having over 200,000 views. People have posted various commentaries on the incident, with the more amusing ones having theories behind Zidane's action, involving missiles and candy.
However, as with any open and accessible forum, much of the work can be juvenile, crude, not appropriate for work, and plainly offensive. Many posts are not safe for work. The number of page views a far from perfect, but not terrible filter for quality. A community has emerged around the site, as has a media ecology, where one example inspires the creation of others. Often a popular post, will initiate others to riff off the post and create responses. For instance, Picard Song was the first post to be uploaded to the ytmnd.com site after it went live. As of July 11,2006, a search for Picard reveals 1,261 entries. Including, YOU'RE THE CAPTAIN PICARD NOW! (made four days after Picard Song) and of course Picard and Zidane. Picard IS the Empire has cultural nods to Star Trek, Star Wars, Saturday Night Live's Night at the Roxbury skit, and Herbie the Love Bug in the memorizing display of pop cultural referential weirdness.
The Brokeback Mountain trailer spoofs rely on the archetype of the hero, while playing off the implied homoeroticism of male bonding in film for a specific outcome. Here, the discourse is much more chaotic and disparate. As Kuhn predicted, the archetype has been submerged. Something else is in its place, but I am not sure what that is. Although we are not seeing in general deep critical analysis, the bird's eye view does show a new form of language more akin to leet or perhaps, the inside joke among a group friends, but on a much wider scale due to its accessibility on the Internet. ytmnd.com is a prime example of cultural production built on existing culture that Larry Lessig discribes in Free Culture. Further, Henry Jinkens has discussed how we as a culture are constantly bombarded with media, advertising and branding. We should not be surprised then that ytmnd.com takes for the form that it does, using existing content almost certainly under copyright protection. It is worth noting that some posts push against this reliance on popular culture by using historic references. However, the series of medieval themed posts including this one is most funny and successful when understood within the larger going conversation of ytmnd.com.
When I go to ytmnd.com, I may not understand everything being said or find it amusing, however I inevitably feel like something new and important is happening. These short bursts of communication are extremely popular and are a unique form of composition that can carry on a conversation within its own form. Although it will not replace standard forms of digital or analogue writing, ytmnd.com is a model of how emergent discourse can form through an open network and accessible tools.
Posted by ray cha at 9:03 AM | Comments (1) | TrackBack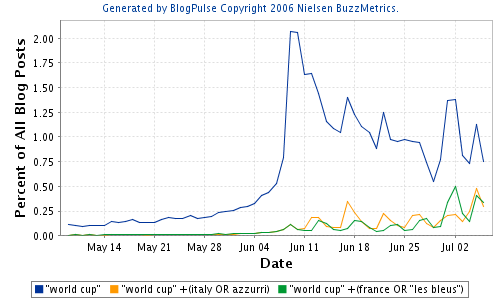 Like much of the rest of the world, I got swept up in the World Cup. Matthew Hurst from Nielsen Buzzmetrics has some great visualizations of the blogosphere's coverage of the World Cup. He shows images of who the blogosphere expected to win (Italy,) the interest of bloggers rise and fall during the month long tournament, a proposal to estimate TV viewership from blogosphere size, and the increase of online discussion over time by country.
The discussion that occurred online is a reflection of an overall online international consciousness. The World Cup is a great opportunity to see what information can be teased out from the aggregate conversation. Overtime, domestic coverage is an interesting case, because the popularity of soccer in the US is growing but is still less than average on a global scale. What are the reasons behind the much greater interest this year, even though the team was eliminated in the first round? Perhaps, the success four years ago when they reached the quarterfinals lead to more viewers this year. What role did the time difference from the US to Germany versus 2002's co-hosts Japan and South Korea, and therefore the ability to watch more games live, play? Does more coverage from traditional US media outlets explain the high volume of online World Cup discussions? I expect in the future, as we witness more events, be it political, economic or entertainment, we will able to use these aggregation tools and visualizations to gain insight on these kinds of questions.
Via Jeff Jarvis at Buzzmachine

Posted by ray cha at 11:22 AM | Comments (0) | TrackBack
After the cancellation of the science fiction television program Firefly, its dedicated fan base was able to grow a large enough community via the web to convince Universal Studios to obtain the rights of the show from Fox and produce the movie, Serenity. Based on the ability for a fan community to organized and prove a viable market, the show's creator Joss Whedon later mused that he would consider releasing his next pilot directly to audiences via the web and bypass the traditional studio development pathway. The New York Times reports on a failed pilot created by Bill Lawrence made be achieve what Whedon envisioned.
Lawrence, who created "Spin City" and "Scrubs," has seen his pilot called, "Nobody's Watching" get resurrected after being shelved before it even aired. The show is about two 20-something men from Ohio who send a self made video tape of themselves lamenting the state of the television sit-com to the networks. They get hired by the WB to live on a sound stage, and star in their own reality television show about making a sit-com. After filming the pilot, the WB decided to pass on the series. A person Lawrence will not identify independently leaked the pilot to YouTube, and it has been downloaded hundreds of thousands of times since then. The popularity of the pilot has generated new found interest from network and cable channels. "Nobody's Watching" could be the first example where the public saved a failed pilot before it ever aired. The irony of the show's statements that the audience should be final arbiter of programming and it new found life on YouTube is amusing.
As I posted last week, video sharing services like YouTube are fundamentally changing the distribution channels of entertainment. The feedback loop between content and audience is shrinking. Audiences can have a direct effect on around which pilots get made into a fully produced television series. The traditional gatekeepers, that is studio execs are finally beginning to they can utilize the better communication with viewers via the Internet, as they try to maintain their viewers that are increasing moving towards other forms of entertainment.
Posted by ray cha at 6:18 AM | Comments (2) | TrackBack
It's interesting to track how the mainstream media covers the big, sprawling story that is Wikipedia.
Here's an odd little article from Reuters on Wednesday, which reports the flurry of revisions that took place on the Ken Lay Wikipedia article immediately following news of his fatal heart attack (suicide? murder? vanishing act?). What's odd about the Reuters piece is its obvious befuddlement at the idea that an article could be evolving in real time, or, more to the point, that a news purveyor would allow unverified information to be posted as the story was unfolding -- to allow an argument over facts to be aired in front of the public. Apparently, this was the first time this reporter had ever bothered to click the "history" tab at the top of an article.
At 10:06 a.m. Wikipedia's entry for Lay said he died "of an apparent suicide."

At 10:08 it said he died at his Aspen home "of an apparent heart attack or suicide."

Within the same minute, it said the cause of death was "yet to be determined."

At 10:09 a.m. it said "no further details have been officially released" about the death.

Two minutes later, it said: "The guilt of ruining so many lives finaly (sic) led him to his suicide."

At 10:12 a.m. this was replaced by: "According to Lay's pastor the cause was a 'massive coronary' heart attack."

By 10:39 a.m. Lay's entry said: "Speculation as to the cause of the heart attack lead many people to believe it was due to the amount of stress put on him by the Enron trial." This statement was later dropped.

By early Wednesday afternoon, the entry said Lay was pronounced dead at Aspen Valley Hospital, citing the Pitkin, Colorado, sheriff's department. It said he apparently died of a massive heart attack, citing KHOU-TV in Houston.
Hard news has traditionally been prized as the antidote to rumor and speculation, but Wikipedia delivers a different sort of news. It's a place where churning through the misinformation, confusion and outright lies is all part of the process of nailing down a controversial, breaking news topic. Thinking perhaps that he/she had a scoop, the Reuters reporter unintentionally captures the surpise and mild discomfort most people tend to feel when grappling for the first time with the full implications of Wikipedia.
Posted by ben vershbow at 1:29 PM | Comments (3) | TrackBack
Alex Itin, our ever-astonishing resident artist/blogger, has been playing around with viral video outlets like YouTube, Google Video, Vimeo and MySpace, embedding movies on his site and re-mounting some of his older film projects, which were previously too cumbersome for quick-and-dirty webcasting.
The following (originally posted here) is a short animated riff on Joyce's Ulysses, in which actual pages from the book serve as frames, with figures painted over text. Joyce himself provides the vocal track. The drawings and sound apparently were not synched, which at times is hard to believe since they can be strikingly consonant.
NSFW!
Alex has been painting on books for years, exploring a kind of palimpsest style -- old, yellowed texts or roadmaps like the walls of a decaying city, against which sinewy, calligraphic figures move. Some of his mixed media works, like Odd City (re-mounted recently on the blog as an animated GIF) have involved the flipping of pages, which yields a crude filmic effect. "You Cities" works on a grander scale, opening up new dimensions on the 2-D page. You find yourself pulled into a visual stream of consciousness.
Posted by ben vershbow at 7:07 AM | Comments (7) | TrackBack
Alan Liu from the University of California at Santa Barbara, posted on the Humanist Listserv an interesting draft policy statement on student use of Wikipedia. A copy got reposted to kairosnews. When it is completed, this guide will be a useful tool for teachers who are seeing increasing references to Wikipedia in student work. Liu is providing students (and the public for that matter) with a context for understanding how to use Wikipedia in both their research and daily lives. If:book is included in a bibliography of articles on the controversy surrounding Wikipedia and its reliability.
Posted by ray cha at 6:31 AM | Comments (0) | TrackBack
Holly Willis has written a nice, perceptive piece on GAM3R 7H30RY for the LA Weekly arts and books section. It includes some interesting reflections on the process from both Bob and McKenzie. Here's a good quote from Ken:
"For a lot of writers, any editorial change is like chopping fingers off your child. But to write this way, you really can't be precious." The elements that make the process worthwhile, he adds, are the interaction with his readers now instead of following publication, as well as the sensitivity of his readers. "There's such an attitude of good will. Readers recognize that the book in this form is a gift, and they respond with that in mind."
Posted by ben vershbow at 12:14 PM | Comments (0) | TrackBack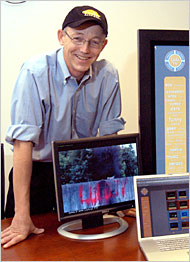 Lulu.tv made recent news with their new video sharing service which has a unique business model. Bob Young the head of Lulu.tv and founder of the self publishing service Lulu.com also founded Red Hat, which commercially sells open source software. He has been doing interesting experiments in creating business that harness the creative efforts of people.
The new revenue sharing strategy behind Lulu.tv is fairly simple. Anyone can post or view content for free, as with Google Video or YouTube. However, it offers a "pro" version, which charges users to post video. 80% of the fees paid by goes to an account and the money is distributed each month based on the number of unique downloads to subscribing members.
This strategy has a similar tone to the ideas of Terry Fisher who has been promoting and the related idea of an alternative media cooperative model. In Fisher's model, viewers (rather than the content creators) pay a media fee to view content and the collected revenues are redistributed to the creators in the cooperative. Lulu.tv makes logical adjustments to the Fisher model because other video sharing services are already offering their content for free. Because there are a lot more viewers of these sites than posters, the potential revenue has limited growth. However, I can imagine if the economic incentive becomes great enough, then the best content could gravitate to Lulu.tv and they could potentially charge viewers for that content. Alternatively, revenue from paid advertising could be added the pool of funds for "pro" users.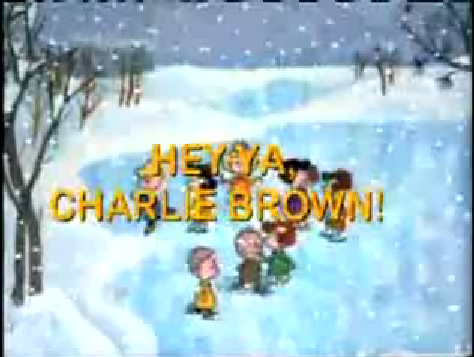 Introducing money into environments also produces friction and video sharing will be no different. Moving content from a free service to a pay service will increase copyright concerns, which have yet to be discussed. People tend to post "other people's content" on YouTube and GoogleVideo, which often contains copyrighted material. For example, Hey Ya, Charlie Brown scores a Charlie Brown Christmas Special with Outkast's hit single. It is not clear if this video was posted by a pro user, or who made the video and if any rights were cleared. Although, for instance, YouTube takes down content when asked to by copyright holders, many holders do not complain because that media (for instance 80s music videos) have limited or no replay value. With video remixes, creators have traditionally given away their work and allow it to be shared because there was no or little earning potential for the remixes. However with Lulu.tv's model, this media is suddenly able to generate money. Remixers who have traditionally allows the viral distribution of their work, now they have an economic incentive to host their content in one specific location and hence control the distrbution of the work (sound familiar?)
I'm quite glad that Lulu.tv is experimenting in this vein. If it succeeds, the end effect will push the once fringe media and distribution even deeper into the mainstream. For people concerned with overreaching copyright protection, this could be also be disastrous depending on how we as a culture decide to accept it. The copyright holders could use Lulu.tv has a further argument for yet stronger protections to intellectual property. On the other hand, it could mainstream the idea that remixing is a transformative use. The tensions between media producers, copyright holders, distributors and viewers continue to be evolve and are important to document and note as they move forward.
Posted by ray cha at 10:05 AM | Comments (0) | TrackBack
Jeff Jarvis came by the Institute yesterday for pizza and a stimulating two-hour chat on the shifting sands of news media and publishing. Lately, Jeff has been re-thinking the term "citizen journalism," an idea and a corresponding movement he has done much to promote. The problem as he sees it is that citizen journalism implies an opposition between professional and non-professional producers of news, when the goal should be closer collaboration between the two. All are citizens: the pro reporter, the lone blogger, the activist, the bystander with the camera phone; and the best professional journalism often comes out of the strong civic sense of its practitioners.
Jarvis has now posed "networked journalism" as a possible alternative to citizen journalism, and as a better tool for understanding the dramatic realignment of authority and increased access to the means and channels of news production that we are witnessing today. He may as well be talking about networked books here, our ideas or so fundamentally similar (it chimes especially well with this earlier discussion of GAM3R 7H30RY, "what the book has to say"):
"Networked journalism" takes into account the collaborative nature of journalism now: professionals and amateurs working together to get the real story, linking to each other across brands and old boundaries to share facts, questions, answers, ideas, perspectives. It recognizes the complex relationships that will make news. And it focuses on the process more than the product.

...After the story is published -- online, in print, wherever -- the public can continue to contribute corrections, questions, facts, and perspective ... not to mention promotion via links. I hope this becomes a self-fulfilling prophecy as journalists realize that they are less the manufacturers of news than the moderators of conversations that get to the news.
I love this idea of the journalist as moderator of a broader negotiation of the truth. And we see it happening with editors too. The Korean news site Ohmy News is the world's largest citizens media enterprise, drawing all its content from amateur writers. But it is staffed with professional editors, and so the news is the product of a collaborative network that spans Korean society. This is the big shift: a dialogic approach to the telling of a story, the gathering of facts, the development of an idea. And it applies as much to newspapers as to books, though the upheaval is far more evident right now in the province of news. Like news, certain kinds of books will evolve away from being the product of a single reporter, and become more of a collaborative process of inquiry, with the author as moderator. The reader suddenly is a participant.
Posted by ben vershbow at 12:29 AM | Comments (1) | TrackBack

Late last year, a friend asked me if I had watched Saturday Night Live on NBC. I said that I hadn't seen the show in years. He mentioned an amusing skit entitled "Lazy Sunday" with Andy Samberg and Chris Parnell playing two kids who rap about eating cupcakes, their favorite online mapping engine and watching the Chronicles of Narnia movie. I had thought that it was just another drop in the "can't see everything" bucket. Fortunately, around the same time, Apple announced the video Ipod, video download services on iTunes and a free download of the SNL skit. Later, SNL had equally funny skit with Natelie Portman doing a bizzarre, much censored gangster rap, which I didn't see live either. This time, NBC made the video available on their own website. Both clips were uploaded, although initially the site was very unstable and I had trouble getting their videos to play correctly. Since then, they have posted a few other clips from SNL, however, none of them were nearly as funny as the first two. The problem the internet solves is that it saves me the trouble from having to sit through hours of mediocre skit comedy to see the gems. Of course, advertisers might see it differently.
Ever since the Saturday Night Live skit "Lazy Sunday," was popularized on the Internet, NBC has been experimenting with ways of using video clips of their shows to attract viewers. Earlier they forced YouTube, the popular video sharing site, to take down clips of the video, as they were launching their own web clip service on their own site.
In an interesting twist, this week NBC confirmed a report that they will be launching a joint project with YouTube, offer clips from their shows on a NBC "channel" within YouTube's site. As currently the lowest rated network, NBC is not surprisingly exploring new ways of using the Internet to get people to watch their programs. ABC has been experimenting with making episodes of their hit shows on iTunes Music store. However, the major difference here is that ABC has the luxury of having the popular shows "Lost" and "Desperate Housewives" which people are willing to pay to download.
I'm looking forward to seeing how NBC implements their YouTube channel. There are many directions they could take, and it will reveal how they understand YouTube. One of the key things about YouTube, is that is it is democratic. A vast amount of material is posted, and users vote on the content they like by, viewing, commenting, and sharing the link. This process is the polar opposite from NBC's current strategy of curating the "best" skits.
The open question is, then, how effective will NBC engage YouTube users and allow them to participate with NBC content. Will they allow for open comments? I would be very surprised if they let users post NBC content, but will they post clips based upon users requests? If NBC just want eyeballs and think they can just post clips vetted by NBC execs, then there won't really be much of a change from hosting clips on their own site, save perhaps having more stable access to users.
I hope that the NBC execs are not assuming that posting clips on YouTube is some magic viral marketing silver bullet. In that, the key issue for NBC is to realize that they cannot control viewers. Hosting SNL clips are there own site was only mildly successful. Was the reason because of technology, poor word of mouth, or uninteresting content? Random clips on YouTube get half a million views because people chose that content, not the other way around. 500,000 views may seem small in absolute terms of audience size to the television marketer. However, I would be interested in seeing the cost per view to generate an television audience versus YouTube.
In the end, bad T.V. is bad T.V and putting clips on YouTube is not going to fix that. If NBC has shows they truly believe to be good, but under watched, YouTube can be a powerful tool to build a community around the show. The secondary media ecology surrounding ABC's Lost is the current gold standard. Something on that level cannot be produced on demand. That is, a network cannot build a sustainable community around a show that no one cares about. For this venture to be successful, NBC will need to engage the audience and it cannot assume it understands exactly their preferences. If you look at their current ratings, it is unclear if they understand what viewers want. Let's see what happens.
Posted by ray cha at 6:52 AM | Comments (5) | TrackBack
crickets 07.04.2006, 8:23 AM
Happy 4th.
Posted by ben vershbow at 8:23 AM | Comments (1) | TrackBack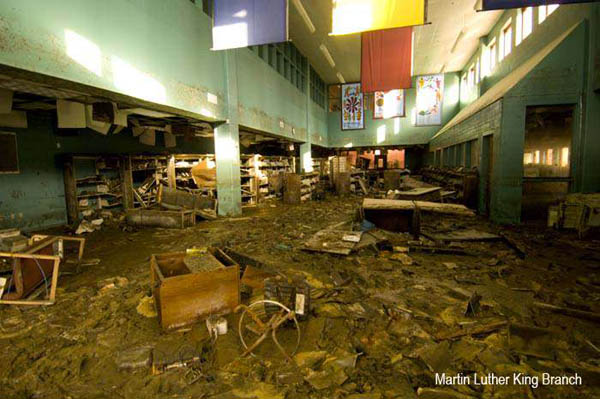 Recently in New Orleans, I was working at AAUP's annual meeting of university presses. At the opening banquet, Times-Picayune editor Jim Amoss brought a large audience of publishing folk through a blow-by-blow of New Orleans' storm last fall. What I found particularly resonant in his recount, beyond his staff's stamina in the face of "the big one", was the Big Bang phenomena that occured in tandem with the flooding, instantly expanding the relationship between their print and internet editions.
Their print infrastructure wrecked, The Times-Picayune immediately turned to the internet to broadcast the crisis that was flooding in around them. Even the more troglodytic staffers familiarized themselves with blogging and online publishing. By the time some of their print had arrived from offsite and reporters were using it as currency to get through military checkpoints, their staff had adapted to web publishing technologies and now, Amoss told me, they all use it on a daily basis.
If the Times-Picayune, a daily publication of considerable city-paper bulk, can adapt within a week to the web, what is taking university presses so long? Surely, we shouldn't wait for a crisis of Noah's Ark proportions to push academe to leap into the future present. What I think Amoss's talk subtly arrived at was a reassessment of *crisis* for the constituency of scholarly publishing that sat before him.
"Part of the problem is that much of this new technology wasn't developed within the publishing houses," a director mentioned to me in response to my wonderings. "So there's a general feeling of this technology pushing in on the presses from the outside."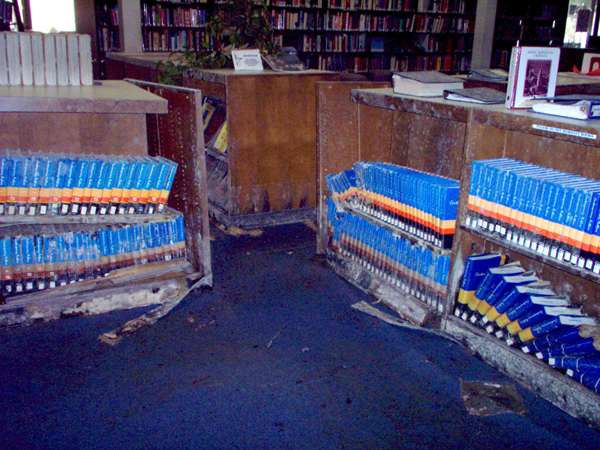 East New Orleans Regional Branch
But "general feeling" belies what were substantially disparate opinions among attendees. Frustration emanated from the more tech-adventurous on the failure of traditional and un-tech'd folks to "get with the program," whereas those unschooled on wikis and Web 2.0 tried to wrap their brains around the publishing "crisis" as they saw it: outdating their business models, scrambling their workflow charts and threatening to render their print operations obsolete.
That said, cutting through this noise were some promising talks on developments. A handful of presses have established e-publishing initiatives, many of which were conceived of with their university libraries. By piggybacking on the techno-knowledge and skill of librarians who are already digitizing their collections and acquiring digital titles (librarians whose acquisitions budgets far surpass those of many university presses,) presses have brought forth inventive virtual nodes of scholarship. Interestingly, these joint digital endeavors often explore disciplines that now have difficulty making their way to print.
Some projects to look at:
MITH (Maryland); NINES (scholar driven open-access project); Martha Nell Smith's Dickinson Electronic Archives Project; Rotunda (Virginia); DART (Columbia); Anthrosource (California: Their member portal has communities of interest establishing in various fields, which may evolve into new journals.)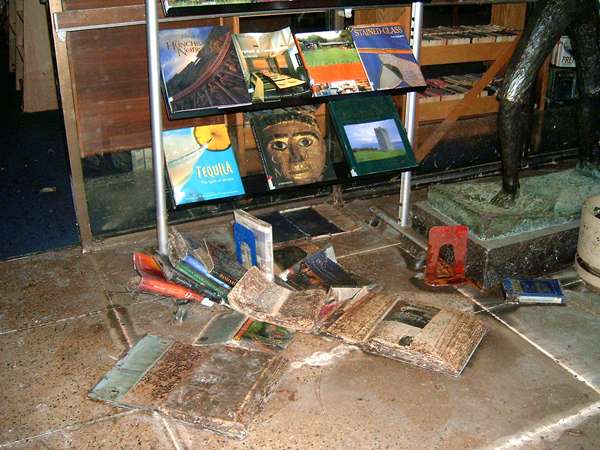 East New Orleans Regional Branch
While the marriage of the university library and press serves to reify their shared mandate to disseminate scholarship, compatibility issues arise in the accessibility and custody of projects. Libraries would like content to be open, and university presses prefer to focus on revenue generating subscribership.
One Digital Publishing session shed light on more theoretical concerns of presses. As MLA reviews the tenure system, partly in response to the decline of monograph publication opportunities, some argued that the nature of the monograph (sustained argument and narrative) doesn't lend itself well to online reading. But, as the monograph will stay, how do presses publish them economically?
On the peer review front, another concern critiqued the web's predominantly fact-based interaction: "The web seems to be pushing us back from an emphasis on ideas and synthesis/analysis to focus on facts."
Access to facts opens up opportunities for creative presentation of information, but scholarly presses are struggling with how interpretive work can be built on that digitally. A UVA respondant noted, "Librarians say people are looking for info on the web, but then moving to print for the interpretation; at Rotunda, the experience is that you have to put up the mass of information allowing the user to find the raw information, but what to do next is lacking online."
Promising comments came from Peter Brantley (California Digital Library) on the journal side: peer review isn't everything and avenues already exist to evaluate content and comment on work (linkages, citation analysis, etc.) To my relief, he suggested folks look at the Institute for the Future of the Book, who are exploring new forms of narrative and participatory material, and Nature's experiments in peer review.
Sure, at this point, there lacks a concrete theoretical underpinning of how the Internet should provide information, and which kinds. But most of us view this flux as its strength. For university presses, crises arise when what scholar Martha Nell Smith dubs the "priestly voice" of scholarship and authoritative texts, is challenged. Fortifying against the evolution and burgeoning pluralism won't work. Unstifled, collaborative exploration amongst a range of key players will reveal the possiblities of the terrain, and ease the press out of rising waters.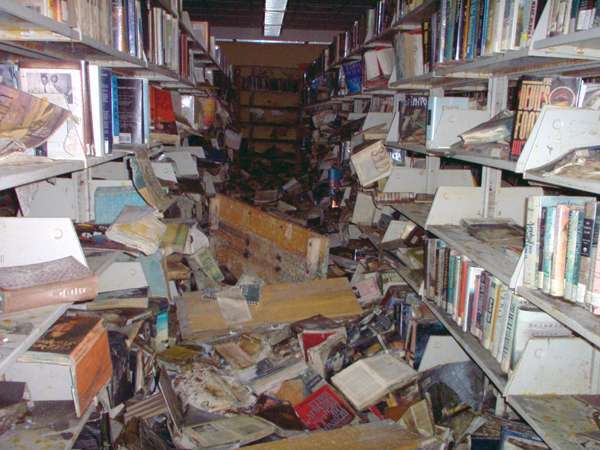 Robert E. Smith Regional Branch
All images from New Orleans Public Library
Posted by sarah northmore at 10:46 AM | Comments (5) | TrackBack