« academic library explores tagging | Main | nature re-jiggers peer review »
future of flickr 06.20.2006, 12:31 PM
posted by ray cha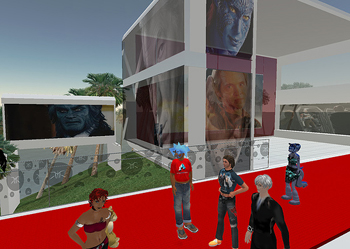 Wired News reported last week, that some users of Flickr were upset at the enforcing of, until now a rarely mentioned, Flickr policy of making non-photographic images unavailable to the public if the account does not mostly contain photographs. Although Flickr is mostly known as a photo sharing site, people often post various digitized images into Flickr including our collaborator, Alex Itin. Currently, users of Second Life are receiving particular attention with Flickr's posting policies.
The article quotes Stewart Butterfield saying, "the rationale is that when people do a global search on Flickr, they want to find photos."
I can appreciate that Flickr wants to maintain a clear brand identity. They have created one of the most successful open photo sharing websites to date and, they don't want to dilute their brand. However, isn't this just a tagging issue? It is ironic that Flickr, one of the pioneering Web 2.0 apps, whose success strongly relies on the power of folksonomy, misses this point. Flickr was one of the primary ways the general public figured out how tagging works, and their users should be able to figure out how to selection what kinds of images they want.
How much of a stretch would it be for Flickr to become an image sharing website, including tags for photographs, scanned analog images, and born digital images?
FInally, Second Life had a recent event with a tie-in to a virtual X-Men movie premiere, whose images made their way into Flickr. When asked to comment about it, Butterfield goes on to say, "Flickr wasn't designed for Universal or Sony to promote their movie. Flickr is very explicitly for personal, noncommercial use" rather than "using a photo as a proxy for an ad."
Again, I appreciate their sentiment. However, is there a feasible way to enforce this kind of policy? Is it ok to for me to post a picture of my trip to Seattle, wearing an Izod shirt, holding a Starbucks cups, in front of the Space Needle? Isn't this a proxy for an ad? As we have noted before, architecture, such as Disneyland, the Chrylser Building and Space Needle are all copyrighted. Our clothes are plastered with icons and slogans. Food and drinks are covered with logos. We are a culture of brands and increasing everything in our lives is branded. It should come to no surprise that the media we, as a culture, produce reflects these brands, corporate identities, and commercial bodies.
The decreases in cost of digital production tools have vastly increased amateur media production. Flickr provides a great service to users of the web to support the sharing of all the media people are creating. However, Flickr created something bigger than they originally intended. Rather than limiting themselves to photo sharing, there is much more potential in creating a space for the sharing of and community building around all digital images.
Posted by ray cha on June 20, 2006 12:31 PM
tags: digital_photography, flickr, itinplace, second_life, web_2.0, x-men
comments (6):


Craig
on
June 20, 2006 1:51 PM
:
I do agree that this is just an organizational issue. Flickr could easily solve this by devoting a subdomain for digital images, or enforcing a special tag for such media.
But I also kind of understand the reason behind the current policy. Second Life users, although quite a large group of netizens, are a very specific population. I don't use Flickr, but as far as I can see from what's written, they don't ban uploading screenshots, but they are actively preventing screenshots becoming dominant over photos.
Still, I totally agree this could be easily settled as Ray suggests.


ray
on
June 20, 2006 2:09 PM
:
You are correct. They don't ban screenshots. If most of your images are non-photographic (which includes screenshots,) Flickr will make some of them not publicly available.
The Second Life screenshots is just a specific case that represents a larger issue.
"Having a subdomain with a special tag" is the way to go. The technology is already in place, in that a digital image's bits are just bits to the servers regardless of being a photo or non-photo. At the end of the day, this is really just a policy/ administrative issue.


ben vershbow
on
June 20, 2006 2:15 PM
:
This is a predictably unimaginative response from the Flickr folks, who, before becoming part of Yahoo, might actually have been excited by the prospect of the site becoming a repository for not just photos but for all kinds of digital images: photos, screenshots, paintings, drawings, photoshop amalgamations. Anyway, with people spending more and more time in virtual worlds like Second Life, I don't see why screenshots shouldn't be considered just another kind of snapshot, another way of documenting one's life.


thedaniel
on
June 21, 2006 1:43 AM
:
"They have created the most successful photo sharing website to date" - pretty sure that's not true. Last I read, as far as # of users, they aren't even the most successful yahoo-owned photo sharing website. Yahoo! photos has something like 30 million users to flickr's middle single digits million (googling reveals people saying various things). Photobucket (not yahoo-owned), somewhere north of 16 million. If you define "most successful" as "most attractive to hip web folk" or "most oriented toward sharing and community", then yes, flickr probably wins. I use it myself, and like it a lot. I just don't think it's accurate to call it anything like the most successful to date.


ray
on
June 21, 2006 12:10 PM
:
Thanks for the correction. I was thinking more in terms of the open sharing aspect of flickr. Whereas, when I get sent links to albums in ofoto or shutterfly, I tend to think of these systems as closed.


Sanip
on
December 5, 2006 6:59 PM
:
That's what you get when you (user) follow the hype and when you (Flickr) get bought by corporate suits. Try Fotki or Pbase instead, it all works there - minus the hype.
Sanip
(Because of spam troubles, first-time comments from unfamiliar addresses or containing multiple links might be held for moderation. If your comment isn't spam, we'll publish it very soon. Thanks in advance for your patience.)