« what is a book? | Main | smarter links for a better wikipedia »
e-paper takes another step forward 06.12.2006, 11:59 AM
posted by ray cha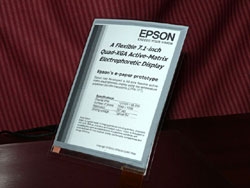 With each news item of flexible display technology, I get the feeling that we are getting closer to the wide spread use of e-paper. The latest product to appear is Seiko Epson's QXGA e-paper, which was recently introduced at a symposium given by the Society for Information Display. Even from the small jpeg, the text looks sharp and easy to read. Although e-paper will not replace all paper, I'm looking forward to the day I can store all my computer manuals on e-paper. Computer manuals are voluminous and quickly become outdated with each new upgrade. I typically repeatedly use only a few pages of the entire manual. All these reasons makes them a great candidate for e-paper. Perhaps, the best benefit is that I can use the new found shelf space for print books where I value the vessel as much as the content.
Via Engadget
Posted by ray cha on June 12, 2006 11:59 AM
tags: e-ink, e-paper, ebook, electronic_paper, epaper
comments (3):


bowerbird
on
June 12, 2006 2:05 PM
:
with each news item of flexible display technology,
_i_ get the feeling that the e-paper people are
getting more desperate about finding a niche.
the rocketbook was priced at $100-$200 and
still couldn't find a way to profitability.
the e-paper machines cost 2-4 times as much.
let's hope that progress drives the price down.
considerably.
-bowerbird



paper-machines
on
June 20, 2008 12:03 AM
:
I am looking for a new technology always thats y i always send comments and read for my information. i was impressed with the technology.


bowerbird
on
June 21, 2008 2:59 PM
:
nice to be reminded of a comment i made
2 years ago, and see that it holds up...
let's see what the kindle costs in 2 years.
-bowerbird

(Because of spam troubles, first-time comments from unfamiliar addresses or containing multiple links might be held for moderation. If your comment isn't spam, we'll publish it very soon. Thanks in advance for your patience.)