« interactive books are closer than we think | Main | GAM3R 7H30RY 1.1 is live! »
the life and afterlife of vinyl records 05.19.2006, 3:14 PM
posted by ray cha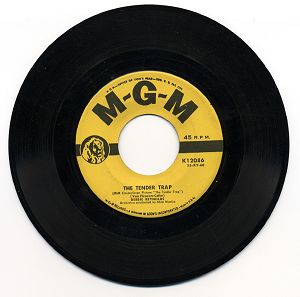 I often find myself talking to people about their relationships to books and printed matter. I wonder out loud, if we are the transitional (read: last) generation who will revere both print and screen. Because books have been the primary mode of storing and communicating knowledge for over five hundred years, we have a strong attachment to print text. The shift to from the page to the digital, and all its implications are difficult to grasp. Through these conversations, I have found that modern recorded music and especially the vinyl record, are useful cultural reference points for myself and others in understanding how media technology evolves and our preferences with it. For people born before, say the Reagan administration, they mostly likely have bought and used a variety of recorded music media, including vinyl records and audio cassette tapes. Further, they generally know people born during or after the Reagan administration who have never played, owned and even heard a LP record. This point demonstrates how we have witnessed the conversion of media technology from the analogue to the digital. Further, we can clearly see a subsequent generation who has a very different relationship to recorded music, rooted in a solely digital frame of reference.
The evolution and adoption of recorded music technology have occurred over a compressed period of time as compared to the historic primacy of the book. Early movable type was available in China in the 11th century. The invention of the printing press in the 15th century gives print a legacy that dwarfs the 20th century dominance of the vinyl record. It is not surprising that print is more entrenched in our culture. The vinyl record was able to be inexpensively mass produced, although vinyl records were fragile and their players were not easily transportable. New media technologies and formats appeared. In one case, the audio cassette tape complemented the LP, because the format and player was smaller and portable, and you could also make recordings on them. In another case of the digital CD, LPs were replaced because CDs had higher quality sound and did not scratch as easily as vinyl. We should also note that some technologies failed, such as the 8 track, which did not gain traction and faded to the background of ironic 70s pop culture references. This reminds us that we need to take each "next great" invention with a healthy bit of skepticism. Because the transitions from LPs to CDs and now to MP3s occurred in a span of twenty years, we have the benefit of living through the shifts. Therefore, the transition is less disconcerting even if its transition is not complete or fully understood. The current shift from CD to MP3 introduces us to a host of transitional issues that we will soon face with print books.
With the MP3, recorded music no longer has a physical form, just as digital text no longer embodies the physical page. Music's transition from the analogue to the digital is far from complete. Musicians, distributors, and listeners are still adapting to the changes that going digital is causing. Musicians have new methods of recording and are experimenting with new ways reaching their audiences. Distributors of music are struggling to develop new business models in the digital, online and networked world. Listeners have a new relationship with music, now that they can access their entire music collection from an iPod. Music's pioneering shift to the digital shows what lies ahead for the digital book in many ways. For example, we are learning from initial applications of DRM, including Apple restrictions on songs bought in the iTunes Music Store, Sony's disastrous attempt to deploy its DRM Rootkit and Sun's Open DRM initiatives. Some ideas will work, and some will not. These early implementations of DRM will certainly inform how it is applied to digital texts.
| | |
| --- | --- |
| | |

We can also see how the aspects of these older forms reappear in interesting ways. This continuity removes some of the disorientation that occurs in any period of transition. In middle school, I bought my first 45 single, the theme song from Beverly Hills Cop, "Axel F" by Harold Faltermeyer. As a format, the 45 single had its height of popularity in the 50s and 60s. In the 1970s, recording industry shifted their focus on creating and promoting album-oriented music. Today, the emergence of the MP3 music file marked the return of the single. As the preferred format for buying and downloading MP3s, tastes have cycled back to popularize the single in a digital form. Further, we maintain our nostalgia for the plastic insert that 45s required to be able to be played on LP record players. Nostalgia and forms reappearing is a common occurrence in the evolution of media.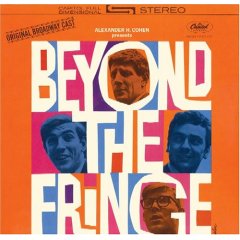 Likewise, despite the fact that the LP is no longer as widely produced and used as it once was, it still has cultural relevance. Looking at the LP shows glimpses of a possible future for the print book in the digital age. One future of the print book, which Bob has mentioned, is the book as art object. This transformation is being foretold by the transformation of the vinyl LP as art object. The vinyl LP for newly recorded music is now a niche market. The only people I know, who still actively purchase vinyl records are DJs and indie rock purists. For the rest of us, we have moved on to CDs and MP3s. I have not owned a record player in years. However, if you go into my bedroom, you will see LPs prominently displayed. I have two (different) original "Beyond the Fringe" cast recordings of LPs hanging on my wall. Within these frames, the vinyl record is now an art object. Partially because the CD jewel box is much smaller, the LP is able to leverage its size and proportion of its record cover to maintain relevance of an cultural artifact. The Equator Bookstore in Los Angeles has taken a similar attitude towards the book. Their website explains that "all books are hand-picked by ownership and are sold in collectable condition, cleaned and wrapped in protective archival covering." Thus, the owners are curating a collection of archival objects. They sell books as art objects, akin to the records hanging on my walls. (Although, interestingly, they also have a small publishing arm, which suggests that they are interested in publishing the book art object of the future.)
Because we have seen a radical shift in the ways people listen to music within our own lifetime, we can apply this experience to our understanding of the older, more entrenched and slower to adapt form of the book. Through this process, we see that we will maintain our attachments to older forms of media. Through nostalgia, transformation, repurposing of these beloved forms, a legacy is sustained. This occurrence should come as no surprise, as media, technology and culture has always been built upon older iterations of itself.
Posted by ray cha on May 19, 2006 3:14 PM
tags: LP, mp3, the_form_of_the_book, vinyl
comments (2):


Nick Valvo
on
May 19, 2006 6:05 PM
:
One thing you are neglecting: LPs are today cheaper than CD or MP3. Used LPs, obviously, can be found quite affordably, but even new LPs from the kind of labels that produce them still are often cheaper than CDs. Usually $10 for an LP, $12 for a CD.
And another thing: CDs may be approaching irrelevance (for me, anyway). I listen to LPs at home, MP3s during my commute. I recently purchased a double LP (from Saddle Creek Records) that came with a code that allowed me to download the MP3s of the album from the label's website.


sol gaitan
on
May 21, 2006 11:17 PM
:
For me the pleasures of LPs go beyond the aural. I love the ritual of cleaning the record, delicately placing it on the turntable and listening, in excited anticipation, to the sound of the diamond needle as it touches the vinyl. Also, I love the big format of the liner notes. In classical music as well as in rock and jazz, liner notes become large booklets that contain lyrics, photographs, and other memorabilia. For example, the Archiv 1979 recording of Bach's St Matthew Passion has fabulous Dürer's reproductions and lyrics side by side in three languages, not to talk about Dietrich Fischer-Dieskau as the Evangelist, and Janet Baker singing the loving alto. For me, listening to an LP is a completely different ritual from listening to a downloaded single. Both give me pleasure, but I usually prepare myself for "serious listening" when I play LPs.
Last Thursday, David Robertson conducted the Zankel Band in a series of music composed during the last 20 years, one of which, George Benjamin's "Antara" is scored for 2 solo flutes, 2 Yamaha computerized keyboards, 2 trombones, percussion, 3 violins, 2 violas, 2 cellos and double bass. In the summer of 1984, Benjamin attended a seminar at IRCAM, the computer music establishment set at the Centre Georges Pompidou for Boulez. Coming out of it every night, he found a group of South American street musicians playing the panpipes. He loved the freshness of their sound buy was also aware of the panpipes' many limitations of pitch mobility and velocity, and their impossibility to hold long notes. The computer, however, can solve those problems, so he created an "instrument" ranging from the equivalent of panpipes 20 meters high to pipes of only a few millimeters. In "Antara" (an Andean flute) his electronic pipes are played via two Yamaha keyboards, which David Robertson called "period instruments" in his introduction to the piece. Here we have an electronic rendition of an ancient instrument played on a modern instrument that has become obsolete in a matter of a few decades.
So, we cannot pretend to separate one form of music rendering from another but better happily play them as they require it. When an electronic part is played live on the keyboards, it lends a spontaneity to the performance that permits an organic integration between the electronic and the acoustic that goes beyond simple attachment to older forms.
And, talking about books as precious objects, the Morgan Library and Museum just reopened to the public its magnificent collection of manuscripts in the new Renzo Piano's expansion. And the New York Public Library has an exhibition of the fusion of words and images: "French Book Art/Livres d'Artistes: Artists and Poets in Dialogue," which covers from late 19th-century Paris (when the advent of free verse inspired new forms of poetic structure, typography, page design and illustration,) to the late 20th century. The confluence of writer, artist and visionary publisher has indeed produced exquisite objects.

(Because of spam troubles, first-time comments from unfamiliar addresses or containing multiple links might be held for moderation. If your comment isn't spam, we'll publish it very soon. Thanks in advance for your patience.)