« April 2006 | Main | June 2006 »
The term "political art" has implications that might well deter people from viewing it, especially here where the political is regarded as unaesthetic. It is sad that when an American artist makes "political art" it becomes news. This has been the case with the presence of political films in Cannes, as chronicled by A. O. Scott in the New York Times. He makes a parallel with the 60's as a golden age of filmmaking, and in particular the 1968 Cannes Film Festival, where the artistic and the political were absolutely interconnected. To say that the problems we are facing today are less significant than those of the 60's is to exchange lack of hope for the authentic belief in change that permeated that era.
The big difference today is that communications are immediate and indispensable, but that their ubiquity has also numbed us. War and catastrophe as spectacle have always fed the public imagination, but today fiction and fact, reality and artifice, have collapsed into yet another consumer product. On the other hand, the availability of affordable technology has made photography, video and filmmaking accessible to many. Now, it is possible to see interesting and good quality pieces from places far away from the established centers of film production. Cannes is still the favorite showplace of international cinema, but it doesn't mean that many movies that make it there ever go beyond the art houses. So, the presence of Al Gore's "An Inconvenient Truth," Richard Linklater and Eric Schlosser's "Fast Food Nation" or Linklater's "A Scanner Darkly" and Richard Kelly's "Southland Tales" are news not because they are represented in Cannes but because they tell stories based on present circumstances without fear of being "political."
Holland Cotter the art critic of The New York Times reviews some current exhibitions that make political commentary noting that in 21st-century America political art is not "protest art" but a mirror. But, what else is art, past and present, than a mirror that uncannily shows political realities? The fact that many artists insist on looking at their belly buttons instead of at the world, is in itself a political commentary of the times. Cotter reviews Harrell Fletcher's http://www.harrellfletcher.com/# show at White Columns, images from a museum in Ho Chi Minh City, as a horrific document of the Vietnam War. Jenny Holzer at Cheim and Read shows a series of silk screens of declassified documents related to Abu Ghraib, which are faithful to each official word with the exception of their magnification, thus becoming a commentary on our nation's violence.
Coco Fusco's video, "Operation Atropos," documenting the training on interrogation and resistance program she and six women went through in the woods of the Poconos, offers a political glance at the methods of physical and mental persuasion. Apart from the obviously political, the viewer realizes that this program, run by former members of the CIA, has been conceived for the private sector.
Cotter concludes his article asking, "So what kind of political art is this? It isn't moralizing or accusatory. It's art for a time when play-acting and politics seem to be all but indistinguishable." They are.
It is always enormously refreshing to visit the art galleries, and to be reminded that many artists in many places, perhaps because they are faced with stark realities on a daily basis, have indeed a lot to comment. The Asian Contemporary Art Week (5/22-5/27) was one of those occasions (and still is since many galleries will continue displaying Asian art for a few more weeks.) Shilpa Gupta's interactive video environments at Bose Pacia offer a comment on power, militarism and imperialism. In one of the pieces the viewer sees a bucolic landscape in Kashmir and as s/he touches the screen military guards appear. Truth is indeed a fragile and many times deceiving construction.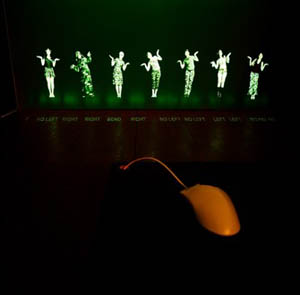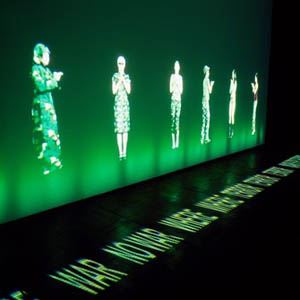 Untitled, 2005 -- Shilpa Gupta
Tejal Shah's video installation at Thomas Erben presents the transgender community in India from within, a reality that is equally painful and celebratory. At the Sculpture Center, as part of the Grey Flags exhibition, there is a film by Apichatpong Weerasethakul the Thai filmmaker whose fresh approach to reality has taken him to use non-professional actors and improvised dialogue, offering a sober and supetcharged vision of reality in Thailand. Tilton Gallery brings together 34 contemporary Chinese artists entitled "Jiang Hu" whose literal meaning is "rivers and lakes" but that metaphorically means a place removed from the mainstream. In medieval literature it means a realm inhabited by outsiders, monks, fortune-tellers and artists who had magical powers. In the context of this exhibit that shows an interesting and disparate group, "Jiang Hu" evokes a complex reality: China an outsider within the global world.
Posted by sol gaitan at 6:57 PM | Comments (0) | TrackBack
I've been thinking a lot about the idea of reader collaboration, prior to GAM3R TH3ORY's publication but to a good deal in response to its impending arrival. This notion clearly means that after the author has done one thing, the "book" becomes the accumulation of author's and readers' contributions.
So I've been thinking about collaboration. My starting point was something mentioned on my visit to the Institute -- that the book's source needs to be distributed, and it can be altered by the reader. (This is a very big idea, btw, and it's radically altered my notion of what an e-book format's obligations are. But that's another discussion.)
SInce Sophie is an authoring tool, I thought, Why don't I author something and really see what it can do? So I've been working with my own notion of what a book would be like that isn't wholly limited by its medium being print. And I thought maybe I should let Sophie's developers in on my ambition so that there's a possibility that the features I'm envisioning might be included in the program, at least at some point in the future.
I think it's easiest to understand my notion of collaborating with the reader by describing my work-in-progress.
So the basic notion is fairly simple, realizable already in Flash, say, or SVG:
Imagine a story, with multiple tracks. (I'm actually envisioning a short book, so let's say 16 or 24 pages and 5 tracks.) On any page, you can go to the next or previous page. Or you can change tracks and see the next or previous page from some other track. It seems just like a 24-page book, except that the 5 tracks provide variations on what is on each page.
That's not too exotic. And I don't stray too far from this notion.
The first thing I'd like to do is provide multiple series of illustrations for each track. So track A might display what i call the French illustrations, or the English, or the Klee, and so on. Thus the first capability I would want to see in my authoring/reading tool is a way to change which illustration (or series of illustrations) displays within each track. You still go backwards and forwards, but maybe I like Van Gogh's illustrations and you like Ansel Adams'. Perhaps I should mention at this point that it's a children's book, so I'm not casually speaking about illustrations. They are the central aspect.
The next thing I'd like to do is to allow the reader to supply illustrations, for any page (in any track), and supplant the author's (or publisher's) illustrations. So that perhaps my book comes with 4 series of illustrations for each track, but a reader could add many others. If these series were shared (upload your own, download others'), then perhaps you have 9 series for track A and I have 23. There has to be an easy way for the plugging in pieces, which is more on the level I'm expecting a reader to manage, as opposed to the full set of tools the author will access.
With this, the collaboration with the reader becomes two-fold -- first the creation can be shared: make your own illustrations. Then, second, each individual instance becomes distinctive. If we trade "copies," then we see the distinctive choices we each have made. Each instance is unique, especially as it contains series of illustrations that are not shared/distributed at all. In a way this reminds me of the trading card games that my ten-year-old and his friends play. They all purchase the same cards, each possessing hundreds of cards, and collect them into unique decks that they each admire and study (and then compete against, the duel being paramount). Moreover, each has some cards that none of the others has.
In addition to accepting individual illustrations or whole series of illustrations, the book should allow its text to be edited and alternate versions selected for display. I'm not sure whether one text track would be read-only, or if clicking some button would restore the text to its default form in some track, but I'd expect the author's initial, unedited version should be retrievable in some way.
I'm far less concerned about the text than I am about this capability with illustrations, btw.
Since my project book is intended for children, I've thought a lot about the nature of collaboration with them. In this instance, I think will use little or no animation -- it's not an equal collaboration if the initiating author can do tricks to gain attention that the collaborating reader cannot manage. And that is one thing that makes this a book and not an animation or a cartoon and yet still strives to keep its electronicity high.
And my effort at collaboration is more like a teacher's -- here, you write/draw something, and we'll replace what I've done. Perhaps in the end all the words and pictures are yours. My role was to get you started and to provide the framework. But every new collaborator can begin with the pristine master copy that anyone can access (or maybe they'll start with a local, already altered variant that the teacher gives them). It hasn't escaped my notice that in fact the collaboration might be between author and a class of students, not just one reader.
So. Likely as not, this first version of Sophie won'tt contain this addition/substitution capability, or perhaps not to the extent I describe. But I hope it can be added to the future feature set, or hooks anyway that will enable some plug-in to provide this capability. Because this type of collaboration seems to me to be essential.
* * *

It seems a natural expectation that a book constructed of multiple units might have multiple paths through it.

In the case of this children's book, I don't expect that going from track-A-page-1 to D3 to B4, and so on, is going to provide anything useful.

But I can clearly envision publications -- a guidebook, a cookbook, a college course schedule, an anthology of poetry, a collection of photographs, the Meditations of Marcus Aurelius, the Sayings of the Desert Fathers -- in which a reader (or a teacher) may beneficially provide paths that an author overlooks. (Each of these examples of course is an instance of wholly independent units.)

In fact, I expect that Sophie's envisioneers have thought of such circumstances already, but I raise it here as a collateral issue -- collaboration with the reader must inevitably involve everything an author touches: the text, the development of the ideas, the sequence in which they are conveyed, how they are illustrated, the conclusions drawn. In a true collaboration, the author becomes something more like a director, operating perhaps at a remove (how active will the author be in reshaping the book after its publication?). Or maybe the director analogy is too strong; perhaps it's more like an organizer -- the Merry Pranksters, Christo, Lev Waleska -- who launches his/her book like a vehicle (like Voyager) and then simply rides its momentum.

Once we make the book more collaborative, we remake what it means to author a book, and the creation of a book itself may come to be something more like a play or a movie or a dance, with multiple, recognized contributors.
I'm wondering how far Sophie goes in anticipating these ideas.

Posted by roger sperberg at 1:08 PM | Comments (6) | TrackBack
Alan Wexelblat has some interesting thoughts up on Copyfight about the GAM3R 7H30RY approach to writing.
Writers, particularly new ones, are often encouraged and bouyed up by physical writer's groups, in which people co-critique works in progress. Some writing workshops/groups also include lectures from established authors and related well-known people in publishing. In SF/Fantasy, the Clarion SF&F Writers' Workshop is well known and has graduated a number of folk who have gone on to great success.

So, can this model work online? I'm dubious. One of the things that makes a good writers' group, and that makes Clarion the success it has been, is a rigorous screening process. You get into these things not just by having good intentions or a lot to say but by having valuable experience and insights to contribute. It's unclear to me how one filters the mass audience of the Web into something resembling useful wisdom.
This is not a trivial question. Already, it's all Ken can do to keep a handle on the various feedback loops spinning through the site. Separating the wheat from the chaff requires a great amount of time and attention on top of that. If we had unlimited time and resources, it would be interesting to play with some sort of collaborative filtering system for comments. What if readers had a way of advancing through a series of levels (appropriate to the game theme), gaining credibility as a respondent with each new level attained (like karma in Slashdot). These "advanced" readers would then have more authority to moderate other discussions, sharing some of the burden with the author.
On the other hand, perhaps a workshop is the wrong model. Maybe this is more like the writing of a massive wikipedia entry on games and game theory. One person writes most of it, but the audience participates in the edit and refinement process? It seems like that model might produce something more useful.
This is not headed for anything encyclopedic. Ken is still an individual voice and this book ultimately an expression of his unique critical view (the idea of writing any work of criticism collaboratively, the way one writes a Wikipedia aticle, is a little odd). But Ken is getting useful work out of his readers (who, among other things, are good at spotting typos). There's definitely some of that wiki work ethic at play.
Another thing he's after is good testimonials about what it feels like to play these games. We already got a fabulous little description of the experience of Katamari Damacy. Hopefully the first of many. So this is also another way of doing interviews for the book, in the setting most familiar to gamers talking about gaming: an online discussion forum.
Posted by ben vershbow at 2:06 AM | Comments (4) | TrackBack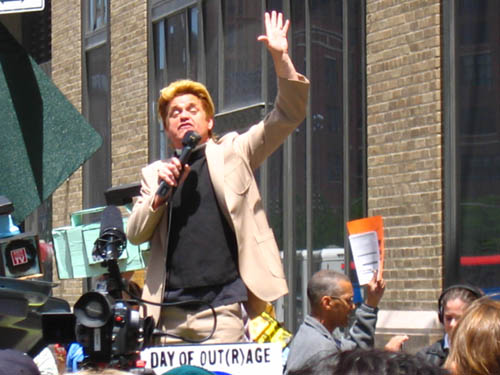 if:book took to the streets yesterday at the National Day of Out(r)age protest outside Verizon world headquarters in downtown Manhattan. Here's Reverend Billy, a local performance artist/activist who styles himself as a televangelist (he's sort of annoying, but entertaining in small doses). His cry: "accesselujah!"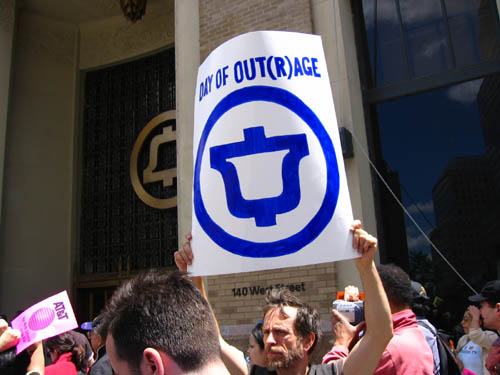 The crowd was quite small, fenced in along a single block outside the towering Verizon building. A few handfuls of grassroots media folks and other miscellanies gathered to protest the odious COPE HR5252 legislation, which threatens net neutrality and PEG (Public, Educational and Governmental) Access channels on TV. The mission is to rally one person for every telecom/cableco lobbying dollar. Judging by yesterday's turnout, things aren't looking so hot.
I kinda liked this sign though: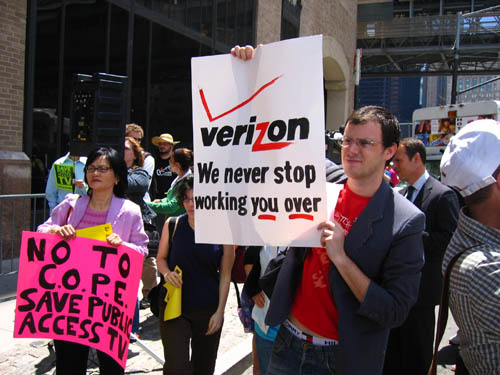 Posted by ben vershbow at 1:22 AM | Comments (1) | TrackBack
There's a fascinating thread active in the GAM3R 7H30RY forum discussing the format we've designed for reading and responding to McKenzie's book. There's a general sense of disorientation, as well as "hyperconsciousness" of one's reading and commenting behaviors within the book. I take this as a positive sign that we're pushing uncomfortably at the intersection of print and screen-based reading practices.
A particularly interesting little section:
Ray Cha: We don't generally navigate websites in the way we read books. Perhaps, what is happening is that, because networked books are still quite new to us, we are hyper-conscious of the way we read them. Once we become more familiar with the form, the technology of the form will become more transparent to us. That is, we never think about how the interface or technology of a table of content or index of a print book works. One day, it will be the same way for the networked book.

Dave Parry: I think that is part of what I find so interesting here, this hyperconsciousness provides us with the oppurtunity to make different sorts of textual interventions, and to become aware of others that might become transparent.

McKenzie Wark: This is what both attracts me to this process and scares the hell out of me. Its the change in the material and social form that makes one aware of writing and reading as practices, but then one has this giddy sense of writing and reading without the comforting handrails of the book as form.

I think it was Victor Shklovsky who said that we become aware of structure when the roof caves in.
McKenzie composed Gamer Theory in a highly modular structure, which we ran with to the extreme in the card-based design. But emphasizing the chunks in this way -- and situating it in a web browser, where people are accustomed to skipping around -- we risk giving the impression that paragraphs are self-contained, or that this is a book that can be read selectively.
But this is absolutely a linear work, with an argument that builds through the successive chapters. And so naturally we find ourselves a little confused, at times needlessly debating propositions that are elucidated in subsequent paragraphs, simply because they seemed final in the context of the card. No wonder it scares the hell out of Ken, even as he dives bravely into the unknown: give people a deck of cards and they tend to shuffle it.
Posted by ben vershbow at 6:30 PM | Comments (1) | TrackBack
Today in Boston, Chicago, New York and San Francisco.
For New Yorkers today (some of us will be there):
National Day of Out(R)age - New York City Protest
Location: Verizon World Headquarters
140 West Street at Vesey Street
Date/Time: Wednesday, May 24th 12:30-1:30 (arrive 12:15)
ACE-23 trains to Chambers St.
Organized by the saveaccess.org Coalition with Fairness and Accuracy In Reporting (FAIR), NYC Grassroots Media Coalition, Paper Tiger TV and more!.
Posted by ben vershbow at 8:05 AM | Comments (0) | TrackBack
1. National Day of Out(r)age 5/24/2006
Access to communication systems is vital for a functioning democracy. While there has been much activity on the issue in the blogosphere and in academic writing, the net neutrality movement has lacked a general public presence. saveaccess.org aims to put an end to that, by organizing the National Day of Out(r)age, Wednesday, May 24. With demonstrations in New York, Boston, Chicago and San Francisco, they are pushing for network neutrality, enforcing privacy of the public's communication, telco lobby reform, and limits to the telco industry consolidation. If you care about these as we do, make your voice known.
2. What exactly are we arguing for?
On a related topic, Susan Crawford (cyberlaw expert and one of our favorite thinkers on net neutrality) gives a good definition of net neutrality on a recent blog post. Always able to keep the big picture in focus, she notes the problem with defining net neutrality as "treating all VoIP alike, all video alike, and all blogs alike," is that someone (i.e. broadband providers) still need to look at packets. She prefers a definition where bandwidth is "treated like a utility, unbundled and open to competition, and speeds are much higher and costs are much lower."
3. Changes to the wireless landscape are coming:
Yesterday, Crawford also linked to an article in Business Week, on the upcoming government auction of more of the wireless spectrum. New comers to wireless such as, Intel, Microsoft, TimeWarner, and News Corp have been rumored to be among the interested parties of the sale of the largest block of the wireless spectrum in history. As well, smaller entities, such as Clearwire (headed by Craig McCaw, who started McCaw Celluar and eventually sold it to AT&T) and Leap Wireless are reported to be involved. A possible result could be a re-direction of the trend of consolidation, by introducing new players with potential new services. The auction is set to start on June 29, 2006, however the effects will only be known much later.
Posted by ray cha at 9:55 PM | Comments (0) | TrackBack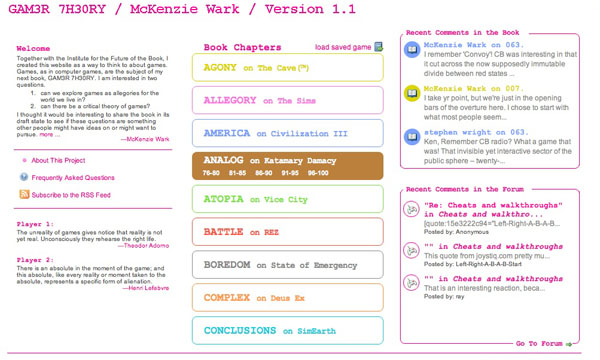 The Institute has published its first networked book, GAM3R 7H30RY 1.1 by McKenzie Wark! This is a fascinating look at video games as allegories of the world we live in, and (we think) a compelling approach to publishing in the network environment. As with Mitch Stephens' ongoing experiment at Without Gods, we're interested here in a process-oriented approach to writing, opening the book up to discussion and debate while it's still being written.
Inside the book, you'll find comment streams adjacent to each individual paragraph, inviting readers to respond to the text on a fine-grained level. Doing the comments this way (next to, not below, the parent posts) came out of a desire to break out of the usual top-down hierarchy of blog-based discussion -- something we've talked about periodically here. There's also a free-fire forum where people can start their own threads about the games dealt with in the book or about the experience of game play in general. It's also a place to tackle meta-questions about networked books and to evaluate the successes and failings of our experiment. The gateway to the forum is a graphical topic pool in which conversations float along axes of time and quantity, giving a sense of the shape of the discussion.
Both sections of GAM3R 7H30RY 1.1 -- the book and the forum -- are designed to challenge current design conventions and to generate thoughtful exchange on the meaning of games. McKenzie will actively participate in these discussions and draw upon them in subsequent drafts of his book. The current version is published under a Creative Commons license.
And like the book, the site is a work in progress. We fully intend to make modifications and add new features as we go. Here's to putting theory into practice!
(You can read archived posts documenting the various design stages of GAM3R 7H30RY 1.1 here.)
Posted by ben vershbow at 7:26 AM | Comments (2) | TrackBack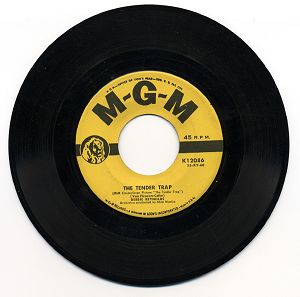 I often find myself talking to people about their relationships to books and printed matter. I wonder out loud, if we are the transitional (read: last) generation who will revere both print and screen. Because books have been the primary mode of storing and communicating knowledge for over five hundred years, we have a strong attachment to print text. The shift to from the page to the digital, and all its implications are difficult to grasp. Through these conversations, I have found that modern recorded music and especially the vinyl record, are useful cultural reference points for myself and others in understanding how media technology evolves and our preferences with it. For people born before, say the Reagan administration, they mostly likely have bought and used a variety of recorded music media, including vinyl records and audio cassette tapes. Further, they generally know people born during or after the Reagan administration who have never played, owned and even heard a LP record. This point demonstrates how we have witnessed the conversion of media technology from the analogue to the digital. Further, we can clearly see a subsequent generation who has a very different relationship to recorded music, rooted in a solely digital frame of reference.
The evolution and adoption of recorded music technology have occurred over a compressed period of time as compared to the historic primacy of the book. Early movable type was available in China in the 11th century. The invention of the printing press in the 15th century gives print a legacy that dwarfs the 20th century dominance of the vinyl record. It is not surprising that print is more entrenched in our culture. The vinyl record was able to be inexpensively mass produced, although vinyl records were fragile and their players were not easily transportable. New media technologies and formats appeared. In one case, the audio cassette tape complemented the LP, because the format and player was smaller and portable, and you could also make recordings on them. In another case of the digital CD, LPs were replaced because CDs had higher quality sound and did not scratch as easily as vinyl. We should also note that some technologies failed, such as the 8 track, which did not gain traction and faded to the background of ironic 70s pop culture references. This reminds us that we need to take each "next great" invention with a healthy bit of skepticism. Because the transitions from LPs to CDs and now to MP3s occurred in a span of twenty years, we have the benefit of living through the shifts. Therefore, the transition is less disconcerting even if its transition is not complete or fully understood. The current shift from CD to MP3 introduces us to a host of transitional issues that we will soon face with print books.
With the MP3, recorded music no longer has a physical form, just as digital text no longer embodies the physical page. Music's transition from the analogue to the digital is far from complete. Musicians, distributors, and listeners are still adapting to the changes that going digital is causing. Musicians have new methods of recording and are experimenting with new ways reaching their audiences. Distributors of music are struggling to develop new business models in the digital, online and networked world. Listeners have a new relationship with music, now that they can access their entire music collection from an iPod. Music's pioneering shift to the digital shows what lies ahead for the digital book in many ways. For example, we are learning from initial applications of DRM, including Apple restrictions on songs bought in the iTunes Music Store, Sony's disastrous attempt to deploy its DRM Rootkit and Sun's Open DRM initiatives. Some ideas will work, and some will not. These early implementations of DRM will certainly inform how it is applied to digital texts.
| | |
| --- | --- |
| | |

We can also see how the aspects of these older forms reappear in interesting ways. This continuity removes some of the disorientation that occurs in any period of transition. In middle school, I bought my first 45 single, the theme song from Beverly Hills Cop, "Axel F" by Harold Faltermeyer. As a format, the 45 single had its height of popularity in the 50s and 60s. In the 1970s, recording industry shifted their focus on creating and promoting album-oriented music. Today, the emergence of the MP3 music file marked the return of the single. As the preferred format for buying and downloading MP3s, tastes have cycled back to popularize the single in a digital form. Further, we maintain our nostalgia for the plastic insert that 45s required to be able to be played on LP record players. Nostalgia and forms reappearing is a common occurrence in the evolution of media.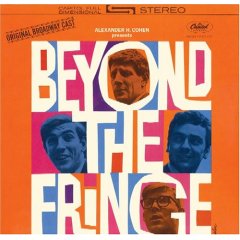 Likewise, despite the fact that the LP is no longer as widely produced and used as it once was, it still has cultural relevance. Looking at the LP shows glimpses of a possible future for the print book in the digital age. One future of the print book, which Bob has mentioned, is the book as art object. This transformation is being foretold by the transformation of the vinyl LP as art object. The vinyl LP for newly recorded music is now a niche market. The only people I know, who still actively purchase vinyl records are DJs and indie rock purists. For the rest of us, we have moved on to CDs and MP3s. I have not owned a record player in years. However, if you go into my bedroom, you will see LPs prominently displayed. I have two (different) original "Beyond the Fringe" cast recordings of LPs hanging on my wall. Within these frames, the vinyl record is now an art object. Partially because the CD jewel box is much smaller, the LP is able to leverage its size and proportion of its record cover to maintain relevance of an cultural artifact. The Equator Bookstore in Los Angeles has taken a similar attitude towards the book. Their website explains that "all books are hand-picked by ownership and are sold in collectable condition, cleaned and wrapped in protective archival covering." Thus, the owners are curating a collection of archival objects. They sell books as art objects, akin to the records hanging on my walls. (Although, interestingly, they also have a small publishing arm, which suggests that they are interested in publishing the book art object of the future.)
Because we have seen a radical shift in the ways people listen to music within our own lifetime, we can apply this experience to our understanding of the older, more entrenched and slower to adapt form of the book. Through this process, we see that we will maintain our attachments to older forms of media. Through nostalgia, transformation, repurposing of these beloved forms, a legacy is sustained. This occurrence should come as no surprise, as media, technology and culture has always been built upon older iterations of itself.
Posted by ray cha at 3:14 PM | Comments (2) | TrackBack
The other day, Ben's recent post on the "Novel Twists" and the "exquisite corpse" got us talking for a minute or two, on some children books loosely based on the "exquisite corpse." The conversation got me reminiscing about other forms of children's books that pushed the conventions of the book while remaining within confines of the printed page. In retrospect, as we gain clarity on the present and near future of digital books, I appreciate how for years, authors felt a need to overcome the limitations of the print book. While these books are not digital they do add interactivity to the experience, by both exploring interfaces and giving over some control to the reader.
Here is a quick run down of a few examples. (The format takes a cue from Ben's post on the networked book.)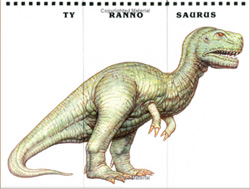 Mix and Match
Based on the idea of the "exquisite corpse," these spiral bound books allow readers to combine various pages to creating their own images. In this example, the reader invents new dinosaurs, complete with remixed names. The spiral binding encourages the idea of ever turning pages. Thus, this non-linear book is not designed to be read front to back, but rather it is designed to be played with.

Pop - Up Book
My earliest memory of a pop-up book was from "Star Wars," this gem from the late 70s is still available on ebay. Mark Hiner, a self-described "Paper Engineer" has build a great website on pop-up books, showing samples, an historical overview of pop-up books, as well as, instructions on creating your own. Pop-Up Books break the conventions of the static two dimensional page. Although, they still read linearly, pop-up books break into three dimensions, and add interactivity by including tabs to pull which create movement in a pop-up figure.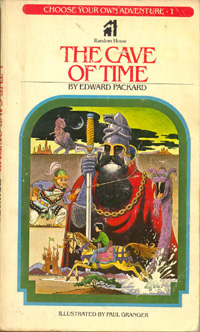 Choose Your Adventure
These pre-cursors to hyper-linked fiction were a big fad when they were first published in the late 70s and early 80s. In these books, readers are presented with the opportunity to chose the direction of the narrative. After a situation is described over a few pages, the reader is offered paths in a forking narrative. Each choice had a different page number, and the reader went to the correct page and proceeded with his selected narrative. I spent many hours reading and re-reading books from this classic series. In what was most likely my first attempt to "game the system" I recall finding an "ending" I liked, and working backwards to figure out how to get there. Reading in this way also lead to my first experience at reading a book backwards.
I have many memories of reading these kinds of books. Print books of this nature, however, are inevitably regulated to the realm of children. As I grew older and my reading became more "sophisticated," the books I read stopped including these innovative features. In the case of fiction, pictures and illustrations were also eventually eliminated. Although, I do understand the idea that at times, visuals can become a crutch, which allow authors to become lazy with their writing. I must further admit that I was pleased to see visual representations of handwriting and letters from a "hangman" game included in David Mitchell's Black Swan Green, a "serious" work of fiction. They were used sparingly and appropriately. Perhaps, the author felt these breaks in formalism were allowed as a special case because the book's narrator is a thirteen year old boy.
I find it wonderfully ironic that we can look at these books for children for insight on the transition from printed page to screen, even-though these examples are still bounded by the technology of paper. By reflecting upon spiral binding, 3D pages, and hyper-linked pages, we are informed as we move further into the digital. What will the result be as mix and match books closer towards the original Surrealist game, where readers can include their own "parts?" How will pop-up books evolve with the integration of sound and video? Which hyper-linked fiction work, foreshadowed by Choose Your Adventure books, will become the first New York Times best seller?
Posted by ray cha at 8:28 AM | Comments (2) | TrackBack
In the New York Times own book discussion forum, one rirutsky opines eloquently on the problems with Kelly's punch-drunk corporate optimism:
...what I find particularly problematic is the way that Kelly's "analysis"--as well as most of the discussion of it--omits any serious mention of what is actually at stake in the utopian scheme of a universal library (which Borges, by the way, does not promote, but debunks). It has little to do with enabling creativity, but rather, with enabling greater corporate profits. Kelly is actually most close to the mark when [he] characterizes the conflict over digital books as a conflict between two business models. Of course, one gets the impression from some of Kelly's writings that for him business and creativity are more or less the same thing....

....A more serious consideration of these issues would move away from the "old" binary antagonisms that Kelly outlines (surely, these are a relic of a pre-digital age) and think seriously about how society at large is changed by digital technologies and techniques. Who has the right to copy or to make use of data and who does not? In a world of such vast informational clutter, doesn't power accrue to those who can afford to advertise? It is worth remembering, too, that searching is not, after all, a value-free operation. Who ultimately will control the searching and indexing of digital information? Should the government--or private corporations--be allowed to data mine the searches that people make? In short, who benefits and who loses from these technological changes? Where, precisely, is power consolidated?

Kelly does not even begin to deal with these sorts of serious social issues.
And from a typically immense Slashdot thread (from highlights conveniently collected by Branko Collin at Teleread) -- this comes back to the "book is reading you" question:
Will all these books and articles require we login to view them first? I think having every book, article, movie, song, etc available for use anytime is a great idea and important for society but I don't want to have to login and leave a paper trail of everything I'm looking at.
And we have our own little thread going here.
Posted by ben vershbow at 3:40 PM | Comments (1) | TrackBack
Phil McArthur is not a writer. But while recovering from a recent fight with cancer, he began to dream about producing a novel. Sci-fi or horror most likely -- the kind of stuff he enjoys to read. But what if he could write it socially? That is, with other people? What if he could send the book spinning like a top and just watch it go?
Say he pens the first page of what will eventually become a 250-page thriller and then passes the baton to a stranger. That person goes on to write the second page, then passes it on again to a third author. And a fourth. A fifth. And so on. One page per day, all the way to 250. By that point it's 2007 and they can publish the whole thing on Lulu.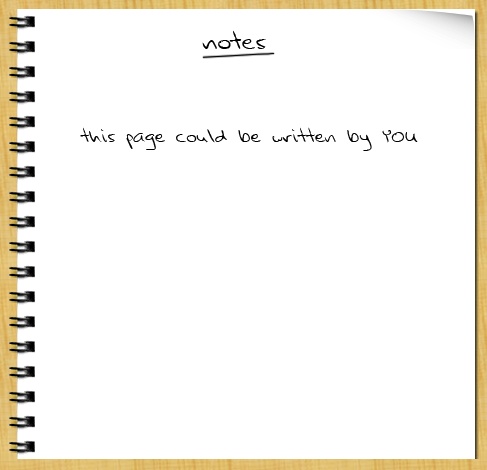 The fruit of these musings is (or will be... or is steadily becoming) "Novel Twists", a ongoing collaborative fiction experiment where you, I or anyone can contribute a page. The only stipulations are that entries are between 250 and 450 words, are kept reasonably clean, and that you refrain from killing the protagonist, Andy Amaratha -- at least at this early stage, when only 17 pages have been completed. Writers also get a little 100-word notepad beneath their page to provide a biographical sketch and author's notes. Once they've published their slice, the subsequent page is auctioned on Ebay. Before too long, a final bid is accepted and the next appointed author has 24 hours to complete his or her page.
Networked vanity publishing, you might say. And it is. But McArthur clearly isn't in it for the money: bids are made by the penny, and all proceeds go to a cancer charity. The Ebay part is intended more to boost the project's visibility (an article in yesterday's Guardian also helps), and "to allow everyone a fair chance at the next page." The main point is to have fun, and to test the hunch that relay-race writing might yield good fiction. In the end, McArthur seems not to care whether it does or not, he just wants to see if the thing actually can get written.
Surrealists explored this territory in the 1920s with the "exquisite corpse," a game in which images and texts are assembled collaboratively, with knowledge of previous entries deliberately obscured. This made its way into all sorts of games we played when we were young and books that we read (I remember that book of three-panel figures where heads, midriffs and legs could be endlessly recombined to form hilarious, fantastical creatures). The internet lends itself particularly well to this kind of playful medley.
Posted by ben vershbow at 2:30 AM | Comments (2) | TrackBack

The Institute is on the cover of Library Journal this week! A big article called "The Social Life of Books," which gives a good overview of the intersecting ideas and concerns that we mull over here daily. It all started, actually, with that little series of posts I wrote a few months back, "the book is reading you" (parts 3, 2 and 1), which pondered the darker implications of Google Book Search and commercial online publishing. The article is mostly an interview with me, but it covers ideas and subjects that we've been working through as a collective for the past year and a half. Wikipedia, Google, copyright, social software, networked books -- most of our hobby horses are in there.
I also think the article serves as a nice complement (and in some ways counterpoint) to Kevin Kelly's big article on books and search engines in yesterday's New York Times Magazine. Kelly does an excellent job outlining the thorny intellectual property issues raised by Google Book Search and the internet in general. In particular, he gives a very lucid explanation of the copyright "orphan" issue, of which most readers of the Times are probably unaware. At least 75% of the books in contention in Google's scanning effort are works that have been pretty much left for dead by the publishing industry: works (often out of print) whose copyright status is unclear, and for whom the rights holder is unknown, dead or otherwise prohibitively difficult to contact. Once publishers' and authors' groups sensed there might finally be a way to monetize these works, they mobilized a legal offensive.
Kelly argues convincingly that not only does Google have the right to make a transformative use of these works (scanning them into a searchable database), but that there is a moral imperative to do so, since these works will otherwise be left forever in the shadows. That the Times published such a progressive statement on copyright (and called it a manifesto no less) is to be applauded. That said, there are other things I felt were wanting in the article. First, at no point does Kelly question whether private companies such as Google ought to become the arbiter of all the world's information. He seems pretty satisfied with this projected outcome.
And though the article serves as a great introduction to how search engines will revolutionize books, it doesn't really delve into how books themselves -- their form, their authorship, their content -- might evolve. Interlinked, unbundled, tagged, woven into social networks -- he goes into all that. But Kelly still conceives of something pretty much like a normal book (a linear construction, in relatively fixed form, made of pages) that, like Dylan at Newport in 1965, has gone electric. Our article in Library Journal goes further into the new networked life of books, intimating a profound re-jiggering of the relationship between authors and readers, and pointing to new networked modes of reading and writing in which a book is continually re-worked, re-combined and re-negotiated over time. Admittedly, these ideas have been developed further on if:book since I wrote the article a month and a half ago (when a blogger writes an article for a print magazine, there's bound to be some temporal dissonance). There's still a very active thread on the "defining the networked book" post which opens up many of the big questions, and I think serves well as a pre-published sequel to the LJ interview. We'd love to hear people's thoughts on both the Kelly and the LJ pieces. Seems to make sense to discuss them in the same thread.
Posted by ben vershbow at 11:21 AM | Comments (14) | TrackBack
If you want to learn how to draw comics you can go to the art section of any bookstore and pick up books that will tell you how to draw the marvel way, how to draw manga, how to draw cutting edge comics, how to draw villains, women, horror, military, etc. But drawing characters is different than making comics. Will Eisner was the generator of the term 'sequential art' and the first popular theory of comics. Scott McCloud is his recent successor. Eisner created the vocabulary of sequential art in his long-running course at the School of Visual Arts in NYC. McCloud helped a generation of comic book readers grasp that vocabulary in Understanding Comics, by creating a graphic novel that employed comic art to explain comic theory. But both Eisner and McCloud wrote about a time when comic delivery was bound to newspapers and twenty-two page glossy, stapled pages.
Whither the network? McCloud treats the possibilities of the Internet in his second book, Reinventing Comics, but mostly as a distribution mechanism. We shouldn't overlook the powerful affect the 'net has had on individual producers who, in the past, would have created small runs of photocopied books to distribute locally. Now, of course, they can put their panels on the web and have a potential audience of millions. Some even make a jump from the web into print. Most web comics are sufficiently happy to ride the network to a wider audience without exploring the 'net as vehicle to transform comics into uniquely non-print artifacts with motion, interactivity, sound.
But how might comics mutate on the web? At the recent ITP Spring show I saw a digital comics project from Tracy Ann White's class. The class asks the question: "What happens when comics evolve from print to screen? How does presentation change to suit this shift?" Sounds like familiar territory. White, a teacher at ITP, has been a long time web comic artist (one of the first on the web, and certainly one of the first to incorporate comments and forums as part of the product.
When I did a little research on her, I found an amazing article on Webcomics Review discussing the history of web comics. (There's also more from White there.) There has been some brilliant work done, making use of scrolling as part of the "infinite canvas," but more importantly, work that could have no print analog due the incorporation of sound and motion. The discussion in Webcomics Review covers all of the transformative effects of online publishing that we talk about here at the Institute: interlinking, motion, sound, and more profoundly, the immediacy and participative aspects of the network. As an example, James Kochalka, well known for his Monkey vs. Robot comics and a simplistic cartoon style, publishes An American Elf. The four panel personal vignette is published daily-blogging with comics.
Other ground breaking work: Nowhere Girl by Justine Shaw, a long form graphic novel that proved that people will read lengthy comics online. Apocamon by Patrick Farley, is a mash up of Pokemon and The Book of Revelations. There is a well known series of bible stories in comic strip format - this raises that tradition to the level of heavenly farce (with anime). Apocamon judiciously uses sound and minor animation effects to create a rich reading experience, but relies on pages—a mode immediately familiar to comic book readers. The comics on Magic Inkwell (Cayetano Garza) use music and motion graphics in a more experimental way. And in Broken Saints we find an example where comic conventions (words in a comic style font, speech bubbles, and sequential images) fade into cinema.
As new technology enables stylistic enhancements to web comics, the boundaries between comics and other media will become more blurred. White says, "In terms of pushing interactive storytelling online games are at the forefront." This is true, but online games dispense with important conventions that make comics comics. The next step for online comics is to enhance their networked and collaborative aspect while preserving the essential nature of comics as sequential art.
Posted by jesse wilbur at 5:00 PM | Comments (4) | TrackBack
The Berkman Center for Internet & Society at Harvard Law School held the "Bloggership Symposium" on April 28,2006. The first event of its kind looked at how blogs are changing law school, legal scholarship and the practice of law by inviting leading law professor blogger to present papers, that can be found on the Social Science Research Network. The paper topics range from libel, tenure, and scholarship trade-offs. We have been advocates for experimenting with new forms of academic scholarship, and I am glad to be see that various disciplines are beginning to acknowledge and study this evolution as well.
Posted by ray cha at 12:36 AM | Comments (0) | TrackBack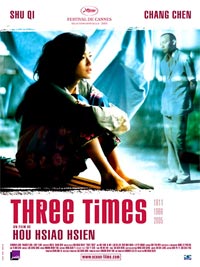 This past weekend, I saw a remarkable film: "Three Times," by Taiwanese director Hou Hsiao-hsien. It's a triptych on love set in Taiwan in three separate periods -- 1966, 1911, and 2005 -- each section focusing on a young man and woman, played by the same actors. Hou does incredible things with time. Each of the episodes, in fact, is a sort of study in time, not just of a specific time in history, but in the way time moves in love relationships. The opening shots of the first episode, "A Time for Love," announce that things will be operating in a different temporal register. Billiard balls glide across a table. You don't yet understand the rules of the game that is being played. Characters gradually emerge and the story unfolds through strange compressions and contractions of time that comprise a weird logic of yearning.
This is the first of Hou's films that I've seen (it's only the second to secure an American release). I was reminded of Tarkovsky in the way Hou uses cinema to convey the movement of time, both across the eras and within individual episodes. There's much to say about this film, and I hope to see it again to better figure out how it does what it does. The reason I bring it up here is that the third story -- "A Time for Youth," set in contemporary Taipei -- contains some of the most profound and visually arresting depictions of the mediation of intimate relationships through technology that I've ever seen. Cell-phones and computers have been popping up in movies for some time now, usually for the purposes of exposition or for some spooky haunted technology effect, like in "The Matrix" or "The Ring." In "Three Times," these new modes of contact are probed more deeply.
The story involves a meeting of an epileptic lounge punk singer and an admiring photographer, while the singer's jilted female lover lurks in the margins.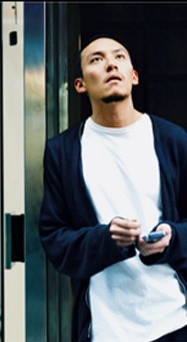 Hou weaves back and worth between intense face-to-face meetings and asynchronous electronic communication. At various times, the screen of the movie theater (the IFC in Greenwich Village) is completely filled with an extreme close-up of a cell-phone screen or a computer monitor, the text of an SMS or email message as big as billboard lettering. The pixelated Chinese characters are enormous and seem to quiver, or to be on the verge of melting. A cursor blinking at the end of an alleged suicide note typed into a computer is a dangling question of life and death, or perhaps just a sulky dramatic gesture.
What's especially interesting is that the most expressive speech in "A Time for Youth" is delivered electronically. Face-to-face meetings are more muted and indirect. There's an eerie episode in a nightclub where the singer is performing on stage while the photographer and another man circle her with cameras, moving as close as they can without actually touching her, shooting photos point blank.
But it was the use of screens that really struck me. By filling our entire field of vision with them -- you almost feel like you're swimming in pixels -- Hou conveys how tiny channels of mediated speech can carry intense, all-consuming feeling. The weird splotchiness of digital text at close range speaks of great vulnerability. Similarly, the revelation of the singer's epilepsy is not through direct disclosure, but happens by accident when she leaves behind a card with instructions for what to do in case of a seizure, after spending the night at the photographer's apartment. This all strikingly follows up the previous episode, "A Time for Freedom," which is done as a silent film with all the dialogue conveyed on placards.
It's one of those things that suddenly you viscerally understand when a great artist shows you: how these technologies spin a web of time around us, sending voices and gestures across space instantly, but also placing a veil between people when they actually share a space. In many ways, these devices bring us closer, but they also fracture our attention and further insulate us. Never are you totally apart, but seldom are you totally together.
"Three Times" is currently out in a few cities across the US and rolling out progressively through June in various independent movie houses (more info here).
Posted by ben vershbow at 1:23 PM | Comments (2) | TrackBack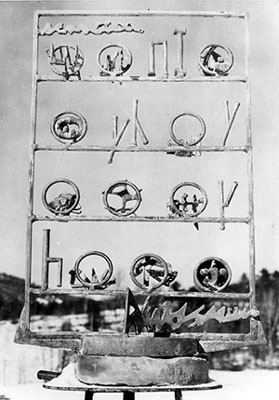 Last weekend, I found myself in the familiar position of racing to catch a long-running art show before it closed. This time it was the David Smith retrospective at the Guggengheim. (The show ends on May 14th.) The collection includes sculptural nods to Abstract Expressionism and Surrealism, as well as, foreshadowing Minimalism. Once an ironmonger, Smith employs found objects, he molds and welds into sculpture influenced as much by painting as the traditions of sculpture. While I generally prefer his larger scale pieces he produced late in his career, I was struck by a fascinating mid-career piece entitled, "The Letter" (1950).
The sculpture is a representation of a letter, that begins with a salutation in the upper right hand corner and closes with a signature. A range of theories abound to its meaning. Are the glyphs letters, words, human figures, or scenes? Is this a letter to his wife? One art historian suggests the text references a line from Wonderful Town and about leaving the state Ohio, where Smith spent part of this youth.
Or could it be a response to an author's writing? The audio tour offered interpretations of a hint to the work of James Joyce that Smith gave in an interview. Listening to these following quotes from Joyce's Finnegans Wake (0:40 - 1:16 of the audio fiie) while looking at the piece, I see and hear relevance to our work at the institute.
"ruled barriers, along which the traced words run, march, halt, walk, stumble"
and
"lines of litters slittering up and louds of ladders slettering down"
Whether it is our overarching discussion of the shift of print text to the computer screen or an overheard criticism of the latest sacrilegious film adaptation of a beloved book, the evolution of text beyond the printed page is clearly a dynamic process. We are aided when any creative mind can demonstrate these emerging relationships in a meaningful way.
In "the Letter," Smith coyly reveals partial hints to the artist's intentions, freeing the viewer to create her own insights. Smith is able to simultaneously display a multitude of reflections of meaning, with each suggestion containing a seemingly direct message to the viewer (as seen by the wide ranging interpretations.) Although the iconography could and does represent letters, words and bodies, I remain continuously enamored with the Joycian interpretation.
In that, Smith transforms a book into a sculpture. "The Letter" is bounded like a book, but within those boundaries, the gestures of abstracted forms (rather than letters), the use of open space, and the three dimensionality of the work surpasses that which it mimics. Further, the abstracted sculptural forms with their multiple readings comment upon the various meanings we take from words, which are also open to multiple readings. Therefore, Smith's vision leaves us with a physical object that embodies not just the words, themes, and emotions of the book (that is the content), but also comments on the limitations of the book as an object (or vessel which holds the content).
Smith's work, now 56 years old, seemingly poses to us two challenges. First, when we translate print text into the digital or create born-digital books, "the Letter" reminds us that in deciding to keep or reject aspects of both the content and the vessel of the traditional book, we must be conscious of the choices we make in that process. What are we willing to sacrifice in order to achieve something greater? Second, it asks us to look at these new forms with eyes unfettered by past conventions and to focus on, appreciate, and take advantage of the potentials of the new medium.
Posted by ray cha at 10:10 AM | Comments (3) | TrackBack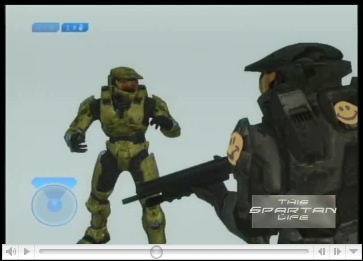 This Spartan Life, our favorite talk show in Halo space, just posted a hilarious video blog entry making the case for network neutrality. In some ways, this is the perfect medium for illustrating a threat to virtual spaces, conveying more in a couple of minutes than several weeks worth of op-eds. Enjoy it now before the party's over.
(In case you missed it, here's TSL's interview with Bob.)
Posted by ben vershbow at 4:18 PM | Comments (2) | TrackBack
In his op-ed piece today, NY Times columnist, Paul Krugman, quotes from the Wikipedia to define conspiracy theory:
A conspiracy theory, says Wikipedia, "attempts to explain the cause of an event as a secret, and often deceptive, plot by a covert alliance."
This is the first time I've seen the Wikipedia used as an authoritative reference in the Times or any other major media outlet.
Posted by bob stein at 7:10 AM | Comments (1) | TrackBack
With the coming release of Sophie and our recent attendence at the Access 2 Knowledge conference, I find myself thinking about open source software development. The operating system Linux is often used as the shining example of the open source software movement. Slashdot reported an interesting ZDNet UK article, which quoted the head maintainer of the Linux production kernal, Andrew Morton, saying that he is concerned about the large number of long standing bugs in the 2.6 kernal. Software always has bugs being worked out, even the long standing ones that Morton describes. Therefore, the statement is not all that shocking or surprising.
What intrigued me was this following statement:
"One problem is that few developers are motivated to work on bugs, according to Morton. This is particularly a problem for bugs that affect old computers or peripherals, as kernel developers working for corporations don't tend to care about out-of-date hardware, he said. Nowadays, many kernel developers are employed by IT companies, such as hardware manufacturers, which can cause problems as they can mainly be motivated by self-interest.
"If you're a company that employs a kernel maintainer, you don't have an interest in working on a five-year-old peripheral that no one is selling any more. I can understand that, but it is a problem as people are still using that hardware. The presence of that bug affects the whole kernel process, and can hold up the kernel -- as there are bugs, but no one is fixing them," said Morton.
Keeping contributors motivated is crucial to open source endeavors. Reputation is a major factor in what drives people to submit code to the Linux development team. In retrospect, the importance of adding code for new features over adding mundane code for bug fixes, as part of reputation building makes sense. The street cred for fixing old bugs does not seem to be sexy enough; eventhough, some of these bugs could have long term effects on the quality of the Linux OS.
Are there solutions? One solution posited by Morton is to dedicate the entire next release to fixing long standing bugs. Although it is not clear to me how open source developers would react to this constraint. Another solution might try to expand the talent pool by encouraging young, gifted (even student) programmers to work on the bugs. Their motivations might be different from current developers, and any kind of participation might offer enough motivation.
Open source software development is still a fairly new phenomenon and is far from being completely understood. As we see more clearly how motivation factors work and what they produce in the open source production model, it will be increasingly important to document, analyze and learn from these observations. The future sustainability for open source software will rely on learning how to best maintain the developers' incentives to contribute code. Therefore, we must remind ourselves that the open source development movement is something that must be continuously nurtured. And while we can cite Linux as a success story, the project itself is not on autopilot, nor will it ever be.
Posted by ray cha at 7:06 AM | TrackBack
Ray, Bob and I spent last week out in Los Angeles at our institutional digs (the Annenberg Center for Communication at USC), where we held a pair of meetings with professors from around the US and Canada to discuss various coups we are attempting to stage within the ossified realm of scholarly and textbook publishing. Following these, we were able to stick around for a fun conference/media festival organized by Annenberg's Networked Publics project.
The conference was a mix of the usual academic panels and a series of curated mini-exhibits of "do-it-yourself" media, surveying new genres of digital folk art currently proliferating across the net such as political remix movies, anime music videos, "digital handmade" art projects (which featured the near and dear Alex Itin -- happy birthday, Alex!), and of course, machinima: films made inside of video game engines.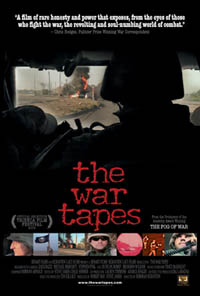 As we enjoyed this little feast of new media, I was vaguely aware that the Tribeca film festival was going on back in New York. As I casually web-surfed through one of the panels -- in the state of continuous partial attention that is now the standard state of being all these networky conferences -- I came across an article about one of the more talked about films appearing there this year: "The War Tapes." Like Gunner Palace and Occupation Dreamland, "The War Tapes" is a documentary about American soldiers in Iraq, but with one crucial difference: all the footage was shot by actual soldiers.
Back in 2004, director Deborah Scranton gave video cameras to ten members of the New Hampshire National Guard who were about to depart for a yearlong tour in Iraq. They went on to shoot a combined 800 hours of film, the pared-down result of which is "The War Tapes." Reading about it, I couldn't help but think that here was a case of real-life machinima. Give the warriors cameras and glimpse the war machine from the inside -- carve out a new game within the game.
Granted, it's a far from perfect analogy. Machinima involves a total repurposing of the characters and environment, foregoing the intended objectives of the game. In "The War Tapes," the soldiers are still on their mission, still within the chain of command. And of course, war isn't a video game. But isn't it advertised as one?
Time Square, New York City (the military-entertainment complex)
There's something undeniably subversive about giving cameras to GIs in what is such a thoroughly mediated war, a sort of playing against the game -- if not of the game of occupation as a whole, then at least the game of spin. "I'm not supposed to talk to the media," says one soldier to Steve Pink, one of the film's main subjects, as he attempts to conduct an interview. To which Pink replies: "I'm not the media, dammit!"
In the clips I found on the film's promotional site (the general release is later this summer), the overriding impression is of the soldiers' isolation and fear: the constant terror of roadside bombs, frantic rounds fired into the green night-vision darkness, swaddled in helmets and humvees and hi-tech weaponry. It's a frightening game they play. Deeply impersonal and anonymous, and in no way resembling the pumped-up, guitar-screeching game that the military portrays as war in its recruiting ads. This is the horrible truth at the bottom of the "Army of One" slogan: you are a lone digit in a massive calculation. Just pray you don't become a zero.
Yet naturally, they find their own games to play within the game. One clip shows the tiny, gruesome spectacle of two soldiers, in a moment of leisure, pitting a scorpion against a spider inside a plastic tub, reenacting their own plight in the language of the desert.
At the Net Publics conference, we did see see one example of genuine machinima that made its own spooky commentary on the war: a hack of Battlefield 2 by Swedish game forum Snoken that brilliantly apes the now-famous Sony Bravia commercial, in which 250,000 colored plastic balls were filmed cascading through the streets of a San Francisco.
Here's Battlefield:
And here's the original Sony ad:
McKenzie Wark doesn't address machinima in GAM3R 7H30RY (which launches in about a week), but he does discuss video games in the context of the "military entertainment complex": the remaking of postmodern capitalist society in the image of the digital game, in which every individual is a 1 or a 0 locked in senseless competition for advancement through the levels, each vying to "win" the game:
The old class antagonisms have not gone away, but are hidden beneath levels of rank, where each agonizes over their worth against others in the price of their house, the size of their vehicle and where, perversely, working longer and longer hours is a sign of winning the game. Work becomes play. Work demands not just one's mind and body but also one's soul. You have to be a team player. Your work has to be creative, inventive, playful - ludic, but not ludicrous.
Video games (which can actually be won) are allegories of this imperfect world that we are taught to play like a game, as though it really were governed by a perfect (and perfectly fair) algorithm -- even the wars that rage across its hemispheres:
Once games required an actual place to play them, whether on the chess board or the tennis court. Even wars had battle fields. Now global positioning satellites grid the whole earth and put all of space and time in play. Warfare, they say, now looks like video games. Well don't kid yourself. War is a video game - for the military entertainment complex. To them it doesn't matter what happens 'on the ground'. The ground - the old-fashioned battlefield itself - is just a necessary externality to the game. Slavoj Zizek: "It is thus not the fantasy of a purely aseptic war run as a video game behind computer screens that protects us from the reality of the face to face killing of another person; on the contrary it is this fantasy of face to face encounter with an enemy killed bloodily that we construct in order to escape the Real of the depersonalized war turned into an anonymous technological operation." The soldier whose inadequate armor failed him, shot dead in an alley by a sniper, has his death, like his life, managed by a computer in a blip of logistics.
How does one truly escape? Ultimately, Wark's gamer theory is posed in the spirit that animates the best machinima:
The gamer as theorist has to choose between two strategies for playing against gamespace. One is to play for the real. (Take the red pill). But the real is nothing but a heap of broken images. The other is to play for the game (Take the blue pill). Play within the game, but against gamespace. Be ludic, but also lucid.
Posted by ben vershbow at 9:26 AM | Comments (1) | TrackBack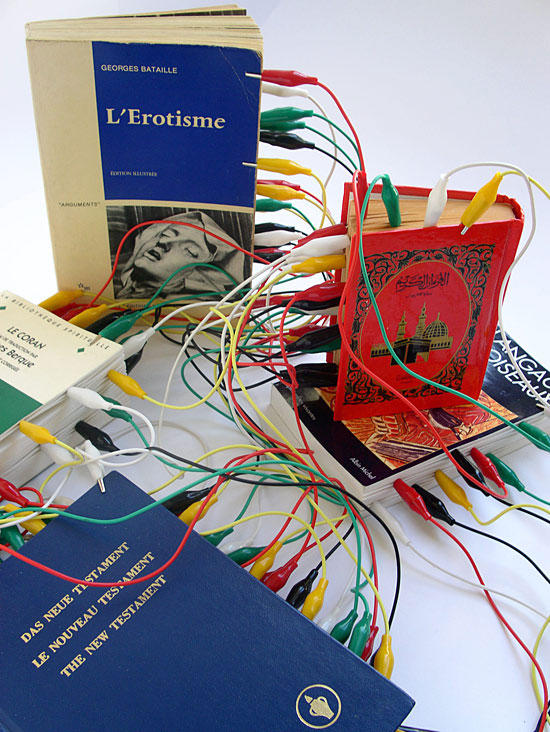 This is the "cover" (it's an email mag) of the latest issue of artkrush. Part of a 2004 installation by Moroccan artist Mounir Fatmi called "The Connections."
Connections is the outcome of a reflection which began in the early Nineties, at the time of the war in the Gulf.... At that time, the operations Desert Storm and Desert Fox, preceding the last operation which could be named "Desert, full stop", established the era of a media oriented war, therefore a war of image, on the very spot of the Revelation, that of the three sacred books, a historic place dedicated to communication. They clearly showed the lack of means of communication and even the lack of communication power of the Arab countries as well as the resurgent fear of technology.

In our calendar, that of Hegira, we are today in 1420, eternally nomads. Our roots are clearly set in the future, as the Arab poet Adonis wrote it. For me, it is an attempt to enter this desert, this collective memory, to remove sand from objects which may lose their identity through the changing of material but will still keep their memory.
A recent comment from Adam Greenfield, author of the just-published "Everyware: The Dawning Age of Ubiquitous Computing," seems apropos:
I've become all but unable to think of the objects around me except in terms of Actor-Network theory, as sort of depositions or instantiations of a great deal of matter, energy and information moving through the world. And of course, a book is nothing but a snapshot in that regard; you have to do a lot of extra work if you want to prise out and examine the flows it is a part of, or even those it has set up.
Posted by ben vershbow at 10:28 AM | Comments (1) | TrackBack
As Jesse posted earlier, we attended the Access 2 Knowledge Conference 2006. It was informative and we got a chance to listen to and talk with a great variety of people working in this area.
One very important issue that was surprisingly only raised on occasion and receives even less coverage in the mainstream media is the Treaty for the Protection of the Rights of Broadcasting, Cablecasting and Webcasting Organizations being presented this week at the World Intellectual Property Organization (WIPO) in Geneva. A panelist at A2K, Jamie Love, who is from the Consumer Project on Technology posted on the Huffingpost last year on this treaty. CPT is a great resource for drafts of the Treaty and well as analysis from various media covering the issue. Thiru Balasubramaniam also gives a good update on the controversial treaty.
The proposed treaty seeks to add a new layer of IP over any broadcast media, including the media delivered via the Internet. Here, webcasting refers to not only the colloquial meaning for streaming video but also the general transmission of web content over the Internet. Love notes that this treaty grants to webcasters IP rights over what they transmit, which is "separate and in addition to the rights (if any) of copyright owners." Therefore, webcasters would retain rights over even material in the public domain.
Love further gives this explaination:
"If you download a file from the Internet, you would have to get the permission of the web page operator before you could republish the data elsewhere. This permission would be in addition to any permissions you would need from the actual copyright owner, and it would even be required if you are seeking to publish something that was either in the public domain under copyright law, or that had been licensed for distribution under something like a creative commons license."
This treaty would dramatically change the IP landscape of broadcasting. Aside from the fact that the treaty would give rights to broadcasters that never existed before in the US, its passage would severely limit the democratic culture of self publishing that made the Internet important in the first place.
Posted by ray cha at 8:05 AM | Comments (0) | TrackBack
The networked book, as an idea and as a term, has gained currency of late. A few weeks ago, Farrar Straus and Giroux launched Pulse , an adventurous marketing experiment in which they are syndicating the complete text of a new nonfiction title in blog, RSS and email. Their web developers called it, quite independently it seems, a networked book. Next week (drum roll), the institute will launch McKenzie Wark's "GAM3R 7H30RY," an online version of a book in progress designed to generate a critical networked discussion about video games. And, of course, the July release of Sophie is fast approaching, so soon we'll all be making networked books.
The institue will launch McKenzie Wark's GAM3R 7H30RY Version 1.1 on Monday, May 15
The discussion following Pulse highlighted some interesting issues and made us think hard about precisely what it is we mean by "networked book." Last spring, Kim White (who was the first to posit the idea of networked books) wrote a paper for the Computers and Writing Online conference that developed the idea a little further, based on our experience with the Gates Memory Project, where we tried to create a collaborative networked document of Christo and Jeanne-Claude's Gates using popular social software tools like Flickr and del.icio.us. Kim later adapted parts of this paper as a first stab at a Wikipedia article. This was a good start.
We thought it might be useful, however, in light of recent discussion and upcoming ventures, to try to focus the definition a little bit more -- to create some useful boundaries for thinking this through while holding on to some of the ambiguity. After a quick back-and-forth, we came up with the following capsule definition: "a networked book is an open book designed to be written, edited and read in a networked environment."
Ok. Hardly Samuel Johnson, I know, but it at least begins to lay down some basic criteria. Open. Designed for the network. Still vague, but moving in a good direction. Yet already I feel like adding to the list of verbs "annotated" -- taking notes inside a text is something we take for granted in print but is still quite rare in electronic documents. A networked book should allow for some kind of reader feedback within its structure. I would also add "compiled," or "assembled," to account for books composed of various remote parts -- either freestanding assets on distant databases, or sections of text and media "transcluded" from other documents. And what about readers having conversations inside the book, or across books? Is that covered by "read in a networked environment"? -- the book in a peer-to-peer ecology? Also, I'd want to add that a networked book is not a static object but something that evolves over time. Not an intersection of atoms, but an intersection of intentions. All right, so this is a little complicated.
It's also possible that defining the networked book as a new species within the genus "book" sows the seeds of its own eventual obsolescence, bound, as we may well be, toward a post-book future. But that strikes me as too deterministic. As Dan rightly observed in his recent post on learning to read Wikipedia, the history of media (or anything for that matter) is rarely a direct line of succession -- of this replacing that, and so on. As with the evolution of biological life, things tend to mutate and split into parallel trajectories. The book as the principal mode of discourse and cultural ideal of intellectual achievement may indeed be headed for gradual decline, but we believe the network has the potential to keep it in play far longer than the techno-determinists might think.
But enough with the theory and on to the practice. To further this discussion, I've compiled a quick-and-dirty list of projects currently out in the wild that seem to be reasonable candidates for networked bookdom. The list is intentionally small and ridden with gaps, the point being not to create a comprehensive catalogue, but to get a conversation going and collect other examples (submitted by you) of networked books, real or imaginary.
* * * * *
Everyone here at the institute agrees that Wikipedia is a networked book par excellence. A vast, interwoven compendium of popular knowledge, never fixed, always changing, recording within its bounds each and every stage of its growth and all the discussions of its collaborative producers. Linked outward to the web in millions of directions and highly visible on all the popular search indexes, Wikipedia is a city-like book, or a vast network of shanties. If you consider all its various iterations in 229 different languages it resembles more a pan-global tradition, or something approaching a real-life Hitchhiker's Guide to the Galaxy. And it is only five years in the making.
But already we begin to run into problems. Though we are all comfortable with the idea of Wikipedia as a networked book, there is significant discord when it comes to Flickr, MySpace, Live Journal, YouTube and practically every other social software, media-sharing community. Why? Is it simply a bias in favor of the textual? Or because Wikipedia - the free encyclopedia -- is more closely identified with an existing genre of book? Is it because Wikipedia seems to have an over-arching vision (free, anyone can edit it, neutral point of view etc.) and something approaching a coherent editorial sensibility (albeit an aggregate one), whereas the other sites just mentioned are simply repositories, ultimately shapeless and filled with come what may? This raises yet more questions. Does a networked book require an editor? A vision? A direction? Coherence? And what about the blogosphere? Or the world wide web itself? Tim O'Reilly recently called the www one enormous ebook, with Google and Yahoo as the infinitely mutable tables of contents.
Ok. So already we've opened a pretty big can of worms (Wikipedia tends to have that effect). But before delving further (and hopefully we can really get this going in the comments), I'll briefly list just a few more experiments.
>>> Code v.2 by Larry Lessig
From the site:
"Lawrence Lessig first published Code and Other Laws of Cyberspace in 1999. After five years in print and five years of changes in law, technology, and the context in which they reside, Code needs an update. But rather than do this alone, Professor Lessig is using this wiki to open the editing process to all, to draw upon the creativity and knowledge of the community. This is an online, collaborative book update; a first of its kind.

"Once the project nears completion, Professor Lessig will take the contents of this wiki and ready it for publication."
Recently discussed here, there is the new book by Yochai Benkler, another intellectual property heavyweight:
>>> The Wealth of Networks
Yale University Press has set up a wiki for readers to write collective summaries and commentaries on the book. PDFs of each chapter are available for free. The verdict? A networked book, but not a well executed one. By keeping the wiki and the text separate, the publisher has placed unnecessary obstacles in the reader's path and diminished the book's chances of success as an organic online entity.
>>> Our very own GAM3R 7H30RY
On Monday, the institute will launch its most ambitious networked book experiment to date, putting an entire draft of McKenzie Wark's new book online in a compelling interface designed to gather reader feedback. The book will be matched by a series of free-fire discussion zones, and readers will have the option of syndicating the book over a period of nine weeks.
>>> The afore-mentioned Pulse by Robert Frenay.
Again, definitely a networked book, but frustratingly so. In print, the book is nearly 600 pages long, yet they've chosen to serialize it a couple pages at a time. It will take readers until November to make their way through the book in this fashion -- clearly not at all the way Frenay crafted it to be read. Plus, some dubious linking made not by the author but by a hired "linkologist" only serves to underscore the superficiality of the effort. A bold experiment in viral marketing, but judging by the near absence of reader activity on the site, not a very contagious one. The lesson I would draw is that a networked book ought to be networked for its own sake, not to bolster a print commodity (though these ends are not necessarily incompatible).
>>> The Quicksilver Wiki (formerly the Metaweb)
A community site devoted to collectively annotating and supplementing Neal Stephenson's novel "Quicksilver." Currently at work on over 1,000 articles. The actual novel does not appear to be available on-site.
>>> Finnegans Wiki
A complete version of James Joyce's demanding masterpiece, the entire text placed in a wiki for reader annotation.
>>> There's a host of other literary portals, many dating back to the early days of the web: Decameron Web, the William Blake Archive, the Walt Whitman Archive, the Rossetti Archive, and countless others (fill in this list and tell us what you think).
Lastly, here's a list of book blogs -- not blogs about books in general, but blogs devoted to the writing and/or discussion of a particular book, by that book's author. These may not be networked books in themselves, but they merit study as a new mode of writing within the network. The interesting thing is that these sites are designed to gather material, generate discussion, and build a community of readers around an eventual book. But in so doing, they gently undermine the conventional notion of the book as a crystallized object and begin to reinvent it as an ongoing process: an evolving artifact at the center of a conversation.
Here are some I've come across (please supplement). Interestingly, three of these are by current or former editors of Wired. At this point, they tend to be about techie subjects:
>>> An exception is Without Gods: Toward a History of Disbelief by Mitchell Stephens (another institute project).
"The blog I am writing here, with the connivance of The Institute for the Future of the Book, is an experiment. Our thought is that my book on the history of atheism (eventually to be published by Carroll and Graf) will benefit from an online discussion as the book is being written. Our hope is that the conversation will be joined: ideas challenged, facts corrected, queries answered; that lively and intelligent discussion will ensue. And we have an additional thought: that the web might realize some smidgen of benefit through the airing of this process."
>>> Searchblog
John Battelle's daily thoughts on the business and technology of web search, originally set up as a research tool for his now-published book on Google, The Search.
>>> The Long Tail
Similar concept, "a public diary on the way to a book" chronicling "the shift from mass markets to millions of niches." By current Wired editor-in-chief Chris Anderson.
>>> Darknet
JD Lasica's blog on his book about Hollywood's war against amateur digital filmmakers.
>>> The Technium
Former Wired editor Kevin Kelly is working through ideas for a book:
"As I write I will post here. The purpose of this site is to turn my posts into a conversation. I will be uploading my half-thoughts, notes, self-arguments, early drafts and responses to others' postings as a way for me to figure out what I actually think."
>>> End of Cyberspace by Alex Soojung-Kim Pang
Pang has some interesting thoughts on blogs as research tools:
"This begins to move you to a model of scholarly performance in which the value resides not exclusively in the finished, published work, but is distributed across a number of usually non-competitive media. If I ever do publish a book on the end of cyberspace, I seriously doubt that anyone who's encountered the blog will think, "Well, I can read the notes, I don't need to read the book." The final product is more like the last chapter of a mystery. You want to know how it comes out.

"It could ultimately point to a somewhat different model for both doing and evaluating scholarship: one that depends a little less on peer-reviewed papers and monographs, and more upon your ability to develop and maintain a piece of intellectual territory, and attract others to it-- to build an interested, thoughtful audience."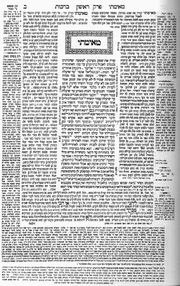 * * * * *
This turned out much longer than I'd intended, and yet there's a lot left to discuss. One question worth mulling over is whether the networked book is really a new idea at all. Don't all books exist over time within social networks, "linked" to countless other texts? What about the Talmud, the Jewish compendium of law and exigesis where core texts are surrounded on the page by layers of commentary? Is this a networked book? Or could something as prosaic as a phone book chained to a phone booth be considered a networked book?
In our discussions, we have focused overwhelmingly on electronic books within digital networks because we are convinced that this is a major direction in which the book is (or should be) heading. But this is not to imply that the networked book is born in a vacuum. Naturally, it exists in a continuum. And just as our concept of the analog was not fully formed until we had the digital to hold it up against, perhaps our idea of the book contains some as yet undiscovered dimensions that will be revealed by investigating the networked book.
Posted by ben vershbow at 1:09 AM | Comments (28) | TrackBack