« January 2006 | Main | March 2006 »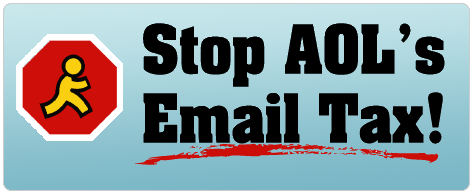 After years as an Internet urban myth, the email tax appears to be close at hand. The New York TImes reports that AOL and Yahoo have partnered with startup Goodmail to start offering guaranteed delivery of mass email to organizations for a fee. Organizations with large email lists can pay to have their email go directly to AOL and Yahoo customers' inboxes, bypassing spam filters. Goodmail claims that they will offer discounts to non-profits.
Moveon.org and the Electronic Frontier Foundation have joined together to create an alliance of nonprofit and public interest organizations to protest AOL's plans. They argue that this two-tiered system will create an economic incentive to decrease investment into AOL's spam filtering in order to encourage mass emailers to use the pay-to-deliver service. They have created an online petition called dearaol.com for people to request that AOL stop these plans. A similar protest to Yahoo who intends to launch this service after AOL is being planned as well. The alliance has created unusual bedfellows, including Gun Owners of America, AFL-CIO, Humane Society of United States and Human Rights Campaign, who are resisting the pressure to use this service.
Part of the leveling power of email is that the marginal cost of another email is effectively zero. By perverting this feature of email, smaller businesses, non-profits, and individuals will once again be put at a disadvantage to large affluent firms. Further, this service will do nothing to reduce spam, rather it is designed to help mass emailers. An AOL spokesman, Nicholas Graham is quoted as saying AOL will earn revenue akin to a "lemonade stand" which further questions by AOL would pursue this plan in the first place. Although the only affected parties will initially be AOL and Yahoo users, it sets a very dangerous precedent that goes against the democratizing spirit of the Internet and digital information.
Posted by ray cha at 9:58 PM | Comments (6) | TrackBack
A couple of recent technology news items got me thinking about media and proprietary hardware. One was the New York Times report of Sony's problems with its HD-DVD technology, Blu-Ray, which is causing them to delay the release of their next gaming system, the PS3. The other item was Amazon's intention of entering the music subscription business in the Wall Street Journal.
The New York Times gives a good overview on the up coming battle of hardware formats for the next generation of high definition DVD players. It is the Betamax VHS war from the 80s all over again. This time around Sony's more expensive / more capacity standard is pitted against Toshiba's cheaper but limited HD-DVD standard. It is hard to predict an obvious winner, as Blu-Ray's front runner position has been weaken by the release delays (implying some technical challenges) and the recent backing of Toshiba's standard by Microsoft (and with them, ally Intel follows.) Last time around, Sony also bet on the similarly better but more expensive Betamax technology and lost as consumers preferred the cheaper, lesser quality of VHS. Sony is investing a lot in their Blu-Ray technology, as the PS3 will be founded upon Blu-Ray. The standards battle in the move from VHS to DVD was avoided because Sony and Philips decided to scrap their individual plans of releasing a DVD standard and they agreed to share in the revenue of licensing of the Toshiba / Warner Brothers standard. However, Sony feels that creating format standards is an area of consumer electronics where they can and should dominate. Competing standards is nothing new, and date back to at least to the decision of AC versus DC electrical current. (Edison's preferred DC lost out to Westinghouses' AC.) Although, it does provide confusion for consumers who must decide which technology to invest in, with the potential danger that it may become obsolete in a few years.
On another front, Amazon also recently announced their plans to release their own music player. In this sphere, Amazon is looking to compete with iTunes and Apple's dominance in the music downloading sector. Initially, Apple surprised everyone with the foray into the music player and download market. What was even more surprising was they were able to pull it off, shown by their recent celebration of the 1 billionth downloaded song. Apple continues to command the largest market share, while warding off attempts from the likes of Walmart (the largest brick and mortar music retailer in the US.) Amazon is pursuing a subscription based model, sensing that Napster has failed to gain much traction. Because Amazon customers already pay for music, they will avoid Napster's difficult challenge of convincing their millions of previous users to start paying for a service that they once had for free, albeit illegally. Amazon's challenge will be to persuade people to rent their music from Amazon, rather than buy it outright. Both Real and Napster only have a fraction of Apple's customers, however the subscription model does have higher profit margins than the pay per song of iTunes.
It is a logical step for Amazon, who sells large numbers of CDs, DVDs and portable music devices (including iPods.) As more people download music, Amazon realizes that it needs to protect its markets. In Amazon's scheme, users can download as much music as they want, however, if they cancel their subscription, the music will no longer play on their devices. The model tests to see if people are willing to rent their music, just like they rent DVDs from Netflix or borrow books from the library. I would feel troubled if I didn't outright own my music, however, I can see the benefits of subscribing to access music and then buying the songs that I liked. However, it appears that if you will not be able to store and play your own MP3s on the Amazon player and the iPod will certainly not be able to use Amazon's service. Amazon and partner Samsung must create a device compelling enough for consumers drop their iPods. Because the iPod will not be compatible with Amazon's service, Amazon may be forced to sell the players at heavy discounts or give them to subscribers for free, in a similar fashion to the cell phone business model. The subscription music download services have yet to create a player with any kind of social or technical cachet comparable to the cultural phenomenon of the iPod. Thus, the design bar has been set quite high for Amazon and Samsung. Amazon's intentions highlight the issue of proprietary content and playback devices.
While all these companies jockey for position in the marketplace, there is little discussion on the relationship between wedding content to a particular player or reader. Print, painting, and photography do not rely on a separate device, in that the content and the displayer of the content, in other words the vessel, are the same thing. In the last century, the vessel and the content of media started to become discreet entities. With the development of transmitted media of recorded sound, film and television, content required a player and different manufacturers could produce vessels to play the content. Further, these new vessels inevitably require electricity. However, standards were formed so that a television could play any channel and the FM radio could play any FM station. Because technology is developing at a much faster rate, the battle for standards occur more frequently. Vinyl records reigned for decades where as CDs dominated for about ten years before MP3s came along. Today, a handful of new music compression formats are vying to replace MP3. Furthermore, companies from Microsoft and Adobe to Sony and Apple appear more willing to create proprietary formats which require their software or hardware to access content.
As more information and media (and in a sense, ourselves) migrate to digital forms, our reliance on often proprietary software and hardware for viewing and storage grows steadily. This fundamental shift on the ownership and control of content radically changes our relationship to media and these change receive little attention. We must be conscious of the implied and explicit contracts we agree to, as information we produce and consume is increasingly mediated through technology. Similarly, as companies develop vertical integration business models, they enter into media production, delivery, storage and playback. These business models create the temptation to start creating to their own content, and perhaps give preferential treatment to their internally produced media. (Amazon also has plans to produce and broadcast an Internet show with Bill Maher and various guests.) Both Amazon and Blu-Ray HD-DVD are just current examples content being tied to proprietary hardware. If information wants to be free, perhaps part of that freedom involves being independent from hardware and software.
Posted by ray cha at 12:47 PM | Comments (4) | TrackBack
Thinking about blogging: where's it's been and where it's going. Recently I found food for thought in a smart but ultimately misguided essay by Trevor Butterworth in the Financial Times. In it, he decries blogging as a parasitic binge:
...blogging in the US is not reflective of the kind of deep social and political change that lay behind the alternative press in the 1960s. Instead, its dependency on old media for its material brings to mind Swift's fleas sucking upon other fleas "ad infinitum": somewhere there has to be a host for feeding to begin. That blogs will one day rule the media world is a triumph of optimism over parasitism.
While his critique is not without merit, Butterworth ultimately misses the forest for the fleas, fixating on the extremes of the phenomenon -- the tiny tier of popular "establishment" bloggers and the millions of obscure hacks endlessly recycling news and gossip -- while overlooking the thousands of mid-level blogs devoted to specialized or esoteric subjects not adequately covered -- or not covered at all -- by the press. Technorati founder David Sifry recently dubbed this the "magic middle" of the blogosphere -- that group of roughly 150,000 sites falling somewhere between the short head and the long tail of the popularity graph. Notable as the establishment bloggers are, I would argue that it's the middle stratum that has done the most in advancing serious discourse online. Here we are not talking about antagonism between big and small media, but rather a filling out of the media ecosystem -- where a proliferation of niches, like pixels on a screen, improves the resolution of our image of the world.
from On Poetry: A Rhapsody (1733)

So, naturalists observe, a flea
Hath smaller fleas that on him prey;
And these have smaller still to bite 'em;
And so proceed ad infinitum.
Thus every poet, in his kind,
Is bit by him that comes behind.

—Jonathan Swift
At their worst, bloggers -- like Swift's reiterative fleas -- bounce ineffectually off the press's opacities. But sometimes the collective feeding frenzy can expose flaws in the system. Moreover, there are some out there that have the knowledge and insight to decode what the press reports yet fails to adequately analyze. And there others still who are not tied so inexorably to the news cycle but follow their own daemon.
To me, Swift's satire, while humorously portraying the endless cycle of literary derivation, also suggests a healthier notion of process -- less parasitic and more cumulative. At best transformative. The natural accretion over time of ideas and tradition. It's only natural that poets build -- or feed -- on the past. They feel the nip at their behinds. They channel and reinvent. As do scholars and philosophers.
But having some expertise and knowing how to craft a sentence does not necessarily mean one is meant to blog. In an amusing passage, Butterfield speculates on how things might how gone horribly awry had George Orwell (oft hailed as a proto-blogger) been given the opportunity to maintain a daily journal online (think tedious rambling on the virtues of English cuisine). Good blogging requires not only a voice, but a special commitment -- a compulsion even -- to air one's thinking in real time. A relish for working through ideas in the open, often before they're fully baked.
But evidently Butterfield hasn't considered the merits of blogging as a process. He remains terminally hung up on the product, concluding that blogging "renders the word even more evanescent than journalism" and is "the closest literary culture has come to instant obsolescence." Fine. Blogging is in many ways a vaporous pursuit, but then so is conversation -- so is theatre. Blogging, in its essence, is about discussion and about working through ideas. And, I would argue, it is as much about reading as it is about writing.
Back in August, I wrote about this notion of the blog as a record of reading -- an idea to which I still hold fast. The blog is a tool (for writers and readers alike) for dealing with information overload -- for processing an unmanageable abundance of reading material. Most bloggers, the good ones anyway, not only point to links (though the good pointer sites like Arts & Letters Daily are invaluable), they comment upon them (as I am doing here), glossing them for their readers, often quoting at length. The blog captures that wave of energy emitted by the reader's mind upon contact with an idea or story.
I do think blogging goes a significant ways toward the Enlightenment ideal of a reading public, even if only one percent of that public is worth reading. Hemingway famously said that he wrote 99 pages of crap for every one page of masterpiece. We should apply a similar math to blogs, and hope the tools for filtering out that 99 percent improve over time. After all, one percent of 28 million is no small number (about the population of Buffalo, NY). I'm confident that, in aggregate, this small democratic layer illumines more than it obscures, blazing trails of readings and fostering conversation. And this, I would venture -- when combined and balanced with more traditional media sources -- offers a more balanced reading diet.
Posted by ben vershbow at 7:53 AM | Comments (8) | TrackBack
It probably won't be until mid to late March that we finally roll out McKenzie Wark's GAM3R 7H30RY Version 10.1, but substantial progress is being made. Here's a snapshot:
After debating (part 1) our way to a final design concept (part 2), we're now focused (well, mainly Jesse at this point) on hammering the thing together. We're using all open source software and placing the book under a Creative Commons Attribution-NonCommercial-ShareAlike 2.0 license. Half the site will consist of a digital edition of the book in Word Press with a custom-built card shuffling interface. As mentioned earlier, Ken has given us an incredibly modular structure to work with (a designer's dream): nine chapters (so far), each consisting of 25 paragraphs. Each chapter will contain five five-paragraph stacks with comments popping up to the side for whichever card is on top. No scrolling is involved except in the comment field, and only then if there is a substantial number of replies.
The graphic above shows the color scale we're thinking of for the different chapters. As they progress, each five-card stack will move from light to dark within the color of its parent chapter. Floating below the color spectrum is the proud parent of the born-digital book: McKenzie Wark, Space Invader (an image that will appear in some fashion throughout the site). Right now he's a fairly mean-looking space invader -- on a bombing run or something. But we're thinking of shuffling a few pixels to give him a friendlier appearance.
You are also welcome to view an interactive mock-up of the card view (click on the image below):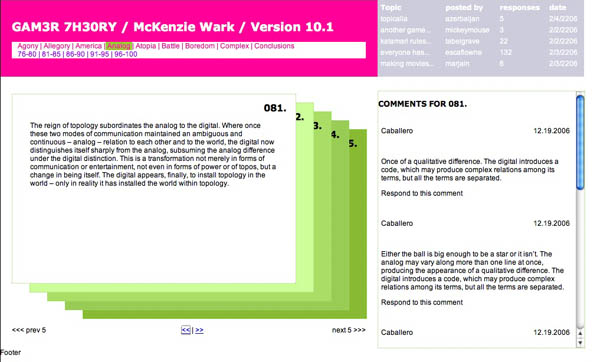 The other half of the site will be a discussion forum set up in PHP Bulletin Board. Actually, it'll be a collection of nine discussion forums: one for each chapter of the book, each focusing (except for the first, which is more of an introduction) on a specific video game. Here's how it breaks down:
* Allegory (on The Sims)
* America (on Civilization III)
* Analog (on Katamari Damarcy)
* Atopia (on Vice City)
* Battle (on Rez)
* Boredom (on State of Emergency)
* Complex (on Deus Ex)
* Conclusions (on SimEarth)
The gateway to each forum will be a two-dimensional topic graph where forum threads float in an x-y matrix. Their position in the graph will be determined by the time they were posted and the number of comments they've accumulated so far. Thus, hot topics will rise toward the top while simultaneously being dragged to the left (and eventually off the chart) by the progression of time. Something like this: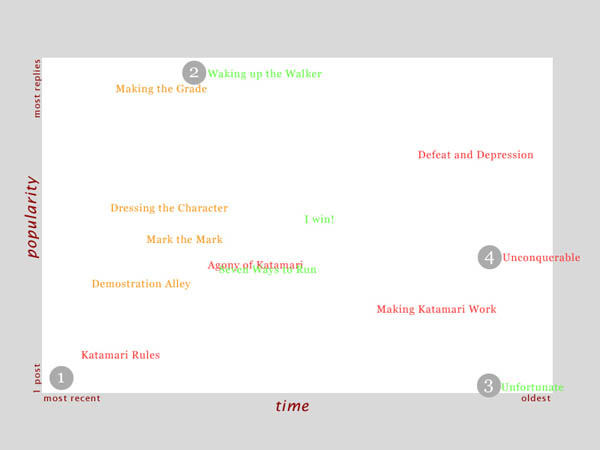 At this point there's no way of knowing for sure which part of the site will be more successful. The book view is designed to gather commentary, and Ken is sincerely interested in reader feedback as he writes and rewrites. There will also be the option of syndicating the book to be digested serially in an RSS reader. We're very curious to see how readers interact with the text and hope we've designed a compelling environment in which to do so.
Excited as we are about the book interface, our hunch is that the discussion forum component has the potential to become the more vital half of the endeavor. The forum will be quite different from the thousands of gaming sites already active on the web in that it will be less utilitarian and more meditative in its focus. This won't be a place for posting cheats and walk-throughs but rather a reflective space for talking about the experience of gaming and what players take games to mean. Our hope is that people will have quite a bit to say about this -- some of which may end up finding its way into the book.
Although there's still a ways to go, the process of developing this site has been incredibly illuminating in our thinking about the role of the book in the network. We're coming to understand how the book might be reinvented as social software while still retaining its cohesion and authorial vision. Stay tuned for further developments.
Posted by ben vershbow at 4:42 PM | Comments (0) | TrackBack
Dear readers,
We're in the process of upgrading Movable Type (our esteemed publishing software) to the latest version and inevitably are experiencing a few hiccups -- for instance, our feed seems to have acquired the dreaded "[!]" in Bloglines. We should manage to sort out these little details by day's end. Please do let us know of any other suspicious irregularities.
One thing you might notice if you scroll down the sidebar is that we've replaced our confusing categories system with a confusing tag system. Actually, for now we're keeping them side by side, in the interest of maximizing confusion. Bear with us as we piece together our taxonomic golem and watch it wreak havoc on our poor, quivering blog, which is, as ever, a work in progress.
<<UPDATE>>
The feeds have been reinstated, and the feeds from the old version of MovableType have been rerouted to their holding location. I believe the old feeds were causing the conflict with the new feeds which is making Bloglines choke. -jdw
<<UPDATE>>
We've also decided to reinstate trackback on a provisional basis. Movable Type 3.2 seems to have better moderation and junk-filtering tools so hopefully spammers will be deterred. Trackback is dead! Long live trackback! - bv
Posted by ben vershbow at 10:10 AM | Comments (0) | TrackBack
Apparently the recent explosion of internet video services like YouTube and Google Video has led to a serious bandwidth bottleneck on the network, potentially giving ammunition to broadband providers in their campaign for tiered internet service.
If Congress chooses to ignore the cable and phone lobbies and includes a network neutrality provision in the new Telecommunications bill, that will then place the burden on the providers to embrace peer-to-peer technologies that could solve the traffic problem. Bit torrent, for instance, distributes large downloads across multiple users in a local network, minimizing the strain on the parent server and greatly speeding up the transfer of big media files. But if govenment capitulates, then the ISPs will have every incentive to preserve their archaic one-to-many distribution model, slicing up the bandwidth and selling it to the highest bidder -- like the broadcast companies of old.
The video bandwidth crunch and the potential p2p solution nicely illustrates how the internet is a self-correcting organic entity. But the broadband providers want to seize on this moment of inneficiency -- the inevitable rise of pressure in the pipes that comes from innovation -- and exploit it. They ought to remember that the reason people are willing to pay for broadband service in the first place is because they want access to all the great, innovative stuff developing on the net. Give them more control and they'll stifle that innovation, even as they say they're providing better service.
Posted by ben vershbow at 8:19 AM
After enduring a weeks-long PR pummeling for its dealings in China, Google is hard at work to improve its image in the world, racking up some points for good after slipping briefly into evil. Recently they launched Google.org: a website for the Google Foundation, the corporation's philanthropic arm and central office of evil mitigation. Paying a visit to the site, the disillusioned among us will be pleased to find that the foundation is already sponsoring a handful of worthy initiatives, along with a grants program that donates free web advertising to nonprofit organizations. And just in case we were concerned that Google might not apply its techno-capitalist wizardry to altruism as zealously as to making profit, they just announced today they've named a new director for the foundation by the name of -- no joke -- Dr. Brilliant. So it seems the world is in capable hands.
One project in particular caught my eye in light of recent discussions about screen-based reading and genre-blending visions of the book. Planet Read is an organization that promotes literacy in India through Same Language Subtitling -- a simple but apparently effective technique for building basic reading skills, taking popular visual entertainment like Bollywood movies and adding subtitles in English and Hindi along the bottom of the screen. A number of samples (sadly no Bollywood, just videos or photo montages set to Indian folk songs) can be found on Google Video. Here's one that I particularly liked:
Watching the video -- managing the interplay between moving text and moving pictures -- I began to wonder whether there are possibly some clues to be mined here about the future of reading. Yes, Planet Read is designed first and foremost to train basic alphabetic literacy, turning a captive audience into a captive classroom. But in doing so, might it not also be nurturing another kind of literacy?
The problem with contemporary discussions about the future of the book is that they are mired -- for cultural and economic reasons -- in a highly inflexible conception of what a book can be. People who grew up with print tend to assume that going digital is simply a matter of switching containers (with a few enhancements thrown in the mix), failing to consider how the actual content of books might change, or how the act of reading -- which increasingly takes place in a dyanamic visual context -- may eventually demand a more dynamic kind of text.
Blurring the lines between text and visual media naturally makes us uneasy because it points to a future that quite literally (for us dinosaurs at least) could be unreadable. But kids growing up today, in India or here in the States, are already highly accustomed to reading in screen-based environments, and so they probably have a somewhat different idea of what reading is. For them, text is likely just one ingredient in a complex combinatory medium.
Another example: Nochnoi Dozor (translated "Night Watch") is a film that has widely been credited as the first Russian blockbuster of the post-Soviet era -- an adrenaline-pumping, special effects-infused, sci-fi vampire epic made entirely by Russians, on Russian soil and on Russian themes (it's based on a popular trilogy of novels). When it was released about a year and a half ago it shattered domestic box office records previously held by Western hits like Titanic and Lord of the Rings. Just about a month ago, the sequel "Day Watch" shattered the records set by "Night Watch."
While highly derivative of western action movies, Nochnoi Dozor is moody, raucous and darkly gorgeous, giving a good, gritty feel of contemporary Moscow. Its plot grows rickety in places, and sometimes things are downright incomprehensible (even, I'm told, with fluent Russian), so I'm skeptical about its prospects on this side of the globe. But goshdarnit, Russians can't seem to get enough of it -- so in an effort to lure American audiences over to this uniquely Russian gothic thriller, start building a brand out of the projected trilogy (and presumably pave the way for the eventual crossover to Hollywood of director Timur Bekmambetov), Fox Searchlight just last week rolled the film out in the U.S. on a very limited release.
What could this possibly have to do with the future of reading? Well, naturally the film is subtitled, and we all know how subtitles are the kiss of death for a film in the U.S. market (Passion of the Christ notwithstanding). But the marketers at Fox are trying something new with Nochnoi Dozor. No, they weren't foolish enough to dub it, which would have robbed the film of the scratchy, smoke-scarred Moscow voices that give it so much of its texture. What they've done is played with the subtitles themselves, making them more active and responsive to the action in the film (sounds like some Flash programmer had a field day...). Here's a description from an article in the NY Times (unfortunately now behind pay wall):
...[the words] change color and position on the screen, simulate dripping blood, stutter in emulation of a fearful query, or dissolve into red vapor to emulate a character's gasping breaths.
And this from Anthony Lane's review in the latest New Yorker:
...the subtitles, for instance, are the best I have encountered. Far from palely loitering at the foot of the screen, they lurk in odd corners of the frame and, at one point, glow scarlet and then spool away, like blood in water. I trust that this will start a technical trend and that, from here on, no respectable French actress will dream of removing her clothes unless at least three lines of dialogue can be made to unwind across her midriff.
It might seem strange to think of subtitling of foreign films as a harbinger of future reading practices. But then, with the increasing popularity of Asian cinema, and continued cross-pollination between comics and film, it's not crazy to suspect that we'll be seeing more of this kind of textual-visual fusion in the future.
Most significant is the idea that the text can itself be an actor in a perfomance: a frontier that has only barely been explored -- though typography enthusiasts will likely pillory me for saying so.
Posted by ben vershbow at 6:57 PM | Comments (7) | TrackBack
In Ben's recent post, he noted that Larry Lessig worries about the trend toward a read-only internet, the harbinger of which is iTunes. Apple's latest (academic) venture is iTunes U, a project begun at Duke and piloted by seven universities -- Stanford, it appears, has been most active.
Since they are looking for a large scale roll out of iTunes U for 2006-07, and since we have many podcasting faculty here at USC, a group of us met with Apple reps yesterday.
Initially I was very skeptical about Apple's further insinuation into the academy and yet, what iTunes U offers is a repository for instructors to store podcasts, with several components similar to courseware such as Blackboard. Apple stores the content on its servers but the university retains ownership. The service is fairly customizable--you can store audio, video with audio, slides with audio (aka enhanced podcasts) and text (but only in pdf). Then you populate the class via university course rosters, which are password protected.
There are also open access levels on which the university (or, say, the alumni association) can add podcasts of vodcasts of events. And it is free. At least for now -- the rep got a little cagey when asked about how long this would be the case.
The point is to allow students to capture lectures and such on their iPods (or MP3 players) for the purposes of study and review. The rationale is that students are already extremely familiar with the technology so there is less of a learning curve (well, at least privileged students such as those at my institution are familiar).
What seems particularly interesting is that students can then either speed up the talk of the lecture without changing pitch (and lord knows there are some whose speaking I would love to accelerate) or, say, in the case of an ESL student, slow it down for better comprehension. Finally, there is space for students to upload their own work --- podcasting has been assigned to some of our students already.
Part of me is concerned at further academic incorporation, but a lot more parts of me are thinking this is not only a chance to help less tech savvy profs employ the technology (the ease of collecting and distributing assets is germane here) while also really pushing the envelope in terms of copyright, educational use, fair use, etc. Apple wants to only use materials that are in the public domain or creative commons initially, but undoubtedly some of the more muddy digital use issues will arise and it would be nice to have academics involved in the process.
Posted by virginia kuhn at 8:02 AM | Comments (1)
Few would disagree that Presidents' Day, though in theory a celebration of the nation's highest office, is actually one of our blandest holidays -- not so much about history as the resuscitation of commerce from the post-holiday slump. Yesterday, however, brought a refreshing change.
Spending the afternoon at the institute was Holly Shulman, a historian from the University of Virginia well known among digital scholarship circles as the force behind the Dolley Madison Project -- a comprehensive online portal to the life, letters and times of one of the great figures of the early American republic. So, for once we actually talked about presidential history on Presidents' Day -- only, in this case from the fascinating and chronically under-studied spousal perspective.
Shulman came to discuss possible collaboration on a web-based history project that would piece together the world of America's founding period -- specifically, as experienced and influenced by its leading women. The question, in terms of form, was how to break out of the mould of traditional web archives, which tend to be static and exceedingly hierarchical, and tap more fully into the energies of the network? We're talking about something you might call open source scholarship -- new collaborative methods that take cues from popular social software experiments like Wikipedia, Flickr and del.icio.us yet add new layers and structures that would better ensure high standards of scholarship. In other words: the best of both worlds.
Shulman lamented that the current generation of historians are highly resistant to the idea of electronic publication as anything more than supplemental to print. Even harder to swallow is the open ethos of Wikipedia, commonly regarded as a threat to the hierarchical authority and medieval insularity of academia.
Again, we're reminded of how fatally behind the times the academy is in terms of communication -- both communication among scholars and with the larger world. Shulman's eyes lit up as we described the recent surge on the web of social software and bottom-up organizational systems like tagging that could potentially create new and unexpected avenues into history.
A small example that recurred in our discussion: Dolley Madison wrote eloquently on grief, mourning and widowhood, yet few would know to seek out her perspective on these matters. Think of how something like tagging, still in an infant stage of development, could begin to solve such a problem, helping scholars, students and general readers unlock the multiple facets of complex historical figures like Madison, and deepening our collective knowledge of subjects -- like death and war -- that have historically been dominated by men's accounts. It's a small example, but points toward something grand.
Posted by ben vershbow at 7:33 AM | Comments (2)
The bible has long been a driver of innovation in book design, and this latest is no exception: an ad I saw today on TV for the complete King James Bible on DVD. Not a film, mind you, but an interactive edition of the old and new testaments built around a graphical rendering of an old bible open on a lectern that the reader, uh viewer, uh... reader controls. Each page is synched up to a full-text narration in the "crystal clear, mellow baritone" of Emmy-winning Bible reader Stephen Johnston, along with assorted other actors and dramatic sound effects bringing the stories to life.
There's the ad to the right (though when I saw it on BET the family was black). You can also download an actual demo (Real format) here. It's interesting to see the interactivity of the DVD used to mimic a physical book -- even the package is designed to suggest the embossed leather of an old bible, opening up to the incongruous sight of a pair of shiny CDs. More than a few analogies could be drawn to the British Library's manuscript-mimicking "Turning the Pages," which Sally profiled here last week, though here the pages replace each other with much less fidelity to the real.
There's no shortage of movie dramatizations aimed at making the bible more accessible to churchgoers and families in the age of TV and the net. What the makers of this DVD seem to have figured out is how to combine the couch potato ritual of television with the much older practice of group scriptural reading. Whether or not you'd prefer to read the bible in this way, with remote control in hand, you can't deny that it keeps the focus on the text.
Last week, Jesse argued that it's not technology that's causing a decline in book-reading, but rather a lack of new technologies that make books readable in the new communications environment. He was talking about books online, but the DVD bible serves just as well to illustrate how a text (a text that, to say the least, is still in high demand) might be repurposed in the context of newer media.
Another great driver of innovation in DVDs: pornography. No other genre has made more creative use of the multiple camera views options that can be offered simulataneously on a single film in the DVD format (I don't have to spell out what for). They say that necessity is the mother of invention, and what greater necessities than sex and god? You won't necessarily find the world's most elegant design, but it's good to keep track of these uniquely high-demand areas as they are consistently ahead of the curve.
Posted by ben vershbow at 5:50 PM | Comments (16)
I went to Paris last weekend. I have a friend there with an apartment, flights are cheap in the off season, and I've never been there before. As might have been expected, I learned absolutely nothing about France. But I did come away with a lot of food for thought about America - specifically, how books work in the United States. Says Gilles Deleuze: "travel does not connect places, but affirms only their difference." He's right: sometimes you needs to get away from a place to think about it.
Three observations, then, on how books work in the United States w/r/t my French observations. This post is perhaps less liberal in its interpretation of books than we usually are around here: bear with me for a bit, there's still plenty of rampant generalizing.
* * * * *
Wandering around the Sorbonne, my friend & I came upon the Librerie Philosophique J. Vrin and went in. It's a good-sized bookshop that's devoted entirely to used and new philosophy books, mostly in French, although the neatly categorized shelves are noticeably peppered with other languages. On the Saturday evening I was there, it was full of browsing customers: it's obviously a working bookstore. We don't have philosophy book stores in the U.S. One finds, of course, no end of religious bookstores, but unless I'm tremendously mistaken, there's none dedicated solely to philosophy. (And as far as I know, there's only one poetry bookstore remaining in the U.S.)
It's a(n admittedly minor) shock to find oneself in a philosophy bookstore. But a deeper question tugs at me: why aren't there philosophy book stores in the United States? I'm certainly not qualified to judge what the existence of J. Vrin says about France, but its lack of an analogue in the U.S. clearly says something (besides the obvious "the market won't support it"). Are we not thinking about big ideas and shipping them about in books? Are the only people who need to read Plato our neocon overlords? Why don't we need books like these?
* * * * *
Another thing you notice at J. Vrin, as well as elsewhere in Paris: how monotone the books are. It's not quite a color-coordinated bookstore but it's close: just about every spine is white, a smaller number being yellow, a smattering of other colors. If you pull a book out, the cover designs are mostly in a classic French style: lots of space, Didot type, some discreet flourishes. These two are typical: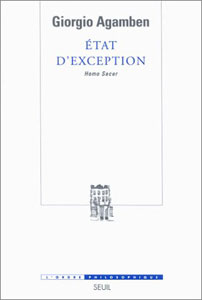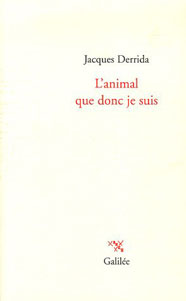 I'm not tremendously interested in French book style of itself, though: I'm more interested in what this minimalist tendency reveals about American book design and the ideas behind it. A trio of comparisons: the French on the left of each pair, the American on the right:
The American covers seem more designed – not necessarily better designed, that goes both ways – but they clearly exist as marketing. The French book covers aren't advertising in the same way that the American book covers are. The implication here seems to be that French books are for reading, rather than for looking at. Nobody's going to pick up one of those because of the way the cover looks. It's presumed that the reader is already interested in the content of the book; what's on the cover won't change that interest. There's a lot more variety in the American books: I might be persuaded to pick up the Deleuze book on Proust (where the quotation above came from) because it looks nice, or dissuaded from picking up the Amélie Nothomb book because it looks so horrible & the title was mangled into something out of Crate & Barrel.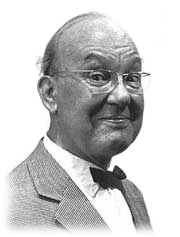 There's an essay by Jan Tschichold, the doyen of modern book design, advising the reader that the jacket of a hardcover book should be taken off and thrown away as soon as you get the book home. This seems heretical to a book collector (or designer), but I think his point ultimately makes sense: books shouldn't exist as art objects, they exist to be read. Design should focus attention on, not deflect attention from, the ideas in the book. American book design has drifted away from that precept. (Tschichold, were he still alive, might argue that it's failed entirely: that essay appears in a book titled The Form of the Book: Essays on the Morality of Good Design which has hardened into an art object: get a used copy for $102.50.)
Probably I didn't need to go to France to figure this out: scrutinizing the Spanish and Bangla bookshops and bookcarts in my neighborhood reveals book covers that are closer to French than American design.
* * * * *
Back to advertising: in the windows of wine bars, one sees volumes of Deleuze and Julia Kristeva, not exactly what we usually construe as light café reading. These books are cultural signifiers: presumably the right sort of passersby see them and understand that the winebar is the right sort of place for people like them. Could you do this in the U.S.? You could; by putting Stanley Cavell and Peter Singer in the window, I suspect that you'd attract a lot of confusion and maybe, if you were lucky, some shabby grad students. In Paris: pretty people. (Are they actually interested in Kristeva and Deleuze, or are they just interested in the wine? Again: no idea.)
It's worth pointing out that Paris didn't seem technologically reactionary to me: books haven't succeeded at the expense of newer media. Paris is full of wireless, for example, and URLs are splattered all over advertisements. If anything, books seem to have succeeded with new media: a casual flip through the enormous number of channels on my friend's television yielded a couple of book review programs. Again: books are part of the cultural discourse there in a way that isn't the case here.
* * * * *
I haven't mentioned snobbery yet, though that's obviously an essential part of this discourse. No one imagines that the majority of the French care that much about Derrida, and it's clear the French have their own problems which don't need my interpretations. And more importantly: it would be foolish to jump to the conclusion that America is anti-literary. I'm reminded of the bit in Proust's Time Regained where the Baron de Charlus, equally drawn to both sides in WWI, declares himself pro-German because he's surrounded by people parroting pro-French platitudes and he can't stand them. I won't deny that there's a little bit of Charlus in my stance. But I do think that the lens of snobbery can be a useful way to scrutinize how cultural capital works, and this analysis can be broadened to look at the sort of big-picture questions we're interested in at the Institute. Nor am I the only one who's noticed this: a better analysis than my own can be found in Pascale Casanova's The World Republic of Letters (depicted above in both French and American editions), a book from a few years ago:
. . . New York and London cannot be said to have replaced Paris in the structure of literary power: one can only note that, as a result of the generalization of the Anglo-American model and the growing influence of financial considerations, these two capitals tend to acquire more and more power in the literary world. But one must not oversimplify the situation by applying a political analysis that opposes Paris to New York and London, or France to the United States."
(p. 168.) Casanova's book is a nice (and readable) study of how literature functions globally as cultural capital; this review by William Deresiewicz in The Nation is a serviceable introduction. It's a useful text for thinking about how big ideas have historically been "legitimated" (her term) and disseminated. Along the way, she can't help but make a strong case for Paris being the historic arbiter of much of the world's taste: Joyce, Faulkner, Borges, Wiesel (a list which could be extended at length) all first came to global prominence through French interest.
Another reminder that things are different in different countries: earlier this week, Pedro Meyer, the Mexican photographer who runs ZoneZero had a long lunch with the Institute, where he reiterated that the way books function in the U.S. is not necessarily the way they function in Latin America, where books are much scarcer and bookshops generally nonexistent. Meyer's concerns echo those of Nigerian writer Chinua Achebe who blisters at American critics arguing that African novels are universal, only with different names:
"Does it ever occur to these [academics] to try out their game of changing names of characters and places in an American novel, say, a Philip Roth or an Updike, and slotting in African names just to see how it works? But of course it would not occur to them. It would never occur to them to doubt the universality of their own literature. In the nature of things the work of a Western writer is automatically informed by universality. It is only others who must strain to achieve it . . . I should like to see the word 'universal' banned altogether from discussions of African literature until such time as people cease to use it as a synonym for the narrow, self-serving parochialism of Europe, until their horizon extends to include all the world."
(p. 156 in Casanova.) Culture cuts both ways. It's important to remember that the ways books (and, by extension, their electronic analogues) function in American society isn't the only way they can or should function. We tend to fall into the assumption that there is no alternative to the way we live. This is myopia, a myopia we need to continually recognize.
Posted by dan visel at 4:52 PM
In an important speech to the Open Source Business Conference in San Francisco, Lawrence Lessig warned that decreased regulation of network infrastructure could fundamentally throw off the balance of the "read/write" internet, gearing the medium toward commercial consumption and away from creative production by everyday people. Interestingly, he cites Apple's iTunes music store, generally praised as the shining example of enlightened digital media commerce, as an example of what a "read-only" internet might look like: a site where you load up your plate and then go off to eat alone.
Lessig is drawing an important connection between the question of regulation and the question of copyright. Initially, copyright was conceived as a way to stimulate creative expression -- for the immediate benefit of the author, but for the overall benefit of society. But over the past few decades, copyright has been twisted by powerful interests to mean the protection of media industry business models, which are now treated like a sacred, inviolable trust. Lessig argues that it's time for a values check -- time to return to the original spirit of copyright:
It's never been the policy of the U.S. government to choose business models, but to protect the authors and artists... I'm sure there is a way for [new models to emerge] that will let artists succeed. I'm not sure we should care if the record companies survive. They care, but I don't think the government should.
Big media have always lobbied for more control over how people use culture, but until now, it's largely been through changes to the copyright statutes. The distribution apparatus -- record stores, booksellers, movie theaters etc. -- was not a concern since it was secure and pretty much by definition "read-only." But when we're dealing with digital media, the distribution apparatus becomes a central concern, and that's because the apparatus is the internet, which at present, no single entity controls.
Which is where the issue of regulation comes in. The cable and phone companies believe that since it's through their physical infrastructure that the culture flows, that they should be able to control how it flows. They want the right to shape the flow of culture to best fit their ideal architecture of revenue. You can see, then, how if they had it their way, the internet would come to look much more like an on-demand broadcast service than the vibrant two-way medium we have today: simply because it's easier to make money from read-only than from read/write -- from broadcast than from public access."
Control over culture goes hand in hand with control over bandwidth -- one monopoly supporting the other. And unless more moderates like Lessig start lobbying for the public interest, I'm afraid our government will be seduced by this fanatical philosophy of control, which when aired among business-minded people, does have a certain logic: "It's our content! Our pipes! Why should we be bled dry?" It's time to remind the media industries that their business models are not synonymous with culture. To remind the phone and cable companies that they are nothing more than utility companies and that they should behave accordingly. And to remind the government who copyright and regulation are really meant to serve: the actual creators -- and the public.
Posted by ben vershbow at 1:51 PM | Comments (6)
There are several reasons that Yahoo! released some of their core UI code for free. A callous read of this would suggest that they did it to steal back some goodwill from Google (still riding the successful Goolge API release from 2002). A more charitable soul could suggest that Yahoo! is interested in making the web a better place, not just in their market-share. Two things suggest this—the code is available under an open BSD license, and their release of design patterns. The code is for playing with; the design patterns for learning from.
The code is squarely aimed at folks like me who would struggle mightily to put together a default library to handle complex interactions in Javascript using AJAX (all the rage now) while dealing with the intricacies of modern and legacy browsers. Sure, I could pull together the code from different sources, test it, tweak it, break it, tweak it some more, etc. Unsurprisingly, I've never gotten around to it. The Yahoo! code release will literally save me at least a hundred hours. Now I can get right down to designing the interaction, rather than dealing with technology.
The design patterns library is a collection of best practice instructions for dealing with common web UI problems, providing both a solution and a rationale, with a detailed explanation of the interaction/interface feedback. This is something that is more familiar to me, but still stands as a valuable resource. It is a well-documented alternate viewpoint and reminder from a site that serves more users in one day than I'm likely to serve in a year.
Of course Yahoo! is hoping to reclaim some mind-space from Google with developer community goodwill. But since the code is general release, and not brandable in any particular way (it's all under-the-hood kind of stuff), it's a little difficult to see the release as a directly marketable item. It really just seems like a gift to the network, and hopefully one that will bear lovely fruit. It's always heartening to see large corporations opening their products to the public as a way to grease the wheels of innovation.
Posted by jesse wilbur at 7:08 PM | Comments (3)
The following post comes from my friend Sally Northmore, a writer and designer based in New York who lately has been interested in things like animation, video game theory, and (right up our alley) the materiality of books and their transition to a virtual environment. A couple of weeks ago we were talking about the British Library's rare manuscript digitization project, "Turning the Pages" -- something I'd been meaning to discuss here but never gotten around to doing. It turns out Sally had some interesting thoughts about this so I persuaded her to do a brief write-up of the project for if:book. Which is what follows below. Come to think of it, this is especially interesting when juxtaposed with Bob's post earlier this week on Jefferson Han's amazing gestural interface design. Here's Sally... - Ben
The British Library's collaboration with multimedia impresarios at Armadillo Systems has led to an impressive publishing enterprise, making available electronic 3-D facsimiles of their rare manuscript collection.
"Turning the Pages", available in CD-ROM, online, and kiosk format, presents the digital incarnation of these treasured texts, allowing the reader to virtually "turn" the pages with a touch and drag function, "pore over" texts with a magnification function, and in some cases, access extras such as supplementary notes, textual secrets, and audio accompaniment.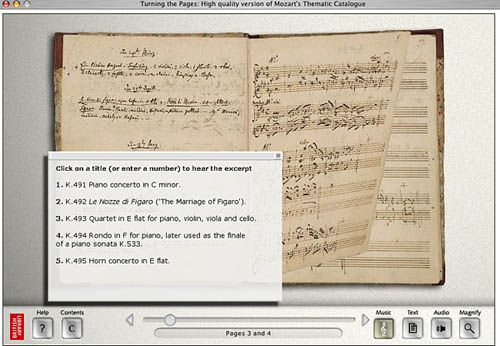 Pages from Mozart's thematic catalogue -- a composition notebook from the last seven years of his life. Allows the reader to listen to works being discussed.
The designers ambitiously mimicked various characteristics of each work in their 3-D computer models. For instance, the shape of a page of velum turning differs from the shape of a page of paper. It falls at a unique speed according to its weight; it casts a unique shadow. The simulation even allows for a discrepancy in how a page would turn depending on what corner of the page you decide to peel from.
Online visitors can download a library of manuscripts in Shockwave although these versions are a bit clunkier and don't provide the flashier thrills of the enormous touch screen kiosks the British Library now houses.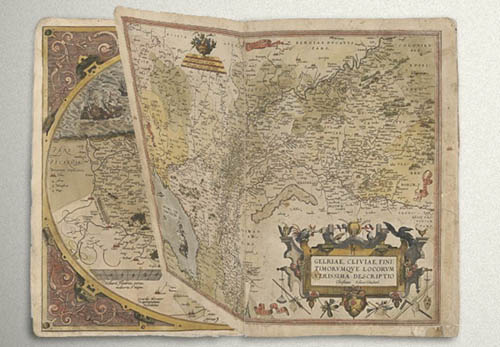 Mercator's first atlas of Europe - 1570s
Online, the "Turning the Pages" application forces you to adapt to the nature of its embodiment--to physically re-learn how to use a book. A hand cursor invites the reader to turn each page with a click-and-drag maneuver of the mouse. Sounds simple enough, but I struggled to get the momentum of the drag just right so that the page actually turned. In a few failed attempts, the page lifted just so... only to fall back into place again. Apparently, if you can master the Carpal Tunnel-inducing rhythm, you can learn to manipulate the page-turning function even further, grabbing multiple of pages at once for a faster, abridged read.
The value of providing high resolution scans of rare editions of texts for the general public to experience, a public that otherwise wouldn't necessarily ever "touch" say, the Lindisfarne Gospels, doesn't go without kudos. Hey, democratic right? Armadillo Systems provides a list of compelling raisons d'être on their site to this effect. But the content of these texts is already available in reprintable (democratic!) form. Is the virtual page-turning function really necessary for greater understanding of these works, or a game of academic scratch-n-sniff?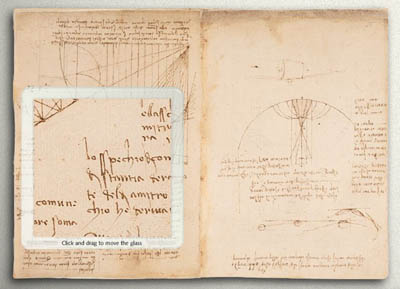 The "enlarge" function even allows readers to reverse the famous mirror writing in Leonardo da Vinci's notebooks
At the MLA conference in D.C. this past December, where the British Library had set up a demonstration of "Turning the Pages", this was the question most frequently asked of the BL's representative. Who really needs to turn the pages? I learned from the rep's response that, well, nobody does! Scholars are typically more interested studying the page, and the turning function hasn't proven to enhance or revive scholarly exploration. And surely, the Library enjoyed plenty of biblio-clout and tourist traffic before this program?
But the lure of new, sexy technology can't be underestimated. From what I understood, the techno-factor is an excellent beacon for attracting investors and funding in multimedia technology. Armadillo's web site provides an interesting sales pitch:
By converting your manuscripts to "Turning the Pages" applications you can attract visitors, increase website traffic and add a revenue stream - at the same time as broadening access to your collection and informing and entertaining your audience.
The program reveals itself to be a peculiar exercise, tangled in its insistence on fetishizing aspects of the material body of the text--the weight of velum, the karat of gold used to illuminate, the shape of the binding. Such detail and love for each material manuscript went into this project to recreate, as best possible, the "feel" of handling these manuscripts.
Under ideal circumstances, what would the minds behind "Turning the Pages" prefer to create? The original form of the text--the "alpha" manuscript--or the virtual incarnation? Does technological advancement seduce us into valuing the near-perfect simulation over the original? Are we more impressed by the clone, the "Dolly" of hoary manuscripts? And, would one argue that "Turning the Pages" is the best proxy for the real thing, or, another "thing" entirely?
Posted by sally northmore at 6:16 PM | Comments (6)
In an effort to more directly engage readers, two of America's most august daily newspapers are adding a subtle but potentially significant feature to their websites: author bylines directly linked to email forms. The Post's links are already active, but as of this writing the Times, which is supposedly kicking off the experiment today, only links to other articles by the same reporter. They may end up implementing this in a different way.
The email trial comes on the heels of two notoriously failed experiments by elite papers to pull readers into conversation: the LA Times' precipitous closure, after an initial 24-hour flood of obscenities and vandalism, of its "wikatorials" page, which invited readers to rewrite editorials alongside the official versions; and more recently, the Washington Post's shutting down of comments on its "post.blog" after experiencing a barrage of reader hate mail. The common thread? An aversion to floods, barrages, or any high-volume influx of unpredictable reader response. The email features, which presumably are moderated, seem to be the realistic compromise, favoring the trickle over the deluge.
In a way, though, hyperlinking bylines is a more profound development than the higher profile experiments that came before, which were more transparently about jumping aboard the wiki/blog bandwagon without bothering to think through the implications, or taking the time -- as successful blogs and wikis must always do -- to gradually build up an invested community of readers who will share the burden of moderating the discussion and keeping things reasonably clean. They wanted instant blog, instant wiki. But online social spaces are bottom-up enterprises: invite people into your home without any preexisting social bonds and shared values -- and add to that the easy target of being a mass media goliath -- and your home will inevitably get trashed as soon as word gets out.
Being able to email reporters, however, gets more at the root of the widely perceived credibility problem of newspapers, which have long strived to keep the human element safely insulated behind an objective tone of voice. It's certainly not the first time reporters' or columnists' email addresses have been made available, but usually they get tucked away toward the bottom. Having the name highlighted directly beneath the headline -- making the reporter an interactive feature of the article -- is more genuinely innovative than any tacked-on blog because it places an expectation on the writers as well as the readers. Some reporters will likely treat it as an annoying new constraint, relying on polite auto-reply messages to maintain a buffer between themselves and the public. Others may choose to engage, and that could be interesting.
Posted by ben vershbow at 12:56 PM | Comments (2)
every once in a while we see something that quickens the pulse. Jefferson Han, a researcher at NYU's Computer Science Dept. has made a video showing a system which allows someone to manipulate objects in real time using all the fingers of both hands. watch the video and get a sense of what it will be like to be able to manipulate data in two and someday three dimensions by using intuitive body gestures.

Posted by bob stein at 6:01 PM | Comments (4)
We've been working on our mission statement (another draft to be posted soon), and it's given me a chance to reconsider what being part of the Institute for the Future of the Book means. Then, last week, I saw this: a Jupiter Research report claims that people are spending more time in front of the screen than with a book in their hand.
"the average online consumer spends 14 hours a week online, which is the same amount of time they watch TV."
That is some 28 hours in front of a screen. Other analysts would say it's higher, because this seems to only include non-work time. Of course, since we have limited time, all this screen time must be taking away from something else.
The idea that the Internet would displace other discretionary leisure activities isn't new. Another report (pdf) from the Stanford Institute for the Quantitative Study of Society suggests that Internet usage replaces all sorts of things, including sleep time, social activities, and television watching. Most controversial was this report's claim that internet use reduces sociability, solely on the basis that it reduces face-to-face time. Other reports suggest that sociability isn't affected. (disclaimer - we're affiliated with the Annenberg Center, the source of the latter report).
Regardless of time spent alone vs. the time spent face-to-face with people, the Stanford study is not taking into account the reason people are online. To quote David Weinberger:
"The real world presents all sorts of barriers that prevent us from connecting as fully as we'd like to. The Web releases us from that. If connection is our nature, and if we're at our best when we're fully engaged with others, then the Web is both an enabler and a reflection of our best nature." --Fast Company
Hold onto that thought and let's bring this back around to the Jupiter report. People use to think that it was just TV that was under attack. Magazines and newspapers, maybe, suffered too; their formats are similar to the type of content that flourishes online in blog and written-for-the-web article format. But books, it was thought, were safe because they are fundamentally different, a special object worthy of veneration.
"In addition to matching the time spent watching TV, the Internet is displacing the use of other media such as radio, magazines and books. Books are suffering the most; 37% of all online users report that they spend less time reading books because of their online activities."
The Internet is acting as a new distribution channel for traditional media. We've got podcasts, streaming radio, blogs, online versions of everything. Why, then, is it a surprise that we're spending more time online, reading more online, and enjoying fewer books? Here's the dilemma: we're not reading books on screens either. They just haven't made the jump to digital.
While there has been a general decrease in book reading over the years, such a decline may come as a shocking statistic. (Yes, all statistics should be taken with a grain of salt). But I think that in some ways this is the knock of opportunity rather than the death knell for book reading.
...intensive online users are the most likely demographic to use advanced Internet technology, such as streaming radio and RSS.
So it is 'technology' that is keeping people from reading books online, but rather the lack of it. There is something about the current digital reading environment that isn't suitable for continuous, lengthy monographs. But as we consider books that are born digital and take advantage of the networked environment, we will start to see a book that is shaped by its presentation format and its connections. It will be a book that is tailored for the online environment, in a way that promotes the interlinking of the digital realm, and incorporates feedback and conversation.
At that point we'll have to deal with the transition. I found an illustrative quote, referring to reading comic books:
"You have to be able to read and look at the same time, a trick not easily mastered, especially if you're someone who is used to reading fast. Graphic novels, or the good ones anyway, are virtually unskimmable. And until you get the hang of their particular rhythm and way of storytelling, they may require more, not less, concentration than traditional books." --Charles McGrath, NY Times Magazine
We've entered a time when the Internet's importance is shaping the rhythms of our work and entertainment. It's time that books were created with an awareness of the ebb and flow of this new ecology—and that's what we're doing at the Institute.
Posted by jesse wilbur at 11:04 AM | Comments (1)
Bud Parr, author of the blog Chekhov's Mistress and commenter on if:book, recently posted on a speech given by Susan Sontag, entitled "Literature is Freedom."
Quoting, his favorite quote:
A writer, I think, is someone who pays attention to the world. That means trying to understand, take in, connect with, what wickedness human beings are capable of; and not be corrupted - made cynical, superficial - by this understanding.

Literature can tell us what the world is like.

Literature can give us standards and pass on deep knowledge, incarnated in language, in narrative.

Literature can train, and exercise, our ability to weep for those who are not us or ours.
At the institute, we often describe the "book" as both a vessel (technology) and text (information) especially as we work on revising our mission statement. Even so, and only speaking for myself, it is still very easy to get caught up in things like networks, copyright policy, and Web 2.0, which are, of course, all important topics. Sontag's quote is a good reminder of not just what resides in the vessel of the book, but why its contents are valuable.
Posted by ray cha at 3:23 PM | Comments (2)
Ten years after the initial signing of the Telecommunications Act of 1996, Congress is considering amending it. The original intention of the legislation was to increase competition by deregulating the telecommunication industry. The effects were gigantic, with a main result being that Regional Baby Operating Companies (RBOCs or Baby Bells) formed after the break up of the Ma Bell in 1984, merged into a handful of companies. Verzion nee Bell Atlantic, GTE, and NYNEX. SBC nee Southwestern Bell, PacTel, and Ameritech. Only now, these handful of companies operate with limited regulation.
On Tuesday, Congress heard arguments on the future of pricing broadband access. The question at hand is net neutrality, which is the idea that data transfer should have a single price, regardless of the provider, type or content of media being downloaded or uploaded. Variable pricing would have an effect on Internet companies as Amazon.com that use broadband networks for distributing their services as well as individuals. Cable companies and telecos such as Verizon, Comcast, Bell South, and AT&T are now planing to roll out tiered pricing. Under these new schemes, fees would be higher access to high-speed networks or certain services as downloading movies. Another intention is to charge different rates for downloading email, video, or games.
The key difference between opponents and proponents of net neutrality is their definition of innovation, and who benefits from that innovation. The broadband providers argue that other companies benefit from using their data pipes. They claim that by not being able to profit more from their networks, their incentive to innovate, that is, upgrade their systems, will decrease. While on the other side, firms as Vonage and Google argue the opposite, that uniform access spurs innovation, in terms of novel uses for the network. These kinds of innovations (video on demand) provide useful new services for the public, and in turn increase demand for the broadband providers.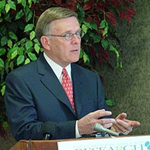 First, it is crucial to point that all users are paying for access now. Sen. Byron Dorgan of North Dakota noted:
''It is not a free lunch for any one of these content providers. Those lines and that access is being paid for by the consumer.''
Broadband providers argue that tiered pricing (whether for services or bandwidth) will increase innovation. This argument is deeply flawed. Tier-pricing will not guarntee new and useful services for users, but it will guarantee short term financial gains for the providers. These companies did not invent the Internet nor did they invent the markets for these services. Innovative users (both customers and start-ups) discovered creative ways to use the network. The market for broadband (and the subsequent network) exists because people outgrew the bandwidth capacity of dial-up, as more companies and people posted multimedia on the web. Innovation of this sort creates new demands for bandwidth and increases the customer base and revenue for the broadband providers. New innovative uses generally demand more bandwidth, as seen in p2p, video google, flickr, video ipods, and massively multiplayer online role playing games.
Use of the internet and the WWW did not explode for the mainstream consumer until ISPs as AOL moved to a flat fee pricing structure for their dial-up access. Before this period, most of the innovation of use came from the university, not only researchers, but students who had unlimited access. For these students, they ostensibly paid a flat fee what was embedded in their tuition. The low barrier of access in the early 1990s was essential in the creation of a culture of use that established the current market for Internet services that these broadband providers currently hope to restructure in price.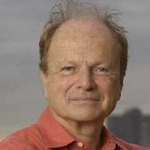 Prof. Eric Von Hippel of MIT's Sloan School of Management, author of the book, Democratizing Innovation, has done extensive research on innovation. He has found that users innovation a great deal, and much of it is underreported by the industries that capitalize on these improvements to their technology. An user innovator tends to have one great innovation. Therefore, a fundamental requirement for user innovation is offering access to the largest possible audience. In this context, everyone can benefit from net neutrality.
Tiered-pricing proponents argue that charging customers with limited download needs the same rates is unfair. This idea does not consider that the under-utilizers benefit overall from the innovations created by the over-utilizers. In a way, the under-utitlizers subsidize research for services they may use in the future. For example, the p2p community has created proven models and markets of sharing (professional or amateur) movies before the broadband providers (who also strive to become content providers.)
Maintaining democratic access will only fuel innovation, which will create new uses and users. New users translates into growing revenue for the broadband services. These new demands will also create an economic incentive to upgrade and maintain broadband providers' networks. The key questions that Congress needs to ask itself, is who had been doing the most innovation in the last twenty years and what supported that innovation?
Posted by ray cha at 3:14 PM | Comments (0)
The following is a response to a comment made by Karen Schneider on my Monday post on libraries and DRM. I originally wrote this as just another comment, but as you can see, it's kind of taken on a life of its own. At any rate, it seemed to make sense to give it its own space, if for no other reason than that it temporarily sidelined something else I was writing for today. It also has a few good quotes that might be of interest. So, Karen said:
I would turn back to you and ask how authors and publishers can continue to be compensated for their work if a library that would buy ten copies of a book could now buy one. I'm not being reactive, just asking the question--as a librarian, and as a writer.
This is a big question, perhaps the biggest since economics will define the parameters of much that is being discussed here. How do we move from an old economy of knowledge based on the trafficking of intellectual commodities to a new economy where value is placed not on individual copies of things that, as a result of new technologies are effortlessly copiable, but rather on access to networks of content and the quality of those networks? The question is brought into particularly stark relief when we talk about libraries, which (correct me if I'm wrong) have always been more concerned with the pure pursuit and dissemination of knowledge than with the economics of publishing.
Consider, as an example, the photocopier -- in many ways a predecessor of the world wide web in that it is designed to deconstruct and multiply documents. Photocopiers have been unbundling books in libraries long before there was any such thing as Google Book Search, helping users break through the commodified shell to get at the fruit within.
I know there are some countries in Europe that funnel a share of proceeds from library photocopiers back to the publishers, and this seems to be a reasonably fair compromise. But the role of the photocopier in most libraries of the world is more subversive, gently repudiating, with its low hum, sweeping light, and clackety trays, the idea that there can really be such a thing as intellectual property.
That being said, few would dispute the right of an author to benefit economically from his or her intellectual labor; we just have to ask whether the current system is really serving in the authors' interest, let alone the public interest. New technologies have released intellectual works from the restraints of tangible property, making them easily accessible, eminently exchangable and never out of print. This should, in principle, elicit a hallelujah from authors, or at least the many who have written works that, while possessed of intrinsic value, have not succeeded in their role as commodities.
But utopian visions of an intellecutal gift economy will ultimately fail to nourish writers who must survive in the here and now of a commercial market. Though peer-to-peer gift economies might turn out in the long run to be financially lucrative, and in unexpected ways, we can't realistically expect everyone to hold their breath and wait for that to happen. So we find ourselves at a crossroads where we must soon choose as a society either to clamp down (to preserve existing business models), liberalize (to clear the field for new ones), or compromise.
In her essay "Books in Time," Berkeley historian Carla Hesse gives a wonderful overview of a similar debate over intellectual property that took place in 18th Century France, when liberal-minded philosophes -- most notably Condorcet -- railed against the state-sanctioned Paris printing monopolies, demanding universal access to knowledge for all humanity. To Condorcet, freedom of the press meant not only freedom from censorship but freedom from commerce, since ideas arise not from men but through men from nature (how can you sell something that is universally owned?). Things finally settled down in France after the revolution and the country (and the West) embarked on a historic compromise that laid the foundations for what Hesse calls "the modern literary system":
The modern "civilization of the book" that emerged from the democratic revolutions of the eighteenth century was in effect a regulatory compromise among competing social ideals: the notion of the right-bearing and accountable individual author, the value of democratic access to useful knowledge, and faith in free market competition as the most effective mechanism of public exchange.
Barriers to knowledge were lowered. A system of limited intellectual property rights was put in place that incentivized production and elevated the status of writers. And by and large, the world of ideas flourished within a commercial market. But the question remains: can we reach an equivalent compromise today? And if so, what would it look like?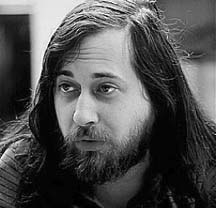 Creative Commons has begun to nibble around the edges of the problem, but love it as we may, it does not fundamentally alter the status quo, focusing as it does primarily on giving creators more options within the existing copyright system.
Which is why free software guru Richard Stallman announced in an interview the other day his unqualified opposition to the Creative Commons movement, explaining that while some of its licenses meet the standards of open source, others are overly conservative, rendering the project bunk as a whole. For Stallman, ever the iconoclast, it's all or nothing.
But returning to our theme of compromise, I'm struck again by this idea of a tax on photocopiers, which suggests a kind of micro-economy where payments are made automatically and seamlessly in proportion to a work's use. Someone who has done a great dealing of thinking about such a solution (though on a much more ambitious scale than library photocopiers) is Terry Fisher, an intellectual property scholar at Harvard who has written extensively on practicable alternative copyright models for the music and film industries (Ray and I first encountered Fisher's work when we heard him speak at the Economics of Open Content Symposium at MIT last month).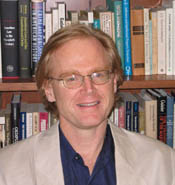 The following is an excerpt from Fisher's 2004 book, "Promises to Keep: Technology, Law, and the Future of Entertainment", that paints a relatively detailed picture of what one alternative copyright scheme might look like. It's a bit long, and as I mentioned, deals specifically with the recording and movie industries, but it's worth reading in light of this discussion since it seems it could just as easily apply to electronic books:
....we should consider a fundamental change in approach.... replace major portions of the copyright and encryption-reinforcement models with a variant of....a governmentally administered reward system. In brief, here's how such a system would work. A creator who wished to collect revenue when his or her song or film was heard or watched would register it with the Copyright Office. With registration would come a unique file name, which would be used to track transmissions of digital copies of the work. The government would raise, through taxes, sufficient money to compensate registrants for making their works available to the public. Using techniques pioneered by American and European performing rights organizations and television rating services, a government agency would estimate the frequency with which each song and film was heard or watched by consumers. Each registrant would then periodically be paid by the agency a share of the tax revenues proportional to the relative popularity of his or her creation. Once this system were in place, we would modify copyright law to eliminate most of the current prohibitions on unauthorized reproduction, distribution, adaptation, and performance of audio and video recordings. Music and films would thus be readily available, legally, for free.

Painting with a very broad brush...., here would be the advantages of such a system. Consumers would pay less for more entertainment. Artists would be fairly compensated. The set of artists who made their creations available to the world at large--and consequently the range of entertainment products available to consumers--would increase. Musicians would be less dependent on record companies, and filmmakers would be less dependent on studios, for the distribution of their creations. Both consumers and artists would enjoy greater freedom to modify and redistribute audio and video recordings. Although the prices of consumer electronic equipment and broadband access would increase somewhat, demand for them would rise, thus benefiting the suppliers of those goods and services. Finally, society at large would benefit from a sharp reduction in litigation and other transaction costs.
While I'm uncomfortable with the idea of any top-down, governmental solution, this certainly provides food for thought.
Posted by ben vershbow at 7:19 AM | Comments (8)
As noted in The New York Times, Harper-Collins has put the text of Bruce Judson's Go It Alone: The Secret to Building a Successful Business on Your Own online; ostensibly this is a pilot for more books to come.
Harper-Collins isn't doing this out of the goodness of their hearts: it's an ad-supported project. Every page of the book (it's paginated in exactly the same way as the print edition) bears five Google ads, a banner ad, and a prominent link to buy the book at Amazon. Visiting Amazon suggests other motives for Harper-Collins's experiment: new copies are selling for $5.95 and there are no reader reviews of the book, suggesting that, despite what the press would have you believe, Judson's book hasn't attracted much attention in print format. Putting it online might not be so much of a brave pilot program as an attempt to staunch the losses for a failed book.
Certainly H-C hasn't gone to a great deal of trouble to make the project look nice. As mentioned, the pagination is exactly the same as the print version; that means that you get pages like this, which start mid-sentence and end mid-sentence. While this is exactly what print books do, it's more of a problem on the web: with so much extraneous material around it, it's more difficult for the reader to remember where they were. It wouldn't have been that hard to rebreak the book: on page 8, they could have left the first line on the previous page with the paragraph it belongs too while moving the last line to the next page.
It is useful to have a book that can be searched by Google. One suspects, however, that Google would have done a better job with this.
Posted by dan visel at 8:09 AM | Comments (6)
A recent BBC article draws attention to widespread concerns among UK librarians (concerns I know are shared by librarians and educators on this side of the Atlantic) regarding the potentially disastrous impact of digital rights management on the long-term viability of electronic collections. At present, when downloads represent only a tiny fraction of most libraries' circulation, DRM is more of a nuisance than a threat. At the New York Public library, for instance, only one "copy" of each downloadable ebook or audio book title can be "checked out" at a time -- a frustrating policy that all but cancels out the value of its modest digital collection. But the implications further down the road, when an increasing portion of library holdings will be non-physical, are far more grave.
What these restrictions in effect do is place locks on books, journals and other publications -- locks for which there are generally no keys. What happens, for example, when a work passes into the public domain but its code restrictions remain intact? Or when materials must be converted to newer formats but can't be extracted from their original files? The question we must ask is: how can librarians, now or in the future, be expected to effectively manage, preserve and update their collections in such straightjacketed conditions?
This is another example of how the prevailing copyright fundamentalism threatens to constrict the flow and preservation of knowledge for future generations. I say "fundamentalism" because the current copyright regime in this country is radical and unprecedented in its scope, yet traces its roots back to the initially sound concept of limited intellectual property rights as an incentive to production, which, in turn, stemmed from the Enlightenment idea of an author's natural rights. What was originally granted (hesitantly) as a temporary, statutory limitation on the public domain has spun out of control into a full-blown culture of intellectual control that chokes the flow of ideas through society -- the very thing copyright was supposed to promote in the first place.
If we don't come to our senses, we seem destined for a new dark age where every utterance must be sanctioned by some rights holder or licensing agent. Free thought isn't possible, after all, when every thought is taxed. In his "An Answer to the Question: What is Enlightenment?" Kant condemns as criminal any contract that compromises the potential of future generations to advance their knowledge. He's talking about the church, but this can just as easily be applied to the information monopolists of our times and their new tool, DRM, which, in its insidious way, is a kind of contract (though one that is by definition non-negotiable since enforced by a machine):
But would a society of pastors, perhaps a church assembly or venerable presbytery (as those among the Dutch call themselves), not be justified in binding itself by oath to a certain unalterable symbol in order to secure a constant guardianship over each of its members and through them over the people, and this for all time: I say that this is wholly impossible. Such a contract, whose intention is to preclude forever all further enlightenment of the human race, is absolutely null and void, even if it should be ratified by the supreme power, by parliaments, and by the most solemn peace treaties. One age cannot bind itself, and thus conspire, to place a succeeding one in a condition whereby it would be impossible for the later age to expand its knowledge (particularly where it is so very important), to rid itself of errors, and generally to increase its enlightenment. That would be a crime against human nature, whose essential destiny lies precisely in such progress; subsequent generations are thus completely justified in dismissing such agreements as unauthorized and criminal.
We can only hope that subsequent generations prove more enlightened than those presently in charge.
Posted by ben vershbow at 7:51 AM | Comments (5)
We had a highly productive face to face meeting with Ken this afternoon to review the prior designs and to try and develop, collaboratively, a solution based on the questions that arose from those designs. We were aiming for a solution that provides a compelling interface for Ken's book and also encourages open-ended discussion of the themes and specific games treated in the book.
What we came up with was a prototype of a blog/book page that presents the entire text of GAM3R 7H30RY, and a discussion board based around the games covered in the book, each corresponding with a specific chapter. These are:



Allegory (on The Sims)


America (on Civilization III)


Analog (on Katamari Damarcy)


Atopia (on Vice City)


Battle (on Rez)


Boredom (on State of Emergency)


Complex (on Deus Ex)


Conclusions (on SimEarth)


Unlike the thousand of gaming forums that already exist throughout the web, this discussion space will invite personal and social points of view, rather than just walkthroughs and leveling up cheats.
We also discussed the fact that discussion boards tend towards opacity as they grow, and ways to alleviate that situation. Growth is good; it reflects a rich back and forth between board participants. Opacity is bad; it makes it harder for new voices to join the discussion. To make it easier for people to join the discussion, Ken envisioned an innovative gateway into the boards based on a shifting graph of topics ranked by post date (x-axis) and number of responses (y-axis). This solution was inspired in part by "The Pool" -- "a collaborative online environment for creating art, code, and texts" developed by Jon Ippolito at the University of Maine -- in which ideas and project proposals float in different regions of a two-dimensional graph depending on quantity and tenor of feedback from the collective.
Returning to the book view, to push the boundaries of the blog form, we introduced a presentation format that uniquely fits around McKenzie's book form—twenty-five regularly sized paragraphs in nine different chapters. Yes, each chapter has exactly 25 paragraphs, making mathematically consistent presentation possible (as an information designer I am elated at this systematic neatness). We decided on showing a cascade of five paragraphs, with one paragraph visible at a time, letting you navigate through chapters and then sets of five paragraphs within a chapter.
As a delightful aside, we started prototyping with a sheet of paper and index cards, but by some sideways luck we pulled out a deck of Brian Eno and Peter Schmidt's Oblique Strategies cards, which suited our needs perfectly. The resulting paper prototype (photo w/ wireframe cues photoshop'd in):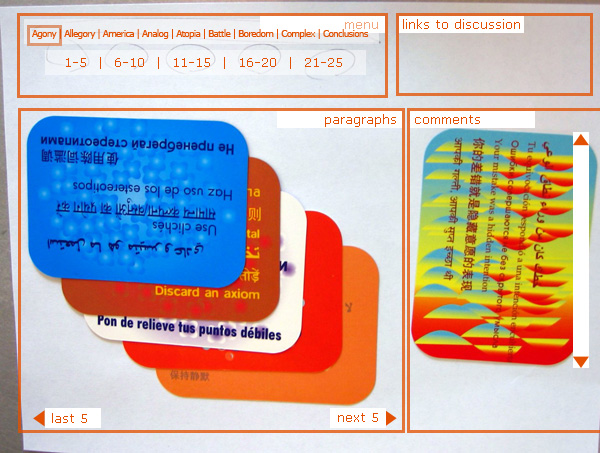 This project has already provided us with a rich discussion regarding authorship and feedback. As we develop the prototypes we will undoubtedly have more questions, but also, hopefully, more solutions that help us redefine the edges and forms of digital discourse.
Ben Vershbow contributed to this post.
Posted by jesse wilbur at 7:00 PM | Comments (7)
We were discussing some of the core ideas that circulate in the background of the Institute and flow in and around the projects we work on—Sophie, next\text, Thinking Out Loud—and how they contrast with Wikipedia (and other open-content systems). We seem obsessed with Wikipedia, I know, but it presents us with so many points to contrast with traditional styles of authorship and authority. Normally we'd make a case for Wikipedia, the quality of content derived from mass input, and the philosophical benefits of openness. Now though, I'd like to step back just a little ways and make a case for the value of voice.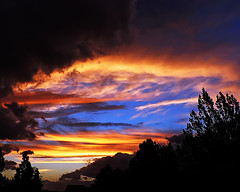 A beautiful sunset by
curiouskiwi
. One individual's viewpoint.
Presumably the proliferation of blogs and self-publishing indicates that the cultural value of voice is not in any danger of being swallowed by collaborative mass publishing. On the other hand, the momentum surrounding open content and automatic recombination is discernibly mounting to challenge the author's historically valued perch.
I just want to note that voice is not the same as authority. We've written about the crossover between authorship and authority here, here, and here. But what we talked about yesterday was not authority—rather, it was a discussion about the different ethos that a work has when it is imbued with a recognizable voice.
Whether the devices employed are thematic, formal, or linguistic, the individual crafts a work that is centripetal, drawing together in your mind even if the content is wide-ranging. This is the voice, the persona that enlivens pages of text with feeling. At an emotional level, the voice is the invisible part of the work that we identify and connect with. At a higher level, voice is the natural result of the work an author has put effort into researching and collating the information.
Open systems naturally struggle to develop the singular voice of highly authored work. An open system's progress relies on rules to manage the continual process of integrating content written by different contributors. This gives open works a mechanical sensibility, which works best with fact-based writing and a neutral point of view. Wikipedia, as a product, has a high median standard for quality. But that quality is derived at the expense of distinctive voices.
This is not to say that Wikipedia is without voice. I think most people would recognize a Wikipedia article (or, really, any encyclopedia article) by its broad brush strokes and purposeful disengagement with the subject matter. And this is the fundamental point of divide. An individual's work is in intimate dialogue with the subject matter and the reader. The voice is the unique personality in the work.
Both approaches are important, and we at the Institute hope to navigate the territory between them by helping authors create texts equipped for openness, by exploring boundaries of authorship, and by enabling discourse between authors and audiences in a virtuous circle. We encourage openness, and we like it. But we cannot underestimate the enduring value of individual voice in the infinite digital space.
Posted by jesse wilbur at 9:00 AM | Comments (7)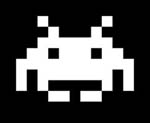 McKenzie Wark
I'm pleased to report that the institute is gearing up for another book-blog experiment to run alongside Mitchell Stephens' ongoing endeavor at Without Gods -- this one a collaboration with McKenzie Wark, professor of cultural and media studies at the New School and author most recently of A Hacker Manifesto. Ken's next book, Gamer Theory, is an examination of single-player video games that comes out of the analytic tradition of the Frankfurt School (among other influences). Unlike Mitch's project (a history of atheism), Ken's book is already written -- or a draft of it anyway -- so in putting together a public portal, we are faced with a very different set of challenges.
As with Hacker Manifesto, Ken has written Gamer Theory in numbered paragraphs, a modular structure that makes the text highly adaptable to different formats and distribution schemes -- be it RSS syndication, ebook, or print copy. We thought the obvious thing to do, then, would be to release the book serially, chunk by chunk, and to gather commentary and feedback from readers as it progressed. The trouble is that if you do only this -- that is, syndicate the book and gather feedback -- you forfeit the possibility of a more free-flowing discussion, which could end up being just as valuable (or more) as the direct critique of the book. After all, the point of this experiment is to expose the book to the collective knowledge, experience and multiple viewpoints of the network. If new ideas are to be brought to light, then there ought to be ways for readers to contribute, not just in direct response to material the author has put forth, but in their own terms (this returns us to the tricky proprietary nature of blogs that Dan discussed on Monday).
So for the past couple of weeks, we've been hashing out a fairly ambitious design for a web site -- a blog, but a little more complicated -- that attempts to solve (or at least begin to solve) some of the problems outlined above. Our first aim was to infuse the single-author book/blog with the democratic, free-fire discussion of list servers -- a feat, of course, that is far easier said than done. Another concern, simply from an interface standpoint, was to find ways of organizing the real estate of the screen that are more intuitive for reading.
Another thing we've lamented about blogs, and web sites in general, is their overwhelming verticality. Vertical scrolling fields -- an artifact of supercomputer terminals and the long spools of code they spit out -- are taken for granted as the standard way to read online. But nowhere was this ordained as the ideal interface -- in fact it is designed more for machines than for humans, yet humans are the users on the front end. Text does admittedly flow down, but we read left to right, and its easier to move your eye across a text that is fixed than one that is constantly moving. A site we've often admired is The International Herald Tribune, which arranges its articles in elegant, fixed plates that flip horizontally from one to the next. With these things in mind, we set it as a challenge for ourselves to try for some kind of horizontally oriented design for Ken's blog.
There's been a fairly rigorous back and forth on email over the past two weeks in which we've wrestled with these questions, and in the interest of working in the open, we've posted the exchange below (most of it anyway) with the thought that it might actually shed some light on what happens -- from design and conceptual standpoints -- when you try to mash up two inherently different forms, the blog and the book. Jesse has been the main creative force behind the design, and he's put together a lovely annotated page explaining the various mockups we've developed over the past week. If you read the emails (which are can be found directly below this paragraph) you will see that we are still very much in the midst of figuring this out. Feedback would be much appreciated. (See also GAM3R 7H30RY: part 2).
This exchange began after a week of sketching and discussion following an initial brainstorm session with Ken in mid-January...

Thu, Jan 26, 2006 at 3:45 PM
Ben Vershbow
To: Ken Wark
Cc: Bob Stein, Jesse Wilbur
Subject: a start
Hi Ken,
So here's the challenge as we see it.
We need to create a single site that:
- combines the best of blogs with the best of list-servers
- is structured to progressively reveal the draft of a book and gather commentary
I'm pleased to report that we've cooked up something that comes pretty close -- a Word Press blog re-jiggered to solve all the world's ills. You can view an html mock-up here:

(wide screenshot of the initial HTML mockup - eventually rejected)
Rather than explain how it works, why don't you just take a look and see how clearly things come across. Not quite everything is there yet, and obviously, it hasn't been tied in to Word Press yet, which will be a bit tricky. But we're pretty confident we can get it to work (when I say we, I mean Jesse, who is the one responsible for building this and who put together the lovely mock-up).
Keep in mind that this is only a sketch and that everything is negotiable. But I think this is a good start.
Let us know how this strikes you fire away with questions.
Best,
Ben et al.

Thu, Jan 26, 2006 at 3:51 PM
Ken Wark
To: Ben Vershbow
Cc: Jesse Wilbur, Bob Stein
Subject: Re: a start
a really impressive start. I kinda imagined it going left to right,
rather than right to left. I think it should also have a sort of free
fire zone where people can comment and discuss without it being tied to particular parts of the book.
In place of the proprietary Mario image, may be a space invader.
(hence: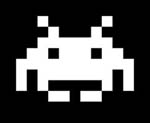 )
k

Thu, Jan 26, 2006 at 3:52 PM
Ken Wark
To: Ben Vershbow
Cc: Jesse Wilbur, Bob Stein
Subject: Re: a start
-- and if the columns could be a bit wider or the text a bit more
compressed (less leading, maybe) to try and get the whole paragraph on
the screen. The longest are 250 words (or if they're not, i'm cutting
them down).
... if i wanted to update the text, how could that work?

Thu, Jan 26, 2006 at 4:22 PM
Ben Vershbow
To: Ken Wark
Cc: Jesse Wilbur, Bob Stein
Subject: Re: a start
Ken said:
>I kinda imagined it going left to right, rather than right to left.
We debated the left-right right-left thing. The problem with left to right is that the more of the book you release, the further down (or over, I should say) the new paragraphs are. Our thought was that it's better to have the most recent first, as in a normal blog, in the interest of keeping the thing as a living exchange. You don't want readers to have to do tons of scrolling to get to the latest installment. It's reverse linear, I realize, but the book hieararchy to the side will allow readers to see an archive view of the book that goes 1-200 in the proper order. There are ways we could make that clearer, like inviting visitors to "read from the beginning" or something.
Ken said:
>I think it should also have a sort of free fire zone where people can comment and discuss without it being tied to particular parts of the book.
This is certainly something we should consider. You'll notice that the "binary thinking for humans" post was made by another user. This is our gesture toward the democracy of list-serves. We figure that there are three ways a user can interact with this site:
1. They simply read it (and later are moved to buy your book, or change the world)
2. They read it and sometimes post comments
3. They read it, sometimes post comments, and even sometimes post top-level threads (like the "binary thinking" one).
1 and 2 are obviously open and unrestricted (though we might need some moderation once the spammers find us). Number 3, however, would require a guest account, so we're working out a way to allow users to create logins. In the spirit of the game, they would be allowed to choose an icon from classic game culture (that's just something we're toying with, let us know what you think). Mario for you was a purely arbitrary choice. You can be a space invader, Metroid, Yoshi or whoever.
Anyway, this allows people to start threads of their own, though they are, as you point out, interspersed within the set structure of the book according to the time they were posted. If you want something that is freer of the book's structure, we would need something like a free fire zone.
Regarding your second comments:
>-- and if the columns could be a bit wider or the text a bit more
>compressed (less leading, maybe) to try and get the whole paragraph
>on the screen. The longest are 250 words (or if they're not, i'm
>cutting them down).
>
>... if i wanted to update the text, how could that work?
We can certainly tweak the formatting. Our goal is to have two full sections visible and a third cut off, giving the visual clue that there is more content to the side.
As for updating text, that's a very good question. Jesse, any ideas?
We could color code additions and deletions - like a track changes function. We could also work revised paragraphs into the main stream, though this could quickly get confusing. If you see 84, 83, some dude's post, 82, then 41 with all kinds of markings on it, then 81, it might be a little disorienting.
Anyway, let's keep talking this through. Remember to copy everyone so we're all part of the discussion.
- Ben

Thu, Jan 26, 2006 at 5:08 PM
Jesse Wilbur
To: Ben Vershbow
Cc: Ken Wark, Bob Stein
Subject: Re: a start
Ken,
I think coded additions and deletions are probably the best way to
handle, for the reasons that ben noted. Getting that info into the
stream of the posts does pose a little bit of a problem. My first
reaction is to have some area of the screen dedicated to the "latest
updates" which would be unrestricted to the flow of the chapters.
Possibly in the upper right corner, as a list of small text links.
To help get all of a paragraph on the screen, I can 1) reduce the
leading, 2) move the icon to the left hand side, return address style.
It will still serve the purpose of visually marking a post as belonging to a particular author, but reduce some of the stacking.
-jdw

Thu, Jan 26, 2006 at 5:28 PM
Ben Vershbow
To: Jesse Wilbur
Cc: Ken Wark, Bob Stein
Subject: Re: a start
The question of revisions is important and very tricky. Tracking changes would have to be done by hand, which could get burdensome. Ideally, each entry would have a revision history. But that's simply not something Word Press is built to do. We'll look into ways that we can mess with it, but we're pushing it nearly to breaking point as it is.
There's also the question of how soon we want to get this thing up. I say the sooner the better (initially I was thinking in the next two weeks), but if we want to get revisions right, it might take longer.
We're going to confer on this and weigh our options.
We'll be at a conference tomorrow so may have less time to work on this. But let's keep talking about anything and everything we want to add/remove/change on the current design.
- Ben

Thu, Jan 26, 2006 at 7:32 PM
Ken Wark
To: Ben Vershbow, Jesse Wilbur
Cc: Bob Stein
Subject: Re: a start
revisions need not be a big deal. It would be useful to be able to take a chunk of text out and put another one in. That the pars are numbered makes that easy.
k

We then hunkered down for the next few days and came up with some new mockups.

Wed, Feb 1, 2006 at 2:02 PM
Ben Vershbow
To: Ken Wark, Jesse Wilbur, Bob Stein
Subject: Site Draft(s) 2
Hi Ken,
So we've made a second stab at a design. Several stabs, actually, which leaves us a little more confused than before, but I think productively confused. I do believe we're getting somewhere.
Go to http://www.futureofthebook.org/mckenziewark and you will see a menu of three new mockups (just graphics, not interactive). Three and a half, to be precise (one of them has two views). These are rough, and are missing some important elements, but we wanted to keep you in on the discussion. So here they are, warts and all.
But before you look at these sketches, I'll briefly summarize how we got from what we had the other day to what we have today. So. The initial design had two major problems. One you pointed out, namely that the interspersing of visitor posts among book paragraphs (a bloggish gesture toward the democracy of list servers) did not meaningfully subtract from the primacy of the author in the flow of discussion. This was problem number one, and it led us to give up on trying to fully integrate free-fire discussion with the syndicated book. After all, this project is inescapably about the primacy of the author. Sure, we're poking at it, gently undermining it -- suggesting that a book is as much about process as product -- but it's still your book, your name. We decided that the design should embrace this fact, while also providing alternative venues for more equitable exchange.
The second problem was one we realized only after getting over the "oh, how cool this looks" stage of analysis, namely that horizontal scrolling, lovely as it is, runs into difficulties when you are working with such a large amount of content, much of it coming in at inpredictable intervals and in varying amounts (i.e. comments). It's a question of real estate. We have only so much space on the screen (keeping in mind the smallest standard browser window) and since we want comments to be visible in the main view, we've got an awful lot of material to get organized. If you look at the original mockup, you'll see how this necessitates a combination of vertical and horizontal scrolling. The result is that when you come to the page, instead of a clearly defined website, you see something that looks more like the upper-left corner of a map -- not well formatted for a browser. Seeing as the browser is the reading tool of choice, this won't do at all.
Having both horizontal and vertical scrolling emphasizes the disadvantages of both and the advantages of neither. The Herald Tribune site works nicely because it is dealing with set amounts of text that it can flow cleanly into successive horizontal plates. If we were dealing only with the book, sans comments or discussion, we could do something similarly elegant. But there are more variables in play here, and like it or not, a dynamic work such as this, given the tools currently available, strongly tends toward a vertical display.
Still, as you'll see in our first new mockup, we've still struggled to make the horizontal work. In this one, the paragraphs flow vertically, but the comments flow horizontally. In this case, the horizontal is more intuitive, since we naturally read left to right and the comments are ordered chronologically in the same way. But we still run into the real estate problem described earlier and the reader ends up having to scroll in multiple directions. You'll notice also a menu on the sidebar pointing to discussion topics in a free-fire forum. This is not at all the way this would look, it's just a crude marker. It would lead to a page of topics that anyone could post. We're also thinking of a way to allow readers to post a comment simultaneously under a paragraph and as its own forum thread.
The second mockup keeps the comments to the right, but arranges them vertically. This isn't so bad, except that when you have a lot of comments, and you open them up, it starts to seriously push the next post down, which looks awkward. But maybe this is not such a problem.
The third reflects our attempt to keep the free-fire discussion on the main page next to the book flow. The problem with this is that, though the two streams are clearly related, there is no mechanism provided with which to draw specific connection points. In other words, this design implicitly promises something it cannot deliver, and will come off seeming arbitrary and not well thought out.
The other big thing to throw into the mix, but which is not yet reflected in these sketches, is the question of versioning. We've figured out some reasonably simple ways to incorporate versioning into the design and feel that, given the goals of the project, this is one of the most important ingredients to include. The kind of versioning we're imagining would include a sort of "track changes" function and would automatically archive all past incarnations of a paragraph.
So to sum up, I think what we're moving toward is something that combines elements of all three sketches and throws in the element of versioning. We may have to let go of the idea of horizontal scrolling, but we're confident that we'll still be presenting comments in an interesting way. The free-fire discussion element will be there, but in a different space, yet we will advertise it prominently on the front page and try to find a simple but effective way to connect it to the book-centered comments.
And having said all that (sorry it was so long-winded), we'd like to hear from you which, among the elements we've laid out, you think are most important to include in the final design, and in what proportions. What works and what doesn't work? What are things we are obsessing about that need not be obsessed about? What are things we're still missing?
With a little more work, I think we can have something ready to go in the next week or two.
- Ben

Wed, Feb 1, 2006 at 2:19 PM
Ken Wark
To: Bob Stein, Ben Vershbow, Jesse Wilbur
Subject: Re: Site Draft(s) 2
wow, that's a lot to think about, but its an interesting set of
problems. I'll have a think about it, but maybe it would be best to meet
and kick it around. How's Friday?
k

Wed, Feb 1, 2006 at 2:48 PM

Ben Vershbow
To: Ken Wark, Jesse Wilbur, Bob Stein
Subject: Re: Site Draft(s) 2
Meeting face to face is a good idea and Friday works well.

Wed, Feb 1, 2006 at 3:26 PM
Subject: Re: Site Draft(s) 2
Ben Vershbow
To: Ken Wark
Cc: Jesse Wilbur, Bob Stein
Hey Ken,
One other thing...
Here at the institute we're generally trying to find ways we can do our work more in the open, and thinking about it, our email exchange about the site design have actually turned out to be pretty interesting, maybe even interesting enough for people to want to read them on our blog.
This project poses some big questions about the work of ideas in the network of ideas, and our little back-and-forth is turning into an intriguing little document at the intersection of theory and practice.
How would you feel about us posting it?
- Ben

Wed, Feb 1, 2006 at 4:16 PM
Ken Wark
To: Ben Vershbow
Cc: Jesse Wilbur, Bob Stein
Subject: Re: Site Draft(s) 2
sure, let's start a public thread on it
i'm starting to wonder if it ought not to feature the book too centrally at all. What if the front of the site was about the games that the book is about? (I've pasted in the contents below). The architecture for commenting on the book could be a layer, but in front of that could be a more conventional set of forums about particular games.
Allegory (on The Sims) 25
America (on Civilization III) 47
Analog (on Katamari Damarcy) 66
Atopia (on Vice City) 83
Battle (on Rez) 104
Boredom (on State of Emergency) 124
Complex (on Deus Ex) 147
Conclusions (on SimEarth) 162

see you fri
k

...which just about brings us up to the present moment. If you have any thoughts/questions/comments, we're all ears.
Posted by ben vershbow at 12:35 PM | Comments (8)