« two newspapers | Main | first sighting of sony ebook reader »
useful rss 01.04.2006, 1:58 PM
posted by jesse wilbur
Hi. I'm Jesse, the latest member to join the staff here at the Institute. I'm interested in network effects, online communities, and emergent behavior. Right now I'm interested in the tools we have available to control and manipulate RSS feeds. My goal is to collect a wide variety of feeds and tease out the threads that are important to me. In my experience, mechanical aggregation gives you quantity and diversity, but not quality and focus. So I did a quick investigation of the tools that exist to manage and manipulate feeds.
Sites like MetaFilter and Technorati skim the most popular topics in the blogosphere.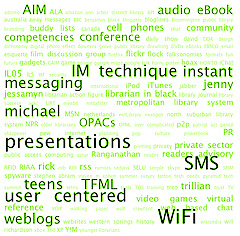 But what sort of tools exist to help us narrow our focus? There are two tools that we can use right now: tag searches/filtering, and keyword searching. Tag searches (on Technorati) and tag filtering (on Metafilter) drill down to specific areas, like "books" or "books and publishing." A casual search on MetaFilter was a complete failure, but Technorati, with its combination of tags and keyword search results produced good material.
There is also the Google Blog search. As Google puts it, you can 'find blogs on your favorite topics.' PageRank works, so PageRank applied to blogs should work too. Unfortunately it results in too many pages that, while higher ranked in the whole set of the Internet, either fail to be on topic or exist outside of the desired sub-spheres of a topic. For example, I searched for "gourmet food" and found one of the premier food blogs on the fourth page, just below Carpundit. Google blog search fails here because it can't get small enough to understand the relationships in the blogosphere, and relies more heavily on text retrieval algorithms that sabotage the results.
Finally, let's talk about aggregators. There is more human involvement in selecting sites you're interested in reading. This creates a personalized network of sites that are related, if only by your personal interest. The problem is, you get what they want to write about. Managing a large collection of feeds can be tiresome when you're looking for specific information. Bloglines has a search function that allows you to find keywords inside your subscriptions, then treat that as a feed. This neatly combines hand-picked sources with keyword or tag harvesting. The result: a slice of from your trusted collection of authors about a specific topic.
What can we envision for the future of RSS? Affinity mapping and personalized recommendation systems could augment the tag/keyword search functionality to automatically generate a slice from a small network of trusted blogs. Automatic harvesting of whole swaths of linked entries for offline reading in a bounded hypertext environment. Reposting and remixing feed content on the fly based on text-processing algorithms. And we'll have to deal with the dissolving identity and trust relationships that are a natural consequence of these innovations.
Posted by jesse wilbur on January 4, 2006 1:58 PM
tags: RSS, aggregators, blog_search, bloglines, google, tools
comments (5):


Bud Parr
on
January 4, 2006 6:23 PM
:
Welcome, Jesse. My favorite topic right now.
I wonder if we don't try too hard to eliminate the human element, particularly in terms of "everybody" using RSS.
I use smartlists in NetNewswire (which could be more robust in that regard) to filter topics out of 150ish litblogs and then try to aggregate them in what I call "highlights" posts to try and capture threads of conversations with quotes and a tag cloud (I also offer headlines of the most recent posts from that same group of sites).
My observations from doing this:
1) it's always a moving target and I tend to build up so many key words (and mind you this is confined to one main topic of literature) that my keywords are difficult to keep up with.
2) searching and using keywords is an art.
3) I can't imagine that being done in a meaningful way automatically (my case particularly since choosing highlights is an editorial function.) and by average users. I tend to think about technology in terms of what it would take for my dad to adopt it (okay, maybe my wife, my dad has a hard time plugging in the power cord) - that way of looking at the concept seems valid after setting up this network because I have a lot of members who have blogs who don't know what RSS is or very little concept of the technology they are using (a testimony to the medium!).
Sorry for the rambling - these are just initial thoughts from your post and given that this is your interest, I look forward to seeing more from you.
Bud Parr


Amy
on
January 4, 2006 7:27 PM
:
Jessie, thanks for putting form to my thoughts about rss feeds. Could/should the labeling obligation fall more on the author than the reader (human or digital) in creating and using keywords for their entries? Is there an incentive to make that happen?


Jesse Wilbur
on
January 5, 2006 1:28 AM
:
Amy, in response to your question, I think that it is simply good practice to label content that you generate with keywords or tags. The only incentive that I know of is to make it easier to find. And, since we want people to read our stuff, making it findable is the first step.
Automatic keyword generation has a long history in the search and retrieval world. I think the algorithms we have are successful for finding keywords automatically.
But I also feel like there is a missing element - the ability to have others tag your content. This would add another important level of information and allow the community to shape the context of the content. Let's hope someday soon a plugin appears on the movable type horizon to enable that practice.


JohnH
on
January 6, 2006 9:43 AM
:
Check the RSSHut directory which is a collection of the top informative and news websites.


lotu5
on
January 10, 2006 5:14 PM
:
Great post! Indymedia is starting to do some interesting work with blogs/rss/aggregators.



For example, http://radio.indymedia.org has a "generate a podcast" link on the left hand column. So, you can select a search term like "WTO" and generate a podcast of audio posted from all the various stations and media activists that use radio.indymedia.org that contains the term WTO. A tagging system would take this one step farther, in allowing users to make more accurate content descriptions over time, instead of trusting the short blurbs content producers put in.



Also, San Diego Indymedia and New York Indymedia have both created "blogwires", which are basically aggregators of local political bloggers. The more interesting part is the way that the content can be integrated into the site, where with a few clicks an Indymedia volunteer can take a syndicated story, with preview, image and all and promote it to a feature story on the front page. Also, Indymedia US has a similar functionality.



http://video.indymedia.org also acts as an aggregator for video feeds across the indymedia network, although the software they're using is new and doesn't have any more advanced features other than including video.



All of these projects use open source software which can be repurposed for other rss projects as well.
(Because of spam troubles, first-time comments from unfamiliar addresses or containing multiple links might be held for moderation. If your comment isn't spam, we'll publish it very soon. Thanks in advance for your patience.)