« the book is reading you | Main | cheney and google »
lessig in second life 01.20.2006, 9:27 AM
posted by ray cha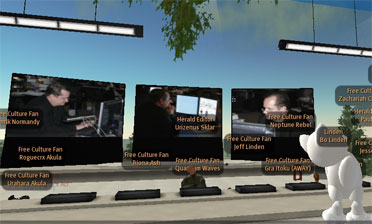 Wednesday evening, I attended an interview with Larry Lessig, which took place in the virtual world of Second Life. New World Notes announced the event and is posting coverage and transcripts of the interview. As it was my first experience in SL, I will post more on the experience of attending an interview/ lecture in a virtual space. For now, I am going to comment upon two quotes that Lessig covered as it relates to our work at the institute.
Lawrence Lessig: Because as life moves online we should have the SAME FREEDOMS (at least) that we had in real life. There's no doubt that in real life you could act out a movie or a different ending to a movie. There's no doubt that would have been "free" of copyright in real life. But as we move online things that were before were free now are regulated.
Yesterday, Bob made the point that our memories increasingly exist outside of ourselves. At the institute, we have discussed the mediated life, and a substantial part of that mediation occurs as we continue to digitize more parts of our lives, from photo albums to diaries. Things we once created in the physical world now reside on the network, which means that it is being published. Photo albums documenting our trips to Disneyland or the Space Needle (whose facade is trademarked and protected) that one rested within the home, are uploaded to flickr, potentially accessible to anyone browsing the Internet, a regulated space. This regulation has enormous influence on the creative outlets of everyone, not just professionals. Without trying to sound overly naive, my concern is not just that speech and discourse of all people are being compromised. As companies become more litigious towards copyright infringement (especially when their arguments are weak), the safe guards of the courts and legislation are not protecting its constituents.
Lawrence Lessig: Copyright is about creating incentives. Incentives are prospective. No matter what even the US Congress does, it will not give Elvis any more incentive to create in 1954. So whatever the length of copyright should be prospectively, we know it can make no sense of incentives to extend the term for work that is already created.
The increasing accessibility of digital technology allows people to become creators and distributors of content. Lessig notes that with each year, the increasing evidence from cases such as the Google Book Search controversy show the inadequacy of current copyright legislation. Further, he insightfully suggests to learn from the creations that young people produce such as anime music videos. Their completely different approach to intellectual property informs the cultural shift that is running counter to the legal status quo. Lessig suggest that these creative works have the potential to inform policy makers that these attitudes are moving toward the original intentions of copyright law. Then, policy makers hopefully may begin to question why these works are currently considered illegal.
The courts' failure to clearly define an interpretation of fair use puts at risk the discourse that a functioning democracy requires. The stringent attitudes towards using copyrighted material goes against the spirit of the original intentions of the law. Although, it may not be a role of the government and the courts to actively encourage creativity. It is sad that bipartisan government actions and courts rulings actively discourage innovation and creativity.
Posted by ray cha on January 20, 2006 9:27 AM
tags: Copyright and Copyleft, conferences_and_excursions, copyright, intellectual_property, lessig, publishing, second_life
comments (0):
(Because of spam troubles, first-time comments from unfamiliar addresses or containing multiple links might be held for moderation. If your comment isn't spam, we'll publish it very soon. Thanks in advance for your patience.)