« wikipedia update: author of seigenthaler smear confesses | Main | trapped in the closet & the form of the blook »
no more shrek figures with your fries:
Disney wants to digitize and serialize the happy meal giveaway 12.12.2005, 2:14 PM
posted by lisa lynch
A Dec 6th article in New Scientist notes that patents filed by Disney last April reveal plans to drip-feed entertainment into the handheld video players of children eating in McDonalds. The patent suggests that instead of giving out toys with Happy Meals, McDonalds might provide installments of a Disney tale: the child would only get the full story by coming back to the restaurant a number of times to collect all the installments. Here's some text from the patent:
...the downloading of small sections or parts of content can be spread out over a long period of time, e.g., 5 days. Each time a different part of the content, such as a movie, is downloaded, until the entire movie is accumulated. Thus, as a promotional program with a venue, such as McDonald's.RTM. restaurant, a video, video game, new character for a game, etc., can be sent to the portable media player through a wireless internet connection... as an alternative to giving out toys with Happy Meals or some other promotion. The foregoing may be accomplished each time the player is within range of a Wi Fi or other wireless access point. The reward for eating at a restaurant, for example, could be the automatic downloading of a segment of a movie or the like...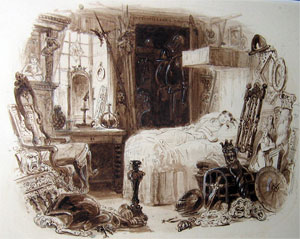 Hmm. Some small issues to be worked through here -- like identifying that elusive target market of parents willing to hand their child a video ipod while he or she is eating a cheeseburger and fries. But if this is a real direction for the future, what might it portend? Will Disney tales distributed on the installment plan capture the interest of children as much as small plastic figurines representing the main characters of their latest Disney experience? And what's ultimately better for the development of a young imagination, a small plastic Shrek or five minutes from a mini-Shrek video (the choice of "neither" is not an option here)? Can we imagine such a distribution method returning us to the nineteenth-century serialization manial prompted by Dicken's chapter-by-chapter account of the death of Little Nell?
image: the death of little nell from Dicken's The Old Curiosity Shop, 1840
Posted by lisa lynch on December 12, 2005 2:14 PM
tags: The Ideal Device?, disney, ipods, serialization, videos
comments (3):


Amy
on
December 13, 2005 10:47 AM
:
A key tie in, it would seem to me, is a connection to the dvd players in mini-vans. If a quick run through the Drive Thru means you can get your kid fed and keep them entertained while you get to do your errands, then you might be far more likely to go back a couple times a week, than actually go in and sit down.


bowerbird
on
December 13, 2005 5:13 PM
:
is anyone else bothered by the fact that
disney applied for a _patent_ on this?
-bowerbird


Liz Lawley
on
December 15, 2005 2:19 PM
:
I suspect they're targeting Nintendo DS and PSP systems, rather than video iPods.
But there's still a significant class factor here. Plenty of kids who can play with plastic toys will be shut out of the digital distribution approach.
(Because of spam troubles, first-time comments from unfamiliar addresses or containing multiple links might be held for moderation. If your comment isn't spam, we'll publish it very soon. Thanks in advance for your patience.)