« malcom gladwell on the social life of paper. | Main | the book in the network - masses of metadata »
blog meeting in la-la land 11.15.2005, 5:36 PM
posted by ben vershbow
The Chronicle of Higher Education has published a positive piece on blogging in academia, a first person account by Rebecca Goetz, one of the first academic bloggers, of how blogging can actually enhance scholarly life, foster trans-disciplinary communication, and connect the academy to the public sphere.
The timing of Goetz's article is auspicious, as the institute is currently grappling with these very issues, gearing up for a grant proposal to do something big. Last week, about to dash out the door for the airport, I mentioned this project we're cooking up to encourage, promote and organize academic blogging with the aim of raising its status as a scholarly activity. Well, last Friday in Los Angeles we assembled a cadre of over a dozen blog-oriented professors, grad students, and journalism profs, along with a radical blogger-librarian, a grassroots media producer, and a sociologist, for a day of stimulating discussion about what can happen when you put blogs in the hands of people who really know something about something.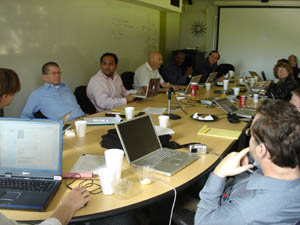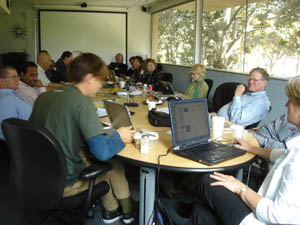 We're still sifting through notes and thoughts from the meeting, and for anyone who's interested we've devoted an entire blog to continuing the discussion. I guess you could say we've formed a little community dedicated to answering the big questions -- chiefly, how the blogging medium might serve as a bridge between the world of scholarly knowledge and the world at large -- and to helping us form the proposal for a project -- a website? a network? a new sort of blog? -- that will address some of these questions.
John Mohr, the afore-mentioned sociologist, described it as a matter of "marshaling and re-deploying intellectual capital," which I think brilliantly and succinctly captures the possibilities of blogs both for making the academy more transparent and for helping it reach the general public, shining the light of knowledge, as it were, on the complexity of human affairs. The power of blogs is that they exist in a space all their own, not entirely within the academy and not (at least not yet) within the economic and editorial structures of mass media. Because of this, bloggers are able to maintain what McKenzie Wark calls "a slight angle of difference" from both sides. We here at the institute, from our not-quite-inside-not-quite-outside-the-academy vantage, are interested in simultaneously protecting that angle and boosting its stature.
Back in May, I saw Wark speak at a conference on new media education at CUNY called "Share, Share Widely." He talked about how the academy should position itself in the media-saturated society and how it can employ new media tools (like blogging) to penetrate, and even redefine, the public sphere. I was mulling this over leading up to the meeting and it seems even more dead-on now:
"This tension between dialogue and discourse might not be unrelated to that between education and knowledge. Certainly what the new media technologies offer is a way of constructing new possibilities for the dialogic, ones which escape the boundaries of discipline, even of the university itself. New media is not interdisciplinary or transdisciplinary. It is antidisciplinary -- although one might be careful where and to whom we break this news. Its acid with which to eat away at the ossified structure of discourse -- with the aim of constructing a new structure of discourse. One that might bring closer together the university with its outside. Not to erase the precious interiority of the university, but to make it porous. To actually apply all that 'theory' we learned to our own institutions."

"Imagine a political refugee, fleeing one country for another, jotting down his thoughts on the run, sharing them with his friends. I'm talking about Marx, writing the 1844 manuscripts. I think critical theory was always connected to new media practices. I think it was always about rethinking the discourse in which dialogue is possible. I think it was always knowledge escaping from the institutions of education. Think of Gramsci editing New Order, negotiating between metropolitan and subaltern languages. Think of Benjamin's One Way Street, a pamphlet with bold typographic experiments. Or Brecht's experiments in cinema. Or Debord's last -- amazing -- TV program. Broadcast only once so you had to set your vcr. Or the Frankfurt School and Birmingham Schools, which broke down the intellectual division of labor. Or the autonomous studio Meilville built for Godard."

"We need to do a 'history of the present' as Foucault would say, and recover the institutional aspect of knowledge as an object of critique. But of more than critique as well. Let's not just talk about the 'public sphere'. Let's build some! We have the tools. We know wiki and blogging and podcasting. Let's build new relations between theory and practice. No more theory without practice -- but no more practice without theory either. Let's work at slight angle of difference from the institution. Not against it -- that won't get you tenure -- but not capitulating to it either. That won't make any difference or be interesting to anybody."
Posted by ben vershbow on November 15, 2005 5:36 PM
tags: Education, academia, academy, blogger, blogging, blogs, marx, scholarship, university
comments (1):


McKenzie Wark
on
December 2, 2005 11:12 PM
:
I pinched that 'Marx as blogger' idea from Nick Dyer-Witherford. My apologies to Nick for not name checking him.
Are blogs really the righ tool, i wonder? Even if these are one's aims...
(Because of spam troubles, first-time comments from unfamiliar addresses or containing multiple links might be held for moderation. If your comment isn't spam, we'll publish it very soon. Thanks in advance for your patience.)