« October 2005 | Main | December 2005 »
A November 27 Chicago Tribune article by Julia Keller bundles together hypertext fiction, blogging, texting, and new electronic distribution methods for books under a discussion of "e-literature." Interviewing Scott Rettberg (of Grand Text Auto) and MIT's William J. Mitchell, the reporter argues that the hallmark of e-literature is increased consumer control over the shape and content of a book:
Literature, like all genres, is being reimagined and remade by the constantly unfolding extravagance of technological advances. The question of who's in charge -- the producer or the consumer -- is increasingly relevant to the literary world. The idea of the book as an inert entity is gradually giving way to the idea of the book as a fluid, formless repository for an ever-changing variety of words and ideas by a constantly modified cast of writers.
A fluid, formless repository? Ever-changing words? This is the Ipod version of the future of literature, and I'm having a hard time articulating why I find it disturbing. It might be the idea that the digitized literature will bring about a sort of consumer revolution. I can't help but think of this idea as a strange rearticulation of the Marxist rhetoric of the Language Poets, a group of experimental writers who claimed to give the reader a greater role in the production process of a literary work as part of critique of capitalism (more on this here). In the Ipod model of e-literature, readers don't challenge the capitalist sytem: they are consumers, empowered by their purchasing power.
There's also a a contradiction in the article itself: Keller's evolutionary narrative, in which the "inert book" slowly becomes an obsolete concept, is undermined by her last paragraphs. She ends the article by quoting Mitchell, who insists that there will always be a place for "traditional paper-based literature" because a book "feels good, looks good -- it really works." This gets us back to Malcolm Gladwell territory: is it true that paper books will always seem to work better than digital ones? Or is it just too difficult to think beyond what "feels good" right now?
Posted by lisa lynch at 10:49 AM | Comments (1)
Siva Vaidhyanathan has written an excellent essay for the Chronicle of Higher Education on the "risky gamble" of Google's book-scanning project -- some of the most measured, carefully considered comments I've yet seen on the issue. His concerns are not so much for the authors and publishers that have filed suit (on the contrary, he believes they are likely to benefit from Google's service), but for the general public and the future of libraries. Outsourcing to a private company the vital task of digitizing collections may prove to have been a grave mistake on the part of Google's partner libraries. Siva:
The long-term risk of privatization is simple: Companies change and fail. Libraries and universities last.....Libraries should not be relinquishing their core duties to private corporations for the sake of expediency. Whichever side wins in court, we as a culture have lost sight of the ways that human beings, archives, indexes, and institutions interact to generate, preserve, revise, and distribute knowledge. We have become obsessed with seeing everything in the universe as "information" to be linked and ranked. We have focused on quantity and convenience at the expense of the richness and serendipity of the full library experience. We are making a tremendous mistake.
This essay contains in abundance what has largely been missing from the Google books debate: intellectual courage. Vaidhyanathan, an intellectual property scholar and "avowed open-source, open-access advocate," easily could have gone the predictable route of scolding the copyright conservatives and spreading the Google gospel. But he manages to see the big picture beyond the intellectual property concerns. This is not just about economics, it's about knowledge and the public interest.
What irks me about the usual debate is that it forces you into a position of either resisting Google or being its apologist. But this fails to get at the real bind we all are in: the fact that Google provides invaluable services and yet is amassing too much power; that a private company is creating a monopoly on public information services. Sooner or later, there is bound to be a conflict of interest. That is where we, the Google-addicted public, are caught. It's more complicated than hip versus square, or good versus evil.
Here's another good piece on Google. On Monday, The New York Times ran an editorial by Adam Cohen that nicely lays out the privacy concerns:
Google says it needs the data it keeps to improve its technology, but it is doubtful it needs so much personally identifiable information. Of course, this sort of data is enormously valuable for marketing. The whole idea of "Don't be evil," though, is resisting lucrative business opportunities when they are wrong. Google should develop an overarching privacy theory that is as bold as its mission to make the world's information accessible - one that can become a model for the online world. Google is not necessarily worse than other Internet companies when it comes to privacy. But it should be doing better.
Two graduate students in Stanford in the mid-90s recognized that search engines would the most important tools for dealing with the incredible flood of information that was then beginning to swell, so they started indexing web pages and working on algorithms. But as the company has grown, Google's admirable-sounding mission statement -- "to organize the world's information and make it universally accessible and useful" -- has become its manifest destiny, and "information" can now encompass the most private of territories.
At one point it simply meant search results -- the answers to our questions. But now it's the questions as well. Google is keeping a meticulous record of our clickstreams, piecing together an enormous database of queries, refining its search algorithms and, some say, even building a massive artificial brain (more on that later). What else might they do with all this personal information? To date, all of Google's services are free, but there may be a hidden cost.
"Don't be evil" may be the company motto, but with its IPO earlier this year, Google adopted a new ideology: they are now a public corporation. If web advertising (their sole source of revenue) levels off, then investors currently high on $400+ shares will start clamoring for Google to maintain profits. "Don't be evil to us!" they will cry. And what will Google do then?
images: New York Public Library reading room by Kalloosh via Flickr; archive of the original Google page
Posted by ben vershbow at 8:18 AM | Comments (7)
Grand theories about upheavals on the internet horizon are in ready supply. Singularities are near. Explosions can be expected in the next six to eight months. Or the whole thing might just get "flushed" down the tubes. This last scenario is described at length in a recent essay in Linux Journal by Doc Searls, which predicts the imminent hijacking of the net by phone and cable companies who will turn it into a top-down, one-way broadcast medium. In other words, the net's utopian moment, the "read/write" web, may be about to end. Reading Searls' piece, I couldn't help thinking about the story of radio and a wonderful essay Brecht wrote on the subject in 1932: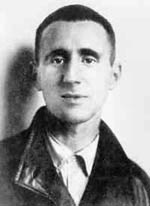 Here is a positive suggestion: change this apparatus over from distribution to communication. The radio would be the finest possible communication apparatus in public life, a vast network of pipes. That is to say, it would be if it knew how to receive as well as to transmit, how to let the listener speak as well as hear, how to bring him into a relationship instead of isolating him. On this principle the radio should step out of the supply business and organize its listeners as suppliers....turning the audience not only into pupils but into teachers.
Unless you're the military, law enforcement, or a short-wave hobbyist, two-way radio never happened. On the mainstream commercial front, radio has always been about broadcast: a one-way funnel. The big FM tower to the many receivers, "prettifying public life," as Brecht puts it. Radio as an agitation? As an invitation to a debate, rousing families from the dinner table into a critical encounter with their world? Well, that would have been neat.
Now there's the internet, a two-way, every-which-way medium -- a stage of stages -- that would have positively staggered a provocateur like Brecht. But although the net may be a virtual place, it's built on some pretty actual stuff. Copper wire, fiber optic cable, trunks, routers, packets -- "the vast network of pipes." The pipes are owned by the phone and cable companies -- the broadband providers -- and these guys expect a big return (far bigger than they're getting now) on the billions they've invested in laying down the plumbing. Searls:
The choke points are in the pipes, the permission is coming from the lawmakers and regulators, and the choking will be done....The carriers are going to lobby for the laws and regulations they need, and they're going to do the deals they need to do. The new system will be theirs, not ours....The new carrier-based Net will work in the same asymmetrical few-to-many, top-down pyramidal way made familiar by TV, radio, newspapers, books, magazines and other Industrial Age media now being sucked into Information Age pipes. Movement still will go from producers to consumers, just like it always did.
If Brecht were around today I'm sure he would have already written (or blogged) to this effect, no doubt reciting the sad fate of radio as a cautionary tale. Watch the pipes, he would say. If companies talk about "broad" as in "broadband," make sure they're talking about both ends of the pipe. The way broadband works today, the pipe running into your house dwarfs the one running out. That means more download and less upload, and it's paving the way for a content delivery platform every bit as powerful as cable on an infinitely broader band. Data storage, domain hosting -- anything you put up there -- will be increasingly costly, though there will likely remain plenty of chat space and web mail provided for free, anything that allows consumers to fire their enthusiasm for commodities through the synapse chain.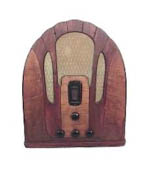 If the net goes the way of radio, that will be the difference (allow me to indulge in a little dystopia). Imagine a classic Philco cathedral radio but with a few little funnel-ended hoses extending from the side that connect you to other listeners. "Tune into this frequency!" "You gotta hear this!" You whisper recommendations through the tube. It's sending a link. Viral marketing. Yes, the net will remain two-way to the extent that it helps fuel the market. Web browsers, like the old Philco, would essentially be receivers, enabling participation only to the extent that it encouraged others to receive.
You might even get your blog hosted for free if you promote products -- a sports shoe with gelatinous heels or a music video that allows you to undress the dancing girls with your mouse. Throw in some political rants in between to blow off some steam, no problem. That's entrepreneurial consumerism. Make a living out of your appetites and your ability to make them infectious. Hip recommenders can build a cosy little livelihood out of their endorsements. But any non-consumer activity will be more like amateur short-wave radio: a mildly eccentric (and expensive) hobby (and they'll even make a saccharine movie about a guy communing with his dead firefighter dad through a ghost blog).
Searls sees it as above all a war of language and metaphor. The phone and cable companies will dominate as long as the internet is understood fundamentally as a network of pipes, a kind of information transport system. This places the carriers at the top of the hierarchy -- the highway authority setting the rules of the road and collecting the tolls. So far the carriers have managed, through various regulatory wrangling and court rulings, to ensure that the "transport metaphor" has prevailed.
But obviously the net is much more than the sum of its pipes. It's a public square. It's a community center. It's a market. And it's the biggest publishing system the world has ever known. Searls wants to promote "place metaphors" like these. Sure, unless you're a lobbyist for Verizon or SBC, you probably already think of it this way. But in the end it's the lobbyists that will make all the difference. Unless, that is, an enlightened citizens' lobby begins making some noise. So a broad, broad as in broadband, public conversation should be in order. Far broader than what goes on in the usual progressive online feedback loops -- the Linux and open source communities, the creative commies, and the techno-hip blogosphere, that I'm sure are already in agreement about this.
Google also seems to have an eye on the pipes, reportedly having bought thousands of miles of "dark fiber" -- pipe that has been laid but is not yet in use. Some predict a nationwide "Googlenet." But this can of worms is best saved for another post.
Posted by ben vershbow at 8:11 AM | Comments (3)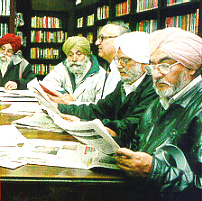 Last Tuesday, a Washington Post editorial written by Library of Congress librarian James Billington outlined the possible benefits of a World Digital Library, a proposed LOC endeavor discussed last week in a post by Ben Vershbow. Billington seemed to imagine the library as sort of a United Nations of information: claiming that "deep conflict between cultures is fired up rather than cooled down by this revolution in communications," he argued that a US-sponsored, globally inclusive digital library could serve to promote harmony over conflict:
Libraries are inherently islands of freedom and antidotes to fanaticism. They are temples of pluralism where books that contradict one another stand peacefully side by side just as intellectual antagonists work peacefully next to each other in reading rooms. It is legitimate and in our nation's interest that the new technology be used internationally, both by the private sector to promote economic enterprise and by the public sector to promote democratic institutions. But it is also necessary that America have a more inclusive foreign cultural policy -- and not just to blunt charges that we are insensitive cultural imperialists. We have an opportunity and an obligation to form a private-public partnership to use this new technology to celebrate the cultural variety of the world.
What's interesting about this quote (among other things) is that Billington seems to be suggesting that a World Digital Library would function in much the same manner as a real-world library, and yet he's also arguing for the importance of actual physical proximity. He writes, after all, about books literally, not virtually, touching each other, and about researchers meeting up in a shared reading room. There seems to be a tension here, in other words, between Billington's embrace of the idea of a world digital library, and a real anxiety about what a "library" becomes when it goes online.
I also feel like there's some tension here -- in Billington's editorial and in the whole World Digital Library project -- between "inclusiveness" and "imperialism." Granted, if the United States provides Brazilians access to their own national literature online, this might be used by some as an argument against the idea that we are "insensitive cultural imperialists." But there are many varieties of empire: indeed, as many have noted, the sun stopped setting on Google's empire a while ago.
To be clear, I'm not attacking the idea of the World Digital Library. Having watch the Smithsonian invest in, and waffle on, some of their digital projects, I'm all for a sustained commitment to putting more material online. But there needs to be some careful consideration of the differences between online libraries and virtual ones -- as well as a bit more discussion of just what a privately-funded digital library might eventually morph into.
Posted by lisa lynch at 12:36 PM | Comments (0)
So, what happens when you put together a drama professor and a computer science one?
You get an entertainment technology program. In an article, in the NY Times, Seth Schiesel talks about the blossoming of academic programs devoted entirely to the study and development of video games, offering courses that range from basic game programming to contemporary culture studies.
Since first appearing about three decades ago, video games are well on their way to becoming the dominant medium of the 21st century. They are played across the world by people of all ages, from all walks of life. And in a time where everything is measured by the bottom line, they have in fact surpassed the movie industry in sales. The academy, therefore, no matter how conservative, cannot continue to ignore this phenomenon for long. So from The New School (which includes Parsons) to Carnegie Mellon, prestigious colleges and universities are beginning to offer programs in interactive media. In the last five years the number of universities offering game-related programs has gone from a mere handful to more than 100. This can hardly be described as widescale penetration of higher education, but the trend is unmistakable.
The video game industry has a stake in advancing these programs since they stand to benefit from a pool of smart, sophisticated young developers ready upon graduation to work on commercial games. Bing Gordon, CEO of Electronic Arts says that there is an over-production of cinema studies professionals but that the game industry still lacks the abundant in-flow of talent that the film industry enjoys. Considering the state of public education in this country, it seems that video game programs will continue flourishing only with the help of private funds.
The academy offers the possibility for multidisciplinary study to enrich students' technical and academic backgrounds, and to produce well-rounded talents for the professional world. In his article, Schiesel quotes Bing Gordon:
To create a video game project you need the art department and the computer science department and the design department and the literature or film department all contributing team members. And then there needs to be a leadership or faculty that can evaluate the work from the individual contributors but also evaluate the whole project.
These collaborations are possible now, in part, because technology has become an integral part of art production in the 21st century. It's no longer just for geeks. The contributions of new media artists are too prominent and sophisticated to be ignored. Therefore it seems quite natural that, for instance, an art department might collaborate with faculty in computer science.
Posted by sol gaitan at 10:36 AM | Comments (0)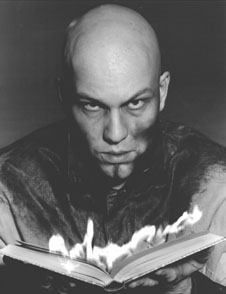 Last week, there was a heated discussion on the 1600-member Yahoo Groups videoblogging list about the idea of a videobloggers launching a "war on text" -- not necessarily calling for book burning, but at least promoting the use of threaded video conversations as a way of replacing text-based communication online. It began with a post to the list by Steve Watkins and led to responses such as this enthusiastic embrace of the end of using text to communicate ideas:
Audio and video are a more natural medium than text for most humans. The only reason why net content is mainly text is that it's easier for programs to work with -- audio and video are opaque as far as programs are concerned. On top of that, it's a lot easier to treat text as hypertext, and hypertext has a viral quality.
As a text-based attack on the printed work, the "war on text" debate had a Phaedrus aura about it, especially since the vloggers seemed to be gravitating towards the idea of secondary orality originally proposed by Walter Ong in Orality and Literacy -- a form of communication which is involved at least the representation of an oral exchange, but which also draws on a world defined by textual literacy. The vlogger's debt to the written word was more explicitly acknowledged some posts, such as one by Steve Garfield that declared his work to be a "marriage of text and video."
Over several days, the discussion veered to cover topics such as film editing, the over-mediation of existence, and the transition from analog to digital. The sophistication and passion of the discussion gave a sense of the way at least some in the video blogging community are thinking, both about the relationship between their work and text-based blogging and about the larger relationship between the written word and other forms of digitally mediated communication.
Perhaps the most radical suggestion in the entire exchange was the prediction that video itself would soon seem to be an outmoded form of communication:
in my opinion, before video will replace text, something will replace video...new technologies have already been developed that are more likely to play a large role in communications over this century... how about the one that can directly interface to the brain (new scientist reports on electroencephalography with quadriplegics able to make a wheelchair move forward, left or right)... considering the full implications of devices like this, it's not hard to see where the real revolutions will occur in communications.
This comment implies that debates such as the "war on text" are missing the point -- other forms of mediation are on the horizon that will radically change our understanding of what "communication" entails, and make the distinction between orality and literacy seem relatively miniscule. It's an apocalyptic idea (like the idea that the internet will explode), but perhaps one worth talking about.
Posted by lisa lynch at 3:23 PM | Comments (2)
Craigslist founder Craig Newmark has announced he will launch a major citizen journalism site within the next three months. As quoted in The Guardian:
The American public has lost a lot of trust in conventional newspaper mechanisms. Mechanisms are now being developed online to correct that.

...It was King Henry II who said: 'Won't someone rid me of that turbulent priest?' We have seen a modern manifestation of that in the US with the instances of plausible deniability, the latest example of that has been the Valerie Plame case and that has caused damage.
Can a Craiglist approach work for Washington politics? It's hard to imagine a million worker ants distributed across the nation cracking Plamegate. You're more likely to get results from good old investigative reporting, but combined with a canny postmodern sense of spin (and we're not just talking about the Bush administration's spin, but Judith Miller's spin, The New York Times' spin) and the ability to make that part of the story. Combine the best of professional journalism with the best of the independent blogosphere. Can this be done?
Josh Marshall of Talking Points Memo fame wants to bridge the gap with a new breed of "reporter-blogger," currently looking to fill two such positions -- paid positions -- for a new muckraking blog that will provide "wall-to-wall coverage of corruption, self-dealing, and betrayals of the public trust in today's Washington" (NY Sun has details). While other high-profile bloggers sign deals with big media, Marshall clings fast to his independence, but recognizes the limitations of not being on the ground, in the muck, as it were. He's banking that his new cyborgs might be able to shake up the stagnant Washington press corps from the inside, or at least offer readers a less compromised view (though perhaps down the road fledgeling media empires like Marshall's will become the new media establishment).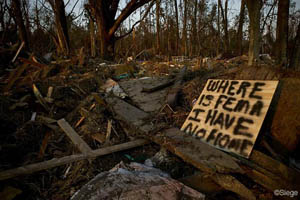 That's not to say that the Craigslist approach will not be interesting, and possibly important. It was dazzling to witness the grassroots information network that sprung up on the web during Hurricane Katrina, including on the Craigslist New Orleans site, which became a clearinghouse for news on missing persons and a housing directory for the displaced. For sprawling catastrophes like this it's impossible to have enough people on the ground. Unless the people on the ground start reporting themselves.
Citizen journalists also pick up on small stories that slip through the cracks. You could say the guy who taped the Rodney King beating was a "citizen journalist." You could say this video (taken surreptitiously on a cellphone) of a teacher in a New Jersey high school flipping out at a student for refusing to stand for the national anthem is "citizen journalism." Some clips speak for themselves, but more often you need context, you need to know how to frame it. The interesting thing is how grassroots journalism can work with a different model for contextualization. The New Jersey video made the rounds on the web and soon became a story in the press. One person slaps up some footage and everyone else comments, re-blogs and links out. The story is told collectively.
Posted by ben vershbow at 2:26 PM | Comments (4)
I found this Hartford Courant article on slashdot.
Martin Benjamin heads up an eleven year old project to create an online Swahili dictionary called the Kamusi Project. Despite 80 million speakers, the current Swahili dictionary is over 30 years old. Setting this project apart from other online dictionaries, these entries are created by, not only academics, but also by volunteers ranging from former Peace Corp workers to African linguistic hobbyists. The site also includes a discussion board for the community of users and developers.
It is also important to mention that, like wikipedia, donations and volunteers support this collaborative project. Unlike wikipedia, it does not have the broad audience and publicity that wikipedia enjoys, which makes funding a continual issue.
Posted by ray cha at 12:53 PM | Comments (0)
One of the odd things that strikes me about so much writing about technology is the seeming assumption that technology (and the ideas associated with it) arise from some sort of cultural vacuum. It's an odd myopia, if not an intellectual arrogance, and it results in a widespream failure to notice many connections that should be obvious. One such connection is that between the work of many of the conceptual artists of the 1960s and continuing attempts to sort out what it means to read when books don't need to be limited to text & illustrations. (This, of course, is a primary concern of the Institute.)
Lately I've been delving through the work of Dick Higgins (1938–1998), a self-described "polyartist" who might be most easily situated by declaring him to be a student of John Cage and part of the Fluxus group of artists. This doesn't quite do him justice: Higgins's work bounced back and forth between genres of the avant-garde, from music composition (in the rather frightening photo above, he's performing his Danger Music No. 17, which instructs the performer to scream as loudly as possible for as long as possible) to visual poetry to street theatre. He supported himself by working as a printer: the first of several publishing ventures was the Something Else Press, which he ran from 1963 to 1974, publishing a variety of works by artists and poets as well as critical writing.
"Betweenness" might be taken as the defining quality of his work, and this betweenness is what interests me. Higgins recognized this – he was perhaps as strong a critic as an artist – and in 1964, he coined the term "intermedia" to describe what he & his fellow Fluxus artists were doing: going between media, taking aspects from established forms to create new ones. An example of this might be visual, or concrete poetry, of which that of Jackson Mac Low or Ian Hamilton Finlay – both of whom Higgins published – might be taken as representative. Visual poetry exists as an intermediate form between poetry and graphic design, taking on aspects of both. This is elaborated (in an apposite form) in his poster on poetry & its intermedia; click on the thumbnail to the right to see a (much) larger version with legible type.
Higgins certainly did not imagine he was the first to use the idea of intermedia; he traced the word itself back to Samuel Taylor Coleridge, who had used it in the same sense in 1812. The concept has similarities to Richard Wagner's idea of opera as Gesamkunstwerk, the "total artwork", combining theatre and music. But Higgins suggested that the roots of the idea could be found in the sixteenth century, in Giordano Bruno's On the Composition of Signs and Images, which he translated into English and annotated. And though it might be an old idea, a quote from a text about intermedia that he wrote in 1965 (available online at the always reliable Ubuweb) suggests parallels between the avant-garde world Higgins was working in forty years ago and our concern at the Institute, the way the book seems to be changing in the electronic world:
Much of the best work being produced today seems to fall between media. This is no accident. The concept of the separation between media arose in the Renaissance. The idea that a painting is made of paint on canvas or that a sculpture should not be painted seems characteristic of the kind of social thought--categorizing and dividing society into nobility with its various subdivisions, untitled gentry, artisans, serfs and landless workers--which we call the feudal conception of the Great Chain of Being. This essentially mechanistic approach continued to be relevant throughout the first two industrial revolutions, just concluded, and into the present era of automation, which constitutes, in fact, a third industrial revolution.
Higgins isn't explicitly mentioning the print revolution started by Gutenberg or the corresponding changes in how reading is increasingly moving from the page to the screen, but that doesn't seem like an enormous leap to make. A chart he made in 1995 diagrams the interactions between various sorts of intermedia:
Note the question marks - Higgins knew there was terrain yet to be mapped out, and an interview suggests that he imagined that the genre-mixing facilitated by the computer might be able to fill in those spaces.
"Multimedia" is something that comes up all the time when we're talking about what computers do to reading. The concept is simple: you take a book & you add pictures and sound clips and movies. To me it's always suggested an assemblage of different kinds of media with a rubber band - the computer program or the webpage - around them, an assemblage that usually doesn't work as a whole because the elements comprising it are too disparate. Higgins's intermedia is a more appealing idea: something that falls in between forms is more likely to bear scrutiny as a unified object than a collection of objects. The simple equation text + pictures (the simplest and most common way we think about multimedia) is less interesting to me than a unified whole that falls between text and pictures. When you have text + pictures, it's all too easy to criticize the text and pictures separately: this picture compared to all other possible pictures invariably suffered, just as this text compared to all other possible texts must suffer. Put in other terms, it's a design failure.
A note added to the essay quoted above in 1981 more explicitly presents the ways in which intermedia can be a useful tool for approaching new work:
It is today, as it was in 1965, a useful way to approach some new work; one asks oneself, "what that I know does this new work lie between?" But it is more useful at the outset of a critical process than at the later stages of it. Perhaps I did not see that at the time, but it is clear to me now. Perhaps, in all the excitement of what was, for me, a discovery, I overvalued it. I do not wish to compensate with a second error of judgment and to undervalue it now. But it would seem that to proceed further in the understanding of any given work, one must look elsewhere--to all the aspects of a work and not just to its formal origins, and at the horizons which the work implies, to find an appropriate hermeneutic process for seeing the whole of the work in my own relation to it.
The last sentence bears no small relevance to new media criticism: while a video game might be kind of like a film or kind of like a book, it's not simply the sum of its parts. This might be seen as the difference between thinking about terms of multimedia and in terms of intermedia. We might use it as a guideline for thinking about the book to come, which isn't a simple replacement for the printed book, but a new form entirely. While we can think about the future book as incorporating existing pieces – text, film, pictures, sound – we will only really be able to appreciate these objects when we find a way to look at them as a whole.
An addendum: "Intermedia" got picked up as the name of a hypertext project out of Brown started in 1985 that Ted Nelson, among others, was involved with. It's hard to tell whether it was thus named because of familiarity with Higgins's work, but I suspect not: these two threads, the technologic and the artistic, seem to be running in parallel. But this isn't necessarily, as is commonly suuposed, because the artists weren't interested in technical possibilities. Higgins's Book of Love & Death & War, published in 1972, might merit a chapter in the history of books & computers: a book-length aleatory poem, he notes in his preface that one of its cantos was composed with the help of a FORTRAN IV program that he wrote to randomize its lines. (Canto One of the poem is online at Ubuweb; this is not, however, the computer-generated part of the work.)
And another addendum: something else to take from Higgins might be his resistance to commodification. Because his work fell between the crevices of recognized forms, it couldn't easily be marketed: how would you go about selling his metadramas, for example? It does, however, appear perfectly suited for the web & perhaps this resistance to commodification is apropos right now, in the midst of furious debates about whether information wants to be free or not. "The word," notes Higgins in one of his Aphorisms for a Rainy Day in the poster above, "is not dead, it is merely changing its skin."
Posted by dan visel at 3:48 PM | Comments (6)
explosion 11.22.2005, 2:10 PM

A Nov. 18 post on Adam Green's Darwinian Web makes the claim that the web will "explode" (does he mean implode?) over the next year. According to Green, RSS feeds will render many websites obsolete:
The explosion I am talking about is the shifting of a website's content from internal to external. Instead of a website being a "place" where data "is" and other sites "point" to, a website will be a source of data that is in many external databases, including Google. Why "go" to a website when all of its content has already been absorbed and remixed into the collective datastream.
Does anyone agree with Green? Will feeds bring about the restructuring of "the way content is distributed, valued and consumed?" More on this here.
Posted by lisa lynch at 2:10 PM | Comments (5)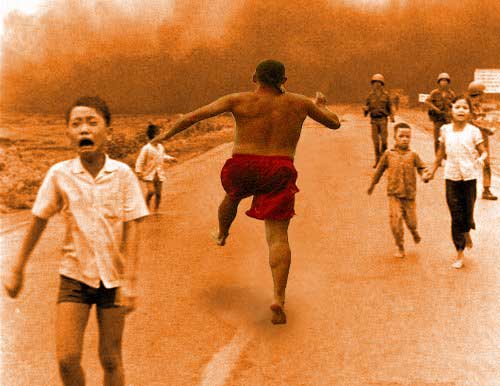 In a larger essay which bemoans the rise of image culture, Christine Rosen goes after Photoshop and its users in The New Atlantis, a right-leaning journal concerned with the intersection of technology and cultural values. According to Rosen, the software "democratizes the ability to commit fraud," corrupting its users by giving them easy access to the tools of reality manipulation. She writes:
Photoshop has introduced a new fecklessness into our relationship with the image. We tend to lose respect for things we can manipulate. And when we can so readily manipulate images--even images of presidents or loved ones--we contribute to the decline of respect for what the image represents...
Worrying about photographic fakery isn't new, of course -- as Rosen herself notes, Susan Sontag inveighed against manipulated images in her 1977 work On Photography, and Rosen takes her point that images have been manipulated prior to the age of digitization. Here, however, Rosen's concern with digital manipulation focuses less on the ability of people to deceive others with altered photos than on the ability of Photoshop to propel its users towards a general irreverence towards the real. This is an interesting inversion of the point that Bob Stein makes in a recent post; namely, that we have less respect for digitally manipulated images than ones which are "real."
Later in the essay, Rosen suggests that some Photoshop images can be seen as the equivalent of today's carnival sideshow:
"Photoshop contests" such as those found on the website Fark.com offer people the opportunity to create wacky and fantastic images that are then judged by others in cyberspace. This is an impulse that predates software and whose most enthusiastic American purveyor was, perhaps, P. T. Barnum. In the nineteenth century, Barnum barkered an infamous "mermaid woman" that was actually the moldering head of a monkey stitched onto the body of a fish. Photoshop allows us to employ pixels rather than taxidermy to achieve such fantasies, but the motivation for creating them is the same--they are a form of wish fulfillment and, at times, a vehicle for reinforcing our existing prejudices.
Looking at the Photoshop image above (which I pulled from the first Fark photoshop contest I came across), I can see the root of Rosen's indignation: there is something offensive about the photo's casual attitude toward an iconic image. But having seen similarly offensive editorial cartoons that riff on iconic phototographs, I'm not persuaded that Photoshop is the issue. It is true that without Photoshop this image would not have been made; indeed, as Rosen suggests, there is a Photoshop subculture on Fark that promotes the creation of absurd and often offensive images. But can we really make the argument that those who create these images become, in the process, less respectful of the reality they represent? I tend to resist such technological determinism: I would argue, against Rosen, that people manipulate images because they are already irreverent towards them -- or, alternately, because they are cynical about the ability of images to represent truth.
Posted by lisa lynch at 12:04 PM | Comments (21)
The Library of Congress has announced plans for the creation of a World Digital Library, "a shared global undertaking" that will make a major chunk of its collection freely available online, along with contributions from other national libraries around the world. From The Washington Post:
...[the] goal is to bring together materials from the United States and Europe with precious items from Islamic nations stretching from Indonesia through Central and West Africa, as well as important materials from collections in East and South Asia.
Google has stepped forward as the first corporate donor, pledging $3 million to help get operations underway. At this point, there doesn't appear to be any direct connection to Google's Book Search program, though Google has been working with LOC to test and refine its book-scanning technology.
Posted by ben vershbow at 7:41 AM | Comments (0)
Not quite sure what I think of this new web-based word processor, Writely. Cute Web 2.0ish name, "beta" to the hilt. It's free and quite easy to get started. I guess it falls into that weird zone of transitional unease between desktop computing and the wide open web, where more and more of our identity and information resides. Some of the tech specifics: Writely saves documents in Word and (as of today) Open Office formats, outputs as RSS and to some blogging platforms (not ours), and can also be saved as a simple web page (here's the Writely version of this post). A key feature is that Writely documents can be written and edited by multiple authors, like SubEthaEdit only totally net-based. It feels more or less like a disembodied text editor for a wiki.
I'm trying to think about what's different about writing online. Movable Type, our blogging software, is essentially an ultra-stripped-down text editor -- web-based -- and it's no fun to work in. That's partly because the text field is about the size of a mail slot, but writing online can be annoying for other reasons, chief among them the fact that you have to be online to work, and second that you are susceptible to the chance mishaps of the browser (accidentally backing up and losing everything, it crashes, you forgot to pay Time Warner and they turn off the web etc.). But with a conventional word processor you're vulnerable to the mishaps of the machine (hard drive dies and you didn't back it up, it crashes and you didn't save, coffee spills...). Writely saves everything automatically as you go, maintaining a revision history and tracking changes -- a very nice feature.
They say this is the future of software, at least for the simple everyday kind of stuff: web-based tool suites and tons of online data storage. I guess it's nice not having to be tied to one machine. Your work is just out there, waiting for you to log in. But then again, your work is just out there...
Posted by ben vershbow at 6:18 PM | Comments (2)
The NY Times reports on new web-based services at university libraries that are incorporating features such as personalized recommendations, browsing histories, and email alerts, the sort of thing developed by online retailers like Amazon and Netflix to recreate some of the experience of browsing a physical store. Remember Ranganathan's fourth law of library science: "save the time of the reader." The reader and the customer are perhaps becoming one in the same.
It would be interesting if a social software system were emerging for libraries that allowed students and researchers to work alongside librarians in organizing the stacks. Automated recommendations are just the beginning. I'm talking more about value added by the readers themselves (Amazon has does this with reader reviews, Listmania, and So You'd Like To...). A social card catalogue with a tagging system and other reader-supplied metadata where readers could leave comments and bread crumb trails between books. Each card catalogue entry with its own blog and wiki to create a context for the book. Books are not just surrounded by other volumes on the shelves, they are surrounded by people, other points of view, affinities -- the kinds of thing that up to this point were too vaporous to collect. This goes back to David Weinberger's comment on metadata and Google Book Search.
Posted by ben vershbow at 12:07 PM | Comments (3)
Sony Europe is promoting a new screen technology with a TV commercial featuring 250,000 brightly colored balls rolling down a San Francisco street. despite the maudlin soundtrack the sight of a quarter of a million balls floating chaotically down the hill is spectacular. this is partially because the piece is silly, fantastical, and brilliantly executed. i wonder though, if part of the reason people like the ad so much is because real balls are rolling on a real street -- because the absence of any computer graphics is so unusual in our increasingly everything-so-neat-and-clean digital mediascape? this is not meant to be a rhetorical question. what do you think?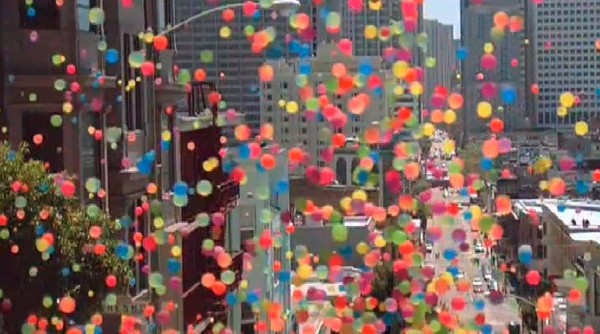 Posted by bob stein at 5:35 PM | Comments (7)
On Wednesday, November 17, a media corporation called Open Source Media launched a portal site that intends to assemble the best bloggers on the internet in one place. According to the Associated Press, some 70 Web journalists, including Instapundit's Glenn Reynolds and David Corn, Washington editor of the Nation magazine, have agreed to participate. The site will link to individual blog postings and highlight the best contributions in a special section: bloggers will be paid for content depending on the amount of traffic they generate.
Far from a seat-of-the-pants effort, OSM has $3.5 million dollars in venture capital funding. Supposedly, the site will pay for itself -- and pay its bloggers -- with the advertising it generates. In the "about" section of the site, the founders of OSM lay out their vision for remaking the future of blogging and media in general:
OSM's mission is to expand the influence of weblogs by finding and promoting the best of them, providing bloggers with a forum to meet and share resources, and the chance to join a for-profit network that will give them additional leverage to pursue knowledge wherever they may find it. From academics, professionals and decorated experts, to ordinary citizens sitting around the house opining in their pajamas, our community of bloggers are among the most widely read and influential citizen journalists out there, and our roster will be expanding daily. We also plan to provide a bridge between old media and new, bringing bloggers and mainstream journalists--more and more of whom have started to blog--together in a debate-friendly forum.
We at if:book like the idea of a blog portal, especially one staffed by a series of editors selecting the best posts on the blogs they've chosen. But this venture -- which fits perfectly with John Batelle's vision for the web's second coming -- also seems to nicely embody the tension between doing good and making money: all that venture capital and overhead is going to put a lot of pressure on OSM to deliver the Oprah of the blogging world, if she's out there. And paying bloggers based on how many readers they get is certainly going to shape the content that appears on the site. Unlike others who conceived of their blogs from the get-go as small businesses, most of the bloggers chosen by OSM haven't been trying to make money from their blogs until now.

OSM also shot themselves in the foot by stealing the name of the newish public radio show Open Source Media, which we've written about here. The two are currently involved in a dispute over the name. and OSM hasn't really been able to come up with a good reason why they should keep using a name that belongs to someone else. They have trademarked OSM, and they now refer to their unabbreviated name as "not a trade name," but "a description of who we are and what we do."
Needless to say, OSM has generated a fair amount of bad blood by appropriating the name of a nonprofit, and most of the grumbling has taken place in exactly the same place OSM hopes to make a difference -- the blogosphere.
Posted by lisa lynch at 1:07 PM | Comments (2)
An editorial in today's New York Times by The Search author Jon Battelle makes the argument that the current resurgence in technology stocks is not the sign of another technology "bubble," but rather an indication that companies have finally figured out how to capitalize on the internet. Batelle writes:
... we are witnessing the Web's second coming, and it's even got a name, "Web 2.0" - although exactly what that moniker stands for is the topic of debate in the technology industry. For most it signifies a new way of starting and running companies - with less capital, more focus on the customer and a far more open business model when it comes to working with others. Archetypal Web 2.0 companies include Flickr, a photo sharing site; Bloglines, a blog reading service; and MySpace, a music and social networking site.
In other words, Batelle is pointing out that one way to "get it right" is not to sell content to users, but rather to give them the opportunity to create and search their own content. This is not only good business sense, he says, it's also more enlightened -- the creators of social software such as Flickr are motivated equally by a desire to "do good in the world" and a desire to make money. "The culture of Web 2.0 is, in fact, decidedly missionary," Batelle writes, "from the communitarian ethos of Craigslist to Google's informal motto, 'don't be evil.'"
O.K. Doing good while making money. Reading this, I'm reminded of Paul Hawken's Natural Capitalism and the larger sustainability movement -- the optimistic philosophy that weaves together environmental ethics and profitability. But is that what's really going on here? Isn't the "missionary" culture of the internet a bit OLDER than Web 2.0? Batelle is suggesting that Internet capitalists have gotten all misty and utopian; isn't it the case that some of the folks who were already misty and utopian have just started making some money?
I guess the more viable comparison here would be to Marc Andreessen's decision to transform his Mosaic browser from its public-domain University of Illinois incarnation into the Netscape Browser. Andreessen certainly started out as a browser missionary -- and, like the companies Batelle sees as characteristic of Internet 2.0, Andreessen's vision for Netscape (and in the beginning, Jim Clark's vision as well) was a strong customer focus and open business model. What happened? Netscape's meteoric success helped inflate the internet "bubble" Batelle's referring to, and in the end, after the long battle with Microsoft, the company's misfortunes helped to burst that bubble as well.
So what paradigm fits? Is "Internet 2.0" really new and more socially enlightened? Or are we just seeing a group of social software businesses -- and one big search engine -- just in the early stages of an inevitable transformation into corporations that are less interested in doing good than making money?
Incidentally, last month, Marc Andressen launched a social networking platform called Ning.
Posted by lisa lynch at 12:01 PM | Comments (0)
Not the program, of course, just the name. From now on it is to be known as Google Book Search. "Print" obviously struck a little too close to home with publishers and authors. On the company blog, they explain the shift in emphasis:
No, we don't think that this new name will change what some folks think about this program. But we do believe it will help a lot of people understand better what we're doing. We want to make all the world's books discoverable and searchable online, and we hope this new name will help keep everyone focused on that important goal.
Posted by ben vershbow at 8:06 AM | Comments (1)
Slate goes to college this week with a series of articles on higher education in America, among them a good piece by Robert S. Boynton that makes the case for academic blogging:
"...academic blogging represents the fruition, not a betrayal, of the university's ideals. One might argue that blogging is in fact the very embodiment of what the political philosopher Michael Oakshott once called "The Conversation of Mankind"--an endless, thoroughly democratic dialogue about the best ideas and artifacts of our culture.

...might blogging be subversive precisely because it makes real the very vision of intellectual life that the university has never managed to achieve?"
The idea of blogging as a kind of service or outreach is just beginning (maybe) to gain traction. But what about blogging as scholarship? Most professor-bloggers I've spoken with consider blogging an invaluable tool for working through ideas, for facilitating exchange within and across disciplines. Some go so far as to say that it's redefined their lives as academics. But don't count on tenure committees to feel the same. Blogging is vaporous, they'll inevitably point out. Not edited, mixing the personal and the professional. How can you maintain standards and the appropriate barriers to entry? Traditionally, peer review has served this gatekeeping function, but can there be a peer review system for blogs? And if so, would we want one?
Boynton has a few ideas about how something like this could work (we're also wrestling with these questions on our back porch blog, Sidebar, with the eventual aim of making some sort of formal proposal). Whatever the technicalities, the approach should be to establish a middle path, something like peer review, but not a literal transposition. Some way to gauge and recognize the intellectual rigor of academic blogs without compromising their refreshing immediacy and individuality -- without crashing the party as it were.
There's already a sort of peer review going on among blog carnivals, the periodicals of the blogosphere. Carnivals are rotating showcases of exemplary blog writing in specific disciplines -- history, philosophy, science, education, and many, many more, some quite eccentric. Like blogs, carnivals suffer from an unfortunate coinage. But even with a snootier name -- blog symposiums maybe -- you would never in a million years confuse them with an official-looking peer review journal. Yet the carnivals practice peer review in its most essential form: the gathering of one's fellows (in this case academics and non-scholar enthusiasts alike) to collectively evaluate (ok, perhaps "savor" is more appropriate) a range of intellectual labors in a given area. Boynton:
In the end, peer review is just that: review by one's peers. Any particular system should be judged by its efficiency and efficacy, and not by the perceived prestige of the publication in which the work appears.

If anything, blog-influenced practices like these might reclaim for intellectuals the true spirit of peer review, which, as Harvard University Press editor Lindsay Waters has argued, has been all but outsourced to prestigious university presses and journals. Experimenting with open-source methods of judgment--whether of straight scholarship or academic blogs--might actually revitalize academic writing.
It's unfortunate that the accepted avenues of academic publishing -- peer-reviewed journals and monographs -- purchase prestige and job security usually at the expense of readership. It suggests an institutional bias in the academy against public intellectualism and in favor of kind of monastic seclusion (no doubt part of the legacy of this last great medieval institution). Nowhere is this more apparent than in the language of academic writing: opaque, convoluted, studded with jargon, its remoteness from ordinary human speech the surest sign of the author's membership in the academic elite.
This crisis of clarity is paired with a crisis of opportunity, as severe financial pressures on university presses are reducing the number of options for professors to get published in the approved ways. What's needed is an alternative outlet alongside traditional scholarly publishing, something between a casual, off-the-cuff web diary and a polished academic journal. Carnivals probably aren't the solution, but something descended from them might well be.
It will be to the benefit of society if blogging can be claimed, sharpened and leveraged as a recognized scholarly practice, a way to merge the academy with the traffic of the real world. The university shouldn't keep its talents locked up within a faltering publishing system that narrows rather than expands their scope. That's not to say professors shouldn't keep writing papers, books and monographs, shouldn't continue to deepen the well of knowledge. On the contrary, blogging should be viewed only as a complement to research and teaching, not a replacement. But as such, it has the potential to breathe new life into the scholarly enterprise as a whole, just as Boynton describes.
Things move quickly -- too quickly -- in the media-saturated society. To remain vital, the academy needs to stick its neck out into the current, with the confidence that it won't be swept away. What's theory, after all, without practice? It's always been publish or perish inside the academy, but these days on the outside, it's more about self-publish. A small but growing group of academics have grasped this and are now in the process of inventing the future of their profession.
Posted by ben vershbow at 3:27 PM | Comments (3)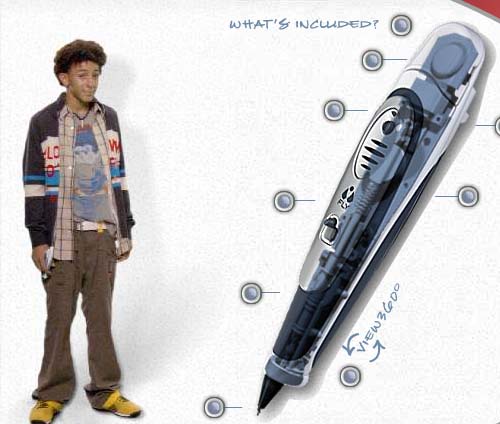 Two products that will most likely never be owned by the same teenager: The hundred dollar Laptop from MIT and the hundred dollar "pentop" computerized pen called the Fly. While the hundred dollar laptop (as we've said a few times on this site already) is promoted as a device to bring children of underdeveloped countries into the silicon era, the Fly is a device that will help technology-saturated 8 to 14 year olds keep track of soccer practice, learn to read, and solve arithmetic equations. Equipped with a microphone and OCR software, the Fly will read aloud what you write: if you use the special paper that comes with the product, you can draw a calculator and the calculator becomes functional. It's all very Harold and the Purple Crayon .
In his review of the Fly's capabilities in todays New York Times, David Pogue is largely enthusiastic about the device, finding it both practical and appealing (if a tad buggy in its original version). Most of all, he seems to think the Fly's too-cool-for-school additional features are necessary innovation in a market that he says has begun to dry up -- digital educational products for children. According to Pogue:
When it comes to children's technology, a sort of post-educational age has dawned. Last year, Americans bought only one-third as much educational software as they did in 2000. Once highflying children's software companies have dwindled or disappeared. The magazine once called Children's Software Review is now named Children's Technology Review, and over half of its coverage now is dedicated to entertainment titles (for Game Boy, PlayStation and the like) that have no educational component.
If Pogue is right, and educational software is on its way out, does this mean that everything has moved over to the web? And what implication does this downturn have for the hundred dollar laptop project?
Posted by lisa lynch at 11:55 AM | Comments (1)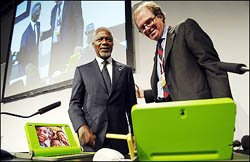 "Demo or die." That was the creed of the MIT Media Lab in the glory days -- days of ferment that produced important, foundational work in interactive media. Well, yesterday at the World Summit on the Information Society in Tunisia, where Nicholas Negroponte and Kofi Annan were unveiling the prototype of the 100 dollar laptop, the demo died. Or rather, the demo just didn't happen.
As it turns out, Negroponte wasn't able to get past the screen lock on the slick lime-green device, so the mob of assembled journalists and technofiles had to accept the 100 dollar gospel on faith, making do with touching anecdotes about destitute families huddled in wonder around their child's new laptop, the brightest source of light in their tiny hovel. All told, an inauspicious beginning for the One Laptop Per Child intitiative, which aims to put millions of cheap, robust, free-software-chugging computers into the hands of the world's poorest children.
Sorry to be so snide, but we were watching the live webcast from Tunis yesterday... it's hard not to laugh at the leaders of the free world bumbling over this day-glo gadget, this glorified Trapper Keeper cum jack-in-the-box (Annan ended up breaking the hand crank), with barely a word devoted to what educational content will actually go inside, or to how teachers plan to construct lessons around these new toys. In the end, it's going to come down to them. Good teachers, who know computers, may be able to put the laptops to good use. But somehow I'm getting visions of stacks of unused or busted laptops, cast aside like so many neon bricks.
A sunnier future for the 100 dollar laptop? A commercial company obtains the rights and starts selling them in the West for $250 a pop. They're a huge hit. Everyone just has to have one to satisfy their poor inner child.
Posted by ben vershbow at 8:08 AM | Comments (3)
Mitch Stephens, NYU professor, was here for lunch today. when Ben and I met with him about a month ago about the academic bloggers/public intellectuals project, Mitch mentioned he had just signed a contract with Carroll & Graf to write a book on the history of atheism. today's lunch was to follow up a suggestion we made that he might consider starting a blog to parallel the research and writing of the book. i'm delighted to report that Mitch has enthusiastically taken up the idea. sometime in the next few weeks we'll launch a new blog, tentatively called Only Sky (shortened from the lyric of john lennon's Imagine ". . . Above us only sky"). it will be an experiment to see whether blogging can be useful to the process of writing a book. i expect Mitch will be thinking out loud and asking all sorts of interesting questions. i also think that readers will likely provide important insight as well as ask their own fascinating questions which will in turn suggest fruitful directions of inquiry. stay tuned.
Posted by bob stein at 5:01 PM | Comments (1)
Gawker Media, the Conde Nast of the blogosphere, has just sold distribution rights for five of its blogs to Yahoo. Selected posts from Gawker, Wonkette, Gizmodo, Lifehacker and Defamer will soon appear daily on the Yahoo news portal.
Not so worrisome (or surprising) to see blogs like these going corporate. From the beginning, they've sort of pitched themselves as commodities -- the tabloids and gadget rags of the blogosphere. But when blogging comes fully front and center as the next hip business strategy -- that authentic unfiltered element with which to adorn your comapany's image (hang some humans on the doorpost) -- then we may see a massive rush to rake up the brighter talents with lucrative little hosting deals. I'd hate to see bloggers foresake their independence like this. Then again, it might clear the way for a whole new generation of authentic voices.
Posted by ben vershbow at 7:11 AM | Comments (1)
Google Base is live and ready for our stuff.
In AP: "New Project Will Expand Google's Reach"
Posted by ben vershbow at 7:04 AM | Comments (0)
In this weekend's Boston Globe, David Weinberger delivers the metadata angle on Google Print:
...despite the present focus on who owns the digitized content of books, the more critical battle for readers will be over how we manage the information about that content-information that's known technically as metadata.

...we're going to need massive collections of metadata about each book. Some of this metadata will come from the publishers. But much of it will come from users who write reviews, add comments and annotations to the digital text, and draw connections between, for example, chapters in two different books.

As the digital revolution continues, and as we generate more and more ways of organizing and linking books-integrating information from publishers, libraries and, most radically, other readers-all this metadata will not only let us find books, it will provide the context within which we read them.
The book in the network is a barnacled spirit, carrying with it the sum of its various accretions. Each book is also its own library by virtue not only of what it links to itself, but of what its readers are linking to, of what its readers are reading. Each book is also a milk crate of earlier drafts. It carries its versions with it. A lot of weight for something physically weightless.
Posted by ben vershbow at 6:42 PM | Comments (0)
The Chronicle of Higher Education has published a positive piece on blogging in academia, a first person account by Rebecca Goetz, one of the first academic bloggers, of how blogging can actually enhance scholarly life, foster trans-disciplinary communication, and connect the academy to the public sphere.
The timing of Goetz's article is auspicious, as the institute is currently grappling with these very issues, gearing up for a grant proposal to do something big. Last week, about to dash out the door for the airport, I mentioned this project we're cooking up to encourage, promote and organize academic blogging with the aim of raising its status as a scholarly activity. Well, last Friday in Los Angeles we assembled a cadre of over a dozen blog-oriented professors, grad students, and journalism profs, along with a radical blogger-librarian, a grassroots media producer, and a sociologist, for a day of stimulating discussion about what can happen when you put blogs in the hands of people who really know something about something.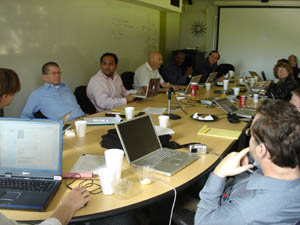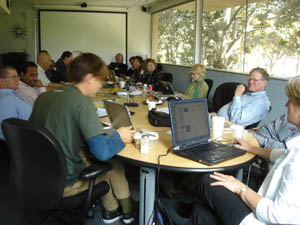 We're still sifting through notes and thoughts from the meeting, and for anyone who's interested we've devoted an entire blog to continuing the discussion. I guess you could say we've formed a little community dedicated to answering the big questions -- chiefly, how the blogging medium might serve as a bridge between the world of scholarly knowledge and the world at large -- and to helping us form the proposal for a project -- a website? a network? a new sort of blog? -- that will address some of these questions.
John Mohr, the afore-mentioned sociologist, described it as a matter of "marshaling and re-deploying intellectual capital," which I think brilliantly and succinctly captures the possibilities of blogs both for making the academy more transparent and for helping it reach the general public, shining the light of knowledge, as it were, on the complexity of human affairs. The power of blogs is that they exist in a space all their own, not entirely within the academy and not (at least not yet) within the economic and editorial structures of mass media. Because of this, bloggers are able to maintain what McKenzie Wark calls "a slight angle of difference" from both sides. We here at the institute, from our not-quite-inside-not-quite-outside-the-academy vantage, are interested in simultaneously protecting that angle and boosting its stature.
Back in May, I saw Wark speak at a conference on new media education at CUNY called "Share, Share Widely." He talked about how the academy should position itself in the media-saturated society and how it can employ new media tools (like blogging) to penetrate, and even redefine, the public sphere. I was mulling this over leading up to the meeting and it seems even more dead-on now:
"This tension between dialogue and discourse might not be unrelated to that between education and knowledge. Certainly what the new media technologies offer is a way of constructing new possibilities for the dialogic, ones which escape the boundaries of discipline, even of the university itself. New media is not interdisciplinary or transdisciplinary. It is antidisciplinary -- although one might be careful where and to whom we break this news. Its acid with which to eat away at the ossified structure of discourse -- with the aim of constructing a new structure of discourse. One that might bring closer together the university with its outside. Not to erase the precious interiority of the university, but to make it porous. To actually apply all that 'theory' we learned to our own institutions."

"Imagine a political refugee, fleeing one country for another, jotting down his thoughts on the run, sharing them with his friends. I'm talking about Marx, writing the 1844 manuscripts. I think critical theory was always connected to new media practices. I think it was always about rethinking the discourse in which dialogue is possible. I think it was always knowledge escaping from the institutions of education. Think of Gramsci editing New Order, negotiating between metropolitan and subaltern languages. Think of Benjamin's One Way Street, a pamphlet with bold typographic experiments. Or Brecht's experiments in cinema. Or Debord's last -- amazing -- TV program. Broadcast only once so you had to set your vcr. Or the Frankfurt School and Birmingham Schools, which broke down the intellectual division of labor. Or the autonomous studio Meilville built for Godard."

"We need to do a 'history of the present' as Foucault would say, and recover the institutional aspect of knowledge as an object of critique. But of more than critique as well. Let's not just talk about the 'public sphere'. Let's build some! We have the tools. We know wiki and blogging and podcasting. Let's build new relations between theory and practice. No more theory without practice -- but no more practice without theory either. Let's work at slight angle of difference from the institution. Not against it -- that won't get you tenure -- but not capitulating to it either. That won't make any difference or be interesting to anybody."
Posted by ben vershbow at 5:36 PM | Comments (1)
I'm going to devote a series of posts to some (mostly online) texts that have been useful in my teaching and thinking about new media, textuality, and print technologies over the past few years. To start, I'd like to resurrect a three-year old New Yorker piece by Malcom Gladwell called "The Social Life Of Paper," which distills the arguments of Abigail Sellen and Richard Harper's book The Myth of the Paperless Office.
Gladwell (like Sellen and Harper) is interested in whether or not giving up paper entirely is practical or even possible. He suggests that for some tasks, paper remains the "killer app;" attempts to digitize such tasks might actually make them more difficult to do. His most compelling example, in the opening paragraph of his article, is the work of the air traffic controller:
On a busy day, a typical air-traffic controller might be in charge of as many as twenty-five airplanes at a time--some ascending, some descending, each at a different altitude and travelling at a different speed. He peers at a large, monochromatic radar console, tracking the movement of tiny tagged blips moving slowly across the screen. He talks to the sector where a plane is headed, and talks to the pilots passing through his sector, and talks to the other controllers about any new traffic on the horizon. And, as a controller juggles all those planes overhead, he scribbles notes on little pieces of paper, moving them around on his desk as he does. Air-traffic control depends on computers and radar. It also depends, heavily, on paper and ink.
Gladwell goes on to make the point that this while kind of reliance on bit of paper drives productivity-managers crazy, anyone who tries to change the way that an air traffic controller works is overlooking a simple fact: the strips of paper supply a stream of "cues" that mesh beautifully with the cognitive labor of the air traffic controller; they are, Gladwell says, "physical manifestations of what goes on inside his head."
Expanding on this example, Gladwell goes on to argue that while computers are excellent at storing information -- much better than the file cabinet with its paper documents -- they are often less useful for collaborative work and for the sort of intellectual tasks that are facilitated by piles of paper one can shuffle, rearrange, edit and discard on one's desk.
"The problem that paper solves," he writes, "is the problem that most concerns us today, which is how to support knowledge work. In fretting over paper, we have been tripped up by a historical accident of innovation, confused by the assumption that the most important invention is always the most recent. Had the computer come first -- and paper second -- no one would raise an eyebrow at the flight strips cluttering our air-traffic-control centers."
This is a pretty strong statement, and I find the logic both seductive and a bit flawed. I'm seduced because I too have piles of paper all over the place, and I'd like to think that these are not simply bits of dead tree, but instead artifacts intrinsic to knowledge work. But I'm skeptical because I think it's safe to assume that standard cognitive processes can change from generation to generation; for example, those who are growing up using ichat and texting are less likely to think of bits and scraps of paper as representative of cognitive immediacy in the same way I do.
When I've taught this essay, I usually also assign Sven Birkets' Into the Electronic Millenium, a text which argues (in a somewhat Lamarckian way) that electronic mediation is pretty much rewiring our brains in a way that makes it impossible for computer-mediated youth to process information in the same way as their elders. Most of them will agree with both Gladwell and Birkets -- yes, there will always be a need for paper because our brain will always process certain things certain ways, but also yes, digital technologies are changing the way that our brain works. My job is to get them to see that those two concepts contradict one another. Birkets espouses a peculiar and curmudgeonly sort of technological determinism. Gladwell, on the other hand, with his focus on an embodied way of knowing, flips the equation and wonders how best to get technology to work FOR us, instead of thinking how technology might work ON us.
I can see why my students are drawn to both arguments: even though I don't essentially agree with either essay, I often catch myself falling into Birket's trap of extreme technological determinism -- or alternately, thinking, like Gladwell, that because a certain way of doing things seems optimal it must be the "natural" way to do it.
Posted by lisa lynch at 4:22 PM | Comments (6)
Knight Ridder Inc., the second largest newspaper conglomerate in the U.S., is under intense pressure from its more powerful investors to start selling off papers. The New York Times reports that the company is now contemplating "strategic alternatives." Consider the following in terms of what Bob is saying one post down about time. With the rise of the 24-hour news cycle and the internet, news is adopting a different time signature.
It is unclear who may want to buy Knight Ridder. Newspaper companies, though still immensely profitable, have a murky future that is clouded by a shrinking readership and weak advertising revenue, both of which are being leeched away by the Internet.

...In the six moths that ended in September, newspaper circulation nationally fell 2.6 percent daily and 3.1 percent on Sundays, the biggest decline in any comparable period since 1991, according to the Audit Bureau of Circulations. All in all, 45.2 million people subscribed to 1,457 reporting papers, down from a peak of 63.3 million people and 1,688 newspapers in 1984.

By comparison, 47 million people visited newspaper Web sites, about a third of United States Internet users, according to the circulation bureau.
The time it takes to read the newspaper in print -- a massive quilt, chopped up and parceled (I believe Gary Frost said something about this) -- you might say it leads to a different sort of understanding of the world around you. It seems to me that the newspapers that will last longest in print are the Sunday editions, aimed at a leisurely audience, taking stock of the week that has just ended and preparing for the one about to commence. On Sundays, the world spreads out before you in print, and perhaps you make a point of taking some time away from the computer (at least, this might be the case for hybrid monkeys like me who are more or less at home with both print and digital). The briskness of discourse on the web and in popular culture does not afford the time to engage with big ideas. Bob talks, not without irony, about "tithing to the church of big ideas." Set aside the time to engage with world-changing ideas, willfully turn away from the screen.
The persistence of the Sunday print edition, if it comes to pass, might in some way reflect this kind of tithing, this intentional slowing down.
Posted by ben vershbow at 4:18 PM | Comments (1)
on tuesday Tom De Zengotita came over to williamsburg to have lunch with the insitute. Tom teaches philosophy at Dalton and NYU and recently published a terrific book, Mediated, about modern media's profound effects on the human psyche and culture.
we invited Tom to lunch to discuss a new project we're thinking about -- how to use the web to encourage discussion about the BIG QUESTIONS facing humanity. we'll write much more about this soon, but i couldn't wait to mention one point that Tom made that's really got me thinking.
Tom said "It's about TIME." if we are going to be serious about confronting big, first order questions, we have to be willing to put in the time to go deeply. we actually have to read the material; we have to wrestle with the ideas; we have to follow through.
this of course runs counter to our current mediated existence which favors shallow surfing over digging deep. i wonder if a sea-change is possible?
Posted by bob stein at 6:38 AM | Comments (3)
A few weeks ago, Ben posted about The Bible Society of Australia's new "transl8tion" of the Bible into SMS--a shorthand system used primarily for sending text messages through mobile phones. Interesting to note that an organization like the Australian Bible Society, which believes the text of the Bible to be the very word of God, does not seem have a problem with the fact that the SMS version changes the voice of god from that of a wizened poet to that of a text-messaging teenager. Here's an example:
4 god so luvd da world
I'm all for reading on cellphones and other portable devices, and I understand using a shorthand language for keying in messages, but why does the published book need to look like an electronic stenographer's notepad? I realize that the form of the electronic "page" is changing the way we write, but I'll be more than a little disappointed if this is the direction we are going--toward a cutesy-looking shorthand that compromises the integrity of the text for the sake of expediency. The aesthetic beauty of words is no small thing. Great writers understand this. They know how to choose words that weave visual and aural subtext into their work. Consider, for a moment, whether those subtleties translate into SMS. Imagine a text messagable Gettysburg address: 4 scor & 7 yr.z ago... Or a shrunk-to-fit Dickens: it wz d best of tImz, it wz d worst of tImz.
Are you with me when I say that they jst dun hav d powR of d orignL txt.
Posted by kim white at 5:59 AM | Comments (5)
...I realize I was over-hasty in dismissing the recent additions made since book scanning resumed earlier this month. True, many of the fine wines in the cellar are there only for the tasting, but the vintage stuff can be drunk freely, and there are already some wonderful 19th century titles, at this point mostly from Harvard. The surest way to find them is to search by date, or by title and date. Specify a date range in advanced search or simply enter, for example, "date: 1890" and a wealth of fully accessible texts comes up, any of which can be linked to from a syllabus. An astonishing resource for teachers and students.
The conclusion: Google Print really is shaping up to be a library, that is, of the world pre-1923 -- the current line of demarcation between copyright and the public domain. It's a stark reminder of how over-extended copyright is. Here's an 1899 english printing of The Mahabharata: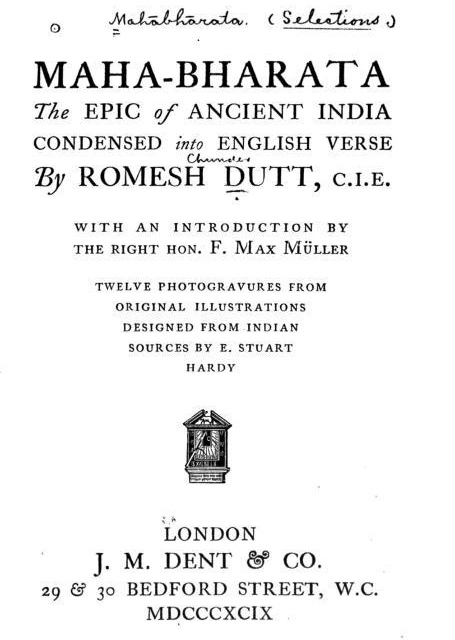 A charming detail found on the following page is this old Harvard library stamp that got scanned along with the rest: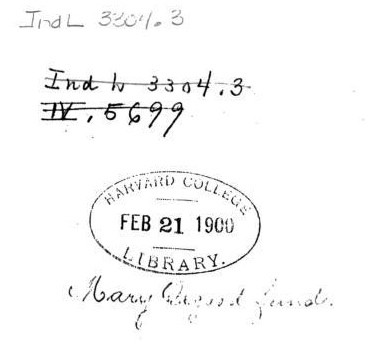 Posted by ben vershbow at 4:53 AM | Comments (0)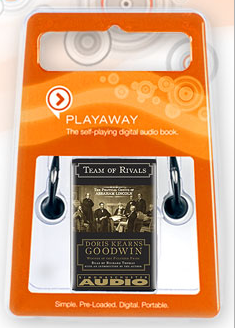 Over the next few weeks, shoppers at Borders and Barnes and Noble will get a first look at a new form of audiobook, one that seems halfway between an ipod and those greeting cards that play a tune when opened. Playaways are digitized audio books that come embedded in their own playing device; they sell, for the most part, for only slightly more than audio books on cassette or CD. Each Playaway is also wrapped in a replica of the book jacket of the original printed volume: the idea is that users are supposed to walk around with these deck-of-card-sized players dangling around their necks advertising exactly what it is they're listening to (If you're the type who always tries to sneak a glance at the book jacket of the person who's sitting next to you on the bus or subway, the Playaway will make your life much easier). Findaway has about 40 titles ready for release, including Khaled Hosseini's Kite Runner, Doris Kearns Goodwin's American Colossus: The Political Genius of Abraham Lincoln, and language training in French, German, Spanish and Italian.
I'm a bit puzzled by the Playaways. I can understand why publishing industry executives would be excited about them, but I'm not so about consumers. The self-contained players are being marketed to an audience that wants an audiobook but doesn't want to be bothered with CD or MP3 players. The happy customers pictured on the Playaway website are both young and middle aged, but I suspect the real audience for these players would be older Americans who have sworn off computer literacy, and I don't know that these folks are listening to audio books through headphones.
Speaking of older Americans, if you go down into my parent's basement, you'll see a few big shopping bags of books-on-tape that they bought, listened to once, and then found too expensive to throw out yet impossible to give away. This seems clearly to be the future of the Playaways, which can be listened to repeatedly (if you keep changing the batteries) but can't play anything else than the book they were intended to play. The throwaway nature of the Playaway (suggested, of course, by the very name of the device) is addressed on the company's website, which provides helpful suggestions on how to get rid of the things once you don't want 'em anymore. According to the website, you can even ask the Playaway people to send you a stamped envelope addressed to a charitable organization that would be happy to take your Playaway.
This begs the obvious question: what if that organization wants to get rid of the Playway? And so on?
How many times will Playaway shell out a stamp to keep their players out of the landfill?
Posted by lisa lynch at 2:55 PM | Comments (14)
Thought it would be appropriate today to talk about what's going on with military blogging. Last August, John Hockenberry explored the world of war blogging (or milblogging) at length in a Wired article, The Blogs of War. Hockenberry noted that war bloggers are not just recording events -- rather, "they engage in the 21st-century contact sport called punditry, and like their civilian counterparts, follow few rules of engagement. They mobilize sympathizers to ship body armor to reserve units in combat, raise funds for families of wounded soldiers, deliver shoes to barefoot Afghani kids, and even take aim at media big shots." He also drew a connection between the influence and prominence of milblogs and the few restrictions imposed on them by the military: what's radical about milblogs is that "anyone can publicly post a dispatch, and if the Pentagon reads these accounts at all, it's at the same time as the rest of us." Still, Hockenberry added, even the bloggers themselves were feeling like the freedom they enjoyed wouldn't last.
How right he was. Only a week after the article ran, the Army issued a memo to all personnel saying they were going to crack down on the milbloggers. It's probably not a stretch to imagine that the Wired piece and a similar article in the Washington Post caught the eye of someone in the Public Relations office. According to an NPR story on the topic, some soldiers felt like the crackdown had a less to do with security than with the fact that some military bloggers were becoming increasingly sour about the war. Since the new regulations were released in October, several influential milblogs have been "vanished" from the web by the Army. One notable recent example is Daniel Goetz's All The King's Horses, a eloquently written blog by a patriotic but disenchanted soldier in Iraq. Goetz's final post, on October 22, was a creepily Orwellian retraction (literally, since he titled it Double Plus Ungood) of what he'd been blogging in his final weeks:
"For the record, I am officially a supporter of the administration and of her policies. I am a proponent for the war against terror and I believe in the mission in Iraq...Furthermore, I have the utmost confidence in the leadership of my chain of command, including (but not limited to) the president George Bush and the honorable secretary of defense Rumsfeld. If I have ever written anything on this site or on others that lead the reader to believe otherwise, please consider this a full and complete retraction. I apologize for any misunderstandings that might understandably arise from this. Should you continue to have questions, please feel free to contact me through e-mail. I promise to respond personally to each, but it may take some time; my internet access has become restricted."
There's been a great deal of discussion of David's fate in the blogosphere. Daniel's girlfriend, who has been blogging herself in Daniel's absence, posted his entired deleted blog on her own site.
Posted by lisa lynch at 2:20 PM | Comments (3)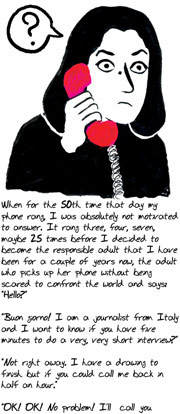 Everyone (and that includes us) has spent a lot of time complaining about Times Select, the paid online access to the New York Times editorial content. As I still subscribe to the paper version & thus get free access, I haven't complained so much. One thing that seems not to have been noticed in the debate is that Times Select coverage isn't exactly the same as the print version: increasingly, they've been creating dedicated web content which wouldn't work on the paper version at all. The most notable web-only content so far has been that they've given Marjane Satrapi, her own blog, titled An Iranian in Paris. Satrapi's a Persian graphic novelist; her Persepolis beautifully illustrates her experience growing up in Iran before, during, and after the revolution.
Her blog's worth a look – get someone else's account info, if you don't have an account. It reminds me not a little of the blog of Alex Itin, our artist in perpetual residence, who continues to fill his blog with pictures, some moving, with occasional dollops of text. Satrapi's work here feels astonishingly human and casual, thanks in no small part to the handwriting fonts used for the text. It's interesting to me that they've chosen to put this on the web: it's decidedly paper-based art. But the Web lets her be a bit more expansive than her usual black and white work: consider this image, where she seems to have scanned her passport, than drawn over its image, which would be difficult with electronic technology.
She's posted three (extended) entries so far, and the Times has given no indication of how long they intend to keep this up – or, really, any explanation of what they're trying to do here – leading one to hope that this is an open-ended series. Is this worth shelling out money for Times Select? Maybe not by itself. But if they keep providing this sort of web-dedicated content, naysayers might think about reconsidering.
Posted by dan visel at 10:39 AM | Comments (2)
Hi there, this is Lisa Lynch. I'm new to the Institute and I've introduced myself over on the Institute's Next/Text site, where I'll be spending much of my time. Come on by!
Just in time for Friday's conference, this article from Inside Higher Ed describes a Nov. 2 blogspat that may adversely impact the academic career of one of the bloggers. According to Inside Higher Ed, the trouble began after Paul Deignan --a 41-year-old mechanical engineering Ph.D. candidate at Purduewho writes a blog called Info Theory -- posted comments attacking the pro-choice posts of blogger Bitch PhD, a junior professor who won't disclose the name of her university. Bitch Ph.D. deleted his comments:(according to a policy stated clearly on her site, she deletes rude comments and will ban the IP addresses of trolls. Before the posts were deleted, however, they attracted the attention of University of Northern Iowa history professor Wallace Hettle, who decided to report Deignan to his Ph.D. committee for unethical behavior.
Now Deignan wants to sue BOTH Hettle and Bitch Ph.D. for libel -- Hettle for reporting him, and Bitch Ph.D for suggesting on her site that Deignan might have tried IP spoofing to suss out her identity.
This episode is troubling on many levels, but for me the most sinister aspect is the suggestion that this might represent the dark side of academic debate on blogs; increasingly, academics (and other folks, of course) may start to see one another as lawsuit fodder and will begin squirreling away blog entries as material evidence.
As much as I admire a knight in shining armor, I'm also troubled by Hettle's actions. Deignan's posts were really none of his Ph.D. committees' business. If Deignan was really IP spoofing, than his behavior was criminal, not simply unethical, and Bitch Ph.D. could have pursued legal options. If he wasn't spoofing? Academics consider themselves accountable to certain ethical standards, but (alas) politeness is usually not one of them. Apparently, Deignan's advisors asked him to refrain from "exceeding his bounds on a private site." But should they have? Is there a slippery slope here between reining in Deignan and establishing a policy banning blogging and/or commenting on blogs in academe?
Posted by lisa lynch at 3:50 PM | Comments (1)
Yesterday on Talking Points Memo, Josh Marshall drew back momentarily from the relentless news cycle to air a few meta thoughts on blogs and blogging, fleshing out some of the ideas behind his TPM Cafe venture (a multi-blog hub on politics and society) and his recent hiring notice for a "reporter-blogger" to cover Capitol Hill.
Marshall's ruminations tie in nicely with a meeting the institute is holding tomorrow (I'm running to the airport shortly) at our institutional digs at the University of Southern California in Los Angeles to discuss possible futures of the blogging medium, particularly in regard to the academy and the role of public intellectual. Gathering around the table for a full day of discussion will be a number of blogger-professors and doctoral students, several journalists and journalism profs, and a few interesting miscellaneous spoons to help stir the pot. We've set up a blog (very much resembling this one) as a planning stage for the meeting. Feel free to take a look and comment on the agenda and the list of participants.
The meeting is a sort of brainstorm session for a project the institute is hatching that aims to encourage academics with expert knowledge and a distinctive voice to use blogs and other internet-based vehicles to step beyond the boundaries of the academy to reach out to a broader public audience. Issues/questions/problems we hope to address include the individual voice in conflict with (or in complement to) mainstream media. How the individual voice establishes and maintains integrity on the web. How several voices could be aggregated in a way that expands both the audience and the interaction with readers without sacrificing the independence of the individual voices. Blogging as a bridge medium between the academy and the world at large. Blogging as a bridge medium between disciplines in the academy in a way that sheds holistic light on issues of importance to a larger public. And strengths and weaknesses of the blog form itself.
This last point has been on our minds a lot lately and I hope it will get amply discussed at the meeting. A year or two ago, the word "blog" didn't mean anything to most people. Now it is all but fully embraced as the medium of the web. But exciting as the change has been, it shouldn't be assumed that blogs are the ideal tool for all kinds of discourse. In fact, what's interesting about blogs right now, especially the more intellectually ambitious ones, is how much they are doing in so limiting a form. With its ruthlessly temporal structure and swift burial of anything more than 48 hours old, blogs work great for sites like TPM whose raison d'être is to comment on the news cycle, or sites like Boing Boing, Gawker, or Fark.com serving up oddities, gossip and boredom cures for the daily grind. But if, god forbid, you want ideas and discussion to unfold over time, and for writing to enjoy a more ample window of relevance, blogs are frustratingly limited.
Even Josh Marshall, a politics blogger who is served well by the form, wishes it could go deeper:
...the stories that interest me right now are a) the interconnected web of corruption scandals bubbling up out the reining Washington political machine and b) the upcoming mid-term elections.

I cover a little of both. And I've particularly tried to give some overview of the Abramoff story. But I'm never able to dig deeply enough into the stories or for a sustained enough period of time or to keep track of how all the different ones fit together. That's a site I'd like to read every day -- one that pieced together these different threads of public corruption for me, showed me how the different ones fit together (Abramoff with DeLay with Rove with the shenanigans at PBS and crony-fied bureaucracies like the one Michael Brown was overseeing at FEMA) and kept tabs on how they're all playing in different congressional elections around the country.

That's a site I'd like to read because I'm never able to keep up with all of it myself. So we're going to try to create it.
I'm excited to hear from folks at tomorrow's meeting where they'd like blogging to go. I'd like to think that we're groping toward a new web genre, perhaps an extension of blogs, that is less temporal and more thematic -- where ideas, not time, are the primary organizing factor. This question of form goes hand in hand with the content question that our meeting will hopefully address: how do we get more people with big ideas and expertise to start engaging the world in a serious way through these burgeoning forms? I could say more, but I've got a plane to catch.
Posted by ben vershbow at 6:01 AM | Comments (0)
These figures (scroll down) aren't pretty, but keep in mind that they convey more than a simple flight of readership. Part of it is a conscious decision by newspapers to cut out costly promotional efforts and to re-focus on core circulation. But the overall trend, and the fact that the core is likely to shrink as it grows older, can't be denied.
Things could change very suddenly if investors in the big newspaper conglomerates start demanding the sale or outright dismantling of print operations. The Los Angeles Times reported yesterday of pressure building at Knight Ridder Inc., where the more powerful shareholders, dismayed with the continued tumbling of stock values, seem to be urging things toward a reckoning, some even welcoming the idea of a hostile takeover. The Times: "...if shareholders force the sale or the dismantling of Knight Ridder, few in the newspaper industry expect the revolt to stop there."
The pre-Baby Boom generation typically subscribed to several newspapers, something that changed when the Boomers came of age. While competition with the web may be a major factor in recent upheavals, there are generational tectonics at work as well, habits formed long ago that are only now expressing themselves in the marketplace. Even if newspapers start to phase out print and focus entirely on the web, the erosion is likely to continue. It's not just the distribution model that changes, but the whole conceptual framework.
Ray, who just joined us here at the institute, was talking today about how online social networks are totally changing the way the younger generation gets its news. It's much more about the network of friends, the circulation of news from diverse sources through the collective filter, and not about your trusted daily paper. So the whole idea of a centralized news organization is shifting and perhaps dissolving.
From the L.A. Times:
Average weekday circulation of the nation's 20 biggest newspapers for the six-month period ended Sept. 30 and percentage change from a year earlier:
1. USA Today, 2,296,335, down 0.59%
2. Wall Street Journal, 2,083,660, down 1.1%
3. New York Times, 1,126,190, up 0.46%
4. Los Angeles Times, 843,432, down 3.79%
5. New York Daily News, 688,584, down 3.7%
6. Washington Post, 678,779, down 4.09%
7. New York Post, 662,681, down 1.74%
8. Chicago Tribune, 586,122, down 2.47%
9. Houston Chronicle, 521,419, down 6.01%*
10. Boston Globe, 414,225, down 8.25%
11. Arizona Republic, 411,043, down 0.54%*
12. Star-Ledger of Newark, N.J., 400,092, up 0.01%
13. San Francisco Chronicle, 391,681, down 16.4%*
14. Star Tribune of Minneapolis-St. Paul, 374,528, down 0.26%
15. Atlanta Journal-Constitution, 362,426, down 8.73%
16. Philadelphia Inquirer, 357,679, down 3.16%
17. Detroit Free Press, 341,248, down 2.18%
18. Plain Dealer, Cleveland, 339,055, down 4.46%
19. Oregonian, Portland, 333,515, down 1.24%
20. San Diego Union-Tribune, 314,279, down 6.24%
Posted by ben vershbow at 3:32 PM | Comments (1)
Hi, this is from Ray Cha, and I've just joined the folks at the Institute after working in various areas of commerical and educational new media. I also spend a lot of time thinking about the interplay between culture and technology. I read a small tidbit in this week's Time magazine about PowerPoint and thought it would be a good topic for my first post.
Whether you love it (David Byrne) or hate it (Edward Tufte), PowerPoint is the industry standard presentation tool. Microsoft is gearing up to launch its long overdue PowerPoint upgrade in 2006. Time reports 400 million people use the application, and in a single day, 30 million presentations are given using it. Although the PowerPoint handout is still common, presentations are commonly created and showed only in a digital format. The presentation is a great example of how a medium goes through the process of becoming digitized.
When Microsoft purchased PowerPoint and its creator Forethought in 1987, presentations were shown on the once standard overhead projector and acetate slides. With PowerPoint's Windows and DOS release, the software quickly replaced painstaking tedious letter transfers. However, PowerPoint presentations were still printed on expensive transparencies to be used with overhead projectors throughout the 1990s. As digital projectors became less expensive and more common in conference rooms, acetate slides became a rarity as the hand written letter did in the age of email.
Presentations were an obvious candidate to pioneer the transition into digital text. As stated, presentations were time intensive and expensive to produce and are often given off site. Therefore, a demand existed to improve on the standard way of creating and delivering presentations. I will also go out on a limb and also suggest that people did not have the emotional connection as they do with books, making the transition easier. In terms of the technological transfer, presentation creators already had desktop computers when PowerPoint was released with MS Office in 1990. By printing their PowerPoint output onto transparencies, display compatibility was not an issue. The PowerPoint user base could grow as the digital projector market expanded more slowly. This growth encouraged organizations to adapt to digital projectors as well. Overhead and digital projectors are a shared resource, therefore an organization only needs one project per conference room. These factors lead to fast track adoption. In contrast, ebook hardware is not efficiently shared, people have an emotional bond with paper-based books, and far fewer people write books than presentations. Only when handheld displays become as common and functional as mobile phones, will the days of paper handouts will be numbered.
Moving to a digital format has negative effects as mentioned by critics such as Tufte. Transferring each letter by hand did encourage text to concise and to the point. Also, transparencies were expensive as compared to PowerPoint slides, where the cost of the marginal slide is effectively zero, which is why we are often subjected to painstakingly long PowerPoint presentation. Although, these same critics argue that valuable time is wasted now in the infinite fiddling that occurs in the production of PowerPoint presentations at the expense of thinking about and developing content.
The development of the digital presentation begins to show the factors required to transfer text into a digital medium. Having an existing user base, a clear advantage in terms of cost and capability, the ability to allow users to use existing technology to either create or display the text, all start to reveal insight on how a printed text transforms into a digital medium.
Posted by ray cha at 4:46 PM | Comments (2)
On NPR's "Morning Edition" (11/2/2005) Lynn Neary reported on the multimedia new life that The Elements of Style by E.B. White and William Strunk Jr. has been going through. The classic manual on writing and usage in American English first published in 1919 has sold millions of copies, and has been the guide for practically all writers from the 1950's on. The authors advocated a simple and direct way of expressing ideas in a manual full of witty sentences that serve as examples on how to use those rules.
Maira Kalman, illustrator of children' books and "The New Yorker" found the book at a yard sale and immediately knew she wanted to illustrate it. She saw the visual potential not in the rules but in the examples the authors used to illustrate them. She saw humor, eccentricity and an interesting combination of beauty and truth in their sentences, and felt compelled to draw them. The result is an illustrated, humorous and eccentric manual of style.
After illustrating the book, Kailman decided to create an opera. She commissioned Nico Muhly to create operatic songs with lyrics from The Elements of Style. The music was recently played at the New York Public Library. The songs are beautiful and convey the book's sense of humor and eccentricity, at the same time they make it uncannily contemporary.
Examples of illustrations and songs are at NPR.
Posted by sol gaitan at 12:30 PM | Comments (0)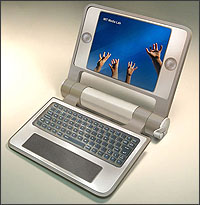 MIT has re-dubbed its $100 Laptop Project "One Laptop Per Child." It's probably a good sign that they've gotten children into the picture, but like many a program with sunny-sounding names and lofty goals, it may actually contain something less sweet. The hundred-dollar laptop is about bringing affordable computer technology to the developing world. But the focus so far has been almost entirely on the hardware, the packaging. Presumably what will fit into this fancy packaging is educational software, electronic textbooks and the like. But we aren't hearing a whole lot about this. Nor are we hearing much about how teachers with little or no experience with computers will be able to make use of this powerful new tool.
The headlines tell of a revolution in the making: "Crank It Up: Design of $100 Laptop for the World's Children Unveiled" or "Argentina Joins MIT's Low-Cost Laptop Plan: Ministry of Education is ordering between 500,000 to 1 million." Conspicuously absent are headlines like "Web-Based Curriculum in Development For Hundred Dollar Laptops" or "Argentine Teachers Go On Tech Tutorial Retreats, Discuss Pros and Cons of Technology in the Classroom."


Help! Help! We're sinking!
This emphasis on the package, on the shell, makes me think of the Container Store. Anyone who has ever shopped at the Container Store knows that it is devoted entirely to empty things. Shelves, bins, baskets, boxes, jars, tubs, and crates. Empty vessels to organize and contain all the bric-a-brac, the creeping piles of crap that we accumulate in our lives. Shopping there is a weirdly existential affair. Passing through aisles of hollow objects, your mind filling them with uses, needs, pressing abundances. The store's slogan "contain yourself" speaks volumes about a culture in the advanced stages of consumption-induced distress. The whole store is a cry for help! Or maybe a sedative. There's no question that the Container Store sells useful things, providing solutions to a problem we undoubtedly have. But that's just the point. We had to create the problem first.
I worry that One Laptop Per Child is providing a solution where there isn't a problem. Open up the Container Store in Malawi and people there would scratch their heads. Who has so much crap that they need an entire superstore devoted to selling containers? Of course, there is no shortage of problems in these parts of the world. One need not bother listing them. But the hundred-dollar laptop won't seek to solve these problems directly. It's focused instead on a much grander (and vaguer) challenge: to bridge the "digital divide." The digital divide -- that catch-all bogey, the defeat of which would solve every problem in its wake. But beware of cure-all tonics. Beware of hucksters pulling into the dusty frontier town with a shiny new box promising to end all woe.
A more devastating analogy was recently drawn between MIT's hundred dollar laptops and pharmaceutical companies peddling baby formula to the developing world, a move that has made the industries billions while spreading malnutrition and starvation.
Breastfeeding not only provides nutrition, but also provides immunity to the babies. Of course, for a baby whose mother cannot produce milk, formula is better than starvation. But often the mothers stop producing milk only after getting started on formula. The initial amount is given free to the mothers in the poor parts of the world and they are told that formula is much much better than breast milk. So when the free amount is over and the mother is no longer lactating, the formula has to be bought. Since it is expensive, soon the formula is severely diluted until the infant is receiving practically no nutrition and is slowly starving to death.

...Babies are important when it comes to profits for the peddlers of formula. But there are only so many babies in the developed world. For real profit, they have to tap into the babies of the under-developed world. All with the best of intentions, of course: to help the babies of the poor parts of the world because there is a "formula divide." Why should only the rich "gain" from the wonderful benefits of baby formula?
Which brings us back to laptops:
Hundreds of millions of dollars which could have been more useful in providing primary education would instead end up in the pockets of hardware manufacturers and software giants. Sure a few children will become computer-savvy, but the cost of this will be borne by the millions of children who will suffer from a lack of education.
Ethan Zuckerman, a passionate advocate for bringing technology to the margins, was recently able to corner hundred-dollar laptop project director Nicholas Negroponte for a couple of hours and got some details on what is going on. He talks at great length here about the design of the laptop itself, from the monitor to the hand crank to the rubber gasket rim, and further down he touches briefly on some of the software being developed for it, including Alan Kay's Squeak environment, which allows children to build their own electronic toys and games.
The open source movement is behind One Laptop Per Child in a big way, and with them comes the belief that if you give the kids tools, they will teach themselves and grope their way to success. It's a lovely thought, and may prove true in some instances. But nothing can substitute for a good teacher. Or a good text. It's easy to think dreamy thoughts about technology emptied of content -- ready, like those aisles of containers, drawers and crates, to be filled with our hopes and anxieties, to be filled with little brown hands reaching for the stars. But that's too easy. And more than a little dangerous.
Dropping cheap, well-designed laptops into disadvantaged classrooms around the world may make a lot of money for the manufacturers and earn brownie points for governments. And it's a great feel-good story for everyone in the thousand-dollar laptop West. But it could make a mess on the ground.
Posted by ben vershbow at 8:31 AM | Comments (5)
ebr is back after a several month hiatus during which time it was overhauled. The site, published by AltX was among the first places where the "technorati meets the literati" and I always found it attractive for its emphasis on sustained analysis of digital artifacts and the occasional pop culture reference. The latest project, first person series, seems to answer a lot of what bob finds attractive in the blogs of juan cole and others. And although I've heard ebr called "too linear" (as compared to Vectors, USC's e-journal) the interface goes a long way toward solving the problem of the scrolling feature of many sites/blogs which privilege what's new. The interweaving threads with search capabilities seem quite hearty.
Posted by virginia kuhn at 12:49 AM | Comments (0)
The New York Times reports on programs being developed by both Amazon and Google that would allow readers to purchase online access to specific sections of books -- say, a single recipe from a cookbook, an individual chapter from a how-to manual, or a particular short story or poem from an anthology. Such a system would effectively "unbind" books into modular units that consumers patch into their online reading, just as iTunes blew apart the integrity of the album and made digital music all about playlists. We become scrapbook artists.
It seems Random House is in on this too, developing a micropayment model and consulting closely with the two internet giants. Pages would sell for anywhere between five and 25 cents each.
Posted by ben vershbow at 7:20 AM | Comments (1)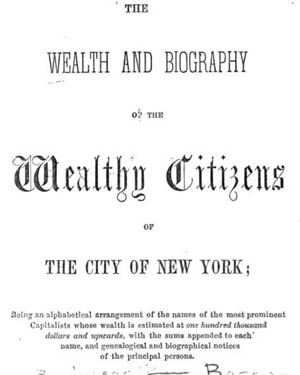 Google's first batch of public domain book scans is now online, representing a smattering of classics and curiosities from the collections of libraries participating in Google Print. Essentially snapshots of books, they're not particularly comfortable to read, but they are keyword-searchable and, since no copyright applies, fully accessible.
The problem is, there really isn't all that much there. Google's gotten a lot of bad press for its supposedly cavalier attitude toward copyright, but spend a few minutes browsing Google Print and you'll see just how publisher-centric the whole affair is. The idea of a text being in the public domain really doesn't amount to much if you're only talking about antique manuscripts, and these are the only books that they've made fully accessible. Daisy Miller's copyright expired long ago but, with the exception of Harvard's illustrated 1892 copy, all the available scanned editions are owned by modern publishers and are therefore only snippeted. This is not an online library, it's a marketing program. Google Print will undeniably have its uses, but we shouldn't confuse it with a library.
(An interesting offering from the stacks of the New York Public Library is this mid-19th century biographic registry of the wealthy burghers of New York: "Capitalists whose wealth is estimated at one hundred thousand dollars and upwards...")
Posted by ben vershbow at 4:16 PM | Comments (0)
The Electronic Literature Organization seeks submissions for the first Electronic Literature Collection. We invite the submission of literary works that take advantage of the capabilities and contexts provided by the computer. Works will be accepted until January 31, 2006. Up to three works per author will be considered.
The Electronic Literature Collection will be an annual publication of current and older electronic literature in a form suitable for individual, public library, and classroom use. The publication will be made available both online, where it will be available for download for free, and as a packaged, cross-platform CD-ROM, in a case appropriate for library processing, marking, and distribution. The contents of the Collection will be offered under a Creative Commons license so that libraries and educational institutions will be allowed to duplicate and install works and individuals will be free to share the disc with others.
The editorial collective for the first volume of the Electronic Literature Collection, to be published in 2006, is:
N. Katherine Hayles
Nick Montfort
Scott Rettberg
Stephanie Strickland
Go here for full submission guidelines.
Posted by ben vershbow at 12:35 PM | Comments (0)
Believe it or not, they're printing out Wikipedia, or rather, sections of it. Books for the developing world. Funny that just days ago Gary remarked:
"A Better Wikipedia will require a print version.... A print version would, for better or worse, establish Wikipedia as a cosmology of information and as a work presenting a state of knowledge."
Prescient.
Posted by ben vershbow at 1:18 AM | Comments (3)
Meant to post about this last week but it got lost in the shuffle... In case anyone missed it, Tarleton Gillespie of Cornell has published a good piece in Inside Higher Ed about how sneaky settings in course management software are effectively eating away at fair use rights in the academy. Public debate tends to focus on the music and movie industries and the ever more fiendish anti-piracy restrictions they build into their products (the latest being the horrendous "analog hole"). But a similar thing is going on in education and it is decidely under-discussed.
Gillespie draws our attention to the "Copyright Permissions Building Block," a new add-on for the Blackboard course management platform that automatically obtains copyright clearances for any materials a teacher puts into the system. It's billed as a time-saver, a friendly chauffeur to guide you through the confounding back alleys of copyright.
But is it necessary? Gillespie, for one, is concerned that this streamlining mechanism encourages permission-seeking that isn't really required, that teachers should just invoke fair use. To be sure, a good many instructors never bother with permissions anyway, but if they stop to think about it, they probably feel that they are doing something wrong. Blackboard, by sneakily making permissions-seeking the default, plays to this misplaced guilt, lulling teachers away from awareness of their essential rights. It's a disturbing trend, since a right not sufficiently excercised is likely to wither away.
Fair use is what oxygenates the bloodstream of education, allowing ideas to be ideas, not commodities. Universities, and their primary fair use organs, libraries, shouldn't be subjected to the same extortionist policies of the mainstream copyright regime, which, like some corrupt local construction authority, requires dozens of permits to set up a simple grocery store. Fair use was written explicitly into law in 1976 to guarantee protection. But the market tends to find a way, and code is its latest, and most insidious, weapon.
Amazingly, few academics are speaking out. John Holbo, writing on The Valve, wonders:
Why aren't academics - in the humanities in particular - more exercised by recent developments in copyright law? Specifically, why aren't they outraged by the prospect of indefinite copyright extension?...

...It seems to me odd, not because overextended copyright is the most pressing issue in 2005 but because it seems like a social/cultural/political/economic issue that recommends itself as well suited to be taken up by academics - starting with the fact that it is right here on their professional doorstep...
Most obviously on the doorstep is Google, currently mired in legal unpleasantness for its book-scanning ambitions and the controversial interpretation of fair use that undergirds them. Why aren't the universities making a clearer statement about this? In defense? In concern? Soon, when search engines move in earnest into video and sound, the shit will really hit the fan. The academy should be preparing for this, staking out ground for the healthy development of multimedia scholarship and literature that necessitates quotation from other "texts" such as film, television and music, and for which these searchable archives will be an essential resource.
Fair use seems to be shrinking at just the moment it should be expanding, yet few are speaking out.
Posted by ben vershbow at 1:13 PM | Comments (4)