« an ipod for text | Main | ok -- it's judy time at if:book; but i promise only future-of-the-book related comments »
pinter and the nobel prize 10.13.2005, 5:08 PM
posted by ben vershbow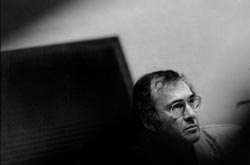 Twice in one year now the Swedish academy has used the Nobel Prize as a political swipe at the Bush administration, first giving the peace medal to Mohamed ElBaradei of the IAEA (a difference of opinion on disarmament, you could say), and today awarding the prize for literature to British playwright Harold Pinter, who in recent years has been a vocal critic of US and British policies, once referring to Tony Blair as a "deluded idiot."
But recent years aside, Pinter undoubtedly deserves the prize for his life's work in the theatre, where he developed a politics far more complex, painful and profound than what is on display in his latter-day fumings (generally right though they may be) about American empire.
In college I acted in one of Pinter's later plays, Ashes to Ashes (1996), a mysterious single act about a marriage in crisis, and a good example of the kind of frightening moral puzzle, encompassing the personal and the political, that Pinter excelled at creating. In a comfortable English living room, in a comfortable English university town, a woman seems to psychically rupture before her husband's eyes, traumatized by events she relates only in part, and which she could not possibly have been alive to experience.
She confesses to having had an affair with the warden of a Nazi death camp, and having lived with him there. She describes the horror of the place, obscenely channeling the Holocaust as a sort of sexual taunt toward her mystified husband, but at the same time communicating her distress at the slow suffocation of their marriage. It is a sickening game, but one they must play in order to cut to the heart of their relationship. Ashes to Ashes is a domestic play, but somehow the entire century speaks through it.
On a more general note, it's encouraging to see a dramatist get recognized on this scale, a statement about the continued relevance, at least in concept, of the theatre -- an unmediated medium in a thoroughly mediated age. It also says something about language. Pinter, whose bleak but darkly humorous sensibilities were formed in bombed-out, post-WWII England, uses language sparely and with scalpel-like precision. Playwright David Hare said of him:
"Pinter did what Auden said a poet should do. He cleaned the gutters of the English language, so that it ever afterwards flowed more easily and more cleanly."
His plays have the ominousness of still water, the words like stones breaking the surface. You have to read and feel the ripples. In an age where mass media, and now the internet, have devalued words, Pinter found a way to make them startling again. He also understands the power of silence.
Elevating Pinter as international spokesman for the left, the Swedes missed the point. His recent protests haven't been terribly interesting or original. But in missing, they still struck gold. All this media attention cannot really convey the power of his plays. Hopefully, this will lead to a reinvigorated interest in producing them. They still speak vitally to our times.
Posted by ben vershbow on October 13, 2005 5:08 PM
tags: afghanistan, america, books, britain, bush, drama, empire, english, harold_pinter, iraq, language, literature, nobel, nobel_prize, nobelprize, pinter, politics, theater, theatre
comments (2):


dan visel
on
October 14, 2005 1:20 PM
:
An article in the Times (of London) suggests that Pinter's under no illusions the role his politicking played in his being awarded the Nobel. I do think there's something to be said for giving the award to someone who realizes that literature - the book, the play - can still be an important political force rather than simple entertainment (there's no shame in that, of course, but we're not really at a loss for entertainment in this society).


ben vershbow
on
October 15, 2005 12:28 PM
:
I'm sure he did understand. And in the grand scheme, I don't think it's so terrible for the Nobel committee to make political statements with its prizes, though it's a slippery slope. But people should look at his plays, not just at his recent protests. The plays are far more interesting, and far more agitating.
(Because of spam troubles, first-time comments from unfamiliar addresses or containing multiple links might be held for moderation. If your comment isn't spam, we'll publish it very soon. Thanks in advance for your patience.)