« welcome to the 19th century | Main | the blog carnival »
google dystopia 10.10.2005, 10:06 AM
posted by ben vershbow
Google as big brother: "Op-Art" by Randy Siegel from today's NY Times.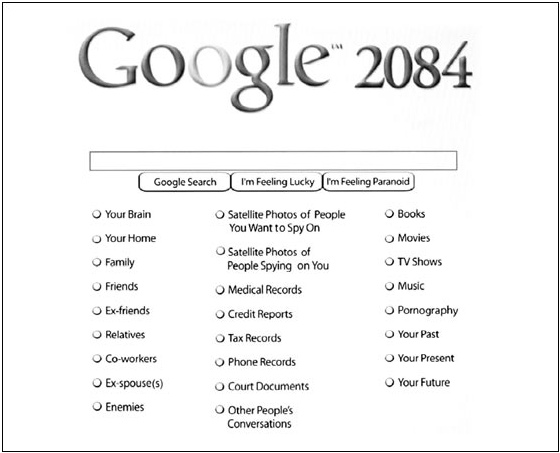 Posted by ben vershbow on October 10, 2005 10:06 AM
tags: 1984, 2084, Libraries, Search and the Web, NYTimes, Online, algorithm, art, cartoon, dystopia, editorial, google, information, internet, newspaper, orwell, paranoia, privacy, satire, search, technology, web
comments (10):


Dr. Mohamed Taher
on
March 2, 2006 2:59 PM
:
Excellent visualization.
This relates to a book I just reviewed: as Infostructure in geopardy?, February 28, 2006, The Anarchist in the Library: How the Clash Between Freedom and Control is Hacking the Real World and Crashing the System, by Siva Vaidhyanathan
May be you may also find my webliography on Libarians and Techies.
More on hearing from you.



Diamond jones
on
May 9, 2007 12:44 PM
:
this thing is freeken awsome,to bad I won't be alive. I whish I could be there for that google


laura
on
July 14, 2007 7:17 PM
:
if i live to see that it would be awesome!


Zack
on
March 30, 2008 12:13 PM
:
Well, Google might update a few much because wont there be a "Google 2060"? well if im able to see that in 2084 then i can spy on myself, but all im saying is that this would be pretty cool to see.


vinod kumar
on
March 11, 2009 12:38 PM
:
This picture shows that what will google search in next 60 to 80 years from current year .I think this picture is equal to 10000 world article of wikipedia in which describing the detail of different search engine in next coming period planning .
Thanks for sharing with us


Eli
on
November 20, 2009 6:02 PM
:
YAY! ill be 88 years old. that is, if i live then!


Miles
on
January 27, 2010 6:51 AM
:
:'( I wish I could live till that long to see these changes in the future... I want to be imortal! Lol


some guy!
on
May 21, 2010 10:06 AM
:
i realy want to see google in 2084!!



some guy!
on
May 21, 2010 10:09 AM
:
i realy want to see google in 2084!!



Drew
on
August 24, 2010 4:37 PM
:
You guys all know this is art, and is merely making a statement, right? This isn't a plan by Google, this isn't an accurate view of the future, this isn't something that will be around in 2084.
(Because of spam troubles, first-time comments from unfamiliar addresses or containing multiple links might be held for moderation. If your comment isn't spam, we'll publish it very soon. Thanks in advance for your patience.)