« August 2005 | Main | October 2005 »
Something's gone wrong with our server, and if:book has gone back in time three years. We're attempting to figure out the problem. In the meantime, if you're looking for Bob Stein's post on a unified field theory of publishing, click here to go directly to that post. Things will be back to normal soon! we hope.
Posted by dan visel at 11:21 AM | Comments (0)
Ray Kurzweil looks into the future and sees the singularity gazing back full of love. It whispers. It seduces. "Ray, take care. Preserve yourself. It will be another 50 years yet. Go. Preserve yourself with vitamins, fruits, infusions. Keep your body tender and vital, and soon enough you will be subsumed, you will transcend. The singularity is near!"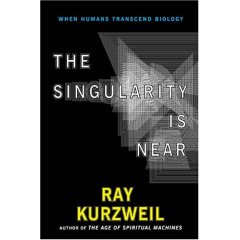 Kurzweil's book is out and it's as big as a dictionary. A good friend of mine was given it as a gift a couple of nights ago for his birthday. After dinner, as we rode the crosstown bus toward a game of cards, I read the first few pages. Try holding this goliath in one hand! The bus was crowded and we were standing in the aisle, gripping the handles on the top rail. The bus lurched, and I cursed my physiognomy. If only I could download the damn thing into my brain! If only the singularity were here now!
Kurzweil's theory, or rather, his unshakeable conviction, his messianic belief, is that we, the human species, are nearing the point (he predicts around 2045) when our tools will become more intelligent than us and we will merge - mentally, biologically, spiritually - with them. Computer processing, artificial intelligence, biotechnology are all developing at an exponential rate (the law of accelerating returns), and are approaching a point of singularity, an all-encompassing transformative power, that will enable us to eliminate poverty, eradicate hunger, and "transcend biology."
The reason Kurzweil is preserving his body - "reprogramming his biochemistry," as he puts it - is because he is convinced that in about a generation's time we will be able to ingest millions of microscopic nanobots into our neural pathways that will turn our brains into supercomputers, and engineer ourselves to live as long as we please. We will become, to borrow a conceit from an earlier book of Kurzweil's, "spiritual machines."
I would like to say that I will take the time to read his book and engage with it in more than a passing (and admittedly reactionary) way. Perhaps we'll make a project of reading Kurzweil here at the institute as a counterpoint to Neil Postman (see recent discussion). But I'm not sure how much of his flaming narcissism I can take. Kurzweil's ideas of "transhumanism" are so divorced from any social context, so devoid of any acknowledgment of the destructive or enslaving capacities of technology, and above all, so self-involved (the fruit and vitamin regimen is no joke - and there is probably a black monolith at the foot of his bed), that I'm not quite sure how to have a useful discussion about them.
As an inventor, Kurzweil has made many valuable contributions to society, including text-to-speech synthesis and speech recognition technology that has greatly aided the blind. It is understandable that his success in these endeavors has instilled a certain faith in technology's capacity to do good. But his ecstatic, almost sexual, enthusiasm for human-machine integration is more than a little grotesque. Kurzweil's website and book jacket are splashed with approving quotes from big name technologists. But I don't find it particularly reassuring, or convincing, to know that Bill Gates thinks
Ray Kurzweil is the best person I know at predicting the future of artificial intelligence.
For a more reasoned, economic analysis of the possible outcomes of accelerating returns, read John Quiggins' "The singularity and the knife-edge" on Crooked Timber. Another law - or if not a law, then at least a common sense suspicion - is that if the engine keeps accelerating and heating it up, it will eventually fall apart.
Posted by ben vershbow at 11:20 AM | Comments (2)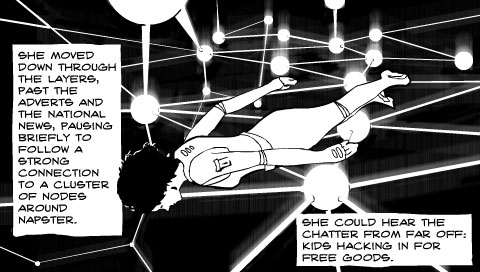 NYC2123 is a graphic novel conceived for the 480 by 272-pixel screen of the Play Station Portable video game device. It's a post-apocalyptic tale set in a future, tsunami-ravaged New York in which the city's wealthy have walled off the island of Manhattan against a violent river society of junkies, thieves and outlaw barges.
There are several sequences that read like a flip book, taking advantage of the single-frame interface and the fact that the reader has literally got his finger on the button. Quickly flipping through the panels creates a filmic effect, as here: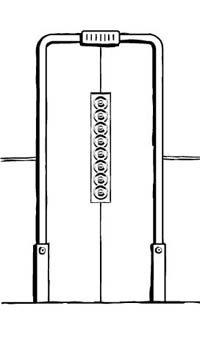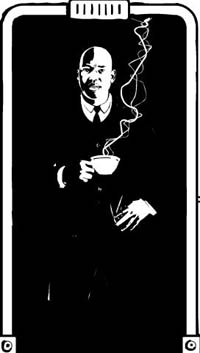 (Once again via Infocult - thanks Bryan)
Update: Someone has just developed a .pdf reader for the PSP.
Posted by ben vershbow at 5:05 PM | Comments (0)
I just came across Common Times, a new community-generated news aggregation page, part of something called the Common Media Network, that takes the social bookmarking concept of del.icio.us and applies it specifically to news gathering. Anyone can add a story from any source to a series of sections (which seem pre-set and non-editable) arranged on a newspaper-style "front page." You add links through a bookmarklet on the links bar on your browser. Whenever you come across an article you'd like to submit, you just click the button and a page comes up where you can enter the metadata like tags and comments. Each user has a "channel" - basically a stripped-down blog - where all their links are displayed chronologically with an RSS feed, giving individuals a venue to show their chops as news curators and annotators. You can set it up so links are posted simultaneously to a del.icio.us account (there's also a Firefox extension that allows you to post stories directly from Bloglines).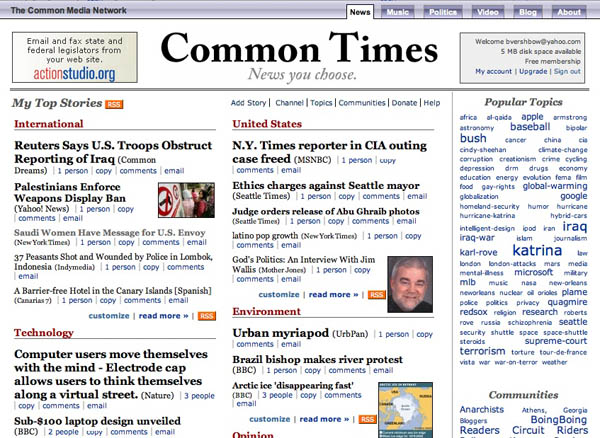 Human aggregation is often more interesting than what the Google News algorithm can turn up, but it can easily mould to the biases of the community. Of course, search algorithms are developed by people, and source lists don't just manufacture themselves (Google is notoriously tight-lipped about its list of news sources). In the case of something like Common Times, a slick new web application hyped on Boing Boing and other digital culture sites, the communities can be rather self-selecting. Still, this is a very interesting experiment in multi-player annotation. When I first arrived at the front page, not yet knowing how it all worked, I was impressed by the fairly broad spread of stories. And the tag cloud to the right is an interesting little snapshot of the zeitgeist.
(via Infocult)
Posted by ben vershbow at 3:40 PM | Comments (0)
The Directory of Open Access Journals indexes free peer review research journals from any country in any discipline. The directory is funded by the Soros "Open Access Initiative" which seeks to make the fruits of academic research freely available on the internet.
We define open access journals as journals that use a funding model that does not charge readers or their institutions for access. From the BOAI, Budapest Open Access Initiative, definition of "open access" we take the right of "users to read, download, copy, distribute, print, search, or link to the full texts of these articles" as mandatory for a journal to be included in the directory. The journal should offer open access to their content without delay. Free user registration online is accepted.
(via librarian.net)
Posted by ben vershbow at 12:07 PM | Comments (0)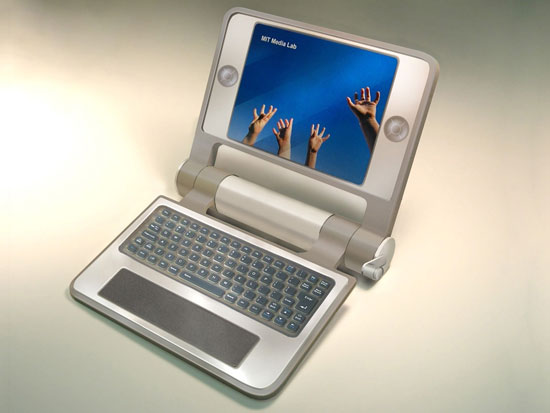 MIT has released some new images of its $100 laptop prototype, of which it hopes to have 5 to 15 million test units within the year. The laptops are much more durable than your average commercial machine, can be used as writing tablets or rotated 90 degrees as ebooks, and run on Linux - 100% free software. The idea is for the machines to provide a platform for an open source education movement throughout the South - a major hack of the current global order.
I love the hand cranks on the side, a backup charging option for remote or poorly provided areas where there is little or no electricity.
("The $100 laptop moves closer to reality" in CNET)
Posted by ben vershbow at 1:03 PM | Comments (11)
lately i've been thinking about how the institute for the future of the book should be experimental in form as well as content - an organization whose work, when appropriate, is carried out in real time in a relatively public forum. one of the key themes of our first year has been the way a network adds value to an enterprise, whether that be a thought experiment, an attempt to create a collective memory, a curated archive of best practices, or a blog that gathers and processes the world around it. i sense we are feeling our way to new methods of organizing work and distributing the results, and i want to figure out ways to make that aspect of our effort more transparent, more available to the world. this probably calls for a reevaluation of (or a re-acquaintance with) our idea of what an institute actually is, or should be.
the university-based institute arose in the age of print. scholars gathering together to make headway in a particular area of inquiry wrote papers, edited journals, held symposia and printed books of the proceedings. if books are what humans have used to move big ideas around, institutes arose to focus attention on particular big ideas and to distribute the result of that attention, mostly via print. now, as the medium shifts from printed page to networked screen, the organization and methods of "institutes" will change as well.
how they will change is what we hope to find out, and in some small way, influence. so over the next year or so we'll be trying out a variety of different approaches to presenting our work, and new ways of facilitating debate and discussion. hopefully, we'll draw some of you in along the way.
here's a first try. we've decided (see thinking out loud) to initiate a weekly discussion at the institute where we read a book (or article or....) and then have a no-holds discussion about it -- hoping to at least begin to understand some of the first order questions about what we are doing and how it fits into our perspectives on society. mostly we're hoping to get to a place where we are regularly asking these questions in our work (whether designing software, studying the web, holding a symposium, or encouraging new publishing projects), measuring technological developments against a sense of what kind of society we'd like to live in and how a particular technology might help or hinder our getting there.
the first discussion is focused on neil postman's "Building a Bridge to the 18th Century." following is the audio we recorded broken into annotated chapters. we would be interested in getting people's feedback on both form and content. (jump to the discussion)
Posted by bob stein at 5:36 PM | Comments (1)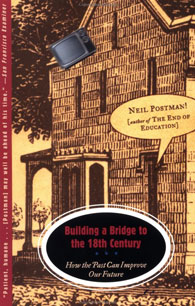 (Annotated audio recordings of this discussion appear further down.)
On the dedication page of "Building a Bridge to the 18th Century," Neil Postman quotes the poet Randall Jarrell:
Soon we shall know everything the 18th century didn't know, and nothing it did, and it will be hard to live with us.
Though often failing to provide satisfying answers, Postman asks the kind of first-order questions one hears all too infrequently at a time when technology's impact on our social, political and intellectual lives grows ever more profound. Postman has been accused of deep reactionism toward technology, and indeed, his hostility toward computers and telecommunications betrays an elitism that discredits some of his larger, and quite compelling observations.
In spite of this, Postman's diagnosis is persuasive: that the idea of technological progress bequeathed by the Enlightenment has detached from reason and become a runaway train, that we are unquestioningly embracing new technologies that unleash massive change on our family and communal life, our democracy, and our capacity to think critically. We have stopped asking the single most important question that should be applied to all new technological innovations: does this technology solve a problem? If so, then at what cost? To whose benefit? And at whose expense?
Postman portrays the contemporary West as a culture without a narrative, littered with the shards of broken ideologies - depressed, unmotivated, and therefore uncritical of the new technologies that are foisted upon it by a rapacious capitalist system. The culprit, as he sees it, is postmodernism, which he lambasts (rather simplistically) as a corrosive intellectual trend, picking at the corpse of the Enlightenment, and instilling torpor and malaise at all levels of culture through its distrust of language and dogged refusal to accept one truth over another. This kind of thinking, Postman argues, is seductive, but it starves humans of their inspiration and sense of purpose.
To be saved, he goes on, and to build a better future, we would do well to look back to the philosophes of 18th century Europe, who, in the face of surging industrialization, defined a new idea of universal rational humanism - one that allowed for various interpretations within its fold, was rigorously suspicious of religious or any other kind of dogma, and yet gave the world a sense of moral uplift and progress. Postman does not suggest that we copy the 18th century, but rather give it careful study in order to draw inspiration for a new positive narrative, and for a reinvigoration of our critical outlook. This, Postman insists, offers us the best chance of surviving our future.
Postman's note of alarm, if at times shrill, is nonetheless a refreshing antidote to the techno-optimism that pervades contemporary culture. And his recognition of our "crisis in narrative" - a formulation borrowed from Vaclav Havel - is dead on.
September 19: Bob, Dan, Kim, and Ben discuss Postman's book at our new Brooklyn office (special prize if you pick out the sound of the ice cream truck passing by).
1. Bob's preface - thoughts about how we do business at the institute (1:56) (download)
2. Ben's first impressions - childhood under threat... Dan's first impressions into discussion - a Clinton-era book, sets up a rather straw man caricature with the postmodernists, but society's need for a narrative is compelling - why the Christian right has done so well... Postman seems to be assuming that progress is a law, that there is a directed narrative to history - problems with how he treats evolution. (6:43) (download)
3. Bob: Postman is much better at identifying problems than at coming up with solutions. Which is what makes him compelling. His stance is courageous. People assume with technology that just because something can be done it should be done. This is a tremendous problem - an affliction. If you could go back in time and be the inventor of the automobile, would you do it? People get angry at the responsibility this question imputes to them. How can we put these big questions at the center of our work? (13:34) (download)
4. Another big question... "An electronic community is only a simulation of a real community"? Flickr, Friendster, Howard Dean campaign? What is the vehicle for talking about this? What format is best for engaging these questions? Looking for new forms that illuminate or activate the questions. (15:43) (download)
5. Where/who are the public intellectuals today? [The ice cream truck passes by.] Strange bifurcation of the intellectual elite - many of the best-educated people most able to deal with abstraction make their living producing popular media that controls society. (10:07) (download)
6. Is capitalism the problem? Postman's bias: written language will never be surpassed in its power to deal with abstract thought and cultivation of ideas. But we are arguably past the primacy of print. What is our attitude toward this? (9:39) (download)
7. What opportunities for reflection do different media afford? Films on DVD can be read and reread like a book - the viewer controls, rather than being controlled - a possibility for reflection not available in broadcast. What is the proper venue for discussing this? Capitalism is the 800 lb. gorilla in the room. How do we create, if not a mass agitation, then at least a mass discussion? Tie it to the larger pressing problems of the world and how they will be better addressed by certain forms of discourse and reflection. Averting ecological catastrophe as one possible narrative - an inspiring motivator that will get people moving. How do find our way back into history? (10:09) (download)
8. What should we read next as counterpoint/antidote to Postman? The Matrix - are we headed that way? (12:33) (download)
9. How do we organize new kinds of debates about technology and society? Other issues to be addressed - class, race and gender inequality. (11:26) (download)
Posted by ben vershbow at 5:32 PM | Comments (5)
Following Kevin Sites in the Hot Zone, Yahoo! takes another step in its transformation into original content provider (see Wall Street Journal - free). Though they say they have no intention of becoming a full-fledged news service.
Yahoo's move suggests increased specialization and atomization of news media on the web, as full-fledged news services find it increasingly hard to stay afloat (as the recent wave of staff cuts at major papers suggests). As newspapers agonize over how to make more money from their websites (e.g. Times Select), companies with diverse revenue bases (like the big search portals) will find it a lot easier to deliver the news. But it will be a stripped down service, heavy on features. Can the news media as public trust survive this process of atomization? Or was the idea of a public trust always a fairy tale?
Posted by ben vershbow at 11:45 AM | Comments (0)
You can't fault the Times for trying to find a new business model for the web, but they seem to be doing themselves more harm than good with Times Select. Jay Rosen has a terrific post on Press Think running through various reactions to the NY Times' new subscription service that charges $49.99 per year for access to columnists, archives, and exclusive interactive features. Rosen rightly notes that the Times has gotten the idea of exclusivity all wrong:
The phrase "exclusive online accesss" advertises two different goods. The first good is the work of the Times columnists themselves. The proposition that some will pay for that is hard to prove until you try, but it's simple to understand. The second good being advertised is exclusivity. You, the lucky TimesSelect subscriber, have access to these voices. Others do not. The value proposition there is muddled. If we prize up-to-date information about petroleum markets, we might value it more--and pay a premium--if the news is exclusively available to paying customers; but do we value Nicholas D. Kristof's column more if he's an "exclusive?"

We don't. In fact, it's probably the reverse. If everyone is reading a columnist, that makes the columnist more of a must have. If "everyone" isn't, less of a must. "Exclusive online access" attacks the perception of ubiquity that is part and parcel of a great columnist's power. In his prime Walter Lippmann was called "the name that opened every door." Nick Kristof's brand of human rights journalism, which depends on the mobilization of outrage, is simply less potent if it can't reach widely around the world, and pass by every door.
The Wall Street Journal is an exclusive paper, so offering it over the web as a pay subscription service actually increases its cachet. The Times is a different sort of paper - it has a general audience and is read the world over. Its ubiquity, its availability over the web, is part of its identity.
Moroever, the Times is seriously overvaluing its columnists, or worse, de-valuing them by placing them behind a pay wall. If I were Tierney, or Kristof or Dowd, I would be furious. It makes them look like preened show dogs when everyone else is duking it out in the commons for all to read. Seems like a one-way ticket to irrelevance. Plus, soon they're going to have to take part in all sorts of online chats and seminars with Select subscribers - I bet they'll really start to chafe then.
The archive access is certainly tempting, though over-priced. Still, that seems a better starting point for a paperless subscription model, though it's hard to imagine archives alone finding a mass paying audience.
Posted by ben vershbow at 5:49 PM | Comments (0)
From IT IN place.
Posted by ben vershbow at 3:30 PM | Comments (0)
"Mercury News plans to shrink newsroom by 52 jobs":
The newspaper whose newsroom topped 400 people at the height of the dot-com economic boom in Silicon Valley could not avoid downsizing to reflect a local economy that never recovered. But the larger problem...is that the stock market offers no slack to news organizations in less profitable years....

...Two weeks ago, the publicly traded Knight Ridder, the nation's second-largest newspaper chain, announced that earnings per share would fall 20%, which it attributed to higher paper costs and health insurance premiums.
Joseph A. Schumpeter, Capitalism, Socialism and Democracy:
The opening up of new markets, foreign or domestic, and the organizational development from the craft shop and factory to such concerns as U.S. Steel illustrate the same process of industrial mutation-if I may use that biological term-that incessantly revolutionizes the economic structure from within, incessantly destroying the old one, incessantly creating a new one. This process of Creative Destruction is the essential fact about capitalism. It is what capitalism consists in and what every capitalist concern has got to live in....

Every piece of business strategy acquires its true significance only against the background of that process and within the situation created by it. It must be seen in its role in the perennial gale of creative destruction; it cannot be understood irrespective of it or, in fact, on the hypothesis that there is a perennial lull....
Posted by ben vershbow at 11:34 AM | Comments (0)
boing boing
posted about it a few weeks ago, the
New York Times
ran an article about it today. A rap song by
The Legendary K.O.
, samples Kanye West's "George Bush doesn't care about black people" comment on NBC. K.O.'s song (free for download) was, in turn, sampled by
Marquise Lee
who used it as a soundtrack for his
video remix
of the Katrina disaster. After watching Lee's video (which is truly amazing) read the
Washington Post
's transcript of Kanye West live on network TV.
The song and video have been downloaded by hundreds of thousands of "readers" who heard about the work through internet and other media channels. What does this mean for the future of the book? The New York Times sums it up nicely with this quote:
"A. J. Liebling famously commented that freedom of the press belongs to those who own one," said Mike Godwin, legal director of Public Knowledge, a First Amendment group. "Well, we all own one now."
Posted by kim white at 10:02 PM | Comments (0)
The following discussion about a proposed exercise for a high school or college class began in an email exchange yesterday with Bob, Virginia Kuhn and Karl Stolley (Virginia and Karl are both teachers of rhetoric and composition and great intellectual partners of the institute). We thought it was getting interesting so we decided to slap it up here on the blog as a thought experiment. Please join in the discussion in the comment stream.
Bob Stein wrote:
karl and virginia:
this is an idea for an exercise for a high school or college class. i'm wondering if you think it would be interesting/valuable for both students and for those of us interested in understanding the relation of different media types.
*Ways of Seeing, Ways of Writing*
class is divided into four sections. one given pad and pencil. one given digital still camera. one given audio recorder. one given video camera*
the class is asked to "write" about a place (local historical site, downtown street corner, mall, supermarket, cemetary, etc. etc. )
or asked to "write" a response to a question, e.g. "was the response of the federal govt. to the rescue of New Orleans residents affected by the fact that the people needing rescue were mostly poor and black."
each group "writes" their description of the place or answer to the question using the particular media assigned to their group.
the class reviews all responses, then each group is asked to make a synthesis piece using media captured by all groups.
*if resources aren't a problem, it would be great if each of the groups with electronic capture devices has more than one.

Karl Stolley replies:
Hmmm...this assignment does offer interesting possibilities. But I guess I'd be interested in the rationale behind splitting the media-producing and -capturing activities between groups. On the one hand, from a teacherly point of view, it's quite convenient. But viewed from the analogy of a cooking class, it would be like giving each group a set of ingredients plus a kitchen appliance, and then asking each group to take some of the results and make a dish out of it. I know that's riddled with all kinds of logical holes, but I have to try and interrogate this somehow.
The thing that bothers me most about the assignment is that there is a serious disconnect between the artful choices required to both capture/produce AND compose/orchestrate, as though those activities can be discreet and separate (that disconnect is what tends to make a lot of multimedia assignments feel like the old Surrealist "exquisite corpse" drawing game; if that's the rhetorical goal, then fine--but that's limited to a particular kind of stance towards orchestration).
Instead, wouldn't it be better to give students the question, and then consider which kind of media would be most effective to capture based on the rhetorical situation they've been confronted with, have the groups delegate that task amongst themselves? Beginning with the distribution of media before the question is putting the media/genre cart before the rhetorical horse, I think.
Bob replies:
karl,
thank you for your very thoughtful reply. before make specific comments, perhaps i should explain the origin of the idea.
ashton (girlfriend) and i try to spend as much time at her godmother's place in sardinia as possible. one of the big draws is an island, actually a big hunk o' dolomite - two miles long and 1500 feet high- that dominates the view from the shoreline. because tavolara's rockface is mostly white and gray it changes color all day with the sun. (a few photos from recent vist here.) i literally can sit and watch it for hours. it's been a dream to bring a group of artists to capture its beauty. this year i was thinking that it might be interesting to bring a writer (think someone like john mcphee), a painter, a photographer, a video artist or filmmaker, and an experimental interactive artist like mike naimark or josh portway and let them all have a go at it. my guess is that each would be inspired and the results while quite different would all get at some aspect of the beauty.
at the same time i was thinking about capturing tavolara in various media, i was thinking a lot about the increasingly nettlesome text vs. image (especially moving image) debate. i'm pretty sure the solution is not to give up words in favor of images, but rather begin to appreciate the value of all media and work toward new forms of _expression which call on different media types at different points or which merge them in useful new ways. i was also thinking about how the insitute might start to play a more active role.
thus the idea of coming up with a series of exercises that might be used in college and high school which helped students begin to understand the relative value and utility of different media types and also begin to experiment with how to use them together.
Specific comments:
Hmmm...this assignment does offer interesting possibilities. But I guess I'd be interested in the rationale behind splitting the media-producing and -capturing activities between groups. On the one hand, from a teacherly point of view, it's quite convenient. But viewed from the analogy of a cooking class, it would be like giving each group a set of ingredients plus a kitchen appliance, and then asking each group to take some of the results and make a dish out of it. I know that's riddled with all kinds of logical holes, but I have to try and interrogate this somehow.
i think a better kitchen analogy would be giving everyone the same ingredients (in the sense that tavolara or a question is the same ingredient) but ask one group to use a grill, one group to use a pan on a stove, one group to use only a cuisinart etc. but anyway, the pedagogical reason to get the students to use one media type is so that they can appreciate its properties on its own.
The thing that bothers me most about the assignment is that there is a serious disconnect between the artful choices required to both capture/produce AND compose/orchestrate, as though those activities can be discreet and separate (that disconnect is what tends to make a lot of multimedia assignments feel like the old Surrealist "exquisite corpse" drawing game; if that's the rhetorical goal, then fine--but that's limited to a particular kind of stance towards orchestration).
my instincts are that one of the problems with "multimedia" is that few of us really understand the components, that is we don't really know what the different types can do on their own. i guess i don't think we are so far advanced that we can conceive of a new media type which is multimedia. e.g. i don't think people intuitively grasp how impt. sound is to a movie until it's pointed out and they have an oppty to focus on it.
Instead, wouldn't it be better to give students the question, and then consider which kind of media would be most effective to capture based on the rhetorical situation they've been confronted with, have the groups delegate that task amongst themselves? Beginning with the distribution of media before the question is putting the media/genre cart before the rhetorical horse, I think.
i'm not wedded to my schema, but it still seems like there would be some fantastic discussions in the classroom as students look at the different results and debate the advantages and disadvantages. it seems that experience would be helpful when they later start to create full multimedia projects.
and then of course there is the issue of interactivity which complicates everything exponentially.
b.
The conversation continues in the comment stream.
Posted by ben vershbow at 6:19 PM | Comments (10)
Momus – a.k.a. Nick Currie, electronic folk musician, Wired columnist, and inveterate blogger – has posted an interesting short video on his blog, Click Opera. He's teaching a class on electronic music composition & narrative for Benneton's Fabrica in Venice. His video encourages students to listen for the environmental sounds that they can make with electronic instruments: not the sounds that they're designed to make, but the incidental noises that they make – the clicking of keys on a Powerbook, for example – that we usually ignore as being just that, incidental. We ignore the fact that these noises are made directly by people, without the machine's intercession.
Momus's remarks put me in mind of something said by Jerome McGann at the Transliteracies conference in Santa Barbara last June – maybe the most important thing that was said at the conference, even if it didn't warrant much attention at the time. What we tend to forget when talking about reading, he said, was that books – even regular old print books – are full of metadata. (Everybody was talking about metadata in June, like they were talking about XML a couple of years ago – it was the buzzword that everyone knew they needed to have an opinion about. If not, they swung the word about feverishly in the hopes of hitting something.) McGann qualified his remarks by referring to Ezra Pound's idea of melopoeia, phanopoeia, and logopoeia – specific qualities in language that make it evocative:
. . . you can still charge words with meaning mainly in three ways, called phanopoeia, melopoeia, logopoeia. You can use a word to throw a visual image on to the reader's imagination, or you charge it by sound, or you use groups of words to do this.
(The ABC of Reading, p.37) In other words, words aren't always just words: when used well, they refer beyond themselves. This process of referring, McGann was claiming, is a sort of metadata, even if technologists don't think about it this way: the way in which words are used provides the attuned reader with information about their composition beyond the meaning of the words themselves.
But thinking about McGann's comments in terms of book design might suggest wider implications for the future of the book. Let's take a quick excursion to the past of the book. Once it was true that you couldn't judge a book by its cover. Fifty years ago, master book designer Jan Tschichold opined about book jackets:
A jacket is not an actual part of the book. The essential portion is the inner book, the block of pages . . . [U]nless he is a collector of book jackets as samples of graphic art, the genuine reader discards it before he begins.
("Jacket and Wrapper," in The Form of the Book: Essays on the Morality of Good Design) Tschichold's statement seems bizarre today: nobody throws away book jackets, especially not collectors. Why? Because today we take it for granted that we judge books by their covers. The cover has been subsumed into our idea of the book: it's a signifying part of the book. By looking at a cover, you, the prospective book-buyer, can immediately tell if a recently-published piece of fiction is meant to be capital-L Literature, Nora Roberts-style fluff, or somewhere in between. Contextual details like the cover are increasingly important.
Where does the electronic book fit into this, if at all? Apologists for the electronic book are constantly about the need for an ideal device as the be-all and end-all: when we have e-Ink or e-Paper and a well-designed device which can be unrolled like a scroll, electronic books will suddenly take off. This isn't true, and I think it has something to do with the way people read books, something that hasn't been taken into account by soi-disant futurists, and something like what Jerome McGann was gesturing at. A book is not a text. It's more than a text. It's a text and a collection of information around that text, some of which we consciously recognize and some of which we don't.
A few days ago, I excoriated Project Gutenberg's version of Tristram Shandy. This is why: a library of texts is not the same thing as a library of books. A quick example: download, if you wish, the plain text or HTML version of Tristram Shandy, which you can get here. Look at the opening pages of the HTML version. Recognizing that this particular book needs to be more than plain old seven-bit ASCII, they've included scans of the engravings that appear in the book (some by William Hogarth, like this; a nice explication of this quality of the book can be found here). What's interesting to me about these illustrations that Project Gutenberg is how poorly done these are. These are – let's not beat around the bush – bad scans. The contrast is off; things that should be square look rectangular. The Greek on the title page is illegible.
Let's go back to Momus listening to the unintentional noises made by humans using machines: what we have here is the debris of another noisy computer, the noise of a key that we weren't supposed to notice. Something about the way these scans is dated in a very particular way – half of the internet looked like this in 1997, before everyone learned to use Photoshop properly. Which is when, in fact, this particular document was constructed. In this ugliness we have, unintentionally, humanity. John Ruskin (not a name often conjured with when talking about the future) declared that one of the hallmarks of the Gothic as an architectural style was a perceived "savageness": it was not smoothed off like his Victorian contemporaries would have liked. But "savageness", for him, was no reproach: instead, it was a trace of the labor that went into it, a trace of the work's humanity. Perfection, for him, was inhumane: humanity
. . . was not intended to work with the accuracy of tools, to be precise and perfect in all their actions. If you will have that precision out of them, and make their fingers measure degrees like cog-wheels, and their arms strike curves like compasses, you must unhumanize them . .
(The Stones of Venice) What we have here is, I think, something similar. While Project Gutenberg is probably ashamed of the quality of these graphics, there's something to be appreciated here. This is a text on its way to becoming a book; it unintentionally reveals its human origins, the labor of the anonymous worker who scanned in the illustrations. It's a step in the right direction, but there's a great distance still to go.
Posted by dan visel at 6:13 PM | Comments (1)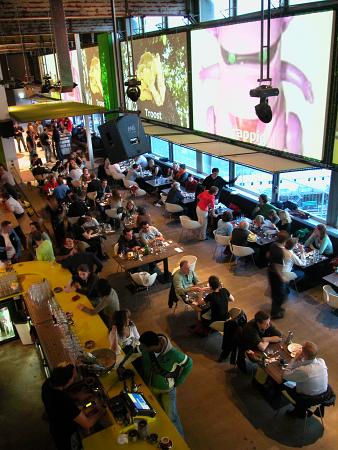 A wonderful hack of public space in Amsterdam. And on the top floor of the PostCS building no less, with breathtaking panoramic views of the city. Kim and I had the pleasure of spending two days there this past January at "A Decade of Web Design."
The diners in bar/restaurant/club 11 will be subjected to the wrath of fellow visitors SMSing whatever keyword they want to the installation that pulls photos from the online community flickr and projects them onto Restaurant 11's huge panoramic screens.
(via Smart Mobs)
Posted by ben vershbow at 1:41 PM | Comments (0)
Harper Collins Australia's new MobileReader service beams information about new titles and authors, and even book excerpts, to a cellphone. They're beginning with promotions of Dean Koontz, Paul Coelho and others.
(via textually)
Posted by ben vershbow at 5:25 PM | Comments (0)
"Times Company Announces 500 Job Cuts"
"Philly Newspapers Announce 100 Job Cuts"
From an internal email sent by Bill Keller (NY Times Executive Editor) breaking the bad news (leaked to Gawker):
I won't pretend that it will be painless. Between the buyouts earlier this summer and the demands placed on us by the IHT and the Website -- not to mention the heroic commitment we've made to covering the aftermath of Katrina - we don't have a lot of slack. Like the rest of you, I found the recent spate of retirement parties more saddening than celebratory, both for the obvious personal reasons and because they represented a sapping of our collective wisdom and experience. Throughout these lean years you have worked your hearts out to perform our daily miracle, and I wish I could tell you relief was in sight.
Bob Cauthorn comments on Rebuilding Media about newspapers on the precipice:
The pro-industry spin will talk about combining web-site and print readers, which is disingenuous in exactly 1,465 ways. For example, does someone from Islamabad dipping in for one story on your web site have equal value as a seven-day-a- week local print subscriber?...

...The notion of platform shift -- people moving from print to web just, you know, because -- is a comfort to the media establishment as it suggests people still really, really, really love their product, they're just selecting a different distribution mechanism.

Nonsense. The platform shift doctrine is a dangerous -- and for some media companies, ultimately fatal -- illusion that blinds the industry to necessary changes in the core product. Platform shift is the argument for the status quo: We don't have to do anything different.
Speaking of not doing anything different, the Wall Street Journal ran this story about magazines experimenting with "digital editions": "electronic versions of their publications that replicate every page of the print edition down to the table of contents and the ads."
Cauthorn goes on about possibly breathing new life into print:
If newspapers fix their print products circulation will grow -- change format, revive local coverage, alter the hierarchical approach to the news, open the ears of the newsrooms and get reporters back on the street where they belong. If you want to get really daring, re-imagine print newspapers as a three-day a week product rather than as a seven-day a week product.

As a practical matter, print newspapers only make money three days a week anyway. Imagine the interplay between a seven day a week digital product and a densely focused (and wildly profitable) three-day a week print product. Each doing different things. Each serving readers and advertisers in different ways.
The Guardian has just totally revamped its print identity, abandoning the broadsheet for the more petite Berliner format and adopting a slicker style. It'll be worth watching whether this catches on. New packaging might make newspapers cuter, but not necessarily better.
Posted by ben vershbow at 4:32 PM | Comments (0)
The University of Maryland's Robert H. Smith School of Business is building an archive of primary source documents related to the dot com boom and bust. The Business Plan Archive contains business plans, marketing plans, venture presentations and other business documents from thousands of failed and successful Internet start-ups. In the upcoming second phase of the project, the archive's creator, assistant professor David A. Kirsch, will collect oral histories from investors, entrepreneurs, and workers, in order to create a complete picture of the so-called internet bubble.
With support from the Alfred P. Sloan Foundation, The Library of Congress, and Maryland's business school, Mr. Kirsch is creating a teaching tool as well as an historical archive. Students in his management and organization courses at Maryland's School of Business, must choose a company from the archive and analyze what went wrong (or right). Scholars and students at other institutions are also using it for course assignments and research.
An article in the Chronicle of Higher Education, Creating an Archive of Failed Dot-Coms, points out that Mr. Kirsch won't profit much, despite the success of the archive.
Mr. Kirsch concedes that spending his time building an online archive might not be the best marketing strategy for an assistant professor who would like to earn tenure and a promotion. Online scholarship, he says, does not always generate the same respect in academic circles that publishing hardcover books does.

"My database has 39,000 registered users from 70 countries," he says. "If that were my book sales, it would be the best-selling academic book of the year."

Even so, Mr. Kirsch believes, the archive fills an important role in preserving firsthand materials.

"Archivists and scholars normally wait around for the records of the past to cascade down through various hands to the netherworld of historical archives," he says. "With digital records, we can't afford to wait."
Posted by kim white at 11:37 AM | Comments (0)
"Don't let anyone tell you different: the future is not here. Our cars? Not flying. Our food? Not in pill form. Our books? Not electronic." An article by Joshua Fruhlinger in IBM's developerWorks addresses the ebook problem. Nothing new here; but he does give an entertaining summary of the troubles with and the aspirations for future books.
Posted by kim white at 9:51 AM | Comments (0)
Or so is the case in Korea, where the custodians of intellectual property law ranked first (apparently for the sixth straight year) in a recent personal income survey. An interesting nugget blown down the pipeline from Korean newspaper Chosun Ilbo, in an article barely longer than its headline. Though I am only able to explore the English-language edition, it seems to be a newspaper with no end of information, but little in the way of analysis. One has the feeling of reading oil, a lubricant for the economic wheels that have delivered a war-torn and psychologically divided nation into material prosperity. Korea is now a major regional power of the so-called global information economy.
The Chosun trifle nicely animates the highly abstract, but fascinating "A Hacker Manifesto" by McKenzie Wark, which I recently began reading. The manifesto is a Marxist tract for the information age, redefining the eternal class struggle in terms of intellectual property - the post-capital form of property - which is controlled by a new ruling class, the "vectoralists." The vectoralists - Bill Gates, Rupert Murdoch, or the big pharmaceutical companies would be the most obvious examples - control the vectors, or channels, of communication, and seek to subjugate the "hackers," who Wark defines as a newly coherent class of idea makers - programmers, inventors, artists and philosophers. It's an important book, and convincingly argues why the intellectual property debate is central in the struggle for liberty.
That the vectoralist class has replaced capital as the dominant exploiting class can be seen in the form that the leading corporations take. These firms divest themselves of their productive capacity, as this is no longer a source of power. They rely on a competing mass of capitalist contractors for the manufacture of their products. Their power lies in monopolizing intellectual property -- patents, copyrights and trademarks -- and the means of reproducing their value -- the vectors of communication. The privatization of information becomes the dominant, rather than a subsidiary, aspect of commodified life.
He goes on to quote from Naomi Klein:
"There is a certain logic to this progression: first, a select group of manufacturers transcend their connection to earthbound products, then, with marketing elevated as the pinnacle of their business, they attempt to alter marketing's social status as a commercial interruption and replace it with seamless integration."
Posted by ben vershbow at 12:50 PM | Comments (1)
Kim's hypermedia poem cluster, "The Minotaur Project," is currently featured at the Electronic Literature Organization. Highly recommended.
Posted by ben vershbow at 11:33 AM | Comments (0)
5. Language is, first of all, a political question.
Like the problem of hunger in the world, the problem with publishing in the United States isn't one of supply but one of distribution.
What's worried me lately: that I go to airport bookshops and always see the same books. Because I live in New York, I can go to any number of specialized bookshops & find just about anything I want. The same is not true in many other parts of the country; the same is certainly not true in many other parts of the world. What worries me about airport bookshops is how few books they carry: how narrow a range of ideas is presented. May God help you if you'd like to buy anything other than Dan Brown in the Minneapolis/St. Paul airport. This is an exaggeration, but not by much. James Patterson is also available, as are the collected works of J. K. Rowling, and, for a limited time, those of J. R. R. Tolkien.
Into this emptiness is paraded the miracle of electronic publishing. As pushed by Jason Epstein, amongst others, the idea of print-on-demand will solve the question of supply forever more – you could go to a bookstore, request a book, and Barnes & Noble would print it out for you. (Let's not think about copyright for the moment.) Jason Epstein believes these machines will be small enough to fit into an airport bookstore. This hasn't happened yet, and I'm doubtful that it will any time soon, if at all. Booksellers have the supply & distribution issue down cold for Brown & Patterson & J. K. Rowling – they have no incentive to invest in these machines. When was the last time you, member of the reading public, went to complain to Barnes & Noble about their selection?
Until this marvelous future creates itself out of publishers' good will towards humanity, people are presenting texts online, with varying degrees of success. If you have a laptop in the MSP airport (& a credit card to pay for wireless internet there), or, for that matter, any computer connected to the internet, you can go to ubu.com and browse their archive of documents of the avant-garde. Among the treasures are /ubu editions, an imprint that electronically reprints various texts as PDFs. They're free. I have a copy of Ron Silliman's The Chinese Notebook, a reprint of a 26-page poem which originally appeared in The Age of Huts. Ubu reprinted it (and the other two parts of The Age of Huts) with Silliman's permission.
6. I wrote this sentence with a ballpoint pen. If I had used another, would it be a different sentence?
/Ubu editions (edited by Brian Kim Stefans) aren't really electronic books, and don't conceive of themselves as such. Rather, they are a way of electronically distributing a book. This PDF is 8.5'' x 11''. While you can read it from a screen – I did – it's meant to be printed out at home & read on paper. That said, this isn't a quick and dirty presentation. Somebody (a mysterious "Goldsmith") has gone to the trouble of making it an attractive object. It has a title page with attractive, interesting, and appropriate art (an interactive study by Mel Bochner from Aspen issue 5–6; ubu.com graciously hosts this online as well). There's a copyright page that explains the previous. There's even a half title page – somebody clearly knows something about book design. (How useful a half title page is in a book that's meant to be printed out I'm not sure. It's a pretty half title page, but it's using another piece of your paper to print itself.) There's also a final page, rounding off the total to 30 pages; if you print this off double-sided, you'll have your very own beautiful stack of paper.
(Which is better than nothing.)
8. This is not speech. I wrote it.
Silliman's text is (as these quotes might suggest) a list of 223 numbered thoughts about poetry and writing that forms a (self-contained) poem in prose. It is explicitly concerned with the form of language.
Karl Marx anticipating Walter J. Ong: "Is the Iliad possible when the printing press, and even printing machines, exist? Is it not inevitable that with the emergence of the press, the singing and the telling and the muse cease; that is, that the conditions necessary for epic poetry disappear?" (The German Ideology, p. 150; quoted in Neil Postman's A Bridge to the 18th Century: How the Past Can Improve Our Future).
17. Everything here tends away from an aesthetic decision, which, in itself, is one.
Silliman's text is nicely set - not beautifully, but well enough, using Baskerville. Baskerville is a neoclassical typeface, cool and rational, a product of the 18th century. Did Silliman think about this? Was the designer thinking about this? Is this how his book looked in print? in the eponymous Chinese notebook in which he wrote it? I don't know, although my recognition of the connotations of the type inflects itself on my reading of Silliman's poem.
21. Poem in a notebook, manuscript, magazine, book, reprinted in an anthology. Scripts and contexts differ. How could it be the same poem?
Would Silliman's poem be the same poem if it were presented as, say, HTML? Could it be presented as HTML? This section of The Age of Huts is prose and could be without too many changes; other sections are more dependent on lines and spacing. Once a poem is in a PDF (or on a printed page), it is frozen, like a bug in amber; in HTML, type wiggles around at the viewer's convenience. (I speak of the horrors HTML can wreak on poetry from some experience: in the evenings, I set non-English poems (in print, for the most part) for Circumference.)
47. Have we come so very far since Sterne or Pope?
Neil Postman, in his book, wonders about the same thing, answers "no", and explains that in fact we've gone backwards. Disappointingly, there's little reference to Sterne in Postman's book, although he does point out that Oliver Goldsmith's The Vicar of Wakefield was more widely read in the eighteenth century: possibly the literary public has never cared for the challenging.
Project Gutenberg happily presents their version of Tristram Shandy online in a plain text version: at certain points, the reader sees "(two marble plates)" or "(two lines of Greek)" and is left to wonder how much the text has changed between the page and the screen. Sterne's novel, like Pope's poetry, is agreeably self-aware: how Sterne would have laughed at "(page numbering skips ten pages)" in an edition without page numbers. There are a few lapses in ubu.com's presentation of Silliman, but they're comparably minor: some of the entries in Silliman's list aren't separated by a blank space, leading one to suspect the pagination was thrown out of whack in Quark. When something's free . . .
53. Is the possibility of publishing this work automatically a part of the writing? Does it alter decisions in the work? Could I have written that if it did not?
A writer writes to communicate with a reader unknown. Publishers publish to make money. These statements are not always true – there's no shortage of craven writers if there's a sad dearth of virtuous publishers – but they can be taken as general rules of thumb. Where does electronic publishing fit into this set of equations? Certainly when Silliman was writing this twenty years ago he wasn't thinking seriously about distributing his work over the Internet.
(Silliman has, for what it's worth, an excellent blog, suggesting that had the possiblity been around twenty years ago, he would have been thinking about it.)
56. As economic conditions worsen, printing becomes prohibitive. Writers posit less emphasis on the page or book.
Why does ubu.com's reprinting of Ron Silliman's poetry seem more interesting to me than what Project Gutenberg is doing? Even the cheapest edition of Tristram Shandy that I can buy looks better than what they put out. (Ashamed of their text edition, one supposes, they've put out an HTML version of the book, which is an improvement, but not enough of one that I'd consider reading it for six hundred pages.) More to the point: it's not that hard to find a copy of Tristram Shandy. You can even find one in one of the better airport bookstores. It's out of copyright and any would-be publisher who wants to can print their own version of it without bothering with paying for rights.
I could not, alas, go to a bookstore and buy myself a copy of The Age of Huts because it's been out of print for years. Thanks a lot, publishing. Good work. I could go to Amazon.com and buy a "used/collectible" copy for $113.20 – but precisely none of that money would go to Ron Silliman. But I don't want a collectible copy: I'm interested in reading Silliman, not hoarding him. (Perhaps I start to contradict myself here.)
223. This is it.
But there are still questions. How do we ascribe value to a piece of art in a market economy? Are Plato's ideas less valuable than those of Malcolm Gladwell because you can easily pick up the collected works of the first for less than 10% of what the two books of the second would cost you? when you can download old English translations for free on the Internet?
How valuable is a free poem on the Internet? How much more valuable is an attractive edition of a free poem on the Internet? even if you have to print it out to read it?
Why aren't more people doing this?
Posted by dan visel at 5:32 PM | Comments (2)
In 1963, long before computers became part of our consciousness, before Kasparov lost to Deep Blue, before HAL took over the spaceship, Andy Warhol said, "I want to be a machine." Andy knew that machines were things to be feared, worshiped, admired and, therefore, emulated. His artwork was about people and ideas that were, more or less, generated by the machine: the media machine, the political machine, the printing press and the television, all cranking out iconic images that were powerful, not because they were complex, nuanced, interesting or even beautiful, but because they were relentless. Warhol's brilliance was in recognizing how deep the machine metaphor had embedded itself into our personal ambitions and our collective self-image.
Fantasies about being machine-like, however, are not unique to the quirky imaginations of artists. Warhol would have been in good company with cognitive scientists who, for many years, have theorized that our brain works like a computer. This theory/myth is currently being debunked by a new Cornell study.

The theory that the mind works like a computer, in a series of distinct stages, was an important steppingstone in cognitive science, but it has outlived its usefulness, concludes a new Cornell University study. Instead, the mind should be thought of more as working the way biological organisms do: as a dynamic continuum, cascading through shades of grey.
Our mind works like a biological organism? Complex, untamed, "cascading through shades of grey," oh my. Does that mean there are no definitive answers, only networks of possibility, spectrums of grey? If Andy were around today, he might have something to say about this revelatory denial of black and white thinking in an age of increasing fundementalism and exponential growth in media outlets. But we can only imagine the artwork he would have made.
Posted by kim white at 12:01 PM | Comments (0)
The dawn of personal computing and the web has changed the way we learn, yet the tools of instruction have been sluggish to evolve. Nowhere is this more clear than with the printed textbook.
So the institute has launched next\text, a project that seeks to accelerate the textbook's evolution, onward from its current incarnation, the authoritative brick, toward something more fluid, more complete, and more alive - more fitting with this networked age.
Our aim is to encourage - through identifying existing experiments and facilitating new ones - the development of born-digital learning materials that will enhance, expand, and ultimately replace the printed textbook. To begin, we've set up a curated site showcasing the most significant digital learning experiments currently in the field. Our hunch is that by bringing these projects (and eventually, their creators) together in a single place, along with publishers and funders willing to take a risk, a concrete vision of the digital textbook for the near future might emerge. And actually happen.
So check out the site, comment, and by all means recommend other projects you think belong there. What's up now is a seed group - things that have gotten our wheels turning so far - to be grown and expanded by the collective intelligence of the community.
Posted by ben vershbow at 8:02 PM | Comments (1)
A nice companion piece to the "database of intentions" is George Legrady's new installation, "Making Visible the Invisible," at the Rem Koolhaas-designed Seattle Central Library. Six large LED display panels suspended above the "mixing chamber" on the library's fifth floor display a series of visualizations depicting the circulation of library books and other media across time and classification area, providing "a real-time living picture of what the community is thinking."
KeyWord Map Attack


Legrady described the project at the Transliteracies conference this past June in Santa Barbara. At that time, Bob blogged:
the pinpoint accuracy of computer-searches, leaves those of us lucky enough to have spent time in library stacks, nostalgic for the unexpected discovery of something we didn't know we were looking for but which just happened, serendipitously, to be on a nearby shelf. George Legrady, artist and prof at UC Santa Barbara, just showed a project he is working on for the new public library in Seattle that gave the first glimpse of serendipity in online library searching which lets you see all the books that have recently been checked out on a particular subject. Beautiful and Exciting.
Vital Statistics


Floating Titles

Dot Matrix Rain



Other observations:
"New piece for Central Library pushes art to the technical edge" in Seattle Post Intelligencer

Information Aesthetics profile
Posted by ben vershbow at 6:37 PM | Comments (0)
Interesting edition of Open Source last week on "Google Sociology" with David Weinberger and John Battelle, author of the just-published "The Search: How Google and Its Rivals Rewrote the Rules of Business and Transformed Our Culture". Listen here.
Weinberger has some interesting things to say about Google (and the other search engines) as "publishers." I have some thoughts on that too. More to come later.
Battelle has done a great deal of thinking on search from a variety of angles: the technology of search, the economics of search, and the more esoteric dimensions of a "search" culture. He touches briefly on this last point, laying out a construct that is probably treated more extensively in his book: the "database of intentions." By this he means the archive, or "artifact," of the world's search queries. A picture of the collective consciousness formed by the questions everyone is asking. Even now, when logged in to Google, a history of all your search query strings is kept - your own database of intentions. The potential value of this database is still being determined, but obvious uses are targeted advertising, and more relevant search results based on analysis of search histories.
As regards the collective database of intentions, Battelle speculates that future advances in artificial intelligence will likely draw on this enormous crop of information about how humans think and seek.
Posted by ben vershbow at 11:16 AM | Comments (0)
on sunday one of my colleagues, kim white, posted a short essay on if:book, Losing America, which eloquently stated her horror at realizing how far america has slipped from its oft-stated ideals of equality and justice. as kim said "I thought America (even under the current administration) had something to do with being civilized, humane and fair. I don't anymore."
kim ended her piece with a parenthetical statement:
(The above has nothing and everything to do with the future of the book.)
the four of us met around a table in the institute's new williamsburg digs yesterday and discussed why we thought kim's statement did or didn't belong on if:book. the result -- a resounding YES.
if you've been reading if:book for awhile you've probably encountered the phrase, "we use the word book to refer to the vehicle humans use to move big ideas around society." of course many, if not most books are about entertainment or personal improvement, but still the most important social role of books (and their close dead-tree cousins, newspapers, magazines etc.) has been to enable a conversation across space and time about the crucial issues facing society.
we realize that for the institute to make a difference we need to be asking more the right questions.although our blog covers a wide-range of technical developments relating to the evolution of communication as it goes digital, we've tried hard not to be simple cheerleaders for gee-whiz technology. the acid-test is not whether something is "cool" but whether and in what ways it might change the human condition.
which is why kim's post seems so pertinent. for us it was a wake-up call reinforcing our notion that what we do exists in a social, not a technological context. what good will it be if we come up with nifty new technology for communication if the context for the communication is increasingly divorced from a caring and just social contract. Kim's post made us realize that we have been underemphasizing the social context of our work.
as we discuss the implications of all this, we'll try as much as possible to make these discussions "public" and to invite everyone to think it through with us.
Posted by bob stein at 4:04 PM | Comments (2)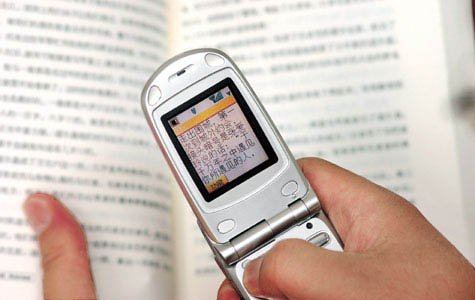 Shanghai Daily reports on a Chinese "mini novel" contest where writers submit bite-sized narratives (350 words or less) by text message.
Commenting on the contest, well-known writer Yu Hua says: "To hold the competition is like bringing 'karaoke' to literature. Before the invention of karaoke, there were only few people who could or would sing in public. Thanks to karaoke, anyone and everyone can sing in public whenever they feel like it. Now, thanks to the mobile phone, the same is true with writing.
The karaoke analogy is apt, and a bit scary.
(via textually)
Posted by ben vershbow at 3:47 PM | Comments (0)
Someone is blogging Kafka's diaries, from 1910 to 1923. They're still in the first year. Either it started recently, or lost steam early at some undetermined date (the editor has opted to remove datelines from posts). Any dates added by Kafka himself are of course retained. Archives are organized by year within the span of the diaries.
I subscribed to the feed to see if it keeps updating (they're using a recent version of Movable Type - more recent than ours - so I bet things are active). It could be a nice way to read these.
There's also a blog of the diary of Samuel Pepys, which seems to have been chugging along for about two years. A nice touch is that instead of comments they have "annotations." A quick glance reveals that quite a number of people are participating in this reading.
update: Another good book blogging experiment worth checking out is Bryan Alexander's Dracula Blogged - "Bram Stoker's vampire novel, published by its own calendar" - which will conclude sometime in November. A particularly clever choice, since Dracula is largely written in letters and journal entries.
Posted by ben vershbow at 5:30 PM | Comments (0)
Google's new blog search engine reminds me of how far we still have to go with blog search. The engine works much the same way as Google's general web search - with keywords and page ranking - only here it's searching RSS feeds. Recent posts with keyword matches fill the column, and a few links to related blogs come up at the top. But there's the rub. These so-called "related" blogs are only related by direct keyword matches in their title tagline. I just searched "poetry" and came up with only three related blogs. C'mon. A search for "gossip" turns up only one related blog - "Starbucks Gossip". There has to be some kind of promotion going on here, though their "about" page mentions nothing of the kind.
A good engine would be capable of searching blogs by their subject, their preoccupation, their obsession. Many blogs could be considered "general," but just as many have a special focus, and readers are often searching with a particular theme in mind. They don't just want a list of transient posts, but whole sites that might potentially become regular destinations. Many blogs are valuable publications that prove themselves day after day. But blog search hasn't yet grown beyond the trendy "what's the latest chatter on the blogosphere" mode.
I do have to give credit to Technorati. Glitchy as it is, they're trying to think of creative ways - tagging, author-determined keywords - to help readers find interesting blogs and authors their audience. Then again, my greatest finds have usually been from other blogs. Humans will always be the smartest aggregators.
People out there, what do you use?
Posted by ben vershbow at 5:01 PM | Comments (2)
Heads are spinning in response to Samsung's planned release of a 16 gigabyte flash drive - a string of eight 2GB flash memory cards. Flash memory is solid state data storage, as opposed to the conventional hard drive, which contains spinning mechanical parts. The implication is that the price of memory for computers will soon drop dramatically, as will the amount of energy used to power them. Moreover, you will be able to carry millions upon millions of pages on something the size of a keychain (people will probably start using smaller ones as business cards before too long). There's definitely something reassuring about the solidity - to rely entirely on a single, rickety hard drive, or a network, to store documents is incredibly risky and unreliable. Plus, these cards are far more tolerant of shocks, bad weather and all around abuse.
Chosun Ilbo describes the remarks of Hwang Chang-gyu, Samsung's chief executive, who said:
...the development signaled the opening of the "digital paper age." "In the same way that civilization rapidly progressed after paper was invented 2,000 years ago, flash memory will serve as the 'digital paper' to store all kind of information from documents to photos and videos in the future. Mobile storage devices like CDs and hard disks will gradually disappear over the next two or three years, and flash memory will dominate the information age."
Posted by ben vershbow at 3:47 PM | Comments (3)
uh oh 09.12.2005, 6:13 PM
It's really happening. Next Monday, The New York Times will inaugurate its "Times Select" subscription service. NYTimes.com will remain free, with much of the usual content still available (including multimedia), but op-eds and columnists will be pay-only. Oh well, the Washington Post opinion page is better anyway. The 100-article-per-month archive access is slightly tempting though.
The Times is betting that significant numbers of readers will shell out, just like they do for a premium channel on cable. Can the Times be the HBO of web news? Casual reader poll: who's thinking of paying?
(link: Letter From the Editor explaining the new service to readers)
Posted by ben vershbow at 6:13 PM | Comments (2)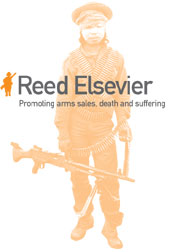 They say that sunlight is the best disinfectant. And so I'm pointing to this upsetting story about educational publishing giant Reed Elsevier's complicity in international violence through a subsidiary (Spearhead Exhibitions) that runs one of the world's largest arms fairs. There are the beginnings of a movement for academics and others to demand that R.E. drop this sordid business.
(via Crooked Timber)
Posted by ben vershbow at 1:19 PM | Comments (0)
Yahoo! has enlisted tele-journalist and blogger Kevin Sites to produce a one-year web program chronicling the world's conflict zones in multimedia format.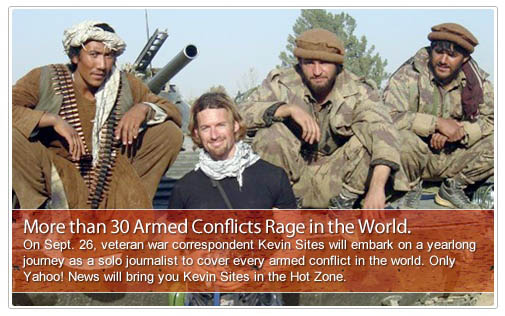 Sites has become known for his jaunts as a "solo journalist," trundling from hot spot to hot spot with a backpack full of gadgetry, beaming reports from his one-man broadcast station. It's a formula that is tailor-made for the web. Clearly, Yahoo! was paying attention. The NY Times reports on "Kevin Sites In the Hot Zone":
As he travels to these places, Mr. Sites will write a 600- to 800-word dispatch each day and produce a slide show of 5 to 10 digital photographs. He will also narrate audio travelogues. There will be several forms of video - relatively unedited footage posted several times a week, and once a week, a more traditional video report, edited in the style of a network news broadcast.

Mr. Sites will also be the host of regular online chats with Yahoo users who will be able to post comments on message boards. And he will post quick text messages on the site updating his activities throughout the day.
Counting on war and carnage as a surefire crowd draw, Yahoo! makes a rather tawdry entrance into independent journalism. But this is a very significant move nonetheless, evidence that Yahoo! is evolving into a full-fledged media company, and suggesting that the one-man-band approach to journalism and webcast might become a regular thing. If the Sites show finds an audience, they should try out serious investigative reporting or medium-length documentary.
Posted by ben vershbow at 10:36 AM | Comments (0)
I still have my husband's visitor pass for 2 World Trade Center. He had clients on the 34th floor, so he visited frequently. On the morning of September 11, 2001, after the first plane hit, he called to tell me he was safe in his midtown office. He stayed on the phone with me as I sat on the front porch of our Brooklyn apartment to watch, helplessly, as the Trade Center Towers burned and fell. In the weeks following, I walked around in a daze, overwhelmed by the grief I felt for people I did not even know and for the city itself, which seemed strangely animate in the wake of the disaster; like a wounded giant. That the nation rushed to our aid and poured out its heart to us made things easier, but not many outside the city understood how bad it was. (To get a sense of what things were like in New Orleans in the days following the hurricane, I recommend this incredible First Person Katrina Account published on "Democratic Underground.")
In that context, I've been trying to understand the enormity of the devastation wrought by Hurricane Katrina, but I can't even begin to. September 11 seems small by comparison. We didn't lose our homes. Our city didn't drown. Our citizens were not abandoned, starved, mistreated, and driven to despair. My heart goes out to these victims whose suffering is exacerbated by leaders who are failing them so profoundly and, in some cases, so willfully. Attempts to deliver food, water, and much-needed relief to stranded survivors were purposely thwarted by armed authorities including the National Guard. (see Boing Boing's September 9th article Katrina: Authorities bar Red Cross from NOLA; Blackwater gets carte blanche). The Red Cross Disaster FAQ page also has this answer to the question: Hurricane Katrina: Why is the Red Cross not in New Orleans?
• Access to New Orleans is controlled by the National Guard and local authorities and while we are in constant contact with them, we simply cannot enter New Orleans against their orders.
• The state Homeland Security Department had requested--and continues to request--that the American Red Cross not come back into New Orleans following the hurricane. Our presence would keep people from evacuating and encourage others to come into the city.
• The Red Cross shares the nation's anguish over the worsening situation inside the city. We will continue to work under the direction of the military, state and local authorities and to focus all our efforts on our lifesaving mission of feeding and sheltering.
• The Red Cross does not conduct search and rescue operations. We are an organization of civilian volunteers and cannot get relief aid into any location until the local authorities say it is safe and provide us with security and access.
The hero worship of 9/11 victims and relief workers, which bolstered morale and lent some humanity to the crisis, is almost entirely absent from the Hurricane Katrina "spin". Katrina victims suffer the added humiliation of insensitive, uninformed, or blatently racist remarks made by elected officials who are trying to minimize the tragedy, shift blame to the victims, and deny responsibility. These quotes were selected from about.com's 25 Mind-Numbingly Stupid Quotes About Hurricane Katrina And Its Aftermath
"I have not heard a report of thousands of people in the convention center who don't have food and water." -Homeland Security Secretary Michael Chertoff, on NPR's "All Things Considered," Sept. 1, 2005

"I mean, you have people who don't heed those warnings and then put people at risk as a result of not heeding those warnings. There may be a need to look at tougher penalties on those who decide to ride it out and understand that there are consequences to not leaving." -Sen. Rick Santorum (R-PA), Sept. 6, 2005

"I don't make judgments about why people chose not to leave but, you know, there was a mandatory evacuation of New Orleans." -FEMA Director Michael Brown, arguing that the victims bear some responsibility, CNN interview, Sept.
1, 2005

"Now tell me the truth boys, is this kind of fun?" -House Majority Leader Tom Delay (R-TX), to three young hurricane evacuees from New Orleans at the Astrodome in Houston

We finally cleaned up public housing in New Orleans. We couldn't do it, but God did." -Rep. Richard Baker (R-LA) to lobbyists, as quoted in the Wall Street Journal

"I also want to encourage anybody who was affected by Hurricane Corina to make sure their children are in school." -First Lady Laura Bush, twice referring to a "Hurricane Corina" while speaking to children and parents in South Haven, Mississippi, Sept. 8, 2005
And this from the Louisiana Senator:
"Thank President Clinton and former President Bush for their strong statements of support and comfort today. I thank all the leaders that are coming to Louisiana, and Mississippi and Alabama to our help and rescue. We are grateful for the military assets that are being brought to bear. I want to thank Senator Frist and Senator Reid for their extraordinary efforts. Anderson, tonight, I don't know if you've heard - maybe you all have announced it -- but Congress is going to an unprecedented session to pass a $10 billion supplemental bill tonight to keep FEMA and the Red Cross up and operating." -Sen. Mary Landrieu (D-LA), to CNN's Anderson Cooper, Aug. 31, 2005, to which Cooper responded:

"I haven't heard that, because, for the last four days, I've been seeing dead bodies in the streets here in Mississippi. And to listen to politicians thanking each other and complimenting each other, you know, I got to tell you, there are a lot of people here who are very upset, and very angry, and very frustrated. And when they hear politicians slap - you know, thanking one another, it just, you know, it kind of cuts them the wrong way right now, because literally there was a body on the streets of this town yesterday being eaten by rats because this woman had been laying in the street for 48 hours. And there's not enough facilities to take her up. Do you get the anger that is out here?"
I can sympathize with the incredulity expressed by the writer of yesterday's post on Daily Kos "The Conscious Decision to Let People Die". I'm not naíve, I know that poor and middle class people are at the mercy of the rich and powerful and that if the rich don't feel like helping, nobody can make them. But I was under the impression that some things are sacred, and that in America we don't take food and water away from starving thirsty people. We don't abandon our people to certain death, and we don't sneer at those who are suffering. The way I understood it, American Freedom (with a capital F) had to do with the powerless having at least enough power to demand fair and humane treatment. I thought it meant that the hardworking tax-paying public could expect help in a time of dire crisis. I thought our Democracy had checks and balances to minimize corruption and incompetance. I thought America (even under the current administration) had something to do with being civilized, humane and fair.
I don't anymore.
(The above has nothing and everything to do with the future of the book.)
Posted by kim white at 3:18 PM | Comments (2)
New Orleans DoubleQuotes by Charles Cameron plays with juxtaposition, cleverly pairing bits of text in ways that illuminate Katrina and all that flows from it:
Think of these paired quotes as twin thoughts dropped into the mind-pond -- not so much for their own sakes as for the sake of the ripples and resonances between them. I invite you to read these DoubleQuotes one pair at a time, slowly, slowly, so that the multiples ironies and quiet nuances that have come together in the weaving of this tragedy have room to breathe.
(thanks, Bryan Alexander of Infocult)
Posted by ben vershbow at 11:18 AM | Comments (0)
You can find just about anything on craigslist. Bikes, mattresses, futons, stereos, landscapers, moving vans, graphic designers, jobs. You can even find missing persons, or a safe haven thousands of miles from what was once your home. How a public classifieds section transformed itself overnight into a dynamic networked survival book - a central node in the effort to locate the missing and provide shelter to the uprooted - captures the significance of what has happened over the past two weeks in Katrina's wake. The web has been pushed to its full potential, capturing both the enormity of the disaster (in a way that the professional media, working alone, would have been unable to), and the details - the individual lives, the specific intersections of streets - that got swept up in the flood. This give-and-take between global and "hyperlocal" is what Web 2.0 is all about. Danah Boyd recently described this as "glocalization" - "a dance between the individual and the collective":
In business, glocalization usually refers to a sort of internationalization where a global product is adapted to fit the local norms of a particular region. Yet, in the social sciences, the term is often used to describe an active process where there's an ongoing negotiation between the local and the global (not simply a directed settling point). In other words, there is a global influence that is altered by local culture and re-inserted into the global in a constant cycle. Think of it as a complex tango with information constantly flowing between the global and the local, altered at each junction.
The diverse, simultaneous efforts on the web to bear witness and bring relief to the ravaged Gulf Coast - a Knight Ridder newspaper running hyperlocal blogs out of a hurricane bunker (nola.com); a frantic text message sent from a phone in a rapidly flooding attic to relatives in Idaho who, in turn, post precise coordinates for rescue on a missing persons forum (anecdote from Craig Newmark of craigslist); an apartment rental registry turned into a disaster relief housing index; images from consumer digital cameras leading the network news; scipionus.com, the interactive map wiki where users can post specific, geographically situated information about missing persons and flood levels - that is the dance. The case of the scrappy craigslist, or rather its users, rising to the occasion is particularly moving.
Posted by ben vershbow at 1:19 PM | Comments (0)
Katrina blew through the news business just as furiously as it tore through the Gulf Coast. For a good discussion of this, I highly recommend last night's podcast of Open Source, a great new program on public radio that is of, by and through the web, generating story ideas and discussion on its blog. The show operates in an exciting border zone, dealing with general interest stories while always keeping an eye on the changing communication practices that are affecting/chanelling them. Last night's show - "Craigslist and Nola.com: Information as News" - deals with citizen coverage of Katrina and the big changes underfoot for professional journalism.
Host Christopher Lydon speaks, with the breathless excitement of a man watching his profession change before his eyes, about "changing terms of authority in the news business" after Hurricane Katrina. He has on as guests Craig Newmark of craigslist (New Orleans site), nola.com editor Jon Donley, and media critic/blogger/citizen journalism guru Jeff Jarvis. From the intro:
The best reporting in the world -- no hyperbole, the best reporting in the world -- this week came from the web division of the New Orleans Times Picayune, nola.com. Information -- missing person reports, safe and alive person reports -- became news. And it became a source, even, for rescue teams, more accurate than anything else they had to go on.

Craigslist, after Katrina, became a forum for finding the missing and housing the saved, and what you find on Craigslist are stories as compelling as anything on CNN. Maybe what communities want in a time of crisis is good information, and maybe detailed, accurate information makes the best story. Craig and Jeff helped invent two new ways of collecting and distributing information; Jon is perfecting it right now in the Crescent City.
Posted by ben vershbow at 5:57 PM | Comments (0) | TrackBack
Organic HTML is a wonderful little applet I came across that turns websites into bizarre-looking plants. information aesthetics speculates on how it might work:
the emerging plant appears to use the colors similar to those found in the website HTML, CSS or images, while its size & branches depend on the site structure, content or number of pages. without any readily provided explanation or legend, one keeps trying to feed it URLs to derive the most beautiful flower (while avoiding the sometimes appearing flies)
Plug in a URL and try it out (be warned: it might crash your browser). if:book is apparently an inky species of blog (see above). I'll add this to our garden. I wonder why there aren't more sprouts of orange? The New York Times comes out more floral.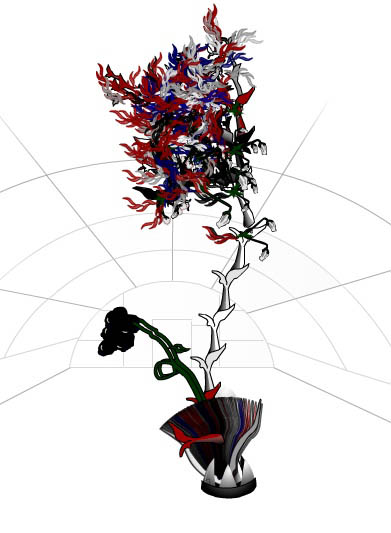 Something interesting I found, take a look at these two plants. One is Google, the other Yahoo! Can you guess which is which? (The larger plant has been scaled down.)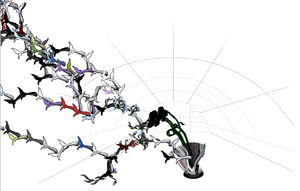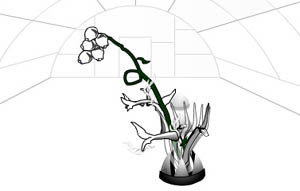 Posted by ben vershbow at 11:50 AM | Comments (0)


The Motorola ROKR, a new iTunes-compatible cellphone developed for Apple, hits the stores today for Cingular subscribers. The phone will run for $249.99 and can load up to 100 songs from a computer through a USB wire. Sounds like a rip-off to me, but indicative of things to come. It also comes equipped with a camera. The cellphone is steadily swallowing up all personal media.
Apple also unveiled its newest iPod, the "nano," which uses solid flash memory (like in little USB memory sticks) rather than a hard drive with moving parts. It's roughly the size of a half dozen business cards stacked together, and can hold up to 1,000 songs.
Posted by ben vershbow at 8:10 AM | Comments (1)
Interactive maps help those of us not in the region to grasp the terrain of devastation wrought by Hurricane Katrina. These maps are suggestive of a new paradigm for the digital page - an interactive canvas, or territory, through which the reader can zoom through orders of magnitude.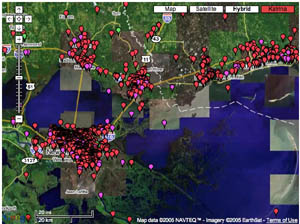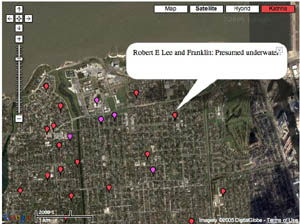 Most talked about is the "visual wiki" at scipionus.com - a re-tooling of Google maps that invites users to post tabs with information pertaining to specific locales (as fine-grained as streetcorners). Tabs are editable and are supposed to be used only for concrete reports, though many have posted pleas for news of specific missing persons or of the condition of certain blocks. Some samples:
"Saw news video 9/2/05 of corner street sign at 10th St. & Pontchartrain Blvd. Water level was about 6 in. below. green street signs."

"the Ashley's are in Prattville AL"

"4400 Calumet -- dry on Weds?"

"as of 5:00 pm.. the streets from wilson canal to transcontinental are COMPLETELY DRY! source from somebody who stayed and called to tell us the info."

"Dylan Nash anyone?? call 919-7307018"
The maps include post-Katrina satellite imagery, which reveals, upon zooming in, horrifying grids of inundated streets, stadiums filled up like soup tureens, city parks transformed into swamps. Wired recently ran a piece about sciponius.
Before & After: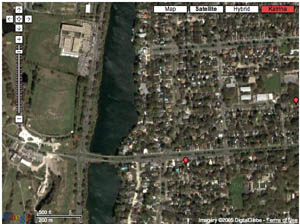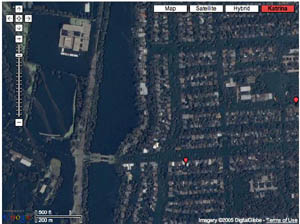 I was also impressed by the interactive maps on washingtonpost.com.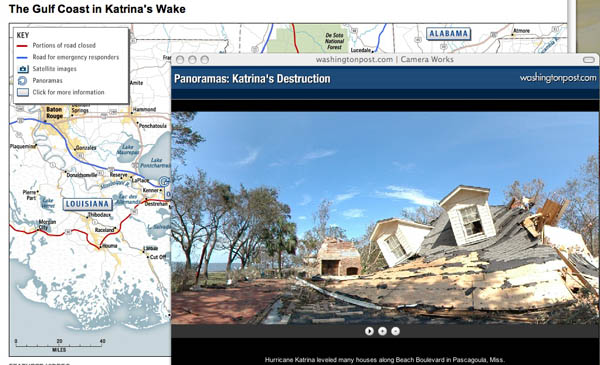 Click on spinning wheels at various points along the coastline and windows pop up with scrolling panoramic shots. Quite stunning. You can click the screen and drag the scroll in either direction, stop it, speed it up, and even pull it up and down to reveal glimpses of the sky or ground. Photojournalism is given new room to play on online newspapers.
(No Need to Click Here - I'm just claiming my feed at Feedster feedster:d50fedfc363272797584521a06a79da5)
Posted by ben vershbow at 12:31 PM | Comments (0)
Lexis Nexis has installed new software for detecting plagiarism. As described on their site:
LexisNexis CopyGuard uses pattern-matching technology to identify suspect passages in submitted documents. An easy-to-read report underlines and color codes questionable sentences, with links to the original sources.
This could be an important tool for assuring integrity not only in professional journalism, but also in the emerging class of amateur reporters. But apply it to blogs and CopyGuard might overload and shut down. Bloggers are constantly recycling text, often without clear attribution, or obvious demarcation between quote and original commentary. The bounds of plagiarism seem a bit less clear when you consider that cutting and pasting is one of the main ways we converse online.
Posted by ben vershbow at 8:05 AM | Comments (1)
Email killed the practice of letter-writing so suddenly that we haven't a chance to think about the consequences. The Times Book Review ran an essay this weekend on the problem this poses for literary historians, biographers and archivists, who long have relied on collected letters and papers to fill in the gaps between a writer's published work. In the same review, the Times covers a new biography of the legendary critic Edmund Wilson largely based on his correspondences, and last week covered a new collection of the letters of poet James Wright. Letters are often treated as literature in themselves.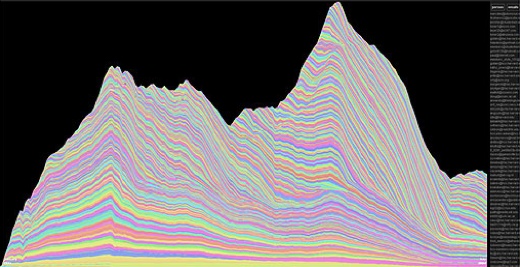 But a crop of writers is working now whose papers are not in order. The email is rotting away on the network, unorganized, not backed-up, and, to a great extent, simply being lost for good. I actually mused about this in a post last month about an email archive visualization tool by Fernanda Viégas at M.I.T.'s Sociable Media Group that shows years of electronic correspondence as sedimentary levels in a mountain-like mass. And a mountain it is. One novelist I know in Washington has her office stacked high with milk crates containing printouts of each and every email she sends and receives, no matter how trivial. There has to be a better way.

There isn't necessarily anything less rich about email correspondence. It excels at capturing a vibrant volley of words with great immediacy, whereas paper letters permit deeper communiques, fewer and father between. But in some cases, these characterizations do not hold up. With reliable postal service, letters can fly back and forth quite rapidly. And just because an email suddenly appears in your box does not mean that it will be immediately read, let alone replied to. Sometimes we write long email letters, expecting that the receiver is busy and will take time to reply. These differences, true and false, are worth evaluating.
But if collected emails are to become a literary tool, there is no question that we will need more reliable ways of archiving and preserving digital correspondence. We will also need new editorial approaches for collecting and publishing them. A printed volume, or series of volumes, might be insufficient for presenting a massive 4 gigabyte email archive by Dave Eggers (No one wants to read the phone book from cover to cover). And according to the Times piece, Eggers' agent Andrew Wylie is mulling over such a project. What would make more sense is an electronic edition that is essentially a selected or complete annotated Eggers Outbox, with folders and tags provided for categorization, a powerful search function, and the ability to organize according to your own interests. There would also be browsing and skimming tools that would allow a reader to move rapidly across vast tracts of correspondence and still find what they are looking for. And maybe, a way to email the author yourself and become a part of the living archive.
Posted by ben vershbow at 1:52 PM | Comments (0) | TrackBack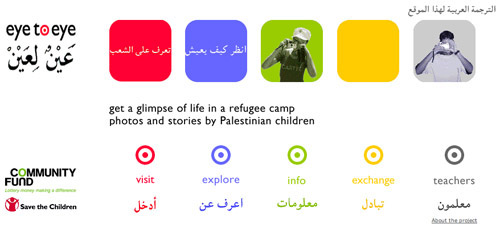 Teachers brave enough to tackle incredibly complex and sensitive issues, like the Arab-Israli conflict, may find some useful material on Eye to Eye. The site describes the conditions in refugee camps through the eyes of Palestinian children. The project was carried out by "Save the Children UK," which conducts photo workshops for children in the camps and publishes the resulting photographs on the Eye to Eye site. While the site does not offer a comprehensive history of the situation, it does provide a perspective often missing from mainstream media coverage. The site goes to great pains to avoid bias. On the "Palestinian History" page, it provides this disclaimer, apologizing in advance for any offence their description may cause.


Save the Children UK recognises the political issues and sensitivities surrounding the current crisis in the Middle East and does not take a partisan view on these issues. Our sole concern is to protect the rights and lives of all children wherever they live and we believe that the Eye to Eye project can play an important role in building understanding and respect of this need during the current conflict.

For the benefit of the teachers and children using the Eye to Eye website, we have attempted in the following chronology to describe as objectively as we can, the historical context of the current situation of children in the Occupied Palestinian Territories. However this chronology does not claim to be comprehensive, and we apologise in advance if we inadvertently cause offence by the way we have described historical events.
Though the site does not entirely succeed at remaining impartial, the project seems worthy of attention, perhaps for that reason alone. The problem of how to teach these very emotional and inflammatory topics remains. Can one be impartial in this conflict? How do you sort through history and contemporary politics without taking a side? Is there a way to get past our emotional biases and political loyalties in order to find an objective "truth"? Is there an objective truth? These are the kinds of questions students should be confronted with; Eye to Eye offers one pathway into this contentious issue.
Posted by kim white at 12:38 PM | Comments (0)