« rss feeds for google news | Main | google halts book scans until november »
the light of the disk is endless 08.12.2005, 9:26 AM
posted by kim white
"The cover of the book was rubbed with a patina made from lamp black, Yakskin glue, and brains. It was burnished to a gloss and inscribed with an ink made from crushed pearls and silver." That is a description of the one of the Tibetan monastic manuscripts, or pothi, that Jim Canary discussed in his recent presentation, "The Tibetan Book: From Pothi to Pixels and Back Again," at The Changing Book Conference (University of Iowa). Pothi were originally made of palm leaves. They are up to four feet in length and thin in shape; consisting of loose leaves in cloth covers pressed between wooden boards. They are sometimes housed in wooden boxes that resemble child-sized coffins. The Tibetan pothi are stored in long, narrow pigeon holes built into the walls surrounding the chanting area of the temple. Jim showed us a picture of these impressive libraries, with ceilings so high, the walls, and their overstuffed catacombs, disappear into darkness.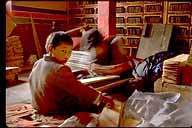 Jim Canary has over sixty of hours of video, taken during his trips to Tibet, documenting the monastic printing process. He plans to edit and publish the video as a CD Rom in tandem with a print book. He showed us some selections, which I do not have, so I will do my best to describe them. Video #1: a man sits on the stone steps outside the temple. There are two tall stacks of paper next to him and a bowl of water in front of him. He is preparing the paper for printing, taking one sheet from the top of the pile, passing it through a pan of water and placing it on top of the other pile. He has hundreds of sheets to dampen, so he is working in a brisk rhythmic manner. When he's finished, the stack will be pressed between two wooden blocks. Video #2: printing takes place in a building across from the temple. The printing is done in teams of two. One man holds the hand-carved wooden block and prepares it with ink. His partner places each damp sheet on the wooden block for burnishing, then removes it and sets it aside to dry. The men work quickly in tandem, surrounded by the music of monks chanting in the temple next door. The tone and rhythm of the chant matches the rhythm of their work. It is designed to correspond with the heart beat, and it works to knit all participants together into a single, metaphorical "body" which is, in turn, joined to all humanity through the meditation. The result of all this unity is a book, shaped like a body, which will be housed, along with hundreds of others, in the temple walls.
Mr. Canary's presentation was also about the future of these mystical books, which are being cataloged, preserved, reproduced and distributed using digital technology. Some monks are now working on laptops, transcribing text and burning DVDs. Here is an excerpt from a poem written by one of the monks in praise of digital materials, which, in his eyes, are as exquiste as a patina made from lamp black, Yakskin glue, and brains, burnished to a gloss and inscribed with an ink made from crushed pearls and silver are to me.
...The light of the disk is endless
like the light of the disks in the sky, sun and moon.

With a single push of our finger on a button
We pull up the shining gems of text...

-Gelek Rinpoche
Posted by kim white on August 12, 2005 9:26 AM
tags: Buddhist, Pothi, Tibet, book, books, buddhism, digital, ebook, ink, monastic, monk, poem, poetry, printing, reading
comments (1):


Victoria Gibson
on
August 18, 2005 6:26 PM
:
I believe it is a positive move to distribute the book into as many media as we have available. The more diverse the copying technologies, the more likely that the work will survive. Fires and other natural disasters have destroyed libraries in the past. Digital media, due to its compact size amd portability, is more likely to be rescued or to have back-up copies off site. To speak to the matter of computer obsolecence, it is my experience that most computers operate perfectly well long after the owners want them to. I have set up an Apple II+ from 1982 in 2004, and it worked perfectly. If the monks also archive their hardware, chances are it may work until they can transfer to the next media change. Media will also deteriorate, but though it may take a long time to copy a book by hand, digital conversions can be accomplished very quickly. In addition, if monks are aware of cross platform formats, such as .rtf .html etc. It is likely that many different pieces of software can open their works using different computer platforms. I agree with the monk in seeing the beauty of the computer disk. I marvel at what I can do with my responsive tool - I couldn't reach you, reader, with every pearl in Tibet.
(Because of spam troubles, first-time comments from unfamiliar addresses or containing multiple links might be held for moderation. If your comment isn't spam, we'll publish it very soon. Thanks in advance for your patience.)