« June 2005 | Main | August 2005 »
"when blogs band together - a new hybrid form" - examining the phenomenon of multi-blog publications

Launched this May by Mark Sarvas, author of Elegant Variation, the litblog co-op unites 21 literary weblogs "for the purpose of drawing attention to the best of contemporary fiction, authors and presses that are struggling to be noticed in a flooded marketplace." The LBC blog devotes its energies, and intermittent posting, to "Read This!" - a quarterly endorsement of an obscure or undeservedly ignored book, intended to expose important works that the mainstream press has ignored.
For as long as it has existed, the lit blogging community has sought to countervail the steadily shrinking coverage of books in the media, but it's not at all clear whether their impact is felt beyond limited circles. "Read This!" seeks to amplify the strongest recommendations, resolving the bloggers' voices into one crystalline note of praise that, hopefully, people will be unable to ignore.
The first volume to receive the LBC imprimatur is Kate Atkinson's "Case Histories," a literary riff on the traditional crime novel. The choice was by no means unanimous. Some complained that the book was not sufficiently needy of promotion, seeing as Atkinson's previous novel, "Behind the Scenes at the Museum," won the Whitbread award, and "Case Histories" is published by Little, Brown - not exactly a fringe press. But in the end, the opposing camps were reconciled (allowing the "minority opinion" to vent itself) and agreed to throw their collective weight behind Atkinson's book. We have yet to see whether the endorsement will have any affect on the book's sales (inclusion in Forbes' "Best of the Web" certainly won't hurt), but when enough influential voices start talking about the same thing, someone is bound to listen.
Posted by ben vershbow at 4:17 PM | Comments (0)
For all the advances in medical science, it's incredible that the methods for organizing and distributing medical information have not kept up. A vast amount of medical error, both prescriptive and diagnostic, comes down to problems with the flow of information. All too often, the information doesn't flow fast enough, or different information flows to different people, or the information can only flow to one person at a time, slowing down treatment and opening the door to infection.
The Guardian has a fascinating profile (via Smart Mobs) of the Oklahoma Heart Hospital (known as OK Heart), which has the distinction of being one of the first hospitals in the world to go entirely digital. A central computer connects to bedside screens in each room where patient records can be instantly called up. Consequently, doctors, nurses and pharmacists are always on the same page - the same digital page - greatly reducing the length of patient stays, and minimizing error. Of course, technology alone will not transform medicine - it's the people that ultimately determine the quality of care - but the case of OK Heart is a compelling one.
There is a practical reason for using technology this aggressively: the longer you stay in hospital for the same treatment, the less chance you have of getting out of it alive. While the average stay for serious heart patients in the US is five days, the OK Heart average is 2.7 days, and falling. Doctors don't have to chase x-rays and MRI scans, which are in the patient's record before they get back to their room, and nurses don't chase the doctor's notes, which are transcribed remotely as soon as they are dictated.

It is a dramatic transformation in working practices: at the Indiana Heart Hospital, a digital hospital that runs along similar lines, internal research shows a reduction of 85% in medication errors, avoidable delays down by 65% and reductions in the cost of updating records by 45% compared with paper-based hospitals. Doctors also cut the time they spend updating records by a third.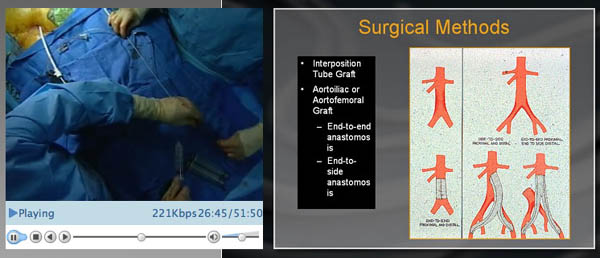 It's also worth visiting OK Heart's website, where you can a watch a fascinating June webcast of surgeons at work on an Endovascular Abdominal Aortic Aneurysm. The surgeons talk the viewer through the procedure, while diagrams appear to the right for clarification. It's a highly informative program and suggests how much the medical sciences will benefit when digital textbooks can bring the operating theater directly to the student.
Posted by ben vershbow at 6:10 PM | Comments (0)
"when blogs band together - a new hybrid form" - examining the phenomenon of multi-blog publications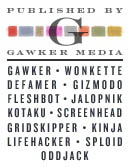 Few media outfits have ridden the blog phenomenon quite as cleverly as Gawker Media, the three-year-old brainchild of publisher Nick Denton. Gawker Media "takes the weblog format and applies the business model of a traditional magazine," bringing together some of the web's most popular rags, including Gizmodo, Lifehacker, Wonkette, and Fleshbot. With some of the highest traffic figures on the web (and the ad revenue that comes with them) it's not a stretch to say that Gawker Media has become the Condé Nast of the blogosphere.
But unlike that goliath of the magazine world, Denton's fledgling empire deals almost exclusively in second-hand material, and its staff is made up entirely of editors with not a writer to be found. Gawker blogs are of the pointer variety, directing readers to juicy finds around the world wide web with a splash of wit or snarky commentary. Of course, this is the formula for millions of weblogs - a couple of links with a bit of context. Denton's coup has been to identify the best curatorial talents and collect them under a single umbrella.
The network's flagship is, of course, Gawker, the addictive Manhattan gossip sheet, considered a must-read by society-watchers and scandal junkies. Defamer is its L.A. counterpart. Gawker Media bloggers actually receive a modest annual salary and are required to hit a minimum number of posts per day. Currently, there are 13 blogs in the Gawker tent, but the network is sure to expand. There's even a Gawker observer blog, Gawkerist, whose author's calculated ploy to capture Denton's attention recently succeeded in securing him the editorship of Gawker's urban travel blog, Gridskipper.
Gawker Media's rise indicates that there is a broad demand for savvy, charismatic guides through the information blitz of the web. Success does not depend on getting readers to spend long stretches of time on one of the 13 sites, only on getting them to visit briefly, catching an ad or two in their peripheral vision, before getting bounced somewhere else. Gawker Media is a trampoline. It's where people come to get bounced. This suggests that, though the author may enjoy primacy in the world of print, on the web it is more often the editor that counts.
Posted by ben vershbow at 2:58 PM | Comments (0)
Steven "Everything Bad Is Good For You" Johnson has an amusing open letter to Hillary Clinton in today's LA Times, urging the senator not to blind herself to the virtues of video games in her quest to earn moral values cred with 2008 swing voters.
Consider this one fascinating trend among teenagers: They're spending less time watching professional sports and more time simulating those sports on Xbox or PlayStation. Now, which activity challenges the mind more -- sitting around rooting for the Packers, or managing an entire football franchise through a season of "Madden 2005": calling plays, setting lineups, trading players and negotiating contracts? Which challenges the mind more -- zoning out to the lives of fictional characters on a televised soap opera, or actively managing the lives of dozens of virtual characters in a game such as "The Sims"?
Posted by ben vershbow at 5:27 PM | Comments (0)
"when blogs band together - a new hybrid form" - examining the phenomenon of multi-blog publications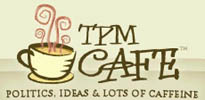 TPM Café is a new site from Joshua Micah Marshall, author of the immensely popular Talking Points Memo. Building on the success of his personal site, Marshall has set up a veritable fleet of weblogs by an impressive roster of writers, thinkers and activists - both established and first-time bloggers - in what he hopes to become a focal point for liberal political energies.
On the main page, you'll find the Coffee House, a 13-author blog covering "issues ranging from public policy to the arts, books, science and religion" - the lead stories, as it were. To the side is a list of the cafe's other blogs. The recently launched TPM Café Book Club will devote a rotating discussion space to a popular book, giving the author the opportunity to expand upon their work and engage with readers (there's currently an interesting little spar between famed liberal activist Todd Gitlin and "What's the Matter With Kansas?" author Thomas Frank). America Abroad brings together foreign affairs heavyweights like G. John Ikenberry, Ivo Daalder and Anne-Marie Slaughter to engage the whirlwind of American foreign policy. House of Labor is about "the future of the American labor movement," while Warren Reports examines the American Middle Class. And there are several other blogs, including an open venue for registered readers, as well as a variety of discussion forums.
TPM Café seems to be off to a good start. It will be interesting to watch how Marshall makes the transition from blogger to editor.
Posted by ben vershbow at 3:34 PM | Comments (0)
A million voices in the wilderness singing solo.
Most regular blog readers would agree that without aggregators like Bloglines or Newsgator, sifting through the day's postings would be exceedingly tiresome, if not impossible. Why manage dozens of bookmarks, and plod through page after page, when a free aggregating service will keep all your favorite sites in one place, allowing for quick scanning of headlines to determine where you'd like to spend more time reading?
It's like a newsstand stocked with publications that you yourself have syndicated. Different themes can be organized in different folders: here are my political feeds, here are my arts feeds, here are my tech feeds etc. These folders are like your daily magazines. Then there is Technorati, the web's premier blog indexer, where readers can search over 13 million blogs by tag, keyword and prestige (number of incoming links).
Bloggers, too, have ways of tying each other together. Shout outs, quotes, comments, trackbacks, link lists - all of these serve to interweave, and this is in large part how the blogosphere has grown. Over time, certain blogs come to be associated with one another, and coherent communities emerge.
But what happens when blogs choose to aggregate themselves under a single masthead? What happens when the voices decide to group together in a chorus? Do they then become a newspaper? A magazine? A union? A league? A society? It may not yet have a name, but some blogs have in fact started banding together to form a new kind of hybrid publication that is difficult to define.
Part cocktail party, part basement pamphlet press. It's looser than a magazine, and more conversational. It is a sort of union, but its dues are purely in the form of a blogger's personal payload - their insight, their charisma, their dedication to certain issues, their unique voice. They are presided over by an editorial authority, but not one that gets in between the writers' lines or sets a word limit. These are still very much blogs, and authors retain almost total autonomy. Their only obligation is to keep the good stuff coming. Over the next few days, I'll be profiling a few of these sites. This is by no means a comprehensive list, so please don't hesitate to recommend others that in some way fit the bill.
1. TPM Café
2. Gawker Media
Posted by ben vershbow at 2:32 PM | Comments (0)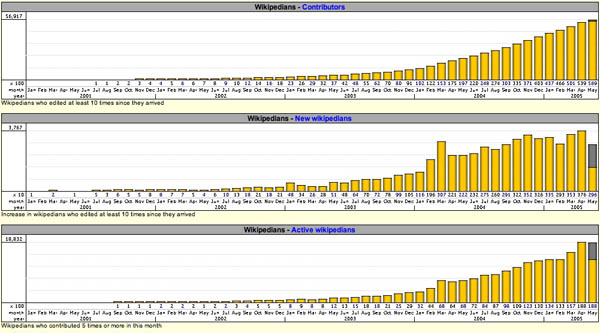 From weblogg-ed (via Library Stuff):
Over 4,000 new articles a day.
An average of 14 edits per entry.
About 57,000 people who have edited at least 10 times.
About 2.7 million edits in May
It's hard to deny that something is going on here. I wonder, though... Insofar as it assumes the mantle of the print encyclopedia, Wikipedia represents a migration of print-based knowledge to the web. Many of its most devoted contributors acquired their learning from a print world of libraries, books and periodicals. But what happens later, after this formative period, when your average user is someone who derives the bulk of their learning from the web (from resources like Wikipedia)? How do you maintain the Wikipedia article on the Spanish Golden Age when that same article is your primary source?
Perhaps Wikipedia's encyclopedia-ness is just an early skin that it will eventually shed. It may well devolve into a sprawling compendium of trivia and eccentric niche outposts (in some ways, that's what it already is). Or it may evolve further into that strange hybrid animal: a reference work on current events (as it has proven itself to be with the new pope and the London bombings). On the other hand, if serious scholars decide that Wikipedia is a legitimate resource worthy of investment, we might see it sustain itself as a reliable reference work (without, of course, losing all the trivia and current events). To do this, it might, paradoxically, need to stay grounded in the offline world.
Posted by ben vershbow at 1:42 PM | Comments (0)
1: BLOGS AND RADIO. The NY Times profiles a new show on Public Radio International that draws its inspiration from the web. "Open Source from PRI" uses a public blog to cull topics and story ideas from registered commenters:
"Open Source will not be a show about blogs. It will use blogs to be a show about the world."
Open Source offers podcasts of its programs, available for free subscription on Odeo and iTunes.
2. WIRES CROSSED. The Associated Press is preparing to launch an online video streaming network from which members can syndicate clips for presentation on their news sites. Clips will be streamed by member sites over branded video players that AP will provide. In exchange, AP will take a portion of revenues generated by interspersed video ads. Most news networks are racing to upgrade their sites to offer more video content alongside text (see "television merging with the web" on this blog).
Posted by ben vershbow at 6:15 PM | Comments (1)
What if short-range time travel were possible, affording you a glimpse of the near future? What if it were as simple as buying a plane ticket? For anyone looking for tangible clues as to where today's info tech proliferation might be leading us, a Korean Air jet to Seoul might be the closest thing to a time machine currently available. Over the past decade, South Korea has emerged as the ultimate high-tech society, making our own gadget-crazed culture look provincial by comparison. A huge portion of the Korean economy (domestic and export) is devoted to information communications technology, Korean cities lead the world in broadband penetration, and nearly three quarters of South Koreans subscribe to cellular phone services.
And that is only the beginning. The government recently announced its vision for "u-Korea," a plan to achieve "ubiquitous communications" across the country through a blitz of products, services and infrastructure, as well as computer literacy programs targeting rural areas and the older generations that have been unable to keep up with Korea's evolution toward network totality. An article in the Bangkok Post describes the initiative (via Smart Mobs).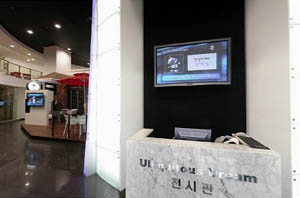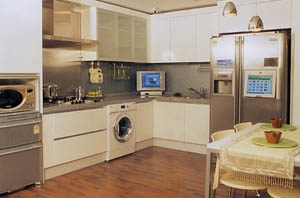 Among the planned "ubiquitous" services are internet telephony, digital multimedia broadcasting, and enhanced wireless broadband coverage that can be enjoyed at speeds of up to 60 kilometers per hour. National Computerisation Agency (NCA) president Dr Chang-Kon Kim says the goal is for total broadband coverage across the country by 2007. When all of this comes together, Koreans will find themselves living in a totally wired society where handheld devices (a cross between a powerful PC and a mobile phone) are the keys to the environment.
To offer its citizens a window into the future, the Korean Ministry of Information and Communication has set up the "Ubiquitous Dream Hall," an exposition space in downtown Seoul where visitors can explore the predicted technologies and begin to imagine new ways of life that might develop around them. There you can see a household where appliances, smoke alarm and stereo system are all wired into the same network, and family life centers around an interactive television; or a cafe where cappuccinos are ordered on wall-sized touch screens, then delivered by little service robots; or a car that instructs you where to drive; or a new form of interactive street advertising in which images on the floor change in response to pedestrians' footsteps. The Dream Hall also features an exhibit charting the development of household and communication technologies over the past 30 years, projecting u-Korea into a historical continuum. Whether ubiquitous communication will result in a better life for Koreans remains to be seen, but the government is betting it will be a surefire strategy to keep the economy booming. I'd be concerned for Korea's sanity.
See also in Ohmy News, Korea's citizen newspaper:
"International Citizen Reporters Get a Taste of IT Korea"
"In the Future Your House Will Nitpick You"

Posted by ben vershbow at 1:58 PM | Comments (0)
If acts of terrorism are intended to send a shock through the nervous system of societies, then the media acts as the synapse chain, firing trauma through the body politic. The media society acts like an animal with a mind of its own, and now it's ordinary people (not just the professional media), newly equipped with recording gadgets galore, who perform the duties of nerve endings.
Shaken by a second round of attempted bombings on London trains and buses, my thoughts return to the buzz of a just a couple weeks ago - all the talk about citizen journalism's big moment, the photos and video clips captured on phones and digital cameras, instantly proliferating through the media consciousness. During that time, Mark Glaser wrote a thoughtful piece for USC's Online Journalism Review (OJR), in which he asks whether what we are seeing is not, in fact, the rise of a sordid, citizen paparazzi. Glaser's article contains some sobering passages describing the scenes of carnage and the crowding amateur photographers, their phones outstretched. This is from a couple of posts (1, 2) Glaser found by a British blogger who survived the attacks:
The victims were being triaged at the station entrance by Tube staff and as I could see little more I could do so I got out of the way and left. As I stepped out people with cameraphones vied to try and take pictures of the worst victims...

...These people were passers-by trying to look into the station. They had no access, but could have done well to clear the area rather than clog it. The people on the train weren't all trying to take pictures, we were shocked, dirty and helping each other. People were stunned, but okay. The majority of the train was okay as I walked from my carriage (the last intact one) down through the train I saw no injuries or damage to the remaining four or so carriages. Just people dirty and in shock. The other direction wasn't so pretty, but you don't need an account of this and what I saw, watching TV is enough.
It's not yet clear whether this latest string of botched attacks was a reprise by the group responsible for July 7, or whether these were copycats, operating in the psychological wake of the original bombings. Copycat crime is nothing new, and it would be a stretch to attribute it to an increase in digital rubbernecking (I'm of the opinion that violence in the media makes people more afraid, not more violent). There's no doubt that some of the amateur photos and clips helped convey the reality of the attacks in a way that journalists could not. But I can't help but feel that our techno-voyeurism is one of the things that makes terrorism so effective beyond the immediate points of impact. We are one, big, hyper-sensitive nerve. A few, well aimed pokes can send spasms through the whole system.
Posted by ben vershbow at 3:53 PM | Comments (1)
Following Bob's foray into game space, experimental filmmaker Peggy Ahwesh takes the plunge in the second interview on "This Spartan Life," a new talk show filmed in the world of the "Halo" video game series. In 2001, Ahwesh made a Machinima film of her own called "She Puppet" (Machinima is cinema made inside a game engine) using footage culled from months playing the "Lara Croft: Tomb Raider" game. So it doesn't take long for her to feel right at home. This latest interview takes us through some truly spectacular landscapes and "fantasy architecture," and, of course, features the customary random bursts of violence (not to mention teleportation and a little skull-dribbling).
I think the Spartan Life folks have a good concept here. The conversations are interesting, but what makes them even more compelling is the fact that an exploration is taking place. It's like walking around in an abandoned film set. Much of it is tongue-in-cheek. "Sometimes you really feel like you're running through this insane maze, and somebody's always scoping in on you," says host Damian Lacedaemion, his helmeted head framed in someone's crosshairs. "There's this constant threat of violence hanging in the air around here." But there's an element of genuine wonder as well. Two strangers explore a bizarre new world, a world normally governed by rules and a quest. But they are simply rovers, and there is no quest. There is only curiosity and play. As Damian says: "sometimes I think it feels like being in a movie that's waiting for you to set it in motion."
Posted by ben vershbow at 10:11 AM | Comments (1)
In Wired, "Web Publishers Eye Your Wallet," Adam L. Penenberg chats with Pat Kenealy, CEO of International Data Group (IDG), which publishes over 300 computer, game, and info tech-related magazines. Kenealy thinks it's only a matter of time before premium web publications start raising their gates and asking for money. The conventional wisdom is that charging for content, or even asking readers to register, is suicide. But Kenealy points to cable television for evidence that people can get used to paying for something they really want:
"In 1955, TV was free," Kenealy said, "and two generations later most people pay for it. There was a built-in reluctance to pay for TV until it got so much better than broadcast. That's what I think will happen with the internet."
With cable, one monthly fee gets you access to hundreds of channels. You don't have to fill out dozens of subscriptions to dozens of different stations. Except for premium channels, everything is more or less set. Web publishers need to figure out a similar system. KeepMedia is a site that is experimenting with this. I would bet that eventually cable will merge with the web into one standard service: basic cable/web over broadband. Your premium channels (sites?) - in addition to HBO and Showtime - might be The New York Times, The Economist and The Atlantic, while basic cable/web would include Discovery, Comedy Central, MTV, ESPN etc., along with Forbes, Wired, Knight Ridder and Tribune newspapers, Reuters and hundreds, even thousands, more. A few of the more popular blogs might be thrown in there too. There will always be the free web too, just as there's free television and radio, but I agree with Kenealy that we're going to see a migration of many web publications toward a cable-style model.
See also, "web news as gated community" on this blog.
Posted by ben vershbow at 4:36 PM | Comments (2)
According to a recent article in the Arizona Daily Star, Empire High School in Vail, Arizona will soon become the state's first all-wireless, all-laptop public school. The laptops will entirely replace paper textbooks. Traditional lesson plans will be built around online articles and electronic reference material. Adminstrators are betting that this flexible teacher-driven curriculum will inspire both students and teachers.
Calvin Baker, superintendent of Vail Unified School District, said the move to electronic materials gets teachers away from the habit of simply marching through a textbook each year.
Educators also believe the initiative will improve learning, engage tech-saavy students, and better prepare them for future careers.
Posted by kim white at 7:37 AM | Comments (2)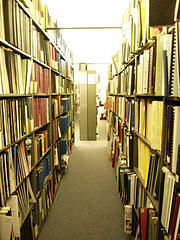 The uncritical embrace of technology plagues American universities and consumers alike, whose credo is "adopt first, ask questions later." An assistant professor of english from an unnamed Midwestern liberal arts college, writes in the Chronicle of Higher Education of his dismay at the changes underway in American university libraries, where traditional stacks are left to deteriorate while money is lavished on fancy "techno-spas," transforming research sanctuaries into digital rec centers. The article is written in response to a very a real trend, brought to wider public attention in a NY Times article in May about an initiative at the University of Texas, Austin library in which approximately 90,000 books are to be relocated from the Flawn Academic Center to other libraries around campus to make way for a "24-hour information commons."
Benton's rhapsodizing on the pleasures of the stacks can be trying:
I once had a useful, relevant book fall on my head like Newton's apple. Perhaps it was pushed there by some ghostly scholar, one of my forebears whom I might consider myself privileged to join in the posthumous academy of spectral stack walkers.
But his overall criticism is correct. Many universities have adopted a servile stance, catering to what they perceive to be a new breed of restless, multi-tasking student. But the "customer is always right" philosophy probably isn't doing the students any favors in the long run. A generation is coming of age lost somewhere between the old print-based hierarchies of knowledge and the new Googlesque. And they aren't receiving much in the way of guidance. A university president needs shiny groves of sleek new computers to wow the funders and alumnae, just as he needs a winning football team. The business of universities and the business of technology march ahead together without much thought for what kind of citizen they might be producing.
From Benton:
Library administrators have had to make hard choices as costs have risen, their missions have expanded, and their budgets have failed to keep pace. But I am not so sure that the techno-spa model should be adopted so uncritically. Who will profit most from the transformation now and in the future, as fees and updates for new technologies continue indefinitely? Is that transformation really about the demands of students? If so, should we conform to their expectations, or make an effort to reshape them against the grain of the culture?

Alas, at many institutions, there is no longer much room for books on our central campuses. But we do have room for coffee bars, sports facilities, and a collection of other expensive, space-consuming amenities.

For that reason, I find it hard to accept that digitization is motivated primarily by constrained budgets and limited space. The money is there, and so is the space. It's just that colleges want to spend the money and use the space for something else that, presumably, will make them more competitive among students who are, perhaps, more interested in amenities than education.
One purpose of universities is to provide insulation from the world at large for the cultivation of sensitive minds. Universities might consider extending this principle to technology, applying the brakes on what could be a runaway train. The Amish, who, to say the least, are loathe to adopt new technologies, ask first, when confronted with a new invention, how it might change them. We could learn something from that. The answer isn't to hold candlelight vigils for the death of the card catalogue or the scribbled margin note, but rather to ask at each step how this is changing us, and whether we think it is a good thing.
(image by kendrak, via Flickr)
Posted by ben vershbow at 6:54 PM | Comments (2)
A piece in the Wall Street Journal a few days ago explores how some publishers and authors are trying to use the web to promote books. One way is to offer free electronic copies - of a whole book, in the case of sci-fi writer and Boing Boingian Cory Doctorow, or sometimes just a chunk to the get the reader hooked, as was the case with Murakami's "Kafka on the Shore," the first five chapters of which Knopf put online for free. Some publishers are courting bloggers, sending free copies, seeking endorsements, facilitating author interviews. Some are setting up blogs of their own (see the Freakonomics blog). There are currently two fan sites devoted to a fictional actress appearing in Bret Easton Ellis's forthcoming novel "Lunar Park."
Posted by ben vershbow at 12:28 PM | Comments (2)

Last week, the Association for Learned and Professional Society Publishers (ALPSP) joined the escalating chorus of concern over the legality of Google's library project, echoing a letter from the Association of American University Presses in May warning that by digitizing library collections without the consent of publishers, Google was about to perpetrate a massive violation of copyright law. The library project has been a troublesome issue for the search king ever since it was announced last December. Resistance first came from across the Atlantic where French outrage led a unified European response to Google's perceived anglo-imperialism, resulting in plans to establish a European digital library. More recently, it has come from the anglos themselves, namely publishers, who, in the case of the ALPSP, "absolutely dispute" Google's claim that the project falls within the "fair use" section of the US Copyright Act. From the ALPSP statement (download PDF):
The Association of Learned and Professional Society Publishers calls on Google to cease unlicensed digitisation of copyright materials with immediate effect, and to enter into urgent discussions with representatives of the publishing industry in order to arrive at an appropriate licensing solution for 'Google Print for Libraries'. We cannot believe that a business which prides itself on its cooperation with publishers could seriously wish to build part of its business on a basis of copyright infringement.
In the relatively brief history of intellectual property, libraries have functioned as a fair use zone - a haven for the cultivation of minds, insulated from the marketplace of ideas. As the web breaks down boundaries separating readers from remote collections, with Google stepping in as chief wrecking ball, the idea of fair use is being severely tested.
Posted by ben vershbow at 12:57 PM | Comments (0)
A while back, I posted on this demo (Flash, 8.4Mb) of Jef Raskin's proposed zooming interface for his Archy system. There's more than an echo of that work in these infinite canvas comics made using the Tarquin Engine, a template for Macromedia Flash that lets authors easily create scrolling, zoomable comics. While I can't say I'm enthralled by the content of any of the comics on display, there's something exciting about the possibilities of the form. I do wish the format was free & open, enabling more dabbling by amateurs: there are clearly any number of directions that this could take.
Posted by dan visel at 1:44 PM | Comments (0)
With faster and faster broadband connections, it's getting easier to deliver video content over the internet, blurring the lines between television and the web. More and more, we're living in that blur, and a few recent changes suggest that the trend toward convergence is inevitable. CBS News, though lagging behind its competitors today, seems to get the message that tightly scheduled, broadcast media will soon be a relic of the past. In a bid to stay ahead of the curve (and perhaps, in time, of the competition), CBS News has totally revamped its website into what it calls a "24-hour, on-demand news service, available across many platforms." There you will find a variety of interactive features, text news from the wires, live radio, RSS feeds, and a podcasting service. You will also find dozens upon dozens of free video segments - the usual television programming, only broken up into bight-sized chunks. From these clips, visitors are invited to "build a newscast," assembling video segments into a personal playlist. Sooner or later, when other news outlets go the same way, we'll begin to see RSS video aggregators that automatically pull clips from around the web, the same way feed readers assemble text news today. This is already beginning to happen for video blogs.
But it's not just the crusty old news networks that are changing. With AOL's webcast of the the Live 8 concerts, and Amazon's upcoming 10th Anniversary shindig, where it will be streaming live on its site a concert featuring Bob Dylan and Norah Jones, it seems the TV-web merger is being driven from both sides.
Article: "TV Moves to the Internet"
Posted by ben vershbow at 5:31 PM | Comments (0)
In February, I stumbled upon a wonderful new site for storing and sharing video clips, which, until recently, was being tested on closed beta. Now fully open to the public, Vimeo aims to do for short form video what Flickr does for photos, openly citing the photo-sharing phenom as inspiration. Right now, it's pretty basic. Create a free account and you can start uploading compressed clips (8MB weekly limit), adding tags, and browsing what other users have put up. Over time, I expect they'll start adding some Flickr-esque features (like in-house email, groups, video sets, calendar, favorites and who knows what else). When Vimeo first came onto my radar, they had an interesting feature that allowed you to string several clips together within a single tag, creating an ad hoc montage. They still say on their "about" page that "several clips can be played together to create a movie," but I could no longer figure out how to do that.
All in all, given how troublesome it can be to get video working on the web, Vimeo seems to be off to a very smooth start. Something I hope they figure out is how to make it easy for users to post video to blogs. If they could rig up a basic form that automatically embeds a clip into a blog post, it would be a tremendous boon to the incipient video blogging community. And if they could provide basic video editing tools, then they might have something really big on their hands. (I've posted here my inaugural upload to Vimeo - a column from the ruins at Caesaria, from my recent trip to Israel.)
Though just barely off the ground, I have a feeling that Vimeo could evolve into something serious. Another exciting launch is Odeo, the podcast hub. Taken together as a constellation, these three ventures - Flickr, Vimeo, and Odeo - are constructing the beginnings of a vast media commons, tiny when compared with the giant 20th century media industries, but maybe not for long (see post on the London bombings). Another recently launched site, ourmedia, seeks to create a similar kind of homebrew media repository, offering (through a partnership with the Internet Archive) to "host your media forever -- for free." But so far, I've been much more impressed with the the afore-mentioned image/video/sound trio. Different media present different challenges, and there's something to be said for doing one thing really well rather than trying to do everything sort of well. I've found ourmedia's interface frustrating. It's difficult to browse for media, and sometimes hard to open an item once you've found it. Flickr, Vimeo and Odeo all provide a dynamic tagging system, making it much easier for users to dig and explore. ourmedia has no such system. What ourmedia is exploring more intensively (and Odeo too) is the need for an editorial voice, maintaining a rotating roster of volunteer editors, whose duties, among other things, include constructing the site's homepage. Odeo, on the other hand, is more clearly descended from traditional broadcast media, namely radio. The site is organized into channels, each with its own signature mix of programming. But unlike a radio station, an Odeo channel has fluid boundaries. Listener's can pick and choose programs, constructing their own broadcast.
But ultimately, we can't leave it up to these sites to make selections for us. Flickr has its own blog where the site's creators draw attention to noteworthy material. But more interesting is Flickrzen, a blog posting regular "reportages" of the most compelling photos turning up on Flickr. Flickr Pix Photo Magazine is on a similar mission. Of course, with millions of photographs already on Flickr, and thousands pouring in as I write, it would be impossible for any single editorial body to exhaustively survey the whole repository. So there's definitely room for more of these curatorial ventures. They are the next step.
Posted by ben vershbow at 1:13 PM | Comments (5)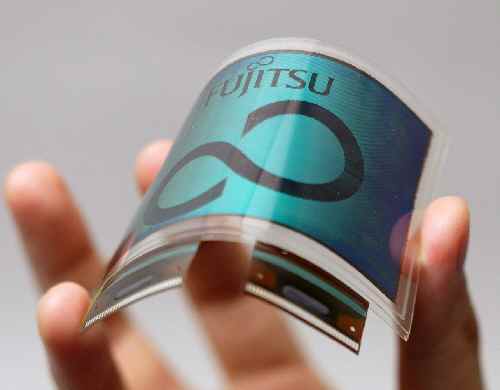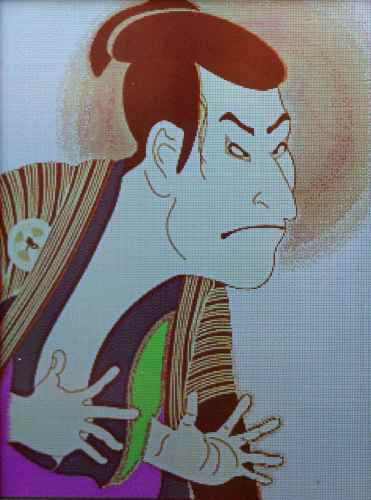 Fujitsu has developed a flexible, light-weight electronic display capable of retaining stable, full-color images even when bent. About as thick as a plastic transparency (like an x-ray), the paper consists of three substrate layers (red, green and blue) and requires "only one one-hundredth to one ten-thousandth the energy of conventional display technologies." The paper's memory system enables continuous image display with zero energy required, while changing images consumes only a negligible amount of power. And because displays won't require continuous updates, Fujitsu boasts, the screen will not flicker. The paper should be available to consumers by Spring, 2006. It will be pushed for use in the office, home and for signs and advertisements in public spaces. It's not clear, however, if it will be able to handle film or sophisticated animation (I would guess not very well). If anyone reading this happens to be in Tokyo today or tomorrow, the prototype is currently being exhibited at the Fujitsu Forum.
Posted by ben vershbow at 11:07 AM | Comments (0) | TrackBack
Spam Poem: For Paul Graham. William Poundstone's found poetry contructed from spam.
Audio Diary: A Rocky Freedom. Found poem constructed from sound bites; created during the "second" Iraq war.
Acronymphomania uses processes of random dynamic motion and text generation to suggest the continuing qualitive changes in the speed of our society
Posted by kim white at 12:33 PM | Comments (0)
We are fast approaching a point when there will be as many cameras as there are points of view. Everyone is an eye with a record button - embedded, as it were, in the trenches of everyday life. In the week that has passed since the bombs rocked London, major newspapers and television networks have run images and grainy video clips captured by ordinary people on their cellphones and digital cameras. Flickr has become a clearinghouse for July 7 terror blast images. Technorati has tracked the commentary and condolences that have flowed through the blogosphere. The Wikipedia community has mounted a detailed page, through thousands of edits, that combines the most up-to-date developments of the news with the useful contextual evidence and historical background that one would expect from an encyclopedia. But it's the images and video that have made the greatest penetration into the mainstream media. From "London Bombing Pictures Mark New Role for Camera Phones" in National Geographic News:
The BBC said it received around 30 video clips from members of the public and more than 300 e-mails containing an average of three images each on the day of the attacks. TV news channels, meanwhile, aired cell phone video footage within half an hour of the explosions.
These are probably the two most reproduced images: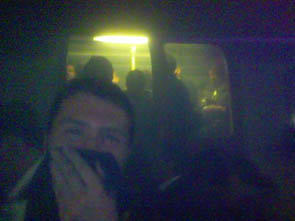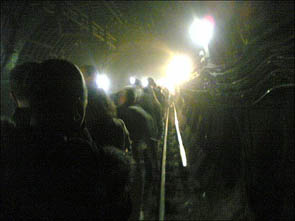 From a column in Digital Journalist on "citizen shutterbugs":
Many times these images are sent to family members first and then later find their way into the river of data that becomes public information. At times, some of these images are "picked up" by the mainstream media and disseminated as "real" news, which of course they can be.
The same goes for the photos from Abu Ghraib, first distributed among friends as perverse trophies from the land of occupation. I wonder about this impulse to record one's life in such fine-grained detail - it seems the new technologies turn us into auto-voyeurs. The soldiers record their crimes and end up implicating themselves. Similarly, the victims of the London bombings record their evacuation march through the tunnels, bearing witness to their own trauma. Then there are the onlookers, the passersby, who happen to be near the chaos.
Were the London bombings the tipping point? A local news cameraman meditates on the imminent decline of his profession:
Now, a new revolution is about to be televised. Tiny lenses are popping in the most unlikely of devices, powerful editing is just a laptop away and personal websites are racing towards critical mass. How long before my oversized fancy-cam looks like an early 80's bag phone? About the same time the six o clock news begins looking like it was shot by a hopped-up junkie with a twitchy digital, I'm guessing. The next ten years promise to feature a rapid breakdown of my chosen craft. Whatever new paradigm takes hold, it's a safe bet the two-person news crew is an endangered species, driven to oblivion by technology and methods that are faster and cheaper, but not necessarily better. Hopefully by that time, I'll have found more fulfilling ways to make a difference and a paycheck. Until then, I'll be here in the media pack, one eye buried in a viewfinder, the other one keeping steady watch over a nation of digital interlopers.
Other relevant items:
From Newsweek: "History's New First Draft"
From the BBC: "Mobiles Capture Blast Aftermath"
Posted by ben vershbow at 12:25 PM | Comments (0)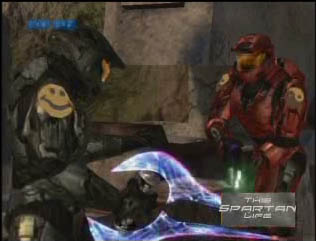 A couple of months ago, Bob did a rather unusual interview for This Spartan Life, a new online talk show set in the world of Halo video game series. I just received word that the first episode is now up. The show is hosted by Damian Lacedaemion, a hulking, bionic warrior sporting a thousand pounds of body armor, a visored helmet, and what looks like an enormous, ion-charged hair clip. Ordinarily, this character would be blazing his way through an interplanetary battle zone, but here, he's chatting it up with Bob (also represented by a fearsome armor-plated commando) about the future of books. The effect is truly bizarre.
The show was taped in a studio, with Bob and Damian (played by director Chris Burke), controllers in hand, seated in front of an Xbox console. Totally abandoning the story line of the game, the two avatars move through the surreal landscape - part derelict Soviet steel mill, part remote desert island - as though simply going for a stroll in the park. All their meanderings are recorded through a video feed and edited later on. Periodically, the conversation is interrupted by unfriendly fire from other online gamers unaware that a more civil interaction is taking place in the forbidding combat terrain. Damian has to deal with these intrusions, casually lobbing a grenade mid-sentence, or swooping across several hundred yards of game space to decapitate an assailant, swooping back to catch the end of Bob's remark. It's quite entertaining: the incongruousness of the conversation within the alien landscape of the game, the sudden bursts of violence. It reminds me a bit of Space Ghost Coast to Coast, which turned an old Hanna Barbera cartoon character into a talk show host with real celebrity guests. In the case of Spartan Life, there's something weirdly logical about placing a conceptual conversation about the future in the future. A nice expressionistic touch.
The show fits into a recently emerged genre of films set in video game environments, known as "Machinima." Most of the Machinima films I've seen are best described as surreal sitcoms - short episodes commenting on the inherent strangeness of video game worlds. The characters are often in the midst of existential crisis, asking "what am I doing here?" Like certain other genres (say, musicals), video games can appear comically absurd by adding just a small dose of reality. So far, Machinima has played in this territory, floating banal chit chat into the hyper-violent game worlds, finding humor in juxtaposition. Other games, like the Sims, offer their own possibilities for comical remixing. It'll be interesting to see if the genre matures beyond this. By conducting real interviews, often with people unfamiliar with the game environment, This Spartan Life introduces a nice element of surprise.
It's hard for us more traditional readers to grapple with the significance of video games. During the interview, Bob muses about what it will be like to walk around inside a book. What if other readers are interrupting or joining in the story you are reading? I grew up playing linear 2-D games like Super Mario Bros. and Castlevania. By the time the next generation of game systems was hitting the market with their new immersive 3-D narratives, my gaming habit had tapered off. But increasingly, kids are growing up with the expectation that narrative worlds (like books) will be interactive, multidirectional, and almost hallucinogenically real. There is the familiar complaint that younger generations have short attention spans, but the evidence offered by gaming suggests the opposite. While many kids may indeed have short attention spans for traditional media like books and certain kinds of films, they are perfectly capable of spending long stretches of time in complex game environments that combine stories with problem and puzzle solving, and that allow them to engage with peers within the game space. This is territory explored by Steven Johnson's new book, which I have yet to pick up. But I'll end with an amusing quote from his blog that I posted back in April when the book was coming out. It imagines what might have been society's response if video games were in fact the older invention and books the dangerous new toy.
Reading books chronically under-stimulates the senses. Unlike the longstanding tradition of gameplaying--which engages the child in a vivid, three-dimensional world filled with moving images and musical soundscapes, navigated and controlled with complex muscular movements--books are simply a barren string of words on the page. Only a small portion of the brain devoted to processing written language is activated during reading, while games engage the full range of the sensory and motor cortices.

Books are also tragically isolating. While games have for many years engaged the young in complex social relationships with their peers, building and exploring worlds together, books force the child to sequester him or herself in a quiet space, shut off from interaction with other children. These new 'libraries' that have arisen in recent years to facilitate reading activities are a frightening sight: dozens of young children, normally so vivacious and socially interactive, sitting alone in cubicles, reading silently, oblivious to their peers.

Many children enjoy reading books, of course, and no doubt some of the flights of fancy conveyed by reading have their escapist merits. But for a sizable percentage of the population, books are downright discriminatory. The reading craze of recent years cruelly taunts the 10 million Americans who suffer from dyslexia--a condition didn't even exist as a condition until printed text came along to stigmatize its sufferers.

But perhaps the most dangerous property of these books is the fact that they follow a fixed linear path. You can't control their narratives in any fashion--you simply sit back and have the story dictated to you. For those of us raised on interactive narratives, this property may seem astonishing. Why would anyone want to embark on an adventure utterly choreographed by another person? But today's generation embarks on such adventures millions of times a day. This risks instilling a general passivity in our children, making them feel as though they're powerless to change their circumstances. Reading is not an active, participatory process; it's a submissive one. The book readers of the younger generation are learning to 'follow the plot' instead of learning to lead.
Posted by ben vershbow at 11:19 AM | Comments (2) | TrackBack
The National Commission on Writing released its third report to Congress on Tuesday. It quantifies just how much poor writing skills are costing taxpayers. According to the report many state employees must undergo remedial training in order to bring their writing skills up to state expectations. This training costs taxpayers $250 million a year and that does not include the incalculable cost of lost productivity. This report was part of an ongoing evaluation of our nation's writing skills. The Commission's first report to Congress, The Neglected "R", called for improvements in writing education. Its second report, Writing: A Ticket to Work...Or a Ticket Out, A Survey of Business Leaders, examined the impact of poor writing skills on the private sector.
What does all this mean for the future of the book? Emerging technologies get a lot of air time on this blog, but very little has been said about writing itself. Clearly poor skills will have a negative impact on the future book, but what role, if any, are electronic technologies playing in the deterioration of writing? Certainly our reading behaviors are changing (see featured thread) but what of our writing?
Posted by kim white at 10:03 PM | Comments (0) | TrackBack
"The newspaper kills the book, as the book has killed architecture, and as artillery has killed courage and muscular strength. We are not aware of what pleasures newspapers deprive us. They rob everything of its virginity; owing to them we can have nothing of our own, and cannot possess a book all to ourselves; they rob you of surprise at the theatre, and tell you all the catastrophes beforehand; they take away from you the pleasure of tattling, chattering, gossiping and slandering, of composing a piece of news or hawking a true one for a week through all the drawing-rooms of society. They intone their ready-made judgments to us, whether we want them or not, and prepossess us against things that we should like; it is owing to them that the dealers in phosphorus boxes, if only they have a little memory, chatter about literature as nonsensically as country Academicians; it is also owing to them that all day long, instead of artless ideas or individual stupidity, we hear half-digested scraps of newspaper which resemble omelettes raw on one side and burnt on the other, and that we are pitilessly surfeited with news two or three hours old and already known to infants at the breast; brandy drinkers and file and rasp swallowers, who have ceased to find any flavour in the most generous wines, and cannot apprehend their flowery and fragrant bouquet."
(from Theophile Gautier's preface to Mademoiselle de Maupin, May 1834)
Posted by dan visel at 1:06 PM | Comments (0)
The Internet Public Library was created in 1995 by a group of graduate students led by Prof. Joseph James at the University of Michigan to "ask interesting and important questions about interconnections of libraries, librarians, and librarianship with a distributed networked environment."
Over the last ten years, the IPL has expanded their mission to create a public service organization and a learning/teaching environment. According to a 2003 press release:

Through the IPL, librarians and library students learn to integrate the use of the Internet into their professional practice. Internet users get help in navigating the sea of information on the Internet in order to find information they actually need and can use. By training librarians, students, and to some extent users, in using, searching, and evaluating the Internet, the IPL improves information literacy, a much-needed skill in the 21st century. Librarians and library students learn from IPL's examples, thus relieving them of the need to constantly "reinvent the wheel." Internet users spend less time wading through garbage and more time getting their real work done.
Posted by kim white at 9:35 PM | Comments (0)
The Supreme Court's MGM v. Grokster ruling came and went without comment from if:book (we miss you Ben). When I heard about the decision, I told myself: Kim, you should write a post about that. But my only thought on the subject was, So what? The ruling can't stop the change that is underway. Then I ran across this marvelous William Gibson quote: "We legislate after the fact, in a perpetual game of catch-up, as best we can, while our new technologies redefine us." That's from a recent article in Wired entitled "God's Little Toys: Confessions of a cut & paste artist" He also had this to say about the record industry:

Today, an endless, recombinant, and fundamentally social process generates countless hours of creative product (another antique term?). To say that this poses a threat to the record industry is simply comic. The record industry, though it may not know it yet, has gone the way of the record. Instead, the recombinant (the bootleg, the remix, the mash-up) has become the characteristic pivot at the turn of our two centuries.
My sentiments exactly.
Posted by kim white at 4:57 PM | Comments (0)