« building the cathedral: collaborative authorship and the internet | Main | the form of the (electronic) book »
big plans for the tiny screen 02.21.2005, 1:33 PM
posted by ben vershbow
Late last week, Random House announced it was making the microlit plunge, acquiring a "significant minority stake" in wireless applications developer VOCEL (AP wire story).
Says Random House Ventures president Richard Sarnoff: "You have a whole generation of consumers, perhaps more than a generation, who are never more than 10 feet from their cell phones, including when they shower. Increasingly, cell phones are becoming an appliance for entertainment and education."
But, despite the success of cell phone novels and serials in Japan, South Korea and Germany, Sarnoff insists that tiny screens have a potential for information, but not for narrative. "The screens are inappropriate for that kind of sustained reading. That's a `maybe, someday' discussion. We'll keep an eye on that area, and if something happens ... we'll certainly respond."
So for the time being, Random House will be testing mobile phones for language instruction, test prep, and other informational services.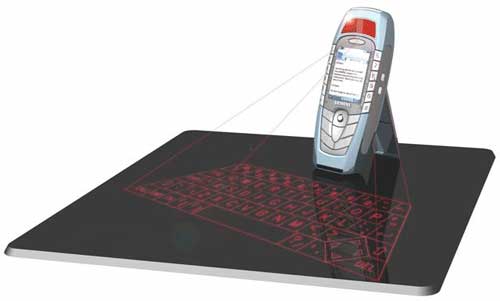 In a related vein, textually.org, an invaluable resource for the microlit observer, recently posted about Radio Shack's plans to sell stand-alone virtual keyboard units the size of a "small fist." Virtual keyboards project a regular-sized typing area on a flat surface, registering keystrokes via Bluetooth onto a smartphone or personal digital assistant (PDA). VKB, the developer of the technology, recently announced its goal of making the virtual keyboard an embedded feature in mobile devices by next year. Further suggestion that cell phones and laptops are evolving into one another.
Posted by ben vershbow on February 21, 2005 1:33 PM
tags: Microlit, The Ideal Device?, the_form_of_the_book
comments (1):


Muhammad Fahad Ayub
on
March 30, 2007 4:07 PM
:
I like that device, didn't thought about it, but some discussions from our community... Basically the idea is mine...
Think about a Mobile Set having upto 20 types of Memory Card Reader Builtin + Direct USB connectivity & Sort of something pointing device (sort of a projector) which represent a mono type bitmapped image on the targetted flat blank screen. All in one mobile set, & an optical mouse built in it, anyone could use that mobile device as a mouse after connecting it with a PC via bluetooth.
Could it be possible,
Kindly Reply.
Regards
Muhammad Fahad Ayub
Imagine Communications
+92-300-2167412
(Because of spam troubles, first-time comments from unfamiliar addresses or containing multiple links might be held for moderation. If your comment isn't spam, we'll publish it very soon. Thanks in advance for your patience.)