« writer invites remix of story | Main | future of the news? »
the book is doomed 01.22.2005, 12:04 PM
posted by kim white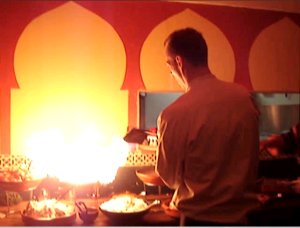 "The book is doomed." That was Steven Pemberton's definitive answer to my musings about the future of the book in the digital age. It was the end of the first day of an international conference on web design, we were at the Friday night conference dinner, eating a crè me brulee that had been set ablaze just minutes before, and I don't mean the little blue acetylene flame that puffs out after a few seconds. The chef blasted our crè me brulee for several minutes with a torch that looked like something a forest ranger would use to execute a controlled burn.
So, I'm eating my crè me brulee, trying to understand this pronouncement; when someone like Steven Pemberton says that the book, in the digital age, is doomed, you have to take it seriously. He cites The Innovator's Dilemma, by Clayton M. Christensen. The thesis, Pemberton explains, has to do with the process of innovation and adoption. A new invention has to find a niche market that will allow it to improve and develop. Once the new invention advances enough to allow it to compete with the entrenched technology it is quickly adopted. This often radically changes an industry. Pemberton gives computer printers as an example. Anyone remember the old dot matrix printers? They had gears on the side that fit into corresponding holes in the paper. Remember how slow they were and how poor the quality was? The introduction of the laser printer made vast improvements in printer quality and as soon as printer technology improved, a revolution in desktop publishing was made possible.
The book, Pemberton contends, will experience a similar sea-change the moment screen technology improves enough to compete with the printed page.
Posted by kim white on January 22, 2005 12:04 PM
tags: The Ideal Device?, conferences_and_excursions
comments (8):


ben vershbow
on
January 22, 2005 12:20 PM
:
Yes, I think that perhaps electronic books have found their key niche in cell phones and handheld devices. One could hardly say that literature is flourishing in this medium, but significant new reading practices are developing, along with some minor innovations in form (cell phone novels, SMS chronicles etc. - see microlit category on this blog). Significant numbers of people are content to read text on these cramped little screens because they prefer to read on the move, in a dynamic, networked context. That context is what we now expect for many, or most, of our cultural and informational transactions. Combine that with extreme portability and comfort, and you've got the ideal device.


Gary Frost
on
January 22, 2005 7:25 PM
:
I agree that the cell phone is much a much better exemplar of the connected hand held reading device than the codex. And as such it is apparent that screen resolution is not the issue.
But I always enjoy comments on the doomed book! I remember an ALA meeting over ten years ago. Publishers were presenting future trends to the librarians. One stated that by 2010 90% of publications would be electronic and only 10% print. Roy Atkinson of Cornell immediately jumped up. "If that is true the 10% as increased at the current rate of print publication will double the size of print libraries."
Anyway, the ebook technologists are the last ones to believe when it comes to projecting the future of print. They do not understand the embedded haptic attributes of the book as a reading device. They do not understand the interactivity of separate reading modes. They do not understand that reading behaviors do not supercede each other but compile together. And they don't even know how to invent the ebook as the cell phone or POD have already proven.


kim white
on
January 24, 2005 9:32 AM
:
they don't even know how to invent the ebook as the cell phone or POD have already proven. I think you have something there. ebook technology needs to be flexible enough to evolve alongside rapid innovations in hardware technologies and changes in reading modes that are evolving as an adaptive response to those technologies.


Yvonne DiVita
on
January 24, 2005 11:42 AM
:
The demise of the book is greatly exaggerated, to borrow a phrase from one of my favorite authors, Mark Twain. The baby boomers are not going anywhere, any time soon...and we all LOVE books...the kind you can HOLD IN YOUR HAND. In fact, Gen X and Gen Ys love books, too. Steven Pemberton would do well to talk to some of these people before he goes around making such generalizations. The demise of books, honestly! The digital age isn't eveyrthing, folks.


Barbara Noirthrop
on
January 29, 2005 12:35 PM
:
I agree with Yvonne. As a member of the pre-computer-in-every-home generation(60 and 70 year olds), I struggle everyday to master all the new technology that we are confronted with. I enjoy in the evening being able to sit down open a book and relax, without having to learn lots of new technological terms to access the story. I for one hope the hand held book will outlast me


Gene Alloway
on
February 16, 2005 3:58 PM
:
I disagree with:


"The book, Pemberton contends, will experience a similar sea-change the moment screen technology improves enough to compete with the printed page."


The ultimate success of the electronic book is less about technology, and much more about intellectual property and ultimately, cost. Unless an open standard for e-book content AND hardware format exists, e-books will be shunted to niche markets.


The printed book as a technology is not just about appearance and textual legibility. It is about portability, affordability, durability, and exchangability.


Codex books can be thrown, dropped, carried, used continuously, given freely, sold repeatedly and returned haphazardly.


If I shell out N dollars for Grisham's latest, I don't want to find out my reader and software from the Wonka E-Book company needs to be upgraded for N+N more dollars, or that the Wonka E-book company has ceased to be and Grisham's latest can only be read by Edisoft's e-book, costing N squared dollars. And if I upgrade to Edisoft, then I have to have 2 readers, or pay again to upgrade my library, IF all of them are supported by Edisoft.


With the Open Source codex book format now in use, I can read Shakespeare plays in their original edition, no upgades needed.


Don't even get me started about electro-magnetic pulses. :)


great blog, btw.


(All company names are fictitious as far as I know. No disrepect meant to any inventors, real or ficional).


pharmacy
on
March 15, 2005 1:25 PM
:
I do like this blog a lot. thanks for keeping all the spammers off it.


Steven Pemberton
on
May 30, 2005 3:18 PM
:
Just because I said "the book is doomed" doesn't mean that I want the book to be doomed! I too love books, and have a house full of them. It was just a neutral, dispassionate observation: the advantages of ebooks are so great that once they become as pleasant to read as regular books, as they inevitably will do, paper-based books will be assigned to a niche, just as horse and carts were once cars became suffiently comfortable.

The book is doomed: we'll just have to learn to live with it.
(Because of spam troubles, first-time comments from unfamiliar addresses or containing multiple links might be held for moderation. If your comment isn't spam, we'll publish it very soon. Thanks in advance for your patience.)