« google and big brother | Main | light reading »
lizards! defying the laws of mass market physics 12.16.2004, 5:25 PM
posted by ben vershbow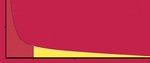 Found this yesterday on changethis.com - a site devoted to publishing and disseminating manifestos. Documents are smartly designed pdfs, spread primarily through the viral channels of the blogosphere and personal email mentions.
In "The Long Tail" Wired editor-in-chief Chris Anderson predicts a new age of abundance, in which the Internet elevates niche markets and makes mass market quotas irrelevant. Of course, this is already happening, much to the distress of mass media dinosaurs, who are scrambling to protect their creaking architecture of revenue.
The "long tail" refers to the slender expanse of obscure niche sales enjoyed by a web retailer, as represented on an x-y graph. It extends from the body of high volume, mainstream sales (Wal-Mart and the like) like the caudal appendage of a lizard.
Posted by ben vershbow on December 16, 2004 5:25 PM
tags: chris_anderson, economics, internet, long_tail, manifesto, media, p2p, publishing, web
comments (0):
(Because of spam troubles, first-time comments from unfamiliar addresses or containing multiple links might be held for moderation. If your comment isn't spam, we'll publish it very soon. Thanks in advance for your patience.)