« lizards! defying the laws of mass market physics | Main | enter the cybrarian »
light reading 12.17.2004, 3:49 PM
posted by ben vershbow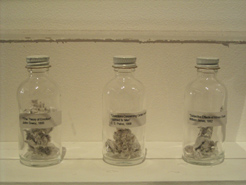 "The Book as Object and Performance exhibition (through January 22 @ Gigantic Art Space in New York, curated by Sara Reisman) presents work by over 20 artists, each using the book as a point of departure to explore the physical, sensual or conceptual dimension of reading and the written word.
But despite lofty ambitions, the exhibit provides little more than light reading. Though several works are visually arresting, few do more than glide over the potentially bottomless themes at hand. Most stick to playful reorganization of materials: a pile of wooden hoops culling newspaper headlines from around the globe; a precarious tower of books with a gaping acid-chewed hole at the top; a doorway filled with crumpled sheets of paper; a dictionary with words dislocated from their definitions. A collection of small, easily forgotten pleasures.
An exception to this is a mysterious piece titled "Perseverance" by Jenny Perlin consisting of a small, worn book in a glass case, above which plays a strange film of man battling anxiety, chewing his nails to the quick. Also memorable was a one-night-only "reading" of the ten commandments by Polish-born artist Maciej Toporowicz, a piece first performed in communist Poland in 1980, and part of small program of live explorations last night, filling out the "performance" part of the equation. The gallery lights are extinguished and Toporowicz takes his place in front of an illuminated glass bowl of water, perched atop an open Bible. He places his face in the water, as though reading through the aqueous medium, and remains there long enough for the audience to start imagining.. what? That he is drowning in this sacred, much-abused text? That he is drawing impossible sustenance from its power? He begins to twitch and tremble. Finally his head rips up out of the water, gasping.
The photo above shows bottles containing philosophical texts that have been literally chewed up and spit out. Click below to see more pictures from the exhibition...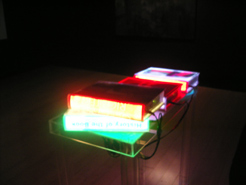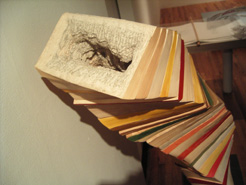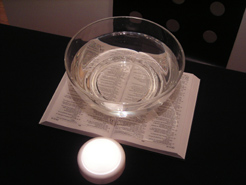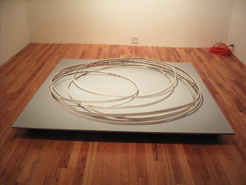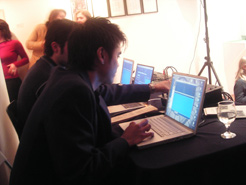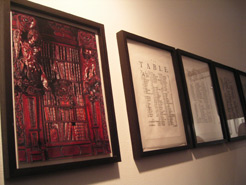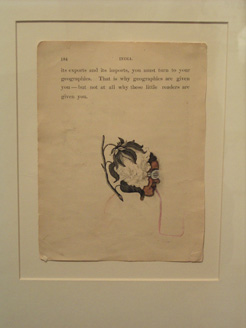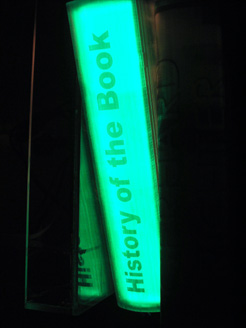 Posted by ben vershbow on December 17, 2004 3:49 PM
tags: The Performing Book, art, book, book_craft, books, conferences_and_excursions, exhibition, gallery, manhattan, new_york
comments (1):


kim white
on
December 18, 2004 10:40 AM
:
I agree, The standout piece was Toporowicz's reading of the ten commandments. Executed as Ben describes, in a darkened hushed gallery. I think it's worth mentioning that the Bible was open to Job, which I thought was significant--a way of implying the ten commandments in the suffering of Job. However, Ben thought it was open to Job, "so the bowl will stay balanced." It also may be worth mentioning that the artist's eyes were closed when his face was immersed. Clearly, a very different type of "reading" was going on. As, the artist's body began to shake for want of air and the audience began to fear for him, he lifted his face and took a breath. Then, without addressing the audience or saying a word, he wiped his face and left the table.
So why was that interesting and what implications does it have for the future of the book?
The only reference to the ten commandments was made in the title of the performance. The ten commandments are so widely known they do not need to be "read" in a literal sense. We understand Toporowicz's metaphorical "reading" by sorting through ideas, attitudes, doctrines, politics, policies, and abuses that has been engendered by or attributed to this passage of text. For example, he might be saying that immersion in the ten commandments drowns the self. He may be registering a refusal (eyes closed, page turned to Job, breath held) to submit to the ten commandments. He might be illustrating a kind of monastic submission to the text. The point is that you have to read the reading. This may become a significant exercise in the digital age, where meaning is often "performed" by media elements. And where, I imagine, the reader will be prey to subtle and not-so-subtle propaganda.
(Because of spam troubles, first-time comments from unfamiliar addresses or containing multiple links might be held for moderation. If your comment isn't spam, we'll publish it very soon. Thanks in advance for your patience.)