The London Times just published an interview with Wikipedia founder Jimmy Wales in which he entertains the

idea of carrying ads. This mention is likely to generate an avalanche of discussion about the commercialization of open-source resources. While i would love to see Wikipedia stay out of the commercial realm, it's just not likely. Yahoo, Google and other big companies are going to commercialize Wikipedia anyway so taking ads is likely to end up a no-brainer. As i mentioned in my comment on Lisa's earlier post, this is going to happen as long as the overall context is defined by capitalist relations. Presuming that the web can be developed in a cooperative, non-capitalist way without fierce competition and push-back from the corporations who control the web's infrastructure seems naive to me.
Posted by bob stein at 04:29 PM | Comments (1)
tags: advertising , capitalism , google , open_content , open_source , wikipedia , yahoo
Sony Europe is promoting a new screen technology with a TV commercial featuring 250,000 brightly colored balls rolling down a San Francisco street. despite the maudlin soundtrack the sight of a quarter of a million balls floating chaotically down the hill is spectacular. this is partially because the piece is silly, fantastical, and brilliantly executed. i wonder though, if part of the reason people like the ad so much is because real balls are rolling on a real street — because the absence of any computer graphics is so unusual in our increasingly everything-so-neat-and-clean digital mediascape? this is not meant to be a rhetorical question. what do you think?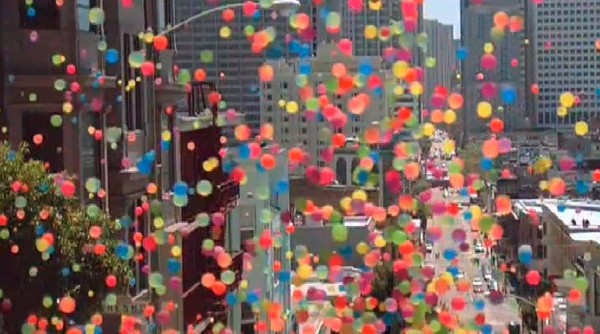 Posted by bob stein at 05:35 PM | Comments (7)
tags: Mediated Existence , ad , advertising , balls , media , san_francisco , sony , sony_europe
Google Base is live and ready for our stuff.
In AP: "New Project Will Expand Google's Reach"
Posted by ben vershbow at 07:04 AM | Comments (0)
tags: Online , advertising , classifieds , craigslist , ebay , etail , google , google_base , search , web
Harper Collins Australia's new MobileReader service beams information about new titles and authors, and even book excerpts, to a cellphone. They're beginning with promotions of Dean Koontz, Paul Coelho and others.
(via textually)
Posted by ben vershbow at 05:25 PM | Comments (0)
tags: Microlit , Publishing, Broadcast, and the Press , advertising , book , books , cellphone , culture , ebook , gadget , harpercollins , literature , marketing , media , mobile , mobilecomputing , phone , publishing , reading , smartmobs , wireless