« September 2005 | Main | November 2005 »
I. Nelson's criticism
Ted Nelson (introduced last week by Ben) is a lonely revolutionary marching a lonely march, and whenever he's in the news mockery is heard. Some of this is with good reason: nobody's willing to dismantle the Internet we have for his improved version of the Internet (which doesn't quite work yet). You don't have to poke around too long on his website to find things that reek of crackpottery. But the problems that Nelson has identified in the electronic world are real, even if the solutions he's proposing prove to be untenable. I'd like to expand on on one particular aspect of Nelson's thought prominent in his latest missive: his ideas about the inherent ideologies of document formats. While this sounds very blue sky, I think his ideas do have some repercussions for what we're doing at the Institute, and it's worth investigating them, if not necessarily buying off on Xanadu.
Nelson starts from the position that attempting to simulate paper with computers is a mistaken idea. (He's not talking about e-ink & the idea of electronic paper, though a related criticism could be made of that: e-ink by itself won't solve the problem of reading on screens.) This is correct: we could do many more things with virtual space than we can with a static page. Look at this Flash demonstration of Jef Raskin's proposed zooming interface (previously discussed here), for example. But we don't usually go that far because we tend to think of electronic space in terms of the technology that preceded it – paper space. This has carried over into the way in which we structure documents for online reading.
There are two major types of electronic documents online. In one, the debt to paper space is explicit: PDFs, one of the major formats currently used for electronic books, are a compressed version of Postscript, a specification designed to tell a printer exactly what should be on a printed page. While a PDF has more functionality than a printed page – you can search it, for example, and if you're tricky you can embed hyperlinks and tables of content in them – it's built on the same paradigm. A PDF is also like a printed page in that it's a finalized product: while content in a PDF can be written over with annotations, it's difficult to make substantial changes to it. A PDF is designed to be an electronic reproduction of the printed page. More functionality has been welded on to it by Adobe, who created the format, but it is, at its heart attempting to maintain fidelity to the printed page.
The other dominant paradigm is that of the markup language. A quick, not too technical introduction: a markup language is a way of encoding instructions for how a text is to be structured and formatted in the text. HTML is a markup language; so is XML. This web page is created in a markup language; if you look at it with the "View Source" option on your browser, you'll see that it's a text file divided up by a lot of HTML tags, which are specially designed to format web pages: putting <i> and </i> around a word, for example, makes it italic. XML is a broader concept than HTML: it's a specification that allows people to create their own tags to do other things: some people are using their own version of XML to represent ebooks.
There's a lot of excitement about XML – it's a technology that can be (and is)bent to many different uses. A huge percentage of the system files on your computer, for example, probably use some flavor of XML, even if you've never thought of composing an XML documents. Nelson's point, however, is that there's a central premise to all XML: that all information can be divided up into a logical hierarchy – an outline, if you will. A lot of documents do work this way: book is divided into chapters; a chapter is divided into paragraphs; paragraphs are divided into words. A newspaper is divided into stories; each story has a headline and body copy; the body copy is divided into paragraphs; a paragraph is divided into sentences; a sentence is divided into words; and words are divided into letters, the atom of the markup universe.
II. A Victorian example
But while this is the dominant way we arrange information, this isn't necessarily a natural way to arrange things, Nelson points out, or the only way. It's one way of many possible ones. Consider this spread of pages (double-click to enlarge them):
This is a title page from a book printed by William Morris, another self-identified humanist. We mostly think of William Morris (when we're not confusing him with the talent agency) as a source of wallpaper, but his work as a book designer can't be overvalued. The book was printed in 1893; it's entitled The Tale of King Florus and the Fair Jehane. Like all of Morris's books, it's sumptuous to the point of being unreadable: Morris was dead set on bringing beauty back into design's balance of aesthetics & utility, and maybe over-corrected to offset the Victorian fixation on the latter.
I offer this spread of pages as an example because the elements that make up the page don't break down easily into hierarchical units. Let's imagine that we wanted to come up with an outline for what's on these pages – let's consider how we would structure them if we wanted to represent them in XML. I'm not interested in how we could represent this on the Web or somewhere else – it's easy enough to do that as an image. I'm more interested in how we would make something like this if we were starting from scratch & wanted to emulate Morris's type and woodcuts – a more theoretical proposition.
First, we can look at the elements that comprise the page. We can tell each page is individually important. Each page has a text box, with decorative grapevines around the text box; inside the text box, the title gets its own page; on the second page, there's the title repeated, followed by two body paragraphs, separated by a fleuron. The first paragraph gets an illustrated dropcap. Each word, if you want to go down that far, is composed of letters.
But if you look closer, you'll find that the elements on the page don't decompose into categories quite so neatly. If you look at the left-hand page, you can see that the title's not all there – this is the second title page in the book. The title isn't part of the page – as would almost certainly be assumed under XML – rather, they're overlapping units. And the page backgrounds aren't mirror images of each other: each has been created uniquely. Look at the title at the top of the right-hand page: it's followed by seven fleurons because it takes seven of them to nicely fill the space. Everything here's been minutely adjusted by hand. Notice the characters in the title on the right and how they interact with the flourishes around them: the two A's are different, as are the two F's, the two N's, the two R's, the two E's. You couldn't replicate this lettering with a font. You can't really build a schema to represent what's on these two pages. A further argument: to make this spread of pages rigorous, as you'd have to to represent it in XML, would be to ruin them aesthetically. The vines are the way they are because the letters are the way they are: they've been created together.
The inability of XML to adequately handle what's shown on these pages isn't a function of the screen environment. It's a function of the way we build electronic documents right now. Morris could build pages this way because he didn't have to answer to the particular restraints we do now.
III. The ideologies of documents
Let's go back to Ted:
Nearly every form of electronic document- Word, Acrobat, HTML, XML- represents some business or ideological agenda. Many believe Word and Acrobat are out to entrap users; HTML and XML enact a very limited kind of hypertext with great internal complexity. All imitate paper and (internally) hierarchy.

For years, hierarchy simulation and paper simulation have been imposed throughout the computer world and the world of electronic documents. Falsely portrayed as necessitated by "technology," these are really just the world-view of those who build software. I believe that for representing human documents and thought, which are parallel and interpenetrating– some like to say "intertwingled"– hierarchy and paper simulation are all wrong.
It's possible to imagine software that would let us follow our fancy and create on the screen pages that look like William Morris's – a tool that would let a designer make an electronic woodcut with ease. Certainly there are approximations. But the sort of tool I imagine doesn't exist right now. This is the sort of tool we should have – there's no reason not to have it already. Ted again:
I propose a different document agenda: I believe we need new electronic documents which are transparent, public, principled, and freed from the traditions of hierarchy and paper. In that case they can be far more powerful, with deep and rich new interconnections and properties- able to quote dynamically from other documents and buckle sideways to other documents, such as comments or successive versions; able to present third-party links; and much more.

Most urgently: if we have different document structures we can build a new copyright realm, where everything can be freely and legally quoted and remixed in any amount without negotiation.
Ben does a fine job of going into the ramifications of Nelson's ideas about transclusion, which he proposes as a solution. I think it's an interesting idea which will probably never be implemented on a grand scale because there's not enough of an impetus to do so. But again: just because Nelson's work is unpragmatic doesn't mean that his critique is baseless.
I feel there's something similar in the grandiosity of Nelson's ideas and Morris's beautiful but unreadable pages. William Morris wasn't just a designer: he saw his program of arts and crafts (of which his books were a part) as a way to emphasize the beauty of individual creation as a course correction to the increasingly mechanized & dehumanized Victorian world. Walter Benjamin declares (in "The Author as Producer") that there is "a difference between merely supplying a production apparatus and trying to change the production apparatus". You don't have to make books exactly like William Morris's or implement Ted Nelson's particular production apparatus to have your thinking changed by them. Morris, like Nelson, was trying to change the production apparatus because he saw that another world was possible.
And a postscript: as mentioned around here occasionally, the Institute's in the process of creating new tools for electronic book-making. I'm in the process of writing up an introduction to Sophie (which will be posted soon) which does its best to justify the need for something new in an overcrowded world: Nelson's statement neatly dovetailed with my own thinking on the subject on why we need something new: so that we have the opportunity to make things in other ways. Sophie won't be quite as radical as Nelson's vision, but we will have something out next year. It would be nice if Nelson could do the same.
Posted by dan visel at 04:59 PM | Comments (7)
There's an interesting discussion going on right now under Kim's Wikibooks post about how an open source model might be made to work for the creation of authoritative knowledge -- textbooks, encyclopedias etc. A couple of weeks ago there was some dicussion here about an article that, among other things, took some rather cheap shots at Wikipedia, quoting (very selectively) a couple of shoddy passages. Clearly, the wide-open model of Wikipedia presents some problems, but considering the advantages it presents (at least in potential) -- never out of date, interconnected, universally accessible, bringing in voices from the margins -- critics are wrong to dismiss it out of hand. Holding up specific passages for critique is like shooting fish in a barrel. Even Wikipedia's directors admit that most of the content right now is of middling quality, some of it downright awful. It doesn't then follow to say that the whole project is bunk. That's a bit like expelling an entire kindergarten for poor spelling. Wikipedia is at an early stage of development. Things take time.
Instead we should be talking about possible directions in which it might go, and how it might be improved. Dan for one, is concerned about the market (excerpted from comments):
What I worry about...is that we're tearing down the old hierarchies and leaving a vacuum in their wake.... The problem with this sort of vacuum, I think, is that capitalism tends to swoop in, simply because there are more resources on that side....

...I'm not entirely sure if the world of knowledge functions analogously, but Wikipedia does presume the same sort of tabula rasa. The world's not flat: it tilts precariously if you've got the cash. There's something in the back of my mind that suspects that Wikipedia's not protected against this – it's kind of in the state right now that the Web as a whole was in 1995 before the corporate world had discovered it. If Wikipedia follows the model of the web, capitalism will be sweeping in shortly.
Unless... the experts swoop in first. Wikipedia is part of a foundation, so it's not exactly just bobbing in the open seas waiting to be swept away. If enough academics and librarians started knocking on the door saying, hey, we'd like to participate, then perhaps Wikipedia (and Wikibooks) would kick up to the next level. Inevitably, these newcomers would insist on setting up some new vetting mechanisms and a few useful hierarchies that would help ensure quality. What would these be? That's exactly the kind of thing we should be discussing.
The Guardian ran a nice piece earlier this week in which they asked several "experts" to evaluate a Wikipedia article on their particular subject. They all more or less agreed that, while what's up there is not insubstantial, there's still a long way to go. The biggest challenge then, it seems to me, is to get these sorts of folks to give Wikipedia more than just a passing glance. To actually get them involved.
For this to really work, however, another group needs to get involved: the users. That might sound strange, since millions of people write, edit and use Wikipedia, but I would venture that most are not willing to rely on it as a bedrock source. No doubt, it's incredibly useful to get a basic sense of a subject. Bloggers (including this one) link to it all the time -- it's like the conversational equivalent of a reference work. And for certain subjects, like computer technology and pop culture, it's actually pretty solid. But that hits on the problem right there. Wikipedia, even at its best, has not gained the confidence of the general reader. And though the Wikimaniacs would be loathe to admit it, this probably has something to do with its core philosophy.
Karen G. Schneider, a librarian who has done a lot of thinking about these questions, puts it nicely:
Wikipedia has a tagline on its main page: "the free-content encyclopedia that anyone can edit." That's an intriguing revelation. What are the selling points of Wikipedia? It's free (free is good, whether you mean no-cost or freely-accessible). That's an idea librarians can connect with; in this country alone we've spent over a century connecting people with ideas.

However, the rest of the tagline demonstrates a problem with Wikipedia. Marketing this tool as a resource "anyone can edit" is a pitch oriented at its creators and maintainers, not the broader world of users. It's the opposite of Ranganathan's First Law, "books are for use." Ranganathan wasn't writing in the abstract; he was referring to a tendency in some people to fetishize the information source itself and lose sight that ultimately, information does not exist to please and amuse its creators or curators; as a common good, information can only be assessed in context of the needs of its users.
I think we are all in need of a good Wikipedia, since in the long run it might be all we've got. And I'm in now way opposed to its spirit of openness and transparency (I think the preservation of version histories is a fascinating element and one which should be explored further -- perhaps the encyclopedia of the future can encompass multiple versions of the "the truth"). But that exhilarating throwing open of the doors should be tempered with caution and with an embrace of the parts of the old system that work. Not everything need be thrown away in our rush to explore the new. Some people know more than other people. Some editors have better judgement than others. There is such a thing as a good kind of gatekeeping.
If these two impulses could be brought into constructive dialogue then we might get somewhere. This is exactly the kind of conversation the Wikimedia Foundation should be trying to foster.
Posted by ben vershbow at 01:04 PM | Comments (8)
Jimmy Wales believes that the Wikibooks project will do for the textbook what Wikipedia did for the encyclopedia; replacing costly printed books with free online content developed by a community of contributors. But will it? Or, more accurately, should it? The open source volunteer format works for encyclopedia entries, which don't require deep knowledge of a particular subject. But the sustained examination and comprehensive vision required to understand and contextualize a particular subject area is out of reach for most wiki contributors. The communal voice of the open source textbook is also problematic, especially for humanities texts, as it lacks the power of an inspired authoritative narrator. This is not to say that I think open source textbooks are doomed to failure. In fact, I agree with Jimmy Wales that open source textbooks represent an exciting, liberating and inevitable change. But there are some real concerns that we need to address in order to help this format reach its full potential. Including: how to create a coherent narrative out of a chorus of anonymous voices, how to prevent plagiarism, and how to ensure superior scholarship.
To illustrate these points, I'm going to pick on a Wikibook called: Art History. This book won the distinction of "collaboration of the month" for October, which suggests that, within the purview of wikibooks, it represents a superior effort. Because space is limited, I'm only going to examine two passages from Chapter One, comparing the wikibook to similar sections in a traditional art history textbook. Below is the opening paragraph, framing the section on Paleolithic Art and cave paintings, which begins the larger story of art history.

Art has been part of human culture for millenia. Our ancient ancestors left behind paintings and sculptures of delicate beauty and expressive strength. The earliest finds date from the Middle Paleolithic period (between 200,000 and 40,000 years ago), although the origins of Art might be older still, lost to the impermanence of materials.
Compare that to the introduction given by Gardner's Art Through the Ages (seventh edition):
What Genesis is to the biblical account of the fall and redemption of man, early cave art is to the history of his intelligence, imagination, and creative power. In the caves of southern France and of northern Spain, discovered only about a century ago and still being explored, we may witness the birth of that characteristically human capability that has made man master of his environment—the making of images and symbols. By this original and tremendous feat of abstraction upper Paleolithic men were able to fix the world of their experience, rendering the continuous processes of life in discrete and unmoving shapes that had identity and meaning as the living animals that were their prey.

In that remote time during the last advance and retreat of the great glaciers man made the critical breakthrough and became wholly human. Our intellectual and imaginative processes function through the recognition and construction of images and symbols; we see and understand the world pretty much as we were taught to by the representations of it familiar to our time and place. The immense achievement of Stone Age man, the invention of representation, cannot be exaggerated.
As you can see the wiki book introduction seems rather anemic and uninspired when compared to Gardner's. The Gardner's introduction also sets up a narrative arc placing art of this era in the context of an overarching story of human civilization.
I chose Gardner's Art Through the Ages because it is the classic "Intro to Art History" textbook (75 years old, in its eleventh edition). I bought my copy in high school and still have it. That book, along with my brilliant art history teacher Gretchen Whitman, gave me a lifelong passion for visual art and a deep understanding of its significance in the larger story of western civilization. My tattered but beloved Gardner's volume still serves me well, some 20 odd years later. Perhaps it is the beauty of the writing, or the solidity of the authorial voice, or the engaging manner in which the "story" of art is told.
Let's compare another passage; this one describes pictorial techniques employed by stone age painters. First the wikibook:

Another feature of the Lascaux paintings deserves attention. The bulls there show a convention of representing horns that has been called twisted perspective, because the viewer sees the heads in profile but the horns from the front. Thus, the painter's approach is not strictly or consistently optical. Rather, the approach is descriptive of the fact that cattle have two horns. Two horns are part of the concept "bull." In strict optical-perspective profile, only one horn would be visible, but to paint the animal in that way would, as it were, amount to an incomplete definition of it.
And now Gardner's:
The pictures of cattle at Lascaux and elsewhere show a convention of representation of horns that has been called twisted perspective, since we see the heads in profile but the horns from a different angle. Thus, the approach of the artist is not strictly or consistently optical—that is, organized from a fixed-viewpoint perspective. Rather, the approach is descriptive of the fact that cattle have two horns. Two horns would be part of the concepts "cow" or "bull." In a strict optical-perspective profile only one horn would be visible, but to paint the animal in such a way would, as it were, amount to an incomplete definition of it.
This brings up another very serious problem with open-source textbooks--plagiarism. If the first page of the wikibook-of-the month blatantly rips-off one of the most popular art history books in print and nobody notices, how will Wikibooks be able to police the other 11,000 plus textbooks it intends to sponsor? What will the consequences be if poorly written, plagairized, open-source textbooks become the runaway hit that Wikibooks predicts?
Posted by Kim White at 08:08 AM | Comments (17)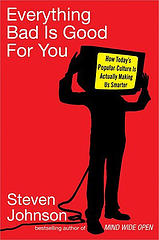 Hi Steven,
first up: I appreciate you coming over to defend yourself. The blogosphere is far too often self-reinforcing - the left (for example) reads left-leaning blogs and the right reads right-leaning blogs & there's not a lot of dialogue between people on opposite sides, to everyone's loss.
Here's something that's been nagging me for the past week or so: your book seems to effectively be conservative. Bear with me for a bit: I'm not saying that it's Bill O'Reilly-style invective. I do think, however, that it effectively reinforces the status quo. Would I be wrong in taking away as the message of the book the chain of logic that:
Our pop culture's making us smarter.
Therefore it must be good.
Therefore we don't need to change what we're doing.
I'll wager that you wouldn't sign off on (3) & would argue that your book isn't in the business of prescribing further action. I'm not accusing you of having malicious intentions, and we can't entirely blame a writer for the distortions we bring to their work as readers (hey Nietzsche!). But I think (3)'s implicitly in the book: this is certainly the message most reviewers, at least, seem to be taking away from the book. Certainly you offer caveats (if the kids are watching television, there's good television & there's bad television), but I think this is ultimately a Panglossian view of the world: everything is getting better and better, we just need to stand back and let pop culture work upon us. Granted, the title may be a joke, but can you really expect us, the attention-deficit-addled masses, to realize that?
Even to get to (2) in that chain of reasoning, you need to buy into (1), which I don't know that I do. Even before you can prove that rising intelligence is linked to the increased complexity of popular culture – which I'll agree is interesting & does invite scrunity – you need to make the argument that intelligence is something that can be measured in a meaningful way. Entirely coincidentally – really – I happened to re-read Stephen Jay Gould's Mismeasure of Man before starting in on EBIGFY; not, as I'm sure you know, a happy combination, but I think a relevant one. Not to reopen the internecine warfare of the Harvard evolutionary biology department in the 1990s, but I think the argument that Gould wrings out of the morass of intelligence/IQ studies still holds: if you know who your "smart" kids are, you can define "smartness" in their favor. There remain severe misgivings about the concept of g, which you skirt: I'm not an expert on the current state of thought on IQ, so I'll skirt this too. But I do think it's worth noting that while you're not coming to Murray & Herrnstein's racist conclusions, you're still making use of the same data & methodology they used for The Bell Curve, the same data & methodology that Gould persuasively argued was fundamentally flawed. Science, the history of intelligence testing sadly proves, doesn't exist outside of a political and economic context.
But even if smartness can be measured as an abstract quantity and if we are "smarter" than those of times past, to what end? This is the phrase I found myself writing over and over in the margin of your book. Is there a concrete result in this world of our being better at standardized tests? Sure, it's interesting that we seem to be smarter, but what does that mean for us? Maybe the weakest part of your book argues that we're now able to do a better job of picking political leaders. Are you living in the same country I'm living in? and watching the same elections? If we get any smarter, we'll all be done for.
I'll grant that you didn't have political intentions in writing this, but the ramifications are there, and need to be explored if we're going to seriously engage with your ideas. Technology – the application of science to the world in which we live – can't exist in an economic and political vacuum.
Posted by dan visel at 04:18 PM | Comments (9)
Folks, enjoying the discussion here. I had a couple of responses to several points that have been raised.
1. The title. I think some of you are taking it a little too seriously -- it's meant to be funny, not a strict statement of my thesis. Calling it hyperbolic or misleading is like criticizing Neil Postman for calling his book "Amusing Ourselves To Death" when no one actually *died* from watching too much television in the early eighties.
2. IQ. As I say in the book, we don't really know if the increased complexity of the culture is partially behind the Flynn Effect, though I suspect it is (and Flynn, for what it's worth, suspects it is as well.) But I'm not just interested in IQ as a measure of the increased intelligence of the gaming/net generation. I focused on that because it was the one area where there was actually some good data, in the sense that we definitely know that IQ scores are rising. But I suspect that there are many other -- potentially more important -- ways in which we're getting smarter as well, most of which we don't test for. Probably the most important is what we sometimes call system thinking: analyzing a complex system with multiple interacting variables changing over time. IQ scores don't track this skill at all, but it's precisely the sort of thing you get extremely good at if you play a lot of SimCity-like games. It is not a trivial form of intelligence at all -- it's precisely the *lack* of skill at this kind of thinking that makes it hard for people to intuitively understand things like ecosystems or complex social problems.
3. The focus of the book itself. People seem to have a hard time accepting the fact that I really do think the content/values discussion about pop culture has its merits. I just chose to write a book that would focus on another angle, since it was an angle that was chronically ignored in the discussion of pop culture (or chronically misunderstood.) Everything Bad is not a unified field theory of pop culture; it's an attempt to look at one specific facet of the culture from a fresh perspective. If Bob (and others) end up responding by saying that the culture is both making us smarter on a cognitive level, but less wise on a social/historical level (because of the materialism, etc) that's a perfectly reasonable position to take, one that doesn't contradict anything I'm saying in the book. I happen to think that -- despite that limited perspective -- the Sleeper Curve hypothesis was worthy of a book because 1) increased cognitive complexity is hardly a trivial development, and 2) everyone seemed to think that the exact opposite was happening, that the culture was dumbing us all down. In a way, I wrote the book to encourage people to spend their time worrying about real problems -- instead of holding congressional hearings to decide if videogames were damaging the youth of American, maybe they could focus on, you know, poverty or global warming or untangling the Iraq mess.
As far as the materialistic values question goes, I think it's worth pointing out that the most significant challenge to the capitalist/private property model to come along in generations has emerged precisely out of the gaming/geek community: open source software, gift economy sharing, wikipedia, peer-to-peer file sharing, etc. If you're looking for evidence of people using their minds to imagine alternatives to the dominant economic structures of their time, you'll find far more experiments in this direction coming out of today's pop culture than you would have in the pop culture of the late seventies or eighties. Thanks to their immersion this networked culture, the "kids today" are much more likely to embrace collective projects that operate outside the traditional channels of commercial ownership. They're also much more likely to think of themselves as producers of media, sharing things for the love of it, than the passive TV generation that Postman chronicled. There's still plenty of mindless materialism out there, of course, but I think the trend is a positive one.
Steven
Posted by steven johnson at 10:39 AM | Comments (2)
Microsoft's forthcoming "MSN Book Search" is the latest entity to join the Open Content Alliance, the non-controversial rival to Google Print. ZDNet says: "Microsoft has committed to paying for the digitization of 150,000 books in the first year, which will be about $5 million, assuming costs of about 10 cents a page and 300 pages, on average, per book..."
Apparently having learned from Google's mistakes, OCA operates under a strict "opt-in" policy for publishers vis-a-vis copyrighted works (whereas with Google, publishers have until November 1 to opt out). Judging by the growing roster of participants, including Yahoo, the National Archives of Britain, the University of California, Columbia University, and Rice University, not to mention the Internet Archive, it would seem that less hubris equals more results, or at least lower legal fees. Supposedly there is some communication between Google and OCA about potential cooperation.
Also story in NY Times.
Posted by ben vershbow at 09:06 AM | Comments (2)
For decades now, hypertext guru Ted Nelson has slipped in and out of public awareness, often left for dead or permanently exiled in Xanadu, only to re-emerge suddenly in a wonderful burst of curmudgeonly dissent. A recent Slashdot thread discusses his latest project, or more accurately, the latest stage in his ongoing quest: transliterature, "a humanist format for re-usable documents and media," or, an alternative to the constricting protocols of the world wide web. What exactly will this new format entail? It's hard to tell. But Nelson's plea is worth heeding:
The tekkies have hijacked literature- with the best intentions, of course!-) - but now the humanists have to get it back. Nearly every form of electronic document- Word, Acrobat, HTML, XML- represents some business or ideological agenda. Many believe Word and Acrobat are out to entrap users; HTML and XML enact a very limited kind of hypertext with great internal complexity. All imitate paper and (internally) hierarchy. I propose a different document agenda: I believe we need new electronic documents which are transparent, public, principled, and freed from the traditions of hierarchy and paper. In that case they can be far more powerful, with deep and rich new interconnections and properties- able to quote dynamically from other documents and buckle sideways to other documents, such as comments or successive versions; able to present third-party links; and much more. Most urgently: if we have different document structures we can build a new copyright realm, where everything can be freely and legally quoted and remixed in any amount without negotiation.
Nelson is always given a nod as the coiner of "hypertext", but his other concepts -- "transclusion", "virtual rearrangement", "clinks," for example -- are largely dismissed, or simply unknown to most people. But elements of his thinking can be observed far and wide in some of the emerging practices -- blogging, wikis, APIs -- of what people are calling "Web 2.0", or, the web as operating system. Over the past few years, the web has transformed from an interlinked series of brochures into a massive hypertext conversation, a platform in which we are increasingly able to weave, quote and track back to other documents. This is at least in the neighborhood of what Nelson is talking about.
Granted, the microeconomy of quotation (transclusion) that Nelson envisions has not yet materialized, but that may only be because he is thinking so far ahead of his time. Staying focused on the present, it's worth taking a look at what is developing with online advertising. Keyword ads, Google's "AdSense", Amazon's web services, and even voluntary donation models like PayPal tip jars -- couldn't you say these are the humble foundations of an online micropayment economy? The explosion of electronic self-publishing has not as yet produced an equivelant commercial rigging, but with blogging now accepted as an important medium, that could soon change.
The next generation of publishing software may include a more robust infrastructure that could support some kind of quotation or cross-referencing economy. Right now, the few blogs that make money do so by encrusting themselves with ads. Advertisers will buy space if the site can demonstrate impressive traffic stats. But doesn't this all sort of skirt around the edge of what makes blogging exciting and influential? What if talented bloggers could earn money when significant portions of their writing were quoted?
You can already quote images, video and sound in the way Nelson dreams of quoting text: by loading it remotely, i.e. from another location on the internet. Of course, there is no microtransaction infrastructure in place. It's much more roughshod than that. You simply pull html from the source site, or embed the file's address in a media player, and plug it in your page. That's how I've transcluded John Ashbery reading his poem "The Tennis Court Oath" (source - ubuweb):
There's still a long way to go, but the points of contact with Nelson's theories are many. For me, it's his humanist philosophy, more than the fuzzy mechanics of his proposed system, that is most inspiring. There's a generosity, an understanding of the interdependency of form and content, that is conspicuously absent in the prevailing tekkie culture. Perhaps the thinker closest of kin to Nelson was Jef Raskin, whose work on the humane interface is founded on many of the same convictions about usability and connectedness. I also find there's a kind of poetry in Nelson's dream of a literary hypertext economy, captured not only in his writings but in his frayed, manic illustrations (transquoted here):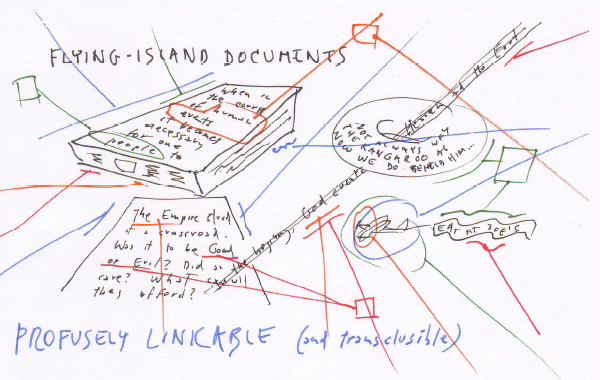 I think he's a kindred spirit of the institute too. Here's Nelson on electronic literature (sadly, not transquoted, just cut-and-paste):
What is literature? Literature is (among other things) the study and design of documents, their structure and connections. Therefore today's electronic documents are literature, electronic literature, and the question is what electronic literature people really need.

Electronic literature should belong to all the world, not just be hoarded by a priesthood, and it should do what people need in order to organize and present human ideas with the least difficulty in the richest possible form.

A document is not necessarily a simulation of paper. In the most general sense, a document is a package of ideas created by human minds and addressed to human minds, intended for the furtherance of those ideas and those minds. Human ideas manifest as text, connections, diagrams and more: thus how to store them and present them is a crucial issue for civilization.

The furtherance of the ideas, and the furtherance of the minds that present them and take them in, are the real objectives. And so what is important in documents is the expression, reception and re-use of ideas. Connections, annotations, and most especially re-use-- the traceable flow of content among documents and their versions-- must be our central objectives, not the simulation of paper.
Posted by ben vershbow at 03:03 PM | Comments (2)
in 1980 and 81 i had a dream job — charlie van doren, the editorial director of Encyclopedia Britannica, hired me to think about the future of encyclopedias in the digital era.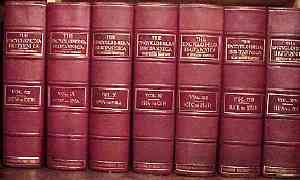 i parlayed that gig into an eighteen-month stint with Alan Kay when he was the chief scientist at Atari. Alan had read the paper i wrote for britannica — EB and the Intellectual Tools of the Future — and in his enthusiastic impulsive style, said, "this is just the sort of thing i want to work on, why not join me at Atari."
while we figured that the future encyclopedia should at the least be able to answer most any factual question someone might have, we really didn't have any idea of the range of questions people would ask. we reasoned that while people are curious by nature, they fall out of the childhood habit of asking questions about anything and everything because they get used to the fact that no one in their immediate vicinity actually knows or can explain the answer and the likelihood of finding the answer in a readily available book isn't much greater.
so, as an experiment we gave a bunch of people tape recorders and asked them to record any question that came to mind during the day — anything. we started collecting question journals in which people whispered their wonderings — both the mundane and the profound. michael naimark, a colleague at Atari was particularly fascinated by this project and he went to the philippines to gather questions from a mountain tribe.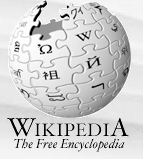 anyway, this is a long intro to the realization that between wikipedia and google, alan's and my dream of a universal question/answer machine is actually coming into being. although we could imagine what it would be like to have the ability to get answers to most any question, we assumed that the foundation would be a bunch of editors responsible for the collecting and organizing vast amounts of information. we didnt' imagine the world wide web as a magnet which would motivate people collectively to store a remarkable range of human knowledge in a searchable database.
on the other hand we assumed that the encylopedia of the future would be intelligent enough to enter into conversation with individual users, helping them through rough spots like a patient tutor. looks like we'll have to wait awhile for that.
Posted by bob stein at 10:16 AM | Comments (0)
Wired has a piece today about authors who are in favor of Google's plans to digitize millions of books and make them searchable online. Most seem to agree that obscurity is a writer's greatest enemy, and that the exposure afforded by Google's program far outweighs any intellectual property concerns. Sometimes to get more you have to give a little.
The article also mentions the institute.
Posted by ben vershbow at 09:25 AM | Comments (0)
Responding to Bob's "games provide much more than a cognitive workout"...
Growing up in the 80s, video games were much less sophisticated and probably less effective as a matrix for training consumption. TV performed that role. I remember watching on Nickelodeon competitions between children in a toy store in which each contestant had 60, or 120 seconds to fill a shopping cart with as many toys as they possibly could. The winner -- whoever had managed to grab the most -- got to keep the contents of their cart. The physical challenge of the game was obvious. You could even argue that it presented a cognitive challenge insofar as you had to strategize the most effective pattern through the aisles, balancing the desirability of toys with their geometric propensity to fly off the shelves quickly. But did that excuse the game ethically?
I've played a bit of Katamari lately and have enjoyed it. It's a world charged with static electricity, everything sticks. Each object has been lovingly rendered in its peculiarity and stubbornness. If your katamari picks up something long and narrow, say, a #2 pencil, and attaches to it in such a way that it sticks out far from the clump, it will impede your movement. Each time the pencil hits the ground, you have to kind of pole vault the entire ball. It's not hard to see how the game trains visual puzzle-solving skills, sensitivity to shape, spatial relationships (at least virtual ones), etc.
That being said, I agree with Bob and Rylish that there is an internal economy at work here that teaches children to be consumers. A deep acquisition anxiety runs through the game, bringing to mind another Japanese pop phenom: Pokémon. Pokémon (called "Pocket Monsters" in Japan) always struck me as particularly insidious, far more predatory than anything I grew up with, because its whole narrative universe is based on consumption. "Collect 'em all" is not just the marketing slogan for spinoff products, but the very essence of the game itself. The advertising is totally integrated with the story. Here's Wikipedia (not a bad source for things like this) on how it works:
"The Pokémon games are role-playing games with a strategy element which allow players to catch, collect, and train pets with various abilities, and battle them against each other to build their strength and evolve them into more powerful Pokémon. Pokémon battles are based on the non-lethal Eastern sport of fighting insects, but the Pokémon never bleed or die, only faint. The game's catchphrase used to be "Gotta catch 'em all!", although now it is no longer officially used."
Similarly, the Katamari backstory involves the lord of the universe getting drunk one night and shattering the solar system. Each level of the game is the reassembly of a star or planet. If you succeed, a heavenly body is restored to the firmament.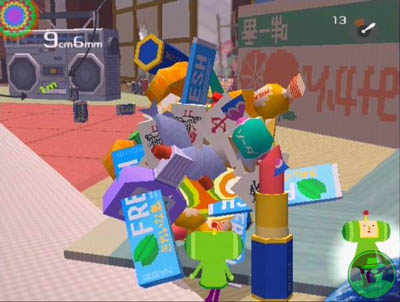 After an hour playing Katamari, having traversed a number of wildly imaginative landscapes (and having absorbed a soundtrack that can only be described as Japanese chipmunks on nitrous) I re-enter the actual world in a mildly fevered state. The cardinal rule in the game is that to succeed I must devour as much as possible. No time is afforded to savor the strange, psychedelic topography, to examine the wonderful array of objects (everything from thumbtacks to blue whales) scattered about in my path. Each stage is a terrain that must be gobbled up, emptied. A throbbing orb of light in the upper left corner of the screen, set within concentric rings representing target diameters, measures my progress toward the goal: a katamari "n" meters in size. The clock in the upper right corner pressures me to keep rolling.
Video games today may not be as blatant as the consumerist spectacle of the Nickelodeon game, and they may provide richly textured worlds posing greater problem-solving challenges than any electronic media that has preceded them. But it seems to me that many of them do not differ ideologically from that shopping cart contest.
Posted by ben vershbow at 08:02 AM | Comments (4)
The Washington Post has run a pair of op-eds, one from each side of the Google Print dispute. Neither says anything particularly new. Moreover, they enforce the perception that there can be only two positions on the subject -- an endemic problem in newspaper opinion pages with their addiction to binaries, where two cardboard boxers are allotted their space to throw a persuasive punch. So you're either for Google or against it? That's awfully close to you're either for technology -- for progress -- or against it. Unfortunately, like technology's impact, the Google book-scanning project is a little trickier to figure out, and a more nuanced conversation is probably in order.
The first piece, "Riches We Must Share...", is submitted in support of Google by University of Michigan President Sue Coleman (a partner in the Google library project). She argues that opening up the elitist vaults of the world's great (english) research libraries will constitute a democratic revolution. "We believe the result can be a widening of human conversation comparable to the emergence of mass literacy itself." She goes on to deliver some boilerplate about the "Net Generation" -- too impatient to look for books unless they're online etc. etc. (great to see a major university president being led by the students instead of leading herself).
Coleman then devotes a couple of paragraphs to the copyright question, failing to tackle any of its controversial elements:
Universities are no strangers to the responsible management of complex copyright, permission and security issues; we deal with them every day in our classrooms, libraries, laboratories and performance halls. We will continue to work within the current criteria for fair use as we move ahead with digitization.
The problem is, Google is stretching the current criteria of fair use, possibly to the breaking point. Coleman does not acknowledge or address this. She does, however, remind the plaintiffs that copyright is not only about the owners:
The protections of copyright are designed to balance the rights of the creator with the rights of the public. At its core is the most important principle of all: to facilitate the sharing of knowledge, not to stifle such exchange.
All in all a rather bland statement in support of open access. It fails to weigh in on the fair use question -- something about which the academy should have a few things to say -- and does not indicate any larger concern about what Google might do with its books database down the road.
The opposing view, "...But Not at Writers' Expense", comes from Nick Taylor, writer, and president of the Authors' Guild (which sued Google last month). Taylor asserts that mega-rich Google is tramping on the dignity of working writers. But a couple of paragraphs in, he gets a little mixed up about contemporary publishing:
Except for a few big-name authors, publishers roll the dice and hope that a book's sales will return their investment. Because of this, readers have a wealth of wonderful books to choose from.
A dubious assessment, since publishing conglomerates are not exactly enthusiastic dice rollers. I would counter that risk-averse corporate publishing has steadily shrunk the number of available titles, counting on a handful of blockbusters to drive the market. Taylor goes on to defend not just the publishing status quo, but the legal one:
Now that the Authors Guild has objected, in the form of a lawsuit, to Google's appropriation of our books, we're getting heat for standing in the way of progress, again for thoughtlessly wanting to be paid. It's been tradition in this country to believe in property rights. When did we decide that socialism was the way to run the Internet?
First of all, it's funny to think of the huge corporations that dominate the web as socialist. Second, this talk about being paid for appropriating books for a search database is revealing of the two totally different worldviews that are at odds in this struggle. The authors say that any use of their book requires a payment. Google sees including the books in the database as a kind of payment in itself. No one with a web page expects Google to pay them for indexing their site. They are grateful that they do! Otherwise, they are totally invisible. This is the unspoken compact that underpins web search. Google assumed the same would apply with books. Taylor says not so fast.
Here's Taylor on fair use:
Google contends that the portions of books it will make available to searchers amount to "fair use," the provision under copyright that allows limited use of protected works without seeking permission. That makes a private company, which is profiting from the access it provides, the arbiter of a legal concept it has no right to interpret. And they're scanning the entire books, with who knows what result in the future.
Actually, Google is not doing all the interpreting. There is a legal precedent for Google's reading of fair use established in the 2003 9th Circuit Court decision Kelly v. Arriba Soft. In the case, Kelly, a photographer, sued Arriba Soft, an online image search system, for indexing several of his photographs in their database. Kelly believed that his intellectual property had been stolen, but the court ruled that Arriba's indexing of thumbnail-sized copies of images (which always linked to their source sites) was fair use: "Arriba's use of the images serves a different function than Kelly's use – improving access to information on the internet versus artistic expression." Still, Taylor's "with who knows what result in the future" concern is valid.
So on the one hand we have many writers and most publishers trying to defend their architecture of revenue (or, as Taylor would have it, their dignity). But I can't imagine how Google Print would really be damaging that architecture, at least not in the foreseeable future. Rather it leverages it by placing it within the frame of another architecture: web search. The irony for the authors is that the current architecture doesn't seem to be serving them terribly well. With print-on-demand gaining in quality and legitimacy, online book search could totally re-define what is an acceptable risk to publishers, and maybe more non-blockbuster authors would get published.
On the other hand we have the universities and libraries participating in Google's program, delivering the good news of accessibility. But they are not sufficiently questioning what Google might do with its database down the road, or the implications of a private technology company becoming the principal gatekeeper of the world's corpus.
If only this debate could be framed in a subtler way, rather than the for-Google-or-against-it paradigm we have now. I'm cautiously optimistic about the effect of having books searchable on the web. And I tend to believe it will be beneficial to authors and publishers. But I have other, deep reservations about the direction in which Google is heading, and feel that a number of things could go wrong. We think the cencorship of the marketplace is bad now in the age of publishing conglomerates. What if one company has total control of everything? And is keeping track of every book, every page, that you read. And is reading you while you read, throwing ads into your peripheral vision. I'm curious to hear from readers what they feel could be the hazards of Google Print.
Posted by ben vershbow at 05:53 PM | Comments (4)
games may be helping to raise raw IQ scores, but much more importantly they also also reinforce the dominant culture's norms of material rewards and consumerism and one of the most interesting games of the past year, katamari damacy, praised for being both witty and non-violent, basically rewards players for consuming as much material goods possible.
the following is slightly edited analysis of the game by rylish moeller, an english prof who is very active on the techrhet listserv.
katamari damacy is an extraordinarily interesting game. the game's lead designer had as one of his top goals to "make a game that would appeal to people who have become disillusioned with recent games and rekindle their passion." for more, read the game's postmortem in the december 2004 issue of gamedeveloper. my point is that most games support models of consumerism and monopoly capital through internal economies (collecting stuff, money, power-ups, etc.), gameplay (viewing objects and people as consumables as in katamari), and even at meta-levels such as this one where the lead developer wishes to rekindle lost passion for consuming (er, playing) games. while this doesn't really surprise me, i am surprised that when we discuss what we learn by playing games, we are not (often) discussing these very interesting, ideological issues that stem from the very social relationships and cultures of production that engender the games in the first place, those that we willingly subject ourselves to as we play.

but katamari is an interesting game to discuss since it calls issues like consumerism and environmentalism to the foreground in a very overt sort of way. in another revealing comment, the game's developer (keita takahashi) hopes that this game will motivate other developers to "create something new, without focusing on the bottom line for once." so, we cannot really discuss games and learning and literacy without spending some time grounding that conversation in the economic and cultural environments which drive game production. my worry is not that games are too complicated or too violent or too masculine or too racist but that they are these things in order to perpetuate consumerism.
note: the point of this is not to trash katamari damacy or games in general, but rather to point out that while IQ is possibly being raised, other perhaps more significant lessons are being learned as well.
Posted by bob stein at 03:46 PM | Comments (1)
A week after the May 9 debut of The Huffington Post, Nikki Finke delivered this bitter assessment in LA Weekly:
Judging from Monday's horrific debut of the humongously pre-hyped celebrity blog the Huffington Post, the Madonna of the mediapolitic world has undergone one reinvention too many. She has now made an online ass of herself. What her bizarre guru-cult association, 180-degree right-to-left conversion, and failed run in the California gubernatorial-recall race couldn't accomplish, her blog has now done: She is finally played out publicly. This website venture is the sort of failure that is simply unsurvivable. Her blog is such a bomb that it's the movie equivalent of Gigli, Ishtar and Heaven's Gate rolled into one. In magazine terms, it's the disastrous clone of Tina Brown's Talk, JFK Jr.'s George or Maer Roshan's Radar.
Finke was not alone in her prediction of disaster. And at the time, it wasn't so unreasonable to suspect Arianna Huffington's experiment with celebrity group blogging might crash and burn spectacularly (The Guardian ran a very funny satire in anticipation). But by now it's clear that not only are reports of Huffington's death greatly exaggerated, but that something of value has been created.
The site is getting a load of traffic (a million and a half a month as of September, probably significantly more by now). As expected, it is snarky, eclectic and irreverant. What's surprising is that Huffington's rolodex of 250-plus occasional bloggers has managed to fill it with serious, thoughtful discussion. Many of the biggest names have failed to make much use of their soapbox (Norman Mailer has posted twice, Ellen Degeneres only once (about horses), both at the beginning of the run). What has built the site into a popular daily destination is not the promise of star-spun wisdom, but the insight provided by the more dedicated bloggers, many of them lesser-known figures with a great deal of expertise in a given area. What you end up with is a nice mix of opinion, satire, gossip, and serious analysis of current events -- a kind of heightened public square.
In yesterday's Washington Post, against the steady hum of online intrigue about Judy "run-amok" Miller, and the sound of millions of nails being gnawed in anticipation of what hopes to be a major league indictment of Rove and/or Libby, the afore-mentioned Tina Brown observed:
For Arianna Huffington, the Miller story has been to her newly birthed blog, the Huffington Post, a miniature version of what O.J. Simpson was to cable news.
And she's right. Over this past week, something seems to have crystallized. Amidst all the head-scratching following the Times' marathon coverage of the Judith Miller imbroglio this Sunday, the bloggers, not the press, have done the better job of cutting through the fog, or at the very least, of keeping our sights on the big picture. The Huffington Post has been particularly on the ball, with Arianna leading the way.
The big picture, of course, is that we are at war. And that The New York Times -- the supposed "paper of record" -- allowed itself to become part of the propaganda campaign that put us there. It's the story of an entire news organization that, through one misguided reporter, got too "embedded" with its sources and totally lost its perspective. This is not the self-contained sort of scandal we saw with Jayson Blair. Nor is it really about some high-minded cause: the right to maintain confidentiality of sources. This is about the lies that led to war.
Unfortunately, we probably know less now about what happened with Judith Miller than we did before she delivered her mystifying testimonial on Sunday (aspens! clusters!). But the rigorous work-through the story has received around the blogosphere, and from a handful of columnists in the mainstream press, has defined the larger moral frame, keeping the democratic stakes appropriately high (hopes that the Democrats themselves might do the same will almost surely be disappointed).
In an interview with Wired last month, Huffington described what she sees as the problem with cable and online news coverage (increasingly one in the same):
The problem isn't that the stories I care about aren't being covered, it's that they aren't being covered in the obsessive way that breaks through the din of our 500-channel universe. Because those 500 channels don't mean we get 500 times the examination and investigation of worthy news stories. It often means we get the same narrow, conventional-wisdom wrap-ups repeated 500 times. Paradoxically, in these days of instant communication and 24-hour news channels, it's actually easier to miss information we might otherwise pay attention to. That's why we need stories to be covered and re-covered and re-re-covered and covered again -- until they filter up enough to become part of the cultural bloodstream.
The Judygate re-re-coverage on H. Post and throughout the blogosphere emphasizes the redefinition of the news as a two-way medium. The readers are now a major part of the process. What Huffington has done is to aggregate some of the more interesting readers.
Posted by ben vershbow at 08:18 AM | Comments (0)
Speaking of aggregating blog commentary on the Judy Miller intrigue, Open Source's Monday podcast, "Getting Judith Miller" (listen), aggregates the bloggers themselves in a rigorous discussion of the "inexplicable gaps" in the Times' self-investigation, placing it in the larger context of the war, the state of journalism, and American democracy in crisis. Guests include Jay Rosen (Press Think), Ariana Huffington (Huffington Post), Josh Marshall (Talking Points Memo, TPM Cafe), and Kevin Drum (Political Animal). A great example of the kind of triangulation Bob was talking about earlier, in this case, a radio show, drawing its material and voices from the web like a hurricane pulls its fury from a warm ocean.
(Drawing from the web to discuss the world is what Open Source is all about. Highly recommended.)
Posted by ben vershbow at 08:58 PM | Comments (0)
Some selected quotes along with a few fragmented thoughts on Meet the Life Hackers, an article in this Sunday's New York Times Magazine which profiles the "nascent field of interruption science."
"Information is no longer a scarce resource - attention is."

"The reason many interruptions seem impossible to ignore is that they are about relationships - someone, or something, is calling out to us. It is why we have such complex emotions about the chaos of the modern office, feeling alternately drained by its demands and exhilarated when we successfully surf the flood."
Interesting to consider how electronic books are incorporating this relationship-oriented attention-demanding phenomenon. Blogs and wikis (new book forms in my opinion) are built through social interaction. And the compulsion to write and/or check a blog is based on a very human craving for feedback and interaction.
"In fairness, I think we bring some of this on ourselves," says Merlin Mann, the founder of the popular life-hacking site 43folders.com. "We'd rather die than be bored for a few minutes, so we just surround ourselves with distractions. We've got 20,000 digital photos instead of 10 we treasure. We have more TV Tivo'd than we'll ever see." In the last year, Mann has embarked on a 12-step-like triage: he canceled his Netflix account, trimmed his instant-messaging "buddy list" so only close friends can contact him and set his e-mail program to bother him only once an hour.
This quote makes me think of Bob's criticism of Steven Johnson's book. Maybe the increasing complexity of media is merely forcing us to develop more sophisticated coping mechanisms, which Johnson is mistaking for smarts. Also makes me think that the orientation of digital media is toward a pack-rat mentality—stockpile everything just because you can. I wonder if this erodes critical faculties and if, in the long run, are we going to treat the stockpile as I did my grandmother's hoarded newspapers--10 years worth piled up in her basement—as garbage. How much of this stuff can we jettison in order to get to what is important?
Linda Stone, the software executive who has worked alongside the C.E.O.'s of both Microsoft and Apple, argues that we have shifted eras in computing. Now that multitasking is driving us crazy, we treasure technologies that protect us…In our new age of overload, the winner is the technology that can hold the world at bay.
Wouldn't it be funny if, say a hundred years from now, when all the books are Googlized and our grand libraries are re-purposed as high-end condominiums, if one of those interruption scientists figures out that the best technology for holding the world at bay is printed on paper and delivered in a nice quiet codex format?
Posted by Kim White at 09:22 AM | Comments (3)
This time by publishers. Penguin Group USA, McGraw-Hill, Pearson Education, Simon & Schuster and John Wiley & Sons. The gripe is the same as with the Authors' Guild, which filed suit last month alleging "massive copyright infringement." Publishers fear a dangerous precedent is set by Google's scanning of books to construct what amounts to a giant card catalogue on the web. Google claims "fair use" (see rationale), again pointing out that for copyrighted works only tiny "snippets" of text are displayed around keywords (though perhaps this is not yet fully in effect - I was searching around in this book and was able to look at quite a lot).
Google calls the publishers' suit "near-sighted." And it probably is. The benefit to readers and researchers will be tremendous, as will (Google is eager to point out) the exposure for authors and publishers. But Google Print is undoubtedly an earth-shaking program. Look at the reaction in Europe, where alarm bells rung by France warned of cultural imperialism, an english-drenched web. Heads of state and culture convened and initial plans for a European digital library have been drawn up.
What the transatlantic flap makes clear is that Google's book scanning touches a deep nerve, and the argument over intellectual property, signficant though it is, distracts from a more profound human anxiety -- an anxiety about the form of culture and the shape of thoughts. If we try to grope back through the millennia, we can find find an analogy in the invention of writing.
The shift from oral to written language froze speech into stable strings that could be transmitted and stored over distance and time. This change not only affected the modes of communication, it dramatically refigured the cognitive makeup of human beings (as McLuhan, Ong and others have described). We are currently going through another such shift. The digital takes the freezing medium of text and throws it back into fluidity. Like the melting of polar ice caps, it unsettles equilibriums, changes weather patterns. It is a lot to adjust to, and we wonder if our great-great-grandchildren will literally think differently from us.
But in spite of this disorienting new fluidity, we still have print, we still have the book. And actually, Google Print in many ways affirms this since its search returns will point to print retailers and brick-and-mortar libraries. Yet the fact remains that the canon is being scanned, with implications we can't fully perceive, and future uses we can't fully predict, and so it is understandable that many are unnerved. The ice is really beginning to melt.
In Phaedrus, Plato expresses a similar anxiety about the invention of writing. He tells the tale of Theuth, an Egyptian deity who goes around spreading the new technology, and one day encounters a skeptic in King Thamus:
...you who are the father of letters, from a paternal love of your own children have been led to attribute to them a power opposite to that which they in fact possess. For this discovery of yours will create forgetfulness in the minds of those who learn to use it; they will not exercise their memories, but, trusting in external, foreign marks, they will not bring things to remembrance from within themselves. You have discovered a remedy not for memory, but for reminding. You offer your students the appearance of wisdom, not true wisdom. They will be hearers of many things and will have learned nothing; they will appear to be omniscient and will generally know nothing; they will be tiresome company, having the show of wisdom without the reality.
As I type, I'm exhibiting wisdom without the reality. I've read Plato, but nowhere near exhaustively. Yet I can slash and weave texts on the web in seconds, throw together a blog entry and send it screeching into the commons. And with Google Print I can get the quote I need and let the rest of the book rot behind the security fence. This fluidity is dangerous because it makes connections so easy. Do we know what we are connecting?
Posted by ben vershbow at 08:08 AM | Comments (5)
in a guest post entitled "The Era of Omniscience is Over" on jay rosen's superb PressThink blog, Andrew Heyward, the President of CBS News acknowledges three crucial truths that need to be acknowledged:
Truth is a Plural
Yes to Point of View Journalism
News Has An Authenticity Problem
Of course these are things that practitioners and followers of the blogosphere have understood for awhile. But it's earthshaking to see a representative of such an august mainstream media organization admit them publicly. Wonder if he'll be able to shepherd any real change at CBS news?
Posted by bob stein at 09:19 PM | Comments (0)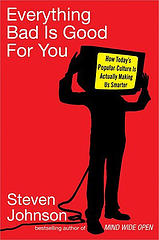 it's taken me awhile to write the second installment of this critique (part 1 here) because i've been wrestling with how to expand the terms of the discussion. i've been reading the various reviews and discussions and even listened to the recent MIT symposium on the book. all of the critical energy is spent asking whether the conclusion — that modern electronic media is raising IQ and certain problem-solving skills— is based on thorough or good science; if it's "true" or not.
whether people end up believing that Johnson is 10, 20, 30, 70 or 90 percent right about the effect of media on IQ and problem-solving skills, they mostly accept his boundaries of the subject. i seem to be coming at it from another direction. the problem for me isn't Johnson's conclusion which i think is "sorta correct' but rather that by defining the question of media's impact so narrowly the overall effect of his argument is to turn people away from much deeper questions about the role of media in shaping how we see the world and how we behave in it.
i believe that the shallowness of the debate around Johnson's book is an excellent example of ways in which the effect of popular media has indeed been "bad" for us, not good. whether our IQs have gone up or not, the failure of most television and games to deal with moral complexity and the increasing tendency of TV news to entertain rather than inform have had made other more significant changes in our behavior — most significantly we are increasingly unable or resistant to look deeply and all-sidedly into important questions.
more tomorrow.
Posted by bob stein at 08:44 AM | Comments (5)
Take a look at this: the Times has put up a page with links to prominent posts around the blogosphere that analyze its reporting on the Judith Miller story.
Bob was thinking about this the other day:
"perhaps it would be a good thought experiment to try to come up with interesting ideas of how to organize references on the web to the judith miller situation. how would you present an overview of the references?"
Doing it themselves, I guess the Times figures it can soften the blow. Gutsier, though, would be to place the links directly alongside the article. The Washington Post does this with all its stories in a little Technorati-powered "Who's Blogging?" window.
Posted by ben vershbow at 07:31 AM | Comments (0)
This week Google will be paying a visit to the Frankfurt Book Fair to talk with European publishers and chief librarians (including arch nemesis Jean-Nöel Jeanneney) about eight new local incarnations of Google Print. (more)
Posted by ben vershbow at 08:56 AM | Comments (0)
Discussions about the future of newspapers often allude to a moment in the Steven Spielberg film "Minority Report," set in the year 2054, in which a commuter on the train is reading something that looks like a paper copy of USA Today, but which seems to be automatically updating and rearranging its contents like a web page. This is a comforting vision for the newspaper business: reassigning the un-bottled genie of the internet to the familiar commodity of the broadsheet. But as with most science fiction, the fallacy lies in the projection of our contemporary selves into an imagined future, when in fact people and the way they read may have very much changed by the year 2054.
Being a newspaper is no fun these days. The demand for news is undiminished, but online readers (most of us now) feel entitled to a free supply. Print circulation numbers continue to plummet, while the cost of newsprint steadily rises -- it hovers right now at about $625 per metric ton (according to The Washington Post, a national U.S. paper can go through around 200,000 tons in a year).
Staffs are being cut, hiring freezes put into effect. Some newspapers (The Guardian in Britain and soon the Wall Street Journal) are changing the look and reducing the size of their print product to lure readers and cut costs. But given the rather grim forecast, some papers are beginning to ponder how other technologies might help them survive.
Last week, David Carr wrote in the Times about "an ipod for text" as a possible savior -- a popular, portable device that would reinforce the idea of the newspaper as something you have in your hand, that you take with you, thereby rationalizing a new kind of subscription delivery. This weekend, the Washington Post hinted at what that device might actually be: a flexible, paper-like screen using "e-ink" technology.
An e-ink display is essentially a laminated sheet containing a thin layer of fluid sandwiched between positive and negative electrodes. Tiny capsules of black and white pigment float in between and arrange themselves into images and text through variance in the charge (the black are negatively charged and the white positively charged). Since the display is not light-based (like the electronic screens we use today), it has an appearance closer to paper. It can be read in bright sunlight, and requires virtually no power to maintain an image.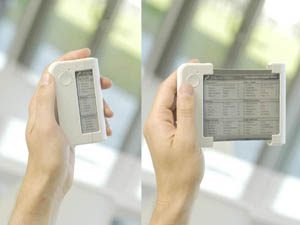 Frank Ahrens, who wrote the Post piece, held a public online chat with Russ Wilcox, the chief exec of E Ink Corp. Wilcox predicts that large e-ink screens will be available within a year or two, opening the door for newspapers to develop an electronic product that combines web and broadsheet. Even offering the screens to subscribers for free, he calculates, would be more cost-efficient than the current paper delivery system.
A number of major newspaper conglomerates -- including The Hearst Corporation, Gannett Co. (publisher of USA Today), TOPPAN Printing Company of Japan, and France's Vivendi Universal Publishing -- are interested enough in the potential of e-ink that they have become investors.
But maybe it won't be the storied old broadsheet that people crave. A little over a month ago at a trade show in Berlin, Philips Polymer Vision presented a prototype of its new "Readius" -- a device about the size of a mobile phone with a roll-out e-ink screen. This, too, could be available soon. Like it or not, it might make more sense to watch what's developing with cell phones to get a hint of the future.
But even if electronic paper catches on -- and it seems likely that it, or something similar, will -- I wouldn't count on it to solve the problems of the print news industry. It's often tempting to think of new technologies that fundamentally change the way we operate as simply a matter of pouring old wine into new bottles. But electronic paper will be a technology for delivering the web, or even internet television -- not individual newspapers. So then how do we preserve (or transfer) all that is good about print media, about institutions like the Times and the Post, assuming that their prospects continue to worsen? The answer to that, at least for now, is written in invisible ink.
Posted by ben vershbow at 08:47 AM | Comments (2)
it looks like one hundred years from now history may record that 2005 was the year that big (news) media gave way to the individual voice. the intersection of the ny times/judy miller debacle with the increasing influence of the blogosphere has made us conscious of the major change taking place -- RIGHT NOW.
congressman john conyers wrote today that "I find I learn more reading Arianna, Murray Waas and Lawrence O'Donnell than the New York Times or Washington Post."
wow!
Posted by bob stein at 06:50 PM | Comments (1)
Nicholas Carr, who writes about business and technology and formerly was an editor of the Harvard Business Review, has published an interesting though problematic piece on "the amorality of web 2.0". I was drawn to the piece because it seemed to be questioning the giddy optimism surrounding "web 2.0", specifically Kevin Kelly's rapturous late-summer retrospective on ten years of the world wide web, from Netscape IPO to now. While he does poke some much-needed holes in the carnival floats, Carr fails to adequately address the new media practices on their own terms and ends up bashing Wikipedia with some highly selective quotes.
Carr is skeptical that the collectivist paradigms of the web can lead to the creation of high-quality, authoritative work (encyclopedias, journalism etc.). Forced to choose, he'd take the professionals over the amateurs. But put this way it's a Hobson's choice. Flawed as it is, Wikipedia is in its infancy and is probably not going away. Whereas the future of Britannica is less sure. And it's not just amateurs that are participating in new forms of discourse (take as an example the new law faculty blog at U. Chicago). Anyway, here's Carr:
The Internet is changing the economics of creative work - or, to put it more broadly, the economics of culture - and it's doing it in a way that may well restrict rather than expand our choices. Wikipedia might be a pale shadow of the Britannica, but because it's created by amateurs rather than professionals, it's free. And free trumps quality all the time. So what happens to those poor saps who write encyclopedias for a living? They wither and die. The same thing happens when blogs and other free on-line content go up against old-fashioned newspapers and magazines. Of course the mainstream media sees the blogosphere as a competitor. It is a competitor. And, given the economics of the competition, it may well turn out to be a superior competitor. The layoffs we've recently seen at major newspapers may just be the beginning, and those layoffs should be cause not for self-satisfied snickering but for despair. Implicit in the ecstatic visions of Web 2.0 is the hegemony of the amateur. I for one can't imagine anything more frightening.
He then has a nice follow-up in which he republishes a letter from an administrator at Wikipedia, which responds to the above.
Encyclopedia Britannica is an amazing work. It's of consistent high quality, it's one of the great books in the English language and it's doomed. Brilliant but pricey has difficulty competing economically with free and apparently adequate....

...So if we want a good encyclopedia in ten years, it's going to have to be a good Wikipedia. So those who care about getting a good encyclopedia are going to have to work out how to make Wikipedia better, or there won't be anything.
Let's discuss.
Posted by ben vershbow at 09:00 AM | Comments (5)
these thoughts came immediately after reading the NY Times' sad attempt to explain how the "newspaper of record" managed to lose its integrity.
1. looks to me as if the media (ny times) has become the news and the blogging community are functioning as the real journalists. can anyone reading this blog, who has been following the judith miller situation say they didn't go to the blogosphere today to get a decent handle on how to parse what the Times just did to "cover the Judith Miller" story.
2. i want a juan cole equivalent for the judy miller story; someone who specializes in the working of behind-the-scenes washington and who knows enough about law and history to put each day's events in perpective. at the very least i want someone to present me with the ten most useful accounts on the web so that i can triangulate the problem.
3. perhaps it would be a good thought experiment to try to come up with interesting ideas of how to organize references on the web to the judith miller situation. how would you present an overview of the references?
Posted by bob stein at 09:23 PM | Comments (3)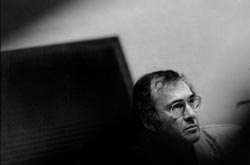 Twice in one year now the Swedish academy has used the Nobel Prize as a political swipe at the Bush administration, first giving the peace medal to Mohamed ElBaradei of the IAEA (a difference of opinion on disarmament, you could say), and today awarding the prize for literature to British playwright Harold Pinter, who in recent years has been a vocal critic of US and British policies, once referring to Tony Blair as a "deluded idiot."
But recent years aside, Pinter undoubtedly deserves the prize for his life's work in the theatre, where he developed a politics far more complex, painful and profound than what is on display in his latter-day fumings (generally right though they may be) about American empire.
In college I acted in one of Pinter's later plays, Ashes to Ashes (1996), a mysterious single act about a marriage in crisis, and a good example of the kind of frightening moral puzzle, encompassing the personal and the political, that Pinter excelled at creating. In a comfortable English living room, in a comfortable English university town, a woman seems to psychically rupture before her husband's eyes, traumatized by events she relates only in part, and which she could not possibly have been alive to experience.
She confesses to having had an affair with the warden of a Nazi death camp, and having lived with him there. She describes the horror of the place, obscenely channeling the Holocaust as a sort of sexual taunt toward her mystified husband, but at the same time communicating her distress at the slow suffocation of their marriage. It is a sickening game, but one they must play in order to cut to the heart of their relationship. Ashes to Ashes is a domestic play, but somehow the entire century speaks through it.
On a more general note, it's encouraging to see a dramatist get recognized on this scale, a statement about the continued relevance, at least in concept, of the theatre -- an unmediated medium in a thoroughly mediated age. It also says something about language. Pinter, whose bleak but darkly humorous sensibilities were formed in bombed-out, post-WWII England, uses language sparely and with scalpel-like precision. Playwright David Hare said of him:
"Pinter did what Auden said a poet should do. He cleaned the gutters of the English language, so that it ever afterwards flowed more easily and more cleanly."
His plays have the ominousness of still water, the words like stones breaking the surface. You have to read and feel the ripples. In an age where mass media, and now the internet, have devalued words, Pinter found a way to make them startling again. He also understands the power of silence.
Elevating Pinter as international spokesman for the left, the Swedes missed the point. His recent protests haven't been terribly interesting or original. But in missing, they still struck gold. All this media attention cannot really convey the power of his plays. Hopefully, this will lead to a reinvigorated interest in producing them. They still speak vitally to our times.
Posted by ben vershbow at 05:08 PM | Comments (2)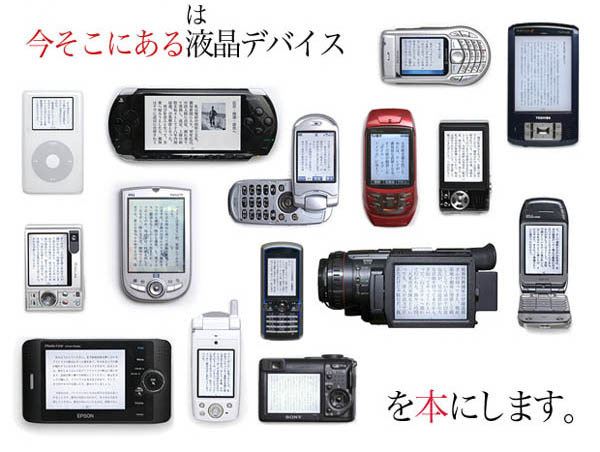 When I ride the subway, I see a mix of paper and plastic. Invariably several passengers are lost in their ipods (there must be a higher ipod-per-square-meter concentration in New York than anywhere else). One or two are playing a video game of some kind. Many just sit quietly with their thoughts. A few are conversing. More than a few are reading. The subway is enormously literate. A book, a magazine, The Times, The Post, The Daily News, AM New York, Metro, or just the ads that blanket the car interior. I may spend a lot of time online at home or at work, but on the subway, out in the city, paper is going strong.
Before long, they'll be watching television on the subway too, seeing as the latest ipod now plays video. But rewind to Monday, when David Carr wrote in the NY Times about another kind of ipod -- one that would totally change the way people read newspapers. He suggests that to bounce back from these troubled times (sagging print circulation, no reliable business model for their websites), newspapers need a new gadget to appear on the market: a light-weight, highly portable device, easy on the eyes, easy on the batteries, that uploads articles from the web so you can read them anywhere. An ipod for text.
This raises an important question: is it all just a matter of the reading device? Once there are sufficient advances in display technology, and a hot new gadget to incorporate them, will we see a rapid, decisive shift away from paper toward portable electronic text, just as we have witnessed a widespread migration to digital music and digital photography? Carr points to a recent study that found that in every age bracket below 65, a majority of reading is already now done online. This is mostly desktop reading, stationary reading. But if the greater part of the population is already sold on web-based reading, perhaps it's not too techno-deterministic to suppose that an ipod-like device would in fact bring sweeping change for portable reading, at least periodicals.
But the thing is, online reading is quite different from print reading. There's a lot of hopping around, a lot of digression. Any new hardware that would seek to tempt people to convert from paper would have to be able to surf the web. With mobile web, and wireless networks spreading, people would expect nothing less (even the new Sony PSP portable gaming device has a web browser). But is there a good way to read online text when you're offline? Should we be concerned with this? Until wi-fi is ubiquitous and we're online all the time (a frightening thought), the answer is yes.
We're talking about a device that you plug into your computer that automatically pulls articles from pre-selected sources, presumably via RSS feeds. This is more or less how podcasting works. But for this to have an appeal with text, it will have to go further. What if in addition to uploading new articles in your feed list, it also pulled every document that those articles linked to, so you could click through to referenced sites just as you would if you were online?
It would be a bounded hypertext system. You could do all the hopping around you like within the cosmos of that day's feeds, and not beyond -- you would have the feeling of the network without actually being hooked in. Text does not take up a lot of hard drive space, and with the way flash memory is advancing, building a device with this capacity would not be hard to achieve. Of course, uploading link upon link could lead down an infinite paper trail. So a limit could be imposed, say, a 15-step cap -- a limit that few are likely to brush up against.
So where does the money come in? If you want an ipod for text, you're going to need an itunes for text. The "portable, bounded hypertext RSS reader" (they'd have to come up with a catchier name --the tpod, or some such techno-cuteness) would be keyed in to a subscription service. It would not be publication-specific, because then you'd have to tediously sign up with dozens of sites, and no reasonable person would do this.
So newspapers, magazines, blogs, whoever, will sign licensing agreements with the tpod folks and get their corresponding slice of the profits based on the success of their feeds. There's a site called KeepMedia that is experimenting with such a model on the web, though not with any specific device in mind (and it only includes mainstream media, no blogs). That would be the next step. Premium papers like the Times or The Washington Post might become the HBOs and Showtimes of this text-ripping scheme -- pay a little extra and you get the entire electronic edition uploaded daily to your tpod.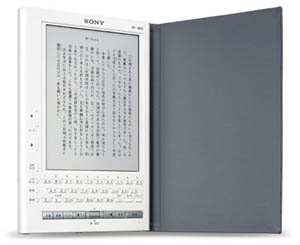 As for the device, well, the Sony Librie has had reasonable success in Japan and will soon be released in the States. The Librie is incredibly light and uses an "e-ink" display that is reflective like paper (i.e. it can be read in bright sunlight), and can run through 10,000 page views on four triple-A batteries.
The disadvantages: it's only black-and-white and has no internet connectivity. It also doesn't seem to be geared for pulling syndicated text. Bob brought one back from Japan. It's nice and light, and the e-ink screen is surprisingly sharp. But all in all, it's not quite there yet.
There's always the do-it-yourself approach. The Voyager Company in Japan has developed a program called T-Time (the image at the top is from their site) that helps you drag and drop text from the web into an elegant ebook format configureable for a wide range of mobile devices: phones, PDAs, ipods, handheld video games, camcorders, you name it. This demo (in Japanese, but you'll get the idea) demonstrates how it works.
Presumably, you would also read novels on your text pod. I personally would be loathe to give up paper here, unless it was a novel that had to be read electronically because it was multimedia, or networked, or something like that. But for syndicated text -- periodicals, serials, essays -- I can definitely see the appeal of this theoretical device. I think it's something people would use.
Posted by ben vershbow at 09:26 AM | Comments (2)
Luther translated the Bible into German so that revelation could be received in the language of the common folk. A similar spirit seems to have moved the Bible Society of Australia, which just translated all 31,173 verses of the of the new and old testaments (Contemporary English Version) into SMS-style english -- the abbreviated patois of mobile phone text messaging. The idea is to enable parents, parishioners and everyday people to send each other bite-sized inspirational verses by phone.
A taste:
In da Bginnin God cre8d da heavens & da earth. Da earth waz barren, wit no 4m of life; it waz unda a roaring ocean cuvred wit dRkness. (Genesis, chapter 1, verses 1-2)

Wrk hard at wateva u do. U will soon go 2 da wrld of da dead, where no 1 wrks or thinks or reasons or knws NEting. (Ecclesiastes, chapter nine, verse 10)
Read more in the Sydney Morning Herald (via textually).
Posted by ben vershbow at 07:40 AM | Comments (0)
We've officially and permanently shut off the trackback function on if:book. We're sad to do it. The idea of trackback is such a good one -- a way to send signals (pings) to other blogs alerting them that one of their posts is being discussed on your site. It ties the blogosphere together, fosters conversations across the web. It was a beautiful dream, but spammers killed it.
Tom Coates pronounced trackback dead back in April, but if:book was only a few months old at the time, still green and optimistic. We were also less known, so spam was only coming in a light sprinkle. Now it's been a month since our last legitimate ping, and the daily dose of spam has grown so large (and so filthy) that it hardly seems worth it to keep the door open. Fewer bloggers are tracking back now anyway since most have accepted that it is a dying practice, or perhaps haven't even heard of it at all.
So trackback is done. I just want to say a few goodbyes...
Goodbye, diet pills.
Goodbye, discount sneakers.
Goodbye, ringtones.
Goodbye, hentai comics.
Goodbye, cheap loans (spelled lones).
Goodbye, online pharmacy.
Goodbye, online casino.
Goodbye, texas holdem.
Goodbye, arbitrage sports betting.
Goodbye, free nude black jack.
Goodbye, rape fantasies.
Goodbye, incest stories.
Goodbye, shemale porn.
Goodbye, animal sex.
Goodbye, gay erotica.
Goodbye, tranny surprise.
Goodbye, sex grannies.
A big middle finger to all of you.
Posted by ben vershbow at 01:20 AM | Comments (0)
Law professors at the University of Chicago have launched an experimental faculty blog to connect with students, the legal community, and the world at large. They've chosen a good moment to jump into the public sphere, when the Supreme Court is in flux. I wouldn't be surprised if this spurred similar developments at other universities.
The University of Chicago School of Law has always been a place about ideas. We love talking about them, writing about them, and refining them through open, often lively conversation. This blog is just a natural extension of that tradition. Our hope is to use the blog as a forum in which to exchange nascent ideas with each other and also a wider audience, and to hear feedback about which ideas are compelling and which could use some re-tooling.
Though a growing number of scholars have embraced blogging, the academy as a whole has been loathe to take treat it as anything more than a dalliance. But a few more high profile moves like the one in Chicago and university boards may start clamoring to jump in. Perhaps then there can begin a serious discussion about legitimizing blogging as a form of scholarly production, and even as a kind of peer review. It's not that all academics should be expected (or should want) to become high-profile public intellectuals. Fundamentally, academic blogging should be considered as an extension of "office hours," a way to extend the dialogue with students and other faculty.
But there's a definite benefit for the public when authoritative voices start blogging about what they know best. It's refreshing to read sober, deeply informed reflections on the Miers nomination and surrounding questions of judicial philosophy written by people who know what they're talking about. It helps us to parse the news and to tune out some of the more worthless punditry that goes on, both in mainstream media and in the blogosphere. Less noise, more signal.
Of course, experts can get noisy too. I was thrilled when Paul Krugman began writing his column for the NY Times -- here was someone with a deep grasp of economics and a talent for explaining it in a political context. But as Krugman's audience has grown, so has his propensity to blow off partisan steam. To me at least, his value as a public intellect has waned.
Posted by ben vershbow at 01:07 PM | Comments (0)
just finished the second book discussion at the institute. first was neil postman's building a bridge to the eighteenth century. second was steve johnson's everything bad is good for you in which johnson presents a contemporary refutation of postman.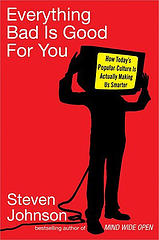 johnson's basic premise seems harmless enough. games and tv drama are getting more layered, more complex. the mental exercise is likely making our brains more nimble, might even be improving our problem-solving skills. OK...
but how can you define good and bad simply in terms of whether one's brain is better at multi-tasking and problem-solving. i'll grant that this shift in raw brain power might make us more effective worker bees for our techno-capitalist society, but it doesn't mean that the substance of our lives or the social fabric is improved.
we don't need cheerleaders telling us everything is fine — especially when in our gut we're pretty sure it isn't. we need to look long and hard at the kind of world we are building with all this technology.
johnson's book has been widely praised, making it all the more important to hold it up to careful scrutiny. over the next several days we're going to launch a serious critique of "everything bad is good for you." please feel encouraged to join in.
Posted by bob stein at 10:31 AM | Comments (4)
Yahoo's revamped news search will present news and blogs side by side on the same page. In addition, the site will feature related images from Flickr, the social photo-sharing site that Yahoo purchased earlier this year, as well as user-contributed links from My Web (a feature that allows you to save and store web pages, and share them with others).
As before, the front news page will promote only stories from mainstream media sources, while the blog-news combo appears on a second-tier page that you arrive at when you conduct a specific search, or click for more details or more stories. No doubt, this was done, at least in part, to mollify angry news outlets who will likely call foul for making hard news share space with blogs. Still, the webscape has changed. All but the most cursory glance at the headlines will yield a richly confusing array of mainstream and grassroots sources.
(thoughtful analysis from Tim Porter)
Posted by ben vershbow at 10:19 AM | Comments (1)
The Chronicle of Higher Education ran a good piece last week by Henry Farrell -- "The Blogosphere As A Carnival of Ideas" -- looking at the small but growing minority of scholars who have become bloggers. Farrell is a poli sci professor at George Washington, and a contributor to the popular group blog Crooked Timber. He argues from experience how blogs have invigorated scholarly exchange within and across fields, allowing for a more relaxed discourse, free of the jargon and stuffy manner of journals. In some cases, blogs have enabled previously obscure academics to break beyond the ivory tower to connect with a large general readership hungry for their insight and expertise.
What Farrell neglects to mention -- which is surprising given the title of the piece -- is the phenomenon of the "blog carnival," an interesting subculture of the web that has been adopted in certain academic, or semi-academic, circles. A blog carnival is like a roving journal, a rotating showcase of interesting writing from around the blogosphere within a particular discipline. Individual bloggers volunteer to host a carnival on their personal blog, acting as chief editor for that edition. It falls to them to collect noteworthy items, and to sort through suggestions from the community, many of which are direct submissions from authors. On the appointed date (carnivals generally keep to a regular schedule) the carnival gets published and the community is treated to a richly annotated feast of new writing in the field.
Granted, not all participating bloggers are academics. Some are students, some simply enthusiasts. Anyone with a serious interest in the given area is usually welcome. Among the more active blog carnivals are Tangled Bank, a science carnival currently in its 38th edition, the Philosophers' Carnival, whose 20th edition was just posted this past Sunday, and the History Carnival, currently in its 17th edition.
Here's a small taste from the most recent offering at History Carnival, hosted by The Apocalyptic Historian:
New Deal liberalism has been on the minds of politicians lately. Hiram Hover posts about the recent talk of New Deal analogies from politicians in deciding how to help the victims of Katrina in "Responding to Katrina: Is History Any Guide?" Caleb McDaniel at Mode for Caleb draws a startling historical parallel between the 1793 yellow fever epidemic in Phildelphia and New Orleans after Katrina in 2005.

In a comparison of another of Bush's crises in the making, Jim MacDonald revisits the history of the Sepoy Rebellion with comments on the current situation in Iraq. Meanwhile Sepoy contributes to a recent attempt to compile the views Westerners have about Islam at Chapati Mystery.

How many times have humans believed the world was coming to an end? Natalie Bennett reviews a recent work on the Anabaptist takeover of Münster in 1534, when the belief in the impending apocalypse sent that city into chaos.
Most carnivals have a central site that indexes links to past editions and provides a schedule of upcoming ones, but the posts themselves exist on the various blogs that comprise the community. Hence the "carnival" -- a traveling festival of ideas, a party that moves from house to house. Participating blogs generally display a badge on their sidebar signaling their affiliation with a particular collective.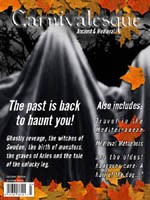 Though carnivals keep to a strict schedule, but there is no mandated format or style. Host bloggers can organize the material however they choose, putting their own personal spin or filter on the current round -- just as long as they stick to the overall topic. The latest issue of Carnivalesque, a monthly circuit on medieval and early modern history, shows how far some hosts will go -- styled as a full magazine, the October issue is complete with a mock cover, a letter from the editor, and links organized by section.
The concept of the carnival seems to have originated in 2002 with "The Carnival of the Vanities," which for a while served as a venue for bloggers to promote their best writing -- a way of fighting the swift sinking of words in a sea of rapidly updating blogs. It's not surprising that the idea was then taken up by academic types, since the carnival model, in its essence, rather jives with the main warranting mechanism of all scholarly publication: peer review. It's a looser, less formal peer review to be sure, but still operates according to the ethos of the self-evaluating collective.
It's worth paying attention to how these carnivals work because they provide at least part of the answer to a larger concern about the web: how to maintain quality and authority in a flood of amateur self-publishing. In the cycle of the carnival, blogging becomes a kind of open application process where your best work is dangled in the path of roving editors. You might say all bloggers are roving editors, but these ones represent an authoritative collective, one with a self-sustaining focus.
So the idea of the carnival, refined and sharpened by academics and lifelong learners, might in fact have broader application for electronic publishing. It happily incorporates the de-centralized nature of the web, thriving through collaborative labor, and yet it retains the primacy of individual voices and editorial sensibilities. Again, you might point out that its formula is far from unique, that this is in fact the procedure of just about any blog: find interesting stuff on the web and link to it with a few original comments. But the carnival focuses this practice into a regular, more durable form, providing an authoritative context that can be counted on week after week, even year after year. Sounds sort of like a magazine doesn't it? But its offices are constantly in flux, its editorial chair a rotating one. I'm interested to see how it evolves. If blogs in cyberspace are like the single-cell organism in the primordial porridge, might the carnival be a form of multi-cell life?
Posted by ben vershbow at 07:18 AM | Comments (7)
Google as big brother -- the paranoia certainly seems to be creeping into the mainstream. "Op-Art" by Randy Siegel from today's NY Times: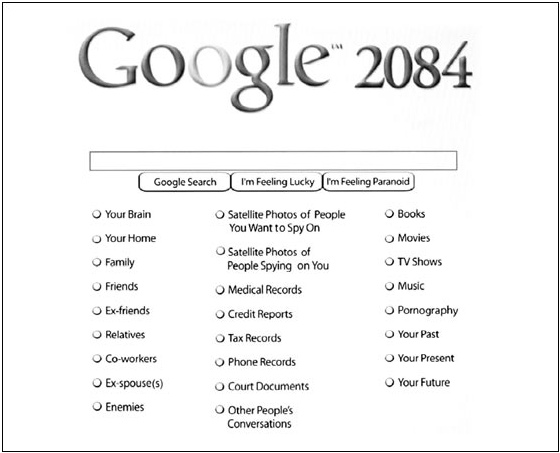 Posted by ben vershbow at 10:06 AM | Comments (0)
The following was posted by Gary Frost as a comment to our post on Neil Postman's "Building a Bridge to the 18th Century." Gary recently returned from the Mississippi coast where he was part of a team helping to assess library and museum damage after Katrina.
The mystic advise that we walk into the darkness. Postman's only qualification is that we do futurism with the right gear. But we cannot wander off into the future with enough AA batteries. An archeologist at the storm damaged Jefferson Davis presidential library greeted me saying; "Welcome to the19th century." He was not kidding. No water, no electricity, no gas, no groceries. He was digging up the same artifacts for the second time in the immense debris fields left by Katrina.
We were driven to a manuscript era and we were invigorated to do our best. Strangely the cell phones worked and we talked to Washington from the 19th century. We asked if the Nation was still interested in the culture of the deep south. Not really, Transformers were at work and in our mobile society the evacuees had left for good. The army trucks were building new roads over the unmarked gravesites of 3000 Confederate veterans, who in their old age, came to Jeff Davis' home to die.
We were left hanging about the future and technologies were a sidebar. It wasn't really important that the 19th century had invented instantaneous communication, digital encoding or photographic representation or that the 21st century was taking the credit for its exploitation of these accomplishments. The gist was that the future deserved to be informed and not deluded. The gist was that the future would be fulfilled as a measure of its use of the accomplishments of a much longer past.
Posted by ben vershbow at 12:30 AM | Comments (1)
It's nice to see that UbuWeb, the great public web library of the avant garde, is back online after "a long summer of rebuilding." At times when the web feels depressingly shallow, Ubu can be the perfect medecine. Among the many masterworks you will find is Samuel Beckett's "Film" (1965), starring a very old Buster Keaton. It's wonderful that anyone can watch this online (I've just spent half an hour in its thrall).


Also worth checking out are /ubu Editions - handsomely designed electronic texts ranging across an interesting selection of poetry, prose and theatre, including Ron Silliman's "The Chinese Notebook," which Dan blogged about a couple weeks back. These, like everything else on Ubu, are free.
Posted by ben vershbow at 01:21 AM | Comments (1)
We were talking yesterday (and Bob earlier) about how to better organize content on if:book - how to highlight active discussion threads, or draw attention to our various categories. Something more dynamic than a list of links on the sidebar, or a bunch of hot threads advertised at the top. A significant problem with blogs is the tyranny of the vertical column, where new entries call out for attention on a stack of rapidly forgotten material, much of which might still be worth reading even though it was posted back in the dark ages (i.e. three days ago). Some of the posts that get buried still have active discussions stemming from them. Just today, "ways of seeing, ways of writing" - posted nearly two weeks ago - received another comment. The conversation is still going. (See also Dan's "blog reading: what's left behind".)
This points to another thorny problem, still unsolved nearly 15 years into the world wide web, and several years into the blogging craze: how to visualize asynchronous conversations - that is, conversations in which time lapses between remarks. If the conversation is between only two people, a simple chronological column works fine - it's a basic back-and-forth. But consider the place where some of the most dynamic multi-person asynchronous conversations are going on: in the comment streams of blog entries. Here you have multiple forking paths, hopping back and forth between earlier and later remarks, people sticking close to the thread, people dropping in and out. But again, you have the tyranny of the vertical column.
We're using an open source platform called Drupal for our Next\Text project, which has a blog as its central element but can be expanded with modular units to do much more than we're able to do here. The way Drupal handles comments is nice. You have the usual column arranged chronologically, with comments streaming downward, but readers have the option of replying to specific comments, not just to the parent post. Replies to specific comments are indented slightly, creating a sort of sub-stream, and the the fork can keep on going indefinitely, indenting rightward.
This handles forks and leaps fairly well, but offers at best only a partial solution. We're still working with a print paradigm: the outline. Headers, sub-headers, bullet points. These distinguish areas in a linear stream, but they don't handle the non-linear character of complex conversations. There is always the linear element of time, but this is extremely limiting as an organizing principle. Interesting conversations make loops. They tangle. They soar. They sag. They connect to other conversations.
But the web has so far been dominated by time as an organizing principle, new at the top and old at the bottom (or vice versa), and this is one the most-repeated complaints people have about it. The web favors the new, the hot, the immediate. But we're dealing with a medium than can also handle space, or at least the perception of space. We need not be bound to lists and outlines, we need not plod along in chronological order. We could be looking at conversations as terrains, as topographies.
The electronic word finds itself in an increasingly social context. We need to design a better way to capture this - something that gives the sense of the whole (the big picture), but allows one to dive directly into the details. This would be a great challenge to drop into a design class. Warren Sack developed a "conversation map" for news groups in the late 90s. From what I can tell, it's a little overwhelming. I'm talking about something that draws people right in and gets them talking. Let's look around.
Posted by ben vershbow at 02:09 PM | Comments (4)
Though a substantial portion of our reading now takes place online, we still chafe against the electronic page, in part because today's screens are hostile to the eye, but also, I think, because we are waiting for something new - something beyond a shallow mimicry of print. Occasionally, however, you come across something that suggests a new possibility for what a page, or series of pages, can be when words move to the screen.
I came across such a thing today on CNET's new site, which has a feature called "The Big Picture," a dynamic graphical display that places articles at the center of a constellation, drawing connections to related pieces, themes, and company profiles.
Click on another document in the cluster and the items re-arrange around a new center, and so on - ontologies are traced. But CNET's feature does not go terribly far in illuminating the connections, or rather the different kinds of connections, between articles and ideas. They should consider degrees of relevance, proximity in time, or overlaps in classification. Combined with a tagging system, this could get interesting. As it stands, it doesn't do much that a simple bullet list of related articles can't already do admirably, albeit with fewer bells and whistles.
But this is pushing in an interesting direction, testing ways in which a web publication can organize and weave together content, shedding certain holdovers from print that are no longer useful in digital space. CNET should keep playing with this idea of an article ontology viewer - it could be refined into a legitimately useful tool.
Posted by ben vershbow at 07:26 PM | Comments (1)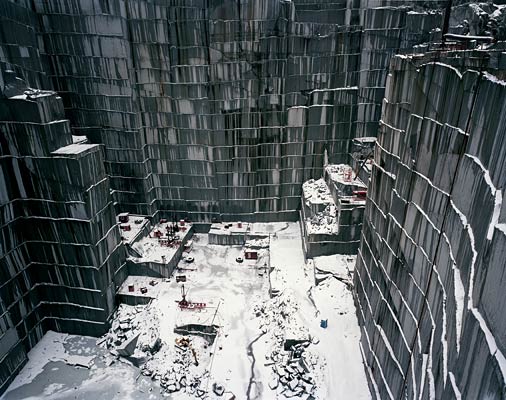 Slate is trying something new with its art criticism: a new "gallery" feature where each month an important artist will be discussed alongside a rich media presentation of their work.
...we're hoping to emphasize exciting new video and digital art—the kind of art that is hard to reproduce in print magazines.
For their first subject, they don't push the print envelope terribly far (just a simple slideshow), but they do draw attention to some stunning work by Canadian photographer Edward Burtynsky, who (happily for us New Yorkers) has shows coming this week to the Brooklyn Museum and the Charles Cowles Gallery in Manhattan. Burtynsky documents landscapes bearing the mark of extreme human exploitation - the infernal streams flowing from nickel mines, junked ocean liners rusting in chunks on the beach, abandoned quarries ripe with algae in their cubic trenches, and an arresting series from recent travels through China's industrial belt.
These photographs carry startling information through the image-surplussed web. But Burtynsky disappoints in one vital, perhaps deciding, respect:
...his position on the moral and political implications of his work is studiously neutral. He doesn't point fingers or call for change; instead, he accepts industry's exploitation of the land as the inevitable result of modern progress. "We have extracted from the land from the moment we stood on two feet," he said in an interview in the exhibition catalog. "The entire 20th century has been a revving up of this large consumptive engine. It's not a question of whether we are going to stop consuming. It's not going to happen…"
As someone who believes that struggling to prevent (or at least mitigate) global ecological disaster should be the transcending narrative of our times, I find Burtynsky's detachment deeply depressing and self-defeating. His images glory in the sick beauty of these ravaged scenes, and the cultural consumers that will no doubt pay large sums for these photographs at his upcoming Chelsea show only compound the cynicism.
Posted by ben vershbow at 07:19 AM | Comments (1)
i've been without an internet connection for a few days. was catching up on if:book posts and finding myself delighted by the wonderful range of interesting posts my colleagues had managed in just a few days. which made me want to send a note to lots of friends and acquaintances urging them to check out our blog. but then my more nervous, modest side took over and convinced me that urging people to sample a blog as wide-ranging as if:book is a dicey proposition since sampling one day's posts doesn't necessarily indicate the extent of our interests. the structure of blogs favors the chronology of entry; thematic categories are listed on the side but without much fanfare. wonder if we could re-arrange the "front page" to be more magazine like, where for example "recent posts" would be one feature among many.
Posted by bob stein at 09:56 AM | Comments (1)
While browsing bookstores in london yesterday — still one of my most favorite pastimes — i came across a beautiful box of 70 thin-spined pocketbooks, the colors of the spine intentionally creating a stunning run of the spectrum from blue to orange. turns out it is a series of 70 essays and short fiction celebrating Penguin's 70th anniversary and its claim to have initiated the 'paperback revolution.' [note: legendary editor jason epstein claims to have done this for Doubleday. does anyone have any insight into whether either claimant really has bragging rights?].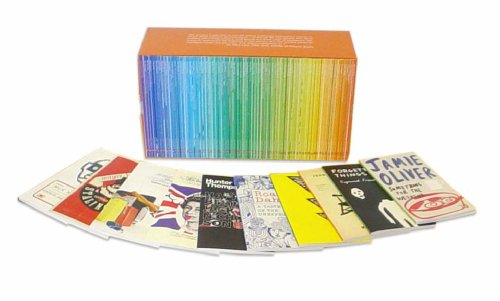 Although i wanted to spring for the whole box, the $125 price tag was too daunting so i bought 3 of the slim volumes — "The Desert and the Dancing Girls,", a travelogue by Gustave Flaubert describing his journey to Egypt; On Seeing and Noticing," a collection of philosopher Alain de Botton's short essays, and "The Mirror of Ink," seven of Jorge Luis Borge's wonderful short stories. the cover of each volume is exquisitely and thoughtfully designed, each by a different artist.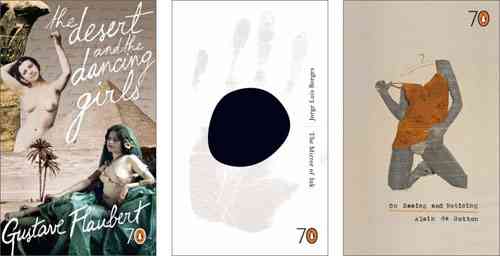 Each title is so beautiful in its own right, Penguin has succeeded in putting together a series which underlines the appeal of books as objects. the success of the series stems less from the elegance of the graphic design than from the decision to "go small." none of the books in the series exceeds 60 pages; given the size of the page and the font, they are probably equivalent to a long piece in the New Yorker or the chapter of a book. had Penguin decided to celebrate their birthday with 70 beautifully designed books i would have wanted to own the objects but wouldn't necessarily expect to read any of them. however, the curatorial intelligence behind this series seems to have come up with a concept which is "just right." there is something about the discrete boundaries of these short volumes which makes me think i could read them and that i want to read them, not just own them. the closest analogy is to a box of incomparably appetizing chocolates where i browse the contents over and over, making decsions of which to eat first and which to save for later. somehow the packaging has assured me this is a prospect worth attending to.
Sad to say i can't even imagine writing the above to describe offerings in the digital domain. we may get there, but the terms will be different.
Posted by bob stein at 06:18 AM | Comments (7)
Yahoo, in collaboration with The Internet Archive, Adobe, O'Reilly Media, Hewlett Packard Labs, the University of California, the University of Toronto, The National Archives of England, and others, will be participating in The Open Content Alliance, a book and media archiving project that will greatly enlarge the body of knowledge available online. At first glance, it appears the program will focus primarily on public domain works, and in the case of copyrighted books, will seek to leverage the Creative Commons.
Google Print, on the other hand, is more self-consciously a marketing program for publishers and authors (although large portions of the public domain will be represented as well). Google aims to make money off its indexing of books through keyword advertising and click-throughs to book vendors. Yahoo throwing its weight behind the "open content" movement seems on the surface to be more of a philanthropic move, but clearly expresses a concern over being outmaneuvered in the search wars. But having this stuff available online is clearly a win for the world at large.
The Alliance was conceived in large part by Brewster Kahle of the Internet Archive. He announced the project on Yahoo's blog:
To kick this off, Internet Archive will host the material and sometimes helps with digitization, Yahoo will index the content and is also funding the digitization of an initial corpus of American literature collection that the University of California system is selecting, Adobe and HP are helping with the processing software, University of Toronto and O'Reilly are adding books, Prelinger Archives and the National Archives of the UK are adding movies, etc. We hope to add more institutions and fine tune the principles of working together.

Initial digitized material will be available by the end of the year.
More in:
NY Times
Chronicle of Higher Ed.
Posted by ben vershbow at 02:00 PM | Comments (0)
"I don't have a single early draft of any novel or story. I just 'saved' over the originals until I reached the final version. All there is is the books themselves." - Zadie Smith
This is a call (re-published from the Electronic Literature Organization) for writers to participate in a creative versioning project, hopefully to begin this winter:
Matthew Kirschenbaum is looking for poets and fiction writers willing to participate in a project to archive versions of texts in progress. An electronic document repository (known as a Concurrent Versions System, or CVS) will be used to track revisions and changes to original fiction and poetry contributed by participating writers who will work by checking their drafts in and out of the repository system. The goal is to provide access to a work at each and every state of its composition and conceptual evolution ­- thereby capturing the text as a living, dynamic object-in-the-making rather than a finished end-product. A reader will be able to watch the composition process unfold as though s/he were looking over the writer's shoulder.
For guidelines and contact info, visit ELO.
Posted by ben vershbow at 11:59 AM | Comments (2)
Whatever one's hesitations concerning the accuracy and reliability of Wikipedia, one has to admire their panache. Wikipedia applies the de-bugging ethic of programming to the production of knowledge, and this page is a wonderful cultural document - biting the collective thumb at print snobbism.

(CNET blogs)
Posted by ben vershbow at 11:12 AM | Comments (0)