« e-slates in kenya | Main | lexis nexis as multimedia library »
zoom quilt 08.01.2005, 5:23 PM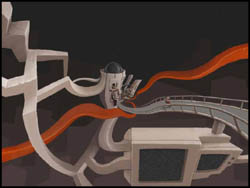 Dan came across another nice example of a zooming interface, which we believe suggests a new spacial conception of the page. The "Zoom Quilt" is a playful piece, apparently the fruit of a collaborative art project. I can imagine this working wonderfully for a children's book. I wish, though, that the path could fork.
For more on zoom:
"infinite canvas comics"

"the page as a spandrel (or not)"
Posted by ben vershbow at August 1, 2005 05:23 PM
tags: the_form_of_the_book
Comments
That's pretty cool. I wonder what else could be done?
Posted by: alex itin at August 1, 2005 11:14 PM
Post a comment (might take a few moments to appear)