« July 2005 | Main | September 2005 »
Writing and the Digital Life, a brand new weblog with interests very similar to ours, just went live today and has kindly named us among five blogs for "blogday." I look forward to reading their site.
Posted by ben vershbow at 06:19 PM | Comments (1)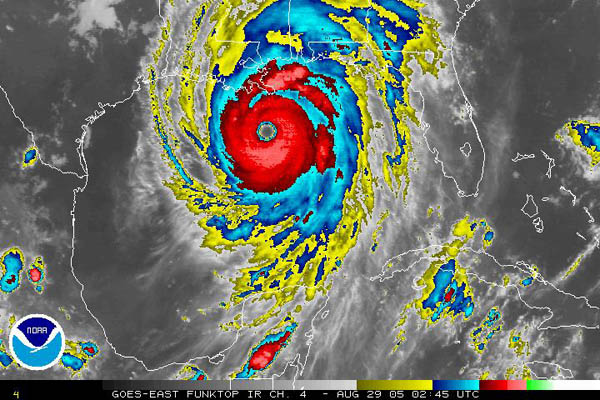 As Katrina has blasted the Gulf Coast beyond recognition, a number of blogs have maintained a steady stream of reportage and personal testimony, in some cases serving as bulletin boards for the names of the missing. Given the extent of the destruction to communications infrastructure, it's not surprising that it has primarily been the media blogs that have managed to stay active.
Here are a few I've come across (Poynter Online has been an invaluable resource for exploring the online response to Katrina):
Eyes on Katrina: A South Mississippi hurricane journal (from The Sun Herald) - a combination of brief news updates, community bulletin board, and advance runs of Sun Herald stories on Katrina.
Tuesday, 2:23 pm:
This from staff writer Geoff Pender, who is calling in reports from Hattiesburg. If you are thinking about getting in the car and coming back to South Mississippi, don't. The Mississippi Emergency Management Agency is telling people who have evacuated to stay away until the roads have been cleared and the National Guard is in place. If we get word when that happens, we'll pass it along.

On a different note, we have a report that portions of U.S. 90 are under seven feet of water.
NOLA View: a weblog by Jon Donley - for nola.com, a news and culture portal from The New Orleans Times-Picayune. Posting survival stories from readers.
From reader Lynne Bernard (today), on trying to survive in Talahassee, FL:
Story: We are stranded in Tallahassee. There is absolutely no compassion here whatsoever. The Hampton Inn in Tallahasse is pretty much throwing us out because of a football game. We are running out of money with no way of getting more out of the bank. We cannot use debit cards and our credit cards are maxed out. I thought I would encounter a little compassion and understanding here in Florida seeing they have been through similar situations. There is none. People here and the manager of this motel are very cold and uncaring. If anyone out there has any suggestions please email me asap. I cannot get in touch with red cross or fema. Cell phones don't work. Can't get hold of any family member for help. Please help!!!!
CNN: Miles O'Brien's Hurricane Blog - direct from Louisiana.
Monday, 6:54 am:
Louisiana State University Hurricane Center's Ivor van Heerden just said a real concern is coffins that would be swept away by the floodwaters -- which themselves will be laced with a witches' brew of industrial chemicals. Horrifying image.
Metroblogging New Orleans - group blog with frequent, first-hand reports.
12:54 pm today, from Craig Giesecke:
Being refugees has forced us to confront new realities and possibilities, particularly since it might be a while before we'll actually be able to return to stay. I'm self-employed in a food business that was just beginning to take off and fly a bit on its own when this storm struck. To wit...

1) when we actually go home, what shape will my production facility be in? Since it's in Mid-City, I'm assuming it's already full of water.

2) Even if I can get the equipment operating again someplace else, 75 percent of my business is done in metro New Orleans. Lord knows how long it might be (2006?) before any local clients will be able to start placing orders again.

3) So far, our house seems to be dry. But when we get back in, how long will it be before anything else is around us? The neighbors will return, but how long before any of us can start earning a paycheck again? I mean -- earning a paycheck ANYwhere?
Storm Central from al.com ("everything alabama") - news updates and reader email.
Paula Baker from Houston, TX:
I am trying to find out about my brother. Stayed in Pascagoula. House on Sunfish Dr. 5 Blocks from beach
This is just a selection - by no means comprehensive. Let us know if you find anything else of interest.
Posted by ben vershbow at 12:32 PM | Comments (2)
hive mind 08.31.2005, 12:02 PM
I spend a lot of time looking for specific resources on the web. That means sifting through Google search results and following links that seem promising. A semi-interesting link may take me to an article with another semi-interesting link; that link takes me to another, and so on. As I progress, the articles become more thinly related to the topic, but I pursue them anyway, hoping they will lead me on a trajectory I hadn't thought of, to a great idea that I couldn't have anticipated.
During the whole process, however, I can't shake the unpleasant sensation that I am not the master of my own destiny. I come out of a Google session with a wrung-out feeling, like I've just been lead along a path that was not entirely of my own choosing, marching behind an army of web searchers carving networked pathways into the information landscape, but not necessarily finding that unique morsel that will knit my ideas together. Lee Bryant explains this phenomenon as entaglement in the complex systems addressed by complexity theory. "Complexity theory," says Bryant, "shows us that from the seeds of such small inter-connected actions, large trees of system behaviour can grow. These physical phenomena are reflected online as well, where the emergence of the Wiki movement and the growing cult of Google both display a simple form of collective intelligence." He gives us this metaphor to consider:
The classic pop-science example that illustrates the point is the way in which ants forage for food. Ants display a kind of collective intelligence (described by some as a "hive mind" ) that is based on apparently dumb rules, repetitively followed by thousands of individual insects. Each ant forages for food in an apparently random manner, but when it finds food it marks a pheromone trail back to its colony. Trails fade over time, but positive feedback means that well-travelled paths will attract more and more ants until the particular food source is exhausted. The system works because there are enough ants each following the same rules to ensure comprehensive coverage of any given area.
The fact that my participation in the web, even at the browsing level, means that I will be drawn, unavoidably, into the group effort evokes a mixed response. My independent artistic sensibility hates anything that erases the individual voice and immerses me in a placid groupthink. But my social human sensibility sincerely wants to know what everyone else is doing; it makes me want to dive in, pitch in, follow along, and celebrate the complex social web we are weaving.
Posted by Kim White at 12:02 PM | Comments (1)
treasuremytext is a free British service that allows you to save text messages from your phone to the web on an anonymous, communal log, or "slog." Recent messages appear in a column on the main site where they can be read by all and sundry, subscribed to by feed, and even loaded onto an iPod as plain text files. jill/txt has a transcript from about two weeks back:
trying to convince myself that there was nothing there but i still find myself thinking about you
night nimet . . . . i miss you
How about sorting that taxi out for next week? For real?
Ok smart arse when you are there then! And then i will fix your issues for you, all of them!
U have beautifull eyes
Dont ring ill b down bout halfpast babes
Me to hes just arrived txt u l8r baby
Nite nite xxx
Nite nite fat sexy bum.Txt u tomoz nite nite xxxx
Not exactly prize-winning stuff, but has a nice dreamy flow of chatter plucked out of the air. Reminds me a bit of a game I played in elementary school where you go around a circle and improvise a story in broken-off pieces. Reading the site today, the entries seem to have taken on a smuttier tone. And a good number aren't in English. But an intriguing experiment nonetheless.
But it would be more interesting if the logs had some focus. Something like the City Chromosomes project, which is building a networked chronicle of the city of Antwerp, all by SMS.
Posted by ben vershbow at 02:58 PM | Comments (0)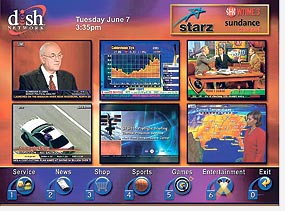 Several new "interactive television" services are soon to arrive that offer "mosaic" views of multiple channels, drawing TV ever nearer to full adoption of the browser, windows, and aggregator paradigms of the web (more in WSJ). It seems that once television is sufficiently like the web, it will simply be the web, or one province thereof.
Posted by ben vershbow at 02:20 PM | Comments (0)
This past year, most of my reading (for better or for worse) has been done online. When I visit my local library it is to check out DVDs, or to take my son to story hour, or to use the library's free wireless. When I am there, I notice that many of the other patrons are there for the same reason. There's always a waiting list for the computers and a line of patrons with arms full of DVDs waiting to check out.
It's no surprise that libraries are looking for ways to extend these popular digital offerings in order to better serve their patrons and to stay relevant in the digital age. A recent article in Technology Review by Michael Hill reports that libraries have, "considered the needs of younger readers and those too busy to visit," and are beginning to offer downloadable digital audio books. "This is a way for us to have library access 24/7," says Barbara Nichols Randall, director of the Guilderland Public Library in suburban Albany. As an added bonus, you never have to worry about late fees. Here's how it works:

A patron with a valid library card visits a library Web site to borrow a title for, say, three weeks. When the audiobook is due, the patron must renew it or find it automatically "returned" in a virtual sense: The file still sits on the patron's computer, but encryption makes it unplayable beyond the borrowing period.

"The patron doesn't have to do anything after the lending period," said Steve Potash, chief executive of OverDrive. "The file expires. It checks itself back into the collection. There's no parts to lose. It's never damaged. It can never be late."
Posted by Kim White at 09:03 AM | Comments (0)
An article in today's Times describes the rise in Christian religious podcasting - sermons on demand, exegesis by RSS - known by some, inevitably, as "godcasting." Worth a look.
Posted by ben vershbow at 06:00 PM | Comments (0)
Recent announcements at the BBC suggest further convergence of television and the web, reading in multimedia, cellphone as broadcast receiver etc. From Director General Mark Thompson:
We believe that on-demand changes the terms of the debate, indeed that it will change what we mean by the word 'broadcasting.'
Read article.
Posted by ben vershbow at 11:21 AM | Comments (0)
Playboy Magazine is going digital. On September 13th, readers will be able to recieve the digital edition instantly, on their computers. According to the website, this new format will allow you to "zoom in to see every detail and archive your issues so you can access them anytime, anywhere." Ah, progress...
Posted by Kim White at 06:54 AM | Comments (0)


I was listening to a story on NPR called "Loading Up on Penguin Classics". My son was running around the living room screaming, so I didn't hear most of the broadcast. In my digital thoughtspace, I assumed "loading up" referred to software. Imagining an entire library, 1,082 classic titles, as electronic objects, stored neatly on my hard drive, is enormously appealing to my minimalist aesthetic and my nomadic digital worklife. However, as it turns out, the Penguin Classics Library Complete Collection is being offered as a 700 lb. load of paperback books (delivered free to anyone who can afford the shelf space and the $7,989.50 price tag). If only Penguin could catch a vision of THIS century and start making digital versions of the classics. I need screen-based books, audio books, lower pricetags, and I don't think I'm alone. Penguin, are you listening? I'm clearing out virtual shelf space now, make me some ebooks!
Posted by Kim White at 03:06 PM | Comments (7)
Wired profiles Amp'd Mobile, a new service launching this fall that will offer subscribers a wide array of "mobile entertainment" options on a specialized handheld device. Amp'd has marshalled a vast amount of venture capital to bring the cellphone to its full potential as a catch-all media device - video console, gaming handset, ebook reader, web browser, and, if your brain hasn't been totally fricasseed by that point, still a good old-fashioned telephone.
Amp'd targets consumers in their mid-20s to mid-30s - the bracket that is the most gadget-crazed, the most entertainment-hungry, as well as the most mobile, or so the reasoning goes. At the very least, Amp'd might serve as a catalyst for Verizon, Sprint and the other big mobile service providers to move into this sweet spot of media convergence. It certainly seems that things are going that way.
Posted by ben vershbow at 02:11 PM | Comments (0) | TrackBack
The new updated Sony PSP portable gaming device will include a web browser. That gives it games, film, photo and web - the most comprehensive pocket instrument out there. But for the time being, it's read-only. Without a stylus, or virtual keyboard, many of the web's more interactive elements will be unavailable.
Posted by ben vershbow at 04:12 PM | Comments (3) | TrackBack
Amazon Shorts offers 49¢ downloads of short fiction and nonfiction in .pdf, html and text-only email, seemingly without copy or printing restrictions. Amazon a publisher? The chapbook reborn? Not quite. Amazon Shorts is primarily a marketing program, available only to established authors who have other titles to sell - a sort of appetizer course to encourage larger book purchases. But it's probably suggestive of where advertising in general is headed.
Television entertainment was originally conceived as a way to create a captive audience for advertising. Now, consumers have greater and greater ability to tune out the ads and focus on the entertainment - fast-forwarding on Tivo, or, on the web, clicking through, or closing the pop-up window. As a result, marketers are trying to figure out how to make the ads destinations in themselves - to develop a format where the ad and the entertainment are inseparable, even indistinguishable. Recall the Superbowl, where high-budget, elaborately produced ads are as much an attraction as the game itself (some would say more). Or BMW Films, creator of "The Hire" - a series of short films by major international directors, starring Clive Owen and, of course, a sexy Z4 Roadster.
Expect more of this short form blend of advertising and entertainment in film, certainly, and even (if the "Shorts" series is any indication) in books.
Posted by ben vershbow at 03:59 PM | Comments (3) | TrackBack
Richard Lanham, the godfather of electronic text, has written a wonderful piece in Academic Commons calling for a course in copyright for all undergraduates. Lanham, a UCLA English professor who has had a significant second career as an expert witness in copyright cases, gives one of the more cogent summaries of the copyright morass we find ourselves in as the digital tide overwhelms previous notions of property and ownership.
Posted by bob stein at 12:36 PM | Comments (1)
Deleting my way through our daily torrent of spam, I came across a bizarre item that is, if not interesting, at least slightly amusing. The MSN-run site for one of Japan's major newspapers, Mainichi Daily News, trackbacked to my post from yesterday about japanese cell phone comics. They planted a link to a story about a part-time employee at a Nathan's Hot Dog stand in a popular Japanese comics market. Apparently, the employee made some disparaging comments on his personal blog about obsessed comic book fans (known as "otakus"), creating a small uproar and leading Nathan's Japan franchisees to issue a public apology.
Unless this is all some joke (it can be hard to tell), they seem to have found my post based on the keywords "japan" and "comics." Whether it was a robot scouring the web or a Japanese editorial sub-sub with poor english, I'm not sure. But it's disturbing that a major newspaper might be resorting to spam to promote itself. That's usually the province of online poker and penis enlargement (oh god, the robots just perked up, I'm sure).
In a way, the trackback does indirectly support my post, in so far as the Nathan's Hot Dog incident underscores the significance of comics in Japanese culture. But, c'mon Mainichi...
Posted by ben vershbow at 01:25 PM | Comments (0)
Talkr, a new online software, transforms your favorite blogs from text to spoken word and provides downloadable podcasts for your mp3 player. I listened to a few free samples provided on their site and was pleasantly surprised by the non-robotic voice. I love this software not only for the convenience, but also for the accessibility it will offer to sight-impaired users.

Posted by Kim White at 11:57 AM | Comments (2) | TrackBack
Another mobile lit item. Sony is increasing its mobile comics publishing service, offering around 300 popular "manga" titles to Japanese subscribers in the coming year.
From USA Today (via Smart Mobs):
Cell-phone comics use a technology called Comic Surfing, developed by Tokyo-based venture firm Celsys, which takes viewers through manga stories at a carefully calculated speed and sequence.

The manga frames are specially formatted to fit on tiny mobile phone screens. Pop-up frames and vibration during action scenes add to the drama. Cell-phone comics with preprogrammed sound effects are also coming soon...
Related:
"How Mobile Phones Conquered Japan" in Wired - discussing the new book "Personal, Portable, Pedestrian: Mobile Phones in Japanese Life"
and
"novels on your phone" in if:book - about Japanese cell phone fiction
Posted by ben vershbow at 03:53 PM | Comments (0)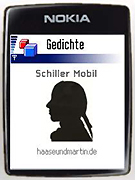 This year, Germany celebrates the bicentennial of the death of Freidrich Schiller. As part of the commemoration, you can download a java application to your mobile phone containing 20 of his best known poems. (via textually)
Posted by ben vershbow at 03:27 PM | Comments (1)
Warner is trying out a new business model for selling music over the web (BBC, CNET). The new "e-label" will sell music exclusively online (no CDs) in three-song clusters, abandoning the conventional album format and allowing emerging artists to prove themselves gradually, without the pressure of a sink-or-swim album deal. What would Sgt. Pepper say?
Crusty aficionados have for some time been lamenting the death of the album in the age of .mp3s, file-sharing and iTunes, where kids are growing up with vast, shifting libraries of individual tracks instead of meticulously ordered, packaged collections. While it's true that a generation of shufflers may not have much respect for the integrity of albums, it's important to remember that most albums don't have all that much integrity to begin with. When the recording industry moved from singles to the longer format of albums, it's not as though there was a corresponding growth in the amount of quality material. As a result, most albums consist of a couple of hit singles padded with filler. No one should mourn the disappearance of this sort of album.
Albums the world would be better off without: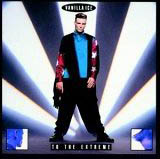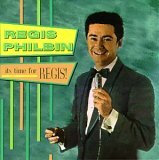 Making a good album is difficult, not unlike putting together a good collection of short fiction, or, in the case of concept albums, an entire novel. I like Warner's idea because it allows musicians to mature gradually, building a fan base and working their way up to the longer form. In turn, one-hit wonders can fizzle out naturally without burdening the world with rotting, opus-sized legacies.
I'm not too worried about the death of the album, at least not for some time. Artists that are capable of producing worthwhile albums will continue to release long format work, and kids will continue to pick and choose songs, and shuffle away carefully chosen track orders. But at the same time, they will make eclectic playlists, some of them uncovering hidden connections that can only be made manifest by porous, digital libraries. It seems to me that it will be a healthy give and take. Just as I'm confident that the novel will survive in an age of scattershot online reading, so will the album in the age of the iPod.
(One way to foil the shufflers would be to release albums in one big track. Remember "Thick As A Brick"?)
Posted by ben vershbow at 01:35 PM | Comments (1) | TrackBack
"Continuous computing is an emergent phenomenon--a complex pattern of social behaviors that arises from the use of a variety of simpler digital tools. It advances in unexpected directions as people find innovative ways to put these commercial and open-source technologies to use in their social lives."
The above quote is from Social Machines, an article by Wade Roush, recently published in Technology Review. According to Roush, wireless devices have created a "virtual information field" that allows us to "both pull information about virtually anything from anywhere, at any time, and push their own ideas and personalities back onto the Internet -- without ever having to sit down at a desktop computer." This phenomenon of constant connectivity is changing the way we learn and the way we participate in classroom environments.
In classrooms and lecture halls with open access to wireless networks, students can use cellphones, laptop computers, and other wireless devices to silently converse (via text or instant messaging systems) with one another or to surf the net during class. This secondary layer of classroom communication is known as the backchannel. Some instructors recognize the inevitability of the backchannel and are experimenting with how to organize these activities in a productive manner.
The key characteristic of the back channel is that it allows students to participate in the "push/pull" of constant connectivity that Roush speaks of. Students can "pull" supplementary information from the web and "push" their interpretation of the facts or their ideas and queries about the ongoing lecture into the backchannel social space. The University of Southern California's Interactive Media Division has experimented with multimedia back, front, and side channels. Here is a brief description of the Backchannel options for USC IMD Speakers outlined by Justin Hall.

We have three primary areas of backchannel work. Speakers, participants, feel free to review these various scenarios and let us know what you think. We have fourteen screens up on the walls of the lab, so these various functions typically share visual space with a speaker's own supporting visual materials.

Backchannel During a speaker's presentation, students with laptops will chat about the topics at hand. Typically, we post the thread of comments on two-to-three of the fourteen screens.

Frontchannel We can provide a special area just for questions for the speaker. Then, during the talk, if someone has a clarification they'd like, or a question they want to ask, the speaker can see that question pop up on a small monitor at the front of the room. The speaker can answer it when they feel ready!

Sideshow We have several students who are trained expert Google Jockeys. If a speaker would like to have their own presentation supplemented by a stream of images, statistics, background articles, as they talk, they should let us know and we will arrange for students to run the sideshow presentation on their research.

These various areas represent experiments in collaborative multimedia-internet enhanced learning. We welcome your suggestions! And if you feel that these might be too distracting, we're happy to reign in some of our participation during the presentation. The intent is to involve students in the lecture and to allow people to use the tools at their disposal to engage a speaker's research in real time.
A variety of responses to the backchannel were expressed in a January 2005 online discussion entitled "is the backchannel working." Some students found it "useful (for keeping track of the points, for cross reference, and for fact checking), immersive, stimulating and engaging;" while others found it, "distracting, unnecessary, detrimental, irrelevant, pointless, alienating," and even "rude" as evidenced in this exchange:

What ever happened to giving your full attention to the guest speaker? Since when is carrying on a side conversation an acceptable thing to do? What happened to our manners?

I wish I had saved the logs from last semester. But I recall several presentations where the speaker stopped and asked the group what was going on with that back channel that is so funny. I wonder how the professors who presented last semester feel about this.

Posted by: Shelby at January 31, 2005 07:38 PM

I believe that we are ALL here (professors included) because we were the really smart kids that stared at clouds, wrote stories, drew, and made up games during class. That's how I feel when my peers are obviously multi-tasking during class or during a presentation. I don't think it's rude to multi-task.

I do think it's rude to type up really dumb jokes or ASCII pictures on the backchannel that are unrelated to the presentation. However, I think it's really awesome that our professors and our presenters are open to our experiments in multi-tasking and over-stimulation. Especially in the age of the internet, the next gen behind us are going to be so savvy at carrying on multiple conversations and multiple lines of thought simultaneously, I think it's good to experiment with this instead of putting "miss manners" restrictions on the class.

Posted by: kellee at February 2, 2005 03:37 PM
Although this form of collaborative learning is still in the experimental stage, it seems to have a great deal of potential. Well-run backchannels could serve as improptu, collaborative textbooks. Students and so-called "Google Jockeys" could gather, present, and discuss the supplementary information as the instructor lectures. This process would be inspired by the instructor, but not directed by the instructor.
Posted by Kim White at 09:51 AM | Comments (0) | TrackBack
Technology Research News, an excellent online magazine covering the most important developments in technology and science, is struggling to survive. In an impassioned letter to the reader, the TRN editors explain how, even after building up a substantial readership (over 200,000 unique visitors monthly) since its founding in 2000, and exploiting all the routine methods for generating revenue on the web without actually charging for subscriptions (Lexis Nexis licensing payments, Google text ads, and sales of .pdf white papers and special reports), they are still unable to support basic site maintenance, let alone pay their tiny staff of two full-time editors, one contributing editor and two part-time staffers. They are now experimenting with voluntary donations, hoping to rase at least $100,000 annually to cover basic costs.
This weekend, their plea was relayed to Slashdot where it was reframed as a call for ideas for new web publishing paradigms.
TRN's story is typical of these transitional times. They consider themselves "information farmers," providing valuable reporting from the frontiers of science at a time when those frontiers are greatly expanding, and, simultaneously, coverage in print media is contracting. No doubt their work is valuable and there is a demand. The web has set the stage for a whole new class of information farmers like TRN. But we still haven't figured out a model for basic subsistence.
Posted by ben vershbow at 02:40 PM | Comments (0)
An excellent essay in last month's Common-Place, "Blogging in the Early Republic" by W. Caleb McDaniel, examines the historical antecedents of the present blogging craze, looking not to the usual suspects - world shakers like Martin Luther and Thomas Paine - but to an obscure 19th century abolitionist named Henry Clarke Wright. Wright was a prolific writer and tireless lecturer on a variety of liberal causes. He was also "an inveterate journal keeper," filling over a hundred diaries through the course of his life. And on top of that, he was an avid reader, the diaries serving as a record of his voluminous consumption. McDaniel writes: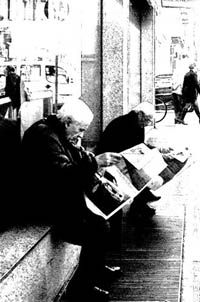 While private, the journals were also public. Wright mailed pages and even whole volumes to his friends or read them excerpts from the diaries, and many pages were later published in his numerous books. Thus, as his biographer Lewis Perry notes, in the case of Wright, "distinctions between private and public, between diaries and published writings, meant little."
Wright's journaling habit is interesting not for any noticeable impact it had on the politics or public discourse of his day; nor (at least for our purposes) for anything particularly memorable he may have written. Nor is it interesting for the fact that he was an active journal-keeper, since the practice was widespread in his time. Wright's case is worth revisiting because it is typical -- typical not just of his time, but of ours. It tells a strikingly familiar story: the story of a reader awash in a flood of information.
Wright, in his lifetime, experienced an incredible proliferation of printed materials, especially newspapers. The print revolution begun in Germany 400 years before had suddenly gone into overdrive.
The growth of the empire of newspapers had two related effects on the practices of American readers. First, the new surplus of print meant that there was more to read. Whereas readers in the colonial period had been intensive readers of selected texts like the Bible and devotional literature, by 1850 they were extensive readers, who could browse and choose from a staggering array of reading choices. Second, the shift from deference to democratization encouraged individual readers to indulge their own preferences for particular kinds of reading, preferences that were exploited and targeted by antebellum publishers. In short, readers had more printed materials to choose from, more freedom to choose, and more printed materials that were tailored to their choices.
Wright's journaling was his way of metabolizing this deluge of print, and his story draws attention to a key aspect of blogging that is often overshadowed by the more popular narrative - that of the latter-day pamphleteer, the lone political blogger chipping away at mainstream media hegemony. The fact is that most blogs are not political. The star pundits that have risen to prominence in recent years are by no means representative of the world's roughly 15 million bloggers. Yet there is one crucial characteristic that is shared by all of them - by the knitting bloggers, the dog bloggers, the macrobiotic cooking bloggers, along with the Instapundits and Daily Koses: they are all records of reading.
The blog provides a means of processing and selecting from an overwhelming abundance of written matter, and of publishing that record, with commentary, for anyone who cares to read it. In some cases, these "readings" become influential in themselves, and multiple readers engage in conversations across blogs. But treating blogging first as a reading practice, and second as its own genre of writing, political or otherwise, is useful in forming a more complete picture of this new/old phenomenon. To be sure, today's abundance makes the surge in 18th century printing look like a light sprinkle. But the fundamental problem for readers is no different. Fortunately, blogs provide us with that much more power to record and annotate our readings in a way that can be shared with others. We return to Bob's observation that something profound is happening to our media consumption patterns.
As McDaniel puts it:
...readers, in a culture of abundant reading material, regularly seek out other readers, either by becoming writers themselves or by sharing their records of reading with others. That process, of course, requires cultural conditions that value democratic rather than deferential ideals of authority. But to explain how new habits of reading and writing develop, those cultural conditions matter as much—perhaps more—than economic or technological innovations. As Tocqueville knew, the explosion of newspapers in America was not just a result of their cheapness or their means of production, any more than the explosion of blogging is just a result of the fact that free and user-friendly software like Blogger is available. Perhaps, instead, blogging is the literate person's new outlet for an old need. In Wright's words, it is the need "to see more of what is going on around me." And in print cultures where there is more to see, it takes reading, writing, and association in order to see more.
(image: "old men reading" by nobody, via Flickr)
Posted by ben vershbow at 02:11 PM | Comments (1)
"Print publishing has had a great 500 year run," says 77 year old novelist Warren Adler, "but the print book is morphing into the screen book." Mr. Adler, who has published 27 print novels including "War of the Roses," is publishing his 28th, "Death of A Washington Madame," electronically and e-mailing it for free to anyone who asks.
In an article in Sunday's New York Times, he tells reporter Claudia Deutsch that, "the big publishing houses just don't get it." So Mr. Adler has taken matters into his own hands. According to the official Warren Adler website, he has:
required the English language and foreign rights to his entire backlist of 25 novels and has made them available in ebook formats and Print-on-Demand formats in trade and hardcover. They are available on the web through all bookselling sites and can be ordered through chain and independent bookstores.
Posted by Kim White at 09:45 AM | Comments (0)
This is truly strange. A pair of young American entrepreneurs is outsourcing work to China - blogging work. 25 Chinese bloggers are being hired to maintain, under anglo-american names and personae, a fleet of 500 "unrelated" blogs, whose sole purpose is to harvest advertising revenue and generate buzz for client sites (story). They call this technique "astroturfing." For it to work, they will have to train their team of low-wage, foreign scribes to adopt a voice that is convincing to Western audiences - more than that familiar character from the world of outsourcing, the cheerful lady on the tech support line introducing herself, in a suspiciously Bengali accent, as Mary Beth.
To march these sweatshop bloggers across the cultural divide, the company is undertaking a bizarre experiment in remote socialization, inundating their staff with Western music and movies, honing their pop culture instincts, and assigning lists of topics for them to master. Such a weird, morally cockeyed scheme could only be devised up by someone in the grip of severe boredom (though there is a faint whiff of cultural revolution). Sure enough, "Blogoriented," as the venture is punningly called, seems to have been conceived as a fanciful escape for two cogs (named Steve and Jeff) from the stultification of office existence. On their blog, Steve describes the genesis of the project, as well as his reservations:
My problem with this venture is that we are exploiting a once pure medium and diluting the blogosphere with what are basically lies. To Jeff this is a non-issue. He spent the last few years as a software engineer in China coordinating projects between american programmers and their outsourced counterparts. He trained the chinese programmers so well he was no longer needed and was offered a reduced salary or the door. To him this venture is his way to tap into a hot economic trend and avoid working for someone else his whole life. For me this is a way out of the cubicle. I've spent the last few years watching the clock as a financial analyst for a large credit card firm. Finding the best ways to maximize the number of clients that carry a balance was just too depressing for me. Blogs are intrinsically a blend of fact and artistry. Our product really won't be that different.
Reading the intro, it's clear that Steve has appointed himself as the troubled conscience of the team. He begins with a quote from Matthew - "For what is a man profited, if he shall gain the whole world, and lose his own soul?" (16:26) - and goes on to describe their business strategy, intermittently bemoaning the hellfire he fears will greet their bastardization of the blog form. But dreams of big bucks brush aside concerns for the immortal soul. Whether or not this questionable caper succeeds, their personal blog of Steve and Jeff promises to be an entertaining read.
Posted by ben vershbow at 01:13 PM | Comments (0) | TrackBack

in june i decided to explore the podcast phenomenon. i downloaded a number of different programs on to my ipod shuffle. the first batch included some favorite radio programs that i rarely listen to now that i hardly ever drive anywhere, a bunch of different audio blogs, some serious, some insane or inane . . . and the most interesting - Earthcore - billed as the first podcast only novel. written and performed by scott sigler, Earthcore is a science fiction page turner divided into tweny-one 40-50 minute installments. sigler has been releasing one installment per week. the last one just went up.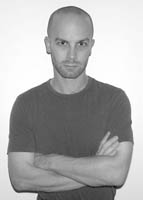 the plot is original and ingeniously woven and Sigler is one hell of a story teller. his palpable enthusiasm for his story, the Earthcore project and the new world of podcasting is infectious. just as in the best blogs, Earthcore seems to get an extra jolt from sigler's willingness to put himself and his ideas on the line. his personality comes shining through; getting to know him and liking his attitude becomes an important part of the experience. with over 10,000 listeners by now, you would think that more than one major publisher would have come begging to buy the rights to a book with a significant proven audience. however, as if more proof of the moribund nature of big publishing were needed, to date not one publisher has approached Sigler. he's on the verge of signing a deal with a small Canadian publisher, Dragon Moon Press. Congratulations to them for going with the opportunity.
Posted by bob stein at 04:42 PM | Comments (0)
On October 10, 2004, I was sitting with my laptop at a cafe in New York City trying to avoid writing a paper for my first-year humanities class. In a moment of despair, I typed "what is the meaning of life?" into an online forum. Fifty thousand hits and two thousand answers later…
That's the cover copy for David Seaman's first book "The Real Meaning of Life.," due out this September. The book is a print version of the impromptu networked book, generated online in response to his question. Aphorisms like "be grease not glue," and "there is not point to life, and that is exactly what makes it so special," came from Buddhists, born-again Christians, atheists, waitresses, students, and recovering heart attack patients.
The public platform that the web offers ordinary people, introduces a new way to contemplate this perennial question. Typing "what is the meaning of life?" into wikipedia. yields an extensive post with over 500 edits and a lively discussion page. Here is an excerpt:
The person who asks "What is the meaning of life?" is pondering life's purpose, in the context "Why are we here?", or is searching for a justification or goal as in "What should I do with my life"? Thus, we've separated the main query into two different questions: one about the objective purpose of life ("Why are we here?", and the other about subjective purpose in life ("What should I do with my life?"). Many claim that life has an objective purpose, though they differ as to what this purpose is, or where it comes from. Others deny that an objective purpose of anything is possible. Purposes, they argue, are by their very nature purely subjective. Subjective purpose of course varies from person to person. In some ways the quandary is a circular argument, the enquirer is in the midst of life seeking to validate life, or be it the meaning of it.
Books have, traditionally, been vehicles for the contemplation of this circular question. Scripture, scholarly texts, poetry, novels, self-help books, how-to books, grapple with the issue—"why are we here? And what should I do with my life?"—in various ways. It is interesting to see how the question plays out in the interactive space of the web.
Type "what is the meaning of life?" into the Google search engine and it yields 62,300 responses. Including an "Ask Yahoo" page from 1998 in which Juan asks the Yahoo search team to find the meaning of life for him. The letter he gets back reccommends a visit to the Yahoo meaning of life page. It also offers this advice:
Now, if you're looking for the meaning of your life in particular, then we're afraid we have to fall back on the somewhat predictable response: "It's up to you." Many people try to give lasting meaning to their lives by making the world a better place than when they entered it, either through scientific, philosophical, or artistic contributions. Others try by raising children that can themselves make contributions and preserve important societal and religious values for future generations.
There are also quite a few personal web pages that address the question. One particularly poignent example is JaredStory.com a site by and about Jared High, a young boy who took his own life shortly after a violent beating by a school bully. This heartbreaking site is filled with biblical quotations, audio and video of Jared, information about suicide, bullying, and a transciption of the lawsuit filed by his grieving parents.
Taken together these online "answers" create a wonderful mosaic of humanity striving to know itself and to connect with the universe. The web gives us an opportunity to read this interlinked accumulation of wisdom on a scale never before possible.
Posted by Kim White at 03:13 PM | Comments (0)
The fifth installment of Technorati's "state of the blogosphere" round-up studies the impact of blogs on mainstream media. Data shows that the most influential sites are still the mass media heavyweights: NY Times, Washington Post, BBC etc. But the most popular blogs are not far behind. In looking at the graph below, it's important to bear in mind that what's being measured is number of links, not page hits. Technorati gauges the influence of a site by the number of other sites that reference it.
Posted by ben vershbow at 01:58 PM | Comments (0)

Media artist Andy Deck's "Panel Junction" is a digital graphic novel that uses collaborative software to transform the authoring process. "Panel Junction" is one of the first open source networked books to visit the graphic novel genre, but judging from the response Deck is getting, it is probably not the last.
Posted by Kim White at 12:29 PM | Comments (0)
Jimmy Wales of Wikipedia dreams of a free curriculum - open, high quality course materials built by a grassroots movement of volunteers (much like the one that is building the web's largest encyclopedia). But Wales is not alone in his dreaming. The Massachusetts Institute of Technology also wants to spread the wealth - but not through a groundswell.
OpenCourseWare is all about the heights. OCW publishes syllabi, course calendars, readings, exams and other study materials from over 1,100 MIT classes - "a free and open educational resource for faculty, students, and self-learners around the world." Sounds good. And it is pretty good, but it's important to know one crucial fact: at this stage, many, if not most, course readings are only listed for reference. Anything in the public domain is available for download (or is linked to a free resource like Project Gutenberg), but most of the courseware is not, in effect, open.
OpenCourseWare is most powerful as an idea, the same idea trumpeted by Wales, though they are pushing from opposite sides. MIT dispenses manna from the ivory tower while Wiki Books rallies instructors from middle and lower-tier American universites and developing countries. Both movements are in their infancy - largely untested.
There is some evidence that the OCW model is beginning to spread. Tufts University has launched its own OpenCourseWare project, as has The Johns Hopkins Bloomberg School of Public Health, and several universities in Japan (see OCW Japan portal). But to say that MIT has more institutional heft than the Wikimedia Foundation would be a serious understatement. It's relatively easy for them to launch a project like this, with the MIT stamp, and to quickly generate a favorable buzz. But in the end, how valuable will OCW be if you can't get your hands on the bulk of the materials? As more content becomes freely available through public-spirited ventures like Wiki Books and Creative Commons, as well as a myriad of independent online textbooks, OCW might need to populate its courses with such materials in order to stay relevant and useful.
But will an elite institution like MIT be willing in the end to incorporate texts and materials forged in the far-flung suburbs of the academy? MIT syllabi are stocked with quality scholarship - expensive, well-bred stuff. It's difficult to imagine Wiki Books taking a seat among such high class company. And so it's equally difficult to tell, for an institution like MIT, whether OCW is a sign of healthy adaptation or inevitable erosion. Questions like these point to the profound changes that will rock the modern university as the web levels and obsolesces the old hierarchies - as profound as the upheavals in Europe around the dawn of moveable type.
Posted by ben vershbow at 12:20 PM | Comments (0)
That's the motto of The Donald's latest business venture, Trump University. Yes, you heard me right, Donald Trump has started an online University, complete with lectures, seminars, blogs, chat kiosks, esteemed faculty, and of course, distinguished Chairman of the University, Trump himself.
Like the University of Pheonix, Trump has built his online learning initiative on a firm business model. The mission of this so-called university is "success," in a trade-school kind of way. The ambition is to teach skills and "trade-secrets" that are designed to turn a quick profit in the marketplace. The site is replete with self-help euphemisms like: "what's the altitude of your attitude," "bloom where you are planted," and "your mind can build castles, just make sure the foundations are in place first."
Self-help schlock notwithstanding, I was tempted by some of the offerings. For a mere twenty-nine dollars, I could get a "Career Assessment Profile." A 76-question online test that measures key dimensions of my personality and can predict job performance. According to the site, the test can "tap into your hidden abilities and find the job that best matches your personality." Twenty-nine dollars seemed like a small price to pay to tap my hidden potential. What if low-paying scholarly work really isn't my thing? Maybe the assessment will reveal that I'm better suited to wheeling and dealing at the top of the corporate ladder. The only thing that stopped me from signing on was the memory of a similar test I took in high school which revealed that my true calling is police work (a noble profession, but, if you knew me, you would roll your eyes at the thought of kim white, the enforcer).
I also had to restrain myself from using the institute credit card to sign up for Trump's intriguing "Women-Centric Studies program"

Trump University is developing a new "women-centric" curriculum, starting with Prof. Karen Kahn Wilson's live course, Success Strategies for Women. This four-session course, scheduled for September and October, will be delivered over the Web. It will focus on the distinct strengths that women bring to the workplace and how they're related to findings in the latest research on female neurology. It has always been "common knowledge" that men and women think and behave differently--in the workplace and elsewhere--but these differences can now be explained through hard science.
Could it be? Is the business community finally realizing the unique contributions women have to offer? Are courses like this designed to change the business environment so that cognitive skills native to the female become highly respected and sought after? Or does Trump University offer this course because they know that this is what I wish for, and what I might pay for?

From the "Trump University Winner Wear" collection
Posted by Kim White at 04:55 PM | Comments (0)
I'm excited to announce Academic Commons, a new online journal-cum-workshop space devoted to "investigating and defining the role that technology can play in liberal arts education." The August issue brings together an impressive array of articles - including essays by Richard Lanham and hypertext fiction writer Michael Joyce - and profiles several noteworthy projects.
Academic Commons aims to share knowledge, develop collaborations, and evaluate and disseminate digital tools and innovative practices for teaching and learning with technology. We want this site to advance opportunities for collaborative design, open development, and rigorous peer critique of such resources.
Sponsored by the Center of Inquiry in the Liberal Arts at Wabash College, Academic Commons provides groups and forums for catalyzing and developing collaborative projects, and is linked to LOLA, a learning object repository hosted at Wesleyan. Educators can come here to find incisive critical thinking on the meaningful use of technology in schools, and also can obtain concrete resources and contacts for use in their teaching. From the looks of the inaugural issue, it seems Academic Commons is set to become an important player.
Posted by ben vershbow at 04:28 PM | Comments (0)
Jamie Kane, fictional heartthrob and pop star, is the subject of a new BBC online game where players must solve the mystery of the singer's death (story). Last Friday, a Jamie Kane article appeared on Wikipedia (original, current) that made no acknowledgement of the boy band singer's fictional status. Encylopedians soon sniffed out the viral marketing ploy and edited the page, making it a likely candidate for deletion. Today, the BBC admitted that the page had been set up by an employee, but not as part of an official marketing campaign.
Should we be worried about the veracity of information on the web? Of course. On Wikipedia? Definitely. But not because of episodes like this. If anything, this demonstrates how Wikipedia can work quite well for pop culture, and how the community can respond swiftly to so-called vandalism. I say, let Jamie Kane have his page, just not under false pretenses. Let the page incorporate the history of this tiny scandal. That's one of the things I find most fascinating about Wikipedia - that it can handle that kind of self-awareness.
Posted by ben vershbow at 02:00 PM | Comments (0)
So, the pilot e-textbook program (see post) on trial this fall at Princeton, the University of Utah and nearly a dozen other universities, is modifying inititial plans to make digital textbooks expire after five months, extending terms to at least a year, and, in some cases, scrapping the limit altogether. Congratulations to publishers for bravely pushing their program to the bare minimum.
See "Publishers loosen rules on e-textbooks" in CNET.
Posted by ben vershbow at 01:18 PM | Comments (0)

A little over a week ago, at the first international Wikimedia conference (Wikimania) in Frankfurt, Wikipedia founder Jimmy "Jimbo" Wales presented a free culture manifesto comprising ten problems, or, "ten things that will be free" over the course of the next generation. Invoking the famous "23 problems" presented by mathematician David Hilbert to the world mathematics community in Paris in 1900, Wales laid out the ten forms of information that he believes have a solid chance of actually becoming free, provided that his burgeoning Wikimedia empire, and other similar ventures, continue to gain influence.
The list:

1. free the encyclopedia
2. free the dictionary
3. free the curriculum
4. free the music
5. free the art
6. free the file formats
7. free the maps
8. free the product identifiers (e.g. ISBN etc.)
9. free the TV listings
10. free the communities (e.g. web forums, wiki hosting sites etc.)
Recently a guest writer on the Lessig blog, Wales had the opportunity to expand on some of the ten items. I found the "free the curriculum" entry particularly suggestive, especially considering recent feeble efforts from textbook publishers to adopt an electronic model (see "tired of feeling so used, textbook publishers go digital"). Wales predicts that "a complete curriculum in English and a number of major languages will exist by 2040, and translation to minor languages will likely follow soon after."
In the long run, it will be very difficult for proprietary textbook publishers to compete with freely licensed alternatives. An open project with dozens of professors adapting and refining a textbook on a particular subject will be a very difficult thing for a proprietary publisher to compete with. The point is: there are a huge number of people who are qualified to write these books, and the tools are being created to leave them to do that.
Wales dreams that Wiki Books - a clearinghouse of free, open content textbook modules - will lay the groundwork for this new era of openness. There's not a whole lot there yet, certainly nothing to match the 22 million articles that in half a decade have filled the pages of Wikipedia. But let's wait and see.
I would guess that it won't be Americans or Europeans who will make the first big move into open source curricula. The West may be a great source of ideas, but it is also a stronghold for the entrenched interests of publishers and software companies. In so-called developing nations, there is much less to lose and probably much more to gain from experimenting with something like Wiki Books. Take a look: someone has even "wiki-fied" the entire National Curriculum of South Africa as a skeleton for the kind of public domain curriculum Wales has forecast. Right now, free software is spreading rapidly through the developing world, especially in educational initiatives. Freeing the curriculum would be a logical next step. If or when these changes take root, we'll find ourselves living in a very different world.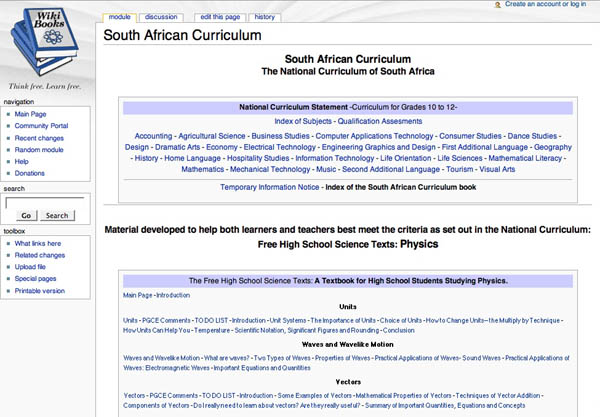 Over the next few days, I'll be discussing some other open curriculum initiatives. Stay tuned.
new post now up: MIT's OpenCourseWare
Posted by ben vershbow at 12:20 PM | Comments (1)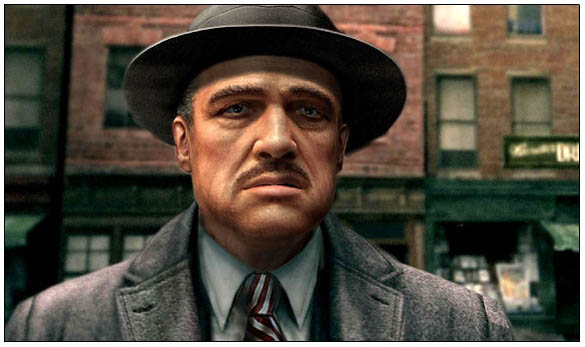 "What ultimately sets gaming apart from prefabricated media like television and books is that the consumer is in control of the action; the consumer is the protagonist of whatever story the game might tell."
Seth Schiesel affirms this in an article on The Godfather video game coming out early next year ("How to Be Your Own Godfather," NY Times, July 10, 2005 - also audio slideshow narrated by Schiesel). Schiesel's article intrigued me from the view point of the movie junkie and the book lover. The Electronic Arts team that created this video game, used scenes and characters from the first Godfather to create a virtual universe where the players can manipulate the plot and create their own narrative. This player becomes the ideal reader that Flaubert and Borges dreamt about, and that the French literary theorists wrote about. Reading/playing becomes writing. The desire to directly involve the reader/audience in the creative act can be traced to the notion of catharsis in Greek tragedy, to Shakespeare's play inside a play, to the second part of Don Quijote and so on, but it is now, thanks to electronic media, that the concept becomes reality, a virtual reality with all its possibilities yet to be explored.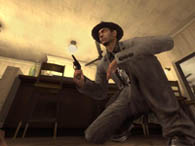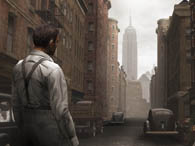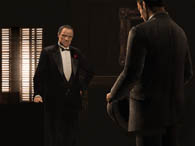 Much has been said about the difficulty to faithfully adapt books to film. García Márquez, whose first love is film, defends his refusal to sell the rights of One Hundred Years of Solitude to Hollywood, saying that the screen robs the viewer the freedom of completing the characters of the novel in his imagination. His readers can, for instance, identify José Arcadio Buendía with an uncle or a grandfather. But, he argues, if that character were to be played by Robert Redford, that freedom of association would be lost. It would also be quite difficult to re-create on film the complex time structure of García Márquez's novel, or to render credible the many instances of magical realism that, when reading, one doesn't doubt for a second. Could this be done using electronic media?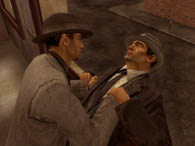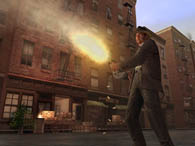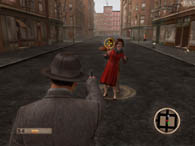 The executive producer of the Godfather video game, David DeMartini, talks about time linearity in film, usually limited to 80 -120 minutes, in which the director has to provide his narrative version of a book. What is interesting in the use of a movie, based on a novel, as a video game is that the player actually goes through the story living it. Here, he doesn't only complete the characters in his imagination; he is his own character. Time is not limited or externally imposed upon the player/viewer as in film, he actually has 20, 30, 40 hours to experience and deal with the many choices he has as a character of the narrative. What we have here is not only the ideal reader; it's the ideal fiction. Brando, who absolutely bought into this project, puts it clearly; "It's the audience, really, that's doing the acting." Incidentally, the BBC reports today that a similar video game franchise is to be made from the Jason Bourne novels of Robert Ludlum - or rather, from the popular films starring Matt Damon adapted from Ludlum's books.
Francis Ford Coppola, on the other hand, disapproves of the game as a typically violent kill and get killed video game. Seth Schiesel makes an important argument in favor of games bringing the Grand Theft Auto series as a parallel to the Godfather, by saying that there is something more than just violence in these kinds of video games.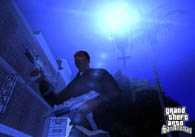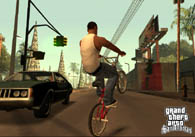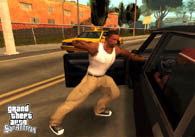 What is exciting is the game's form. In G. T. A. the player has an entire city to explore. There are missions and a story available, and plenty of violence, but there is also the freedom one has to experience an open-ended virtual urban environment. I dare to add: what I see here is the book of the future.
Posted by sol gaitan at 02:30 PM | Comments (0)
Faced with intense pressure from publishers since it announced its Print and Library projects, Google has decided to back down, at least somewhat, from its ambitious program to scan major library collections and make them searchable online. Until now, Google has defended its project as falling under "fair use," but publishers have not been convinced. From the Google blog:
We think most publishers and authors will choose to participate in the publisher program in order to introduce their work to countless readers around the world. But we know that not everyone agrees, and we want to do our best to respect their views too. So now, any and all copyright holders – both Google Print partners and non-partners – can tell us which books they'd prefer that we not scan if we find them in a library. To allow plenty of time to review these new options, we won't scan any in-copyright books from now until this November.
MIT Technology Review hones in on Google's hubris:
Seems copyright owners have problems with the effort, and who can really blame them--copyright protection is, after all, one way publishers make their money. Somewhat amazingly, Google wants copyright owners to opt-out of their program, instead of Google having to do the work of contacting copyright owners to get them to opt-in.
Posted by ben vershbow at 02:28 PM | Comments (0)
"The cover of the book was rubbed with a patina made from lamp black, Yakskin glue, and brains. It was burnished to a gloss and inscribed with an ink made from crushed pearls and silver." That is a description of the one of the Tibetan monastic manuscripts, or pothi, that Jim Canary discussed in his recent presentation, "The Tibetan Book: From Pothi to Pixels and Back Again," at The Changing Book Conference (University of Iowa). Pothi were originally made of palm leaves. They are up to four feet in length and thin in shape; consisting of loose leaves in cloth covers pressed between wooden boards. They are sometimes housed in wooden boxes that resemble child-sized coffins. The Tibetan pothi are stored in long, narrow pigeon holes built into the walls surrounding the chanting area of the temple. Jim showed us a picture of these impressive libraries, with ceilings so high, the walls, and their overstuffed catacombs, disappear into darkness.
Jim Canary has over sixty of hours of video, taken during his trips to Tibet, documenting the monastic printing process. He plans to edit and publish the video as a CD Rom in tandem with a print book. He showed us some selections, which I do not have, so I will do my best to describe them. Video #1: a man sits on the stone steps outside the temple. There are two tall stacks of paper next to him and a bowl of water in front of him. He is preparing the paper for printing, taking one sheet from the top of the pile, passing it through a pan of water and placing it on top of the other pile. He has hundreds of sheets to dampen, so he is working in a brisk rhythmic manner. When he's finished, the stack will be pressed between two wooden blocks. Video #2: printing takes place in a building across from the temple. The printing is done in teams of two. One man holds the hand-carved wooden block and prepares it with ink. His partner places each damp sheet on the wooden block for burnishing, then removes it and sets it aside to dry. The men work quickly in tandem, surrounded by the music of monks chanting in the temple next door. The tone and rhythm of the chant matches the rhythm of their work. It is designed to correspond with the heart beat, and it works to knit all participants together into a single, metaphorical "body" which is, in turn, joined to all humanity through the meditation. The result of all this unity is a book, shaped like a body, which will be housed, along with hundreds of others, in the temple walls.
Mr. Canary's presentation was also about the future of these mystical books, which are being cataloged, preserved, reproduced and distributed using digital technology. Some monks are now working on laptops, transcribing text and burning DVDs. Here is an excerpt from a poem written by one of the monks in praise of digital materials, which, in his eyes, are as exquiste as a patina made from lamp black, Yakskin glue, and brains, burnished to a gloss and inscribed with an ink made from crushed pearls and silver are to me.
…The light of the disk is endless
like the light of the disks in the sky, sun and moon.

With a single push of our finger on a button
We pull up the shining gems of text…

–Gelek Rinpoche
Posted by Kim White at 09:26 AM | Comments (1) | TrackBack
You can now syndicate sections, results, and customized pages on Google News using RSS (really simple syndication) feeds.
For many, Google News is -the- one-stop aggregator for current events. But now you can aggregate from the aggregator. With so many filters coming in between news outlets and their readers, can the identity of a publication be retained? If a newspaper decides to start charging for access to its website (as the New York Times is beginning to do), they'll cite revenue concerns. But in a way, they're saying something much more primal: we're unique, we exist!
Posted by ben vershbow at 01:54 PM | Comments (0)
Electronic reference works are exploiting the unique capabilities of the digital medium and educators are incorporating these innovations into curriculum material. The atlas, for example, has its internet counterpart in: MapQuest, Google Maps, Yahoo Maps and others. These electronic data sets are being used as material for student projects like Jimmy Palmer's gCensus, which is constructed from Google Maps and data extracted from the 2000 United States Census. Of the project, Palmer says:
I recently completed my Masters of Science in Computer Science at The University of Mississippi. One of the classes I took during my last semester was a course concerned with processing large quantities of data. Specifically, the course focused on scientific data collected in such fields as fluid dynamics, physics, and weather. The class was small, about a dozen people, and this allowed the class to be somewhat informal in nature. We read two or three published research papers per week and discussed the papers in round table discussions during class meetings.

One of the assignments we were given was open-ended. The assignment was to "do something interesting with a large data set". I looked around at possible datasets and came across the census data. At approximately ten gigabytes, I thought it qualified as a large data. At the same time, spring 2005, Google had just released its map technology. I thought the two were a perfect match and gCensus is the result.
As we consider the ways in which textbooks are evolving in the digital medium, we must also look at how electronic reference material is created, archived, and accessed. Changes in the use and nature of reference works may engender changes in teaching methods and tools.
Posted by Kim White at 09:07 AM | Comments (0)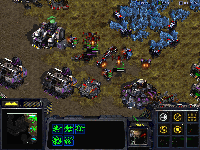 Four secondary schools in Britain (ages 11-16) are to incorporate computer games into daily classroom activities as part of a one-year trial run. Researchers are looking to begin drafting a "road map" for game integration in schools across Europe. See BBC: "Games to be tested in classrooms."
Another BBC item: "S Korean dies after games session." Seems a 28-year-old man became so immersed in Starcraft that he neglected to eat or sleep. After 50 hours, his heart stopped.
(image is a screenshot from Starcraft)
Posted by ben vershbow at 05:57 PM | Comments (0)
CNET News reports that ten schools, including Princeton, the University of Oregon, and the University of Utah, are to participate this fall in a trial program in which college bookstores will offer digital editions of high-demand titles at a 33% mark-down from print prices.
In exchange for these enormous savings, students get to download one, intensely straight-jacketed .pdf file - a book that is readable on only one machine, cannot be printed out in full, and will expire after 150 days.
Some of America's biggest textbook publishers, including McGraw-Hill, Houghton Mifflin, John Wiley & Sons, and Thomson Learning are offering digital titles in the program through wholesaler MBS Textbook Exchange. Their aim? To tempt cash-strapped students away from used textbooks, the bane of the textbook industry. All in all, it's a cynical move that implicitly acknowledges the absurdly inflated price of print textbooks, yet offers only token relief, trying to pass off self-destructing, digital facsimiles as a reasonable substitute for a perfectly durable, slightly dinged used book.
What the textbook publishers ought to be doing is cultivating a more creative vision of the digital textbook, and getting over their terror of online distribution, which they can only see as an intellectual property disaster. Textbook publishers should take a look around and see that there are ways to make good business online. Charge for the service, not the copy - explore syndicated content that students can subscribe to at reasonable rates. Develop new kinds of multimedia titles that can truly take advantage of the online environment. Stop spending millions on digital rights management, stop worrying about your precious copies getting stolen.
On the web, everything is a copy, and it's pointless trying to police this reality. What's meaningful is access, what's meaningful is staying up to date. Develop a good service, with consistently updated, valuable content, and students and professors will buy in. If the textbook industry does not wake up and adapt, they could find themselves in the ash heap. More on that to come.
Posted by ben vershbow at 03:42 PM | Comments (1)
E-Poetry 2005, "an international digital poetry festival," will be held this fall, September 28 through October 1, in London:
E-Poetry 2005 is both a conference and festival, dedicated to showcasing the best talent in digital poetry and poetics from around the world. E-Poetry combines both a high-level academic conference and workshop, examining growing trends in this young and emergent art form, with a festival of the latest and most exciting work from both established and new practitioners.
(via Grand Text Auto)
Posted by ben vershbow at 01:45 PM | Comments (0)
lulu.com is an intriguing, just-launched enterprise from open source software pioneer Bob Young (see recent BBC profile) that applies the ebay model of the global online bazaar to print-on-demand publishing. Lulu will host and publish your creative work (text, video, music, photography, whatever) for free. "Lulu is a technology company, not a publisher," the site makes clear. When somebody purchases a copy, a paperback is spit out of a printer, or a CD or DVD is stamped. The single copy is then packed up and shipped to the buyer.
Authors specify a royalty that they will receive from each sale. All Lulu does is add a modest mark-up to each item, covering the cost of set up, printing and shipping. The rest is profit. For downloads, Lulu doesn't charge anything above the author's royalty. Lulu also retains no rights to the work, and has no problem with an author selling their book elsewhere, or even going in and doing an edit of an already listed work. For an extra fee, however, Lulu will help with retail distribution, getting the book listed on Amazon and Barnes & Noble, and giving it a unique ISBN. In this case, Lulu does retain exclusive rights to market your book.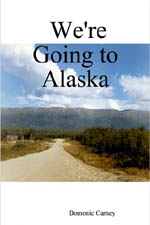 Usually, it's the publisher and the retailers that keep most of the money, while the author receives only a tiny fraction. With Lulu, it's the other way around. And with that reversal goes all the strictures - good and bad - that come with traditional, "elitist" publishing. Authority, prestige, quality control, yes, but also the extreme deficit of imagination and willingness to take risk that plague publishing in the age of mega conglomerates.
Lulu is like a cattle auction for books. The challenge is not to be "in print" - inexpensive print-on-demand publishing from digital backlists eradicates that concern. Everyone is theoretically in print. Whether anyone wants to read them, however, is a different matter. And so, Lulu is a sort of battleground for the elemental aspirations of creative egos. A writhing mass. The hope is that niche titles will find an audience and that valuable new voices might emerge.
Looking at the Lulu Top 100, you'll get an idea of what I mean by "niche" titles. At number one (at the time of this writing) is "The Havanese" by Diane Klumb - "the quintessential handbook for Havanese dog owners, breeders and fanciers." From there on down the list, you'll encounter such titles as: "Raw Foods for Busy People: Simple and Machine-Free Recipes for Every Day"; "The Best Way to Stay Healthy: Stay as Far Away From Doctors as You Can; Volume I" by George Steele M.D."; "Finding the CAN in Cancer"; "The Messiah Seed Volume I"; "Atlanta Nights" ("a bad book written by experts"); "Luciferian Witchcraft"; "The Authoritative Encyclopedia of Scientific Wrestling"; "Rangefinder Photography"; "Ornamental Gardening in Acadiana & the Gulf States: Questions and Answers"; "The Pelvic Pain Solution"; and "Chugworth Academy: All Aboard the Mentalist Train" - an anthology of web comics by David Cheung.
Posted by ben vershbow at 11:58 AM | Comments (1)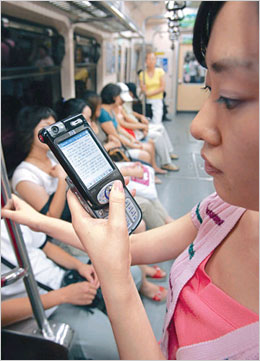 An article in Chosun Ilbo describes the increasing popularity of ebooks in Korea, a shift driven by readers on a tight budget who are drawn to the affordability of digital texts. It's estimated that about 100,000 electronic titles are currently available, a number that is expected to more than triple over the coming year as publishers ratchet up their digital publishing operations. But most interesting was this prediction of how the form of electronic books will change as they become more widely accepted:
For now, e-books remain at the level of taking printed books and converting them into digital files. But they will soon develop into multimedia books that combine text, sound and video.
(image from Chosun Ilbo)
Posted by ben vershbow at 07:57 AM | Comments (0) | TrackBack
Fernanda Viégas, a Ph.D. candidate at the Sociable Media Group at the M.I.T. Media Lab has developed an attractive visualization tool for email archives. Appropriately, she chooses the metaphor of a mountain. Colors, like rock layers, represent the various people you have kept up with. The more recent contacts are toward the peak.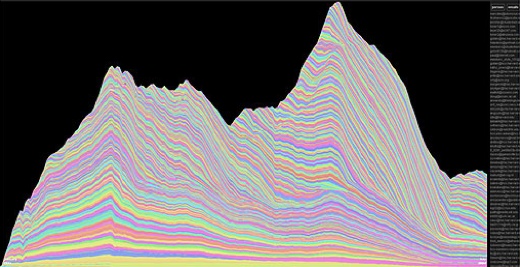 It's terrifying to think of all the email I have generated and received since I first started corresponding electronically in the mid-90s. If they were letters stuffed in shoe boxes, they would probably fill a house. Some of those shoe boxes have been vaporized (I lost a lot of my college letters (probably for the best) when my student accounts were closed. And now, probably foolishly, I use webmail, which could vanish just as easily.
A vast majority of letters are transient things, hardly worth a second look, let alone saving. But some can turn out to be valuable keys to the past - a way to unlock a mind or a relationship from an earlier time. Collected letters have always been an invaluable tool for literary and historical studies. But since letter writing is an all but dead practice, we must turn to emails for epistolary evidence. And not just email, since today's communication practices are so diverse. Text messages, instant messenger chats, phonecalls, video conferencing - these are all avenues for our social selves. 99% may be vapor, but it would be sad to lose that salient 1% that gives flight to memory.
I came across a new program (not free) that records Skype conversations as .mp3 files. Skype is a free VoIP program (voice over internet protocol) that probably spells ultimate doom for traditional phone services. Years later, assuming your hard drive hasn't been wiped and the file format is still readable, plug in your headphones and listen to your collected letters.
("Mountain" via Smart Mobs via Information Aesthetics - not to be confused with, though highly related to, Information Esthetics)
Posted by ben vershbow at 12:21 PM | Comments (0)
This speaks volumes. From a recent staff memo at the Times:
"By integrating the newsrooms we plan to diminish and eventually eliminate the difference between newspaper journalists and Web journalists."
(see free story in WSJ)
Posted by ben vershbow at 07:34 AM | Comments (0)
More interesting findings from Technorati's "state of the blogosphere" report. This installment focuses on "posting volume," or how active the active 55% of the world's 14.4 million blogs really is. The study shows a clear and steady increase in the average posting rate across the blogosphere. The graph below shows how volume has spiked in response to certain events, from Howard Dean's infamous scream following the Iowa primary to the July 7 London bombings.
Posted by ben vershbow at 06:22 PM | Comments (0)
Clusters
Flickr has unveiled a pair of new tools for sifting through its 31 million images. The first is tag clustering, which breaks up single-term tag searches into clusters based upon patterns among coinciding tags. For instance, a search for "flight" yielded three clusters (see screenshot below): one with a preponderance of birds, one with shots of airplanes, and a third with general scenes of air travel. A search for Europe might yield separate clusters for France, Italy, and Germany, and might also set apart images with a high incidence of cathedrals.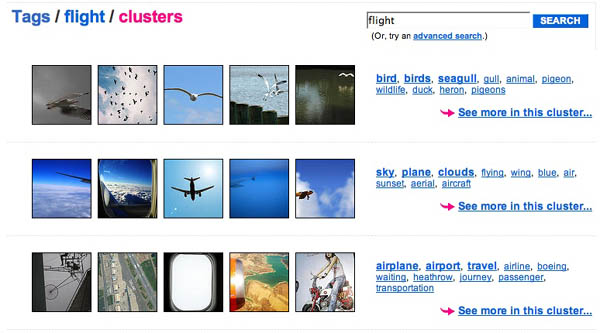 Tagging has always been central to the Flickr experience, but given the incredible volume of images, it goes only so far in helping one dig out items of interest. There is always the option of an advanced search, which narrows down a query to images that have two or more tags in common. But tagging is an idiosyncratic business and the more refined the search, the more brilliant your guesswork must be.
Clusters aren't a bad alternative. They find a middle ground between the single tag avalanche and the razor-sharp advance search, turning up groups with nice, fuzzy affinities. From now on, I might check clusters before moving on to an advanced search.
Interestingness
One unfortunate fact in Flickr (and the web in general) is the brutal hierarchy of time. The more recent a thing is, the easier it is to find. More a pile-up than an archive, it's difficult to get to anything that's not in the vicinity of the upper layers. Recognizing this, Flickr has initiated a Google-style ranking system called "interestingness."
Carrying on the Flickr tradition of cute, exuberant terminology, "interestingness" is based on an algorithm that ranks images on a kind of impact index, judging by number of times viewed, number of times marked as "favorite," number of comments, diversity of click-throughs, etc. For any given day of any given month, you can see what the algorithm has determined to be the 500 most interesting images. You can also sort tag search results by "most interesting," and can even see what the algorithm thought of your own personal photostream.
When it came to my own images, I found the machine to be a poor curator, since what I consider to be my most interesting images have, for whatever reason, been viewed less frequently. A popularity contest does not always award the most deserving. But looking at the monthly exhibits, its hard to deny the quality of the selection. I highly recommend visiting the "explore" page.
Posted by ben vershbow at 12:31 PM | Comments (0)
With August comes the ritual back-to-school mania, and fittingly, there's a large special section in today's Times on the "digital student." At a glance, it seems to focus heavily on gadgets - a sort of fashion spread for the accessorized student - but there are also articles looking at social software in the classroom and new pedagogical methods. Could be interesting.
Posted by ben vershbow at 10:48 AM | Comments (0)
Drunken Boat, international online journal for the arts, has extended the deadline for its First Annual Panliterary Awards in Poetry, Fiction, Non-Fiction, Web-Art, Photo/Video, Sound. Submit up to three works. Winners in all categories will be featured in a subsequent issue of Drunken Boat, and will be invited to perform at future multimedia events and performances with all expenses paid. All other entries will be considered for publication.
Deadline Extended to: August 15th, 2005
Judges: Annie Finch, Sabina Murray, Alexandra Tolstoy, Talan Memmott, David Hall, and DJ Spooky
Posted by Kim White at 09:16 AM | Comments (0)
There's a good "state of the blogosphere" post up on Technorati. According to the latest analysis, there are approximately 14.4 million blogs, and that number is on track to double every 5.5 months, with a new blog created each second. A noteworthy statistic, and one that has remained constant for at least a year, is that approximately 55% of blogs are active. So, high rate of birth, and high rate of stagnation. That's the web.
Posted by ben vershbow at 04:58 PM | Comments (0)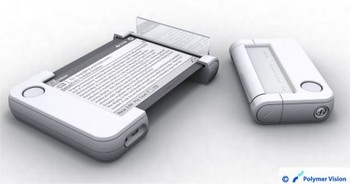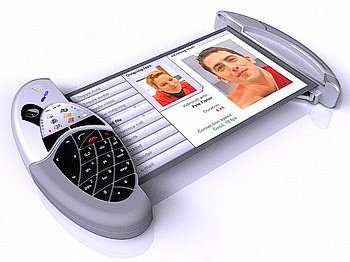 Some future fantasy fare from Polymer Vision, a subset of Philips. These screens are paper-thin and use e-ink to produce a reflective display that consumes little power and can be read in sunlight. Read a book and then roll it back up into your phone. This stuff is only a few years off.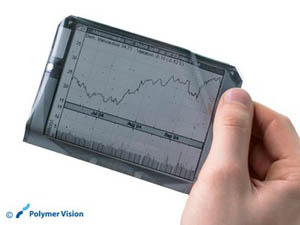 More info from Philips.
Posted by ben vershbow at 02:02 PM | Comments (0) | TrackBack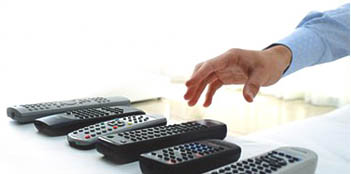 Lexis Nexis, an indispensable resource for the more-than-casual web researcher, announced it will be adding video to its news and archive database, as part of its pay-as-you-go AlaCarte service. Clips will cost a few bucks a piece, more or less what a text article does now, and can be emailed to other readers for an extra fee.
The service will be powered by Critical Mention, a Manhattan start-up with a growing video database and several big licensing agreements already under its belt. The move into video parallels recent developments at Google, and particularly Yahoo!, whose video search engine makes it easier to track down clips across the web. But Lexis Nexis will be aimed at more rigorous researchers, primarily businesses, universities, and government agencies.
This brings a broadcast medium into what has traditionally been textual territory, underscoring some of the big questions: what does it mean to "write" with video? What does it mean to "quote" video?
(image: Critical Mention)
Posted by ben vershbow at 12:20 PM | Comments (0)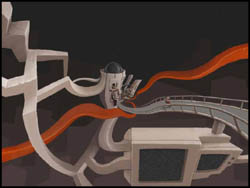 Dan came across another nice example of a zooming interface, which we believe suggests a new spacial conception of the page. The "Zoom Quilt" is a playful piece, apparently the fruit of a collaborative art project. I can imagine this working wonderfully for a children's book. I wish, though, that the path could fork.
For more on zoom:
"infinite canvas comics"

"the page as a spandrel (or not)"
Posted by ben vershbow at 05:23 PM | Comments (1)
A pilot program in Kenya gives 54 fifth grade students pocket PCs in lieu of textbooks (BBC story). Known in the school as "e-slates," the handheld computers run on open source software and contain digitized print textbooks, but could eventually support multiple media materials. The whole classroom is connected through a wireless network, which allows texts to be updated seamelessly, and may ultimately enable homework assignments to be passed between teacher and pupil without a single sheet of paper. But that will depend on a reliable network connection and a steady supply of electricity, neither of which are a given.
Posted by ben vershbow at 05:00 PM | Comments (0) | TrackBack