« "ubiquitous social encyclopedia" | Main | a big bang theory for media »
web marginalia 05.23.2005, 7:09 AM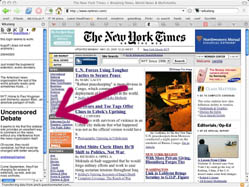 About a week ago, I attended a fascinating workshop at USC on Social Software in the Academy - a gathering of some of the most interesting thinkers, teachers and innovators at the intersection of technology and education. I learned a great deal, much of which I'm still processing and will be posting about this week. I also found out about some exciting new tools. One of them is Wikalong, a plugin for the Firefox browser. Wikalong makes it possible to write notes in the margin of a web page (something we take for granted in paper books). Reviews, rebuttals, conversations, subversive commentary, a "roving weblog," or just plain old notes - all of these are possible in the little sidebar wiki notebook that Wikalong places to the left of any web page you go to. Online reading enhanced.
A great part of history is written in the marginalia, and I suspect that networked marginalia is territory worth exploring. Wikalong might be just a literal-minded stepping stone to more interesting forms, but the profundity of the margin (which lies in its spacial relationship to the primary text) shouldn't be underestimated.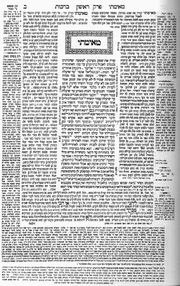 Sparks fly between juxtaposed texts. While hyperlinks enable the reader to leap between textual worlds, they suck you down a wormhole to a distant place. Sometimes it's better to be in both spaces at the same time (like keeping two browser windows open at once). Think of the Talmud, the great Jewish compendium of law and exegesis. On each page, commentaries are arrayed around a core text. Wikalong may seem insignificant next to this ancient hypertext system, but it points to a related sort of spatial intertextuality that should theoretically be possible in the new medium. If a flat page can be so multi-dimensional, think of how far we might be able to go in a virtual space.
Another handy tool is PurpleSlurple, which provides granular addressability for any existing web page. In other words, it inserts links for paragraphs and headers, allowing you to reference specific sections of text on a given page. Each "slurped" page gets its own URL, as does each individual element that has been anchored with a reference number. It's primitive, but could come in extremely handy. For bloggers, this provides another way to reference a particular passage in a long web document. Just slurp the page, then link to the specific section.

Nils Peterson, of Washington State University, presented these tools, along with del.icio.us and a visualization application from Tufts called VUE, as a "juxtaposition of technologies" - a toolkit enabling a web reader or writer to more effectively annotate, reference and quote within the web.
Posted by ben vershbow at May 23, 2005 07:09 AM
tags: Transliteracies, conferences_and_excursions, the_form_of_the_book
Comments
I don't think I've ever heard the Talmud explained like that (silly goyem)... not certain which is more facinating: the old or the new?
Posted by: alex at May 23, 2005 06:10 AM
Speaking of the Talmud, you might want to check out David Small's "Talmud Project," which plays with the simultaneous visualisation of multiple texts.



Glosses certainly have a long and rich history. I think it's particularly interesting to track how glosses forced a change in the layout of the page, and how these visual changes are reflections of conceptual shifts . . . especially as the gloss begins to take over the space of the page, eventually becoming the central text itself, upon which other glosses are written (echoes of ben's wormhole?).
Posted by: bonnie mak at May 26, 2005 07:44 AM
Post a comment (might take a few moments to appear)