« April 2005 | Main | June 2005 »
Poetry was originally intended as oral/aural medium. It was language as song, performed for an audience practiced in the art of listening. The way a poem looked on the page was relatively meaningless until the advent of print technologies. Now, as digital media makes it possible for poets to publish their work as audio tracks, we may see poetry begin a natural migration back to its traditional form–-performance art.
A good place to find some of these aural treats, try PennSound, an ongoing project at the University of Pennsylvania, committed to producing new audio recordings and preserving existing audio archives of poets performing their work. According to the PENNsound Manifesto, every project on its database "must be free and downloadable." Sounds good to me, I visited the archive and downloaded Tracie Morris' From Slave Sho to Video aka Black but Beautiful, which was performed at the Whitney Museum's 2002 Biennial Exhibit.
Tracie's work is extremely hard to come by, so I was thrilled when I found this. I can't think of a better artist to represent the off-the-page digital instinct. Tracie's poem uses broken and remixed language--so ubiquitous in our media saturated atmosphere--to present a conflicted inner dialogue about racial identity and cultural conceptions (or misconceptions) of beauty.
Posted by Kim White at 02:00 PM | Comments (0)
After several decades of near-unbroken consolidation of radio broadcasters, the spoken word is enjoying a much needed renaissance driven by satellite radio and podcasting. Audio books too - the much-maligned little nephew of book publishing - have undergone an unprecedented boom, driven by faster internet connections, online retailers devoted exclusively to audio (most notably Audible), and the ubiquity of portable mp3 players that can hold hundreds, even thousands, of hours of audio. For a society of multitaskers, this is undoubtedly a good thing, but the debate rages as to whether listening to a book can in any way compare to reading it with one's eyes. The NY Times ran a story yesterday about the new craze in auditory reading, and about the stigma that is frequently attached to audio books:
Some critics are dismayed at the migration to audio books. The virtue of reading, they say, lies in the communion between writer and reader, the ability to pause, to reread a sentence, and yes, read it out loud - to yourself. Listeners are opting for convenience, they say, at the expense of engaging the mind and imagination as only real reading can.
Or, as Harold Bloom (quoted in the Times piece) puts it:
Deep reading really demands the inner ear as well as the outer ear. You need the whole cognitive process, that part of you which is open to wisdom. You need the text in front of you.
Scott Esposito over at Conversational Reading agrees. He insists that listening does not equal reading, end of story.
But I would not be so quick to dismiss audio books. They are admittedly a different kind of reading - a subset of visual reading - but important and potentially enriching nonetheless.
For many - the blind, the visually impaired, the learning disabled - people for whom visual reading is either impossible or an agonizing trial - this subset of reading is reading. Dolphin, a British software developer, makes EaseReader, an ebook reader for PCs that "combines electronic text with pre-recorded audio." As you listen, it pages through the book, highlighting the text that is being spoken, and allowing you to jump around, pinpointing passages - re-listening - with incredible precision. For the millions with reading disabilities, this could provide the accessibility of audio without sacrficing close reading of the visual page. Pearson, the biggest educational publisher in America, just announced a strategic partnership with Audible to produce downloadable audio study guides, and perhaps eventually, entire textbooks. In a recent press release, they maintain that:
There is compelling research that identifies 30% of our population as auditory learners. By coupling this research with the growing popularity of downloadable audio, we believe these study guides can make a significant difference in student performance by accommodating diverse learning and life styles. Students today want the option to be untethered from traditional modes of learning. This product line fills a much-needed gap in learning content for a mobile and multitasking generation.
And what about these multitaskers? - the principal target of derision by literary purists.. Few would argue that you can fully engage with a book while simultaneously scooping out a gutter or paying bills. But there are plenty of activities that, while requiring the full involvement of the body, otherwise leave the mind to drift. I read most of my books in the traditional way - with hands and eyes - and for me, this is undoubtedly the fullest, richest kind of engagement. But with audio books, I'm able to read at other, less sedentary, times. When I was little, I listened to books on tape while building Lego cities or Brio trains. I listened over and over to the unabridged "Secret Garden," "Three Children and It" and the Paddington Bear stories. I also read print books - tons of them - but these trance-like experiences of slowly absorbing the story while moving one's hands - this was tremendously valuable. And since I listened to them repeatedly, I would argue that I knew those stories better than if I had read them once with my eyes and then shelved the book. You could say that books on tape helped me make the transition from being read to by my parents and becoming a fully independent reader.
Nowadays, I like to run, and for me, the thing that makes running hardest is not the demands it makes on my legs or respiratory system, but rather the way that it fails to occupy my brain. The mind revolts - the customary patter of thoughts, large and small, becomes a kind of torture. Unless you can slow your mind down, it's impossible to stop thinking: "when is this going to end?" "has it only been eight minutes?!" "why didn't I just watch TV?"... Sometimes, you can get your mind to behave and sort of synch up with the steadiness of the breathing. It helps to run in a beautiful place. But this isn't always possible, especially when you live in a big city and a treadmill in a gym is your only option. Lately I've been listening to books on an iPod. Not only has it made exercise feel less like a chore, it's allowing me to absorb "The Devil in the White City" by Erik Larson - a charming popular history of the 1893 Columbian Exposition in Chicago that I never would have had time to read otherwise. While running, I'm a totally captive audience, and the rhythm of the body and the breath actually turns off the rotating critical knives that so frequently hijack my visual reading experience. As I move, the White City is slowly erected in my mind's eye. If I miss a bit, I simply reread, er, rewind.
Audio books can also be a boon to people who spend a lot of time cooped up in cars. My grandmother is constantly zigzagging all over the northeast United States in her Subaru, and with audio books she's able to use this time productively. Over the past year, she's absorbed half a dozen books on the founding period of the American republic. Now I can't get her to stop talking about Alexander Hamilton and Dolly Madison. For a natural lifelong learner like my grandmother, audio books have yielded great rewards.
Posted by ben vershbow at 05:03 PM | Comments (2)
In January I bought my first ebook (ISBN: B0000E68Z2), which is published by Wiley. I have one copy on my laptop and a backup on my external harddrive. Last week, I downloaded and installed Adobe Professional (writer 6.0) from our company network (Norwegian School of Management, BI) - during the installation some files from the Adobe version that I downloaded and installed when I bought the ebook (from Amazon.com UK) were deleted. Since then, I have not been able to access my ebook - I have tried to get help from our computer staff but they have not been able to help me.

Adobe thinks that I'm using another computer, while I'm not - and it didn't help to activate the computer through some Adobe DRM Activator stuff. Now I have spent at least 10 hours trying to access my ebook - hope you can help...
Boing Boing points to this story illustrating the fundamental flaws of digital rights management (DRM) - about a Norwegian prof who paid $172 for an ebook on Amazon UK only to have it turn to unreadable code jibberish after updating his Acrobat software. He made several pleas for help - to Acrobat, to Wiley (the publisher), and to Amazon. All were in vain. It turns out that after reading the story in Boing Boing (in the past 24 hours, I guess), Wiley finally sent a replacement copy. But the problem of built-in obsolescence in ebooks goes unaddressed.
I'm convinced that encrypting single "copies" is lunacy. For everything we gain with electronic texts - search, multimedia, connection to the network etc. - we lose much in the way of permanence and tactility. DRM software only makes the loss more painful. Publishers need to get away from the idea of selling "copies" and start experimenting with charging for access to a library of titles. You pay for the service, not for the copy. Digital books are immaterial - so the idea of the "copy" has to be revised.
Another example of old thinking with new media is the New York Public Library's ebook collection. That "copies" of electronic titles are set to expire after 21 days is not surprising. The "copy" is "returned" automatically and you sweep the expired file like a husk into the trash. What's incredible is that the library only allows one "copy" to be checked out a time, entirely defeating one of the primary virtues of electronic books: they can always be in circulation. Clearly terrified by the implications of the new medium (or of the retribution of publishers), the NYPL keeps ebooks on an even tighter tether than they do their print books. As a result, they've set up a service that's too frustrating to use. They should rethink this idea of the single "copy" and save everyone the "quote" marks.
Posted by ben vershbow at 11:07 AM | Comments (1) | TrackBack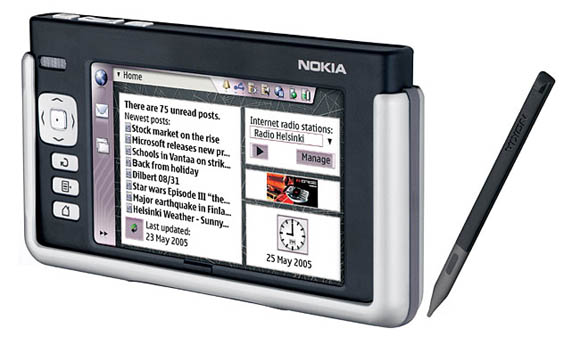 Nokia is preparing to release the Internet Tablet, a handheld, Linux-based device with wireless web browsing capability and a variety of multimedia options (video, audio, internet radio). $350 is the asking price. Problems seem to be that it doesn't come with a lot of memory, and that it doesn't support Microsoft media formats. But it edges a little closer to the "can I take it into bed with me?" criterion. We'll see if any interesting e-reading formats are developed for it. Most likely just a footnote on the way to something better.
Mentioned here in Wired. Here with the Linux angle. Pros and cons laid out here.
Posted by ben vershbow at 04:44 PM | Comments (1) | TrackBack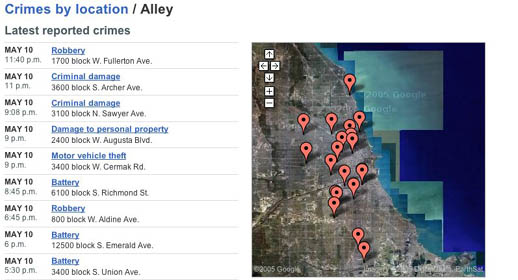 chicagocrime.org, the best use of Google Maps I've seen to date, has been making the web rounds over the past week. It generates maps using information scraped from Citizen ICAM, a public portal to the Chicago Police Department's database of reported crime. You can view by type of crime, street, date, police district, location type (i.e. alley, ATM, residence etc.), or a map of the whole city.
This is the latest in a series of living documents that have sprung up recently - web spaces tied by a thousand strings to real, physical places. I can imagine chicagocrime being integrated into a larger Chicago area web hub, or aggregator. Ideally, these hubs (see here and here) will combine the conviviality of the blog, the utility of craigslist, the diversity of Flickr or ourmedia, and the collective vigilance of citizen journalism. Other recently launched intitiatives of note are Bayosphere ("...of, by and for the Bay Area) and mnspeak.com ("twin cities: all day, all night"). The more people participate, the truer the picture of that place at that time. Are we moving past the primacy of the editor? Or will editors prove more important than ever before?
Posted by ben vershbow at 04:06 PM | Comments (0)
Last Friday, the Association of American University Presses (AAUP) sent Google a long letter expressing concern over what might amount to "systematic infringement of copyright on a massive scale" in its library project. BusinessWeek reports. The AAUP letter can be read here. Much of it asks Google to clarify its position on a number of points - to provide, as it were, the fine print on Google Print. Here's a great item:
Snippet is used so consistently in describing Google Print for Libraries that it's taking on the status of a technical term, and thus requires a specific definition. How long is a "snippet?"
Google defends its mass digitization project on the grounds of "fair use" (Section 107 of the US Copyright Act). In other words, it asserts the right to copy copyrighted materials and make them browseable on the web for research purposes as long as they restrict the amount that can be seen for free. Any commercial use of the text will take place only in the context of a publisher agreement. Publishers have the right to opt out, and apparently a couple already have, though most are holding their breath and waiting to see if they might be able to profit from Google's project. The tricky question is, can a book that has been withheld from the publisher program be included in the library program?
You could say that the web is one enormous copying machine. And so fair use questions are more important than ever before. Will Google be the juggernaut that breaks down the door into a more permissive fair use era for all? Or will they use their power to establish an exclusive, Google-only, fair use zone, and set up a cartel with publishers? Or will a few well aimed law suits sink the project before it gets off the ground?
Posted by ben vershbow at 12:37 PM | Comments (0)
Submit 1-minute low bandwidth narrative films to the 60 Second Story Competition, adminstered and judged by an interesting gathering of electronic writers, bloggers and publishers (including some of the folks at Grand Text Auto and Spineless Books). Stories must be submitted under a Creative Commons Attribution-ShareAlike 2.0 License. It's also worth mentioning that the contest is itself an entrant in another contest: the Contagious Media Showdown. The most contagious site (i.e. the one with the most hits in a three week period) wins. As of this writing, 60 Second Stories ranks 18th.
"Many digital cameras and webcams allow you to take one minute of video and audio at resolutions suitable for the web. With all the mindless fluff, commercial hoohah, and charlatanism on the web, we deserve a few minutes of story, do we not? Why haven't you done this already? Tell us a story."
Could prove to be a pretty contagious little concept - stories small enough to sneeze. I hereby infect you with it..
Also, read how Mozilla is getting its fans to spread the word about Firefox through viral video.
Posted by ben vershbow at 01:06 AM | Comments (2)
The Electronic Literature Organization, whose mission is to "facilitate and promote the writing, publishing, and reading of literature in electronic media," has a new site designed by Nick Montfort of Grand Text Auto.
Posted by ben vershbow at 01:38 PM | Comments (0)
"We librarians flatter ourselves that we know a thing or two about organizing information. It's time we stepped up and contributed to Wikipedia: not just to its content but to its structures and technologies. This project page is intended to provide a rallying point for these activities."
Posted by ben vershbow at 07:04 AM | Comments (0)
Future generations, living comfortably as digital natives, may look back on the twentieth century as the big bang moment in the history of media. The big bang theory, by now a household concept in the annals of cosmology, speculates that the universe began some 13 or 14 billion years ago in a massive explosion of matter from an original, super-dense, super-heated singularity.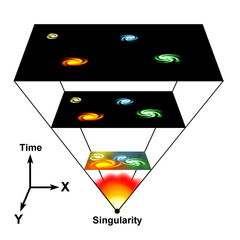 What does this have to do with twentieth century media? More than you might think. Industrialization and the development of telecommunications resulted in the centralization of communication forms into a kind of super-dense, super-heated singularity of their own: the mass media. Its power to drive a consumer economy through advertising, and blanket entire populations with messages and imagery has been so impressive, so all-consuming, that in a very short time it has come to seem all but inevitable.
But much to mass media's surprise (and horror), the singularity has exploded. With the web barely a decade old, it looks like the reign of mass media is turning out to have been only a brief interlude between a pre-electrified world, and a vastly uncertain digital horizon. Generations for whom radio and television were wondrous novelties assumed a passive posture, letting the transmission waves wash over them. But subsequent ages, reared in the super-heated forge of the mass media, have grown increasingly impatient with the paleolithic norms of the TV network, the daily newspaper, the cineplex, and the publishing conglomerate. They want more diversity, more choice, more mobility, and more opportunity to contribute in the very forms the media taught them. Totally decentralized, the internet is a different kind of animal, and since it can absorb and copy basically any kind of media, it is perceived by Big Media as fundamentally hostile to its interests. Consequently, they are doing everything in their power to preserve the models that worked so well for them when the universe was still young and galaxies (chains, affiliates, imprints) were still within their grasp: suing file-sharing services, going after DVD pirates, and slapping all sorts of nasty DRM (digital rights management) on the little downloadable content they are tentatively trying to sell. But in the end, it's a losing battle. Trying to hold still in a swiftly expanding cosmos will prove at first uncomfortable (as it is now) and eventually impossible. The universe is moving outward. Later, we'll tell our grandchildren what it was like to watch the big bang and the brief, brilliant age of the mass media.
The Wall Street Journal ran a free web feature today - "How Old Media Can Survive In a New World" - examining the crisis facing mass media, asking influential observers in each industry what might be done to adapt to the decentralized laws of the web and how to profit from media that has no physical dimension. It serves as a nice snapshot of the explosion in its current phase.
Posted by ben vershbow at 05:35 PM | Comments (2)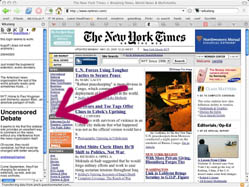 About a week ago, I attended a fascinating workshop at USC on Social Software in the Academy - a gathering of some of the most interesting thinkers, teachers and innovators at the intersection of technology and education. I learned a great deal, much of which I'm still processing and will be posting about this week. I also found out about some exciting new tools. One of them is Wikalong, a plugin for the Firefox browser. Wikalong makes it possible to write notes in the margin of a web page (something we take for granted in paper books). Reviews, rebuttals, conversations, subversive commentary, a "roving weblog," or just plain old notes - all of these are possible in the little sidebar wiki notebook that Wikalong places to the left of any web page you go to. Online reading enhanced.
A great part of history is written in the marginalia, and I suspect that networked marginalia is territory worth exploring. Wikalong might be just a literal-minded stepping stone to more interesting forms, but the profundity of the margin (which lies in its spacial relationship to the primary text) shouldn't be underestimated.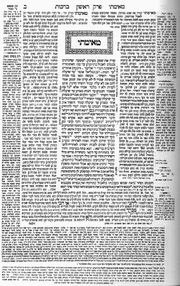 Sparks fly between juxtaposed texts. While hyperlinks enable the reader to leap between textual worlds, they suck you down a wormhole to a distant place. Sometimes it's better to be in both spaces at the same time (like keeping two browser windows open at once). Think of the Talmud, the great Jewish compendium of law and exegesis. On each page, commentaries are arrayed around a core text. Wikalong may seem insignificant next to this ancient hypertext system, but it points to a related sort of spatial intertextuality that should theoretically be possible in the new medium. If a flat page can be so multi-dimensional, think of how far we might be able to go in a virtual space.
Another handy tool is PurpleSlurple, which provides granular addressability for any existing web page. In other words, it inserts links for paragraphs and headers, allowing you to reference specific sections of text on a given page. Each "slurped" page gets its own URL, as does each individual element that has been anchored with a reference number. It's primitive, but could come in extremely handy. For bloggers, this provides another way to reference a particular passage in a long web document. Just slurp the page, then link to the specific section.

Nils Peterson, of Washington State University, presented these tools, along with del.icio.us and a visualization application from Tufts called VUE, as a "juxtaposition of technologies" - a toolkit enabling a web reader or writer to more effectively annotate, reference and quote within the web.
Posted by ben vershbow at 07:09 AM | Comments (2)
Cellphedia, a thesis project at the Interactive Telecommunications Program at NYU, is a user-generated encyclopedia composed of text message Q&A from cell phones - a kind of mobile, hyper-abbreviated Wikipedia. But unlike Wikipedia, Cellphedia entries are not open to editing by the community, at least not yet. Inspired by Dodgeball, a popular friend-tracking service, Cellphedia suggests something more along the lines of a massive, multi-user trivia game than a serious knowledge resource. It's the kind of street research that is becoming more common. Answers on impulse. The web overlayed on the physical world.
Posted by ben vershbow at 11:36 AM | Comments (0)
The World Wide Web Consortium (W3C), the main standards-setting body for the networked world we live and breathe, recently launched the Mobile Web Initiative. From the press release:
"Many of today's mobile devices already feature Web browsers and the demand for mobile devices continues to grow. Despite these trends, browsing the Web from a mobile device -- for example, to find product information, consult timetables, check email, transfer money -- has not become as convenient as expected. Users often find that their favorite Web sites are not accessible or not as easy to use on their mobile phone as on their desktop computer. Content providers have difficulties building Web sites that work well on all types and configurations of mobile phones offering Web access."
The web is moving further and further from being exclusively a desktop system. What began essentially as a set of interlinked brochures, to be read sitting down, has evolved into a dynamic, social multimedia space, increasingly connected to the world around us. I often think of the history of industrialization as a story of estrangement from the physical world. Cities swell, smog billows and the haze of electric light washes out the stars. Mass media forms naturally emerge from the concentration of industry - economies of scale that favor homogeneity, the sweeping gesture. At first, the new media seem to take this estrangement further, confining us to "virtual" spaces. But quite to the contrary, the web is taking us back into the world, not out of it. Even something as simple as Google Maps suggests this return. But to become fully unmoored from our desks, standards have to be set in place to ensure that the web is readable in smaller formats, and that we have faster, more reliable access when we're on the move. Plus, the devices need to emerge that offer the convenience of a cell phone with the power of a notebook computer. The future of personal computing lies more with cell phones (see the new Sidekick II), iPods and Play Station Portable than with the latest desktop from Dell or Apple.
Posted by ben vershbow at 05:13 PM | Comments (0) | TrackBack
In Wired yesterday, Cory Doctorow sums up recent brave efforts by the BBC to adapt to a changing world: BBC Backstage, the Creative Archive, and reader-contributed photos.
"America's entertainment industry is committing slow, spectacular suicide, while one of Europe's biggest broadcasters -- the BBC -- is rushing headlong to the future, embracing innovation rather than fighting it. Unlike Hollywood, the BBC is eager and willing to work with a burgeoning group of content providers whose interests are aligned with its own: its audience."
Above is a clip from a 1913 silent film version of Hamlet, downloadable for free from the British Film Institute under the aegis of the Creative Archive - one of the few bits of free content made available so far. It feels good to make a video quotation with total impunity. Perhaps others will be inspired to take a page from BBC's book.
Here also is Rick Prelinger's speech to the Creative Archive Seminar in April. Prelinger is one of America's great activist archivists.
Posted by ben vershbow at 10:15 AM | Comments (1)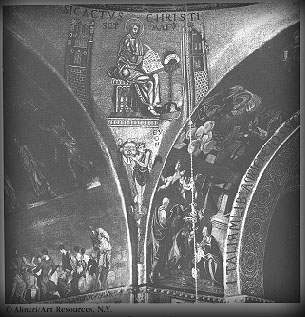 One of the great conceptual jumps of the late evolutionary biologist Stephen Jay Gould (with the equally brilliant, if lesser known, Richard Lewontin) was the idea of the spandrel. In "The Spandrels of San Marco and the Panglossian Paradigm", they wondered about how the spandrels - in architecture, the roughly triangular area between two perpendicular arches - in the cathedral of San Marco in Venice came to be. Looking at how the spandrels are decorated now, they reasoned, you might imagine that they had been designed to feature prominently in the architecture. But this is not necessarily so from an architectural standpoint: if you want to have perpendicular arches, you have to have spandrels between them. Nobody ever wants spandrels by themselves; they're a side product. Once you have them, of course, you can decorate them as much as you like.
Analogously, Gould and Lewontin reasoned, you could explain many biological features in the same way: a feature may continue to exist in an organism simply because there's no reason to take it away. One shouldn't expect features to have functions: they can simply do things (or not) because they're there. Male nipples are the canonical example of this: there's no reason for males to have them, but there's no compelling reason not to have them. So they're there.
I've been thinking for a while about the problem of pages on the screen. We have pages in a book because they make sense there: pages are the easiest way to divide up a long text into hand-sized chunks. Pages on the screen (as they exist in a PDF, say) seem to me to be something of a spandrel: there's no physical reason that we need to divide text up into hand-sized chunks on a screen. We don't always: look at the way a webpage scrolls. But what's worried me is the paucity of the metaphors being used - note the verb "scroll" - against the tabula rasa that computers present.
Looking at a Flash demonstration (8Mb, but very much worth clicking or downloading) of the late Jef Raskin's Archy system suggests a way out of the problem. Here we have a two-dimensional space filling the frame of the browser. But this isn't a two-dimensional space like that of a sheet of paper. The possibility of zooming in to create an infinite plane takes advantage of the virtual environment in a way that a piece of paper cannot. What if you had a novel in a space like this?
This is exciting to me because it's active design - trying to change the metaphor - instead of being a side effect of trying to re-implement old ideas in a new context.
Posted by dan visel at 05:50 PM | Comments (2)
Starting in September, the NY Times will charge an annual subscription fee for a "Select" service, including editorials, op-eds, and archives. Basic news content will remain free. Times chair Arthur Sulzberger Jr remarked that though online advertising is undergoing exponential growth, it is just a matter of time until it flattens out and assumes regular cycles, like in print advertising. Is the free content joyride gradually coming to an end? Or is the Times pounding nails into its own coffin?
Posted by ben vershbow at 11:40 AM | Comments (1)
"How are people today "reading" in digital, networked environments? For example, what is the relation between reading and browsing, or searching? Or between reading and multimedia? Can innovations in technologies or interfaces increase the productivity, variety, and pleasure of these new kinds of reading? How can the historical diversity of human reading practices help us gauge the robustness of the new digital practices; and, inversely, how can contemporary practices provide new ways to understand the technical, social, and cultural dimensions of historical reading?"
June 17-18 at UC Santa Barbara, kicking off the Transliteracies Project: "Research in the Technological, Social, and Cultural Practices of Online Reading".
(thanks, Grand Text Auto)
Posted by ben vershbow at 10:48 AM | Comments (1)
Facing slipping circulation and massive migration to the web by younger news consumers, a number of top tier newspapers are switching from the traditional broadsheet format to the more handy tabloid, including the European and Asian editions of the Wall Street Journal.
But is this enough? One British advertiser remarks: "We want newspapers to come up with a solution to the threat of marginalization in a digitalized world. But they have to do more than just play around with the size of paper they're printed on."
The International Herald Tribune ran this story yesterday. I've plugged it before, but the IHT is noteworthy as one of the few online newspapers to eschew vertical scrolling for the layout of articles. Instead, they have simple, attractive (and I would argue, much more readable) horizontal scrolling across fixed, three-column plates. With its long vertical fields, you might say that web news, too, is stuck in the broadsheet model. The problem is that, unlike a print newspaper, a computer screen can't be folded to improve readability, or to isolate a desired area of the page.
Posted by ben vershbow at 05:42 PM | Comments (0) | TrackBack
One of the most exciting presentations at the recent Share, Share Widely conference was Natalie Jeremijenko's student-authored wiki "How Stuff is Made". According to the website FAQ page, HSIM is a visual encyclopedia documenting the manufacturing processes, labor conditions and environmental accounts of contemporary products. It is collaboratively produced, independent, academic, wiki-based publication. Encyclopedia entries are summative photo essays created by engineering, design and art students guided by faculty who ensure high standards of evidence.
In her conference abstract, "Changing Structures of Participation In New Media Education," Dr. Jeremijenko claims that the HSIM project provides ...evidence that the way we structure participation changes what information is produced, who produces it, and how it circulates. Additionally, the work provides material to question what these changes may mean for learning.
Posted by Kim White at 08:26 PM | Comments (0)
There's a nice article in yesterday's NY Times on how some university libraries are rethinking how they arrange their space - moving, or redistributing print collections to make way for an "electronic information commons." It's not about abandoning the books, or relegating them to a lesser status. It's more about re-positioning them as a sort of physical database. If a library is a big computer, than the database exists toward the back end. These days, digging through the stacks, even if it results in a paper return, is generally done digitally. That's the front end, or the interface, and this is what smart libraries are seeking to improve. Research and scholarly production may be going digital, but the social, conversational space of the university, and in turn, the library, is still vital. The strategy for the libraries, then, is to restructure and expand that space as a compelling social software environment - one that is both physical and virtual. Sounds good in theory, but I'm not sure that's how these facilities will actually be used. Turning libraries into a hi-tech rec center might be sacrificing more than it saves.
The article focuses on reorganization efforts at the University of Texas at Austin. Press release here concerning the transformation of the Flawn Academic Center (likely a more durable link than the Times story).
(image: Perry-Castañeda Library at UT Austin)
Posted by ben vershbow at 02:01 PM | Comments (0)
Etymology: Latin rhapsodia, from Greek rhapsoidia recitation of selections from epic poetry, rhapsody, from rhapsoidos rhapsodist, from rhaptein to sew, stitch together - Merriam-Webster OnLine
The BBC is moving into web services, allowing the public to build applications that repurpose BBC content.
See also:
"your news, your pictures"
"find it rip it mix it share it"
Posted by ben vershbow at 03:40 PM | Comments (0)
A couple of interesting experiments going on with blogs and books..
Dave Munger is taking the blog on a test drive as an ebook reader, putting together what he calls a "blook." To show he means business, he's chosen Moby Dick as the pilot text (but before starting, he's working out formatting issues with Melville's short story Bartleby, the Scrivener). I'm intrigued by the idea of using the blog form to generate discussion of a text - breaking it up into serial posts, jotting notes and analysis in the comment stream. It could make for a nice communal reading experience, as in a lit class, or virtual book club. It's a game: drop the book in the blog and it ripples; different subjective worlds (of the readers) converge and collide. It's very suggestive to combine this most conversational of media with the frozen, linear novel. For solitary reading, however, I'm not convinced that this would be a useful format.
Spark Armada, a "digital lifestyle, social software, creativity and science fiction conversation hub" in Israel, recently kicked off the "Keyboard" project, inviting bloggers to post stories on their sites that will be considered for inclusion in a print anthology. The idea seems to be to use the blogosphere's mode of interwoven conversation as a way to generate creative work. The endpoint may be a conventional printed object, but Keyboard is interested in taking a different route in getting there.
Posted by ben vershbow at 05:46 PM | Comments (3) | TrackBack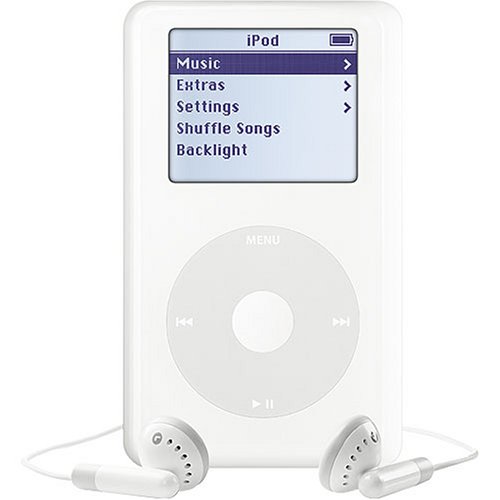 Aural learning. Podcasting your reading assignment. New powers for students to time-shift materials and work. Load up chapter five on your iPod and take it to go.
Dyslexia's defeat?
Publishers must be noticing all the earbuds in students' ears.. how can they make some noise in that space?
But how do you take notes, make annotations on audio? How do you evaluate learning? Could this be anything more than a supplement?




Posted by ben vershbow at 03:37 PM | Comments (0)
An initiative in Maine is using technology to provide advanced placement programming to high school students in rural areas. The Maine Distance Learning Project "identifies Maine teachers and schools that are interested in offering Advanced Placement programming to be delivered over distance to students in Maine via the state-wide ATM network during the 2005/2006 school year."
According to a recent article in Newsweek, Reaching Rural Students, support was provided by the University of Maine. The University set up "a network of cameras in AP classes like Brendan Murphy's calculus and statistics class. These classes were broadcast to five other schools across the state. 90 other schools have a set up like Carrabec's. Each site's classroom has a three-foot television screen split into quadrants, and two cameras in each room."
Posted by Kim White at 10:56 AM | Comments (0)
As the mother of a toddler, I'm keenly aware of how grueling the 24/7 unpaid work of parenthood really is. A friend of mine sent around a mother's day email that added up all the little things we do and arrived at a salary of about $131,000. Slave wages compared to the figure in Jennifer Steinhauer's Times article, The Economic Unit Called Supermom which came up with "an estimated $707,126 annual paycheck."
Problem is, no one will ever pay me $700K to do what I do for free. So is there any point in speculating about the market value of mothering? Perhaps there is. Steinhauer tells us that In 2003, the Bureau of Labor Statistics conducted its first-ever Time Use Survey, which examined the doings of 21,000 Americans over a 24-hour period. "There were a number of economists who were interested in valuing nonmarket production," said Diane Herz, the survey's project manager.
Many social scientists have explored the "social capital" gained by participating in these otherwise uncompensated activities. Social scientists argue, for example, that test scores go up in schools where parent volunteerism is highest, and that crime is reduced in communities with high civic participation. "Social capital is usually defined as the networks and relationships we have, as well as the trust and sense of mutuality that arise from them," said Amy Caiazza, a study director working with Ms. Hartmann.
So this got me thinking about digital networks and I started wondering how much web content is created, nurtured and maintained without compensation. And how apropos the term "nonmarket production" is for most web activity. The networked book, for example, relies on free contributions and other forms of non-commercial support. What does this mean for the future of books? Does the web have the potential to turn the book industry into an unpaid labor of love?
Posted by Kim White at 03:12 PM | Comments (0)
From Sunday's Observer: "Oh no, it's the death of the book ... again". Robert McCrum pokes fun at Nigel Newton, CEO and co-founder of Bloomsbury, British publisher of the Harry Potter books, for remarks on what he calls the "Napsterisation" of publishing - i.e. digitization - and the threat it poses to "the cultural and intellectual tradition of the past 600 years."
McCrum rejoins: "Before we allow Mr Newton and the merchants of doom to seize control of our cultural imaginations, it's worth recalling that Gutenberg was a vital part of the Renaissance. Gutenberg and our own Caxton were eventually followed by Shakespeare, Marlowe and Milton.
"Delivery systems evolve. Instead of whingeing about Google, we could celebrate the extraordinary technology that will bring a cornucopia of hitherto inaccessible material before a bigger international audience than ever before."
Posted by ben vershbow at 07:02 AM | Comments (0)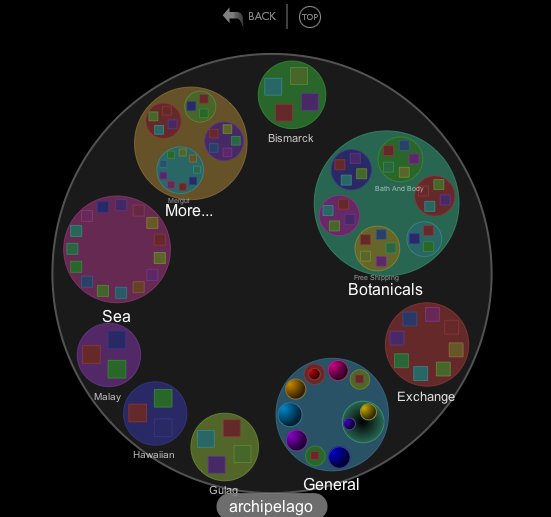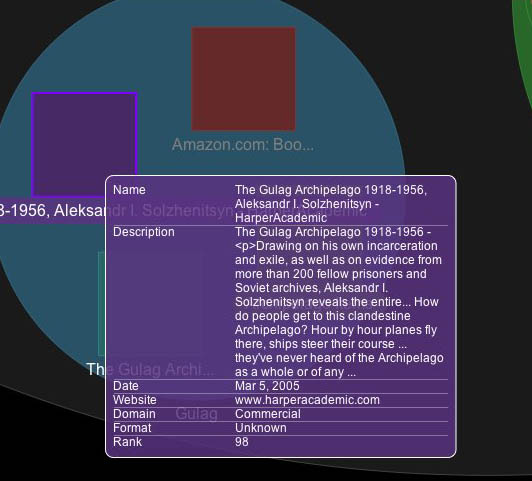 When you search the web on Google or Yahoo, your results come up in a stack - a long scroll unfurling at your feet. Ranking is what makes the whole thing work - the most relevant, or most linked-to, items are placed near the top, and more often than not, you get what you're looking for. Few really bother to sort through the rest of the pile, even though valuable stuff could be buried there (and what if you don't know exactly what you're looking for?). Clustered search takes a different appproach, breaking up results into useful categories and themes, enabling users to penetrate the stack more quickly (see Clusty, or its parent Vivisimo). It's an interesting compromise with top-down shelf-based hierarchies. Clustered search doesn't impose categories on you from the get-go, rather, it applies them as needed - building shelves on the fly. Grokker, a Yahoo-powered "visual" search engine, takes it a step further, arranging clusters into archipelagos of information, "giving you the ability to explore any subject far beyond the obvious." Each category is represented by a circle, containing site links (appearing as squares) or smaller circles (subcategories). Above is my archipelago for... "archipelago." It brings up top level clusters for "botanicals" (Archipelago Botanicals produces a popular line of soaps, lotions and scented candles), "Hawaiian," "Sea," "Gulag," and others. Drag over a site and a nice summary pops up (see righthand image above) - much more readable than the hodge podge you get in Google.
Link to NY Times article on Grokker.
Story about Vivisimo clustering search tool built specially for navigating the massive EU constitution.
Posted by ben vershbow at 08:10 PM | Comments (0)
Douglas Adams recorded this (slightly hyperbolic) audio piece back in 1993 to promote the Voyager Expanded Books series. On "getting the book invented":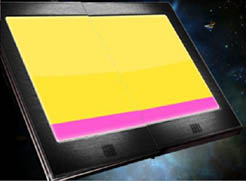 I recently saw the new Hitchhiker's Guide to the Galaxy movie, which features as one of its central characters a very powerful electronic book - a guide to "life, the universe and everything." Coming away, I felt a bit uneasy. Could this be the future of the book in the age of Adobe-Macromedia? As portrayed in the film, the Guide is essentially a compendium of Flash animations, with a little bit of text, and a wry British voiceover. Granted, it's just a narrative device in a film, designed more for style than for content. But is this any less true in real life?.. with all these websites built in Flash, and all the Flash-enhanced garbage on television - especially in ads and sports coverage (notice how TV's become a lot more like a video game?). The same goes for the film. Though chock-a-block with spiffy visual effects, and flavored with Douglas Adams' unmistakable wit, it's basically all style, all pose - visual fireworks for a passive viewer. We have only just started to explore the frontier of media-rich, networked books. But if "FlashAcrobat" becomes the writing tool of choice, that just might end up preempting any serious consideration of an active, critical role for the reader. Books become the half time show at the Super Bowl. Flash frenzy...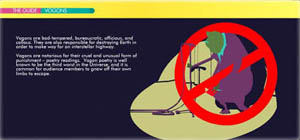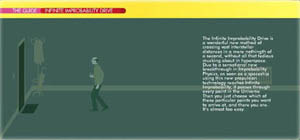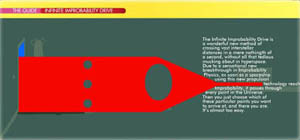 Paul Boutin, writing last week in Slate, makes draws a more encouraging parallel to the fictional Guide: Wikipedia. "..a real-life Hitchhiker's Guide: huge, nerdy, and imprecise." I had not been aware that Adams, before his untimely death in 2001, had experimented with his own web version of the Guide, a sort of proto-Wikipedia called h2g2, hosted by the BBC. Flipping through just a few of the articles, it's interesting to see a collaborative work sustaining a unified authorial voice. The tone, not to mention the choice of subjects, comes across as unmistakably Adams - the ur-author - even though the guide was built by diverse contributors, in more or less the same fashion as Wikipedia. Here's the intro paragraph from the article "The Problem with Driving Directions":
"In the absence of in-car electronic route maps, driving directions are sets of instructions given to drivers in order for them to reach their desired destination. These basically come in two different forms: oral and written. Whether oral or written, they are widely used due to the fact that people often have no idea how to get to where they are going, and naturally assume that they are the only ones that do not know, and so ask someone else. Unfortunately, this other person tends not to know either."
Building on Boutin's comparison, you could argue that Wikipedia is simply imitating the tone and format of a paper encyclopedia, much as Adams' followers in h2g2 are emulating the style of his novels. As a reference tool, Wikipedia may have far outstripped Adams' project, but questions of accuracy and reliability persist. h2g2, on the other hand, sits much more comfortably in its skin, cheerfully acknowledging that it contains "many omissions," and "much that is apocryphal, or at least wildly inaccurate." A much more serious and important endeavor, Wikipedia is still wrestling with the anxiety of influence exerted by its forebear, the encyclopedia. Over time, will its voice change?
Posted by ben vershbow at 07:50 AM | Comments (4)
Google is riding high. With nearly 50 percent market share, it is the most widely used search engine on the web. It is even beginning to act suspiciously like a portal (notice the "login" link tucked discretely in the upper right corner?), handling your mail, hosting your blog, helping you find files on your desktop, and even storing a history of all your web searches. (No doubt, Google's expansion into web-based applications has Microsoft scared - they've always considered software their turf.) Google recently patented a system that ranks news searches by the quality and credibility of the source. Gorgeous satellite maps have put the surface of the earth in our web browser and left people breathless (see the Google Sightseeing blog, or the memorymap tag on Flickr as examples of sheer exultation in seeing the world through Google maps). Late last year, Google announced plans to digitize and put online major portions of the libraries of Stanford, U. Michigan, Harvard, Oxford and the NY Public Library. And on top of all this, its stock has continued to soar. Already this year, the newly public company shattered predictions, earning $369.1 million in the first quarter alone, more than covering the cost of the projected 10-year library scanning project. It seems there is no limit to what Google might do.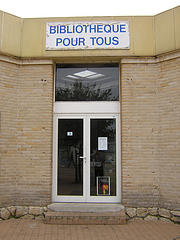 That is precisely what has Europeans so worried. Across the Atlantic, Google is coming to be seen as yet another symbol of American cultural hegemony, bestriding the web like a colossus. And the library project touches a particularly sensitive nerve, raising questions of cultural heritage - and cultural destiny. If the future of libraries is solely in Google's hands, what will be left out in the process? Will English become the lingua franca not only for politics and commerce, but for all intellectual discourse? Not content simply to ask questions, Europe has responded. In February, Jean-Noel Jeanneney, chief librarian of the Bibliothèque Nationale de France, warned that Google Print would effectively anglicize the world's knowledge, and called for a French digitization effort to beat back the surging english tide. Less than a month later, President Jacques Chirac gave Jeanneney's proposal the green light. Then, last week, nineteen national libraries, evidently moved by France's determination, signed a joint motion urging the creation of a giant pan-European digital library to counterbalance the nascent Googlian stacks. A couple days ago, 16 EU culture ministers, several heads of state, and over 800 artists and intellectuals met in Paris to close the deal, issuing a strong, continent-wide directive to preserve and promote culture, beginning with the digitization of European library collections.
More serious digitization projects are undoubtedly a good thing. The European effort, being a more purely civic enterprise, might in fact turn out far better than Google Print, which clearly has a large commercial dimension (deals with publishers, advertising etc.). The Euro initiative might produce bona fide electronic editions, not just searchable scans - fully structured, annotated and perhaps employing other scholarly resources (but let's not hold our breath). To be fair, Google has never said it wants to be the only gig in town. Rather, they hope to act as a catalyst for other digitization efforts. And judging by Europe's reaction, it seems to be working. Looking at this latest transatlantic folly, it's funny to think of the Bush administration trying to undercut European unity, splitting the continent into "old" and "new" in the hope of fishing out support for the Iraq war. We've seen where that kind of destructive diplomacy has led us. But quite wonderfully, Google appears to have achieved the opposite, galvanizing a united Europe with a big, visionary idea. If the Euro library project exists for no other reason than the perceived imperialism of Google, then so be it. It will result in a great gift for all. If only our foreign policy were so deft.
(image by libraryman via Flickr)
Posted by ben vershbow at 09:21 AM | Comments (0)
Remember subway trains in the 70's & 80's; traversing the conduits of New York City's tunnels bearing the spray-painted "tags" of urban graffiti artists? Taggers, as you may recall, were interested in trafficking their name on high visibility real estate like bridges, tunnels, buildings, landmarks, and subway cars. They were individuals attempting to mark the complex urban landscape in an effort to be "seen." I think this is the motivation behind the re-emergence of tagging in the context of the internet landscape, which is becoming increasingly cluttered and noisy in the same way that cities are. Tagging is a way to stand out and be seen, it is a way to connect, it is a way to make your contribution last a little longer and go a little further. The fact that these "tags" are useful for organizing things is something of a happy accident. People tag because they want other people to see their work. Because they want digital objects to bear their mark. This is a very human thing. Can we use it to help us organize everything? Maybe. An interesting article in CNN, 'Tagging' helps unclutter data: Online search categorizes how humans label things, posted Tuesday, May 3, 2005 gives a good overview of how tagging and social software are being used to organize data. But it also points out the possible drawbacks to this method of organization.
When we think of subway graffiti, we think of the elaborate, colorful calligraphy that ended up in art galleries and coffee table books. I include a picture (above) by Magnum Photographer Bruce Davidson, to remind you that most of it was uncreative and relatively ugly black marker work. Worse case scenario, spammers figure out how to exploit metadata, proliferating their "tags." Scrawling their signature on every digital object they can access, and doing for the digital landscape what the spray can did for 1980's New York.
Posted by Kim White at 11:38 AM | Comments (3)
Check out this
article
in today's
Wired News
discussing what Amazon might be up to with features like
Search Inside the Book
, automated recommendations, and user-augmented content such as reader reviews,
customer images
,
Listmania
etc. Are these just a bunch of fun toys, or is it all beginning to add up into something big? The article focuses primarily on fancy new search functions - Statistically Improbable Phrases (SIPs), text stats, and concordance (see "
amazon: inching toward semantic
") - and includes a few remarks on the subject from if:book..
Posted by ben vershbow at 10:22 AM | Comments (0)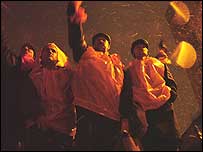 "If you find yourself in the right place at the right time, if an event is unfolding before your eyes and you capture it on a camera or mobile phone, either as a photograph or video, then please send it to BBC News."
The BBC has just made a bold move into user-generated, or rather user-augmented, news. If anyone thinks that a community-built media is only being explored on a smaller, local scale (see here and here), then think again. The world is in a frenzied state of self-documentation - laying down a vast mosaic of images, video, graphics and text on top of every inch of reality. If the mainstream media is to keep up, it will have to a certain extent "employ" everyone as stringers. To put a slight spin on Shirky's formulation: the only group that can record everything is everybody.
(image: Andrew Vorobyov's photo of the "orange revolution" in Ukraine)
Posted by ben vershbow at 10:54 AM | Comments (2)
Newspapers continue their slide.. From an article in WSJ (a rare free feature):
"Rather than simply trying to halt the decline, which can be done readily through discounts and promotions, they're being forced to try to "manage" their circulation in new ways. Some publishers are deliberately cutting circulation in the hope of selling advertisers on the quality of their subscribers. Others are expanding into new markets to make up for losses in their core markets. Some are switching to a tabloid format or giving away papers to try to attract younger readers. Others are pouring money into television and radio advertising and expensive face-to-face sales pitches to potential subscribers."
You'd think some of this desperate energy could be channeled into making newspapers live more fully on the web.
Posted by ben vershbow at 08:23 AM | Comments (0)

"Baghdad Burning" collects roughly a year's worth of posts from the blogger known as Riverbend, the 25-year-old Iraqi woman who has been electrifying western readers with her regular reports from the tumultuous heart of the American occupation. But do blogs necessarily stack up as books? Conversational Reading points to a San Francisco Chronicle review that says they don't, just as binding a stack of news articles does not make a coherent work of history: "'Baghdad Burning' fails because the characters and anecdotes are too varied to establish a compelling narrative." Riverbend may very well have a good book to write, but "Baghdad Burning" just seems like slick packaging, reminding us that a book is much more than just a vessel. As a blog, Riverbend soars. As a book, it clatters around like nuts and bolts.
Posted by ben vershbow at 05:58 PM | Comments (0)
Google has patented a system that will rank news search results by quality and credibility, instead of simply by date and relevance to keywords. See article "Google searches for quality not quantity" in NewScientist. This recalls questions recently raised by Kim in "is the information any good?...don't ask Google."
People have a hard time agreeing on which news is credible, but I'm hesitant to believe that machines and algorithms can do better. I worry that smaller or alternative sources will get unfairly buried in the listings. Perhaps they should try ranking for neutrality...
Posted by ben vershbow at 08:21 AM | Comments (0)