« March 2005 | Main | May 2005 »
Joy Weese Moll, a soon-to-be graduate of the School of Information Science and Learning Technologies at the University of Missouri, and author of the blog Wanderings of a Student Librarian, has written a useful overview of Google's Print and Scholar initiatives - actually a session report from the Association of College & Research Libraries conference earlier this month. Summarized by Moll are suprisingly harmonious remarks by Adam Smith, product manager for Google's library-related projects, and John Price Wilkin, a top librarian at the University of Michigan (and one of Google's pilot partners).
"Smith made it very clear that this project is in its infancy. Google considers itself to be an international company and intends to participate in digitization projects in other countries and other languages. Smith acknowledged that Google cannot digitize everything. Rather, Google wants to be a catalyst for digitization efforts, not the only game in town. Google's digitization project will help them build tools that will improve the searching of digital libraries created by universities, governments, and other organizations."
Among other things, Wilkin points out that the mass digitization library collections "has already proven to be a factor in driving clarification of intellectual property rights, including the orphan copyright issue."
Published in Cites and Insights. Link via Bibliotheke.
Posted by ben vershbow at 10:32 AM | Comments (0)
Do your political affiliations affect that way you "read" images? A group of graphic designers created Visual Ideology; representing political ideas with images to explore this notion. They pose the question this way: "Given the choice, what images would the general public associate with specific ideas or words? How can one image be more meaningful than another similar image? This project asks viewers to make decisions as to images that best represent their visual definition of political terms or ideas." I encourage you to try this yourself. After you complete the (often hilarious) visual survey, an interface will tell you exactly who shares your visual politics.
Posted by Kim White at 04:05 PM | Comments (0) | TrackBack
David Bell, a history professor at Johns Hopkins, has written a smart, well-reasoned article for The New Republic entitled "The Bookless Future," in which he ponders the changing nature of reading, writing and research in a digital world. Professor Bell and The New Republic have kindly allowed us to reproduce the article in TK3, an e-document reader. Our hope is that it will serve as a springboard for wider discussion, both of the article, and of what is needed to create the optimal electronic reading environment. The downloads are below, followed by some initial thoughts on Bell's piece. We would love to hear people's reactions..
First Download and Install the TK3 Reader

Then Download "The Bookless Future"

(when you've unzipped the book, you should be able to open it by double-clicking on its icon)
In Bell's view, the big gains so far have been in the realm of research. "Today, a scholar in South Dakota, or Shanghai, or Albania--anywhere on earth with an Internet connection--has a research library at her fingertips." A democratization has taken place, comparable only to the change unleashed by the printing press. The ease and speed of searching, comparing, and collating digital documents is similarly a great boon to scholars and students. The benefits afforded by new reading modes far outnumber the losses that opponents of the electronic book frequently lament - the tactile pleasures, the smell of musty bindings, the social environment of bookstores, the art of typography.
This will remain controversial territory for quite some time, but Bell manages to strike the right balance:
What really matters, particularly at this early stage, is not to damn or to praise the eclipse of the paper book or the digital complication of its future, but to ensure that it happens in the right way, and to minimize the risks.
Bell is also thinking what this means for writing. He recognizes the possibilities for new kinds of expression and argumentation that are only possible in the multimedia, not-exclusively-linear, environment of the computer. He cites a few examples in the Gutenberg-e series. But Bell's enthusiasm is mixed with concern for how we are being affected as readers. First there is the way we absorb content, which has been entirely transformed by hypertext and search - the "browsing" ethos. Bell warns:
Reading in this strategic, targeted manner can feel empowering. Instead of surrendering to the organizing logic of the book you are reading, you can approach it with your own questions and glean precisely what you want from it. You are the master, not some dead author. And this is precisely where the greatest dangers lie, because when reading, you should not be the master. Information is not knowledge; searching is not reading; and surrendering to the organizing logic of a book is, after all, the way one learns.
Questions of form are no less important. Bell reminds us that the digital revolution, unlike the print revolution, is not just about the book. Moveable type may have transformed the means of production for books. But in form, they remained basically the same, and were no less "readable" than their hand-copied forebears. This is not the case with digital books. Until personal computers, and later, the web, it was never assumed that we would do any serious reading on screens. But as technology advanced, we learned that computers were more than just computational tools. A big lesson of the digital revolution is that since all media can be equalized as ones and zeros, then it follows that all media can converge and dance together in a single space. The digital revolution is about this convergence. Text is just one part of it, and so far computers have proven themselves better at handling rich media like graphics, film and sound than at providing satisfactory conditions for sustained reading. This boils down to a few, very simple reasons:
1. Screen display technology is poor - it hurts the eyes, requires large amounts of energy, and cannot be read in sunlight or other such ambient light settings. Progress is being made with the development of electronic ink and cholesteric displays, and Bell hopes that these improvements will deliver us from the headache of liquid crystal displays.
2. Most electronic documents are read in vertical scrolling fields. This is probably descended from the first computer terminal reading which consisted of long batches of code, best read in a scroll, or spit out on long rolls of paper. Horizontal paging keeps words and lines in a fixed position and makes for much easier reading. But you rarely find this today. A good example is the website of the International Herald Tribune. It seems like a no-brainer that screen-based documents should be laid out in this way.
3. And finally, the device is too awkward - heavy, fragile, expensive, and overheated.
Bell recognizes these points, but overemphasizes the need for a device that is tailored exclusively for screen-reading (though he does acknowledge that it would require web-browsing capabilities). One of the reasons book reading devices have consistently failed to catch on is that they are too specialized. In digital space, media can dance together, and there is no reason to corral them off into distinct zones. People are already reading books and other documents on their PDAs, and even their cell phones (check out thread, "the ideal device"). This is not because they offer an ideal reading environment, but because they are indispensable - gadgets that you always have with you. As a consequence, people feel compelled to cram in as many uses as possible. By this logic, the cell phone and the laptop seemed destined to combine. It may end up being something roughly the size of a trade paperback - hold it vertically to read a text, or flip it on its side to watch a widescreen film or play a video game. As with media, it seems inevitable that devices, too, will eventually converge.
Posted by ben vershbow at 01:58 PM | Comments (5) | TrackBack
Answer every question with a story. Be wary of rectangles. Ignore genre. Do not be afraid of Melville's ghost.
I have been inspired and influenced by Laurie Anderson's work from the moment I discovered it twenty-something years ago. Laurie was one of the first artists to understand how technology and multimedia can be used by a skillful storyteller to deepen the listener's experience. Her work explores the mystery and the pathos of these mechanized forms of communication.
Laurie's song "Language is a Virus,"(dedicated to William Burroughs) had an immediate and permanent effect on me. It made me realize that scrutinizing a narrative is not a complete investigation, one should try to understand language itself; is it friend or foe? Is it an agent that infects us with ideas (both good and bad). Does language, as a virus that must be communicated, fill us with the need for more efficient tools--books, radio, television, telephone, internet, cell phone, satellite radio, pod casting, ebooks, etc. And, if it is a virus, does it destroy the host? Is language a dystopia-breeding agent? The apple in the garden?
Parrot (Your Fortune One $)(pictured above) is an installation that consists of a plaster parrot and a digital recording of the parrot's monologue. The piece raises some interesting questions about the role of technology in our society. It's obvious that technology is important, but how important is it for technology to be "human?" The parrot's voice is computer-generated. When I heard it, I thought of JAWS a software program designed to read websites to those with vision impairment. When you hear that synthesized JAWS voice in the context of someone who is dependent on it for access, it's poignant. The parrot also sounds a lot like Arnold Schwartznegger, a man known for his role as "the Terminator," a robot-human programmed to destroy. The parrot's voice comes across as both comic and melancholy, which suggests a simultaneous levity and sadness in our efforts to humanize technology and to make into our "pet." Shifting the metaphor from wild and destructive (the terminator) to friendly and tame (the sidekick).
Posted by Kim White at 04:13 PM | Comments (1)
Steven Johnson's much-discussed book excerpt in the NY Times Magazine challenges the conventional wisdom that television rots the brain, arguing that TV today offers an incredibly rigorous cognitive workout. Multi-threaded narrative, a form first developed on television in soap operas, first found its way into more "serious" programming in the early 80s with Hill Street Blues, and has matured all the way up to the Sopranos, the West Wing and 24. Junk too, Johnson argues, has become more sophisticated. Reality shows like Survivor or the Apprentice explore well-worn territory like sex, money and ambition within a more complex, and at times intentionally confusing matrix, and raise the society of the spectacle to new heights. Much of this, it can be argued, is also influenced by video games, and a large part of Johnson's book is apparently devoted to this.
On his blog, he brings attention to the question of gaming, and delivers a very funny satire on what would happen if it were actually books that were the new invention that had parents and educators in a frenzy, encroaching on the centuries-old civilization of the video game.
"Reading books chronically under-stimulates the senses. Unlike the longstanding tradition of gameplaying—which engages the child in a vivid, three-dimensional world filled with moving images and musical soundscapes, navigated and controlled with complex muscular movements—books are simply a barren string of words on the page. Only a small portion of the brain devoted to processing written language is activated during reading, while games engage the full range of the sensory and motor cortices."
It goes on...
Also worth reading is a nice post on Cognitive Daily about the uses of video games in education. And this piece - "Much Fun, For Credit" - from the Sunday Times about the recently instated "Game Arts & Sciences" program at Rensselaer Polytechnic Institute.
Posted by ben vershbow at 02:34 PM | Comments (0) | TrackBack
Juan Cole elaborates upon the differences between blogging and the mainstream media (MSM), underscoring the danger of a Murdoch move into that sphere (see just posted: "blog on a leash").
"...we are independent actors, not part of a small set of multi-billion dollar corporations. The difference is that we are not under the constraints of making a 15% profit. The difference is that we are a distributed information system, whereas MSM is like a set of stand-alone mainframes. The difference is that we can say what we damn well please."
and later..
"Blogs operate in a different political economy than does mainstream media. Bloggers' "editors" are the readers and the Daily Kos and Eschaton commentators who use collective intelligence to improve them. Their motive is not the profit motive for the most part. Most bloggers are hobbyists."
People sneer at blogs as amateur, as just the "demos" blowing off steam. But what's a democracy without the demos? That "collective intelligence" is what one hopes for in a truly participatory democracy. Independent voices. In conversation. It seems inevitable that some blogs will become commercialized, or will leash themselves to mainstream media. The cover story in the latest issue of Business Week focuses on how "blogs will change your business." But these moves will not be about the collective intelligence Juan Cole is talking about.
I've also been thinking lately about blogs as a learning tool. Writing for an audience, whether in the dozens or in the thousands, helps hone writing and thinking. Let's discuss this further..
Posted by ben vershbow at 05:41 PM | Comments (0)
How much longer will print newspapers be around? Earlier this month, in a speech to the American Society of Newspaper Editors, Rupert Murdoch gave a shockingly clear-eyed appraisal of print journalism in the digital age, calling for an end to complacency in the face of "a revolution in the way young people are accessing news."
"They don't want to rely on the morning paper for their up-to-date information. They don't want to rely on a god-like figure from above to tell them what's important. And to carry the religion analogy a bit further, they certainly don't want news presented as gospel. Instead, they want their news on demand, when it works for them. They want control over their media, instead of being controlled by it."
Murdoch clearly understands the forces at work and is keen to adapt in times of change. Print is still important, he says, but less so by the day. We should not take for granted that the traditional broadsheet will still be in use even one generation from now. We must focus on improving the way news is presented on the web. He talks about the inevitable shift to web advertising, hybrid forms for web content combining text and video (simply a merging of two of his empires), and bringing blogs into the news apparatus.
It is this last point about blogs that made me wary... especially in terms of the "control over the media" that he articulates in the quote above. The founder of Fox News understands that control can go two ways... Control can be construed simply as more choice for the viewer - more formats, more frequency, but also the power to choose the kind of spin, or presumed shared values that come with your news. This has been the success of Fox, with its trademark blend of hard news and hyper-politicized slant. But Fox is billed as serious news and is relied on by millions as a primary source of information. How much are they thinking about that as a choice? Here we get into control of a different kind. It's not hard to imagine a few key blogs getting hitched up to a newspaper as a sort of web-based O'Reilly Factor or Hannity and Colmes. Many newspapers are already experimenting with bringing blogs into the fold, but there's still a fairly clear line between news and commentary. What if blogs, or something descended from blogs, became the news?
Everyone is wondering where the blog phenomenon might lead. Is it a transitional medium that will eventually lose steam? Or will blogs get co-opted by big media and join the spectacle of punditry that so dominates television and radio? Say what you will about bloggers today - that they are hacks, windbags, amateurs - but it's hard to argue that they aren't independent, that they don't function in their own sphere. What's been so impressive is how they've expanded the domain of the op-ed and letters-to-the-editor pages, actually emphasizing the line between opinion and news. Blogs can break stories too, and often act as a corrective to the mainstream media. But take away professional reporting altogether and you remove the foil that defines their existence. There's a new kind of media diversity coming into being on the web: new kinds of journalism, the evolution of an in-between class of citizen journalists, and of course, blogs. How does one weave it all together to form a view of the world? Murdoch seems to have some ideas. What's scary is that he might be dreaming of a world in which all news comes in a sort of bloggish wrapping - the Foxification of web news.
Other useful reading on the uncertain future of newspapers:
- "Abandoning the News" - report from the Carnegie Corporation about news-reading habits of 18 to 34-year-olds
- good comment on the Carnegie report
- good post on PressThink: "Laying the Newspaper Gently Down to Die"
- from the Economist: "Yesterday's Papers"
- from American Journalism Review: "Reversing the Slide" - on the Washington Post's efforts to counter a recent sharp decline in circulation
Posted by ben vershbow at 03:31 PM | Comments (0)
Nick Montfort (over at Grand Text Auto) aims to compile a comprehensive directory of works built in the now-legendary HyperCard - the graphical, card-based application that popularized hypermedia and jumpstarted the first big wave of popular electronic authoring. The HyperCard Bibliography is far from complete, but Nick has placed it in the public domain, inviting everyone to make additions. Among the "noted omissions" are the Expanded Book Series and CD-ROMs from the Voyager Company (pictured here is a card from Robert Winter's Beethoven's Symphony No. 9 CD Companion). A selection of these titles can be viewed on the institute's exhibitions page. Thanks, Nick!
For more background on this period, visit Smackeral's "When Multimedia Was Black & White."
Posted by ben vershbow at 03:57 PM | Comments (0)
Lately, I've been thinking about quantitative data vs. qualitative data and noticing that the web is really good at analyzing, packaging, and delivering the former, but woefully barren when it comes to the latter. The really elegant digital visualizations that I've seen work with quantitative data. They can show you, for example, the top news stories of the hour, day, or week; the spatial position and relative frequency of words in a novel; the most popular tags, etc... Search engines also privilege quantitative information; the first site that shows up on the Google list is usually the most popular. But determining the quality of that data is left, almost entirely, up to the user. Returning to a point I tried to make in an earlier post, the web is like high school popularity is not always a sign of quality, reliability, or substance.
Let's take the news for example: the results of a national survey on media consumption conducted by The Pew Research Center and released last year by the Brookings Institute, suggest "that news audiences are increasingly polarized, fragmented, and skeptical, opting for news outlets that most closely resemble their own ideologies…This shared skepticism not only applies to "opposition" news sources, but to the media in general—more than half of those surveyed said they don't trust the news media…Tom Rosenstiel, director of the Project for Excellent in Journalism. "People want to know, 'Why should I believe that?'"
Why can't we use technology to answer this need? What if instead of serving up the most popular stories, we created search engines and visualizations that identified the best stories, ranking information according to quality? Programs that answer the following concerns:
• how well-informed is the writer/news agency?
• are they honest?
• how good is the writing?
• how good is the art/photography/video?
• what are their political motivations?
• who are they paid by/owned by?
Many of these questions require investigation and/or subjective answers. Since subjectivity is still a uniquely human form of processing and evaluating, what I am really calling for is a program that helps us organize the veritable sea of human opinion surging about on the web. The news is not the only area where humans need humans to figure out what they should pay attention to. The massive amount of content that is being generated through the web creates an urgent need for filters in almost every imaginable category. Someone needs to design a critical apparatus for our networked world.
Posted by Kim White at 09:01 AM | Comments (2)
Dan Gillmor has written a nice, accessible overview of the evolution of the web in his periodic column for the Financial Times. As he sketches it, vesion 1.0 was a "fairly static," "read-only" affair - sites were relatively basic and we checked them for new content or downloads. Online retail and search engines sprang up, essentially to help us find things to read, while things like GeoCities made it possible for anyone to have their own site. With 2.0 it became a two-way street - a "read-write" web, with its poster child the blog. Now, we are learning how to weave all the pieces together and to recombine them in innovative ways - this is version 3.0.
The emerging web is one in which the machines talk as much to each other as humans talk to machines or other humans. As the net is the rough equivalent of a computer operating system, we're learning how to program the web itself.
A big part of 3.0 are the "web services" that can be built with a site's "applications programming interface," or API. An API is essentially a window into a site's code that programmers can use to build derivative applications. Google, Yahoo, Amazon, and Flickr all have APIs. Gillmor points to a wonderful site - ALL consuming - that uses the Amazon API to build communities around the media - books, music, film - that people are consuming. You simply post the latest entree in your media diet - anything that can be found on Amazon - and then add tags and comments. People inevitably find each other through what they are reading and discussions can ensue. This is an interesting step toward the real-time reading communities that will be possible when we have dynamic electronic books that can plug into the network.
Posted by ben vershbow at 04:41 PM | Comments (0)
Some more thoughts on Clay Shirky's keynote lecture on "folksonomies" at the Interactive Multimedia Culture Expo this past weekend in New York (see earlier post, "as u like it - a networked bibliography").
Shirky talks about the classification systems of libraries - think card catalogues. Each card provides taxonomical directions for locating a book on a library's shelves. And like shelves, the taxonomies are rigid, hierarchical - "cleaving nature at the joints," in his words. The rigidity of the shelf tends to fossilize cultural biases, and makes it difficult to adjust to changing political realities. The Library of Congress, for instance, devotes the same taxonomic space to the history of Switzerland and the Balkan Peninsula as it does to the history of all Africa and Asia. See the table below (source: Wikipedia).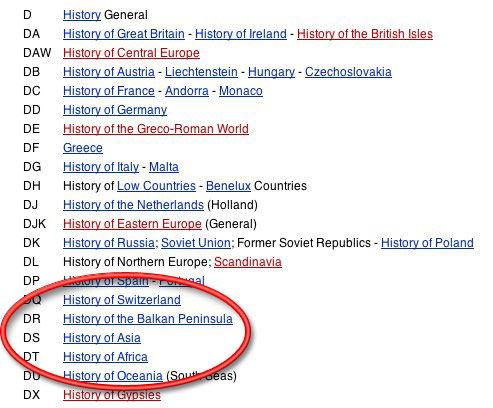 Or take the end of the Cold War.. When the Soviet Union disintegrated, the world re-arranged itself. An old order was smashed. Dozens of political and cultural identities poured out of stasis. Imagine the re-shelving effort that was required! Librarians shuddered, knowing this was a task that far exceeded their physical and temporal resources. And so they opted to keep the books where they were, changing the section's header to "the former Soviet Union." Problem solved. Well, sort of.
When communication and transportation were slower, libraries had a chance of keeping up with the world. But the management of humanity's paper memory has become too cumbersome and complex - too heavy - to register every nuance, shock, and twist of history and human thought. Now, with the web becoming our library, there is, quoting Shirky again, "no shelf," and it's possible to have more fluid, more flexible ways of classifying knowledge. But the web has been slow to realize this. Look at Yahoo!, which, since first appearing on the scene, has organized its content under dozens of categories, imposing the old shelf-based model. As a result, their home page is the very picture of information overload. Google, on the other hand, decided not to impose these hierarchies, hence their famously spartan portal. Given the speed and frequency with which we can document every moment of our lives in every corner of the world, in every conceivable media - and considering that this will only continue to increase - there is no way that the job of organizing it all can be left solely to professional classifiers. Shirky puts it succinctly: "the only group that can organize everything is everybody."
That's where folksonomy comes in - user-generated taxonomy built with metadata, such as tags. Everybody can apply tags that reflect their sense of how things should be organized - their own personal Dewey Decimal System. There is no "top level." There are no folders. There is no shelf. Categories can overlap endlessly, like a sea of Venn diagrams. The question is, how do we prevent things from becoming incoherent? If there are as many classifications as there are footsteps through the world, then knowledge ceases to be a tool we can use. And though folksonomy frees us from the rigid, top-down hierarchies of the shelf, it subjects us to the brutal hierarchy of the web, which is time.
The web tends to privilege content that is new or recently updated. And tagging systems, in their present stage of development, are no different. Like blogs, tag searches place new content at the top, while the old stuff gets swiftly buried. As of this writing, there are nearly 24,000 photos on Flickr tagged with "China" (and this with Flickr barely a year old). You get the recent uploads first and must dig for anything older. Sure, you can run advanced searches on multiple tags to narrow the field, but how can you be sure you've entered the right tags to find everything that you're looking for? With Flickr, it is by and large the photographers themselves that apply the tags, so we have to be mind readers to guess the more nuanced classifications. Clearly, we'll need better tools if this is all going to work. Far from becoming obsolete, librarians may in fact become the most important people of all. It's not difficult to imagine their role shifting from the management of paper archives to the management of tags. They are, after all, the original masters of metadata. Different schools of tagging could emerge and we would subscribe to the ones we most trust, or that mesh best with our own view of things. Librarians could become the sages of the web.
It's easy to get preoccupied with the volume of information we're dealing with today. But the issue of time, which I raised earlier, should also be foremost in our minds. If libraries were to shake as violently and often as the world, they would crumble. They are not newsrooms. They are not bazaars. Like writing, libraries create stable, legible forms out of swirling passions. They provide refuge. Their cool, peaceful depths enable analysis and abstraction. They provide an environment in which the world can appear at a distance, spread out on literate strands that may be read in calm and quiet. As a library, the web feels more like the real world - sometimes too much so. It throbs with life, with momentary desires, with sudden outbursts. It is hypersensitive to change. But things pile up, or vanish altogether. I may have the smartest, most intuitive tags in the world, but in a year they might become nothing more than headstones for dead links. It is ironic that with greater access to more knowledge than ever before, we tend to live in a perpetual present. If folksonomies are truly where we're headed, then we must find ways to overcome the awful forgetfulness of the web. Otherwise, we may regret leaving the old, stubborn, but dependable shelf behind.
Posted by ben vershbow at 04:33 PM | Comments (2)
Barely 24 hours after being selected as the 265th Pope, Cardinal Joseph Ratzinger, now Benedict XVI, has his own Wikipedia article. Actually, Ratzinger did previously have his own page, but it was moved yesterday to the new Benedict XVI address and has since undergone a massive overhaul.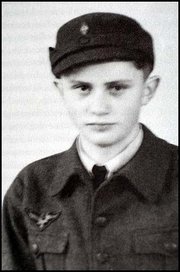 The revision history, already quite long, captures in miniature the stormy debate that has raged across the world since the news broke. Early on in the history, you see the tireless Wikipedians wrestling over passages dealing with the pontiff's early years in Germany, where he was a member of the Hitler Youth (membership was compulsory). One finds evidence of a virtual tug-of-war waged over a photograph of Ratzinger as a boy, wearing what appears to be the crisp uniform and official pin of the Hitlerjugend. The photo was eventually scrapped amid doubts about its veracity and copyright status.
Scanning across the revision history, it's hard not be to impressed by the vigilance, passion and sheer fussiness that go into the building of a Wikipedia article. Like referees, the writers are constantly throwing down flags for excessive "editorializing" or "POV," challenging each other on accuracy, grammar, and structure. There are also frequent acts of vandalism to deal with (all the more so, I imagine, with an article like this). Earlier today, for instance, some teenager replaced the Pope's headshot with a picture of himself. But within a minute, it was changed back. The strength of the Wikipedia is the size of its community - illustrating the "group-forming networks law" that Kim discusses in the previous post, "the web is like high school."
Not long ago, I posted about a new visualization tool that depicts Wikipedia revision histories over time, showing the shape of an article as it grows and the various users that impact it. For articles on controversial subjects - like popes - it would be fascinating to see these histories depicted as conversations, for that is, in essence, what they are. Any conversation that involves more than two parties cannot be accurately portrayed by a linear stream. There are multiple forks, circles, revolutions, and returns that cannot be captured by a straight line. Often, we are responding to something further up (or down) in the stream, but everything appears sequentially according to the time it was posted. We are still struggling on the web to find a better way to visualize conversations.
It's also strange to think of an encyclopedia article as news. But that's definitely what's happening here, and that's why Dan Gillmor calls attention to the article on his blog ("How the Community Can Work, Fast"). If newspapers are the "rough draft of history" and encyclopedias are the stable, authoritative version, it seems Wikipedia is somewhere in the middle.
This image sums it up well. It appears at the top of the Benedict XVI page, or above any other article that is similarly au courant.

Posted by ben vershbow at 01:57 PM | Comments (0)
Social networking software is breeding a new paradigm in web publishing. The exponential growth potential of group forming networks is shifting the way we assign value to websites. In paper entitled "That Sneaky Exponential--Beyond Metcalfe's Law to the Power of Community Building" Dr. David P. Reed, a computer scientist, and discoverer of "Reed's Law," a scaling law for group-forming architectures, says: "What's important in a network changes as the network scale shifts. In a network dominated by linear connectivity value growth, "content is king." That is, in such networks, there is a small number of sources (publishers or makers) of content that every user selects from. The sources compete for users based on the value of their content (published stories, published images, standardized consumer goods). Where Metcalfe's Law dominates, transactions become central. The stuff that is traded in transactions (be it email or voice mail, money, securities, contracted services, or whatnot) are king. And where the GFN law dominates, the central role is filled by jointly constructed value (such as specialized newsgroups, joint responses to RFPs, gossip, etc.)."

Reed makes a distinction between linear connectivity value growth (where content is king) and GFNs (group forming networks, like the internet) where value (and presumably content) is jointly constructed and grows as the network grows. Wikipedia is a good example, the larger the network of users and contributors the better the content will be (because you draw on a wider knowledge base) and the more valuable the network itself will be (since it has created a large number of potential connections). He also says that the value/cost of services or content grows more slowly than the value of the network. Therefore, content is no longer king in terms of return on investment.
Does this mean that the web is becoming more like high school, a place where relative value is assigned based on how many people like you? And where popularity is not always a sign of spectacular "content." You don't need to be smart, hard-working, honest, nice, or interesting to be the high-school "it" girl (or boy). In some cases you don't even have to be attractive or rich, you just have to be sought-after. In other words, to be popular you have to be popular. That's it.
SO...if vigorously networked sites are becoming more valuable, are we going to see a substantial shift in web building strategies and goals—from making robust content to making robust cliques? Dr. Reed would probably answer in the affirmative. His recipe for internet success: "whoever forms the biggest, most robust communities will win."
Posted by Kim White at 11:20 AM | Comments (0) | TrackBack
This past weekend I attended some of the keynote lectures at the Interactive Multimedia Culture Expo at the Chelsea Art Museum in New York. Among the speakers was Clay Shirky, who gave a quick, energetic talk on "folksonomies" - user-generated taxonomies (i.e. tags) - and how they are changing, from the bottom up, the way we organize information. Folksonomies are still in an infant stage of development, and it remains to be seen how they will develop and refine themselves. Already, it is getting to be a bit confusing and overwhelming. We are in the process of building, collectively, one tag at a time, a massive library. Clearly, we need tools that will help us navigate it.

Something to watch is how folksonomies are converging with social software platforms like Flickr. What's interesting is how communities form around specific interests - photos, for instance - and develop shared vocabularies. You also have the bookmarking model pioneered by del.icio.us, which essentially empowers each individual web user as a curator of links. People can link to your page, or subscribe with a feed reader. Eventually, word might spread of particular "editors" with particularly valuable content, organized particularly well. New forms of authority are thereby engendered.
Shirky mentioned an interesting site that is sort of a cross between these two models. CiteULike takes the tag-based bookmark classification system of del.icio.us and applies it exclusively to papers in academic journals, thereby carving out a defined community of interest, like Flickr.
"CiteULike is a free service to help academics to share, store, and organise the academic papers they are reading. When you see a paper on the web that interests you, you can click one button and have it added to your personal library. CiteULike automatically extracts the citation details, so there's no need to type them in yourself. It all works from within your web browser. There's no need to install any special software."
Essentially, CiteULike is an enormous networked bibliography. On the first page, recently posted papers are listed under the header, "everyone's library." To the right is an array of the most popular tags, varying in size according to popularity (like in Flickr). Each tag page has an RSS feed that you can syndicate. You can also form or join groups around a specific subject area. As of this writing, there are articles bookmarked from 6,498 journals, primarily in biology in medicine, "but there is no reason why, say, history or philosophy bibliographies should not be equally prevalent." So says Richard Cameron, who wrote the site this past November and is its sole operator. Citations are automatically extracted for bookmarked articles, but only if they come from a source that CiteULike supports (list here, scroll down). You can enter metadata manually if you are are not submitting from a vetted source, but your link will appear only on your personal bookmarks page, not on the homepage or in tag searches. This is to maintain a peer review standard for all submitted links, and to guard against "lunatics." CiteULike says it is looking to steadily expand its pool of supported sources.
CiteULike might eventually fizzle out. Or it might mushroom into something massively popular (it's already running in five additional languages). Perhaps it will merge with other social software platforms into a more comprehensive folksonomic universe. Perhaps Google will buy it up. It's impossible to predict. But CiteULike is a valuable experiment in harnessing the power of focused communities, and in creating the tools for navigating our nascent library. It might also solve some of the problems put forth in Kim's post, "weaving textbooks into the web." Worth keeping an eye on.
Posted by ben vershbow at 12:05 PM | Comments (0) | TrackBack
"Once it had walls three miles round, with five or more gates; colonnaded streets, each a mile long, crossing in a central square; a theatre with seating for eleven thousand people; a grand temple of Serapis. On the east were quays; on the west, the road led up to the desert and the camel-routes to the Oases and to Libya. All around lay small farms and orchards, irrigated by the annual flood — and between country and town, a circle of dumps where the rubbish piled up." (from Waste Paper City by P.J. Parsons)
It was in this garbage dump, outside the ancient city of Oxyrhynchus in modern-day Egypt, vanished except for a single column, that 400,000 classical manuscript fragments were unearthed by British archaeologists in the late 19th century. It has long been thought that the texts, which reside at Oxford's Sackler Library, represent a vast number of missing pieces from the known classical canon, in addition to thousands of humdrum documents - petitions, land deeds, wage receipts, orders for arrest, registration of slaves and goats etc. - shedding light on daily life in the Greco-Roman world. The problem is that they are largely unreadable, crushed and mashed together, blackened by years of decay, nibbled by worms. Here and there over the years, individual texts have been deciphered, making waves through the academic world. But now, the Oxyrhynchus Papyri can at last be decoded en masse through the use of multi-spectral imaging, a technique developed in satellite photography, which teases texts to the surface with infra-red light. Hailing it as the "holy grail" of antiquarian discoveries, classicists are predicting a major wave of restoration to the received literary canon, including lost plays of Sophocles and Euripides, a post-Homeric epic by Archilochos, and even missing gospels of the New Testament.
Read article in the Independent, via Grand Text Auto.
Posted by ben vershbow at 02:58 PM | Comments (0)
Silly-sounding business jargon and corporate pep talk abounded at the eBooks in Education Conference at McGraw-Hill in New York. The kind of stuff that makes the eyes and mind glaze over. "Fluidity of work flow." "Content creation." "Course-centric versus learner-centric." The "three-legged stool," of digital publishing... Books are "learning objects." A teacher is just a "sage on the stage," as though teaching were an antiquated idea. Youth is a marketing problem to be solved, the latest batch of young professionals in the making, rolling along the conveyor belt. Tim Magner, a stuffed shirt from our dear own Department of Ed., talked about priming kids for the new global economy (he also took the opportunity to mention that we're doing the same for Iraq). But nothing about the issues at the heart of education. Nothing about a civil society, an educated citizenry, etc. About nurturing critical faculties in an age of information blitz. About advancing the light against darkness. I don't doubt the good intentions of many of the speakers and attendees (though I do doubt some) but to someone outside the industry, the conference was plainly nothing more than a congregation of hucksters and homogenizers. Only the accessibility folks (the ones concerned with opening up digital media to people with disabilities), and one soft-spoken tech development manager from the University of Nebraska-Lincoln, seemed to exhibit any kind of public spiritedness, or a belief that technology should be made to serve human beings and not companies.
Then there were the numbing waves of PowerPoint, PowerPoint, PowerPoint! Nothing more perfectly exemplifies the muddled thinking, ignorance of design, and all-around mediocrity of the so-called "ebook industry." Each presenter - with the exception of George Kerscher of the Daisy Consortium (who is blind) - supplemented their talk with the obligatory PowerPoint presentation, which, after a while, becomes a kind of torture. The slides flip one after the other after the other, the bullet points rattle like hail. Incomprehensible charts and graphs slouch across backgrounds of pastel or mock-marble. There's a lot of teal. A lot of magenta. The slick veneer of the corporate board room washes over you like microwaved cheese, but the occasional tell-tale typo betrays the obvious haste and lack of consideration with which the things are made. In most cases the presenter abdicates entirely and plays human accompaniment to the PowerPoint show, lamely reading aloud as the panels slide past, sort of like the airline stewardess doing her bit with the oxygen mask while the safety film plays behind. After sitting through a few of these, your brain feels like it's been flattened out with a rolling pin. I kept thinking of Hart Crane's lines:
"The mind has shown itself at times
Too much the baked and labeled dough
Divided by accepted multitudes."
I also thought of Edward Tufte's wonderful monograph, "The Cognitive Style of PowerPoint" (encapsulated here), a shrewd critique of sandblasted thinking in Microsoft-era America. It's a little frightening to hear adults talk about the future of education in the scrubbed, frictionless language of the corporate slideshow. If they are teaching by example, then it is a sorry example indeed.
From Tufte:
"Particularly disturbing is the adoption of the PowerPoint cognitive style in our schools. Rather than learning to write a report using sentences, children are being taught how to formulate client pitches and infomercials. Elementary school PowerPoint exercises (as seen in teacher guides and in student work posted on the Internet) typically consist of 10 to 20 words and a piece of clip art on each slide in a presentation of three to six slides -a total of perhaps 80 words (15 seconds of silent reading) for a week of work. Students would be better off if the schools simply closed down on those days and everyone went to the Exploratorium or wrote an illustrated essay explaining something."
I couldn't resist including the cover illustration of Tufte's piece. which gloriously sends up the totalitarianism of PowerPoint..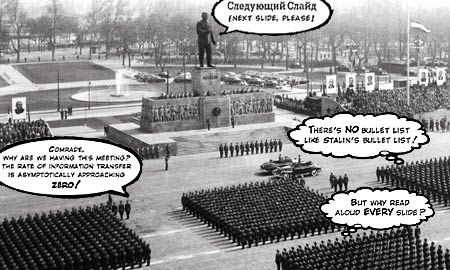 Posted by ben vershbow at 01:23 PM | Comments (2)
I spent yesterday in the McGraw-Hill building listening to the textbook publishing industry's ideas about the future of the book. It was grim. The abysmal lack of creativity and insight, the singular focus on "revenue models," and the utter disregard for the needs of students and teachers, made for a dull, and sometimes disturbing, day.
The ebook offerings ranged from plain old PDFs, to web-based books, to jury-rigged versions of Microsoft office. The only panel that offered a forward-looking vision of the future and interesting ebook software to go with it was the accessibility panel, moderated by George Kerscher—Secretary General, Daisy consortium—who is blind. This panel included a demo of Dolphin Audio Publishing's EasePublisher a tool that facilitates the creation of multimedia content that unites text, audio and images. Dolphin and Elsevier were the only companies that addressed multimedia and its role in the future book. While McGraw-Hill is offering PDF textbooks because they are, "the easiest, fastest, cheapest solution." Dolphin is thinking about how to enrich the learning experience for everyone. They found that when students with no disabilities used their multimedia books, they learned more. Apparently the combination of text (reading), audio (hearing the text read by a human), and image (photos, videos or illustrations that illuminate the material) enhances learning. Designing electronic textbooks that exploit this opportunity seems like a no-brainer. Teachers I've spoken to and my own experience with students in the classroom suggests that multi-media ignites student enthusiasm. Making PDF textbooks is like driving a Jaguar in first gear. But after 10 years of experience in the field, McGraw-Hill's Ginny Moffet believes that: "students only care about the grade," and "the biggest challenge to the [electronic textbook] industry is the high cost of content creation." Hmmm, what about making a high quality product that everyone wants to buy, isn't that the problem they should be trying to solve? It's clear that the job of making an interesting electronic textbook is not being taken up by any of the old giants. Our prediction (and our hope) is that the future of the electronic textbook will not be directed by corporations, but by small start-ups, or non-profit consortiums of schools and academics. Efforts like the non-profit, Virtual High School, are an interesting beginning.
Posted by Kim White at 03:37 PM | Comments (2)
Even before the head of the University of Nebraska library began bemoaning how the pictures had fallen out of their collection of vintage agronomy ebooks, the Open eBook Forum conference on ebooks in education felt a great deal like a convention of cattlemen gathered to discuss the latest advances in treating animal ailments and increasing their milkfat percentages. The cattle, of course, are the hapless students, handily divided into K-12 & college lots. The publishing industry, with the help of the software industry, is doing their best to milk them for all they can.
The major image that came to my mind, however, was genetically modified corn. Genetically modified corn is theoretically a good thing: you get a bigger harvest of better corn. But! for the good of the masses - so it doesn't get loose in the wild - Monsanto's made their GM corn sterile. What this means for their bottom line: the farmers have to buy new seeds every single year. In short, what should be a renewable resource has become corporate property. And this strategy, more or less, is what the people at the Open Ebook Forum were most delighted about having hit upon. They're selling coursepacks to college kids which expire at the end of the term, ebooks to libraries which only one user can check out at once, and more software to parents so their kids can do their schoolwork. Hopefully, this technology will let you, the efficient new school administrator, get those pesky teachers out of your payroll. Then: profit!
The future of the book looked incredibly bleak from the McGraw-Hill auditorium. One bright spot of enthusiasm: a few groups of people (including Geoff Freed from the CPB/WGBH National Center for Accessible Media and John Worsfeld from Dolphin Computer Access) working on making media more accessible to people with disabilities. Not coincidentally, they were the only people there not primarily concerned with making money off the students.
Posted by dan visel at 10:15 AM | Comments (0)
That's the slogan for the just-launched Creative Archive License Group - a DRM-free audio/video/still image repository maintained by the BBC to provide "fuel for the creative nation." Other members include Channel 4, Open University, and the British Film Institute (bfi). Imagine if the big three US networks, PBS, NPR and the MOMA film archive were to do such a thing...
Posted by ben vershbow at 08:14 AM | Comments (0)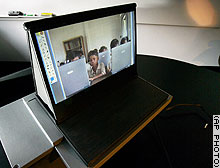 if:book will be spending the day at the Open eBook Forum's eBooks in Education Conference at the McGraw-Hill Auditorium in New York.
In the spirit of the conference, here's an AP article from last week that gives a good overview of Nicholas Negroponte's $100 laptop project for developing countries.
"Details are still being worked out, but here's the MIT team's current recipe: Put the laptop on a software diet; use the freely distributed Linux operating system; design a battery capable of being recharged with a hand crank; and use newly developed 'electronic ink' or a novel rear-projected image display with a 12-inch screen. Then, give it Wi-Fi access, and add USB ports to hook up peripheral devices. Most importantly, take profits, sales costs and marketing expenses out of the picture."
Posted by ben vershbow at 08:10 AM | Comments (0)

This tree is made of all the pages, links and data on our site - built with a cool processing applet on texone.org (via reBlog ).
"tree accesses the source code of a web domain through it's url and transforms the syntactic structure of the web site into a tree structure represented by an image. this image illustrates a tree with trunk, branches and ramifications. first each tree is initialized, than all html links are detected, chronologically saved and finally displayed."
It also builds separate trees for external links, creating entire forests of information. For some reason, our one external tree was a stubby, brown little runt for worldbook.com/info, which I'm pretty sure we do not link to, so I've left it off. I'm not sure why it didn't pick up on our real external links. I'm also not sure exactly how to read the tree, but I guess I can see the basic nature of if:book represented - i.e. a blog is pretty simple structurally but with a lot of content, hence our shaggy, dense foliage on a slender trunk. I also made trees for Google and the New York Times and they were much less woolly and not green like ours.
The texone guys have also recorded the sound of data forests growing. Apparently, every node on a tree - each trunk segment, branch, and leaf - emits a piece of MIDI data - a digital note, varying in pitch according to placement on the tree (high notes are toward the top). They recorded the output for different trees and filtered it through various sound palettes (different types or arrays of instruments). A couple of examples are posted on their site. I've put one of them below.
Posted by ben vershbow at 12:36 AM | Comments (0)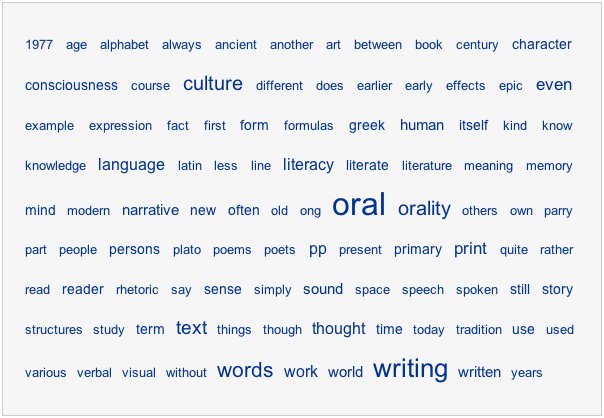 Sometime in the last few days, Amazon.com unveiled three new features for its Inside the Book search: "books on related topics," a "100 most frequently used" concordance (above is the concordance for Orality and Literacy by Walter J. Ong), and "text stats." The stats are pretty funny - in addition to page, word and character count, they measure a book's "complexity" as well as its "readability" according to three established indexes, including the famous and amusingly named "Fog Index" (as though it rated the density of mental fog between a reader and a book). It also includes so-called "fun stats" like words per dollar and words per ounce.
Some of these features seem a little trivial, but there's no denying that Amazon is moving surely and steadily toward a comprehensive semantic browsing system (other recent innovations are Statistically Improbable Phrases (SIPS) and Citations). Though still crude compared to what it might eventually become, you can begin to glimpse the pleasures and uses it will afford. Amazon can never replace the social and tactile pleasures of browsing a physical bookstore, but it's doing a good job at making the virtual bookstore a more exciting place.
Posted by ben vershbow at 05:08 PM | Comments (0) | TrackBack
Here's a rare peek into the inner workings of the institute: our discussion about viral media that came out of a debate over what to do with the Gates Memory Project. I've excerpted from last night's email conversation....
Ben starts by saying:
Genesis and entropy are both accelerated on the web. Within moments, you can get something out there and have everybody talking about it. But the life can drain out just as quickly. I think it's fair to say that energy [for the Gates Collective Memory project] is waning, but by refocusing on a single goal, we can perhaps keep this thing afloat...
Bob replies:
absolutely do not want to stop yet; haven't done enough to have any lasting impact;
Dan says:
Not to derail the conversation by dragging into the realms of the meta, but might the arc that Ben's describing (an initial flair-up of interest, followed by declining returns) be interesting in & of itself? It seems like the internet is very good at blowing up interesting things at the moment (viz: the contagious media thing Kim forwarded), but it's (generally) not very good at sustaining interest (or scrutiny). (A major & significant exception: when a community springs up around something.) Occasionally you get a "where are they now?" thread on Boing Boing or Slashdot or something, but that's very much the exception & not the rule.
This is maybe something that's important if we're considering the future of books. The information arc of the printed book seems to be very different: if there's not a media circus around the launch of the book, there's a very slow pickup, lasting, conceivably, a very long time. Electronic media seem to be much more time-sensitive.
Bob replies:
EXCELLENT point!
Dan says:
But not a particularly novel one. Certainly someone's done some thinking about this? I'm not sure where to start looking . . .
Kim says:
Some ideas of where to start looking:
Eyebeam's Contagious Media Experiments
Exhibition at the New Museum of Contemporary Art / Chelsea
CONTAGIOUS MEDIA
April 28 - June 4, 2005
Media Lounge
Review/preview of show
Dan replies:
This is kinda the opposite of what I'm interested in here. I think it's great that the Internet spreads things virally, but these things burn out very quickly: the Peretti's projects seemed "yesterday" a couple years ago. Nobody checks into blackpeopleloveus.com regularly - people visited once & got the joke (or didn't). Do we really need a loving history of "all your base are belong to us"? It was funny - and certainly signifies a moment of our collective interaction with the Internet very precisely - but a museum exhibitions seems almost beside the point. You don't put a pop song into a museum - and I say that with a full appreciation of pop songs.
To carry the pop song analogy further: in a pop-song world, can you have Bach? if you wanted to have Bach?
(I don't think The Gates really fit into this sort of framework, because there were personal interactions with them. Ben - for example - can tell stories about the gates in a way that we can't really tell (interesting) stories about the dancing baby.)
Kim replies:
Social critiques like www.whatisvictoriassecret.com which posed women in sexy underware barfing over the toilet really did say something about body image and the way the advertising industry manipulates women. And the Nike sweatshop emails forced Nike to address labor issues. These websites are not built to last in the same way oil paintings and poems are, but I do think they are a significant cultural commentary and a new form of activism. In this sense I suppose, the Gates do not fit, because they have no political goals.
We should also consider contagious media that parodies an over-hyped current event, a good example is this blog written by Brittany Spears' fetus Don't forget, the most popular website about the Gates was a parody (the Sommerville Gates). it followed this formula, went viral and got tens of thousands of hits.
I think the contagious media element is important for our project. The Gates themselves were temporary and the material we are gathering is, ostensibly, finite (i.e. Nobody is going to go out and take a picture of the Gates tomorrow). Therefore, we need to draw attention to the project now. I don't think personal interactions or the potential for stories/complexity prevents us from making at least some part of this project contagious.
I don't get the pop-song analogy. We do have museums for pop-music. Jazz, Motown, Elvis, the Beatles, they are not trivial and we still have Bach.
Ben says:
I agree it would be interesting to look at the project in terms of its arc - a web arc versus a print arc. It might be interesting also to consider this in terms of closed and exposed. Writing a book is a relatively solitary and contained act (unless it's built on interviews and field research). But still, a work in progress is usually kept very private and tucked away. Only upon being published does it open up to the world. Our project, however, started with a large number of people and a fair bit of attention, but then gradually contracted to an inner core. Now we try to make sense of that dizzying encounter with the larger world. You could say that print books embody thinking before speaking, whereas the web fosters speaking first and thinking later, or not at all.
As for Bach, I think he's pretty much impossible in a pop world, except as reduced to a pop song - the played-to-death cello suite accompanying a Lexus gliding across your TV. Someone today with Bach's genius probably couldn't impact the development of music in nearly as big a way. Maybe he would just become a scientist. And it's true, we don't really put pop songs in museums. Only one of the things Kim mentions is a place, and that's a museum to a legendary person, not a song. I suppose there's the rock and roll hall of fame, but that strikes me as going to the taxidermist's and calling it a zoo. I guess what I'm trying to say is that there's a similar entombed quality to this Contagious Media Showdown Eyebeam is hosting. It's proof that the "all your base," "blackpeopleloveus" variety of web contagion is passé. Drag racing diseases isn't subversive, it's just referential. But I agree with Kim that there continue to be interesting and sometimes powerful instances of contagious media. But a big part of their power is that they come out of nowhere. The minute you announce that something is contagious, you kind of kill its coolness. I wonder if anything worthwhile will come out of that contest.
It's interesting to analyze all this in terms of trying to make something coherent and lasting on the web. But I'm not sure we need to lob a contagious grenade of our own. What sort of thing are you imagining?
--end of email exchange, conversation continues in the comment field--
Posted by Kim White at 11:32 AM | Comments (7)
hub media 04.13.2005, 8:34 AM
Another grassroots media experiment has sprung up in the hinterlands: YourHub.com, a cluster of community portals in the greater Denver metropolitan area that, like Bluffton Today, invites users to forge their own local news from submitted stories, images, ads and events listings. And like its South Carolina counterpart, YourHub is being launched by a larger media company, The Rocky Mountain News.
(via Dan Gillmor)
Posted by ben vershbow at 08:34 AM | Comments (0)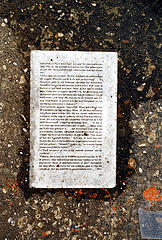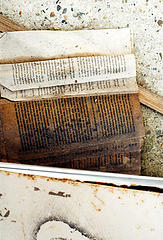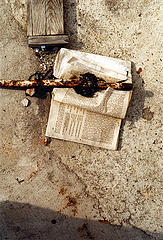 A lovely photo set I came across on Flickr. Apparently from Amsterdam.
Posted by ben vershbow at 06:14 PM | Comments (0)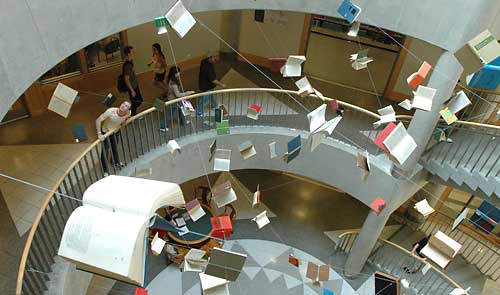 A new installation by J. Ignacio Diaz de Rabago in the atrium staircase of the Gardner stacks at Berkeley's Doe Library (photograph from UC Berkeley News). Other works by Diaz de Rabago can be viewed here, including his multi-part "Babel" series, to which his latest presumably belongs.
(via Conversational Reading)
Posted by ben vershbow at 10:38 AM | Comments (0)
Amazon.com has recently acquired BookSurge, the self-described "global leader in inventory-free book publishing, printing, fulfillment and distribution." This adds cutting edge print-on-demand technology to Amazon's online retailing recipe - big news for self-published authors, but even bigger news for readers. Amazon's move suggests that print-on-demand might finally be maturing out of the terrible twos of the vanity press into a technology that redefines publishing in space and time. Imagine rare books suddenly coming back into print, and newer books staying in print longer, or indefinitely. Every book, no matter how old or obscure, could theoretically be in print, in perpetuity. Amazon already sells out-of-print or hard-to-obtain titles produced on demand by BookSurge, but their absorbing the company signals a definitive step futher into long tail bookselling. (article)
The backbone of any serious publishing house used to be its backlist - the large catalogue of older titles that sell reliably over time and are therefore kept in print. A backlist might include classics by the country's most important authors, or books with more modest readership that still sell consistently over the years. It's like the publisher's DNA - a map of who they really are. On occasion, you have a runaway bestseller, and you rejoice, but it's not something you count on. It's the sturdy, distinguished backlist that keeps a publisher grounded. Today we have the opposite. Most publishing houses have merged under large media conglomerates, backlists have dwindled, and publishers are ever more obsessed with finding their next blockbuster hit - a Dan Brown or Sue Grafton. Books quickly go out of print, and many more - books that might have found a smaller, more select readership - probably never see the light of day since publishers aren't willing to take on the cost and risk of a smaller print run.
But as Greg Geeley, Amazon.com media products vice president, puts it:
"Print-on-demand has changed the economics of small-quantity printing, making it possible for books with low and uncertain demand to be profitably produced... Thanks to print-on-demand, 'out of print' is out of date."
People have been talking for some time about the internet's potential to sweep away the stagnation of mainstream publishing. Amazon has already changed the way we browse, buy and discuss books. Now, with machines that can turn out a single book at a time, indistinguishable in appearance and quality from a regular trade paperback or even hardcover, no title need ever go out of print, and publishers might finally be able to direct their attention away from quantity and back to quality.
For further reading...
Chris Anderson's Long Tail blog
Posted by ben vershbow at 01:15 PM | Comments (2) | TrackBack
Kids in Denmark may soon be reading Hans Christian Anderson on their cell phones. To celebrate the writer's bicentennial, a Danish company is releasing an interactive comic book series designed specially for the tiny screen.
(via textually.org)
Posted by ben vershbow at 08:03 AM | Comments (0) | TrackBack
Looking for simple facts on the web can be a frustrating business. Over time, we bookmark sites that reliably deliver the goods - things like basic geographical data, conversion scales for measurements, biographical summaries, or anything else that we need to quickly grab, plug in, and move on. But it all takes much longer than it should, and in looking for such things, we're plagued as much by the nuance of internet search as by its imprecision. It's all part of learning how to deal with this massive web we've created, and the state of blindness to which it reduces us. Search engines are really the only tool we have for groping through a pitch black sea of information, where the ineluctable modality is meaning, not the visible (for more on this, read Steven Pemberton's talk from the Decade of Web Design conference, which if:book attended this January in Amsterdam).
Well Google has helped us to see, just a little bit better, the little nuggets and factual crystals that we so often sift for in our blindness - by unveiling a new Q&A feature for basic web search (article via Bibliotheke). Plug in a search like "earth distance sun," or "copernicus date of death," and you get exactly what you're looking for right above the stack of general results:


or

It's the kind of small, thoughtful innovation that makes you appreciate Google's attention to detail and sensitivity to the problem of blindness. Other search engines like Ask Jeeves offer a similar feature, but Google includes the information's source (a source they've vetted and deemed reliable) and a link to that page. For example, in the case of basic geography and demographics, the link might be to the CIA's World Factbook. Even if you just grab the fact and run, it's comforting to have seen a trustworthy citation, though some might grumble about the CIA.
It would be fantastic if this kind of quick fact extraction could be tailored to different search needs. Imagine a "writer's search toolbox" combining every conceivable reference resource that an author might need. Enter "synonym for think" and right at the top you get an entire thesaurus search result: "analyze, appraise, appreciate, brood, cerebrate, chew, cogitate, comprehend, conceive...." Enter "idiom with humble" and you get "eat humble pie," "Be it ever so humble, there's no place like home," etc. Or search for rhymes, poetic forms, grammar guidelines, literary terms, writer bios, quotes, etymologies - anything. It's good news that search is being refined in this way, and competition among giants seems, in the end, to be good for the average web browser. Whatever helps us spend less time scouring and more time on the things that are important to us.
Posted by ben vershbow at 04:57 PM | Comments (0)
What would happen if you gave a computer to a group of under-educated kids who had never seen one before? Answer: they would figure out how to use it, all by themselves. Immediately. This is the surprising result of what has come to be known as "the hole in the wall experiment," conducted by computer scientist, Dr. Sugata Mitra. Dr. Mitra put a computer with internet access in a hole in the wall outside his New Dehli office. According to an article in FRONTLINE/World, "He wanted to see who, if anyone, might use it. To his delight, curious children were immediately attracted to the strange new machine." All of these children lived in the surrounding slum and had never seen a computer before. However, "Within minutes, children figured out how to point and click. By the end of the day they were browsing. "Given access and opportunity," observes O'Connor, "the children quickly taught themselves the rudiments of computer literacy."
The children even developed their own names and associations for the computer icons "They don't call a cursor a cursor, they call it a sui, which is Hindi for needle. And they don't call the hourglass symbol the hourglass because they've never seen an hourglass before. They call it the damru, which is Shiva's drum, and it does look a bit like that."
But the slums of New Dehli are not unique, priviledged kids are also enthusiastic about computers. According to a recent report called "Born to Be Wired". teens and young adults spend more time using interactive technology than they do watching television. This could mean that are ready for a more interactive and self-guided experience in the classroom. Wise use of media in the curriculum should find ways to exploit this new hunger and allow kids to participate in ways we couldn't imagine in the past. Jonathan Schwartz, CEO of Sun Microsystems, is calling this "The Participation Age," a new paradigm for collaborative content creation that seems destined to influence our top-down educational system. The question of how to teach media literacy to kids who seem to grasp these principles intuitively and instantaneously, seems answerable only with a paradigm shift in educational models. Perhaps educators should become more like guides or support persons, providing educational resources and mentor-like advice, empowering kids to engage in self-motivated learning experiences.
Posted by Kim White at 01:30 PM | Comments (0)
Sony has secured a patent for a theoretical device that creates "sensory experiences" in the brain by sending ultrasonic pulses directly to the neural cortex - a non-invasive (that is, non-surgical) procedure, with the potential to give sight to the blind, or sound to the deaf. Gives a glimpse at what these tech giants are imagining for human entertainment further down the road.
From New Scientist - "Sony patent takes first step towards real-life Matrix":
Elizabeth Boukis, spokeswoman for Sony Electronics, says the work is speculative. "There were not any experiments done," she says. "This particular patent was a prophetic invention. It was based on an inspiration that this may someday be the direction that technology will take us."
Link to patent.
(via Boing Boing)
Posted by ben vershbow at 08:32 AM | Comments (0)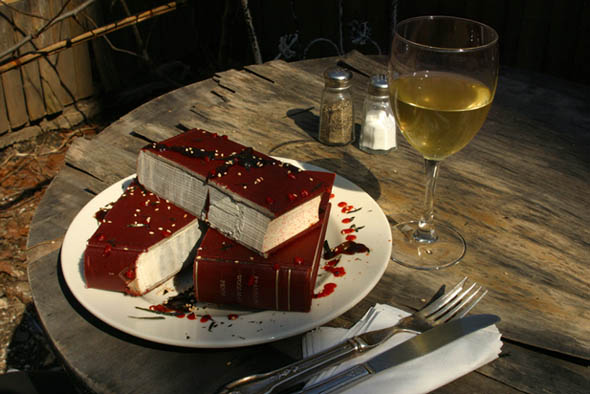 (photograph by Gregory Vershbow)
Posted by ben vershbow at 05:47 PM | Comments (0)
Flickr has a wonderful annotation feature that allows you to attach notes to boxes drawn around sections of an image. Someone had the great idea of using Google satellite images of their hometown, or other significant locales in their life history, to make "memory maps."
We've been thinking a lot about using film or music as a time-based "spine" for an electronic book. This experiment suggests the narrative possibilities of maps and images - not simply as reference points or illustrations on a page, but as dynamic agents. The folks at Grand Text Auto appear to be thinking along similar lines.
This also relates to the institute's current Born Digital Competition, which deals with reinventing the page illustration in digital space. Memory mappers take notice!
Posted by ben vershbow at 03:07 PM | Comments (0)
Mark Crane put forth an interesting possibility for digital textbooks in TechRhet Daily Digest Volume 2: Issue 74: "I've been thinking about ways to swap "playlists" of favorite online readings as a sort of virtual textbook, and it occured to me that social bookmarking sites such as del.icio.us and wurldbook might be a way to start to do this. For example, if you collected a series of links related to technical writing, you could publish that "playlist" to a service like del.icio.us and tag the readings as "tech comm" or "tech comm reader" or something for other people to use via a single url, perhaps."
Mark's idea is very exciting because it suggests a direction the future textbook might take as it learns to incorporate the vast and ever-expanding body of scholarship available on the web. An ephemeral "links" list could also be attached to a more durable body of content, like an ebook. The electronic textbook could offer these "playlists" as a dynamic index which would be continuously updated by the user community.
Posted by Kim White at 10:38 AM | Comments (0) | TrackBack
Faced with declining coverage of books in newspapers and magazines, writers are constantly looking for new ways to promote their work on the web. Literary blogs have done a lot to fill in the gaps left by print, covering lesser-known authors and titles translated from foreign languages, and even revisiting older works. And since many lit bloggers are writers themselves, the blogs serve as a virtual salon where writers and intellectuals come to spar about literature, recommend books, and share their own work. Cory Doctorow offers free, cc-licensed downloads of his novels, attracting readers, generating buzz, and bolstering sales of his books in print. Others are sneakier, deploying anonymous 5-star reviews under their own titles to boost sales on Amazon.
The latest, and probably most expensive, trick is video lit, or book shorts - brief little films (like movie trailers or music videos, but for books) designed to be spread virally through email, blog shout outs, and links, just like the digital tidbits - video clips, images, sites, articles - we stumble upon and circulate daily among friends and family. If people like what they see, they can buy the book (a convenient link to Amazon or Barnes & Noble is provided).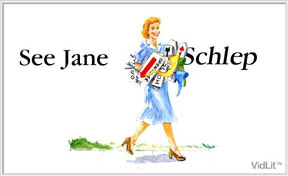 It sounds a bit cock-eyed to advertise books as though they were movies, but proponents of the form say it can get results. There's a piece in Wired that profiles some of the writers who have experimented with the form, and the little production houses that help them do it. The most frequently cited example is a Flash-animated encapsulation of "Yiddish With Dick and Jane," a borscht-belt-infused pastiche of the iconic 1950s children's reading primers. Not too long ago, the 2:45-minute film, produced by a company called Vidlit, was getting passed around incessantly on the web, while at the same time, the physical book flew like hot cakes off the shelves, going on to sell over 150,000 copies. Whether the two are related is hard to say. The book was pretty heavily promoted in stores as a no-brain-required gift item. But Vidlit touts this as a coup of viral advertising.
BookShorts, a Canadian company, produces full live action films for its titles. I watched the book short for Susan Swan's novel "What Casanova Told Me" and was not terribly impressed. It comes off like a preview for a TV movie adaption of a trashy book. But the Dick and Jane example, silly as it is, suggests how clever design and a quick one-two punch can get you a lot of mileage on the web. If people like the idea (and clearly they did), and if the film possesses a kind of must-see quality (the visual equivalent of a good one-liner, a zinger), then people might feel compelled to shuffle it voluntarily through the web. I could see this perhaps working for a political tract or manifesto, or for a religious text - something that is compulsive and seems to contain the seeds of larger truths or revelations. Imagine if this piece were connected to a book (click "Knife Party," then again in new window, then watch "What Barry Says" by hitting "click here" at the bottom). Breathtaking visuals and a compelling political premise combine to whet the appetite for further reading.
Posted by ben vershbow at 11:05 AM | Comments (4) | TrackBack
Bob Stein's comment about Sekou Sundiata and his desire to have a DVD recording of Blessing the Boats in order to be able to savor it, "it wouldn't do just to have a text transcription since hearing the many voices is a crucial aspect of the piece. it really was a genre-busting performed essay," brings to mind the origin of poetry and its deep roots in the oral tradition. Rhymed stories that were to be sung, so people would still remember them generations later. This tradition is almost universally shared across cultures, and is still alive today. Think of hip-hop, epic poems, the Colombian vallenato, "Martn Fierro" that repository of everything Argentine, or the itinerant poets whom one can still hear in the markets of Central Asia and North Africa. It is precisely that centuries old internal rhythm which makes poetry practically untranslatable, but also gives us a tinge of shared pleasure when we hear poetry in a language we don't understand.
The "genre-busting" aspect has been there all along. It was concealed when poetry became so obscure in the baroque, that one had to possess all the codes in order to understand it. It became a mind game and reading it was easier than listening to it. Then, in the 19th century, poetry began to look inside itself becoming aware of its raison d'tre; to give shape to an ontological reality, a sort of miracle that, in Baudelaire's words, is flexible enough to adapt to the lyrical movements of the soul. So poetry was freed from form, inaugurating true genre-busting. The poem in prose was born. Musicians have set poems to music, or composed symphonic poems. Genre became blurry, because poetry was going back to what was meant to be.
All this brings us to the future of the book. I often think that today there is a sort of "presentism," of looking towards the future in the form of the last gadget on which we can read, listen, watch, play, in a word, communicate. But there is a lot to learn from the past, from the visionaries that have been advancing history all along. Think of Alfonso X, the Wise, the poet king in whose court flourished Arab, Jewish and Christian cultures. Thanks to his books of poetry, mostly zejels (Arab-style poetry set to music) it has been possible to study Romanesque, Gothic and Arab instruments. Why? Through the illuminations (in the most complete sense of the word) that adorned his "Cntigas de Loor." Those miniatures depicting Arab musicians playing the instruments upon which most of the modern orchestra originates. We now have in our hands the tools to advance this concept ad infinitum. And, what 's best, knowledge can be shared in a democratic way that resembles its origins.
So, we wish to be able to hear poetry. Reading alone doesn't do it any more. Sundiata belongs to an old, illustrious tradition, so do Bob Holman, Sarah Jones, Joan La Barbara, Pedro Pietri, Algarn, and the poets that in the 70's dared to bring poetry to the forefront. Jaap Blonk's poetry of sounds without words, "Messa di Voce," that was so beautifully illuminated by Golan Levin, is another example of the hybrid. Poets have become performers, claiming their old role. Genre has been definitely busted. Think of hip-hop without its sounds, or Pedro, or Bob, or Sekou without theirs. I continue to be obsessed with a multiple book, the book of the future, the only one that does justice to poetry, and to them.
Posted by sol gaitan at 03:38 PM | Comments (0)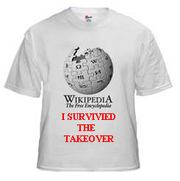 Beginning on as an april fool's prank, Britannica's hostile takeover of Wikipedia has snowballed over the past few days into a sprawling collaborative goof-off on a nerdy conspiracy theory. The article is currently being considered for deletion, or consignment to Wikipedia's Bad Jokes and Other Deleted Nonsense archive. A funny specimen of web accumulatio (thanks, Infocult).
Posted by ben vershbow at 02:04 PM | Comments (0)
Dan Gillmor points to what might be the beginning of something big, exciting and a little scary: user-generated newspapers. Bluffton Today, a free daily serving the small, but rapidly growing, South Carolina town of Bluffton (10,000 households, expected to double in the next five years), hits the racks this morning, filled with news, local events listings, and classifieds, culled in large part from reader contributions on the paper's website. Bluffton Today.com is "a new kind of community website that joins with the Bluffton Today newspaper in a mission of helping Bluffton come together as a community." Run in Drupal, a popular open source "community plumbing" platform, Bluffton Today weaves together blogs, photo-sharing, discussion forums, and classified ads into the living picture of a community. Everyday, the editors will assemble the print edition from content generated on the website, proving they mean what they say in the paper's slogan, "It's what people are talking about!" Browsing through, I found photo galleries ranging across topics like the recent passing of Pope John Paul, graduating Marines on Parris Island, the local SWAT team in training, a bar mitzvah, and life guards. Bluffton blogs (this is where you go when you click "news") were discussing the Pope's death, local sports events, surveys of the night's television offerings, a golf story, and a plug for the Beaufort Humane Association.
Bluffton Today certainly seems like a powerful model for community reporting, but is there any potential here for serious journalism? So far, blogs have proven most effective as watchdogs for the mainstream media - calling out the bullshitters, filling in the gaps, refusing to let certain stories be buried or spun, and occasionally pulling off the dazzling revelation or exposé. They also paint an organic picture of how events ripple through society, registering, like a seismograph, the intensity, direction, and duration of a story. Recall the case of the tsunami, in which the million human voices crying out in the blogosphere balanced the monolithc coverage of the press. But this is not the same thing as providing consistent, exhaustive coverage of events. How could we get any reliable information without a professional class of journalists with the resources and training to extract truth from complex, hectic, or even dangerous circumstances? The blogs would largely dry up if they didn't have the professional news to feed off of. This is not to say the news is complete, fair, or immune to corruption. But without it, web-based discussions would become incoherent.
There was a time when the only way to publicly comment or complain about a newspaper was in the paper's own "letters to the editor" page. But we have entered an age in which readers have unprecedented opportunities to comment and even contribute to the news. Small communities like Bluffton might become entirely self-sufficient in the management of their information, while larger news outlets will probably have to evolve to incorporate grassroots journalism. Who knows? The New York Times might eventually establish a massive community portal on the Bluffton model to supplement its professionally generated news with contributions from community "stringers," redefining what is meant by a story's "source."
But amidst all this change, the ingredient that must not be lost is editors. Bluffton Today reserves editorial authority, and this is precisely what makes them so interesting. They are betting that their content will be more colorful, nuanced, and (hold your breath) accurate, if they open up the news gathering process to the community. But they also seem to understand that this makes the role of editors all the more crucial. It's an experiment worth watching.
Another recently launched initiative worth keeping an eye on (and participating in) is Our Media, a community-generated, community-maintained "home-brew" media warehouse, hosted by the Internet Archive. They are experimenting with guest editors for assembling the archive's homepage, and with volunteer moderators for their various discussion forums. From the site:
"Ourmedia's goal is to expose, advance and preserve digital creativity at the grassroots level. The site serves as a central gathering spot where professionals and amateurs come together to share works, offer tips and tutorials, and interact in a combination community space and virtual library that will preserve these works for future generations. We want to enable people anywhere in the world to tap into this rich repository of media and create image albums, movie and music jukeboxes and more."
Posted by ben vershbow at 11:50 AM | Comments (5)

Our exploration of digital technology and the revolution it has provoked in our reading and writing practice, tends to focus on the latest gadget and the newest software, but we are also concerned with the things that don't change and the aspects of human communication that are so deeply a part of our nature that they can not be removed from our reading and writing systems. The first "Information Esthetics" lecture at the Chelsea Museum brought this to the fore last night. Robert Bringhurst spoke about hand-lettered manuscripts, and about typography that respects and preserves the texture and uniqueness of the hand-made mark. He argued for the humanity of fine craftsmanship. He even managed to convince me that slight variations in the shape of letterforms can serve as metaphors for our own individuality.
He also made the point that the devices in our writing/reading systems are physiologically based. The average page is a size that can be held easily in our hands and read at arm's length. Bringhurst showed a slide of an Egyptian manuscript. The size of the papyrus was very similar to page we use today, and the text was composed in blocks around images. Very much like magazine layouts. As I was admiring the beauty of the manuscript, Bringhurst said, "as you can see, nothing has changed in 3,000 years." That shouldn't shock me, but it did. I've been so absorbed in thinking about the next new thing, I'd forgotten that reading and writing is a very very old thing.
Interesting to think that whether we are reading something written on stone, papyrus, paper, or a computer screen, we need the same things we've aways needed: legibility, context, and "texture." I'm radically summarizing Bringhurst's lecture (hope I'm doing it justice). The way I understand it, texture is Bringhurst's way of describing the particular kind of beauty we look for in cultural artifacts. Texture, is evidence of complexity, information, meaning and the imperfect human hand at work.
So, I'm thinking about how this "texture" manifests in digital manuscripts and it seems to me that it does so in several ways including: the craftsmanship of the digital document itself (which includes the code, the interface, and the composition), the richness of information/meaning that resides in virtual layers or as "links" within the text, and the way beauty can be crafted out of the physical material itself--light emitted by a computer screen.
(photo by Alex Itin)
Posted by Kim White at 11:18 AM | Comments (3)