« yahoo! launches creative commons search | Main | the visible human: illuminated manuscripts and medical illustration »
the ideal pod 03.24.2005, 5:42 PM
Yesterday, Boing Boing linked to five enticing design fantasies of future Apple products by design firm Pentagram: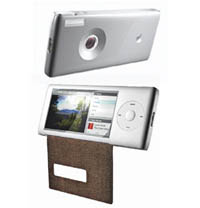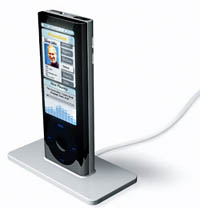 Podwatch, a digital wristwatch wirelessly beaming music to earbuds or headphones with Bluetooth

Wireless iPod, a sleeker version of the current iPod, fitted with wireless internet to enable roving music downloads and direct podcasting

vPod, a video/photo managing console and camera rolled into one, with the famous scrollwheel and Wi-Fi to connect with media applications on your main computer

iHome, a Wi-Fi media hub for the house

iPhone, basically wireless iPod and mobile phone combined, with scroll wheel and pull-out keypad.

If Apple is to stay at the head of the pack, then the answer is to combine the wireless iPod, the vPod, and the iPhone into one ideal pod. In addition to having access to all your music, video and photos, you can surf the web, take movies and pictures, play video games, talk on the phone, watch films in letterbox format, and read various kinds of books - anything from novels, to newspapers, to websites, to manga or comics. IPod's signature scroll wheel would work wonderfully with text, paging through horizontally and preserving some semblance of a coherent page or panel, like the International Herald Tribune does on its elegant website. It could have a little stylus tucked away like tweezers in a Swiss Army knife, and a virtual keyboard that projects on surfaces. A month ago, I wrote about the need for a "paperback ebook" - a pan-media everything-pod, something that does for portable media what paperbacks did for books. Perhaps Apple will be the first to venture such a device.

Laptops are on a collision course with cell phones. Eventually they will converge in a single ideal device. Specialized devices like snapshot digital cameras, iPods, Game Boys, and ebook readers are exciting while they are relatively new, but they are ultimately impractical. Nobody wants a device that just does one thing. Everyday, you have to pack your pockets with various gadgets - you begin to feel like a slave to the so-called convenience of these things. Phones and computers, on the other hand, are indispensable, and can theoretically encompass all of these specialized devices. So it seems like just a matter of time until everything is packed into one ideal pod.

Posted by ben vershbow at March 24, 2005 05:42 PM
tags: Microlit, The Ideal Device?
Comments
The PSP is rather cool in the way that the screen is full video res. Seems we're getting closer to that killer hardware that will allow the killer ap of a multimedia e-book.
Posted by: alex at March 28, 2005 12:47 AM
Post a comment (might take a few moments to appear)