« February 2005 | Main | April 2005 »
What does the evolution of a complex, multi-authored document look like over time? Below are revision histories of two Wikipedia articles, "Brazil" and "love," as rendered by History Flow Visualization, a new application from alphaWorks, the emerging technologies division at IBM.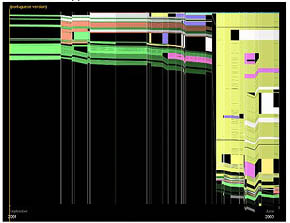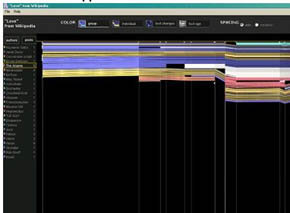 Changes are depicted as parallelograms along two axes, the vertical axis representing the document's length, and the horizontal axis representing time. The tool offers "community" or single-author views, and uses color to emphasize or isolate specific information - i.e. to distinguish authors, or to measure age of a contribution. (view screenshots)
If you open Wikipedia's revision history of the Brazil article, you find a daunting list of hundreds of recorded changes. It's hard to get any sense of how this history compares in overall shape, complexity, and pattern of growth to that of love. But with the alphaWorks tool, it's clear at a glance that the Brazil article almost tripled in size in 2003, and seems to have been suddenly saturated in yellow (perhaps representing the preponderant influence of a single author?). We're looking not at a list, but a situation: in 2003, a self-designated authority on Brazil swaggered in and assumed leadership of the country's wiki-destiny, whereas love seems to have grown at a fairly constant rate with a pretty consistent mix of contributors - no swaggering, yellow Brazilians.
I'd say that the alphaWorks tool suggests something powerful, but is probably of limited use. It's good at providing the quick glance, but seems a little too mashed and muddled for line-by-line analysis. Good visualization tools are those that give a sense of the whole but also allow for minute investigation. At their best, they convey information meaningfully, even movingly. Nurturing a complex, multi-authored work is in some ways like raising a child. You mark its height against the wall, take photographs, file away old homework assignments, gather artifacts - in short, you construct a history, of "a hundred indecisions..and..a hundred visions and revisions."
Posted by ben vershbow at 12:52 PM | Comments (0) | TrackBack
There's a nice piece in today's NY Times about how Brazil is rejecting Microsoft and striking out its own path across the so-called "digital divide." The secret? Open source software.
"Looking to save millions of dollars in royalties and licensing fees, Mr. da Silva [President] has instructed government ministries and state-run companies to gradually switch from costly operating systems made by Microsoft and others to free operating systems, like Linux. On Mr. da Silva's watch, Brazil has also become the first country to require any company or research institute that receives government financing to develop software to license it as open-source, meaning the underlying software code must be free to all."
Posted by ben vershbow at 06:45 PM | Comments (2)
Jimmy Wales, creator of the not-for-profit Wikipedia has launched a for-profit, ad-supported site called Wikicities, which offers users "free MediaWiki hosting for a community to build a free content wiki-based website."
In yesterday's Wall Street Journal, Vauhini Vara noted that gaming communities have been particularly enthusiastic. "Laurence Parry, a 22-year-old computer programmer, who co-founded a wiki dedicated to a computer-game series called Creatures and now spends up to several hours a day updating the site. Before the Creatures wiki existed, fans of the game swapped tips in scattered online forums."
The brilliance of this idea is it just might succeed in centralizing the online gathering place. Internet-based tribal communities that meet to discuss common interests can create their own "city" within the greater universe of Wikicities.com The communal spaces can be defined in the recommended "mission statement." Wikicities also gives users advice on "developing your community" and "setting boundaries."
In a recent Wired Magazine article Daniel H. Pink wondered if this is, in fact, a new idea.
It may feel like we've been down this road before - remember GeoCities and theglobe.com? But Wales says this is different because those earlier sites lacked any mechanism for true community. "It was just free home­pages," he says. WikiCities, he believes, will let people who share a passion also share a project. They'll be able to design and build projects together.
Posted by Kim White at 10:09 AM | Comments (1)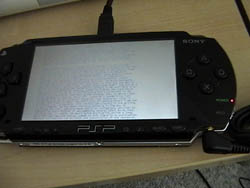 Not surprisingly, folks have already figured out how to read books on the new Sony PSP (PlayStation Portable). The hack is pretty basic - you just turn pages into jpeg images and dump them into the picture folder. The snapshots stack up as a book. Packet Switched Press has even published a short story - a sci-fi piece called "Moving Pictures" - formatted specially for the device (you're supposed to rotate it 90 degrees to view vertically) (thanks, Boing Boing).
The PSP marks another step toward an ideal portable media device (see the ideal pod), the ebook hack being only one of many tricks to cram in more content options (Wired article for more). The Packet Switch Press story suggests that on the tiny screen, 90 degrees can be all that separates a widescreen movie from an electronic paperback - there's no "this side up." The big problem with the PSP is its proprietary file format, laughably named Universal Media Disc (UMD). To watch a movie on your PSP, you have to buy the UMD-formatted edition, even if you already own the DVD. This will ultimately inhibit the development of interesting new works for the tiny screen, clever hacks notwithstanding.
Posted by ben vershbow at 02:46 PM | Comments (2)

Saw a remarkable piece last night — Blessing the Boats, written and performed by Sekou Sundiata, was billed as a Performance Essay. Sundiata is a fabulous poet with a stunning range of voices. This 90-minute work recounts Sundiata's life-saving kidney transplant with a torrent of beautiful words which affirm in surprising ways what it means to be alive. The reason i'm mentioning it here is that the work is so dense and rich that i really wanted to have a dvd recording so that i could savor it — it wouldn't do just to have a text transcription since hearing the many voices is a crucial aspect of the piece. it really was a genre-busting "performed essay." Terry Gross' interview with Sundiata on Fresh Air includes a brief excerpt from the piece.
Posted by bob stein at 11:42 AM | Comments (0)
I've always been fascinated by medical illustration. My undergraduate degree was in studio art—figurative sculpture and painting—so I marveled at the technical skill required to make the drawings themselves. But I also appreciated the text. In order to sculpt the human figure, I needed to know precisely what was happening under the skin. I memorized all the muscles and how they moved, every bone in the skeletal system and where it stuck out. I absorbed books like "Gray's Anatomy," and Frank Netter's "Atlas of Human Anatomy." I thought of them as illuminated manuscripts. The text alone would have been less than useful to me and the illustration without the text would not been enough either. I thought it would be interesting to look at some of these illuminations, think about the intermingling of text and image, and examine their "born digital" equivalents.
Below are two Persian illuminations that I find particularly compelling. The first details the human muscle system. I like its primative feel, the squatting pose and the way the notations look like tribal tattoo, ritual scarification patterns, or the sinews of the muscle itself. The second drawing has the opposite effect, an exaggerated gentility, the patient sits, fully conscious, politely allowing the surgeon to slice open his cranium. Captions for the drawings were taken from an article entitled, "Arab Roots of European Medicine" by David W. Tschanz, MSPH, PhD.
The Anatomy of the Human Body. Persian notations detail the human muscle system in Mansur ibn Ilyas's late-14th century Tashrih-I Badan-I Insan.
An illustration in The Surgeon's Tract, an Ottoman text written by Sharaf al-Din in about 1465, indicates where on the scalp incisions should be made.

Above left: A Dead or Moribund Man in Bust Length; a Detail of the Jaw and Neck; the Muscular and Vascular Systems of the Shoulder and Arm (recto). Leonardo da Vinci (Vinci, 1452–Cloux, 1519).
Above right: Detail Section of the Mouth and Throat; the Muscular System of the Shoulder and Arm (verso). Leonardo da Vinci (Vinci, 1452–Cloux, 1519).
Renaissance European artist Leonardo da Vinci, created sublime illuminations, heavily annotated with notations made during dissections. The effect of the notations reminds us that these drawings were "studies" of the human body and its mysteries. For me, these drawings are as compelling as Da Vinci's more "finished" works. When I was seven months pregnant, I waited in line for four hourse to see the Met exhibition: Leonardo da Vinci, Master Draftsman which included the drawings above. It was worth it.
I should also mention one of his contemporaries, Andreas Vesalius, (1514–1564) who was the author of an extremely influential atlas of anatomy.
The modern-day equivalent of Vesalius, might be Frank H. Netter, M.D., whose brillantly illustrated "Atlas of Human Anatomy," is required reading for many first-year medical students.


Flix Productions'3D animation of the beating heart (click on image) could be considered a born digital update on Netter's style of medical illustration. No text on this one (so it doesn't really belong here) but I wanted to indicate how 2D drawings are being "improved" by digital technolgy. This animation gives a 360 view of the heart and shows it in motion. I imagine the text might be read by a narrator or included on the screen on in a pop-out window.

We can't overlook, "Gray's Anatomy of the Human Body," I found this (above left) image in the Bartleby.com edition which is available online. The drawing also seems to be a rather eerie premonition of the sonogram (above right). I like to think of sonograms as machine-generated born digital illuminations. I've cropped the text off the one above to protect privacy, but it would normally have useful information about the mother and fetus printed in the margins.
Another iteration of the born digital illumination, this 3D animation of a normal birth created by Nucleus Medical Art. It looks so painless in the movies.
Posted by Kim White at 12:33 PM | Comments (2)
Yesterday, Boing Boing linked to five enticing design fantasies of future Apple products by design firm Pentagram: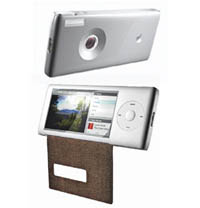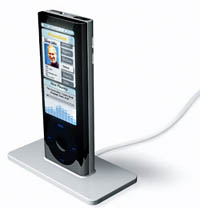 Podwatch, a digital wristwatch wirelessly beaming music to earbuds or headphones with Bluetooth

Wireless iPod, a sleeker version of the current iPod, fitted with wireless internet to enable roving music downloads and direct podcasting

vPod, a video/photo managing console and camera rolled into one, with the famous scrollwheel and Wi-Fi to connect with media applications on your main computer

iHome, a Wi-Fi media hub for the house

iPhone, basically wireless iPod and mobile phone combined, with scroll wheel and pull-out keypad.

If Apple is to stay at the head of the pack, then the answer is to combine the wireless iPod, the vPod, and the iPhone into one ideal pod. In addition to having access to all your music, video and photos, you can surf the web, take movies and pictures, play video games, talk on the phone, watch films in letterbox format, and read various kinds of books - anything from novels, to newspapers, to websites, to manga or comics. IPod's signature scroll wheel would work wonderfully with text, paging through horizontally and preserving some semblance of a coherent page or panel, like the International Herald Tribune does on its elegant website. It could have a little stylus tucked away like tweezers in a Swiss Army knife, and a virtual keyboard that projects on surfaces. A month ago, I wrote about the need for a "paperback ebook" - a pan-media everything-pod, something that does for portable media what paperbacks did for books. Perhaps Apple will be the first to venture such a device.

Laptops are on a collision course with cell phones. Eventually they will converge in a single ideal device. Specialized devices like snapshot digital cameras, iPods, Game Boys, and ebook readers are exciting while they are relatively new, but they are ultimately impractical. Nobody wants a device that just does one thing. Everyday, you have to pack your pockets with various gadgets - you begin to feel like a slave to the so-called convenience of these things. Phones and computers, on the other hand, are indispensable, and can theoretically encompass all of these specialized devices. So it seems like just a matter of time until everything is packed into one ideal pod.

Posted by ben vershbow at 05:42 PM | Comments (1)

Yahoo! has unveiled a new Creative Commons search tool that makes it easier to find "some rights reserved," or flexible-copyrighted, content. This is very progressive move on Yahoo's part, and a big boost for the alternative copyright movement. Three cheers for Yahoo! for endorsing a less restrictive model for creative work!

At the moment, Yahoo! allows you to search for CC material either on the web or in Creative Commons' own library. At least for now, it's not possible to search within different media types - i.e. video, image, etc - though you can distinguish in your search between content available "for commercial purposes," and content that you can "modify, adapt, or build upon."

UPDATE: Larry Lessig, chair of the Creative Commons project, comments on Yahoo! move:


"This is exciting news for us. It confirms great news about Yahoo!. I met their senior management last October. They had, imho, precisely the right vision of a future net. Not a platform for delivering whatever, but instead a platform for communities to develop. With the acquisition of Flickr, the step into blogging and now this tool to locate the welcome mats spread across the net, that vision begins to turn real."
See article:
"Yahoo adds search for 'flexible' copyright content".
Posted by ben vershbow at 10:54 AM | Comments (0)
Plans were recently announced for the digitization of the Codex Sinaiticus, the world's oldest existing Bible, which currently resides in four separate chunks in Egypt, Russia, Germany and Britain. Dating back to the mid-4th century, the Codex contains large portions in Greek of the Old Testament, and the complete New Testament, including several non-canonical epistles.
From article:
"The project encompasses four strands: conservation, digitisation, transcription and scholarly commentary to make the Codex available for a worldwide audience of all ages and levels of interest. There are plans for a range of projects including a free to view website, a high quality digital facsimile and CD Rom. It is intended that this project will be a model for future collaborations on other manuscripts."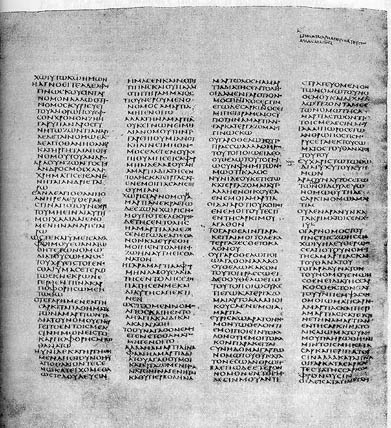 Posted by ben vershbow at 04:28 PM | Comments (0)
Brad Paley, creator of Text Arc and many other gorgeous data visualizations popular here at if:book, has put together a fascinating lecture series running March through July in New York. The series starts next Thursday in Chelsea with renowned typographer Robert Bringhurst. From Brad:
"I'm excited to have put together something that seems tailor-made for the interests of Institute for the Future of the Book participants and on-lookers."
Information Esthetics: Lecture Series One starts March 31 in Chelsea
People who value clarity and engagement is visual displays, whether as fine art or on Wall Street, are invited to seven evenings with some of the field's deepest thinkers and finest practitioners. The series opens with distinguished typographer Robert Bringhurst at 6:00 pm, March 31 at the Chelsea Art Museum. Fine spirits and snacks will be served. It's free with the $3 discounted museum admission.
A little more about Information Esthetics..
Making data meaningful—this phrase could describe what dozens of professions strive for: Wall Street systems designers, fine artists, advertising creatives, computer interface researchers, and many others. Occasionally something important happens in these practices: a data representation is created that reveals the subject's nature with such clarity and grace that it both informs and moves the viewer. We both understand and care. This is the focus of Information Esthetics.
Information Esthetics, a recently formed not-for-profit organization, has organized a lecture series dedicated to helping this happen more often.
For the full program, visit InformationEsthetics.org. Thanks, Brad! We'll definitely be there.
Posted by ben vershbow at 02:46 PM | Comments (0)
Anyone interested in the future of textbooks should take a look at Jay Mathews' "Class Struggle" column "Why Don't We Fix Our Textbooks?" in yesterday's Washington Post. Why are most K-12 textbooks in America so mediocre? It's in large part due to the adoption process used in 21 states, including the biggies Texas, Florida and California, in which textbooks are selected by statewide committee rather than by teachers themselves. The ones that make it through are like processed cheese, politically censored by pressure groups, and written in dumbed-down language in "chop shops" at the "el-hi publishing cartel" - Pearson, McGraw-Hill, Reed Elsevier, and Houghton Mifflin. Even states and schools that are not directly subject to these policies are affected, since the dominant textbooks on the market are the ones produced in the mediocrity mills of the adoption committees.
Mathews points to an excellent report by David Whitman called "The Mad, Mad World of Textbook Adoption", published by The Thomas B. Fordham Foundation, which gives a good overview of the situation. It's fascinating to learn that adoption committees first appeared during Reconstruction when Southern States pressed for the right to publish their own version of the Civil War. Today, it's political correctness and economy of scale that guide textbook selection, with cranky pressure groups forever chipping away at perceived infelicities, and publishers looking for formulaic bestsellers appealing to the broadest possible audience. Meanwhile, high-quality alternatives from smaller presses struggle to survive.
Peppered throughout the article are bits of a conversation between Mathews and Diane Ravitch, author of the introduction to the "Mad, Mad World" report, and of "The Language Police: How Pressure Groups Restrict What Students Learn":
"I asked Ravitch a couple of days ago if there has been any progress lately. She said California, Florida and Texas have all considered bills that would weaken the adoption process, but so far there has been little change. She said she thinks the best hope is that the Internet and electronic publishing will eventually render obsolete the textbook giants and their adoption panel co-conspirators."
There is reason to hope that digital technologies might usher in a textbook renaissance, boosting quality and diversity while dramatically reducing cost (see Textbook Ripoff report), and ultimately redefining education in the digital era. And if the open source model is embraced, then textbook adoption might actually evolve into an interesting process of peer review and creative collaboration. But there is equal reason to fear that the el-hi publishing cartel will cut innovators off at the pass and dominate the e-textbook market through DRM and extortionist content-update schemes.
Dave Munger summed it up well in a conversation we had last month about laptops as textbooks:
"In my dream scenario, the big publishers will embrace open source. They will become service companies, doing contract work to customize texts for particular markets.
"I imagine what will really happen is that publishers will fight this tooth and nail, like Microsoft is doing with Linux. It will be an all-or-nothing battle, with one side winning and the other losing."
Posted by ben vershbow at 08:12 AM | Comments (0) | TrackBack
Between now and March 29, when oral arguments begin before the Supreme Court in MGM v. Grokster, the Electronic Frontier Foundation is assembling a list, one invention per day, of technologies that could be considered illegal if the movie and music industries prevail in redefining the scope of permissable copying. Email, blogs, VCRs, and xerox machines are among the gadgets listed so far.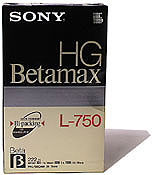 "Ever since the Betamax ruling in 1984, inventors have been free to create new copying technologies as long as they are capable of substantial noninfringing (legal) uses. But by the end of this year, all that could change. In MGM v. Grokster, Hollywood and the recording industry are asking for the power to sue out of existence any technology that appears to be a threat, even if it passes the Betamax test. That puts at risk any copying technology that Betamax currently protects as well as any new technologies Hollywood doesn't like.
"To raise awareness about what's at stake in the Grokster case, EFF is profiling one Betamax-protected gadget every weekday until the oral arguments before the Supreme Court on March 29. Some of these examples are in fun, some more serious, but all represent general-purpose technologies that can be used for both infringing and noninfringing purposes. Check them out and pass the word along."
(via Boing Boing)
Posted by ben vershbow at 04:17 PM | Comments (0)
Bibliotheke points to the recent adventures of Greg Duffy, a talented Texas college student who figured out how to read entire copyrighted books in Google Print by "baking" the cookies (data sent from to your computer from a web browser to store preferences for specific sites and pages) Google uses to impose search limits on protected material. Duffy took on the challenge largely out of curiousity, but doesn't deny that he fantasizes about his chutzpah landing him a job at Google. He hasn't been hired yet, but he did manage to attract a great deal of attention and over 10,000 hits to his site from more than 60 countries. And in the sudden commotion, he mysteriously disappeared from Google's web search results, only to reappear shorly after Google Print had been fixed to repel the hack. Any connection between the two events was cheerily denied by a Google representative writing in the comments on Duffy's blog under the nom de plume "Google Guy." Conspiracy theories abound, but Duffy has retained an excellent sense of humor throughout the whole affair, and still makes no secret of his hopes that sheer audacity and display of chops might yet get him hired by the juggernaut he so admires and loves to tease.
It's a bit tech-heavy, but it's worth reading his post and the updates that follow, if for no other reason than for his amusing riff on the cookie motif.
"So recently I wrote some software to grab and store up a bunch of cookies, keep them for more than 24 hours, and then automate searching for pages by this method. If I wanted to view page 100, the software would search for it and attempt to extract the image with a regular expression. If that doesn't work, it will search for page 99 and extract the "next page" link to get to page 100. It will continue doing this for page 101, 98, and 102 until it finds the correct page. Whenever a cookie would hit the hard limit, I'd replace it with a new cookie from the queue. By grabbing the "next" and "previous" links automatically in this "inductive" fashion and using the search for skipping, I could view an entire book on Google Print with one click every time. I later modified the software to spit out a PDF of the book. I used simple components like GoogleCookie (cookie with accessible properties), GoogleCookieOven (queue with "baking time", i.e. it only pops when the head of the queue is old enough to get the ability to search), and GoogleCookieBaker (thread that keeps the oven full of baking cookies by querying Google for new ones when the number drops below a certain threshold)."
Posted by ben vershbow at 08:24 AM | Comments (0) | TrackBack
The institute is hosting a competition called Born Digital 1: Illumination, which asks artists, writers, programmers, and designers to address the conceptual underpinnings of illuminated manuscripts in the context of the born digital artifact. We are playing somewhat loose with the term "illuminated manuscript." Our "Born Digital" contest asks for a single page rather than an entire book and is not necessarily interested in a literal reinvention of the form (unless you've come up with a particularly great one). We are intrigued by the fact that illuminated manuscripts do not separate text and image into different disciplines requiring separate platforms for display and critical discourse. We find that, in the workshop of the digital medium, disciplinary amalgams are once again emerging, and we would like to examine this shift.
Without attempting to give a history of the evolution of this form, I will, over the next several days, point out a few contemporary models that pay tribute to medieval illumination. The graphic novel comes immediately to mind. Chris Ware's, "Jimmy Corrigan the Smartest Kid on Earth, Art Spiegelman's, "Maus," and David B's, "This Sweet Sickness," have shown us the power of image and text working in tandem to deliver a profound aesthetic, emotional, and intellectual experience.
Early digital versions of the graphic novel include Pyramids of Mars, which was published in 1997 by Richard Douglas and Geoffrey Holmes, and claims to be the first downloadable digital graphic novel. And Scott Frazier's TRANSCENDENCE which the author describes as: partially animated, partially illustrated and partially text. It will, hopefully, stretch the bounds of multimedia and become something new, more than a mere fusion of comic and animation.

And thanks to friend Douglas Wolk, the absolute authority on graphic novels (and one of the smartest and nicest guys I know) for the following recommendations: "Patrick Farley's, "The Spiders," is wonderful and uses the medium nicely. Dylan Meconis's, "Bite Me" is pretty much just scanned images, but she serialized the whole thing online, and she's like 19 years old and super-fun."
I hope this serves as a useful beginning for discussion on graphic novel as illuminated manuscript. I'm relying on readers to help me flesh the idea out.
Posted by Kim White at 02:51 PM | Comments (1)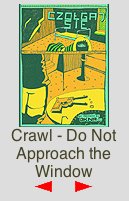 The Digital Museum of Modern Art, a virtual exhibition space, is featuring "Czolgaj Sie" ("Crawl"), verses by Polish poet Marcin Swietlicki, illustrated by fellow countryman Cezary Ostrowski. The poem is exhibited on the museum's website, and has also been optimized for reading on a mobile phone.
I'm not crazy about the poem, but it's an intriguing experiment. Is there a Flash plugin for phones so one can view dynamic text (like this)?
(via textually)
Posted by ben vershbow at 02:27 PM | Comments (0)
"...news agency Agence France Press (AFP) is claiming damages of at least $17.5 million and a court order barring Google News from displaying AFP photographs, news headlines or story leads..." (story)
This recalls Virginia's post a couple months back on "the future of the news." Will news aggregators and headline-scouring robots be accused of copyright infringement? Will other news providers follow AFP's lead?
(via Searchblog)
Posted by ben vershbow at 12:49 PM | Comments (0)
earlymoderntexts.com is a project of a retired college professor that aims to present works of early modern thinkers (Descartes, Kant, Hume, etc) in language that can be understood by students. Jonathan Bennett, the creator of the site, recognized that the students he was teaching couldn't read texts already in English, so he set to simplifying them, editing them himself. Bennett substituted simple words for ones more complicated, elaborated particularly complicated points, and moved important points into bulleted lists, so they could be easily grasped. He's put his edited versions of the texts online, so the general public can read them.
This is an interesting use of public-domain texts and a good demonstration of what can be done when information is free of copyright. (Some of the texts, it should be noted, aren't public domain: John Cottingham's translation of Descartes's Meditation on First Philosophy is almost certainly subject to copyright even if Descartes isn't). Clearly a lot of thought has gone into it: Bennett provides a nice explication of his editing conventions. He uses punctuation to show where in the text he's made changes, starting from the usual brackets and ellipses.
What I found myself wanting when I made my way through his versions, however, was the original, to compare. Tradurre è tradire say the Italians: to translate is to betray, and I always find myself curious as to exactly how the translators are betraying the original. A facing page translation is useful in poetry: you can look at the original and sound out the original line (if you can pronounce the language) to see how the translated line compares. Certainly I could do roughly the same thing here: open up a browser window to a Gutenberg text of the original while I looked at the PDFs that Bennett provides.
But why should we have to do this? Shouldn't electronic texts keep copies of their original versions internally? What I want in reading software is a tool that lets me instantly compare versions: if the translator has changed a word, I'd like to be able to press a button and see what the original was. You can kind of do something like this with Microsoft Word's "track changes" feature. But Word's a deplorable program for reading, and I don't want to have to make my way through a forest of red and blue underlined and struck-through text. What I want would be a program that opens a copy of Bennett's version of Decartes, which is able to flip back to Cottingham's original translation, and then even further to Descartes' original French. Why don't we have programs that make it easy to do this? It shouldn't be hard to do.
Posted by dan visel at 09:15 PM | Comments (2) | TrackBack
There was a great AP article yesterday on the recent boom in cell phone novels and serials in Japan. The top and bottom images here are pulled from "Bunko Yomihodai," or "All You Can Read Paperbacks" - a popular microlit site with over 50,000 subscribers, offering 150 titles written or adapted specially for reading on phones.
"In the latest versions, cell-phone novels are downloaded in short installments and run on handsets as Java-based applications. You're free to browse as though you're in a bookstore, whether you're at home, in your office or on a commuter train. A whole library can be tucked away in your cell phone — a gadget you carry around anyway."
True. Right now, the cell phone is the ultimate indispensable gadget. It's with us practically all the time. No wonder it's the first place that electronic books are gaining a foothold.
And the content is varied...
"Surprisingly, people are using cell-phone books to catch up on classics they never finished reading. And people are perusing sex manuals and other books they're too embarrassed to be caught reading or buying. More common is keeping an electronic dictionary in your phone in case a need arises."
Microlit hasn't really taken off here in the States, though there are a few signs that suggest a gradual movement in this direction. There was a bit of buzz about a month ago when Random House acquired a significant minority stake in wireless applications developer VOCEL. And more people seem to be using their phones and PDAs for reading - everything from websurfing, to RSS feeds, to downloaded books (or even raw text files of public domain literature - I tried this on my iPod with this fun hack). But we have yet to see any kind of full-blown lit phenomenon.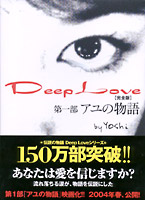 The breakthrough work in Japan was a serial called "Deep Love," the story of a teenage prostitute in Tokyo. It became so popular that it was published as an actual book, and spun off into a TV series, a manga (comics), and a movie. Now the author, named simply Yoshi, is trying his hand at thrillers. From the article:
"Another work by Yoshi, a horror mystery, has a cell-phone Web link that readers click. One pulls up a video clip of a bleeding face; another shows a letter that tells people to go on living.
"Yoshi, a former prep-school instructor who sees his readers as "a community," reads the dozens of e-mail messages teenage fans send him daily and uses their material for story ideas.
"He also knows immediately when readers are getting bored and changes the plot when access tallies start dipping for his stories.
"'It's like playing live music at a club,'" he said. 'You know right away if the audience isn't responding, and you can change what you're doing right then and there.'"
Remember that Dickens often wrote in this way. Perhaps we are witnessing the return of serialized novels.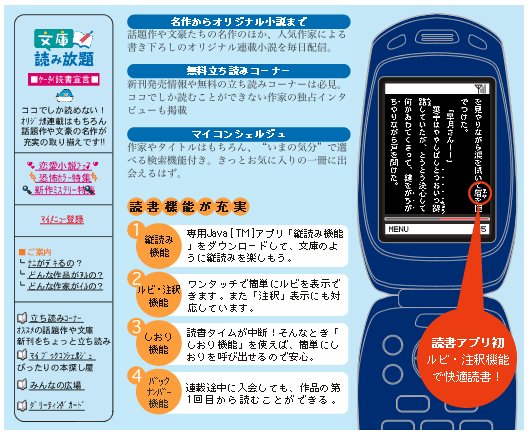 Posted by ben vershbow at 08:31 AM | Comments (2) | TrackBack

This image was created by blending 50 photos in Flickr all tagged with "the gates" (the program was devised by brevity). You can see the complete set of images here. Try guessing the tag for each image - I found that, even though they are quite abstract, there are ghostly traces of shape and line that quietly announce themselves. It sort of whispers to you.
There is often a kind of ethereal beauty in network maps. They resemble something living, fibrous, arterial. Brevity's program achieves something rather different. It takes pictures - fragments of experience - and mixes them like a painter mixes pigments. The resulting colors and textures are reminiscent of deep, subconscious urges, like the color field paintings of Rothko, or Ad Reinhardt (thanks Alex). It portrays a kind of experiential network.


This was posted yesterday on the Gates Memory Blog, the discussion forum for our project (in collaboration with Flickr), "The Gates: An Experiment in Collective Memory."
Posted by ben vershbow at 03:54 PM | Comments (0)


French President Jacques Chirac has instructed the Bibliothèque Nationale de France to "draw up a plan" for a comprehensive online library of European literature to counter what is seen as the inevitably Anglo-Saxon bias of Google Print (see "non, merci").
Reuters story: Chirac Rivals Google with French Online Book Plan
Posted by ben vershbow at 10:31 AM | Comments (0)
Lawrence Lessig is inviting everyone to help revise and update his landmark 1999 book Code and Other Laws of Cyberspace on a public wiki, as a way of drawing "upon the creativity and knowledge of the community." (story in Mercury News)
From the site: "This is an online, collaborative book update; a first of its kind. Once the the project nears completion, Professor Lessig will take the contents of this wiki and ready it for publication. The
resulting book, Code v.2, will be published in late 2005 by Basic Books. All royalties, including the book advance, will be donated to Creative Commons."
As an experiment with networked books, this has a couple of big things going for it. For one, it is a pre-existent work with a large reader community. Like a stone tossed in the water, it creates ripples. Version 2 might benefit by incorporating these ripples. Secondly, Lessig will retain ultimate editorial authority, so we can be pretty sure that the final revision will be focused and well-shaped. And lastly, Lessig's subject is so vast, so multi-dimensional, that the book will almost certainly benefit from broad reader/writer input. And for someone like Lessig, who is as much an activist as a scholar, constantly running around the world spreading his ideas, it is a nice way of asking for assistance in the time-consuming process of updating of a book that the world needs sooner rather than later.
Incidentally, Lessig will be appearing on April 7 at the New York Public Library with Wilco frontman Jeff Tweedy to discuss the question, "Who Owns Culture?" moderated by Steven Johnson. (thanks, NEWSgrist)
Tweedy says: "A piece of art is not a loaf of bread. When someone steals a loaf of bread from the store, that's it. The loaf of bread is gone. When someone downloads a piece of music, it's just data until the listener puts that music back together with their own ears, their mind, their subjective
experience."
Posted by ben vershbow at 03:00 PM | Comments (0)
Boing Boing links to a fun new toy called Web of Letters - a kind of automatic ransom note generator, pulling letters from Yahoo's image search to compose the word(s) of your choice. Also take a look at this Flickr version (simply replace the "omegg" part of the URL with your desired word).

I tried both versions with "omEGG" - the title of a work in progress by the institute's artist-in-residence Alex Itin. I found it resonated nicely with Alex's work, which pulls on image fragments and cultural detritus, remixing and juxtaposing in fascinating ways. Both versions work quite well, but I found that on Web of Letters (first image) I had to click through several searches to find a mix that was pleasantly legible and didn't use repeat sources. The Flickr hack (below) is nice in that you can change individual letters until you get it just the way you want it.

It's a fun game that suggests how the web can be mined to illuminate content in playful ways (and to write ransom notes in a hurry).
Posted by ben vershbow at 06:29 PM | Comments (2)
went to the armory show over the weekend. most conceptually interesting piece i saw was a large "poster" which described the credits to a film as an entry point to an ever-expanding chain of related information . . . basically suggesting that all knowledge can be linked in a semantic web to all other knowledge . . . theoretically the internet will develop to the point that this will be actually true instead of just conceptiually true. (emabarrassed to admit that in my excitement i didn't get the name of the artist; if anyone recognizes the work, please tell us.)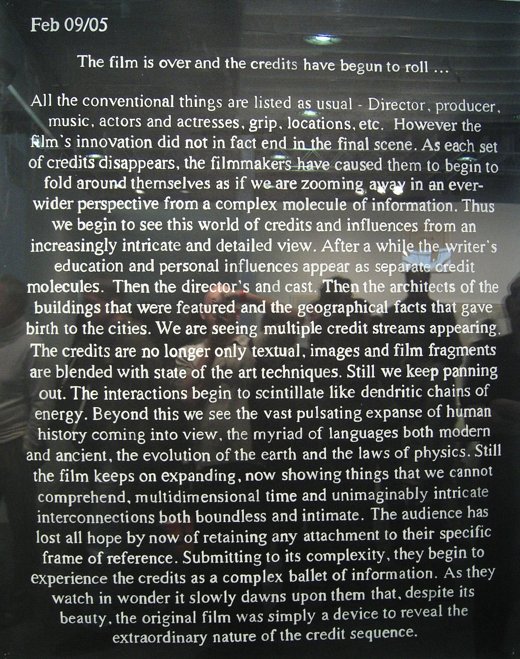 Posted by bob stein at 09:42 PM | Comments (0)
A major study of media consumption habits among American youth (ages 8-18) was released yesterday by the Kaiser Family Foundation. A "representative sample" of over 2,000 3rd through 12th graders were surveyed, including 700 who volunteered to maintain seven-day "media diaries," charting media consumption in half hour chunks, noting location, company they had, and any simultaneous activities. Findings were announced at a high-profile release in Washington attended by Hillary Clinton and other luminaries.
The study finds that kids are often multitasking - absorbing several media simultaneously, often at consoles set up in their bedrooms. Average daily exposure is a full third of the day (8.33 hours), which, when combined with approximately a third of the day at school and a third of the day asleep (although most kids are probably not sleeping that much), amounts to nearly every waking, extra-curricular hour spent tuned in, logged on, glued to, etc...
The evidence of multitasking paints a picture of a generation skilled at combining passive and interactive media - the TV is on, but you're also instant messaging with friends, and doing a bit of quick research on Google for that homework assignment. Constant skimming and constant scattering. Are these fractured minds in the making?
Posted by ben vershbow at 08:52 PM | Comments (1)
last night Printed Matter "the world's greatest source for artists' publications" threw open the doors to their storage space. my colleague, dan visel, and i couldn't resist the opportunity to rummage through the bins for hidden treasures dating from the late 70s. 2 thoughts: we're still a long way from the time when browsing an electronic archive will be anywhere near as pleasing, at least on the sensual plane; paper art may have hit it's height in that moment with the arrival of desktop publishing and cheap xeroxing; now a lot of the energy that people were putting into the creation of paper art is likely going into e-artifacts and e-zines.
Posted by bob stein at 11:18 AM | Comments (2)
So . . . .about two weeks ago I had a dream, (actually more of a nightmare) in which I was asked to judge a contest to choose "the best photograph of the Gates" from among three million orange photos. Over the next few days, however, the more I thought about it,I became intrigued by the idea of seeing people's different creative solutions to photographing the gates.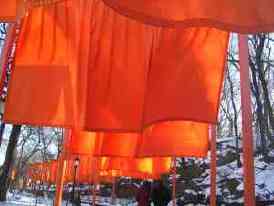 [Note: I loved the Gates. Ashton (partner-in-crime) and I were in the park almost every day we were in the city, we even gave a party for 150 friends who came from all over the world to walk through the park at dawn (see nifty video by alex itin, orange you glad).
On the last day Ashton and I walked through the park for seven straight hours with Rebeca Mendez and Adam Euwens — talking almost the whole time about the phenomenon of the Gates — as an art work that requires significant effort on the part of its audience; like all of Christo and Jeanne-Claude's work, it requires you to be at a certain latitude and longitude at a specific moment in time; you need to see it from different vantage points at different times of the day; as Ashton said, "there are as many views of the Gates as footsteps in the park."
And of course you talk endlessly to the people you meet along the way.
Early that last day, high up on the Harlem Meer, we came upon a big man with red orange hair who was quickly slipping a big coat over his obviously naked body. His friend had just as obviously been taking pictures. Ashton and Rebeca immediately realized that they were taking pictures of his orange pubic hair against the backdrop of the Gates. Impulsively I mentioned that I was planning to sponsor a contest for the best amateur photograph of the Gates. Surprisingly they wrote down a URL for the competition I made up on the spot. A few other times during the day I mentioned this to people who seemed to be taking interesting photos. Without any prompting, they also wrote down the URL.
So the next day, Monday, while sitting around the table with Kim, Dan, and Ben, my colleagues at the Institute for the Future of the Book, I mentioned the whole Gates photo idea and to my delight everyone thought it would fit in perfectly with our experiments in the area of open-ended networked "books."
Voila — the beginning of the Gates Memory Project which we are launching today at gatesmemory.org. It's quite a bit more ambitious than the original (and impossible) idea of choosing "the best photo." Now we are aiming to to harness the creativity and insight of thousands to build a kind of collective memory machine — one that is designed not just for the moment, but as a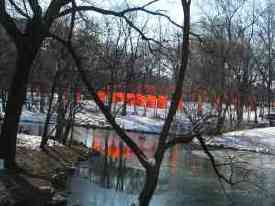 lasting and definitive document of the Gates and our experience of them. As Ben Vershbow says in the press release announcing the project, "The photographs are a jumping off point for further exploration. Ultimately, we are interested in collecting anything that can be shared over the web – film, audio, text – parodies and remixes."
While the photos and stories are being collected, the institute will encourage discussion and debate on how best to present the archives in hopes of finding new, unexpected ways to view and bring meaning to the content. The institute also welcomes the possibility of collaboration with designers, developers and web curators. This project is the beginning of a long-term exploration for us. Through this work, we are asking: how do we use social software to create works that are in the spirit of the web - i.e. free-form, ad hoc, always evolving, and driven by people's enthusiasm to share - but are also edited and shaped into something of lasting value? It is that tension – between frozen and fluid works – that we aim to explore. We are excited to see the ideas people will bring to the table.
See the complete call for the project HERE.
Posted by bob stein at 06:31 AM | Comments (0)
There's increasingly a give-and-take between print and screen text design. A prime example of this: David Foster Wallace's cover story about talk radio in the April issue of The Atlantic Monthly. It's unfortunate this article is only online for subscribers. However, clicking on the thumbnail at right will give you an idea of how the pages work, and there are a couple of working hyperlinks in The Atlantic's HTML preview of the article.
Wallace is well-known for his copious use of footnotes & endnotes, and this article is no exception. However, either Wallace or The Atlantic's art director have decided to treat his digressions differently in this case: words or phrases in the main text that signal a jumping-off point have lightly colored boxes drawn around them, rather than a superscripted numeral after them. In the print edition, boxes in the margins - one immediately thinks of windows - with notes in them appear, color-coded to match the set-off phrases. Some of the notes have notes; they get more boxes of their own.
It's subtle and well thought out, and considerably more inviting to read over 23 pages than footnotes or endnotes would be. Most interesting is how the aesthetic draws inspiration from the web: the boxed notes suggest pop-up windows (or the electronic - not so much the paper - version of Post-It notes), especially when they're layered. And the boxed phrases suggest nothing so much as the underlining that the Web has taught us signifies a hyperlink. The HTML version on their website follows this exactly, presenting the notes as pop-up windows (some of which pop up their own windows).
There's also a PDF version available to subscribers. Unlike the Kembrew McLeod PDF I posted about a few weeks back, some thought has clearly gone into making this article screen-friendly. What you get is just the article: there aren't any crop marks or ads or any of the detritus which crowd an article when it appears in a magazine. Nor, interestingly, are there page numbers, which aren't quite as necessary in a PDF environment: Adobe Reader tells you what page you're on. To complain: it does, however, still replicate the print environment in ways which make on-screen reading suffer. Like the magazine and unlike computer screens, the page is vertically oriented, rather than horizontally. The Bodoni type - which looks fantastic on the glossy paper that The Atlantic uses - loses its narrow horizontal strokes on screen except when zoomed in to a very high resolution. To be fair to The Atlantic, these concessions to the print design are understandable: the typeface does form a good part of the magazine's image, and it would be a fair amount of work to rework such a carefully designed article to appear in a horizontal, rather than a vertical, format.
Posted by dan visel at 04:46 PM | Comments (3) | TrackBack
Yahoo's recently released commemorative microsite, "Yahoo Netrospective: 10 years, 100 moments," is a selection of one hundred significant moments in the history of the web (1995–2005). The format for the site was inspired by the work of information architect Jonathan Harris. Harris created 10 x 10, a piece visually identical to, but considerably more interesting than the Yahoo birthday card, (whose content leans quite heavily toward self-promotion, i.e. there are 20 mentions of Yahoo products and no mention at all of Google.) By contrast, Harris' 10 x 10 builds its fascinating content from RSS feeds. The piece selects the most frequently used words from the major news networks to assemble an hourly "portrait" of our world. "What interests me is trying to find descriptions of humanity in very large data sets, creating programs that tell us something about ourselves," Harris told Wired News. "We set them free and they come back and tell us what we are like."
What makes Harris' work interesting is the self-discipline he exercises in designing these objective systems. By withholding the urge to edit (except, perhaps, when Yahoo is involved) he allows an authentic "picture" of current events, of human behavior online, of the fluid exchange of words and images. His linguistic self-portrait WordCount™, harvests data from the British National Corpus®. WordCount displays the 86,800 most commonly used words in the English language in order of their commonness. Harris alleges that "observing closely ranked words tells us a great deal about our culture. For instance, "God" is one word from "began", two words from "start", and six words from "war". I tried WordCount and was instantly addicted. To read WordCount or 10 x 10, you have to interact with it and bring meaning to it. Or put another way, you have to be willing to bring meaning to it. This is quite different from the way we experience traditional narratives, whose structure and meaning are crafted by the writer and handed down to the reader. I am eagerly anticipating his next project which, he told Wired, "involves looking at human feelings on a large scale from the web."
Posted by Kim White at 11:14 AM | Comments (0)
There's a growing body of legal literature defending peer-to-peer file sharing in the lead-up to the Supreme Court showdown, MGM vs. Grokster. Here's one of the latest additions, an amicus brief filed today by the Free Software Foundation and New Yorkers For Fair Use. The following excerpt nicely skewers the petioners (thanks again, Boing Boing):
"At the heart of Petitioners' argument is an arrogant and unreasonable claim--even if made to the legislature empowered to determine such a general issue of social policy--that the Internet must be designed for the convenience of their business model, and to the extent that its design reflects other concerns, the Internet should be illegal.
Petitioners' view of what constitutes the foundation of copyright law in the digital age is as notable for its carefully-assumed air of technical naivete as for the audacity with which it identifies their financial interest with the purpose of the entire legal regime.
Despite petitioners' apocalyptic rhetoric, this case follows a familiar pattern in the history of copyright: incumbent rights-holders have often objected to new technologies of distribution that force innovation on the understandably reluctant monopolist."
(see MGM vs. Grokster: Brief Update)
Posted by ben vershbow at 10:20 PM | Comments (1)
Boing Boing points to a library in Long Island that has recently started lending mp3 audio books on iPod shuffles, even throwing in casette adapters and FM transmitters for listening in the car. The library claims that they are saving a lot of money in the long run, since mp3 audio books cost significantly less than books on cd.
Posted by ben vershbow at 05:01 PM | Comments (0)
With MGM vs. Grokster fast approaching (initial hearings have been set for March 29), several amicus briefs have recently been filed with the Supreme Court in impassioned and eloquent defense of peer-to-peer file sharing. Notable among them are a brief filed Tuesday by a group of 17 computer scientists, and another filed today by 22 media studies scholars. Each accuses both the court and the petitioners (MGM) of "fundamental misunderstanding." Of technology, in the view of the scientists. And in the view of the scholars, of "fair use" and the importance of p2p in the academy and in the construction of collective memory. To drive home this last point, the scholars direct our attention to the landmark 1984 Sony vs. Universal case in which the legality of VCRs (VTRs at the time) was challenged and ultimately upheld. There's no doubt that MGM vs. Grokster is the Sony vs. Universal for this generation.
From the media scholars:
"...the unambiguous declaration by the Ninth Circuit Court of Appeals inGrokster -- that the standards this Court set forth in Sony are alive and appropriate for this digital age -- does grant educators comfort and confidence. Nor do certain "compromise" positions outlined in briefs submitted in support of neither party in this case protect the interests of educators and researchers. Ultimately, we wish to encourage the Court to consider that Sony did more than legalize home taping and "time shifting." It democratized participation in the project of recording the collective memory of this dynamic nation. Sony went beyond the traditional parameters of fair use and showed the potential for an emerging set of clearly articulated "users' rights." Teachers, scholars, critics, journalists, fans, and hobbyists would all benefit greatly under a regime that offered them clarity and confidence about how they interact with works and the copyright system that governs them."
Posted by ben vershbow at 10:30 PM | Comments (0)