Elsewhere at the Institute:
posted by bob stein
Julie Crisp writing in the TOR blog

"Protecting our author's intellectual copyright will always be of a key concern to us and we have very stringent anti-piracy controls in place. But DRM-protected titles are still subject to piracy, and we believe a great majority of readers are just as against piracy as publishers are, understanding that piracy impacts on an author's ability to earn an income from their creative work. As it is, we've seen no discernible increase in piracy on any of our titles, despite them being DRM-free for nearly a year.
. . . .
The move has been a hugely positive one for us, it's helped establish Tor and Tor UK as an imprint that listens to its readers and authors when they approach us with a mutual concern--and for that we've gained an amazing amount of support and loyalty from the community. And a year on we're still pleased that we took this step with the imprint and continue to publish all of Tor UK's titles DRM-free."
Permalink • Comments (0)
tags:
posted by bob stein
I'm in Milan for the ifbookthen conference. Corriere della Serra (the leading Italian newspaper) asked me for an opinion piece they could publish in La Lettura, their weekly magazine, on the occasion of the meeting. This is what I gave them.
The Future of the Book
As someone who made the leap from print to electronic publishing over thirty years ago people often ask me to expound on the "future of the book." Frankly, I can't stand the question, especially when asked simplistically. For starters it needs more specificity. Are we talking 2 years, 10 years or 100 years? And what does the questioner mean by "book" anyway? Are they asking about the evolution of the physical object or its role in the social fabric?
It's a long story but over the past thirty years my definition of "book" has undergone a major shift. At the beginning I simply defined a book in terms of its physical nature -- paper pages infused with ink, bound into what we know as the codex. But then in the late 1970s with the advent of new media technologies we began to see the possibility of extending the notion of the page to include audio and video, imagining books with audio and video components. To make this work conceptually, we started defining books not in terms of their physical components but how they are used. From this perspective a book isn't ink on bound paper, but rather "a user-driven medium" where the reader is in complete control of how they access the contents. With laser videodiscs and then cd-roms users/readers started "reading" motion pictures; transforming the traditionally producer-driven experience where the user simply sat in a chair with no control of pace or sequence into a fully user-driven medium.
This definition worked up through the era of the laser videodisc and the cd-rom, but completely fell apart with the rise of the internet. Without an "object" to tie it to, I started to talk about a book as the vehicle humans use to move ideas around time and space.
People often expressed opposition to my freewheeling license with definitions but I learned to push back, explaining that it may take decades, maybe even a century for stable new modes of expression and the words to describe them to emerge. For now I argued, it's better to continuously redefine the definition of "book" until something else clearly takes its place.
A Book is a Place
In 2005 when the U.S. based Macarthur Foundation gave me a huge grant to explore how publishing might evolve as it moves from the printed page to the networked screen I used the money to found what I playfully named The Institute for the Future of the Book. With a group of young people, just out of university and coming of age in the era of the social web, we carried out a number of experiments under the rubric of "networked books."
This was the moment of the blog and we wondered what would happen if we applied the concept of "reader comments" to essays and books. Our first attempt, McKenzie Wark's Gamer Theory, turned out to be a remarkably lucky choice. The book's structure -- numbered paragraphs rather than numbered pages -- required my colleagues to come up with an innovative design allowing readers to make comments at the level of the paragraph rather than the page. Their solution to what at the time seemed like a simple graphical UI problem, was to put the comments to the right of each of Wark's paragraphs rather than follow the standard practice of placing them underneath the author's text.
Within a few hours of putting Gamer Theory online, a vibrant discussion emerged in the margins. We realized that moving comments from the bottom to the side, a change that at the time seemed minor, in fact had profound implications. Largely because Wark took a very active role in the unfolding discussion, our understanding at first focused on the ways in which this new format upends the traditional hierarchies of print which place the author on a pedestal and the reader at her adoring feet. With the side-by-side layout of Gamer Theory's text and comments, author and reader were suddenly occupying the same visual space; which in turn shifted their relationship to one of much greater equality. As the days went by it became clear that author and reader were engaged in a collaborative effort to increase their collective understanding.
We started to talk about "a book as a place" where people congregate to hash out their thoughts and ideas.
Later experiments in classrooms and reading groups were just as successful eventhough no author was involved, leading us to realize we were witnessing much more than a shift in the relationship between author and reader.
The reification of ideas into printed, persistent objects obscures the social aspect of both reading and writing, so much so, that our culture portrays them as among the most solitary of behaviors. This is because the social aspect traditionally takes place outside the pages -- around the water cooler, at the dinner table and on the pages of other publications in the form of reviews or references and bibliographies. In that light, moving texts from page to screen doesn't make them social so much as it allows the social components to come forward and to multiply in value.
And once you've engaged in a social reading experience the value is obvious. Contemporary problems are sufficiently complex that individuals can rarely understand them on their own. More eyes, more minds collaborating on the task of understanding will yield better, more comprehensive answers.
Our grandchildren will assume that reading with others, i.e. social reading, is the "natural" way to read. They will be amazed to realize that in our day reading was something one did alone. Reading by one's self will seem as antiquated as silent movies are to us.
The difficult thing however about predicting the future of reading is that everything i've said so far presumes that what is being read is an "n-page" article or essay or an "n-page," "n-chapter" book," when realistically, the forms of expression will change dramatically as we learn to exploit the unique affordances of new electronic media. Ideally, the boundaries between reading and writing will become ever more porous as readers take a more active role in the production of knowledge and ideas.
Clemens Setz, the author of the literary novel Indigo watched the conversation unfold as 40 students in a class at Hildesheim University outside Berlin carried out an extensive conversation with over 1800 comments. At a recent symposium Setz said that knowing his readers would be playing an active role in the margin will effect how he writes; he'll make room for their participation.
Follow the Gamers
And lest, you think this shift applies only to non-fiction, please consider huge multi-player games such as World of Warcraft as a strand of future-fiction where the author describes a world and the players/readers write the narrative as they play the game.
Although we date the "age of print" from 1454, more than two hundred years passed before the "novel" emerged as a recognizable form. Newspapers and magazines took even longer to arrive on the scene. Just as Gutenberg and his fellow printers started by reproducing illustrated manuscripts, contemporary publishers have been moving their printed texts to electronic screens. This shift will bring valuable benefits (searchable text, personal portable libraries, access via internet download, etc.), but this phase in the history of publishing will be transitional. Over time new media technologies will give rise to new forms of expression yet to be invented that will come to dominate the media landscape in decades and centuries to come.
My instinct is that game makers, who, unlike publishers, have no legacy product to hold them, back will be at the forefront of this transformation. Multimedia is already their language, and game-makers are making brilliant advances in the building of thriving, million-player communities. As conventional publishers prayerfully port their print to tablets, game-makers will embrace the immense promise of networked devices and both invent and define the dominant modes of expression for centuries to come.
The Future of the Book is the Future of Society
"The medium, or process, of our time -- electric technology -- is reshaping and restructuring patterns of social interdependence and every aspect of our personal life.
It is forcing us to reconsider and re-evaluate practically every thought, every action, and every institution formerly taken for granted. Everything is changing: you, your family, your education, your neighborhood, your job, your government, your relation to "the others. And they're changing dramatically." Marshall McLuhan, The Medium is the Message
Following McLuhan and his mentor Harold Innis, a persuasive case can be made that print played the key role in the rise of the nation state and capitalism, and also in the development of our notions of privacy and the primary focus on the individual over the collective. Social reading experiments and massive multi-player games are baby steps in the shift to a networked culture. Over the course of the next two or three centuries new modes of communication will usher in new ways of organizing society, completely changing our understanding of what it means to be human.
Permalink • Comments (0)
tags: collaboration, communication, culture, digital_book, e-publishing, electronic_literature, eliterature, experimental
posted by bob stein

Gangnam Style is being remixed and appropriated all over the planet. Reminds me of a wonderful recent piece by Tod Machover in which he talks about his daughter and her friends remixing as the principal way of sharing things they love. Visions of the future.
Here are three of my favorites.
Permalink • Comments (0)
tags:
posted by bob stein

"Pix and It Didn't Happen" by Nathan Jurgenson in The New Inquiry.
"A photograph is made of time as much as it is of light -- a frozen shutter-speed-size gap of the present captured within a photo border. Despite this, photographs have always been a way to cheat death, or at least to declare the illusion of immortality through lasting visual evidence. There's always the possibility that the next photo you take will one day be lovingly removed from a box by some unborn great-grandchild; the Polaroid developing in your hands might come to be pinned to someone's bedpost in posterity. To update that to more contemporary terms, your selfie on Instagram might be a signpost for the future you of what it was like to be this young.

On Snapchat, images have no such future. Fittingly, its logo is a ghost.

By refuting the assumption of the permanence of the image, Snapchat is a radical departure. It inaugurates temporary photography . . . "
Permalink • Comments (0)
tags:
posted by bob stein

The New York TImes published an article today about Snapchat -- the service that lets you send photos and texts that quickly self-destruct as soon as the person you've sent them to has seen them. Impermanence is the point.
Before digital (BD), that is in the era of print, photographs were intended to be printed and preserved; indeed that was the whole point -- to save a moment in time. And the focus on preservation followed us into the digital era. We are endlessly making back-ups, making sure that everything is always with us. The terminology itself is deeply rooted in the paradigm of print -- digital libraries, file systems, folders, etc.
When people started talking about the possibility of media that isn't frozen at the moment of publication, works that are always in process, a hue and cry went up expressing concern about versions. If there weren't clearly identified versions people asked, how would we be able to refer to a work and carry on a conversation over time. In response I suggested that future media would be more like life, flowing like a river, always changing, always in motion.
Snapchat which is being adopted quickly by the generation that has grown up with Facebook indicates an historic shift, the upending of preservation as the core issue of future media. The long-term future of discourse will not be dea. intellectual output will flow like streams into rivers. the whole will be much greater than the sum of its parts.
For anyone interested in this subject, I would also recommend David Gelernter's article in Wired this week. I don't agree with Gelernter on a lot of things, but in terms of a shift from space-based to time-based reality i think he's been right on this since he first put it forward in the 90s. The implication is that the long-term future of discourse is not to be divided and frozen into archival versions; rather intellectual output will flow like streams into rivers and the whole will be much greater than the sum of its parts.
Permalink • Comments (2)
tags:
posted by bob stein

Here's a link to a SocialBook version of the Aaron Swartz Reader, Speaking Truth to Power. In addition to SocialBook's conversation layer, this version also includes a number of excerpted video clips.



Permalink • Comments (0)
tags:
posted by bob stein
An article in today's New York Times provides a terrific example of how shifts in the mechanisms of distribution and consumption work over time to produce significant changes in the mode of expression itself.
"House of Cards, which is the first show made specifically for Netflix, dispenses with some of the traditions that are so common on network TV, like flashbacks. There is less reason to remind viewers what happened in previous episodes, the producers say, because so many viewers will have just seen it. And if they don't remember, Google is just a click away. The show "assumes you know what's happening all the time, whereas television has to assume that a big chunk of the audience is always just tuning in," said Ted Sarandos, Netflix's chief content officer."
Permalink • Comments (0)
tags:
posted by bob stein
I've spent much of the past 24 hours reading remembrances of Aaron Swartz as well as a wide selection of his own writing.
We've lost an important voice. Not only was he uniquely able to wrap his head around the vast complexity of the emerging digital landscape, Aaron Swartz was generous and brave. He threatened the keepers of the status quo and paid the ultimate price.
Depending on how history turns out, Aaron Swartz may be the first hero of our future age.
For people not familiar with Aaron or the brilliance of his expansive mind I've assembled a collection of writings by and about Aaron Swartz.


Permalink • Comments (0)
tags: copyright, cyberlaw
posted by bob stein

These drawings date from 1982 (thirty years ago). Alan Kay had just become the Chief Scientist at Atari and he asked me to work with him to continue the work I started at Encyclopedia Britannica on the idea of an Intelligent Encyclopedia. We came up with these scenarios of how the (future) encyclopedia might be used and commissioned Glenn Keane, a well-known Disney animator to render them. The captions also date from 1982.
The most interesting thing for me today about these images is that although we foresaw that people would be accessing information wirelessly (notice the little antenna on the device in the "tide pool" image, we completely missed the most important aspect of the network -- that it was going to connect people to other people.

Children in the dinosaur exhibit at the Museum of Natural History carry Intelligent Encyclopedia's with headphones around instead of audiotape players. Interactive simulations of dinosaur life from the IE are running on the wall monitors.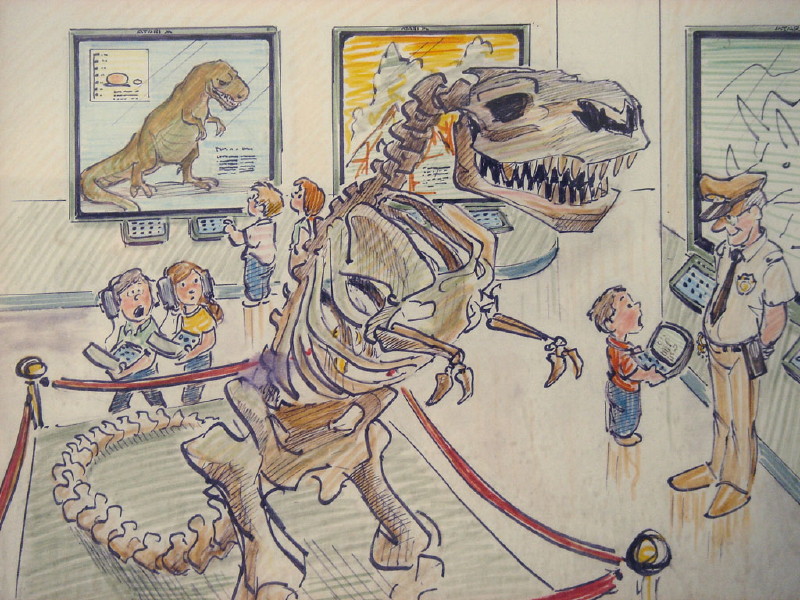 A father reminisces with his son about '60's Rock and Roll, calling up footage from the Beatles appearance on The Ed Sullivan Show from the Intelligent Encyclopedia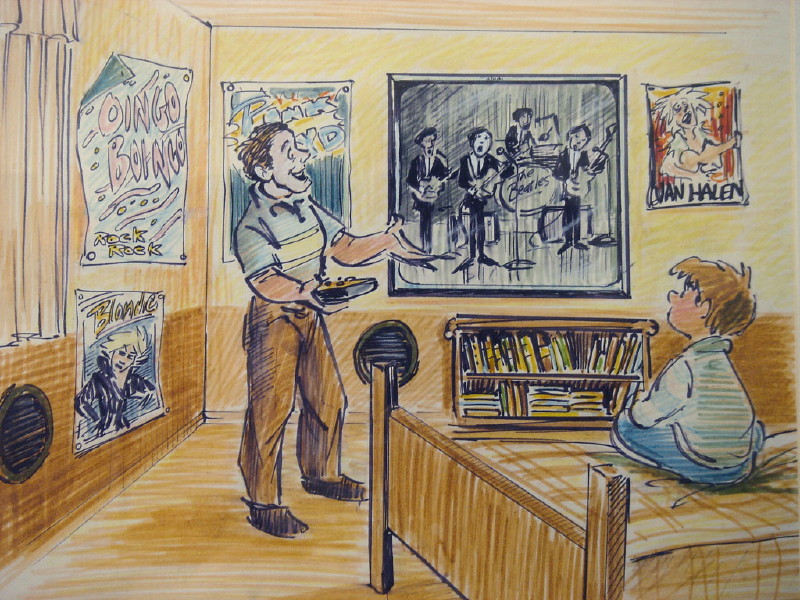 A vintner in northern California wonders what would be involved in changing wine production to sake. On horseback he is asking the Intelligent Encyclopedia about soil and water requirements for growing rice.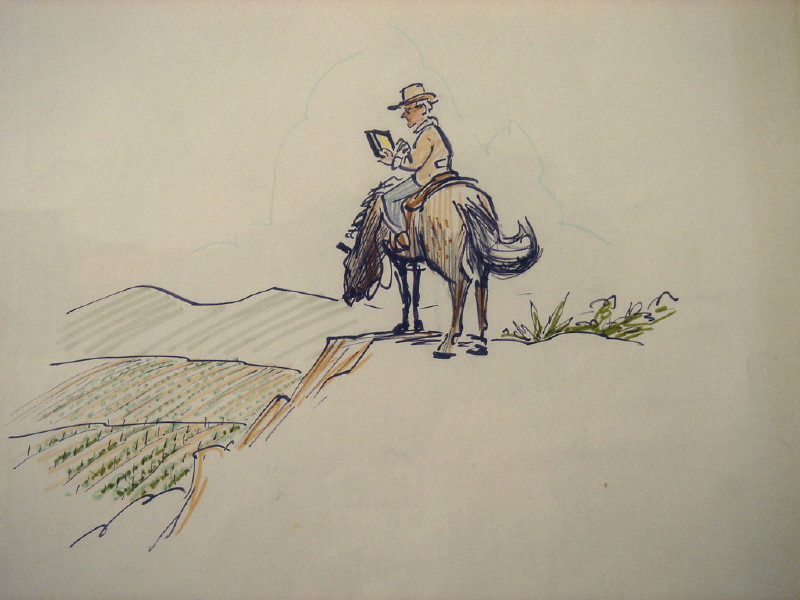 An earthquake wakes a couple in the middle of the night. The Intelligent Encyclopedia, connected to an online service informs them of the severity of the earthquake and makes safety tips readily available.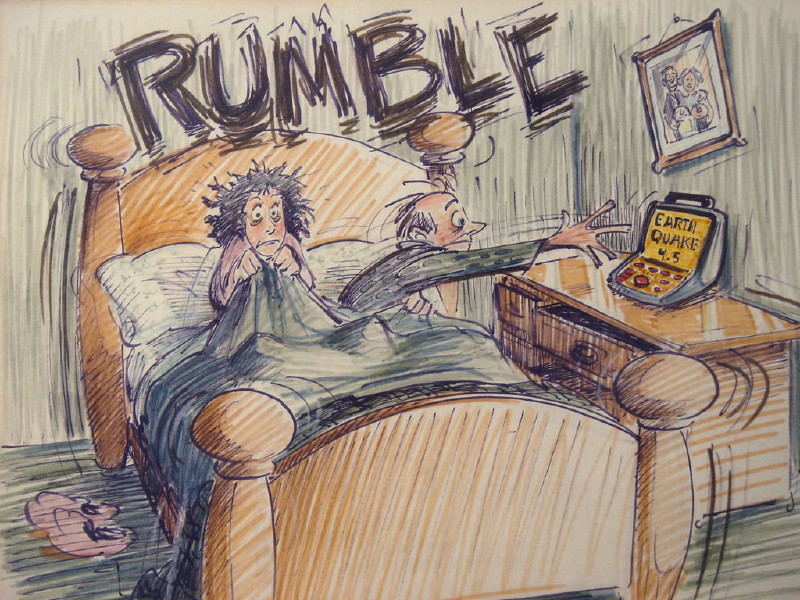 A third grade class studies various aspects of space travel. The group on the right is running a simulation of a Mars landing while the students on the left are studying a design for a spacecraft.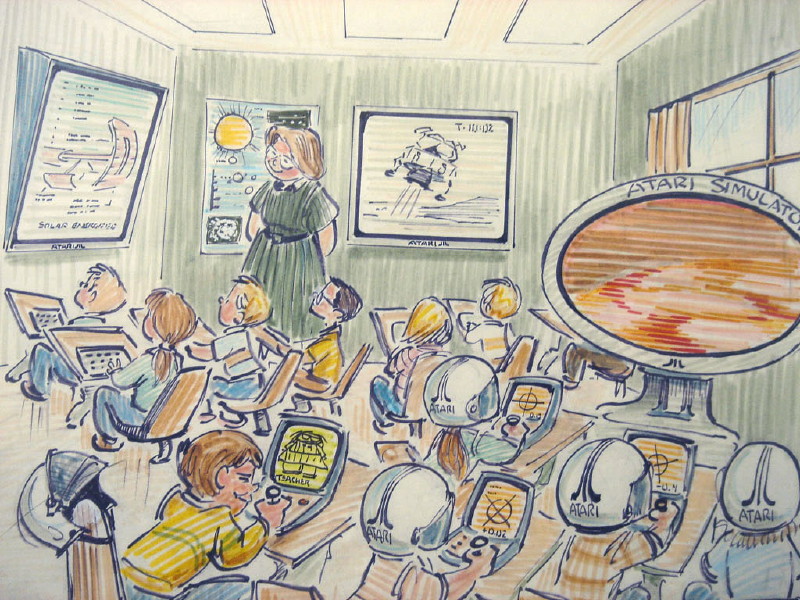 A business man on his way to New York, reviews stockmarket trends.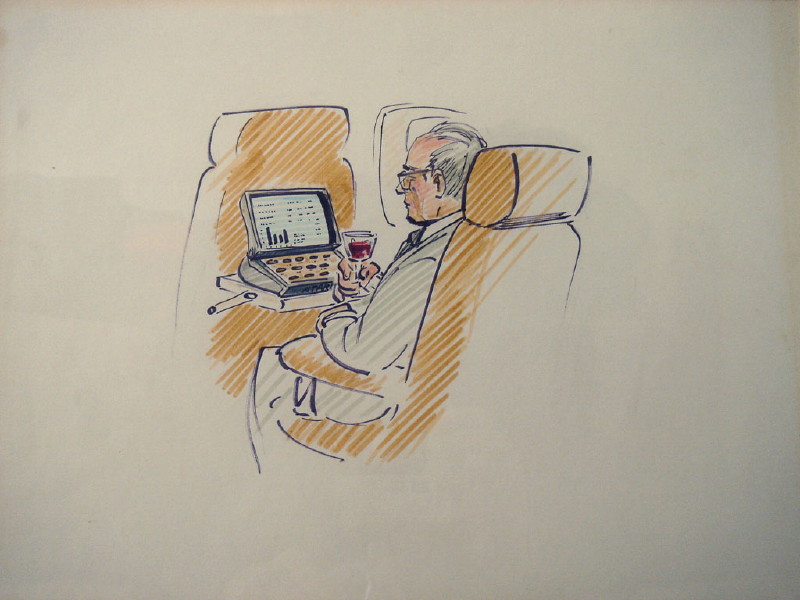 In a bar, the two men at the right are watching football on the screen and running what-if simulations on the countertop Intelligent Encyclopedia which second guess the quarterback. The couple on the left is taking an on-the-spot course in wine connoisseurship.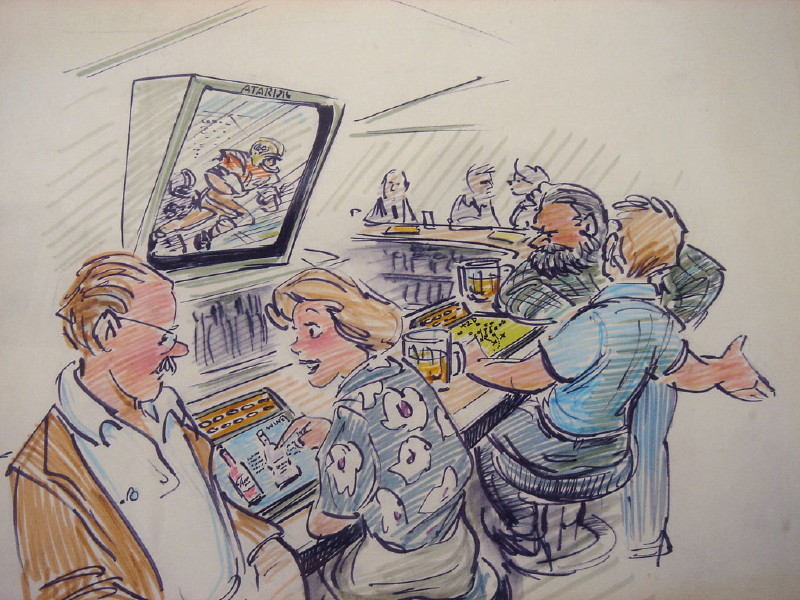 An architect in New York studies Japanese motif for a project he's working on, while a teacher in Toyo talks with her class about western architectural styles.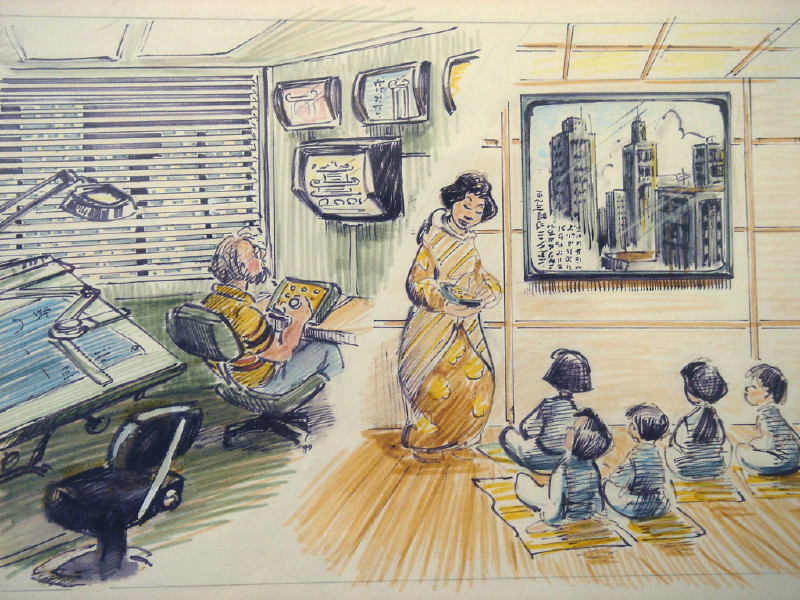 A mother and her children looking into a tidepool in Laguna ask the Intelligent Encyclopedia about the plants and animals that they see. [Notice the antenna for cellular communication.]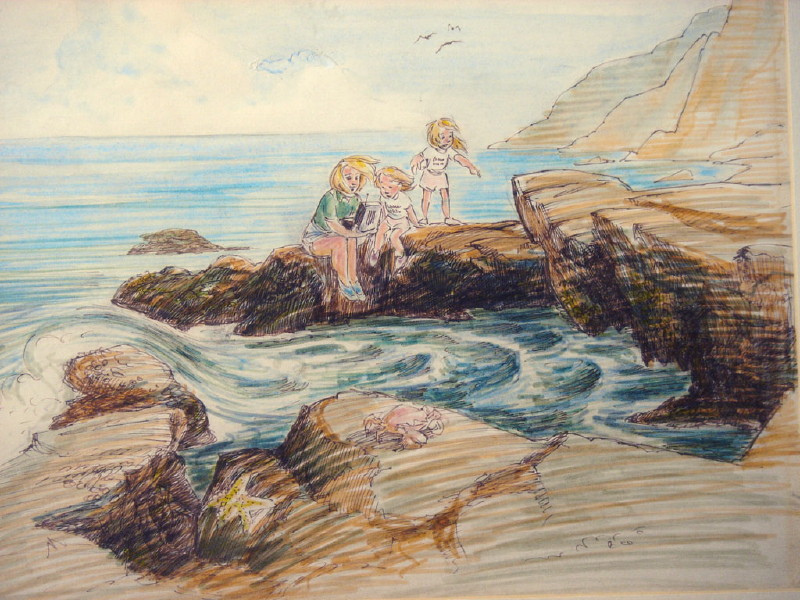 Permalink • Comments (7)
tags:
posted by bob stein
I think this is going to be a terrific conference.
MobilityShifts: An International Future of Learning Summit
The New School in NYC
October 10-16, 2011
The New School presents the second event in its Politics of Digital
Culture conference series "MobilityShifts: An International Future of
Learning Summit." Comprised of a conference, hands-on workshops, project
demonstrations, exhibitions and a theater performance featuring youth
and educators from New York City and Chicago, MobilityShifts is a
week-long summit in October 2011. MobilityShifts makes unexpected
international connections between the theories of Jacques Rancière and
Ivan Illich, learning projects outside the bounds of schools and
universities, mobile platforms, and the Open Web. Stop, reflect, listen,
discuss, and build with artists, media scholars, policy makers,
students, technologists, teachers, librarians, legal scholars and
learning activists from 21 countries.
http://mobilityshifts.org/conference/program/
REGISTRATION
To attend MobilityShifts you must register.
The early bird rate ends on September 15th.
http://www.mobilityshifts.org/register1

Participants include: Eduardo Ochoa, Hal Plotkin, Cathy Davidson,
Michael Wesch, Oliver Grau, Mimi Ito, Henry Jenkins, Anya Kamenetz,
Geert Lovink, Shin Mizukoshi, John Palfrey, Irit Rogoff, Juliana Rotich,
Benjamin Bratton, Katie Salen, Shveta Sarda, Molly Steenson, Elizabeth
Losh, Tony Conrad, Lev Manovich, Torsten Meyer, Jan Schmidt, Tomi
Ahonen, Beth Coleman, John Willinsky, Siva Vaidhyanathan, Alexander
Halavais, Giselle Beiguelman, David Carroll, Tania Bustos, Kate
Crawford, Chris Csikszentmihalyi, Sean Dockray, Rolf Hapel, Juan Manuel
Lopez Garduno, Daria Ng, Chris Lawrence, Josie Fraser, David Theo
Goldberg, Marisa Jahn, Sam Gregory, Shravan Goli, Manu Kapur, Edward
Keller, Eric Kluitenberg, Jairo Moreno, Michael Pettinger, Michael
Preston, Daniela Rosner, Richard Scullin, Ramon Sanguesa, Elaine Savory,
Luis Camnitzer, Nishant Shah, Janek Sowa, Dan Visel, Nitin Sawhney and
many others.
Summit Chair
Trebor Scholz
Co-Chairs: Edward Keller, Elizabeth Losh, Matthew K. Gold, David Theo
Goldberg , Karen DeMoss, Sean Dockray
Producer: Jennifer Conley Darling
Associate Producers: Caroline Buck, Liz Carlson
Selected workshops: http://mobilityshifts.org/workshops/
(Workshops require an additional reservation at no extra cost).
This summit builds on two previous events: Mozilla's Drumbeat Festival
in Barcelona (2010) and Digital Media and Learning in Los Angeles
(2011). MobilityShifts is sponsored by The John D. & Catherine T.
MacArthur Foundation, The New School and the Mozilla Foundation. We
gratefully acknowledge our partners: American University of Paris,
Carnegie Mellon University, Eyebeam Art & Technology Center,
Goethe-Institut, HASTAC, Japan Society, MetaMute, Prezi, School of the
Art Institute of Chicago, SocialText, UC San Diego's Sixth College, and
University of Pennsylvania.
Permalink • Comments (0)
tags:
posted by bob stein
Here are three short clips. And there's a ton more at this wonderful site, Mcluhan Speaks

1960: "We're just trying to fit the old things into the new form."

1968: "There's no longer any gap between the campus and wall street"

1977: "Another strange effect of this electric environment is the total absence of secrecy"
Permalink • Comments (1)
tags:
posted by bob stein

James Bridle continues to be one of the most interesting observer/bloggers about books -- both print and not
http://booktwo.org/notebook/items-received-by-post/
Permalink • Comments (0)
tags:
posted by bob stein
The Book Xylophone
Permalink • Comments (0)
tags:
posted by bob stein
Bill McCoy has assembled a mouth-watering schedule of the International Digital Publishing Forum IDPF meeting on 23-24 May during Book Expo in New York. registration info and full program at http://idpf.org/digitalbook2011.
The program includes a special keynote from multiple Hugo and Nebula award-winning best-selling science-fiction authors Neal Stephenson and Greg Bear, who will discuss their experience with The Mongoliad, a ground-breaking project in direct-to-consumer and community-augmented online serial publishing.
Confirmed speakers and session topics include:
"The Year of the eBook" - Abe Murray, Google; Yoshinobu Noma, Kodansha
"Publishers Roundtable" - Dominique Raccah, Sourcebooks; Richard Nash, Cursor/Red Lemonade (formerly of Soft Skull Press)
"Special Keynote: The Mongoliad, Year One - a ground-breaking investigation into the future of publishing" - Neal Stephenson and Greg Bear, Subutai Corporation
"Creating Highly Accessible Interactive Content" - Liza Daly, Threepress Consulting
"International Market Opportunities" - Cristina Mussinelli, Italian Publishers Association;
Ronald Schild, MVB Marketing/German Book Publishers Association
"EPUB 3 First Look" - Bill McCoy, International Digital Publishing Forum
"Update on eReading Devices & Apps" - Mary Tripsas, Harvard Business School; Allen Weiner, Gartner; Mitch Weisberg, Sawyer Business School
"Transforming the Business of Publishing"- Lisa McCloy-Kelley, Random House; Ken Brooks, Cengage Learning; Bob Young, Lulu.com
"Breakthrough Business Models" - Theresa Horner, Barnes and Noble; Justo Hidalgo, 24symbols; TJ Waters, Autography
"Metadata Boot Camp" - Bill Kasdorf, Apex; Mark Bide, Editeur; Beat Barian, Bowker
"Lending of Digital Books" - Peter Brantley, Internet Archive, Erica Lazzaro, OverDrive
"Wrangling the Backlist" - Jonathan Hevenstone and Herve Essa, Jouve Group; Sririam Panchanathan, Aptara
"The Future of Digital Reading and the Business of Digital Publishing" - Masaaki Hagino, Voyager Japan, Inc.; Brad Inman, Vook; Peter Balis, John Wiley
"eBook Production Jumpstart" - Josh Tallent, eBook Architects
"Distribution Update" - Andrew Weinstein, Ingram; Bob Nelson, Baker & Taylor
"The Future of EPUB" - George Conboy, Google; Markus Gylling, DAISY Consortium
"Book Industry Study Group Consumer Research Findings" - Steve Paxhia, Beacon Hill Strategic Services
"Social/Direct Marketing: Case Studies from Publishers and Authors" - Malle Vallik, Harlequin Enterprises, Ltd; Sol Rosenberg, Copia
IDPF Digital Book 2011 is being sponsored by industry giants like Adobe, Aptara, Baker and Taylor, Book Business, Ingram, Innodata Isogen, OverDrive, LibreDigital, MeeGenius, Publishers Weekly and SPi Global.
Permalink • Comments (0)
tags:
posted by bob stein
Eric Kraft is a wonderful writer with a penchant for exploring new ways to express ideas. He's just announced a new project on KickStarter where he's trying to raise some funds. Here's the video intro. There's quite a bit more detail on the KickStarter site.
Permalink
tags:
posted by kim white
I do my reading almost exclusively on screen. I've got a kindle, an ipad, an iphone, a blackberry, and a laptop, but this weekend, I did something radical and old school, I checked a big thick book out of the library and attempted to read it.
This is going to sound incredibly lazy, like someone who gets in their car to drive a few blocks rather than walk, but the physicality of the book, having to hold it open then lift and turn each page, was a lot more exhausting than I remembered. All of that holding and lifting and turning distracted me from the act of reading, took me out of the story if you will. A few pages into it I gave up, logged in to Amazon, and bought the Kindle book.
Like many people, I've romanticized the feeling of paper books, so I was surprised at how easily I spurned the one used to love. I've been watching the evolution of reading devices for the last seven years, but it was the experience I had with this library book that made me realize that the shift is no longer about to take place, it has taken place. Other readers are switching allegiance from paper to screen as quickly and irreversibly as I did. What does this mean for the publishing industry? For bookstores? For libraries? How will they reinvent themselves to attract screen-smitten readers?
Permalink • Comments (15)
tags: e-books, ebook, ebooks
posted by bob stein
My 88 year-old mother, an avid reader, said that the last seven books she's read were in the Kindle reader on her iPad. When asked what she likes most about e-reading, she answered . . . a) being able to read in the dark so as not to disturb my father and, b) the online dictionary which she uses extensively.
And then my mother's fortune cookie said "Read in order to Live"
Permalink • Comments (0)
tags:
posted by bob stein
The New York Times hit a hot-button with yesterday's article on the "dim future" for marginalia as books go electronic. As you might imagine, I think marginalia is alive and well in the digital era. If you haven't seen it yet, check out the complex discussion conducted by seven women over the course of six weeks in the margin of Doris Lessing's The Golden Notebook.
Permalink • Comments (3)
tags:
posted by bob stein
Wikileaks is turning out to be a profoundly interesting phenomenon. The questions it raises about communication in the age of the internet, particularly in the context of an ever-weakening U.S. empire, are so new and so complex that people and organizations who normally don't have too much difficulty figuring out what side of a problem they are on, are scrambling for purchase on unsure ground.
Geert Lovink and Patrice Riemens' Twelve Theses on Wikileaks is one of the more thoughtful pieces I've read so far.
Permalink • Comments (0)
tags:
posted by bob stein
Joseph Pearson of Inventive Labs, the developer of Monocle Reader and Booki.sh recently wrote an eloquent explanation of why we should bother to maintain some form of pagination even in the digital era. [this originally appeared on the private Read 2.0 list serve, re-posted here with permission.]
I'm perplexed by the suggestion that we chose pagination "for the sake of tradition", since pagination is the one and only difficult problem with building a browser-based reader. It's actually the only thing Monocle does, and I didn't waste this year doing it without reflecting on it.
I'm delighted by the proposal that someone should build a serious scrolling browser-based reader, because I'll have somewhere to send people who ask this question. And I'm greatly amused by the idea that we should inplement both modes and make it the reader's choice -- as if a responsible software designer COULD actually shrug their shoulders and say "Damned if I know, you decide."
The software designer has to make the call -- has to ask: "what is the best way to read content with these characteristics?" I've spent a lot of time thinking about it. Back in March I wrote up some notes on it, but didn't publish them. I've pasted them below.
Nb: Monocle has a scrolling mode for "legacy browsers" that attempts to get around the problems with scrolling described here. Open a Booki.sh book in a recent Opera to see it. I've been told it "sucks" (thanks Blaine!), which is probably true.
-----
I love it when old user interface metaphors, veterans of a pre-digital era, comfort food for the catastrophe, are suddenly usurped by a better mode, one that takes advantage of all the opportunities of a free graphical user interface, one that really has no necessary real-world analogy. I love it because it proves our readiness for the world that confronts us, and I secretly love it because [December: some line about old people redacted].
So pagination of text is a big bold target, right in front of us. On the surface of things, dividing text into pages chains us to an old and unnecessary constraint: the dimensions of a printed page.
I agree with that -- to an extent. But the obvious answer to it (one that now also has a long history) has some problems. This answer says that I'm going to give you an infinite y-plane (at least), which you will move up and down through by scrolling, dragging or more recently flicking.
Let's put it under the umbrella term 'scrollable'. Scrollable content works very well for two or three screenfuls of content, because it lets you adjust, pixel by pixel or line by line, to your changing context. You can say "I want this thing on the screen, and this nearby thing on the screen at the same time", which is often useful -- particularly if the content has varied elements like buttons and links and images as well as text. That is to say, scrollable content generally works very well for web pages.
But for anything of real length, it is seriously hard work. It's important to realise what you're doing when you're scrolling. You're gazing at the line you were reading as you draw it up the screen, to near the top. When it gets to the top, you can continue reading. You do this very quickly, so it doesn't really register as hard work. Except that it changes your behaviour -- because a misfire sucks. A misfire occurs when you scroll too far too rapidly, and the line you were reading disappears off the top of the screen. In this case, you have to scroll in the other direction and try to recognise your line -- but how well do you remember it? Not necessarily by sight, so immediately you have to start reading again, just to find where you were.
If that doesn't sound familiar, it's because you've been burnt by it a few times, and have long ago adjusted your behaviour. Instead what you do is scroll so that the line you're reading is higher up, but still nowhere near the top, so that a misfire can't occur. You almost never scroll a screenful at a time -- typically you scroll clusters of five to fifteen lines. But what's the outcome of this? You're doing a whole lot more work, interacting far more often than for a simple page turn.
With zoomable touch interfaces, like MobileSafari, this has a bigger impact, because every time you scroll the zoomed-in content you're reading, there's a chance you'll flick at just slightly the wrong angle and cause the content to crop on one edge, making it temporarily unreadable. The effect is annoying.
Beyond this, even if you have startling accuracy, still you are doing a lot of work, because your eyes must track your current line as it animates across the screen. For sustained reading, this quickly gets physically tiring.
Pagination works for long text, not because it has a real-world analogy to printed books or whatever, but because it maximises your interface: you read the entire screenful of text, then with a single command, you request an entirely new screenful of text. There's very little wastage of attention or effort. You can safely blink as you turn.
If you're clever, there's one affordance you could add to a pagination interface: the ability to linger over the last line during the execution of the command to see the new screenful. This gives us a greater sense of efficiency, of reading and turning at the same time, which scrolling in its kindest assessment can sometimes achieve.
-- J
Permalink • Comments (10)
tags: